CD – 14 tracks – 63 minutes
Limited edition of 500
Strafe Für Rebellion is Bernd Kastner and Siegfried M. Syniuga
All songs recorded by Strafe F.R. in 2017 at STRAFE Studio, Düsseldorf, Germany.
Thanks to Detlef Klepsch for technical support and for helping with the mix down.
Mastered by Denis Blackham
Artwork & photography: Jon Wozencroft
Female vocal: Caterina De Re
Male vocals: Strafe F.R.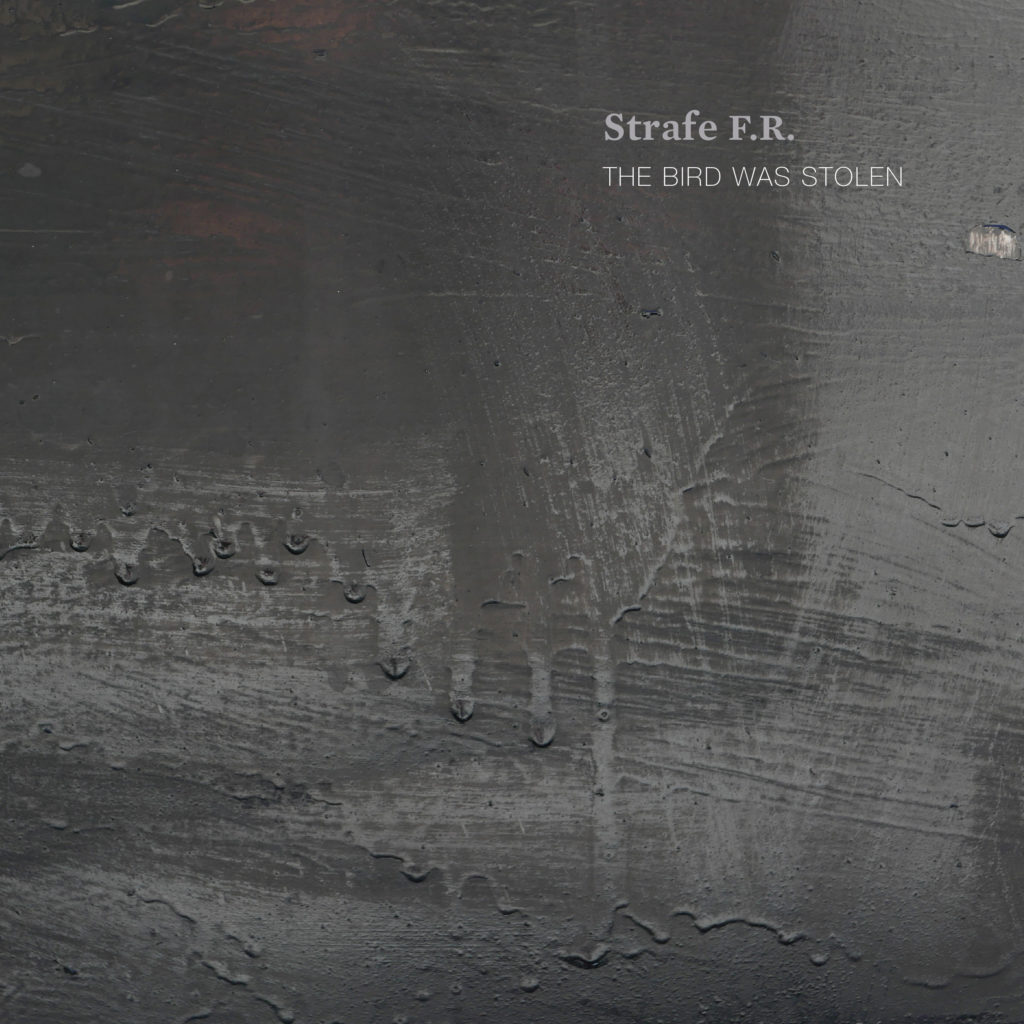 Track listing:
1. Jovian Tempest
2. Prepper's Home
3. Aconite
4. Anophelis
5. Cap de Barbaria
6. Pianosmoke
7. Flare
8. Medusa
9. Golden Stomach
10. Dictator
11. Himmelgeist
12. Megalitic
13. Violet Sun
14. Towton
The bird was stolen because the donkey was sleepy
Based in Düsseldorf, Germany, Strafe F.R. is a long-term collaboration between the artists Bernd Kastner and S. M. Syniuga, which started in 1979. After a long period of hibernation, The Bird Was Stolen marks their return to Touch following four previous releases in the 80s and early 90s.
From their early connection with the local punk and new wave scene, centred around the Ratinger Hof in Düsseldorf, Strafe went on to develop a unique and influential form of sound sculpture that pioneered the use of field recordings alongside home-made instruments and the use of the studio as a performance space.
A new track, 'Virgin', which appeared on the recent Touch Movements CD/book, gave an early indication that they are back at the peak of their powers. The Bird Was Stolen presents 14 new compositions that push the signature sound of Strafe F.R.
✿
1. We have a piano that is somehow completely bare-boned as if a butcher had been at work. The piano is lying on its back – we can climb into its corpse. The piano strings are easy to access and we prepare them with anything that influences a possible recording. Loudspeakers are installed. Inside the piano we play bass and guitar to use the resonance of the strings of the piano. Pianosmoke was recorded in this way.
2. Sound sources are often 'accidents'. We were recording with our old Uher Portable Tape Recorder –
all of a sudden the machine developed a strange malfunction: the Uher had problems with its engine. Himmelgeist was born. The recorder began to 'scratch' like a vinyl record, but it was the recorder doing everything itself; we could also manipulate the speed with our hands. This was magnificent. Strange rhythms just happened, the tape recorder did it… We are thankful that we managed to record all of this.
3. We often amplify sounds quite loudly, that actually have a very low natural dynamic. This is interesting when recording guitar, piano and the human voice… To reduce the normal recording level by an extreme and amplify the soft, low sounds.
It all started with the eagle, Eaton, who was eating the liver of Prometheus. Prometheus was a Titan, not a god. He was teaching humans how to make fire and was punished by the gods for having done that.
Through this, the humans experienced the meaning of Strafe Für Rebellion
(in English, 'Punishment for rebellion'). Ever since this happened, the members of SFR register peculiarities and specific incidents as an incitement to make music.
Some examples are as follows:
When searching for new sounds inside the bowels of a piano we occasionally found the sleeping Franz Liszt. Underneath the piano pedal, the MC5 were glued. Unfortunately the mites have eaten all of our socially and critically-engaged texts.
Recently, neozea, similar to indian parrots, fly above our streets. They are able to talk, and they scream: 'No Guitars!'. Several foxes devoured the analog tapes from our old tape recorder; there are Chinese mitten crabs living inside the bass drum. A bullfrog has eaten up the marsh frog population that we once recorded at a nearby airport. Large blowflies are sitting on the guest chair in our studio lounge.
The helicopters belonging to German army are in a desperate condition. However, the poor maintenance of the machines has unleashed a fantastic new sound. The same way that Prometheus's liver is renewed and grows again each night, happens also to the Zeitgeist. Because of this, we must continue to work on the music. We cannot stop and will never finish.
There is vanilla fudge in the coconut trees.