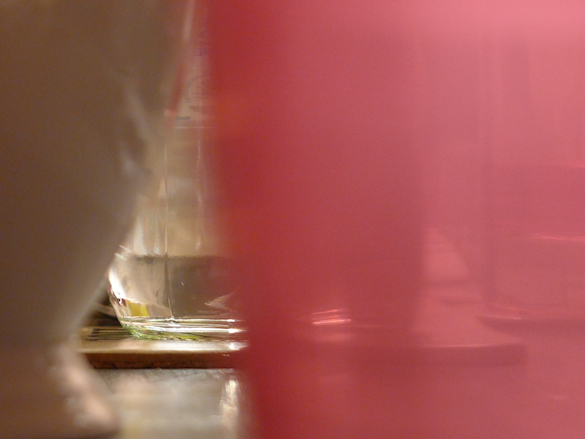 Café Oto 17.07.12
Presentations, talks & performances
Maia Urstad (Bergen) – 'Radio Field'
"As a sound installation artist I have always been intrigued by how we communicate. My fascination with the sending and receiving of messages, and how they may be converted on their way, has led to a series of artworks containing portable radio transmitters and receivers…"
Maia Urstad is an artist working at the intersection of audio and visual art. She was educated at the Bergen National Academy of the Arts and has also a background in rock music.
Jiyeon Kim (Seoul)
Jiyeon Kim started her career as media art project producer, then she moved to the soundmaker/musician field. She mainly uses field recordings with sounds made with handmade analogue sound devices and acoustic objects as her source. Currently she experiments on resonating different materials in various methods with diy microphones, amplifiers, analogue oscillators, which leads her to develop unconventional ways of field recording. Jiyeon is also working as a sound educator, actively programming and running various sound workshops for young people. She aims to inspire participants to engage with their sonic environments in an artistic and social way. This summer, Jiyeon is invited to 3 weeks of a field recording residency near Verona and Naples in Italy, where she will explore sound environments of abandoned places in rural areas.
Sandra Jasper (London/Berlin)
Sandra Jasper is a geographer currently completing her doctorate at the UCL Urban Laboratory. Her thesis "Cyborg Imaginations: Nature, Technology and Urban Space in West Berlin (1961-1989) draws from diverse fields, such as sound art, engineering and architecture. Sandra teaches on the UCL MSc Urban Studies and convenes "Stadtkolloquium" a postgraduate research network. Her recent publication "Phantom limbs: Encountering the hidden spaces of West Berlin" came out in "Urban Constellations" (Jovis, ed. by Matthew Gandy).
"The UCL Urban Laboratory, established in 2005, is a university-wide initiative to bring together the best urban teaching and research at UCL. Our activities build on the full spectrum of work at UCL across the arts and sciences ranging from civil engineering to film studies, from urban history to the latest developments in architectural design."
www.sandrajasper.net
www.ucl.ac.uk/urbanlab
Dawn Scarfe (London)
Dawn Scarfe's work ranges across a variety of media from site-specific installation and performance to field recording. It explores how listening might be directed to heighten our perceptions of particular environments. Multi-speaker installations (such as Tree Music) and resonating acoustic glass sculptures (Listening Glasses) ask us to re-think and re-negotiate our impressions of our surroundings. Individual parts of her works are encouraged to respond to each other or to enter into a dialogue with their environment.
Recent exhibitions include Klinkende Stad Kortrijk, ZKM Karlsruhe, Q-O2 Brussels, La Casa Encendida Madrid, TONSPUR Museumsquartier Vienna, Bios Athens, Space Studios and 176 Zabludowicz Collection, London. She completed a PhD in Sonic Arts at Goldsmiths, University of London in December 2011.
Dawn will present an introduction to her work with glass including Tuning to Spheres: an installation/performance which uses assorted wine glasses as acoustic resonators. A number of wine glasses sit on a turntable. A small loudspeaker plays sine tones tuned to the pitch of a particular glass, causing it to resonate as it passes underneath the speaker.