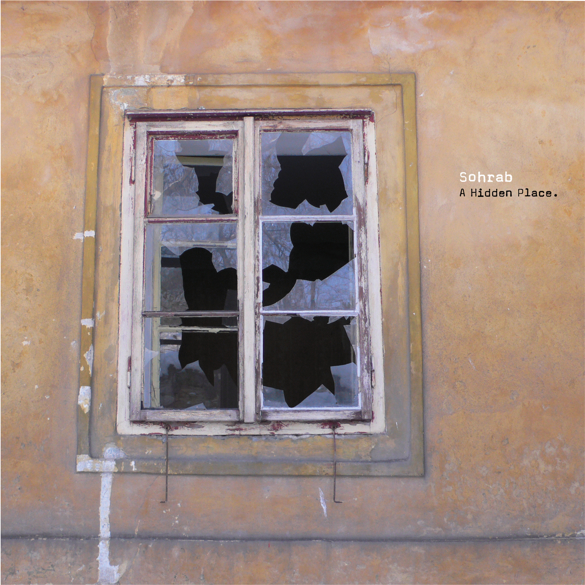 Sohrab – A Hidden Place
[Touch # Tone 42] – NOW AVAILABLE ON ITUNES

LP – 6 tracks – 40:20
+ free download: Aamookhtan Baraye Zistan (42:46) when you buy the vinyl from Bandcamp/a>
Mastered by Denis Blackham
Cut by Jason @ Transition
Photography by Jon Wozencroft
Track Listing:
side one
Susanna (9:51)
Somebody (5:59)
Pedagogicheskaya Poema (3:28)
side two
Himmel Über Tehran (5:31)
A Hidden Place (9:27)
Zarrin (6:16)
Sohrab was born in Tehran in 1984. He was seven when the Iran-Iraq war ended. His name, from an old poem called 'Shahname', means 'rouge water', which can also mean 'blood'. He started a punk band with his brother and a friend, which lasted about two years before splitting. Sohrab is totally isolated in Iran, with little or no connection to what is happening there. Sohrab is, like so many, displaced within his own country and occupies a similar internal cultural isolation. This is suggested by Jon Wozencroft's imagery and artwork; looking in through shattered glass and an air of menace underneath the surface.
He recently performed live at Berghain for a Touch night, with Fennesz, Hildur Gudnadottir and others. It was his first legal gig since a performance by his punk band was broken up by the police in Tehran…
You can listen to his contribution to TouchRadio, "Tanhayi – Live in Tehran", recorded in October 2009
Sohrab used Reason 3, his midi controller (R)evolution UC-16 and a sampler, recorded live through Ambrosia recording software.
و چنان بی تابم، که دلم می خواهد
بدوم تا ته دشت، بروم تا سر کوه
دورها آوایی است، که مرا می خواند
so restless am i that i wish
to run to the end of the plain,
to top of the mountain
there is a voice in the distance,
that is calling me
(Sohrab Sepehri)