CD – 4 tracks
Limited edition of 500
All titles composed and recorded by Yann Novak in Los Angeles 2017
Photography & design by Jon Wozencroft
Mastered by Lawrence English at 158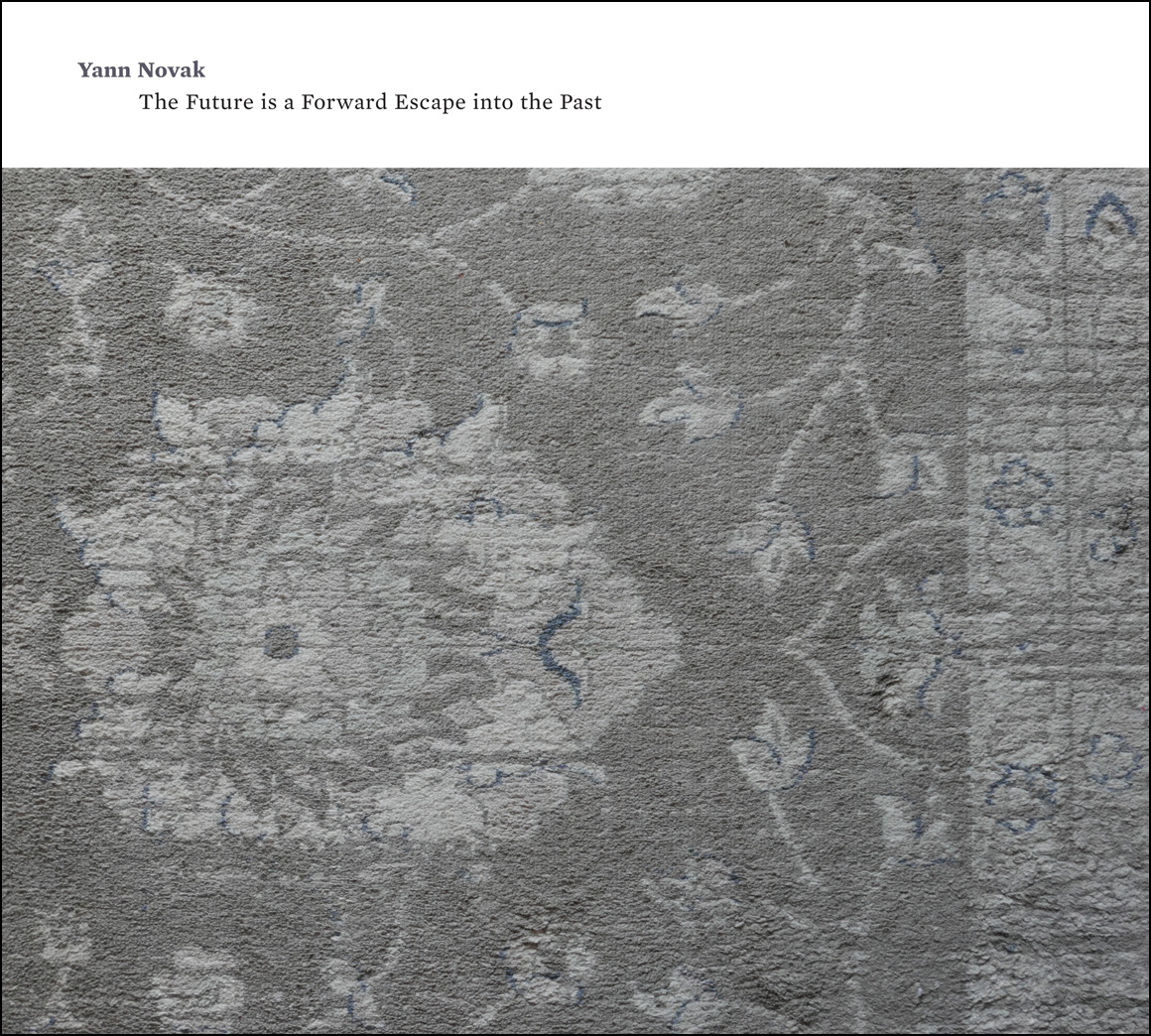 Track listing:
1. Radical Transparency
2. The Inertia of Time
3. Casting Ourselves Back into the Past
4. Nothing Ever Transcends its Immediate Environment
'The Future is a Forward Escape Into the Past' is the latest album by Los Angeles-based multidisciplinary artist and composer Yann Novak, and his second for Touch. It considers the relationships between memory, time, and context through four vibrantly constructed tracks that push Novak's work in a new direction while simultaneously exploring his sonic past. 'The Future is a Forward Escape Into the Past' is composed as a quadriptych – a single gesture broken into four parts – that meditates on the inevitable progression of time, our relationship to the past, and our distortion of the past through the imperfections of memory. The album will be released February 23, 2018 on the London-based label Touch. Available digitally and on CD, the physical version will be packaged in a gatefold sleeve as a limited edition of 500. For more information on the artist and release, please visit www.touch33.net.
The album's conceptual roots stem from 'The Archaic Revival' by American ethnobotanist and psychonaut Terence McKenna. In it, McKenna theorizes that when a culture becomes dysfunctional it attempts to revert back to a saner moment in its own history. He suggested that abstract expressionism, body piercing and tattooing, psychedelic drug use, sexual permissiveness, and rave culture were proof of this default to a more primal time. The text's idealism was influential to Novak in the '90s, but today the theory bears a darkly-veiled resemblance to the rise of nostalgia-driven nationalism. Regardless of whether one agrees or disagrees with the signifiers of a 'better time' – McKenna's idea highlights our propensity for selective memory, seeing history through the lens of memory instead of fact. On 'The Future is a Forward Escape Into the Past' Novak looked back at his own older works through this lens as inspiration.
"For this album I was interested in expanding into a more emotive compositional style and palette. In doing so, I was reminded that this was territory I had covered early on in my career — the whole process became a way to reconnect with my own past and history."
The Album's four tracks dynamically shift and surge, where time is rendered as material and momentum compels it into movement. Subtle distortion throughout the album ties the tracks together and echoes techniques explored in Novak's 'Meadowsweet' (Dragon's Eye, 2006). Tension gives way to a halcyon vision of place in "Radical Transparency," immediately followed by the austere swells of "The Inertia of Time," a piece that captures the twin impulse of generating optimistic beauty in harshly muted tones. Both tracks introduce subtle bass swells and stabs reminiscent of 'In Residence' (Dragon's Eye, 2008). From there, the album grows darker with "Casting Ourselves Back into the Past," and "Nothing Ever Transcends its Immediate Environment," two icier tracks that preserve the album's core: a layer of something long since passed that locks us into the very moment we inhabit. The latter introduces a processed vocal sample of Geneva Skeen, similar to Novak's collaborative work with Marc Manning on 'Pairings' (Dragon's Eye, 2007). The album is a study in perception and alteration, manipulation and awareness, effectively capturing Novak's command of emotional texturing.
Reviews:
Touching Extremes:
A sentence in the press release contains a pivotal clue. [Yann Novak's] "work is guided by his interests in perception, context, movement, and the felt presence of direct experience".
Direct experience is the prime counsellor in one's aliveness, well beyond the hypocrisy of sinisterly inadequate "divine" guidelights. This simple fact should be obvious to any individual whose encephalon has not been rented to someone else's infirmity. However, it is the concept of "felt presence" that is crucial here. As always we're dealing with the essential, if inexplicable murmur of deep-rooted awareness which seems to frighten so many credulous specimens.
The stochastic recurrence of an event; the "infinite repeat" mode of the sea waves; the frequency that – among millions – causes the mind to freeze and the heart to slow down almost to a standstill. Just three examples of the aforementioned "felt presence". How can anyone explain that to people in dire need of being lulled into psychological coma by recycled narratives about extramundane maths and featureless entities acting as impeccable draughtsmen of nothingness?
You can't. There's no time left to waste with neurologically induced nonsense. As frequently stressed on these pages, certain levels of inward discernment must be respected by their blessed owners (who, too often, throw away the gift received at birth for unhealthy ego-inflating purposes).
Novak chases the opportunity of a privileged observation between the varying stages of an actual process of growth. He does it by assembling resonant materials that put a pragmatic listener in the condition of probing unthinkable depths, in this case starting from a theory by ethnobotanist Terence McKenna (you are cordially invited to do your homework).
In strictly sonic terms this is an exemplary instance of static subtlety, intermittently (and coincidentally) reminiscent of Keith Berry and Klaus Wiese's analogous sonorities. A commendable balance gradually revealing shrouded details, inaccessible elements of continuity linking the parts in an affecting sequence. The acoustic modules combine field recordings with subsurface oscillations, trans-harmonic cyclicalness, moderate interference and human samples. It's the symbolization of a trek outside the body limits while standing – firmly conscious – on the ground of the circumjacent materiality.
A final and somewhat expectable warning: do not use, and do not categorize this substance as "ambient". It would be an authentic offense to the composer's painstaking accuracy in rendering the phases of apprehension clearly particularized by the audible matter. Paraphrasing the album's title, Novak challenges the average being's exigency to envision the "excuse of future" as a method to flee from the responsibilities of the present. In other words, the "here and now" of Buddhist descent – so voguish in places where the talk is talked without walking the walk – is still too troublesome a proposition for vanquishing corporeal and psychogenic obligations once and for all.
Boomkat (UK):
Dragon's Eye Recordings proprietor Yann Novak unfurls a mesmerising, meditative suite of processed field recordings on Touch. Imagine the elegant protagonist of Richard Chartier's Pinkcourtesyphone took a stroll at dusk with Biosphere in the L.A. 'burbs…
VITAL (Netherlands):
It has been a while since I last heard music by Yann Novak, as long ago as Vital Weekly 881, but I see (on Discogs) other releases that have been released by Dragon's Eye Recordings (his own label), Eter, Line and a previous album by Touch in 2016. Here is his second release for Touch of which the "conceptual roots stem from 'The Archaic Revival' by American ethnobotanist and psychonaut Terence McKenna', in which he claims that if things go bad in a culture it wants to go back to a saner moment in its own history, which perhaps has very much to do with the times we live in, with all the nostalgia of 'our culture is the best one, but the past of that culture was even better, now getting to lost…' (Fill in whatever enemy you prefer' doing its rounds worldwide. Novak goes back to his own musical past and make (re-) connections again with sounds and techniques he used before on his older works and how to put that into the new work. This is, mind you, not a remix of course of old stuff. The four pieces of drone music here are however something that I would expect from Novak. These computer-generated drones built up like deep organ tones, reach a climax and then go via a likewise slow ascend down again. In between these pieces there are field recordings, especially at the end of the opening 'Radical Transparency', or at the beginning of 'The Inertia Of Time', which follows after that; each of the four pieces seem to merge right into next one, giving the album an excellent flow. Novak's special feature, a very refined yet effective distortion is present in all these pieces; one should not think of this as something heavy or noisy, but a gentle, brittle touch that has been carried out to all of these pieces, a rough edge to gentle drones. I am not sure if it is enough to say that Novak really does his own version of microsound, but he produces music with some fine delicacy that is just different enough for me. Some very meditative stuff here for sure. [FdW]