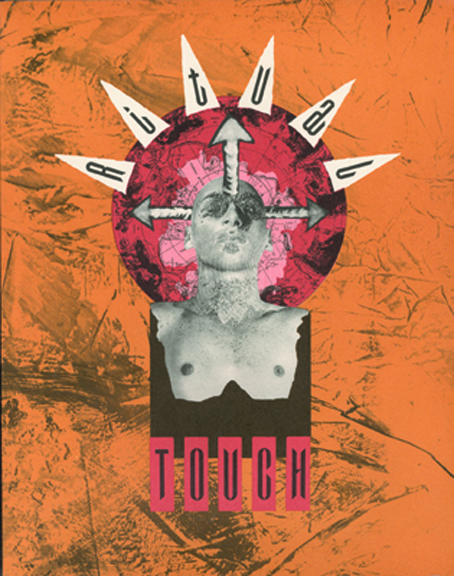 Track list:
x face
Within Living Memory
Regular Music – Purcell Manœuvres
Margaret Sambell – Metal Harmonics
S/Z – Call It Power
Gilbert And George – The World Of…
Biting Tongues – Feverhouse
Einstürzende Neubauten – Das Letzte Biest Am Himmel
Kent and Sayer – Memory Ground
The Nocturnal Emissions – Um Eh Eh Eh
Renaldo And The Loaf – Extracting the Re-Re
Kill Ugly Pop – One Minute Of Pure Venom
Strafe Für Rebellion – Rauperaha (Song Of The Maori Rebellion)
Fast Forward – Mamba
David Cunningham – Two Different Places
Touch 33 – North Star
y face
Autocue
The Residents – Theme For An American TV Show
Gilbert And George – Shadowed Valley
Camberwell Now – Daddy Needs A Throne
Wolfgang Wiggurs – Casting Of The Skin
Cabaret Voltaire – Diffusion
Gregorio Spini – Passing
Japanese For Monks
Last Few Days – Too Much Is Not Enough
Zazou And Bikaye – Signorina
Val Denham/tape treatments by A.M.McKenzie – I Touched The Memory
Gilbert And George – Another World Of…
Ricardo Mandolini – Canción De Madera Y Agua (Song Of Wood And Water)
Greater Than One – Urban Psychology
S/Z – Who Is The Author
Touch 33 – Greenhouse Effect
Silent Tongues – Sadhu Ritual Chant
Edited by Jon Wozencroft; Published by M Harding; Designed by Panni Charrington. Thanks to Rob Keyloch for editorial and production directions on mastering the cassette in April and November 1985.
Typesetting by The Printed Word, London. Printed by Sprinting. Colour reproduction by The Clifton Studio and Patina. Texts set in Albertus , Bodoni, Garamond, Futura, Zapf, Perpetua and Plantin.
A cassette-only version of the above was released in 1986 as: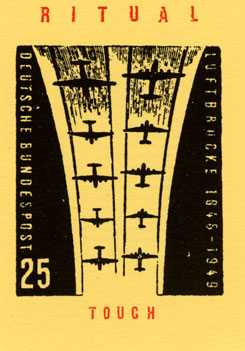 TOUCH: RITUAL [T5c]
The celebrity is a person tuned into an abstract. Their status has little to do with their achievement (or lack of it) but everything to do with their ability to fit in with the demands of the new mass media ritual. This involves availability, accessibility, pliability and respectability – 'shocking' people are carefully dropped in to add spice or to populate ghettos. As they parade across the surface of the electronic media, celebrities become symbols (and, occasionally, victims), members of the televisual elite encouraging emulation and aspiration – the modern call to prayer. [Jon Savage]
Audio content and notes: T5c = T5