Release date: 21st December 2018
Vinyl LP – 4 tracks – 32:59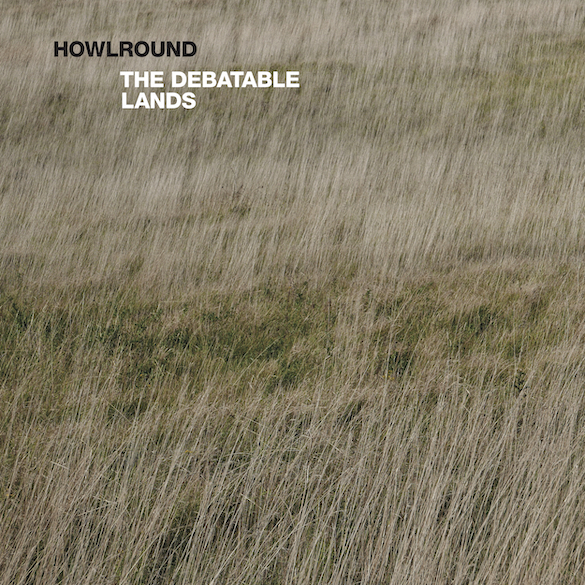 The Debatable Lands by Howlround
Track listing:
Side A
1. 'Threip' 11:53
2. 'The Black Path' 5:21
Side B
3. 'Talkin Tarn' 8:23
4. 'Moat' 7:22
Bonus Tracks – free with vinyl purchase in TouchShop only:
5. 'Cloven Stone'
6. 'Dungeon Ghyll'
7. 'Aira Force'
8. 'a-melt-saetr' – you can listen to this track here
9. 'Carling Knott'
10. 'Blea'
In December 2017, Howlround (Robin the Fog) was invited to perform at 'The Winter Solstice Soundscapes' event for the recently opened record store 'Vinyl Café' in his home town of Carlisle, Cumbria. Inspired by the reception to his first ever performance in the great border city, he covered his parent's dining room table with the same equipment, stretched loops of tape around his mum's seasonal candlesticks when she wasn't looking… and this LP is the result. The only equipment used on the album is two 1/4" reel-to-reel tape machines and one microphone. The sounds created are entirely at the discretion of the machines (much of them derived from 'closed-input' recordings) and all tracks were produced in a single take. There are no edits, no overdubs and no additional effects.
This marks a new, heavier direction for Howlround, a project better known for more ambient work. Described as 'Tapeloop Techno', thick knotty tangles of dense, pulsating bass are an echo of Robin's early days making bad dance music, while the abrasive snarls of feedback swirling around these tracks point to his more recent embrace of indeterminacy and chance composition. Previous vinyl releases on Psyché Tropes, The Wormhole, A Year in the Country and Front & Follow as well as his own label The Fog Signals have shown a deep understanding of the possibilities of tape manipulation. On The Debatable Lands Howlround eschews the usual field recordings in favour of exploring the interior world of the machines themselves.
Cut by Jason @ Transition
Mastered by Stephan Mathieu
Artwork & photography by Jon Wozencroft
Reviews and features:
[The Present Continuous]
Profile: Modern Trends In Tape Music and Contemporary Artists in The Field
Electronic Sound (UK):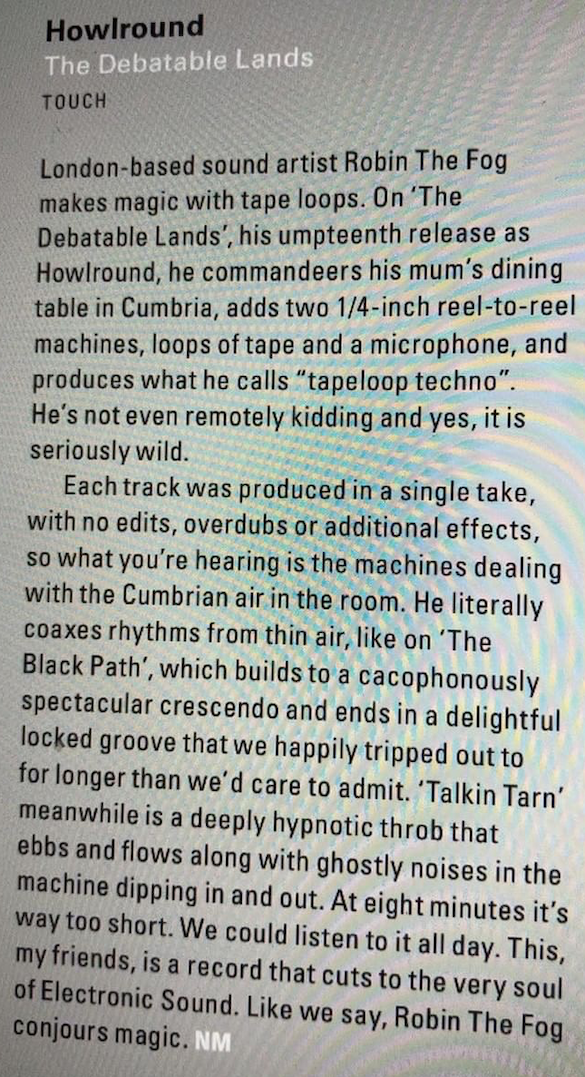 The Quietus (UK):
The Debatable Lands were where Northernmost England meets Scotland but situated in neither while local clans resisted English and Scottish authorities for over 300 years until their defeat around 1530. Broadcasting from this region in modern day Cumbria, Howlround channels its historic autonomy using two reel-to-reel tape machines to produce sounds that are 'entirely at the discretion of the machines (much of them derived from 'closed-input' recordings) … in a single take [with] no edits, no overdubs and no additional effects'.
Radiophonic sounds framed by rural scenes often engender a sense of the occult and, with The Debatable Lands, Howlround's aleatory process reminds of The Stone Tape, Nigel Kneale's 1972 tale of a residual haunting recorded by a mansion's stone walls. The results have thick streaks of analogue energies roaming the air, fluttering and pulsing, forming rhythms that palpitate and regurgitate before ultimately crumbling under an unstable tape delay. Like the cairns – burial monuments – that thread through the region, The Debatable Lands feels like unearthly audio monoliths with hidden, ancient properties. [Russell Cuzner]
Boomkat (UK):
Robin The Fog's Howlround project takes a noisier, visceral direction in The Debatable Lands, his spikily psychoactive debut for Touch.
Under a title referring to the historic tracts of land between northern England and southern Scotland, which includes his hometown of Carlisle, where the LP was recorded on his parents' kitchen table, The Debatable Lands also acts a metaphor for the abstract no-mans-land of noise he conjures with two 1/4" tape recorders and a microphone.
Allowing the tape recorders as much agency as possible, Robin acts as an improvising conduit or medium in the mode of a gonzo Tony Conrad or Eliane Radigue, with a modicum of Yvette Fielding and The Hafler Trio. He presents four durational pieces ranging from tremulous, plasmic immersion in 'Threip', to something like a pummelling, underwater Masami Akita workout in the rhythmic noise of 'The Black Path', while 'Talking Tarn' invokes imagery of animist pagans worshipping lone, lofty bodies of freezing water, and 'Moat' resembles some kind of EVP interception, perhaps from Roman times, or maybe the ancient spirits of Mu, located in the stone circle-littered realms to the north of Carlisle.
The Wire (UK):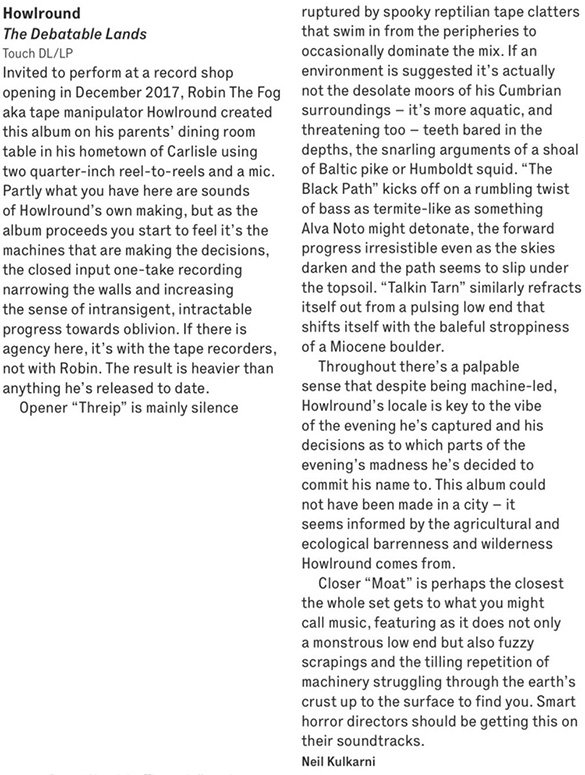 Dusted (US):
Howlround has made tape-based noise experiments in one fashion or another for nearly a decade. Their first release, The Ghosts of Bush released in 2012 on Howlround's own Fog Signals label, was an homage to the BBC Workshop. It was composed using only recordings of the natural acoustic sounds of the Bush House, home of the BBC World Services for seven decades until it's final broadcast in 2012, captured in the tucked away corners of the building in the wee hours of the night and then dubbed in the basement studio, using the last of the Workshop's reel-to-reels. The album itself is a montage of articulated noise movements, with veiled meanings. Much of Howlround's material since has latched onto this approach, providing a tenable foreground for the nuanced, interpretive noise that follows.
Howlround started out as the duo of Chris Weaver and Robin the Fog. Both members compiled field recordings and other sounds and moved them to reel-to-reel tapes which Robin would drape across and around various things and over long distances to increase the chance for inconsistent playback, and Chris, behind the controls of the output, tweaked levels and added drabs to the iridescent loops. But since 2015, when Weaver took on a residency in Dubai, Robin has taken the title on solo.
The Debatable Lands was inspired by Robin's first performance in his hometown of Carlisle, Cumbria. The four tracks were made with two ¼" reel-to-reel tape machines and a microphone, with no overdubs, edits, or added effects, Draping elongated tape loops around his mum's candlesticks on his parent's dining room table, Robin's set-up for the record was nearly identical to the performance in Carlisle, accumulating a mass of straight-forward sharpened sounds from a closed-input system, something Robin himself accurately calls 'tapeloop techno".
It's notably harsher than the rest of Howlround's output in large part due to the minimal set-up, but there's little conceptual foregrounding for a listener to latch onto as well. Robin succeeds in plumbing depths of his closed-input system, its range and limitations feeling apparent and inhibiting, yet somehow a capable venue for creative variations. The four insulated tracks almost sound like they're missing a dimension as Robin funnels inward. He leaves nothing to get lost in other than the contours he mines within the lone microphone and two tape machines. [Ian Forsythe]