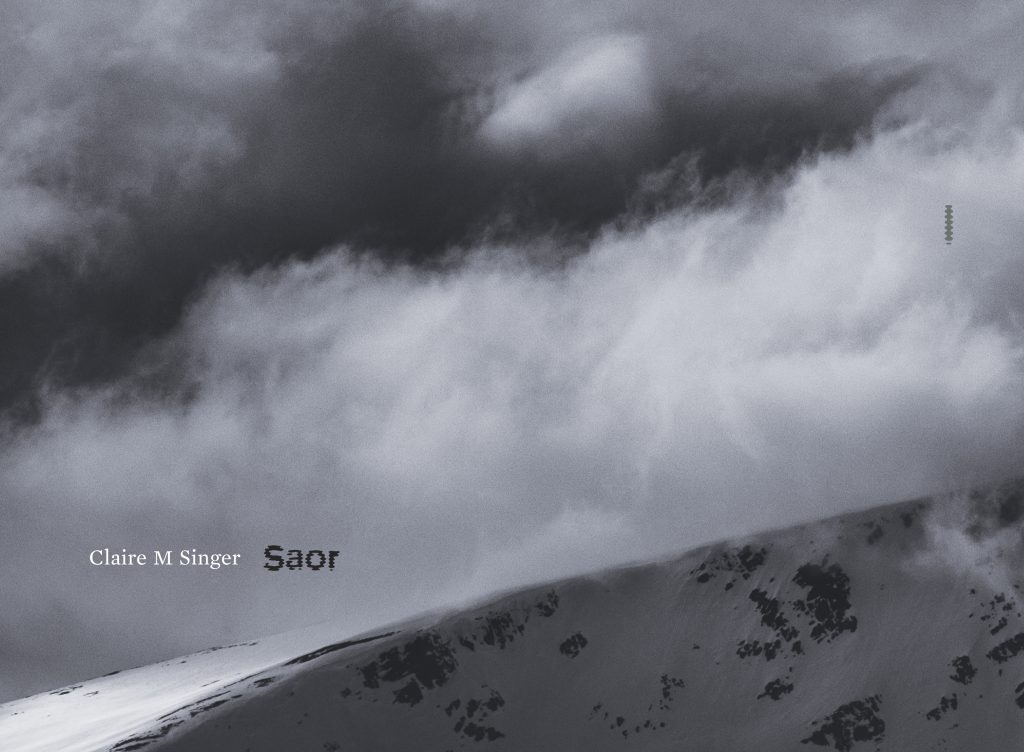 Artist: Claire M Singer
Title: Saor
Formats: CD & Digital Download
Catalogue Number: TO:121
Street date: 3rd November, 2023
You can order this CD album from 6th October 2023, here
Track Listing:
1. Cairn Toul
2. Pressure
3. Càrn
4. Outside
5. Forrig
6. Stops
7. Braeriach
8. Above and Below
9. Saor
Written and performed by Claire M Singer
Mastered by Denis Blackham
Artwork by Jon Wozencroft
Photography by Ash Todd (front and inside) and Seàn Antleys (back)
Published by Touch Music/Fairwood Music (UK) Ltd.
Claire M Singer has announced details of the first release in a triptych of albums. Saor [pronounced Sieur: meaning "free" in Scottish Gaelic] perfectly encapsulates Claire's experimental approach to the pipe organ, exploring rich harmonic textures and complex overtones which create ever-shifting melodic and rhythmic patterns, conjuring visions of the Scottish dramatic landscapes which inspire her. It's her 3rd album for Touch, after 'Fairge' [2019] and 'Solas' [2016].
"Saor follows two narratives: my trekking across the Cairngorm mountains in Aberdeenshire through the granite plateaux, corries, glens and straths, and my exploration of the 1872 organ built by Peter Conacher & Coy, Huddersfield in Forgue Kirk, Aberdeenshire where many of my ancestors lie."
Tracks that are directly influenced by the Munros of Scotland, such as 'Cairn Toul' and 'Braeriach', are both majestic and sublime in their scope, sitting alongside interludes that more generally allude to the instrument: 'Stops', 'Pressure', 'Above and Below'.
When writing her first organ commission in 2006 Claire approached the instrument as a sound source rather than how it is conventionally played. She has never had a lesson in her life and developed her own way of playing, including using straws or chopsticks to hold down the keys so she can manipulate the wind through the stops. About 90% of her sound, she says, involves her having one hand or two on the stops – having a full physical relationship with the instrument, continuously tweaking and exploring the mechanical stop action as she progresses her melodies.
Much of the album was written or recorded in Claire's home county, at Forgue Kirk in Aberdeenshire. A church she hadn't discovered before, in a remote spot, up a slight hill near a small cluster of houses. A friend recommended the organ to her and she later found out from her mother that many of her ancestors were buried there. "I had this weird stars aligning moment – during my residency at Forgue I spotted a gravestone propped up in the pews which was being restored, and it was Peter Forsyth, one of my relatives."
Across the album, tracks flutter, pulse and build into and imposing mass. Some suggest texture and weather, using electronic processing and distortion. Others rely on the organ itself for heady atmospheres, while Saor's title track goes even further; recorded at Orgelpark, Amsterdam, an international concert hall for organists, it uses five instruments in layers that span four centuries. Claire also plays cello, mellotron and harmonium on the album, and there are contributions from strings (Patsy Reid), trumpet (Brian Shook), clarinets (Yann Ghiro) and French horn (Andy Saunders).
Saor is an adventure bringing the same sense of elation as the journeys Claire made on foot to the summit. "When I'm alone at the top of a Munro, I feel completely free. It's the most exhilarating feeling to be up there with nature looking at this vast landscape. I hope Saor conveys how that feels, and carries people with those feelings."
Saor is generously supported by Arts Council England, PRS Foundation's Composers' Fund in partnership with Jerwood Arts, the Friends of Forgue Kirk, the Richard Thomas Foundation and Orgelpark, Amsterdam.
Reviews:
A feature in The Drouth here (by Neil Cooper)
Boomkat (UK):
Singer knows her way around a pipe organ better than most. Not only is she Music Director of the organ at London's Union Chapel, she runs the UK's only organ festival, Organ Reframed, and has been writing for the instrument for over a decade. 'Saor' (meaning "free" in Scottish Gaelic) is her second proper album for Touch, and is a triumph of not only technique but composition. In her hands, the pipe organ is expressive, not just an aesthetic pointer to our liturgical past, and she layers harmonies that charm and bewilder as they slowly evolve. This isn't a loose set of dirges, it's a deftly balanced, deceptively complex symphony that uses the inherent power and spiritual theater of the instrument to evoke pure emotion.
Singer was motivated by two particular themes: her walks in Aberdeenshire's Cairngorms, and her experience getting acquainted with the 1872 Conacher organ, an instrument that arrived in Forgue Kirk, where many of her ancestors are buried, shortly after the Church of Scotland allowed it to be used again after over 300 years. This personal resonance is apparent on the album's opener 'Cairn Toul', a weighty composition that starts by establishing the tonal quality – wavering, ghosted drones – before adding thematic heft. Unashamedly grandiose, it's music that captures both the imposing, mountainous landscape and the solemn mass of history, sounding contemporary in its approach but aware of its historical function. She helps set the scene with short skits, recording the environmental creaks, clanks and hisses that help us lock into her location. They make the longer, more lushly crafted pieces sing louder and more clearly, so when we hear 'Forrig' after the brief 'Outside', a quick chirp from the surrounding natural world, it sounds all the more angelic.
And on 'Above and Below', Singer adds stubbly, distorted textures and rhythms, bending her organ sounds underneath woody clatters and blown-out hits. The centerpiece is the title track though, an almost 25-minute hum that cleverly only implies its magnificence. Singer waits a good 13 minutes before slipping from cautious drones into dense, powerful motifs, and when the drop comes, it's like a message straight from the heavens. You can almost touch the fog.
and in The List here
Composer Claire M Singer takes a somewhat unconventional approach to playing the organ. She tells us how the Scottish mountains have influenced her musical style and fed directly into a new album