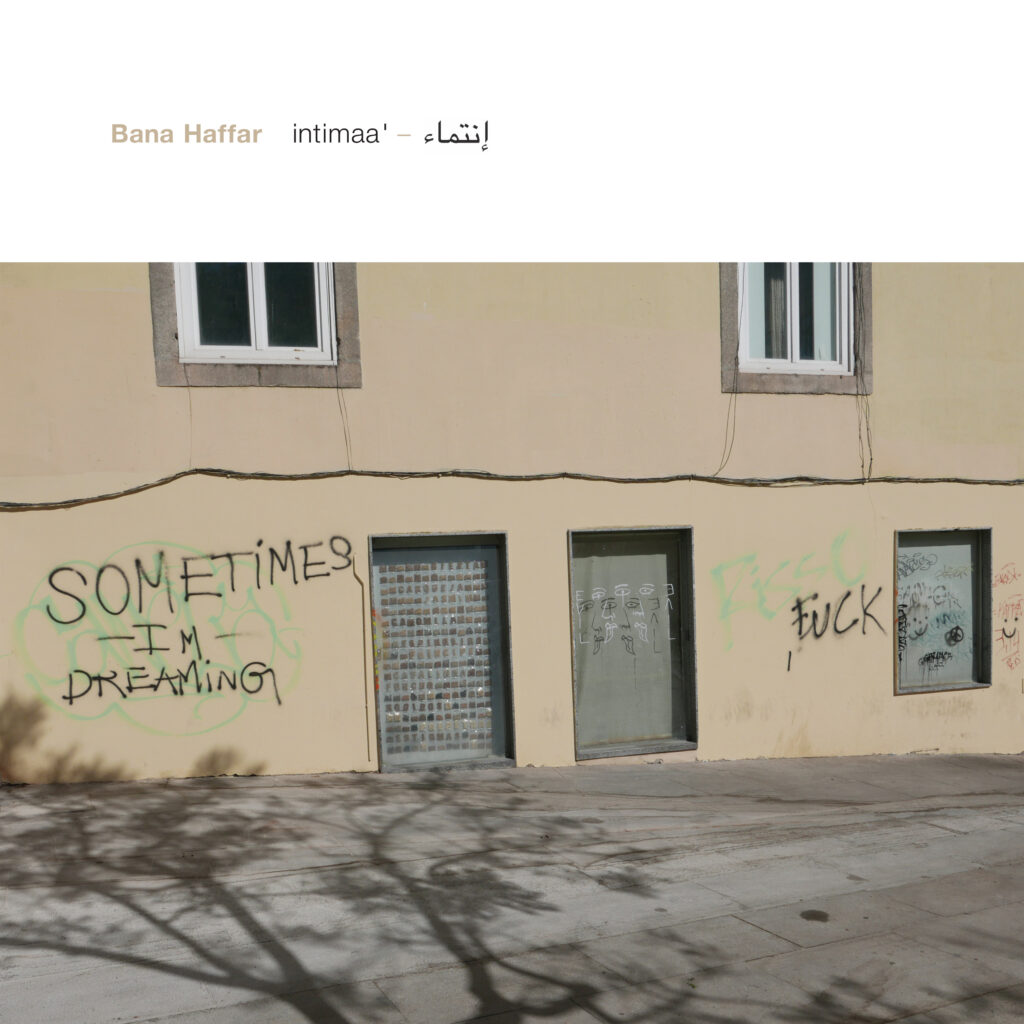 LP + DL – 7 tracks
Release date: Friday 19th May 2023 – you can pre-order your copy here on May 5th 2023
Track listing:
1. Clearing
2. Elemental
3. Ahi Al Samaa
4. Lifter
5. Save This Manual For The Future
6. Sit Still
7. All that is sometimes not considered
Survival is change
intimaa'
from a deep place of un-belonging
searching and searching
Recorded and mixed by Bana Haffar in Asheville, North Carolina between June 6th and July 18th, 2022
Artwork & photography by Jon Wozencroft
Mastered by Simon Scott @ SPS Mastering
Published by Touch Music/Fairwood Music (UK) Ltd.
intimaa' (belonging in Arabic) is a documentation of pieces composed for Touch's 40th anniversary celebrations in Los Angeles and Santa Cruz in the Spring of 2022.
Pulling from ongoing research in weaving and textiles, the pieces are informed by the interchangeability of the weaver's process with the sequencing of sound – from sourcing and preparing materials to be woven (recording, editing, and formatting samples), preparing the loom (programming the sequencer), and finally, weaving the cloth (playing back, manipulating, and recording the sequence).
Reviews:
Perfect Circuit (USA):
If you're hanging out on Perfect Circuit's blog (which…you are), it seems reasonable to assume that you're familiar with Bana Haffar. Haffar is a staple figure in modular synth culture, in no small part due to the fact that she is one of the co-founders of Modular on the Spot – an LA-based periodic synth picnic/concert/happening that has since taken on new life in other cities and countries.
Despite this connection to a now-nearly-ubiquitous aspect of 'modular synth culture,' Haffar is actually, in our estimation, quite unlike many modular synth artists. While the modular synthesiser is a primary tool in her creative process, her inspiration doesn't necessarily stem from the instrument itself: instead, extramusical concepts inform the processes she uses to create music. As a result, her music feels like it transcends the all-too-common pitfalls of music made with modular synthesisers. It's much more than the 'I just got a new module, here's my album' approach – her music is patient, thoughtful, and controlled by an underlying process that, despite many unexpected and occasionally disjunct results, feels cohesive.
In interviews, Haffar has pointed to the art of weaving as a primary inspiration and turning point in the development of her own musical processes. In 2019, when living in Asheville, North Carolina, she was commissioned by the Black Mountain College Museum + Arts Center to create a piece for percussion quartet. Ultimately, she took inspiration from Anni Albers – a textile artist and printmaker who taught weaving at Black Mountain College. By studying Albers and the process of weaving itself, Haffar was able to devise a means by which weaving drafts – grid-like two-dimensional templates for weaving – could be translated into rhythmic structures. By deepening her personal understanding of weaving, Haffar was able to develop a sense of relationship between the patterned structures of everyday objects and the music she was creating…and weaving is still a central concept in her music-making.
Her latest full-length release intimaa' إ​ن​ت​م​ا​ء' (released on Touch) follows along this trajectory. Intimaa', or 'belonging' in Arabic, serves as a central theme for the music. Haffar's sonic tapestries have an evocative, gradually-evolving, searching quality –constantly changing, never settling. Dissimilar materials overlap one another; sounds rhythmically collide and stretch beyond one another's boundaries; peaceful ambiences dissolve into effervescent textures while rhythms stumble past one another.
Powerful work from one of the most thoughtful living modular synth composers, intimaa'إ​ن​ت​م​ا' is a series of spaces that invite contemplation. Perhaps Haffar's most meditative and engrossing work to date, this is deeply introspective music – turn it on if you want to get lost in thought and guided gently to some not-so-certain destinations.
Alan Haselden (UK):
Bana is a sound artist in her 30's who lives in the US and is originally from Saudi Arabia.
This 35-minute LP intimaa' is seven electronic pieces made by both digital and analogue means. The pieces are drone-based with warm yet foggy and emotive sounds. The feel is a curiously ambivalent one and thus I'm not sure whether the pieces are a yearning for a better way ahead or whether they signpost an affirmed path towards comfort and resolve. Insistent, asymmetric, skittery rhythms; shrill, squiggly noises of fine resolution, and disruptive sampled musical snippets infiltrate the second and fourth pieces; and the sixth piece, titled 'Sit Still', embeds languid, dreamy vocals amidst a reverberant texture wash. If there is influence by veteran electronic artists Christian Fennesz and Autechre, then all the better, but, whatever, I think Intimaa' is a creation of Bana's own methodology and own experiences.