12″ Vinyl + 320 kbps MP3 files of the two vinyl tracks
Cut by Jason @ Transition
Artwork & Design by Jon Wozencroft
Track listing:
Side A
1. El Divisadero – The Telegraph 7:56
Side B
2. Veracruz – The Tunnel 7:54

Reviews:

Scarpyard (UK):
Coming in at a fashionably late mid-January comes my favourite albums of the year. I'm finding with every passing year that having to pick absolute faves using the classic reverse numbered ranking is becoming more and more moot, not to mention unnecessarily cumbersome. So, this will likely be the last time I assemble the year-end list in such a dictatorial manner. With that said, many of these could have easily been switched around and almost any of the honourable mentions could have pegged a numbered spot on a different day, so don't read into the numbers too much. I must say though, what a year, with much to reflect on. Landing my gig at Dusted was great for exposing more music, and credit is due to all the great blogs, review sites, labels and distros I discovered in 2011; I never would have discovered some of this brilliant music had it not been for their existence. Keep producing for the sake of art and the prolonged existence of physical media. For now, enjoy the list.
De:bug (Germany):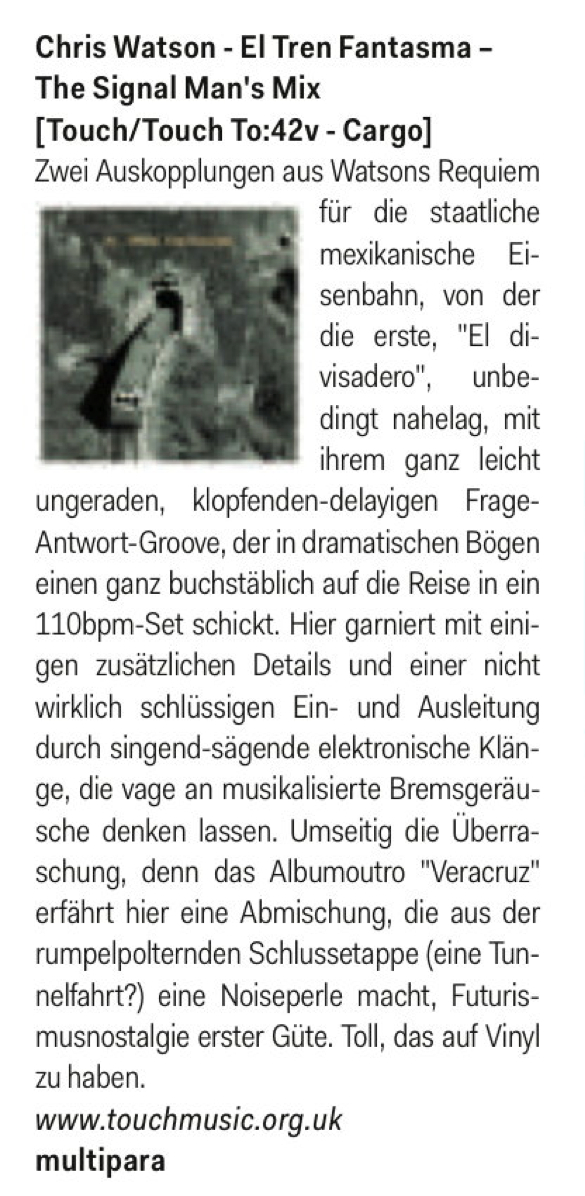 GoMag (Spain):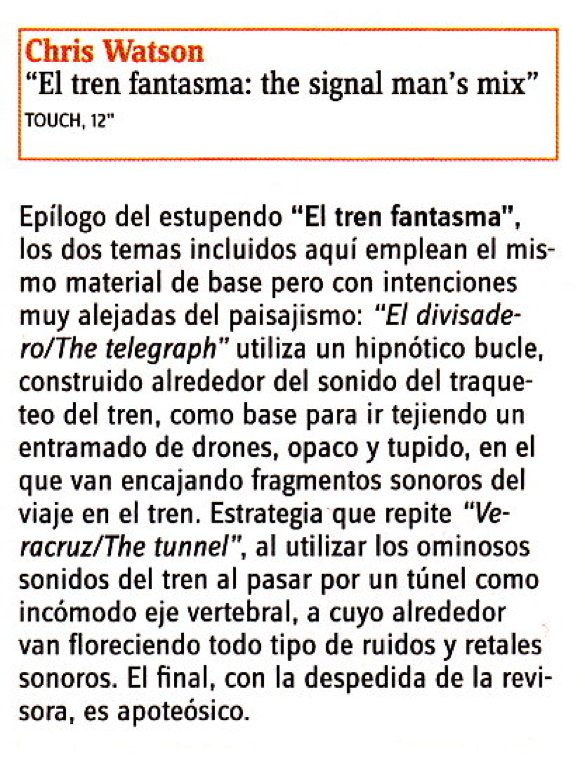 Rockerilla (Italy):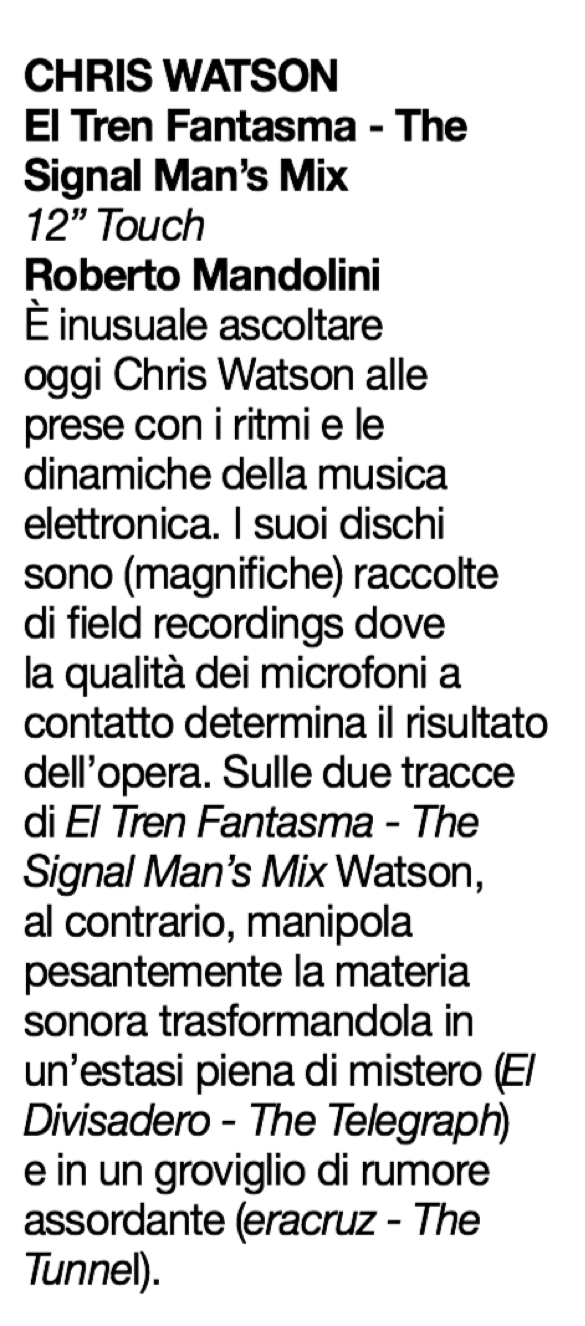 psychemusic.org (Belgium):
Environmental recordings for me only work when one controls the situation completely. This hardly happens, but with the right preparation working towards the "unique moment", its nature still is exactly the same as for the preparation of a jazz improvisation, a performance or anything special, an atmosphere, in this case it features the preparation of a package of a dynamic experience in sound. And just in case when the first recording didn't fit with every detail on the moment or the spot, one could or should still reorganise the available fitting elements over time and still make it as perfect as it could be.
Chris Watson is known for his Field Recordings (or call it for the occasion environmental music if you wish). When I read about the train recordings, I remembered how I often liked to prick my ears on the sounds of the trains at different locations. I also used to live a great deal of my youth near the railway. At first hearing, I did not notice that expected total perfection on the cd recording yet, so I did put most trust to the remix, and for that one I am already sure it reached it's goal and my rather high expectations.
The recording on side A received a slow ambient bowl-like electronic drone evolution to it, first like an intro with spatial harmonics that mixes in with the train sounds perfectly. It was unclear if such an addition was really necessary, but this works nicely. Especially after 4 minutes, the bass and higher tone loops of the train sounds in combination with the small quiet ambient drone, this truly starts to form a perfect sonic, steady-rhythmical meditation. Then a voice announcement from speakers comes through as if to introduce the working towards a conclusion in the track. This was in every detail perfectly timed.
On side B we hear a really enjoyable environmental-recordings-only mix of freight trains, like motor-driven roaring thunders that after a while leave sight/ears in the distance, to which you can hear some old train whistle harmonies too. Although this is just the sound of different passing trains, it is so well recorded (also technically) as if this is like a deliberately composed complex and dynamically organised movement. With the whistling drone being added further on, I am able to dream away with this, while the sounds echo away… Also this track ends similarly with another announcement. Perfect!