CD – 4 tracks – 55:44
Oren Ambarchi's third solo project for Touch [after Suspension and Insulation] sees him reaching beyond the work for electric guitar that he's become recognised for, expanding his palette and taking his investigations into another sphere entirely. Grapes from the Estate features new instrumentation (strings, tuned bells, percussion and others that can only be guessed at), but the singular and unmistakable influence that Ambarchi exerts on these new materials is what makes it such an indelible work.
There is a reconciliation of his love of song-based music and his determination to deal in pure sound. The result is a work that truly eludes such arbitrary definitions. Grapes From The Estate is an all consuming experience that draws the listener out of an ordinary sense of time, into a world beyond it.
On more than any other release, his entire body of work to date can be experienced in a single statement. There are the seemingly random tonal structures that are such a large part of his vocabulary, the playfulness and humour of his formative noise schooling, his love of free jazz, of pop music, and rhythmic elements, perhaps subconsciously derived from his Sephardic heritage. Another outpouring of personal, intimate and enduring music from Oren Ambarchi.
Track list:
1. Corkscrew
2. Girl with the Silver Eyes
3. Remedios the Beauty
4. Stars Aligned, Web Spun

Reviews:

Boomkat (UK):
*FINALLY AVAILABLE ON SUPER-LIMITED DELUXE VINYL EDITION!!!* Oren Ambarchi acts as a good antithesis to that other great improv luminary – Fennesz. Both artists use the guitar as a starting point for minimalist discovery and post-abstract innovation, though where Fennesz relies heavily on distortion and catharsis, Ambarchi's focus is on a much more refined, clean building of layers and delicate augmentations. For his third outing on Touch, Ambarchi's immense achievement is through his sense of timing, pace and definition – slowly building pieces up to warm, glowing echoes that use dronelike beginings and head into sumptuous soundscaped vistas. "Grapes from The Estate" is neither minimal nor abstract in the difficult sense, the added arrangement of piano, organ and even drums transforming his familiar self-restraint into an hour-long process of transformation and deep ambience. Incredible stuff from this great artist once again – highly recommended.
World's of Possibility (Blog):
Skirting nepotism here, I know. It's hard to write about Grapes from the Estate simply because Oren's been a good friend for a few years now, so I'll keep it brief. I was kinda astonished when Will Montgomery pasted Grapes from the Estate in The Wire: was he hearing the same record? I think Montgomery placed too much store in 'Oren Ambarchi, the experimental musician'. However, if you listen to Oren's work – I'm thinking of his solo music here – as one thread, some search for resolution, then Grapes from the Estate is his 'first point of culmination.' It felt right that, in opening up his music to other contingencies, Oren would find his voice: if records like Insulation and Suspension were sometimes claustrophobic, the sound of someone searching for their own sound, then Grapes is the first Ambarchi record that breathes. Why is Grapes from the Estate such an incredible leap for Ambarchi? Its affective properties; its freedom; its newly won artistic assuredness. For everyone who fainted over Fennesz's Venice, this is that record's younger cousin. Grapes from the Estate is constantly surprising, and out-of-time.
Boomkat (UK):
Oren Ambarchi acts as a good antithesis to that other great Touch luminary – Fennesz. Both artists use the guitar as a starting point for minimalist discovery and post-abstract innovation, though where Fennesz relies heavily on distortion and catharsis, Ambarchi's focus is on a much more refined, clean building of layers and delicate augmentations. For his third outing on Touch, Ambarchi's immense achievement is through his sense of timing, pace and definition – slowly building pieces up to warm, glowing echoes that use dronelike beginings and head into sumptuous soundscaped vistas. "Grapes from The Estate" is neither minimal nor abstract in the difficult sense, the added arrangement of piano, organ and even drums transforming his familiar self-restraint into an hour-long process of transformation and deep ambience. Incredible stuff from Touch once again – highly recommended.
Foxy Digitalis (web):
Grapes From the Estate is the latest studio offering from Australian guitar maestro Oren Ambarchi. Though he exists in the outer realms of treated guitar experimentalism, where folks like Jim O'Rourke, Fennesz and Keith Rowe regularly dwell, arguably none in the field tempers his microtonality with such resonating warmth and simplicity. Any part of these four tracks would make the perfect bed for stretching out and gently wafting away on waves of rippling harmonics. Ambarchi conveys dimensions of possibility with the most plaintive brush strokes, whether he's exploring fluctuating tonalities on "Corkscrew" or weaving webs of jazz complexity as he does brilliantly on the haunting "Girl With the Silver Eyes", before notes eventually scatters into a trickling fountain of chimes and drones. The longer "Remedios The Beauty" sees his minimalism brushed with slight percussion and acoustic guitar flourishes where the 20 min "Stars Aligned, Webs Spun" offers much softer aural pillows for stretching and drifting. Throughout the production is crystal yet warm, and each tone given more than enough space to grow and reverberate through the expansive gate of Ambarchi's hyperbolic dream chamber. [8/10 – LJ]
TNT (USA):
Oren Ambarchi. This Australian dude might very well be the king of drone these days, but, really, he turns that whole "genre" on its head. Dropping harshness/ incoherence and unchartable seas of sound in favor of harmony and rhythm, the end result sounds like an update of Brian Eno's vision of ambience. At times tremendously more captivating than strict ambience, none of its characteristic beauty and grace is lost. I try my damnedest to stay abreast of the newest in music, but, fuck me, a lot of stuff out there is boring as hell, not to mention of questionable merit. Ignoring structure and dynamism is all well and good, but for God's sake, find a way to make it essential and unique. By opting for more conventional forms for his unconventional sounds, Ambarchi crafts a delightfully accessible and charming experimental album. I can't say it's the most essential album of the year, or even the one I'd most pressingly tell people to listen to, but I can say that I've enjoyed it immensely, and it indicates a possible evolution for this obscure sect of music. Hell, you'll have something half- palatable to play for your friends when they ask about that weird music you listen to. [Leveer]
Dusted (USA):
His buddy Fennesz gets all the ink as the next generation of guitar, but Ambarchi is the more nuanced and tactile player, still physically invoking that instrument, but making it sound like an abstract noisemaker without the help of a Powerbook. His 'tone' is somewhere between gamelan gong and an ungrounded wire, with subterranean throbs bristling with static and shorted-out crackle. You can feel every touch of his finger, every gesture of his body coming through the strings. The four pieces here created a timeless space much like Morton Feldman or Alvin Lucier. While Fennesz basically treaded water for Venice, Ambarchi further expounded on his ideas and actually went in a more accessible direction for his third album for Touch. The key is in how Oren alchemically altered his telltale sound, so that his guitar could slyly be pulled out of the mix and replaced with piano, bells, ride cymbals, Hammond, or nylon-string, cycling, sustaining, and mutating even as it retained its hypnotic effect on listeners. A favorite DJ tool for SUNN O)))) for its potent rumble, it could've also been sold to indie kids who like their post-rock crisp and melodic, all the while retaining its poetic, effervescent quality.
and…
Sitting poolside about 50 feet from the ocean at the Mayan Riviera, which CD do you expect to sound the best? Chances are you wouldn't guess Oren Ambarchi's Grapes From the Estate. Pinpoint tones long enough to lay out with and pitches shift softer than an Italian gearbox. One of the most beautiful sounds of 2004.
Q (UK):
Instrumentals from Aussie guitar experimenter.
Australia Oren Ambarchi evades ambient cliché thanks to a gift for understated melody. Even at a potentially patience-sapping 55 minutes, Grapes From The Estate is his most engrossing album to date. Girl With The Silver Eyes has lovely guitar notes bursting unexpectedly over the disquieting background throb and, elsewhere, hypnotic bell tones and acoustic twangs slowly wreath themselves around Remedios The Beauty. it's like the weird, beautiful music you think you only hear in dreams. [David Sheppard]
The Montreal Mirror (Canada):
For his third solo effort, Aussie experimentalist Ambarchi goes beyond his signature prepared guitar explorations into a world of tonal purity and melodic beauty. Clocking in at just under an hour, the first of four tracks begins with a gradual layering of tones that slowly build into a shifting landscape of sound. The second track hits the ground trotting with random melodies of playfully stripped down guitar, drums and Hammond organ. Ambarchi does an amazing job of drawing the casual listener deep into his atmospheric world with a meditative intimacy that does a lot with so little. Minimalism at its most sublime. 9/10 [Raf Katigbak]
Filter (USA):
Much easier to stomach is the third disc from Australia's Oren Ambarchi. Grapes from the Estate (Touch) effortlessly abstracts Ambarchi's guitar playing to sheer, unfurling timbre trails. The resulting four-part drone suite is spellbinding. Rigging his instrument to transmit ionospheric frequencies, Ambarchi occasionally cracks the hum channel with brushed snares and the odd elegiac strum. Expertly fermented, Grapes from the Estate yields a potent vintage.
Milk Factory (UK):
Oren Ambarchi is one of a growing number of guitarists whose music betrays little sign of its instrumental origin: Christian Fennesz, Christopher Willitts and Joseph Suchy may also be numbered as members of this relatively new clan, though practitioners such as Keith Rowe and Fred Frith have already certainly set sufficient precedents in the past couple of decades.
Ambarchi's first track on his third release for Touch begins in test-tone territory with smooth, neutral hums gently repeated like the electronic memory of a lighthouse's fog warning. All the activity on Corkscrew occurs at the edges of these hums whose momentary lips and curls delineate the border between silence and sound. These clicks serve as a sonic foregrounding mechanism, provoking memories of unwanted vinyl scratches though without the associated frustration. Somehow the contrast established between warm tone and unpredictable click emphasises awareness of both elements and maintains attention over the track's nine-plus minutes. Corkscrew imparts the dreambound feeling of surging through thick fog in the middle of the night, no star- or moonlight available to guide you.
The Girl With The Silver Eyes retains its predecessors? hums and clicks, but stirs in note chimes and clusters which bear a greater resemblance to chandelier crystals falling in slow motion than notes sounded on anything as mundane as a guitar. The result is strange and just a little unsettling. Simultaneously somnambulant and purposeful, if a Faberge egg were ever recorded opening and closing via the agency of its mysteriously intricate clockwork this might be the result. Remedios The Beauty borrows its title from a character in Gabriela Garcia Marquez?s novel One Hundred Years Of Solitude and reveals a more direct melodicism than its predecessors. The first five minutes might be described as a folk song heard through the sonic equivalent of a frosted pane of glass, or the sensation of stroking a tiger?s fur whilst wearing surgeon's gloves. Later, small bells or gongs sound like wine glass rims circled by tongue-wetted fingers. There's a sense of leisurely (the track is fifteen and a half minutes long) progression, which navigates a gradual change of mood from carefree to subtly threatened. The final track, Stars Aligned, Webs Spun is very minimal, more like a ritual echo which accrues the gentlest of reverberations over its twenty-minute length.
Grapes From The Estate is a beautiful piece of work, simultaneously mysterious and accessible. Its contemplativeness creates a space within which the listener can react to the music without a sense of being manipulated by the normal dynamics of melodic or even ambient music. Recommended. [Colin Buttimer]
Dusted (USA):
This is a somewhat perplexing release from the usually excellent Ambarchi. It's simplistic, even friendly. Mind you, the Touch imprint has a bit of history in putting out relatively user-friendly releases by otherwise gnarly musicians, including Ambarchi's own Insulation from 1999 and Suspension from 2001, but I was still taken aback by Grapes From the Estate. As most of Ambarchi's recent work has been with the likes of Otomo Yoshihide, Sachiko M, Fennesz, and Keith Rowe, I was expecting music as sparse as this but perhaps not quite so obviously tonal and familiar. This wine turned out to be much sweeter than anticipated.
He opens things up with "Corkscrew," a slow-moving, hypnotic piece where Ambarchi's electric guitars are highly processed and sound like pure computer tones; the piece evolves around lush, ringing fifths. Ambarchi has long experimented with the electric guitar, stripping it of all its rock and expressionist associations and treating it as a pure sound source (something he does quite brilliantly on Flypaper, his duet with Rowe, and on his drone duet with Johan Berthling, My Days Are Darker Than Your Nights, whose lush carpet of tones and loops might be seen as a predecessor for this release). In a sense, here he's using the techniques acquired in more challenging situations to construct the electroacoustic equivalent of pop songs. Certainly the quasi-progression of "Girl with the Silver Eyes" justifies that description, despite its inclusion of the odd squeal and sine tone. For more of this, skip right to the sing-song "Remedios the Beauty" (good to see that Ambarchi has been reading his Gabriel Garcia Marquez, by the way) which is the most Fennesz-like track here. However, just as Ambarchi builds up these two middle tracks with their melodies and chord progressions (many built around multiple guitars, percussion, piano, and organ), the long finale "Stars Aligned, Webs Spun" returns to just electric guitars. The feel on this last track almost reminds me of Ben Monder's "Propane Dream" filtered through one of Jim O'Rourke's sunnier moments (or through some of the lovely melancholy of a Grails song).
All the songs loop on and on, seemingly infinitely, succeeding through the repetition of and simple elaboration on very basic sonic materials. There's nothing particularly groundbreaking on Grapes From the Estate, but that's not really the point either. Its patient incandescence is reward enough. [Jason Bivins]
PitchForkMedia (USA):
On a day when your transmission drops to the asphalt and the humidity's enough to fry brains, Oren Ambarchi's resonating, disembodied guitarisms establish a soothing alternate universe. With his third solo project for Touch – following 2001's Suspension and 2000's Insulation – the Australian guitarist unwraps the warm chilliness of past efforts, organizing a languid, abstract world of lulling harmonics and slow-drip tones with the on/off attenuation of strings, bells and percussion.
Raised in Sydney, and of Sephardic Jewish heritage, Ambarchi's performed and recorded with labelmate Christian Fennesz, Sachiko M, John Zorn, Keith Rowe, Phill Niblock, Toshimaru Nakamura, Martin Ng, and others. But while he's been performing live since 1986, guitar in tote, I'd prefer to keep Ambarchi as a one-dimensional wraith flittering about my cramped apartment: Nothing like seeing a guy sweating over knobs and cables to drain the magic from twilight overtones.
As is, Grapes from the Estate's ambient clusters navigate a field of emptiness. The first composition, "Corkscrew", would make an ideal soundtrack for one of Bill Viola's single-channel watery videos, especially the moments in which a microscopic lens outlines the surprisingly complex contours of each droplet. The piece consists of electric guitars, but sounds like an echoed tone generator, the occasional circles surrounding a submerged stone, or a fading gong.
"Girl with the Silver Eyes" bulks up with Hammond organ and drums, but casts a similar shadow. The most noticeable difference is a fairly distinguished bass overload. These gentle, heavy pulsations are the only cacophonous wavelengths on this album, and they're pretty minor. Otherwise, at the near-midway point, regulatory brushes and snare wraps surface, followed by an intermittent kabuki melody that rises like an afterthought. The track resolves as the pantomime of a quietly corroding music box unleashes its last gasps.
"Remedios the Beauty" opens with a hook and maintains the "riff" throughout: Mixing acoustic and electric guitars, piano, bells, drums, and the strings of Veren Grigorov and Peter Hollo, it comes off like sheets of crystalline snow spiked with a looped Four Tet yarn or a twangy western Matmos two-step at its center. Entering the pop realm, it's the most obviously musical, least enigmatic of the compositions. Still, it works in setting up the starkness of the final 20-minute "Stars Aligned, Web Spun", which brings the album full-circle. Ambarchi, again alone with this electric guitars, ups the enveloping absence of "Corkscrew", doubling its duration. Over time, the sprawl unfurls like found inhuman frequencies: Ambarchi's patience in allowing calm tones to live healthy, long lives creates a blinking grid. It's what I imagine a black and white Lite Brite would sound like if it were allowed a temporary whisper.
No matter how camouflaged, a guitar is a guitar. Though it may be hard to believe this flickering six-string sunspot emerged from an instrument that established Steve Vai and Yngwie Malmsteen, Ambarchi makes his solo talk without resorting to a single spell-breaking finger-tap, mathy scale, or screeching whammy bar. Wonder what he could do with "Hot for Teacher"… [Brandon Stosuy]
igloo (USA):
"…With Grapes from the Estate Ambarchi has introduced a wider variety of sounds and also given the pieces of music even more time to develop. So we find four long tracks, with the Suspension style tones and drones, mixed with piano, chimes, soft brush-played drumming, and, perhaps most surprisingly, unobscured guitar chords…"
I've been following the solo work of this Australian guitarist for a few years now, and am enjoying each release more and more. His music inhabits an area of slowly developing, languid guitar-based electronic compositions which bears comparison to other releases on Touch by the likes of Rafael Toral and Fennesz. Whether they share influences, there's also a certain similarity with later Seefeel releases, where Mark Clifford sounded bent on reproducing the moods of Aphex Twin's Selected Ambient Works II (Warp) with a guitar as his starting point. These more ambient explorations culminated with the album Ch- Vox (Rephlex), but while that had a cold and brittle sound, Oren Ambarchi's work is notable for being both calming and inviting.
Ambarchi's last solo release, Suspension (Touch), involved long, deep tones punctuated by dull pops and shifts as repeating samples abruptly cut off and start again in overlapping phrases. Slowed and elongated sounds may no longer bear much, or any, resemblance to guitar. Maybe a better point of comparison is with less noisy Oval tracks. With Grapes from the Estate Ambarchi has introduced a wider variety of sounds and also given the pieces of music even more time to develop. So we find four long tracks, with the Suspension style tones and drones, mixed with piano, chimes, soft brush-played drumming, and, perhaps most surprisingly, unobscured guitar chords.
The album warms up with "Corkscrew," which is in the older style, and serves as a leader into the more diverse sounds of "Girl with the Silver Eyes." This second track opens with a series of abrupt tones that click in and out of existence. Softer bass sounds are introduced to complement these, followed by muted drumming. Where others might have introduced a clear rhythm, Ambarchi allows the drums to serve as texture, using artificially extended cymbals as gentle punctuation. The chiming strum of a guitar slowly takes prominence, shifting in speed, pitch and stereo space as the track progresses, reminiscent of the more free experimentation of his first solo album.
"Remedios the Beauty" starts with clusters of looping notes, which are allowed to quietly rub against each other slowly shifting phrases, before suddenly being pared back to a repeating bass pattern. From here the track builds back up with the muted ringing of bells and bowls, before being joined by distant strings and finally settling into a repeating series of chords played on acoustic guitar and piano. This is by far the most conventional piece of music I've heard from Ambarchi solo, sounding something like a slow instrumental passage from his "pop" band Sun as a swung drum part is introduced, but still underpinned by his trademark processed guitar loops. To give you an idea of scale, this one clocks in at a mere quarter of an hour in length.
The album closes with "Stars Aligned, Webs Spun," a 20 minute track that returns to the slow build of electric guitar tones. It's the kind of track which those who never enjoyed ambient music may dismiss, saying "nothing happens," but attentive listening reveals many details as very quiet tremelo playing augments the more heavily processed sounds. There is an extremely delicate interplay between the soft higher chords and the sometimes quavering and shuddering bass notes, which reminds me of what separates ambience from new age – the hints of disquiet stop the over all effect from being cloying.
When writing reviews I try to steer well clear of gushing, because I know when I read a review I really just want to know what something sounds like and get a little context, so I can assess for myself whether I want to check it out. The risk is obviously that people are left only with clinical descriptions that may make an album sound boring. So I should stress that after repeat listens Grapes from the Estate has really sunk its hook into my brain and I find it very moving. If you enjoy any of the music I've referred to in this review, I would thoroughly recommend you take the time to check this release out. [Michael Upton]
Stylus (USA):
Ambarchi's third solo outing on Touch is a solo affair in the truest sense of the word. Aside from some strings contributions by Veren Grigorov and Peter Hollo on "Remedios The Beauty", Ambarchi plays all other instruments – organ, drums, piano, and, of course, guitars – himself. Conventional instrumentation doesn't mean conventional sound, however, as he often recasts his guitar sound to a point where it loses whatever recognizable qualities it typically has. Listeners familiar with the previous works Insulation (1999) and Suspension (2001) will know that anyone expecting raw feedback or solo pyrotechnics should look elsewhere as Ambarchi is uninterested in such familiar, clichéd approaches to the guitar. Instead he uses the instrument impressionistically to generate sonic fields that slowly mass and evolve.
The album's comprised of four long tracks, the first two in the ten-minute range and the latter two fifteen and twenty minutes respectively. The mood is established at the outset by "Corkscrew", a meditative piece that builds slowly, its ambient tones seemingly awakening from slumber to gradually overlap, with starbursts popping faintly in the background. More expansive is "Girl with the Silver Eyes" whose wayward tones, organ, and delicate guitar filigrees resound amidst a relaxed base of drum brushes. "Remedios the Beauty" veers closest to conventional narrative structure, with a delineable progression that unfolds naturally. Its opening array of clicking, flickering tones gradually settles into hypnotically repeating patterns. Midway through, the piece opens up with the addition of tuned bells and string textures, and then turns propulsive, even slightly funky, with animated drum patterns, moody piano accents, and acoustic guitar strums. The last track, "Stars Aligned, Web Spun", appeared already under the title "Stacte.4B Ver.2" on the Tigerbeat6 compilation Goodnight: Music To Sleep By but it fits comfortably alongside the other pieces even though, generated solely by guitar, it's more extremely ambient in character.
While the music is abstract in its disavowal of conventional melody, whatever off-putting associations the term might possess hardly apply in this case as the mood throughout is bucolic and the style thoroughly accessible. Not all of Ambarchi's recorded appearances are so becalmed, however, as his drumming stint with the Australian free noise group Phlegm shows, an experience that seem light years removed from the restrained artistry on display here. Like the idyllic outdoor photographs by Jon Wozencroft that adorn the album packaging, Grapes From The Estate offers an inviting space that's peaceful and intimate. [Ron Schepper]
Other Music (USA):
After several releases as the drummer for the somewhat infamous Australian free noise combo Phlegm, and a duo release with drummer Robbie Avenaim on Tzadik in 1999 as a part of their Radical Jewish Culture series, Oren Ambarchi (apparently inspired by the Mego crew as well as Morton Feldman and Alvin Lucier) began experimenting with the electric guitar extending its tonal possibilities via a vast array of pedals and other electronics. These beginnings led to Insulation, his first solo release for the Touch label in 1999. A modest effort, its densely layered drones only hinted at the carefully sculpted sounds to come but exposed him to a new audience and a new host of collaborators including Keith Rowe, Christian Fennesz, and more recently Johan Berthling. It was not until his second full-length Suspension (2001) that Ambarchi fully began to define his overall sound. An unmistakably monolithic gesture towards blurring the lines between movement and stasis, Suspension defined a new kind of ambience that had more to do with presence and gradual shifting melodic patterns than the more detail oriented allusions of his previous solo full-length.
Grapes From the Estate continues where Suspension left off. The first track, "Corkscrew" slowly layers short electric guitar loops to haunting effect, a fitting introduction that sets the tone for the rest of the pieces to build off of. And building is in some respects the direction that Ambarchi's latest installment focuses on. Adding organ, drums, piano, tuned bells, percussion and strings to his already dense compositions, Ambarchi slowly weaves each layer into the mix. Shifting from moments of pure sound to almost song-like structures, Grapes From the Estate excels at pulling the listener in and rewards with subtle arrangements and melodic percussive textures. While this juxtaposition may seem to be jarring on paper, Ambarchi lets each sound evolve in such a gradual manner that nothing sounds out of place or forced. An intimate and personal document of one the more singularly focused voices in the contemporary experimental scene. Highly recommended. [KH]
De Tijd (Belgium):
De Australiër Oren Ambarchi is van verschillende markten thuis. Na tot midden jaren negentig aan freejazz verwante rock en metal in de band Phlegm te exploreren, zoekt hij vlak voor de eeuwwisseling rustiger paden op. Met Chris Townend, een man die Ambarchi ook bijstaat voor opname en productie, houdt hij er sindsdien het onconventionele singer-songwriterproject Sun op na. Daarnaast werkt de dertiger ook onder zijn eigen naam. Solo hanteert Ambarchi de 'tabletopguitar', een plat op de tafel rustende, aan elektronica verbonden elektrische gitaar waarmee hij nummers brouwt die zich aan de wetten van de zwaartekracht en de tijd trachten te ontwortelen. 'Grapes from the Estate' is, na 'Suspension' uit 2001 en 'Insulation' uit 2000, Ambarchi's derde soloalbum voor het Britse label Touch. Op zijn nieuweling houdt hij vast aan zijn onderhand vertrouwde stramien: met een groot respect voor de stilte bespeelt hij op een Spartaanse manier zijn gitaar. Dat leidt andermaal tot lange geluidsflappen die zich tussen hemel en aarde lijken te bevinden (en die in de verte overigens aan Brian Eno herinneren). Op 'Grapes from the Estate' voegt Ambarchi enkele nieuwe instrumenten toe. Daardoor klinkt zijn geluid zowel meer gediversifieerd als gelaagd. Zo duiken in het knappe 'Girl With the Silver Eyes' een hammondorgel en drums op. 'Remedios the Beauty' bevat dan weer piano, klokkenspel, en violen (door Veren Gigorov en Peter Hollo). Ambarchi bevindt zich in topvorm in het vierde en laatste nummer 'Stars Aligned, Webs Spun'. Zijn meer dan twintig minuten durende gitaarimprovisatie draait rond niet meer dan een herhalende toon en een langzaam aanzwellende drone. Met die hyperminimalistische inzet creëert de Australiër een verstilde schoonheid, een uit overlappende toonvibraties opgetrokken hymne die letterlijk tijdloos is. [Ive Stevenheydens]
Urban Magazine (Belgium):
Australiër Oren Ambarchi pikt de draad weer op, waar hij die met het sublieme 'Suspension' uit 2001 liet liggen. Op het eerste zicht verschilt 'Grapes From The Estate' niet zo veel van de bijna ademloze schoonheid van zijn voorganger maar het verrassingseffect is grotendeels verdwenen. Op 'Corkscrew' en 'Stars Aligned, Webs Spun' vullen spaarzame en sobere akoestische gitaarlicks de ruimte. Op 'Girl With The Silver Eyes' introduceert Ambarchi een hammondorgeltje en wat drums. Op het uitgesponnen 'Remedios The Beauty' wordt het klankpalet nog verder aangedikt met piano, percussie en zelfs strijkers. [Peter Wullen]
Aquarius (USA):
The notion of musicians hunkered over their laptops, sitting still in the glow of the screen, not moving at all except for their fingers, paints a rather dull performance picture of what is often sonically quite exciting. So when organic/real/live instruments are brought into the mix, it makes the whole thing that much more alive and approachable and personal. Thus our appreciation of guitar-wielding electronicists (and fellow Touch label recording artists) Christian Fennesz and Oren Ambarchi. Fennesz with his sun dappled, "Venice" California sunshine-y shimmer, and Oren Ambarchi with his less-is-more, minimalist pointalism. Both use the guitar to interact with the computer, but where Fennesz paints lush dense soundscapes, of thick harmonies and dreamy buzz, Ambarchi takes a way more minimal approach on Grapes From The Estate, spreading notes out into lazy barely there melodies, and loose frameworks of subtle glitchery and gentle strum. Occasionally, drums enter the mix, but only as a shuffling afterthought, lending the sound a definite jazzy post rock vibe. Imagine Oval's glitchy and muffled underwater murmer, but played on a guitar instead of being assembled from skipping cds. There is that sort of hiccupping rhythmic element present, but it's much more an innate part of the song, and these are most definitely -songs-. Instead of long 'pieces', these tracks are structured like actual songs, melodies appear and disappear, recur and subtly shift throughout, there are almost-choruses, and some of the motifs are quite catchy (although subtly so). Most of the record is dark and glacial, stepping carefully through a vast expanse of space, except for the album's centerpiece "Remidios The Beauty", where the pace picks up just a bit, and Ambarchi's guitar / laptop interface produces an almost bouncy melody, that while being slightly more upbeat, still retains all of its dreamy sleepiness. This is the perfect mix of Kompakt style pop ambient, minimalist post rock, and those dark and rumbling drones we all love so much.
Bagatellen (Web):
Two salient points stand out in Oren Ambarchi's fine new album. Conceptually, the four pieces utilize a surprisingly song-like structure, albeit one that's drastically extended and iterated in languid fashion. Formally, many of the guitar sounds share an unusual element. This latter becomes apparent from the very opening of the first track, "Corkscrew". It's made up of a series of humming tones, very organ-y in nature, but every tone is introduced with a kind of plosive click, as if each is being turned on independently and the sound of the switch itself is retained. This lends the piece an odd, almost a-temporal quality, as though individual hums are spontaneously generating in the sound space, blooming and overlapping each other in three-dimensional fashion. I'm reminded of a work that I can't quite put my finger on (perhaps Bags readers can help me out), wherein a series of tones is triggered by the composer (I'm thinking maybe Ashley or 'Blue' Gene Tyranny) saying, "Start now" in an irregular rhythm. This hard/soft aspect is both prickly and satisfying, keeping the listener teetering in giddy unbalance. The midrange tones are soon accompanied by shuddering low ones in a fairly regular cadence. It's around this point that you become aware of the larger regularity of the piece, of its slowly lilting sense of song and it begins to read almost like a lullaby. It expires with a small, gorgeously soft explosion. "Corkscrew" turns out to have been something of a prelude for the remaining works which amplify and elaborate on issues it raises. Throughout the disc, the pop-hum element is omnipresent as is the repetitive structure. Ambarchi has often tended toward the relatively tonal in the past but here, he lets that side of his persona pour out unabashedly. Because of this (and because of the label), there will doubtless be comparisons raised with Fennesz (with whom he's recently worked in the Four Gentlemen of the Guitar quartet) but, while there's some commonality, Ambarchi appears to have largely different concerns, including little abstractly fractured pop nostalgia. "The Girl With the Silver Eyes" introduces brushed drums and zither-like guitar (faint echoes of Laraaji!), slathered onto the drones like icing on a cake, beguiling the listener with sheer lusciousness. In terms of quasi-pop structural allusions, things ratchet to their peak on "Remedios the Beauty". The tempo is picked up to a gentle trot, there's something of a melody in play, and the brushed drums become more insistent. Small morsels are appended: a faint raised pitch here, a small spray of static there, but you have to listen hard to notice them as you tend to be lulled by the sonic bliss. When the "ensemble" drops out leaving only a spare scaffolding of low tones, it's almost (well, not almost, but at least slightly reminiscent of) a bass break in a funk tune. One of the lovelier moments in the disc occurs as elements reappear after this interlude, bells, surges of muted guitar and, eventually, brooding strums of same, accompanied by a shuffling cymbals 'n' brushes beat. A descending, four-note piano motif, long-held notes taking about 15 seconds per cycle, becomes the central figure for the remainder of the piece, forming a delicious, obsessive and stubbornly opposing force to the rhythm. The final track, "Stars Aligned, Webs Spun", pulls back a bit from the relative delirium, playing off a clear, two-note figure (as always, with the popping intro) against low, sputtering tones, a calm, if bleak coda. "Grapes from the estate" is very much of a piece, four variations on a lovely conceptual theme. Not an accession, but a gentle nod toward Ambarchi's melodic sensibility, the music has certainly been strengthened and reinforced by the more overtly severe work of past years, imparting to these pieces a spine which may otherwise have been lacking. It will be interesting indeed, in a prospective pendulum swing between these poles (and perhaps others), to hear how the discoveries made herein tinge his subsequent music. [Brian]
All Music Guide (USA):
Proceeding from Suspension and informed by Oren Ambarchi's work in the song-based group Sun, Grapes from the Estate adds yet another beautiful installment to his growing discography. Definitely of the same lineage as the guitarist's previous albums for Touch, this one sees him perfect his art – the four pieces sound purer and even more focused – and expand his instrumental palette. The opening and closing pieces come closer than what you'd expect: multitracked guitar loops consisting of fragmented tonal melodies coupling abstraction with a sense of sweetness and peacefulness. The 20-minute Stars Aligned, Webs Spun is slightly slow to gather momentum, but its awkward rearrangement of cut-out notes and chords eventually builds up to a delightful understated tune. Corkscrew is the perfect example of what Ambarchi has been aiming to do for the previous five years. In the other two pieces, the guitarist adds extra instruments to offer fully-arranged music hinting at the melancholia of post-rock while retaining his highly idiosyncratic signature. Girl with the Silver Eyes simply adds sharply-cut organ notes to the web of looped guitars, its tones actually very close to Ambarchi's guitar sound. There is also a little bit of drums, an instrument given a more prominent role in Remedios The Beauty, along with acoustic guitar, piano, bells and percussion. A gorgeous piece, this one opens doors to new grounds for Ambarchi to explore. Highly recommended. [François Couture]
VITAL (Netherlands):
When Touch released the first Oren Ambarchi I was surprised to see the work of such an unknown man on such a well-known label, and to be honest, back then I wasn't that impressed with 'Insulation'. Things changed over the years a lot. Ambarchi is not a guy fooling around with guitar sounds and computer, but foremost he plays guitar and he improvises with others – countless CDs are the result. His second solo work for Touch, 'Suspension' was already a more personal album but now he takes matters to his own completely. The first piece is like Oren Ambarchi live: playing a few notes, lots of silence – or rather: space – between the notes and nothing else. But on 'Girl With The Silver Eyes' he add to a similar guitar playing also drums and hammond organ, however they are also very sparsely used, like a few small blocks here and there and not throughout. Unlike 'Remedios The Beauty', in which percussion, piano, strings (the only instruments played by others) play a more continous role in the music, and it almost becomes a lounge music piece, or maybe an one man Town & Country. And then the final movement takes us back down, just electric guitars again, but it seems that this is almost a sparser piece of music then the opening piece. A single note is played over and over again, but with various sustains (although these differences only work on a very small level. If you are still looking for a good introduction to the solo work of Ambarchi, here's one. Play this and then a lot of his work with others fall to place too. And currentely on tour again in Europe. No reason to miss out. (FdW)
IDJ (UK):
Ambarchi's third solo piece for Touch echoes Cylob's 'Mod Bell's, in its construction from a variety of gongs and tones. It's not all contemplative soul food, however, the well-rounded sounds which both open and close proceedings serving to cocoon the more melodicious central tracks from outside influence, allowing Reichian delight 'Remedios The Beauty' to twist and turn upon it's own axis seemingly indefinitely. Lush. [Kingsley Marshall]
The Wire (UK):
Oren Ambarchi's latest, his 3rd for Touch, begins with a sinuous track exploring the soft, warm tunes with which his guitar playing is most associated. The notes loop gracefully, swerving as they go. There's a well gauged decay and an appealing capacity for low-register wobbling: Ambarchi can treat the guitar as essentially a tone generator. Pluck and twang are suppressed and the ear is asked to home in on the repeating notes themselves. But this focus on sound in itself is only half the story. It is brought together with the arch pop leanings that are given full head in Ambarchi's group Sun. The second track, "The Girl With The Silver Eyes", begins with looping tones but the atmosphere changes completely with the entry of a brush caressed snare drum. The loops are slowly overlaid with percussion, Hammond organ and strange, spangling guitar chords (all played by ambarchi himself). The result is a wistful lyricism with allegiances floating somewhere between tune and tone. The next piece, "Remedios The Beauty", at one pleasingly queasy point folds in on itself, dropping away to play deep, low tones against resonant bells. But Ambarchi oversweetens the mix with strings and a descending piano phrase that soon hangs heavy.
More satisfying is the final track, the 20 minute long "Stars Aligned, Web Spun". The wavering of the gong-like main guitar note gives the piece a sustaining ambiguity. Slowly, more tuneful material gathers around it and the piece moves into an easy-on-the-ear post-rock pastoral. Yet it's hardly challenging. There are plenty of strengths to this album: an open, improvisatory feel; a sound that's both dense and unfussy about hiss and loop-point clicks; a skilful layering of elements. But Ambarchi's personal third stream isn't as persuasive as some of his past work – yet. [Will Montgomery]
Frankfurter Rundschau (Germany):
Oren Ambarchi aus Neuseeland hat sich in den letzten zwölf Monaten in Europa auf den Agenden der Nischen-Musik einen Namen gemacht. Neben unzähligen Kooperationen im Bereich atonaler und experimenteller Musik wusste er vor allem mit seinem Duo SUN und deren wunderbar-traurigen, superlangsamen Gitarrenrock zu begeistern. Auf den vier sehr langen "Stücken" seines neuen Solo-Albums, soviel sei den SUN-Freunden gesagt, gibt es keinen Gesang und auch nur ab und an Rhythmen. Trotzdem erscheinen die Stücke durchaus logisch in Ambarchis Weiterentwicklung ruhiger, stoischer Momente von SUN. Viele der verwendeten Instrumente (Glocken, Geigen, Percussions) lassen sich in ihrer Digitalisierung bzw. Verfremdung nur noch vage erahnen, und doch ist klar, dass "Grapes From The Estate" kein reines Computer-Album ist. Man muss sich Zeit nehmen, dann entdeckt man die Schönheit und Größe dieser Landschaften
Time Out New York (USA):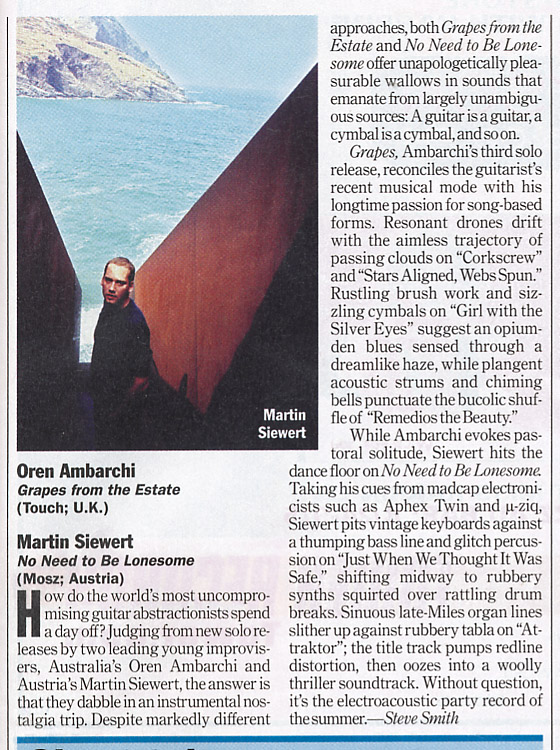 His Voice (Czechia):
Poslech obou recenzovaných alb z britské stáje Touch vyžaduje schopnost oprostit se od každodenního shonu a zcela se zastavit, nebo? obsahují opravdu velice pozvolna vyvíjející se hudební nápl?, v níž hrají nemalou roli hranice slyšitelnosti i oby?ejné (ale pro mnohé také dosti vzácné) ticho. Pro oba hudebníky jsou tyto novinky jejich z?ejm? v?bec nejpoklidn?jšími pracemi (nutnost kvalitní zvukové aparatury a izolace od okolí), v charakteru zpracování a zvukovém rejst?íku již však mezi nimi mnoho sty?ných ploch nenajdeme. V Sydney narozený Oren Ambarchi pokra?uje v experimentování se zvukem kytar – i když na desce hraje i na bicí, klavír nebo hammondky – a p?edevším pak v obsesi jednotlivými tóny. Ambarchi zcela upouští od 'logické' snahy o tvorbu souvislých melodií a namísto toho se no?í do fascinujícího sv?ta barev, délek a intenzity tón?, tedy t?ch nejzákladn?jších stavebních kamen?. Každému brnknutí rád ponechává dostatek prostoru a ?asu a poslucha?i tak nabízí p?íležitost dosyta vnímat jejich chv?ní a r?zné tvá?e. Tóny se zvolna zaplétají do smy?ek a v duchu minimalistického p?ístupu jsou kladeny do n?kolika málo vrstev, díky ?emuž se jednak zachovává absolutní transparentnost struktury skladeb a jednak vznikají plnohodnotné hudební motivy – koneckonc? tento jasn? sledovatelný proces p?em?ny shluku tón? ve smysluplný celek pat?í k nejúchvatn?jším rys?m nahrávky. Minimum zvukových zdroj? s sebou nese riziko šlápnutí vedle, Ambarchi ovšem vybírá umn? a ke zm?nám – a? obvykle velmi jemným – p?istupuje d?íve než zavládne p?ílišná rozvlá?nost (snad jen s výjimkou záv?re?né dvacetiminutové Stars Aligned, Webs Spun, jejíž efekt se p?i nedostate?ném soust?ed?ní blíží prášku na spaní). Za nejzajímav?jší po?in asi m?žeme ozna?it zvukov? nejpln?jší a zárove? nejbarevn?jší, post-rockem zaván?jící kus Remedios The Beauty, v n?mž se úvodní milá cvakavá smy?ka zni?ehonic propadne, tempo se zpomalí a k základu se postupn? pomalu p?idají nejen dlouho zn?jící zvonky, ale posléze i smy?ce (Veren Grigorov a Peter Hollo), klavír a lehké jazzové bicí a perkuse. Zatímco Ambarchiho desku provází d?myslná preciznost, d?raz na detail, akustické teplo a k?iš?álová ?istota zvuk?, zkušený norský bard Geir Jenssen (Biosphere) vše utápí v nejspodn?jších patrech. Po?átky Autour de la Lune nutno hledat v archivu Radio France, kde Geir objevil dramatizaci románu Julese Verna Cesta na m?síc ze 60. let. Uchvácen faktem, že skute?né lety Ameri?an? na náš p?irozený satelit se z velké ?ásti odehrály tak, jak o nich v 19. století fantazíroval Verne, se rozhodl toto album tentokrát nezam??it na jeho polární domovinu, ale tam nahoru, do vesmíru. Použil ?ásti zmín?né dramatizace a zvuky nahrané na orbitální stanici Mir a s p?ídavkem vlastního zvukového materiálu vytvo?il vskutku 'vet?elecky' tajemný opus o devíti ?ástech. Naprostá v?tšina d?ní na desce, kterého popravd? není mnoho, se odehrává v tichých basových rovinách atakujících limity lidského ucha i b?žných reproduktorových sestav, p?i?emž za?átek a konec alba pat?í pro Biosphere typi?t?jším kus?m s výrazn?jšími zasmy?kovanými motivy. Jedná se o opravdu temnou ambientní procházku neznámem a podv?domý/pov?domý pocit neklidu, nervozity a strachu se dostavuje spolehliv?. Jenssen zde p?edstavuje svou nejexperimentáln?jší a prozatím nejmén? p?ístupnou tvá?, hladina p?esv?d?ivosti a smysluplnosti však místy kolísá. [Hynek Dedecius]
nth position (UK):
Venice, Text of Light & Grapes from the Estate
How many different kinds of different are there? Well, judging by this bunch, when it comes to guitar music, an awful lot. All these CDs are based around the use of electric guitars in innovative ways, with enormously different end results. Christian Fennesz has a clearly identifiable sound that changes relatively little from disc to disc, but he manages to do a surprising amount with it. Essentially, Fennesz makes plush, beautifully-produced, multi-layered, slow-moving melodic and elegiac music, with very little else – bar the treated guitar – being significantly in evidence; but having said that, he is excellent at producing evocative variations on this theme. His last album, Endless Summer, harked back to peak-period Brian Wilson Beach Boys and conjured up a sun-kissed Californian idyll out of a relatively minimal fabric.
You cannot get much further from Californian beaches than the quintessentially European decadence of Venice, with its shadows, ennui and sense of mournful loss, self-indulgence and history; yet with pretty much the same sonic palette, Fennesz manages to capture it with equal ease. The album sprawls languidly in a thoroughly Venetian way, and you can almost feel the dark passages, limpid canals and sun-baked, cat-haunted, piazzas. The flow is slightly disrupted by the appearance of David Sylvain on 'Transit', where he produces a more Scott Walker-than-Scott Walker meditation on European decay in a way that only he can; the album never quite recovers momentum. It's not that the remaining tracks are any poorer, but that 'Transit' feels like an album-closer, so the subsequent tracks can't help but appear as afterthoughts. Nonetheless, this is a beautiful and alluring album and a delight to the ear, one for the iPod next time you are on the Bridge of Sighs.
Text of Light take an equally off-beat approach to guitar. A quintessentially New York post-rock supergroup, they were formed to perform improvised soundtracks to the experimental hand-painted films of Stan Brakhage. These are neither soundtracks to the film or musical accompaniments, but are seen by the band as an additional component to a total audio-visual experience. Fronted by the twin guitars of NY stalwarts Lee Ranaldo, from Sonic Youth and Alan Licht. They also incorporate turntablists DJ Olive and Christian Marclay and a jazz rhythm section of William Hooker and Ulrich Kreiger, in various combinations. This is a formidable ensemble and does not disappoint. The music is dense, restless and fascinating, even when presented here without the films that they work with. The three live improvisations presented here stand up extraordinarily well on their own and make for absorbing and rewarding listening, showcasing a collection of musicians completely on top of their craft.
Almost as far as one can get from the roaring feedback-tinged improv of Texts of Light and the high-density sound of Fennesz is Oren Ambarchi's take on the guitar. His sound is ultra-minimal, concentrating on the tonal qualities of single notes, drawn out to lengthy drones and given subtle, carefully-managed decays. The whole album is an exercise in exquisite restraint, with every tone savoured and treated with respect, culminating on the final track 'Stars Aligned, Webs Spun', with its balanced consideration of sonorous, bell-like tones that hang in the air and built to a deep pastoral beauty that sings out the virtues of doing as little as possible, but doing it perfectly. [Ian Simmons]
Mouvement (France):
Entre ce disque et le premier sorti sous son nom par l'Australien Oren Ambarchi après qu'il ait arrêté le groupe Phlegm, les points communs sont difficiles à trouver. En duo avec son compatriote Rob Avenaim, il inventait des fulgurances bruitistes sur le séminal The Alter Rebbe's Nigun qui témoignait de son séjour new-yorkais et de son intérêt pour sa scène downtown. Ce n'est qu'après son retour à Sydney, où il construit son studio et collabore avec Pimmon, Fennesz et Keith Rowe, qu'il trouve sa voie que le label Touch relaye dès les précédents et excellents Insulation et Suspension. Entre ces deux moments clés de sa carrière, son univers a considérablement evolué, comme son approche de la guitare, de plus en plus minimale, même couplée à des effets électroniques, ou, comme c'est le cas ici, complétée par une multitude d'autres instruments (piano, orgue, batterie, etc.) dont il joue également. Désormais, les contours d'une rare pureté et l'abstraction sensuelle et apaisante de ce qu'il crée le positionnent aux antipodes de la violence sonore dont il fut l'un des passionnants propagateurs. Sur Grapes From The Estate, quatre longues plages aériennes évoquent des paysages organiques assez proches de l'ambient d'un Brian Eno ou, mieux et plus près de nous, d'un Steve Roden ou d'un Dean Roberts. Quant à son sens inné des boucles et du séquençage, il est pour beaucoup dans l'aspect entêtant d'ambiances dont on peine à se défaire. [Philippe Robert]
indiepoprock (France):
Le guitariste australien Oren Ambarachi aime les terres désertiques où la musique circule en spirales, lentement, très lentement. Où chaque note vient prendre l'empreinte de toutes les aspérités de la roche auditive.
Le minimalisme qui en ressort n'est pas froid, bien au contraire c'est une douce chaleur, comme celle d'un rayon de soleil qui vient vous caresser le visage, passant à travers les branches d'un arbre, d'une forêt rougit dans les mains de l'automne. On perçoit ici et là d'autres instruments, tout aussi dénudés. Un orgue Hammond, un piano, des cloches qui se laissent pourtant vêtir d'un léger voile d'électronique à peine perceptible.
Sur "Grapes from the Estate", album qui sort bien évidemment chez Touch, Oren Ambarchi recherche la pureté. Une quête d'une musique originelle, aérienne et entêtante, dont l'esthétisme passe par le dépouillement. Et il y réussit fort bien.
Das NetzMagazin (Switzerland):
Töne wie Trauben
Durch die Musik des Australischen Gitarristen und Perkussionisten Oren Ambarchi wird man zum Zen-Buddhisten. Leben und Hören im fliessenden Jetzt, während die minimalen Melodien in Zeitlupe von Moment zu Moment perlen. Auf "Grapes From The Estate" sind die Töne Trauben, die man sich Stück für Stück zum Munde führt. Langweilig wird's dem hellhörigen Traubenpflücker nicht, obwohl die Instrumentierung nur in zwei der vier Songs des Albums über die – oftmals unkenntliche – Gitarre hinausgeht. Viel mehr als punktuell eingesetztes Klavier, scheue Geigen und zarte Perkussion gibt's aber auch dort nicht zu hören. Das ist auch nicht weiter schlimm, denn weniger war selten mehr als in dieser schleichenden Ambient-Metamorphose. Ein bescheidener Geniestreich. [Ralph Hopfbauer]