Touch # TO:70
10 tracks – 47.8 Minutes
CD in Digipak
Artwork and photography: Jon Wozencroft
Track listing:
1. Elevation
2. Overcast
3. Erupting Light
4. Circular
5. Ascent
6. Opaque
7. Aether
8. Whiten
9. Into Warmer Air
10. Unveiled
Composed and recorded by Hildur Ingveldardóttir Gudnadóttir in Berlin and Reykjavík. Hildur played cello, zither, processors and voice.
Additional recordings by Skúli Sverrisson; bass and processors on all tracks except track 7, Jóhann Jóhannsson; organs and processors on tracks 2, 3 and 9 and Gudni Franzson; clarinet and bass clarinet on tracks 7 and 10.
Cello no. 49 was made by David Wiebe in 1991.

Reviews:

Bleep43 (UK):
Hildur Guðnadóttir is a gifted Icelandic cellist who is best known for her collaborations with Pan Sonic and post rock group múm. Along with múm, Sigur Rós, Jóhann Jóhannsson and Skúli Sverrisson, Guðnadóttir has helped breathe life into Iceland's vibrant experimental music scene. "Without Sinking" —her second solo album and her first on the Touch label— is a wonderful addition, one that cements her status among this group of gifted musician-composers. In "Without Sinking", she's produced a deeply moving album that should reach a large audience—from orchestral music enthusiasts to fans of experimental electronica.
The album features Guðnadóttir's cello, which is layered, lightly processed, and overdubbed to create a rich and melancholy musical tapestry. Collaborations with Skúli Sverrisson, Jóhann Jóhannsson, and Guðni Franzson are integrated in an organic way, matching the cello's somber tone and creating a sense of slow movement.
Guðnadóttir aimed to create an album that contrasted lighter, spacious compositions with denser and heavier compositions. She sought, in her own words, "to create a sky and cloud-like feeling" throughout the album. Lighter compositions foreground individual notes that float, Guðnadóttir states, "like single clouds in a clear sky." These are contrasted by denser compositions that seek to evince a "more thundercloud-like" feeling. There is a pensive, somber, and almost wintry touch to most of the compositions. So even though she describes her aim as creating a sky and cloud-like feeling, perhaps it is more apt to state that her album conjures images of frigid and inaccessible—but beautiful—arctic landscapes.
"Without Sinking", as such, was never intended to feature memorable musical phrases. There are few identifiable "hooks." In fact, only a few tracks have clear melodic lines—"Erupting Light," "Opaque," "Ascent," and "Into Warmer Air." Some might find this disconcerting, as compositions lacking strong melodic progressions seem better fit for cinematic scores than for a standalone album. But this only adds to the album's aesthetic charm. By creating compositions that emphasize space and depth, Guðnadóttir draws the listener into Without Sinking's emotional musical landscape.
She hooked me immediately. The album's first track, "Elevation," features a languid cello build over a soft, pulsing background. While slow, "Elevation" is both graceful and beautiful in its restraint. The following two tracks, "Overcast" and "Erupting Light," continue this sense of unhurried build. With "Ascent," perhaps my favourite track, Guðnadóttir explores both the cello's lower and higher registers to dramatic effect. In its higher register, the cello moans a melancholic but gorgeous tone, reminding me why I see the cello as the king of string instruments. Other excellent tracks include "Opaque" and "Into Warmer Air." In both of these tracks, Guðnadóttir quickens the pace and shapes a percussive background, over which the cries of her cello seem to soar.
Without Sinking is a fantastic album. It is deeply engaging, and is cohesive in its musical narrative. Run, don't walk, to your nearest store to pick it up. [Jeremy Yellen]
self-titled (USA):
We get a lot of crap CDs at the self-titled offices. But once in a while, a pleasant surprise slips into our promo stack. Here's a recent delivery that knocked the S/T staff on its collective ass.
The Vibe: Incredibly moving cello pieces from a Storsveit Nix Noltes member who's worked with such fellow sound sculptors as Throbbing Gristle, Pan Sonic, Ben Frost and múm.
RIYL: Stirring strings; Stephen O'Malley's approval; long walks on the beach…in the middle of winter
The Silent Ballet (USA):
8/10
As aficionados of this site know, I'm a huge Múm fan, and as such, I like to keep track of what all the members and former members are recording. This does not mean, however, that I like artists just because they are associated with Múm.Hildur Gudnadóttir (who has also recorded with Pan Sonic and Throbbing Gristle) has proved maddening in recent years, an artist who has, in my opinion, continually failed to come into her own. Her debut album, Mount A (recorded as Lost in Hildurness) was experimental, loosely formed, shape-shifting, and dissonant. She played a number of instruments on Mount A, but her primary instrument – the cello – was too frequently overshadowed by secondary sound sources. This failure was compounded on her collaboration with B.J. Nilsen and Stillupsteypa: here, the cello was mulched and processed to the point of unrecognizability.
Without Sinking is different. This time, the formula is right, the proportions perfect, the guests well-integrated. The most famous of these is Jóhann Jóhannsson, who plays organ and processor on three tracks. Other tracks feature bass, clarinet and bass clarinet, instruments that match well with the cello's lower registers.Without Sinking is, in fact, an exercise in lowness, and as such is already different from most albums in the field of modern composition. Without airy counterparts such as flute, trumpet or violin, the listening experience becomes one of compression, of inevitability, of slow descent. One feels the hand of fate on the proceedings – neither cruel nor arbitrary, but steady and scripted, even apologetic.
This is not to say that Without Sinking is depressing or oppressive. On the mood scale, it still ranks above dirge, drone and black metal, but is is more fog and fugue than cloud and carousel. The greyness of the cover – the silt, the sea – and the obscured sun of the interior art are apt metaphors for the sounds found within. Even the track titles seem carefully chosen: "Overcast", "Opaque", "Aether". And yet, moments of tentative revelation are scattered about like the germs of hope, the beginnings of an idea, the flutterings of understanding. These moments tend to arrive in the foam of identifiable melodies, bearing such titles as "Into Warmer Air" and "Erupting Light".
Perhaps Gudnadóttir is herself struggling with the question, "How do I live without sinking?" It is a legitimate question to ask, especially in her native Iceland, which in the course of the last twelve months has gone from being the happiest, healthiest and seemingly most stable nation on earth to bankruptcy, rioting and rampant unemployment. But it is also a valid question for those in any circumstance who are just barely hanging on: people for whom airy melodies and false cheer might seem unobservant and unfeeling. Such people might yearn for understanding, for empathy, for someone to say, "Yes, I know it might not get better. But I'm not ready to give in to they greyness, even in the middle of the ocean with no boat or buoy in sight." Gudnadóttir gets it – that words are ultimately ineffective, and crumble in the face of feelings – that some feelings can only be conjured by music – and that music sometimes speaks louder than words.
In this sense, one might consider Gudnadóttir the anti-Múm, until one realizes that both are approaching the same dock from different angles. Múm uses unusual juxtapositions, non-sensical phrases and seeming exuberance to mock a world that makes no sense, while Gudnadóttir seeks to identify the world's hidden underpinnings, the ley lines, the patterns of the gods. Múm laughs in order to keep from crying, and Gudnadóttir cries in order to stay sane. Without answers, it's hard to have faith; but on Without Sinking, she declares that she still has faith in the questions. [Richard Allen]
Aquarius Exclusives (USA):
Hildur Gudnadottir has such a way with the cello, able to create such utterly moving music that is filled with nuance and texture but that is also so deeply emotional. Hailing from Iceland, Gudnadottir's resume includes collaborations and partnerships with the likes of Pan Sonic, Mum, Sigur Ros, Angel, BJ Nilsen, etc. It's so nice to get to hear her take center stage, carefully crafting a sound that is about as moody and beautiful as music really gets. Perfect for those eternal gray days we are faced with so often in San Francisco, this is a record we put on when we just want to get lost in the fog and haze. There is very nice and subtle processing throughout the album as well, and here and there Gudnadottir tries her hand at the zither with stunning results. Johann Johansson adds organ on a few tracks as well, and fans of HIS best work as well as music by folks like Sylvain Chauveau, Philip Glass, Michael Cashmore, Joan Jeanrenaud and Colleen should for sure check this out. Truly elegant and intensely resonant. And thus highly recommended!
tinymixtapes (USA):
One glimpse into Hildur Gudnadóttir's discography is enough to reveal the breadth and versatility of the Icelandic cellist and composer's musicianship. Included among her more high-profile works are collaborations with Angel and Pan Sonic, as well as guest appearances with fellow Icelanders múm and Jóhann Jóhannsson. In addition, she has supported Animal Collective on tour as a member of Stórsveit Nix Noltes, has composed music for theater, film, and dance, and has co-written a choir score with Throbbing Gristle for the Derek Jarmen film In the Shadow of the Sun. While she has consistently added a richness and emotional depth to these collaborative works, Gudnadóttir has only recently begun to branch out as a solo artist. Adopting the moniker Lost in Hildurness, she released her debut album, Mount A, back in 2007. It's a highly reflective and exploratory work that beautifully showcases Gudnadóttir's understanding and love for the cello's expressive capabilities. On Without Sinking, her first release with Touch, Gudnadóttir drops her pseudonym and demonstrates an emerging confidence in her individual sound.
In terms of methodology and mood, Without Sinking essentially picks up where Mount A left off. Once again, the pieces are dominated by the layered and overlapping sounds of Gudnadóttir's cello, as they combine to create a generally austere and melancholic atmosphere. However, when compared to the majority of Mount A, there are moments throughout Without Sinking when Gudnadóttir opts for a less dense and amorphous approach. Tracks such as "Erupting Light" and "Into Warmer Air," for example, possess an uncharacteristic forward momentum with clear melodic lines at the forefront. Despite these more traditional, song-based moments, Without Sinking still finds Gudnadóttir utilizing her strengths as she weaves dense and encompassing textures using little more than the natural sound of her instrument.
Also in contrast to Mount A — which was under her sole control until the mixing process — Gudnadóttir has decided to invite guest musicians into the creative process this time around. Contributing bass, organ, and clarinet respectively, Skúli Sverrisson, Jóhann Jóhannsson, and Hildur's father Gudni Franzson were given the freedom to add their parts once Without Sinking's tracks were written and composed. For the most part, these contributions are relatively subtle, serving only to heighten the impact of Gudnadóttir's cello. The one exception is Franzson's appearance on "Aether," which is certainly one of the album's highlights. On this track, the interaction between Gudnadóttir's zither and Franzson's delicate clarinet melodies becomes the focal point, as the cello gently rises and falls in the background, adding dizzying texture and color. Such moments reveal the delightful possibilities that may arise if Gudnadóttir were to continue to embrace her collaborative spirit within the framework of her solo material.
Overall, Without Sinking's most impressive quality remains Gudnadóttir's continued use of classical methods and instrumentation to emphasize the experimental notion of 'sound' over 'song.' While contemporary musicians seeking a similar end result may rely on modern digital effects and processing, Gudnadóttir leaves her instrument relatively untouched, allowing it to interact with the natural acoustics of the recording space. It is through this general technique that she achieves her goal of finding a connection between the experimental and classical world, and, in turn, produces a highly expressive and absorbing album in the process. [Stephen Bezan]
fluid (UK):
'Without Sinking' gets this weeks fav album on Fluid and deservedly so… Taking stringed instrument experimentation to a new level, Hildur produces what has to be one of the most beautiful albums so far for 2009.
Popmatters (USA):
Sometimes it seems that the output from Scandinavian composers-cum-ambient musicians is so vast that it's hard to find an entry point into the work. Jóhann Johannsson, Valgeir Sigurõsson, mùm, Sigur Røs, and amiina, to name a few, have left definitive stamps on the ambient Icelandic music that is nearly its own genre by now. On Without Sinking, Hildur Gudnadóttir sheds her supporting role and comes to the forefront, armed with a vision as large as her cello.
Fans of the aforementioned musicians will certainly enjoy Without Sinking, but the album is also a fine offering for those who enjoy Kaija Saariaho or other musicians whose work deals with redefining and recontextualizing the cello. Here, the stringed instrument takes on the lead that is often filled by synthesizers or other electronics, and the acoustic instrumentation never sounds a bit out of place.
Without Sinking is a somber album, but it's not necessarily sad or depressing. At least, not always. Rather, it conjures an endless expanse where possibilities gradually open up and fantasy worlds begin. The opening track, "Elevation", begins building such a world with sustained cello notes held over quieter, quicker ones. This song has a gentle pulse throughout, a sense of breath forming its spine and lending a graceful sense of urgency. By the song's end, the listener is fully in Gudnadóttir's territory, and she doesn't offer many opportunities for escape. Unlike many post-rock songs where a quickening tempo indicates a grand takeoff, "Overcast" displays Gudnadóttir's talent for stair-stepping up the drama while leaving the listener firmly planted on the ground. "Erupting Light" is the first song where listeners begin to realize just how good Gudnadóttir is. Her cello is deft and flashy, but it is still part of the same somber, monochromatic landscape. "Circular" escalates the drama with the cello holding notes for a long time, resulting in hypoxic suspense as other instruments act in the background, but are unable to be deciphered over the cello's hum.
After "Circular", a heavy feeling of catharsis and fatigue lingers, only partially soothed by the opening notes of "Ascent", which dips into lower notes than previously heard on the album. The lower tones form a bedrock for the cello's cracking ice, and the listener is tasked with holding on to both sounds. Then one or the other falls away starkly but soon returns. Like many of the songs on Without Sinking, "Ascent" feels longer than it is, not because it is dull and repetitious, but because the space between notes is so leisurely that it doesn't seem possible for a whole song to be accomplished in four or five minutes. Yet, somehow, it is, though "Opaque" speeds up the pace a bit. It maintains the dueling cello phrases Gudnadóttir does so well, but the accelerated speed helps them become more terrestrial than subterranean—it's easy to see "Opaque" as twisted tree limbs embracing each other fiercely.
There is a wintry silence preceding the harpsichord twinkle that launches "Aether", the closest thing to a lullaby this album features. With a music box-like sound and strategic silence, "Aether" is a welcome comfort despite the comfort being grim. Whereas the rest of the album spells certain death, "Aether" is the promise that it will be painless. This is enough to pass for optimism on Without Sinking.
"Whiten" returns to the slow drama and low tones of earlier songs on the album, the bass notes ringing out like foghorns while the treble clef sounds the same relentless interval before it too elongates and sprawls over the bass. "Into Warmer Air" satisfies more standard expectations of classical cello, though four minutes in, producer Valgeir Sigurõsson makes his touch audible with his trademark fuzz of gentle chaos. "Unveiled" spends more time in the bass clef than any other songs on the album, and it is pleasant to hear the higher pitches counterpoint the lower ones for once. As the song grows, all its lines expand and come together and then fade into a single cello. And then the album is over. There is never any musical showdown announcing the climax, and the album is better for that—Gudnadóttir's refusal to conform to the Freytag Pyramid is a nice change that actually lends the album a greater musical resonance than many which shatter in prolonged musical fight scenes where instruments clash and triumph for minutes on end.
Gudnadóttir is to be commended for very many aspects of this, her second solo album and first for Touch. She sets herself apart from her contemporaries by using slowness to create various intensities that generally only happen with faster music. Further, the album is remarkably cohesive and feels like a narrative despite having no lyrics.
Foxydigitalis (US):
Hildur Ingveldardóttir Gudnadóttir is a classically trained Icelandic cellist/composer who is a key member in the neu-Icelandic music scene, centered around Kitchen Motors, a Reykjavík-based think tank, record label and art collective. While Sigur Ros and Bjork get all the press, Gudnadóttir has quietly amassed an impressive discography via collaborations with múm, Pan Sonic, and Angel. This is her sophomore solo effort, following her debut, "Mount A" (12 Tónar, 2006) released as Lost In Hildurness.
These ten multi-layered, contemplative, cello-based ruminations create haunting, evocative soundscapes that impart a warmth and soothing glow to images of Iceland's sparse, frozen landscapes. Tracks like "Overcast" paint mental pictures of grey, rainy days, while the weeping, mournful, "Circular" features her occasional zither flourishes. "Ascent," as it title suggests, evokes an almost religious aura.
The mood is elevated somewhat by the forceful, stalking "Opaque," while "Aether" cranks up the sedatives with a lovely and soothing zither and clarinet duet. An album of infinite beauty and warmth, "Without Sinking" is the perfect title for this collection, as it captures that in-between state of treading water, creating a sense of both anticipation and relief that help is on the way. 8/10 [Jeff Penczak]
The Wire (UK):

Other Music (US):
I first knowingly came across the disarming stringwork of Icelandic cellist Hildur Gudnadóttir on listening to Pan Sonic's stunning Katodivaihe. Hearing her confident strokes sitting beside the cold electronics of Mika Vainio and Ilpo Väisänen, I knew even then that I just needed to find more of her work. She has of course been busy — besides her back catalog of work (with Múm and Throbbing Gristle to name only two collaborations), she teamed up with BJNilsen and Stilluppsteypa on the incredible Second Childhood — but Without Sinking feels like the album I've been waiting for all along.
Those expecting processed electronics will be sorely disappointed; the beauty in Without Sinking is from its stark, measured restraint. Gudnadóttir has the enviable skill of being able to hold back without losing any urgency or momentum, carrying the tracks through push and pull seemingly without breaking a sweat. Of course this kind of restraint is set aside for only the greatest players, and this is what places Gudnadóttir far from the electro-classical set of recent years. The album is a celebration of a single instrument, and with that instrument she creates cinematic moods which are neither trite nor cliché, less reliant on motifs than Max Richter and far less experimentally minded than Sylvain Chauveau or Johann Johannsson. There are moments on Without Sinking where you could be listening to an ensemble playing without the assistance of any electronic enhancement of any kind. We know better than this, but it is a testament to Gudnadóttir's effortless and varied playing that she can layer her recordings into such accomplished works. The album itself, while segmented into ten tracks, feels like a body of pieces to be heard as one, beckoning you and guiding you through a strangely alluring melancholy. It is music, however, which does not dwell, the melancholy is part of the backdrop and all else is built into the icy landscape. An imaginary soundtrack to your favorite surrealist children's book, Without Sinking is a strong contender for album of the year so far. Absolutely unmissable. [JT]
Strange Glue (UK):
If there was any genre or type of music which we could somehow mix into liquid form and then hook it up to an I.V for direct, main artery infusion, it would most definitely be something instrumental. Perhaps an L.P picked from the very pinnacle of post-rock or maybe just a solemn, down-tempo record that's wordless and unobtrusive.
Or maybe it would be this very album.
Without Sinking is one of the most remarkable instrumental records to ever grace our ears and we do not say this lightly: it really is something extraordinary. Each and every moment held on the album is as inspiring as it is sparse; as atmospheric as it is deep. There's not a single second where the music isn't creeping all over the body of the listener and making each and every hair stand steadfastly erect. Forget about the normal constraints of music, they do not apply here, nor are they welcome.
To put in perspective just how absorbing and immersive the music is, a phone rang whilst we were in the process of reviewing the album. There was jumping, swearing and was extreme annoyance aimed directly at the person on the other end of the phone. How dare they interrupt this hallowed journey! It's almost like a hallucinogenic drug (one that you could hook up to an IV or something…).
There's no need for these 'songs' to go anywhere because they defy the basic requirements of the very word 'song'. There is no 'song' to speak of, nor any lyrics or direct rhythm, no beginning, middle or end; no chorus/verse/chorus structure. There's none of it, nada.
It is instead one steady stream of music and a display of instrumental talent which delves into the visual side of the consciousness as well as the sonic side. It could be the icy pickings of a string which conjure thoughts and dreams of snow-laden rooftops or a flute and cello gently riding on each other's zephyr which stirs a forgotten emotion or memory.
Each poignant note that emanates from your speakers is there to provoke something from within and take the listener on a voyage to an unknown, occasionally unsettling place where music is the water, the air and the landscape which surrounds you.
It may seem like we're getting very Zen on you but it's impossible to describe an album of this calibre in any other way. We could attempt at breaking down each track and point fingers at favourites but it would be to the detriment of the very reason that this album exists in the first place: it's not here to be dissected and scrutinized by some pretentious writer with a penchant for obscenities. It's here to show the planet what sound is capable of, it's here to personify and teach, to inspire and set a bar for what music should be.
When mood, atmosphere, emotion, visuals, instruments, creativity and imagination are all pulled off to this degree, it's hard to want to return back to the real world, so perhaps there's a warning to take heed of here. Well, there could be, but we're too busy listening to care… RATING: 9 / 10 [Brad Kelly]
FACT (UK):
Without Sinking is listed as one of the Best Albums of the Year So Far

Tremulous, deeply romantic cello work from this respected Icelandic artist, bolstered by bass and barely perceptible electronic processing from Johann Johannsson and Skuli Sverrisson. Not since Arthur Russell's World of Echo has a "traditional" string instrument sounded so urgent or expressive; not since Music For 18 Musicians has the FACT office bopped so happily to something which might be described as – gulp – "classical" music.
Boomkat (UK):
Hildur Gudnadottir is a gifted cellist with an impressive history of collaborations that includes work with Pan Sonic, Throbbing Gristle, Johann Johannsson, Skúli Sverrisson and Ben Frost among many others, as well as being a member of Iceland's notable Kitchen Motors collective. She first came to our attention on Pan Sonic's epic 'Katodivaihe' album from a couple of years back, her intense, blackened cello adding another dimension to Vainio and Väisänen's icy tundras. "Without Sinking" (her second solo album and first for the Touch label) is, however, by far the most cohesive and engrossing release of her career to date. It's not often that sales notes offer much by way of an insight into the real thought process or inspiration behind an album, but Gudnadottir's description of many hours spent on flights around the world looking at clouds really does encapsulate the atmosphere and semi-opaque wonder of these recordings. "I wanted to have open space for single notes and let them breath, like single clouds in a clear sky. As a contrast I also wanted to create denser and heavier compositions which were more thundercloud like. I like the way clouds form, how many tiny droplets can form such dense forms and then slowly evaporate into thin string-like forms." The sound Gudnadottir's cello makes paints these mysterious landscapes with an almost mystical purity, opening track "Elevation", for example, manages to outline an increasingly intense, almost mournful picture with seemingly simple layering techniques and barely perceptible processes submerged by the pregnant sound of Gudnadottir's hugely evocative instrument. But the album also includes contributions from a number of guests – most notably Johann Johannsson, Skúli Sverrisson and even Hildur's father Guðni Franzson, with tracks like "Aether" introducing Harp and wind instruments with a gentle economy that's so fragile and simple it's just nothing short of heart-stopping. The album closes with the dense "Unveiled", an ominous drone undulation steered by those cautious, towering strings and barely perceptible found sounds. It's the space between the notes, the restraint and expectation, that packs the biggest emotional punch on this incredibly moving recording, never allowing those 'cinematic' qualities to get in the way of the genuine dread and catharsis resting at the core of this utterly magnificent album. Amazing music.
mapsadasical.com (UK):
Such perfect timing. I had only just finished waffling about the importance of cellist Hildur Gudnadóttir's contribution to the band Angel, noting how the band changed from being all awkward and abrasive to being lush and listenable when she joined them, when along comes her first solo album on the Touch label. And what a perfect thing it is too.
The sleeve depicts a pier (Clevedon I think, wrought-iron fans) between grey skies and seas, seemingly propped up by the smudge of its own reflection. The tracks on the album are similarly suspended, with long solitary notes and denser sections intended to evoke an assortment of clouds. Jóhann Jóhannsson appears on a couple of tracks, and his work is a useful reference point – Without Sinking is a powerful, cinematic and often elegiac work for strings. Track titles are descriptive: after an overcast piece entitled "Overcast", the album erupts with light on, erm "Erupting Light", as Hildur's cello is teased out into separate lines and spun into delicate melodic phrases. The zither of "Aether" dances at the edge of perception, before it is swelled by soft clarinet and voice. "Into Warmer Air" is immaculately composed, with looped cello parts rising up to dangerously rarified air to merge with Jóhannsson's warning bleeps.
For a Touch album, Without Sinking is remarkably pure and unaffected. There is little in the way of electronics, and any processing is unobtrusive. As an intense and brooding representation of the natural world, however, it fits thematically into a canon containing works by the likes of BJNilsen and Chris Watson. Drift off in the general direction of the Touch Shop for a copy.
Hair Entertainment (DE):
Hildur Gudnadóttir's second solo effort consists of a series on lush, rich-sounding pieces focussing on her cello playing, but also featuring zither, bass, organ, clarinets and some subtle electronic treatment. The mostly short compositions included here occasionally stray into a rhythmic throb, but more often consist of long sustained drones. The space Gudnadóttir allows for the overtones of her strings to play and mingle may even appeal to those addicted to SunnO)))-style amplifier overload, but the focus here is on melody and warm, melancholic harmony. Despite the brevity of the individual tracks, Without Sinking never seems hurried. Each statement gradually unfolds with the sense of purpose, even inevitability, of a flower opening in stop-motion film. Many moments here are unashamedly pretty, with tinkling zither and sonorous cello notes combining in a way that reminds me a little of the instrumental passages in Björk's Vespertine. There is also a deep sense of seriousness and craft underpinning these delicate constructions. Seeming to draw from a well of inspiration that includes both the lengthly tradition of European art music and an engagement with contemporary experimental ideas, this disc combines a polished surface with considerable depth. [Nick Ilott]
Non-Pop (DE):
Moderner Ambient Teil 1: akustisch
Wie kaum ein anderes Instrument ist das Cello dafür geeignet, Stimmungen abzubilden. Nicht umsonst hat ihm die Barockmusik zum Durchbruch verholfen, deren Kompositionen versuchten, menschliche Gemütszustände nachzuahmen. Wer den warmen, vollen Klang eines Cellos schätzt, hat bei diesem Album schon gewonnen.
Die Isländerin HILDUR GUDNADÓTTIR gehört zu den interessantesten zeitgenössischen Cellistinnen. Entgegen ihrer rein klassischen Ausbildung (in Reykjavik und Berlin) setzt sie ihr Instrument heute auf alle nur denkbaren Arten und Weisen ein: Mit Noise-, Elektro- oder Rock-Musikern arbeitet sie zusammen, hat Liveauftritte mit THROBBING GRISTLE absolviert, betreibt mit ihrem besten Freund JÓHANN JÓHANNSSON zusammen die isländische Denk- und Musikfabrik KITCHEN MOTORS. Schließlich ist sie noch Mitglied von STÓRSVEIT NIX NOLTES, einer Gruppe isländischer Musiker, die bulgarische und griechische Tanzmusik interpretiert und als Vorband von ANIMAL COLLECTIVE schon durch die USA getourt ist. Im Angesicht all dieser Aktivitäten und einer umfangreichen Diskografie ist es fast unglaublich, dass die Frau erst 1982 geboren wurde, also gerade einmal 27 Jahre zählt.
Für ihr erstes Soloalbum fand HILDUR GUDNADÓTTIR allerdings erst vor drei Jahren Zeit. 2006 veröffentlichte sie "Mount A" bei ihren Landsleuten von 12 TÓNAR, eine dunkle, eigenbrötlerische, abgeschiedene Angelegenheit, eingespielt während eines langen Winters in einem Holzhaus ohne Nägel, wegen des besseren Klangs. (Diese Tatsache habe ich in der NONPOP-Besprechung eines weiteren, noch nicht aufgezählten HILDUR-Projekts schon erwähnt. Macht nichts. Hingabe an ein Instrument verdient doppelte Würdigung.) Die in diesen Tagen erscheinende, zweite GUDNADÓTTIR-CD ist in jeder Hinsicht anders. "Without Sinking" ist hauptsächlich im Sommer entstanden (2008 in Berlin), entsprechend luftig und freundlich strahlt die Cello-Szenerie. TOUCH RECORDS übernimmt die Veröffentlichung, ein britisches Label, das seit beinahe 30 Jahren aktiv ist und viel Wert auf eine visuelle Komponente der Musik legt. Dafür sorgt zum Teil TOUCH-Gründer JON WOZENCROFT mit seinen Landschaftsfotografien, welche viele der Cover zieren. Im Fall von "Without Sinking" ist es eine sehr einsam wirkende Seebrücke. Vor allem aber erreichen die meisten Musiker auf TOUCH, dass hinter den Tönen schnell eine Idee sichtbar wird. HILDUR GUDNADÓTTIR zum Beispiel vertont Wolkenbewegungen, die sie auf ihren zahlreichen Flügen zu Konzerten in den Jahren 2007 und 2008 aus dem Flugzeugfenster beobachtet hat. Und weil ihr Cello für solche Stimmungsbilder wieder einmal wie gemacht ist, fühlen sich die knapp 50 Minuten an, als ob der Hörer zu unterschiedlichen Zeiten im Gras liegt und in den Himmel schaut.
Viele einzelne Töne haben Platz, um sich auszudehnen und diverse Wolkenformen anzunehmen: dünne und weiße, dicke und graue, bedrohlich geballte, kaum sichtbare. Hauptsächlich aus solchen Drones – tief atmenden Noten – oder Clustern aus langen Tonfolgen besteht "Without Sinking". Die Stimmung schwankt zwischen verträumt und unruhig, denn als Kontrast zum Schönwetter-Horizont ballen sich immer wieder Regenwolken zu einer Unwetterfront zusammen. Besonders interessant wird es, wenn weitere Instrumente ins Spiel kommen. HILDUR hat die eigenen Cello-Parts an ihren Vater GUDNI FRANZSON (Klarinette) und einige befreundete Musiker (wie JÓHANN JÓHANNSSON) verschickt, die das Werk um zusätzliche Tonspuren ergänzt haben. So kommt ein Bass ins Spiel, der mit seinen besonders langsamen Tönen eine eigene Definition von Zeitlosigkeit stiftet. Oder die Klarinette des Vaters, die für eine besonders nachdenkliche, wolkenverhangene Stimmung sorgt. Auch wenn es sich hier um scheinbar zufällige Momentaufnahmen handelt, ist die Musik keinesfalls beliebig. Die Kunst besteht höchstens darin, sie zunächst beiläufig klingen zu lassen. Bei genauer Betrachtung aber hält jede Komposition gleich einem impressionistischen Gemälde eine ganz bestimmte Gemütsverfassung bzw. Wolkenkonstellation fest. Insgesamt eine lauschige und sehr persönliche Mußestunde mit anmutiger Kammermusik.
Dem im Untertitel erwähnten "Teil 1" folgt bald eine Fortsetzung auf NONPOP. Ebenfalls bei TOUCH hat der Österreicher FENNESZ sein neues Album veröffentlicht, das optisch und emotional ähnlich gelagert ist wie "Without Sinking", jedoch überwiegend elektronisch produziert wurde. [Michael We]
France Musique (France):
Je tiens absolument a vous dire quelques mots sur un album véritablement bouleversant, un album signé par une artiste islandaise sur le label Touch. Cette musicienne s'appelle Hildur GUDNADOTTIR, elle joue ici de la viole de gambe, du vibraphone et de la harpe, elle tire visiblement son inspiration de son folklore populaire, ou plutôt de musiques traditionnelles qui pourraient venir d'Islande, de Bulgarie, de Grèce ou de Mongolie. A son écoute on pense également aux musiques anciennes, à Marin Marais ou à Jean Sébastien Bach. Hildur Gudnadottir compose pour la danse, le cinéma, pour des orchestres de chambre aux instruments divers dans lesquels se mêlent très souvent des voix et des parties électroniques. Elle utilise sur cet album des field recordings, ces enregistrements (souvent en extérieur) de paysages sonores naturels. Le résultat laisse sans voix tant cette artiste rayonne d'un pouvoir émotionnel puissant et maitrise incontestablement des clés d'un langage musical universel. Without Sinking, puisque c'est le titre de cet album, est une leçon de fièvre et d'élégance musicale, une contemplation, un regard sonore totalement intemporel d'une grande maitrise et d'une belle lucidité que notre monde de mélomanes empressés aura tout a gagner à son acquisition. [Eric Serva]
030 (Germany):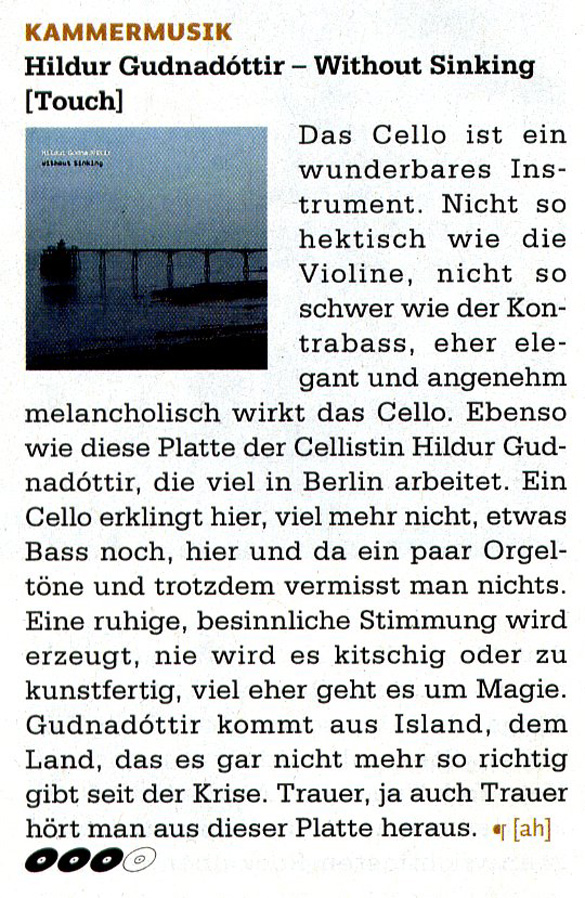 Playground (Spain):
De todos los instrumentos, es el violonchelo, muy posiblemente, el que mejor recoje la idea del abismo como lugar no precisamente agradable: la gravedad de su timbre, ese zumbido ominoso que surge cuando el arco se pasea de puntillas sobre unas cuerdas del grosor de un nervio ciático, es idónea para reflejar un estado de abatimiento espantoso, esa flaccidez del músculo y esa desgana que van unidas a la sensación de depresión, o más concretamente, al intento de rescatar la recortada de dos cañones de la despensa, apretarla contra el paladar sintiendo el frío del acero encima de la lengua y entonces, con mucha calma y pulso firme, pulsar el gatillo y decir adiós a este valle de lágrimas mientras un amasijo de sesos decoran el embaldosado como un cuadro de Kandinski. Por eso, a excepción de la marcha fúnebre de Chopin, que se toca al piano -eso sí, siempre con las teclas de la mano izquierda-, cuando uno quiere describir con sonidos el vacío, el hastío y el abandono de cualquier alegría, se rodea de oboes, pero sobre todo de cellos. El cello es, volviendo al comienzo del párrafo, el reflejo negro y deprimente del abismo de Nietzsche, que cuando lo miras -temerarios los hay- te devuelve la mirada con un recadito: 'ahora eres desgraciado, te jodes'. Y, sin embargo, los cellos, aunque igualmente destructores, carcomen menos que los celos: con ellos, aunque sea hundido en la miseria, se puede vivir sin menoscabo de la ración de pasiones estéticas que nos merecemos incluso encharcados en nuestra propia mierda como un gorrino en un pesebre.
Los cellos, decíamos. Hildur Gudnadóttir toca el violonchelo, y cuando se desperdigan sus notas es como si el manto de duelo de la noche se extendiera por la habitación. Hay veces en que sus interpretaciones le han salido primaverales -por ejemplo, ella aportó las frases correspondientes a su instrumento en el melancólico "Yesterday Was Dramatic, Today Is Ok" de múm-, pero en los últimos tiempos, siempre que la islandesa se ponía al servicio de cualquier artista experimental de los fríos polos, las notas que entregaba parecían notas de suicidio, escritas en tinta negra o vibrantes como una vena carótida a punto de ser seccionada por un bisturí de hoja quince. Se le ha oído recientemente en discos de BJ Nilsen ("The Short Night"), de Pan Sonic ("Katodivaihe"), de Valgeir Sigurdsson ("Ekvílíbrium") y en todo el catálogo del sello Bedroom Community, incluso ha firmado un absorvente disco de trío con BJ Nilsen y Stilluppsteypa ("Second Childhood", 2007) que, si el cura lo permite, igual suene en mi funeral un día de estos. Gudnadóttir pudo elegir entre tocar las suites de Bach, que es lo que toda cellista más o menos hace en sus ratos libre, o abonarse al mal rollo. Por alguna razón, el mal rollo pudo más que el dios del barroco.
Y, por eso, un disco como "Without Sinking" se ha materializado ante nuestros ojos en su grisáceo esplendor. Viva el mal rollo, aunque sea a costa de la integridad de la piel de nuestras muñecas y las venas que hay debajo. En su primer disco en solitario, esta dama del frío se aferra al mástil de su cello y bate las cuerdas con la furia lenta de un galeote condenado a muerte en la galera: todo el álbum es un vaivén de notas graves, sin eco, punzantes como un tenedor. De todos modos, el título esconde la clave de por qué uno, tras acabarse el disco, decide seguir con vida y no lanzarse desde la azotea para besar el asfalto en caída libre: aunque el hundimiento -marino, claro es, de ahí esa portada que sugiere una construcción en marcha a orillas de una playa cenicienta y quizá polar- esté presente en todos sus minutos, es un hundimiento figurado y no consumado: hay cierta esperanza de vivir, de salir a la superfície cuando está a punto de consumirse toda la reserva de oxígeno en los pulmones. Como en el pasaje más espectacularmente plástico y bello de la asombrosa película "Déjame entrar", algo acude en nuestro rescate cuando todo parece perdido, y esos agarraderos son los clarinetes de Gduni Franzson, el órgano tecleado por Jóhann Jóhannsson, y sobre todo el etéreo resplandor ambiental -procesos electrónicos sin misterio pero con belleza, trazados por la propia Gudnadóttir- que apuntilla el disco a lo largo de sus diez temas. Le ocurre a "Without Sinking" lo que a la Tercera Sinfonía de Henryk Gorécki: es máximo dolor de alma, pero a la vez con esa beatífica sensación de esperanza, de paz, de calor humano que siempre surge cuando se producen las mayores catástrofes. Este es un hundimiento colosal, como el del Titanic o el de las caravelas españolas que hacían la travesía de Indias cargadas de oro y acababan devoradas por Neptuno, pero no es un hundimiento masoquista: Hildur quiere que, al final, quede un último aliento para sobrevivir. Lo que no deja de ser una dulce tortura: ese ese aliento de reserva para, como un masoquista, volver a darle al botón del play. Droga durísima. [Javier Blánquez]
Icelandic Review (Iceland):
British record label Touch recently released Without Sinking, the second album from Icelandic musician Hildur Gudnadóttir. The album has received positive reviews from critics: Fact Magazine named it one of the 20 best albums of 2009 so far.
Gudnadóttir uses cello and electric sounds to create "dreamy, flowing music," as described in a press release from Kimi Records, which is the album's distributor in Iceland.
The musician has mentioned that her many air travels were a considerable influential factor when writing Without Sinking, during which she stared at the clouds.
Gudnadóttir released her first solo album Mount A under the artistic name Lost in Hildurness in 2006, which raised attention among fans of electric and experimental music.
Gudnadóttir will follow up the release of her latest album with concerts in Europe, among other venues at the Sound Forest Festival in Latvia on April 17, and she is also expected to perform during the notorious music festival Aldrei fór ég sudur in Ísafjördur, the West Fjords, which kicks off today.
elbows (Spain):
Hildur Gudnadóttir é uma violoncelista com um historial de colaborações impressionante onde se destacam os trabalhos realizados com os Pan Sonic, Throbbing Gristle, Johann Johannsson, Skúli Sverrisson, Bem Fros, entre outros. Para além desses, é membro do colectivo islandês Kitchen Motors. Da sua discografia destaca-se a participação com os Pan Sonic no álbum Katodivaihe. O seu segundo em nome próprio, Without Sinking, é sem dúvida o disco mais intenso e coeso da islandesa. Segundo a sua própria descrição, Hildur passou muitas horas em aviões a olhar para as nuvens como meio para obter inspiração para a sua música. "I wanted […]
Octopus (France):
Violocelliste islandaise formée au conservatoire, partenaire de projets aussi divers que remarquables (Pan Sonic, Animal Collective, Throbbing Gristle, múm), Hildur Ingveldardottir Gudnadottir avait déjà fait parler d'elle en 2006 sur son label autochtone 12 Tonar. Et si quelques productions du cru s'étaient frayé un chemin plus que convenable jusqu'en nos terres, notamment la récent et excitante tribu synth kraut Evil Madness, le premier opus de la demoiselle de Reykjavik était resté bien plus discret de ce côté de l'Atlantique Nord. Dorénavant signée sur l'incontournable Touch, Gudnadottir a passé énormément de temps à voyager ces trois dernières années et la vue des nuages depuis le hublot des avions lui a inspiré ce Without Sinking dont on reparlera. Par-delà le concept, qui faisait craindre un énième bâillement ambient nébuleux, la musicienne du pays de Valgeir Sigurdsson démontre un fameux savoir-faire dans le traitement des instruments, violoncelle (of course) et cithare en tête. Passés par un filtre électronique qui leur un supplément d'âme au lieu de tout bousiller ce qui fait leur substance, les sons chaleureux de Miss Hildur dénotent une emprise sereine de l'instrument qui n'exclut ni lâcher prise dans les moments allegro, ni recueillement dans les passages lento. Un peu comme si elle avait déniché le point d'équilibre entre Gavin Bryars et Colleen, deux des personnages centraux de notre temps qu'il fait toujours bon fréquenter.
[Fabrice Vanoverberg]
Connue et reconnue pour ses collaborations avec Múm, Pan Sonic, Angel et plus récemment Strings of Consciousness, la violoncelliste Hildur Gudnadottir propose avec ce second album solo, le premier sur Touch, une dense plongée dans une matière sonore sobrement instable, aux élans cotonneux par moments ("Ascent"), aux accents plus dramatiques à d'autres ("Opaque"). Ce sont les notions d'espaces, les ciels formés de nuages s'ouvrant et se fermant les uns sur les autres qui ont donné l'inspiration à la musicienne islandaise mais on reste à l'écoute du disque plutôt saisi par une force tellurique que par une attraction cosmique. La faute aux rondeurs gracieuses de son instrument qui marque de son empreinte acoustique un disque où peu de morceaux ("Aether" et sa cithare dominante) échappent à sa vibrante répartie.
[Laurent Catala]
Orkus (Germany):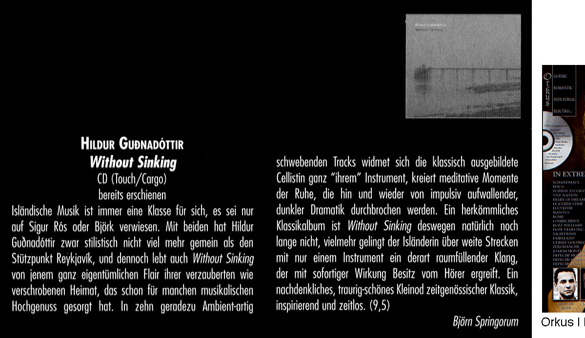 de:bug (Germany):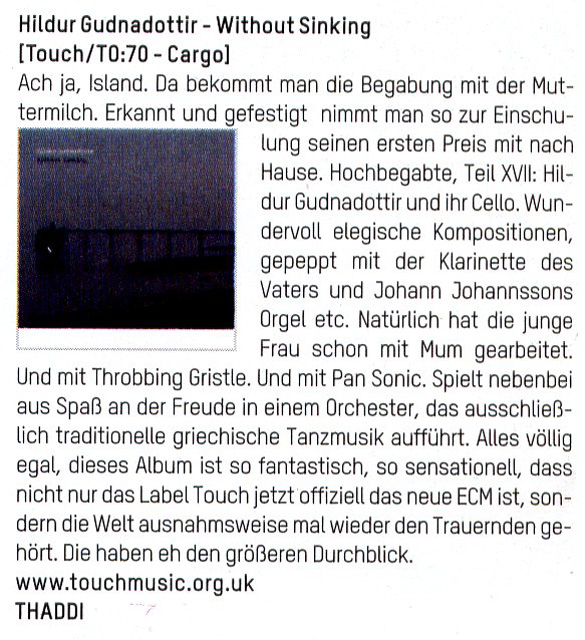 KindaMuzik (Germany):
Hildur Gudnadottir is voornamelijk bekend van haar lidmaatschap in het IJslandse Múm maar is eveneens actief in andere projecten zoals bijvoorbeeld Storsveit Nix Noltes en Angel (met Pansonics Ilpo Väisänen en Schneider TM's Dirk Dresselhaus) waar ze met cello steeds voor een sfeervolle toevoeging zorgt. Daarnaast is Gudnadottir ook solo actief, en Without Sinking is daarvan reeds de tweede uiting.
Gudnadottir zou de inspiratie voor het album opgedaan hebben tijdens de vliegreizen die ze de laatste jaren frequent ondernomen heeft. Afgezien van de songtitels merk je dat voornamelijk in de structuur van Without Sinking. De nadruk ligt immers op ijle klanken en op de subtiele schoonheid van de snaren die Gudnadottir beroert.
De ene keer munt Without Sinking uit in verstilde pracht maar 'nummers zoals 'Overcast' en 'Opaque' geven aan dat ook samenspel met andere muzikanten tot meer complexe creaties kan leiden waarin zelfs een zekere lyrische epiek niet vreemd is. Gudnadottir wordt op enkele nummers bijgestaan door verwante muzikanten zoals Johann Johannsson, Skuli Sverrisson en Gudni Franzson wat de diversiteit van deze sfeervolle parel zeker ten goede komt. [Hans van der Linden]
arte (Germany):
Hildur Gudnadottir kommt aus Island und ist eine klassisch ausgebildete Cellistin. Aufmerksamkeit hat sie erregt durch ihre Kollaborationen mit der Experimentalpopband Múm sowie den Electroweirdos Pan Sonic. Mit "Without Sinking" hat sie nun ihr zweites Soloalbum vorgelegt, das sich erneut einer jeden musikalischen Kategorisierung entzieht.
Vielleicht ist es in der naturgewaltigen Landschaft, vielleicht in der Kultur der spärlich besiedelten Insel begründet, dass es in Island eine solch aktive und originäre Musikkultur gibt. Es lässt sich jedoch schwerlich zuordnen, woher diese Quelle an nicht versiegen wollender Kreativität rührt. Die Isländerin Hildur Gudnadottir hat ihrem Heimatland nun erstmals den Rücken gekehrt und lebt zwischenzeitlich in Berlin. Und aufgrund ihrer zahlreichen Engagements für Tourneen und Studiosessions, wie unter anderem für Nico Muhly, Animal Collective und Throbbing Gristle, ist die Cellistin sehr viel mit dem Flugzeug unterwegs. Inspiriert von Wolkendecken, die man vom Flieger aus sehen kann, hat sie nun ihr zweites Soloalbum "Without Sinking" produziert. "Mit meinen Kompositionen wollte ich ein himmel- und wolkenähnliches Gefühl schaffen. Ich wollte einen offenen Raum für einzelne Noten kreieren und sie atmen lassen, wie vereinzelte Wolken an einem blauen Himmel." Bereits beim Eröffnungsstück verdichtet Gudnadottir mit Hilfe von Overdubs ihr Cellospiel zu einem atmosphärischen Teppich, aus dem sich im weiteren Verlauf eine filigrane Melodie zum Leitmotiv herausschält. Die Kompositionen sind für jeden Hörer leicht zugänglich, sobald man sich jedoch intensiver mit ihnen befasst, tritt die volle Komplexität im Arrangement sowie dem ausdrucksstarken Spiel hervor. Gudnadottir gelingt es eine eigenwillige Spannung zu schaffen, indem sie virtuos die getragenen und gegenläufigen Melodien mit ambientartigen Streicherarrangements paart, und sie vereinzelt für einen kurzen Moment in einen Dialog treten lässt. Es ist die Auslassung, die Aussparung, oder vielmehr der Raum den Gudnadottir dadurch zwischen den Noten schafft, ohne sie völlig isoliert voneinander zu arrangieren. "Without Sinking" ist ein außergewöhnliches Albumprojekt, auf dem die Isländerin Cello und Zither spielt und mit ihrer Stimme experimentiert, die stark verfremdet, nicht als solche erkennbar ist. Neben dem Klarinettisten Gudni Franzson und dem Bassisten Skuli Sverrisson, ist als weiterer Gastmusiker Johann Johannsson an der Orgel zu hören.
Der Ausnahmecellistin Hildur Gudnadottir ist ein großartiges zweites Soloalbum gelungen, das aufgrund seiner faszinierenden Stimmung aus aktuellen Produktionen heraussticht, egal ob es sich dabei um Veröffentlichungen im Bereich der Klassik, Pop, Jazz oder Experimentalmusik handelt. Musiker wie Gudnadottir sind rar geworden, die mit solch einer Konsequenz ihre künstlerischen Visionen verfolgen und Labels für ihre Ideen begeistern können. "Without Sinking" macht Mut, weiterhin in anderen Bereichen zu stöbern und über die Masse konventioneller Musikprodukte hinauszublicken, um solch großartige Musiker wie Hildur Gudnadottir zu entdecken. [Matthias Schneider]
arte (France):
Originaire d'Islande, la violoncelliste classique Hildur Gudnadottir s'est fait connaître en collaborant avec des compatriotes, le groupe de pop expérimentale Múm et le bizarroïde duo d'électronica Pan Sonic. Son deuxième album solo, « Without Sinking », est une nouvelle fois une oeuvre inclassable.
Les musiciens islandais se distinguent par une activité prolifique et une grande originalité. Cela tient peut-être aux formidables paysages ou à la culture de leur île à très faible densité démographique. Difficile en tous cas de savoir d'où vient cette source intarissable de créativité. La violoncelliste islandaise Hildur Gudnadottir a récemment quitté son pays pour s'installer à Berlin. Elle voyage beaucoup, car elle est souvent en tournée ou en studio, notamment pour Nico Muhly, Animal Collective et Throbbing Gristle. Dans son deuxième album solo, « Without Sinking », elle s'est laissé inspirer par la mer de nuages que le voyageur aperçoit depuis l'avion : « Avec mes compositions, je voulais créer une ambiance éthérée, un espace où flottent des notes isolées, semblables à des nuages dans un ciel d'azur. » Dès le morceau d'ouverture, le violoncelle de Hildur Gudnadottir tisse, à l'aide d'enregistrements multipistes, un tapis atmosphérique d'où sort une mélodie filigrane qui se transforme progressivement en leitmotiv. Cette musique est accessible à tout un chacun. Il suffit de se concentrer un tant soit peu pour découvrir la richesse des arrangements et de son jeu si expressif. Hildur Gudnadottir a su créer une tension singulière en associant, avec virtuosité, à des mélodies qui s'opposent et s'inversent, des arrangements pour cordes, qu'elle fait dialoguer un bref moment. L'atmosphère ainsi suggérée naît de l'omission, du vide, ou plutôt de l'espace que Hildur Gudnadottir fait couler entre les notes, sans pourtant isoler ces dernières entièrement les unes des autres. « Without Sinking » est un projet insolite : la violoncelliste islandaise joue du violoncelle et de la cithare, elle expérimente avec sa voix qui, déformée, n'est plus reconnaissable en tant que telle. Aux côtés du clarinettiste Gudni Franzson et du bassiste Skuli Sverrisson officie un autre musicien invité, l'organiste Johann Johannsson.
Le second album solo de Hildur Gudnadottir est magnifique. De par son ambiance fascinante, il se démarque des productions actuelles, qu'il s'agisse de musique classique ou expérimentale, de pop ou de jazz. Rares sont les musiciens qui, à l'instar de cette violoncelliste d'exception, ne se laissent pas détourner de leurs projets et sont, en plus, capables de convaincre les labels de réaliser leurs visions. « Without Sinking » nous incite à explorer d'autres rivages et à oublier les conventions pour découvrir de grands musiciens comme Hildur Gudnadottir. [Matthias Schneider]
Taz (Germany):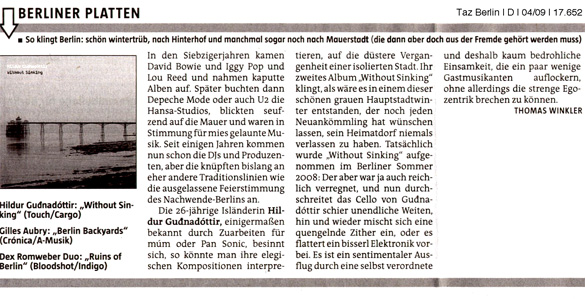 S&V (Russia):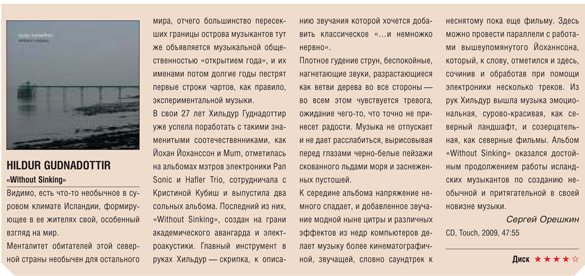 Blow Up (Italy):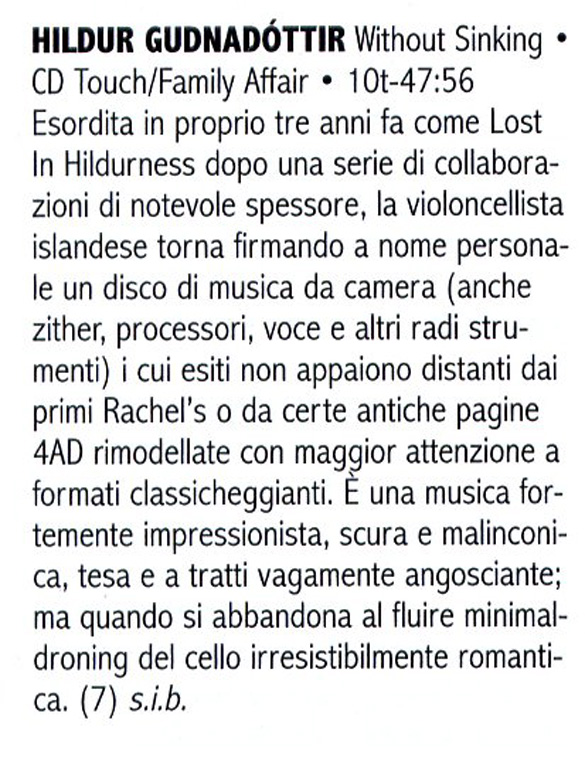 Svenska Dagbladet (Sweden):

RifRaf (Belgium):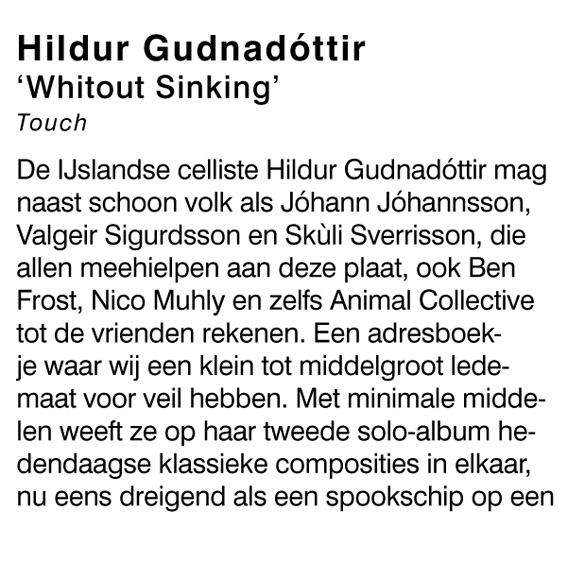 somethingexcellent.com (USA):
I've always been a huge sucker for the sound of a bowed cello. I think it has something to do with a personality that while appreciative of joy and absurdity, always leans a bit towards the melancholy side of things.
Sure, it's possible to make a cello sound playful, but it's at it's best when it's drawing out deep moans of mournful, textural sound that can't quite be matched by any other instrument out there. It wavers, it quivers, it's the aural equivalent of the small hairs on the back of your neck being stood on end and then gently touched by a breeze.
Without Sinking is the second full-length release (and her first for the Touch label) from Hildur Gudnadottir (who is also a member of the Icelandic folk outfit Storsveit Nix Noltes) and it finds her exploring all the subtle variations that a cello can create, while teaming up with Jóhann Jóhannsson, Skuli Sverrisson and others. It's probably best-suited for fall or winter, or flying in a plane somewhere suspended above clouds that obscure the rest of the world below. Like clouds, it's wispy at times with a hint of light peeking through, and at other times it swirls with a dark foreboding.
Of course, with song titles like "Overcast," "Elevation," and "Ascent," it's hard not to draw the same sort of visual pictures, but they really are quite fitting. Although it's the shortest piece on the entire release, "Erupting Light" is a perfect example of the more intense side of Gudnadottir as shrill cello chords pierce the darkness while more aggressive bowing gives a more melodic foundation and a real sense of movement.
"Aether," on the other hand, peels back the layers and mingles some beautiful stark autoharp with clarinet and finally the plaintive strains of cello. It rests somewhere between folk and classical, and like the rest of her release finds her working between worlds a bit, touching on everything from ambient to minimalism to modern chamber music with minor glints of electronic processing.
Released on Touch (Gudnadottir has also collaborated with BJ Nilsen), Without Sinking inhabits the same sort of world as the work by Nils Økland (on the Rune Grammofon label) and the one-off greats of Kopernik (on the Eastern Developments label). It's a beautiful little album, and I imagine it will keep coming back to me throughout the year.
Rockerilla (Italy):

Titel Magazine (Germany):
Wie eine gigantische, feingliedrige Wasserspinne erhebt sich die Plattform über der See auf dem Cover dieser beeindruckenden Platte. Die Komponistin Hildur Gu?nadóttir, die in Reykjavik und Berlin lebt und die bisher vor allem durch ihre Arbeit für die isländische Band múm bekannt ist, öffnet zusammen mit ihren Musikern auf "Without Sinking" das Tor zu den tiefsten Abgründen des Meeres, mit Cello und anderen Streichern, Orgeln, Bläsern und elektronischem Equipment bewehrt. Dabei war das Ausgangsmaterial ein ganz anderes Element, nämlich die Luft. Ständig mit dem Flieger unterwegs, wollte Gu?nadóttir mit ihren neuen Songs die von ihr beobachteten Wolken und ein Gefühl des Atmens wiedergeben. Aber schließlich fällt aus leichten Wolken ja manchmal schwerer Regen, womit wir wieder beim Wasser wären. Manche würden sagen, diese Songs strahlen tiefe Traurigkeit und Getragenheit aus – aber die Betonung liegt auf Strahlen. [Tina Manske]
Cokemachineglow (USA):
Albums like Without Sinking may or may not owe an obvious debt to Gavin Bryars. It's the same kind of embrace of slow, lulled passages that marks her music, and Guðnadóttir may even be tempting direct comparisons by talking about sinking in her title, though to be fair this is a much darker album than The Sinking of the Titanic. Maybe that's the joke: this boat doesn't sink and we're left even less happy? Either way, Guðnadóttir is totally playing with the kind of underwater film scoring techniques that are fairly typical and transforming them into a giant, endless pulse of liquid. This album is about layers, and everything is groaning on Without Sinking; maybe these are bodies who have drowned and now float, and there isn't any levity at all. Or there is, depending on how morbid you want to be.
She's a cellist, so most of what is here is cello-based, although zithers, clarinets, and pianos sometimes make cameos, joining the atmospheric throb of resonant harmonics as accents to the murky layers she creates on her preferred instrument. Cellos are creaky instruments in the most wonderful way; they sound about a billion years old with only little effort, and especially so without the cleaner and more zippy tones of double bass, viola, and violins flirting around them. But the recording here enhances that sound and tone; blast this on a good pair of speakers and you may just hear the bow clip on every wound of her strings. Just like you feel every wave on a boat if you're attuned to such things, and that seems to be the process here: the close-miked claustrophobia of the recording has the effect of building the sound outwards till it seems to reflect every aspect of the loose nautical story the song titles convey: there's the wind, the clouds, droplets of rain, the roach snapping in the wind, the silent shuffle of telltales, the clinking of bottles, and the weightless feel of heeling or hiking to correct that heel. If you've ever experience it, check the way "Aether" seems to brilliantly capture that mixture of light and mist in the air after rain out on the water, the rain being most of the album to that point. "Overcast" does a good job of sounding like what it suggests itself to be, I mean, though it also makes the approach of rain clouds seem more like a longing embrace than it does trouble for folks on the water.
One doesn't require an appreciation of nautical imagery to like this album, however; much of Without Sinking could just as easily be digested solely in terms of mood. Most of this album consists of slow, languid melodies—the big exceptions being "Opaque" and "Into Warmer Air," which I'll get to in a sec—and those work really well, though perhaps these tracks aren't quite as evocative as work that mines similar tonal terrain like that of Phillip Jeck or, again, Bryars. Still, Guðnadóttir has a very good sense for the atmospherics of her songs, letting different layers meld into one another and allowing deep bassy notes to reverberate against one another. "Unveiled" sounds like an echo of itself, which—sorry—won't make sense until you've heard it, and "Erupting Light" is all about the shifting dynamics of chorded notes, and performed brilliantly.
The other two tracks I've mentioned above are more typically song-structured, but they also work wonderfully. I like "Into Warmer Air" more than "Opaque," I think, since the latter runs through several different sections and maintains the atmospheric stuff evident on her less straightforward material, but Guðnadóttir really shines as an arranger on "Opaque," filling in a prog set of drums, bass, and guitar with cellos, cellos, and more cellos. And it's pretty and disturbing at the same time, just like dark, dark water, which I assume is what the name references. And these little bits of motion are important too—while the album as a whole is quite as awe-inspiring as individual moments on it might suggest it to be, Guðnadóttir's approach to these ideas is gripping throughout. It's dense stuff, but it's worth swimming through. [Mark Abraham]
D-Side (France):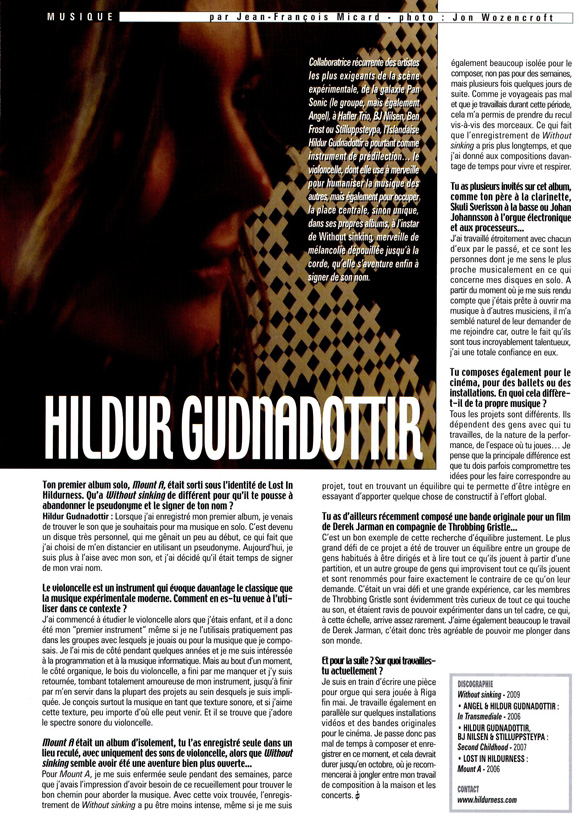 ADA (France):
Hildur Ingveldardóttir Gudnadóttir est une violoncelliste de formation classique d'origine islandaise qui est un des piliers de la nouvelle scène musicale locale et notamment du label et du collectif Kitchen Motors. Membre du groupe Múm, elle a également par le passé collaboré avec des artistes tels que Pan Sonic ou Angel.
Avec ce superbe album solo (son second), Hildur Gudnadóttir nous plonge immédiatement dans des paysages sonores composés essentiellement de superpositions de couches de violoncelle, des paysages qui ne manquent pas d'évoquer l'esthétique et l'espace de la nature islandaise. Loin de la froideur à laquelle on pourrait légitimement s'attendre, les 10 compositions de "Without Sinking" se font contemplatives et chaleureuses, aériennes et sereinesŠ On est bien évidemment loin des « 4 Saisons » de Vivaldi ne serait-ce que par le registre sonore du violoncelle qui prédomine ici largement mais ces « soundscapes » sont réellement porteurs d'une véritable paix intérieure et d'une beauté organique qui en font un disque extrêmement abordable dont l'écoute passe trop viteŠ
On pourrait penser par moment à un Arvö Pärt débarrassé d'un académisme parfois pesant et qui aborderait des contrées musicales moins arides mais, à croire que le climat et la nature islandaise influent fortement sur la population locales, on retrouve fortement ces ambiances lumineuses et suspendues déjà rencontrées chez d'autres compositeurs locaux tels que Johann Johannsson ou Hilmar Örn Hilmarsson (qui ont également tous deux sorti des albums sur ce même excellent label anglais Touch Records). On ne sera donc pas surpris outre mesure de noter justement la participation de Johann Johannsson sur ce disque ainsi que celle d'un autre islandais tout aussi talentueux du nom de Skuli Sverrisson.
Go-Mag (Spain):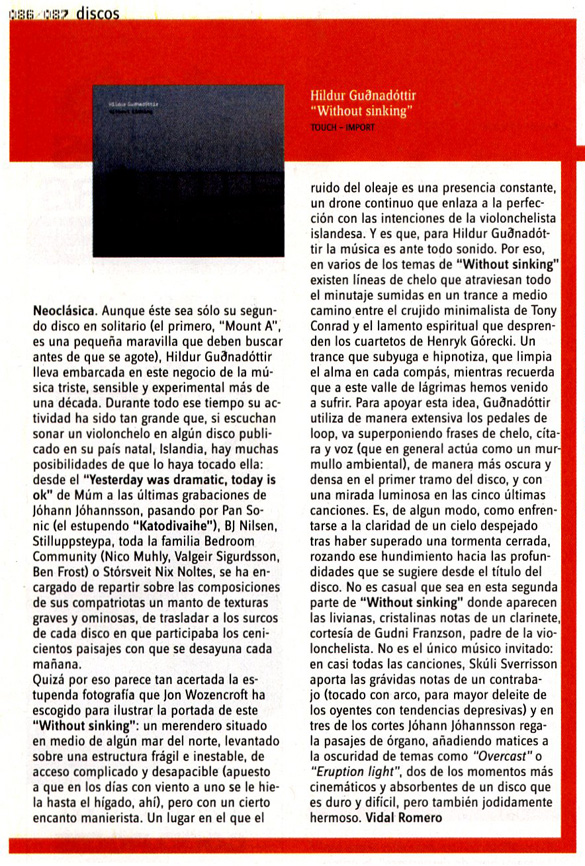 blog (Slovakia):
10/10
A feature in Polish by Tomáš Slaninka can be read here

Bodyspace (Spain):
Com uma regularidade exaustiva, "Lux Aeterna" tem servido, na última década, como acompanhamento musical para toda a variedade de trailers e spots televisivos. Começou por ser o mais sonante tema da banda-sonora de A Vida Não é um Sonho, composta por Clint Mansell e interpretada pelo Kronos Quartet, e chegou a acompanhar o trailer do segundo capítulo da saga O Senhor dos Anéis. Na prática, isso significa que "Lux Aeterna" conheceu propósito num filme de junkies e num outro de criaturas atraídas por um símbolo de forma suspeita. Não tenho a certeza, mas o Marinho Pinto em mim diz-me que a TVI terá também abusado de "Lux Aeterna" para promover reportagens de terceiro mundo.
Todo este paleio, em torno do tema que passou a ser pop pelo uso, serve para introduzir outro com potencial para sofrer uma transformação semelhante: embora mais discreto, "Into Warmer Air" é prenúncio dramático do fim que silencia o impressionante Without Sinking, disco centrado no violoncelo que confirma a instrumentista Hildur Gudnadóttir como figura a manter em quarentena de estima. Tal como "Lux Aeterna", "Into Warmer Air" fura sensibilidades por ser determinado e eloquente no fatalismo que colhe ao violoncelo (eram vários os instrumentos de cordas, no caso do Kronos Quartet).
Apesar de merecer todo o destaque, "Into Warner Air" nem sequer desequilibra Without Sinking: quando entra, na nona posição, polvilhado pelos órgãos do conterrâneo Jóhann Jóhannsson, era já firme a certeza de que estamos perante um álbum categoricamente personalizado, carregado de subtilezas, e tudo isto sem recorrer à automatização dos loops (o que lhe confere uma maior profundidade humana). Hildur Gudnadóttir é muito mais autónoma do que autómata.
Por acidente, o sotaque islandês muito facilmente transformaria as palavras Without Thinking em Without Sinking. Até por aí se pode perspectivar o disco. Without Sinking exige a rendição acima da razão, garante forma às paisagens mas resiste a povoá-las, desvia-se do óbvio sem nunca se afundar num mar de experimentalismo indecifrável. É uma das surpresas do ano que nos devolve à Islândia mais apreciável.
[Miguel Arsénio]
GMD (France):
Hildur Gunadóttir n'a pas choisi la voie de la facilité pour se faire sa place dans l'actualité musicale, c'est un fait. Non pas que les qualités musicales de l'Islandaise soient trop faibles, ce qui tiendrait de l'insulte dans le cas présent, disons plutôt que s'imposer comme une violoncelliste surdouée peut s'avérer difficile dans une génération qui ne jure plus que par la tentation de l'immédiat. Et pourtant les collaborations qu'elle a entretenues avec Múm, Jóhann Jóhannsson, Pan Sonic (présente tout au long du chef-d'¦uvre qu'est Katodivaihe/Catodephase), Ben Frost, BJ Nilsen, Stilluppsteypa, Throbbing Gristle ou encore Hafler Trio – soit toute la crème de l'électronique expérimentale et electro acoustique contemporaine – aurait dû nous faire prévoir un tel cataclysme. Ajoutons à cela que cette galette vient se poser chez Touch, label émérite hébergeant entre autres l'empereur Fennesz, et vous obtenez un des disques de modern classical les plus prometteurs de cette année en cours.
Malgré ce curriculum vitae plus qu'alléchant, il ne sera pas question de musique électronique ici. En effet, l'Islandaise maîtrise trop bien son violoncelle pour sentir l'obligation de se faire assister par l'électronique. Nous parlerons donc d'un concerto pour violoncelle, lent et puissant. Without Sinking est beau, et cela s'entend dès les premières mesures de « Elevation » : les cordes tirent le son vers l'excellence avec une grâce sans pareille, les notes montent haut dans l'air et s'éteignent bien bas une fois leur substance vidée, tendant la main à une autre note qui suivra le même court train de vie. Mais ce qui fait la beauté de Without Sinking, c'est son lyrisme mature, cette pudeur d'instinct qui rend la discussion compréhensive et chaleureuse. Hildur joue à la note près, s'arrête là où la sobriété lui commande de le faire, comme si le violoncelle parlait à l'oreille de l'Islandaise au moment de composer ces dix titres troublants de beauté pure. Cette justesse s'acquiert au fil des années, mais la sobriété ne s'enseigne pas dans les académies de musique, du moins pas sous cette forme.
Without Sinking respire à grands poumons, ses notes entrecroisées (en effet, plusieurs violoncelles jouent ici simultanément à des profondeurs diverses) se frôlent avec lenteur et profondeur sans jamais se quitter du regard, contemple le beau d'en bas s'en jamais se rendre compte qu'il joue à niveau égal avec lui. Tout comme les musiques juives les plus sobres, ces dix pistes ne prennent jamais la mélodie pour plus pute qu'elle ne l'est et réinvestissent le beau dans une logique plus abyssale, directement en relation avec votre vrai intérieur. Différant ainsi avec la coutume sentimentaliste des musiques modernes, Hildur Gudnadóttir se refuse au spleen romantique et lui préfère un son caverneux et boisé digne des plus grands compositeurs. Voilà, tout est dit (du moins pour cette chronique, le disque vous réserve quant à lui encore bien des heures d'écoutes passionnantes), et si l'envie vous prend, vous découvrirez avec Without Sinking l'une des plus belles pages du modern classical en 2009. Chapeau bas. 8/10
rifraf (France):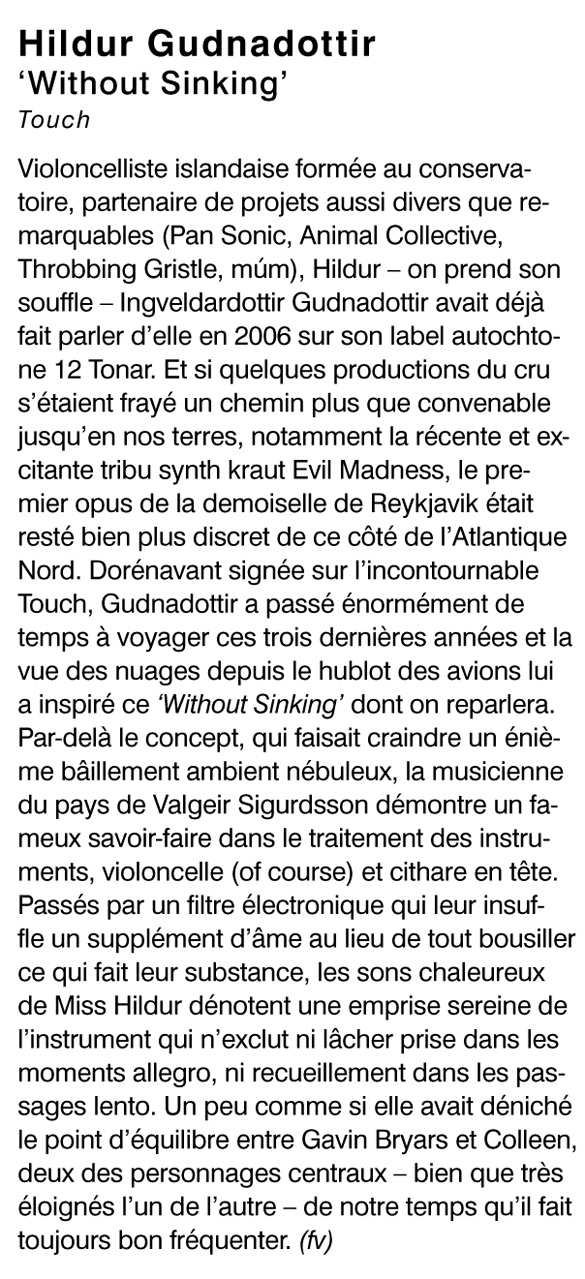 Rockdelux (Italy):

Solenoide (France):
Dans ce second album solo, cette violoncelliste islandaise fait preuve d'une habileté confondante à manier un langage musical imagé et universel, secrètement connecté au folklore populaire et aux musiques traditionnelles de son île natale. Hildur y joue de la viole de gambe, du vibraphone, de la harpe, et manipule aussi sa voix jusqu'à la rendre méconnaissable. Composant aussi pour la danse et le cinéma, l'Islandaise nous offre au final une collection de « soundscapes » contemporains, à ravir tous les fans de musiques inclassables mais sensibles!
Wears the Trousers (UK):
Hildur Guðnadóttir is a prolific, in-demand cellist who has enriched the music of fellow Icelanders Múm, Jóhann Jóhannsson and Valgeir Sigurðsson, guested on albums by the über-talented Nico Muhly, and gave a new dimension to Pan Sonic's broken techno. Her second solo album Without Sinking is a work of divine oppression that, while classically-minded, isn't meant for the elite. The sleeve depicts a gloomy scene of an abandoned pier with pillars that almost disappear into the grey with no division between sky and surface. There's only black shadows of stones and mud, unclear allusions to dark visions. But while hopelessness and grief are fully defining of Guðnadóttir's concept as she explores new dimensions of unease and what it means to search for spiritual relief, the title Without Sinking sets the listener free from drowning in dejection.
The cello is a beautiful instrument that can cry like a violin, and there's arguably no more suitable instrument for expressing desperation, uncertainity or mercilessness. But it is also able to cause thrilling quivers, and which instrument is closer to the human voice with its colour and extent? Guðnadóttir chose her instrument intuitively in early childhood before abandoning it for several years. Released under her pseudonym Lost In Hildurness, 2006's Mount A grew out of rediscovering her talent and inclination to experiment, and was perhaps hampered by doubts and hesitancy. Without Sinking is a much more complex, ordered and coherent recording, making Mount A seem even more like an unbinding improvisation that, while certainly introducing some interesting motifs and ideas, was thematically chaotic and lacking in conclusions. Without Sinking has flawless dynamics and every sound makes sense.
Inspired by clouds, Guðnadóttir set out to create an album full of atmospheric tones and a sense of breathing, seeking to incorporate amorphous musical figures. The abstract nature of her compositions is combined here with a subconscious fear of storm and sinister nimbuses, but the breaths are more difficult to find. These pieces are more stifling, like a slow sucking of heavy air molecules rather than airy celestial melodies. Opening track 'Elevation' raises the listener from the dark and thrilling silence into the nervous vibrato of calm but persuasive cello. While the main theme is prudently evolving to the higher and more intensive tones, echoes of previous tones and glissando of unabated bass create a tense mass of thick sound in the background. Guðnadóttir skilfully combines the slow bow and uneasiness of cello with electronics, providing a rich, multilayered experience.
Elsewhere, the most appealing songs are those that adopt an apprehensive mood. The cello in 'Erupting Light' carries its most insistent colour, mixing fast, nervous bow and restless variations on a simple main theme. Although the song's title evokes a feeling of calm dawn, it is an expression of eager and impatient waiting for the first rays of light but exemption from the darkness never comes. 'Into Warmer Air' is similarly pleading with its desire for human warmth and serenity but the sporadic sparks of harmony and hope are always distracted by a forlorn desperation, while the aptly-named 'Opaque' is led by grim pizzicato-esque cello in schizophrenic dialogue with itself. That's not to say there isn't diversity on show here. 'Ascent', for example, begins in baroque mood before evolving into a psalm with roots in romanticism – though these arty categorisations are ultimately coincidental since Guðnadóttir's music is imprisoned in her own thoughts and dreams. The outstanding 'Aether' represents another shift as Guðnadóttir's cello is variegated with an ancient melody played on zither followed by a humming clarinet, a murky-sounding contribution played by her father Guðni Fransson.
With this astonishingly complex work, it seems as if Guðnadóttir has achieved all her desires and reached a level she might only have hoped for. All the attention is on her technically developed cello, which not only serves to demonstrate her impeccable musicianship but also to highlight her sense of every little detail and compositional talent. The album creates the impression of a long wait for the first marks of light. It will be thrilling to see what she will compose when the first rays finally glance on her face. [Tomáš Slaninka]
WD3 (Germany):
Cellistin Hildur Gudnadottir im Porträt
Die Musik IsIands als Abbild der prächtigen Landschaft und der allgegenwärtigen Magie zu betrachten, trifft in der westlichen Welt auf große Zustimmung – glauben manche in Island doch noch an Elfen.
Dieses Klischee lehnt die in Berlin lebende Isländerin Hildur Gudnadottir jedoch ab und nähert sich der Musik auf ganz eigene Weise: In ihren Kompositionen erforscht die Cellistin die klanglichen Kapazitäten ihres Instruments und schlägt gekonnt den Bogen zwischen E- und U-Musik.
Am 25. Juli ist Hildur Gudnadottir beim Düsseldorfer Open Source Festival zu erleben. WDR 3 TonArt widmet ihr vorab ein Porträt.
Ein Beitrag von Raphael Smarzoch
Tigon (Iceland):
Cellist Hildur Guðnadóttir is best known for her work with múm and Pan Sonic. She's also worked with the likes of Jóhann Jóhannsson, Ben Frost, Throbbing Gristle, Nico Muhly and Skúli Sverrisson, to name a few. 'Without Sinking' is her striking new solo album, her second.
'Without Sinking' is dominated by Hildur's cello, which is layered and overdubbed to form an ensemble of cellos. There are also contributions from Jóhann Jóhannsson, Skúli Sverrisson and Hildur's father, Guðni Franzson, on clarinet and bass clarinet. But apart from the interplay between father and daughter on 'Aether' and 'Unveiled', the contributions are very subtle. It's all about Hildur's rich and resonant cello.
On tracks like 'Opaque' the swell of the cello ensemble sweeps you along like a hapless cork being carried out to sea by the tide. These kind of images come naturally because the music is so visual and captures so well the solemn and gloomy mood conveyed by the atmospheric album cover – a pier extending out into the ocean on a grey and foggy day.
There's not much in the way of conventional song structure on the album. Instead, the music is an exploration of texture and mood. The opening track 'Elevation' is like a very slowly undulating sea, with waves gently rising and falling. It's followed by 'Overcast', heavy and poignant, and 'Erupting Light', a brief but intense break in the clouds. And so on. Together, the visual, aural and textual (i.e. song titles) all combine remarkably well to transport the listener to a particular place.
Without wanting to sound too hyperbolic, this music feels real. Like it eminates from nature – the earth, the sky, the sea. And it's completely absorbing. 4.8/5
Etherreal (France):
Si c'est la première fois que l'on parle d'une production solo de l'Islandaise, on a à plusieurs reprises évoqué son travail en tant que violoncelliste au sein de Angel, le trio qu'elle forme avec Ilpo Väisänen et Dirk Dresselhaus (Schneider Tm). Peut-être plus anecdotique mais moins confidentiel, on trouvait déjà Hildur Gunadóttir sur Yesterday Was Dramatic – Today Is OK de Múm avec qui elle continue de collaborer occasionnellement. Après Mount A chez 12 Tónar, Without Sinking est son deuxième album, et donc son premier chez Touch, une migration assez logique après ses collaborations avec BJ Nilsen ou Jóhann Jóhannsson.
Si quelques instruments viennent faire leur apparition, quelques amis venant prêter main forte, c'est bien le violoncelle qui domine sur cet album solo aux ambiances brumeuses, à l'image de la pochette, voire sombres et inquiétantes. L'Islandaise travaille également pour le théâtre et la danse, et ce type de croisement entre disciplines artistiques nous paraîtra naturel à l'écoute de Elevation qui ouvre l'album avec superpositions de cordes lancinantes et glissando à tout va. À vrai dire, on a dans un premier temps l'impression que des pièces très coulées vont rapidement nous lasser de ces 50mn de violoncelle solo. En effet, et même s'ils traduisent bien le flou, le mystère, la brume, des ambiances vaporeuses, des titres comme Circular ou Ascent manquent un peu de contraste pour nous tandis que l'on retrouve la lumière à l'aide des orgues de Jóhann Jóhannsson sur Overcast.
Heureusement on est assez rapidement rassuré avec quelques pièces nettement plus enlevées, en jouant sur le tempo, l'attaque des notes, ajoutant de la dureté à la noirceur ambiante. À ce titre, Erupting Light est un petit bijou dans lequel chaque note, chaque glissement de l'archet semble traduire les mouvements de l'âme. L'album s'enrichit ensuite avec Aether alors que Hildur Gudnadóttir passe à la cithare et se voit rejointe par Gudni Franzson à la clarinette, elle apportant lumière, lui contribuant à la douceur de la pièce. On notera enfin des pièces comme Opaque et Into Warmer Air au tempo plus marqué alors que l'Islandaise donne de brefs petits coups sur les cordes de son instrument, laissant ensuite les mélodies trouver leur place.
Etant donné ses précédents travaux, ses collaborations actuelles, on avait un a priori positif concernant le travail de la demoiselle. Maintenant ce n'est plus un a priori et Without Sinking tient très largement ses promesses ! 7/8 [Fabrice Allard]
Rumore (Italy):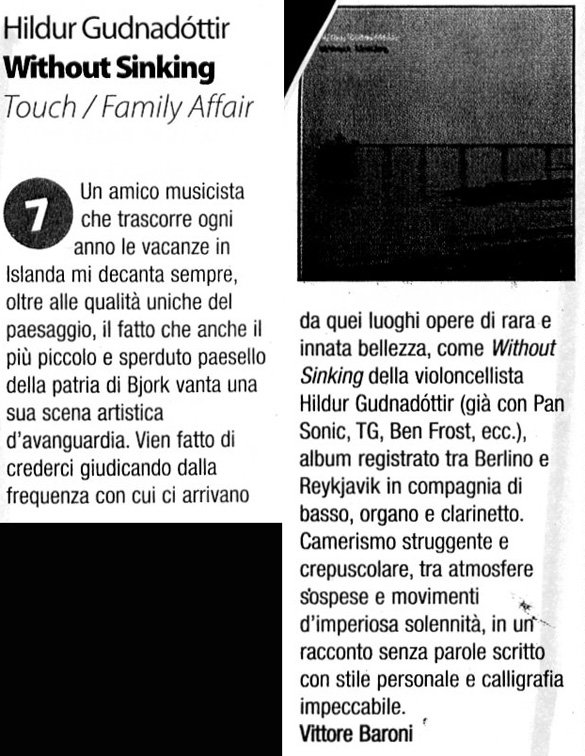 Skug (Austria):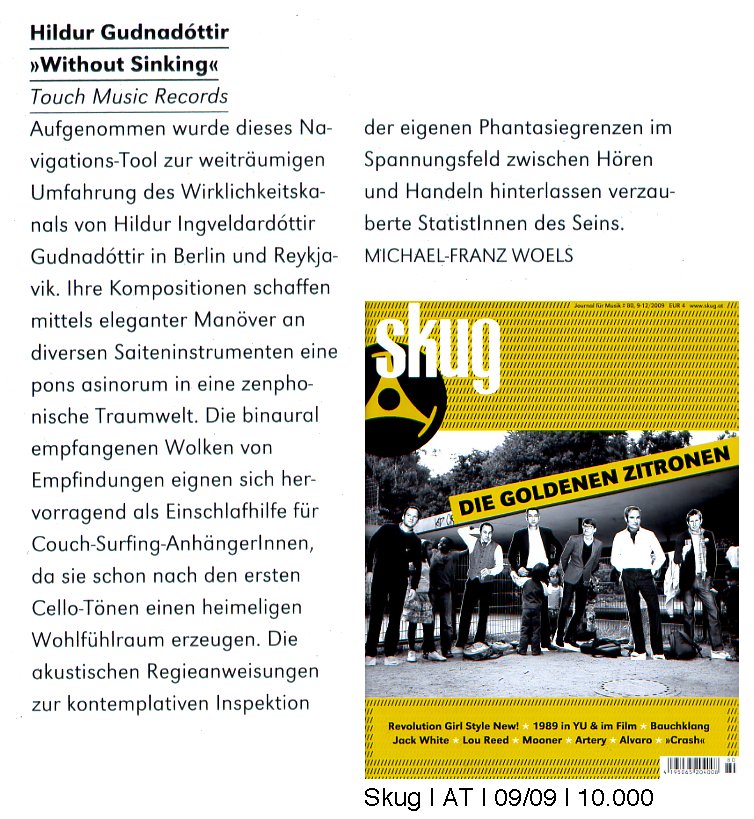 mGuide (Czechia):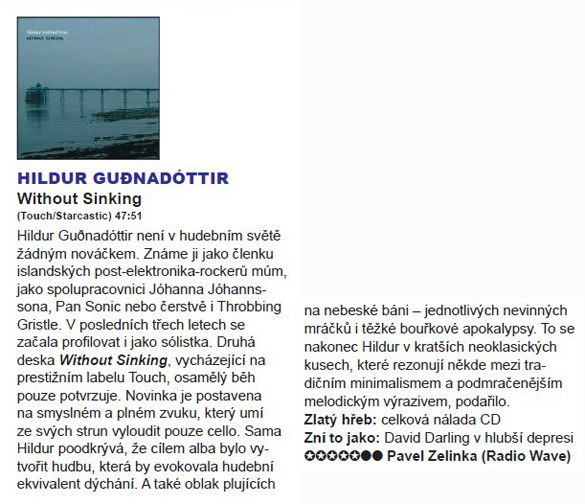 metalorgie.com (France):
Without Sinking n'est pas un objet tangible. Ce n'est pas une apparition fugace qui, l'espace d'un instant, vient bouleverser une certitude. C'est une sensation; une sensation douloureuse née d'une douce contemplation. Etre au-delà des nuages et contempler ce moment précis où, suspendu, les notes se forment et tourbillonnent avant que n'éclate l'orage. Où les violoncelles s'obscurcissent et grondent, couche après couche, dans le lointain, dans un roulement colérique qui semble infini (Elevation). Un requiem neo-classique, à l'atmosphère pesante qui façonne une tempête sourde, en devenir. Chaque mouvement plus appuyé apparait alors comme un éclair, de ceux qui illuminent brièvement pour mieux replonger dans les ténèbres, dans l'attente indécise, insoutenable (Whiten).
C'est aussi un paysage inondé, délabré, dévasté, à l'horizon drone. Les mélodies sans cesse répétées sont autant de mornes plaines qui s'étendent à l'infini. La désolation du "moment après" symbolisée par une économie de notes, un minimalisme pénible. Le chant froid d'un vent qui caresse l'herbe morte. Comme prisonniers, violoncelles, harpe, clarinette gémissent, rajoutant à la grisaille ambiante le bleu fané qui sied à la brume d'hiver (Circular). La lente respiration des instruments rythme l'exploration de cette étendue fantômatique, allant, dans un ultime effort, jusqu'à retenir leur souffle pour un coin de lumière blanche (Aether) vite dissipé, comme un mirage.
Without Sinking, c'est la rêverie éphémère d'une musicienne talentueuse. De ces artistes qui visualisent leur musique avant de la jouer. Qui semblent modeler les éléments et flotter à pas légers dans la tourmente. Bien accompagnée (notamment par Jóhann Jóhannsson – maître du neo-classique islandais- sur Aether), Hildur Guðnadóttir délivre une vision fantasmagorique faite de formes menaçantes en pépertuel changement, comme ces nuages qui se font et se défont au gré des attentions qu'on leur donne. Avec, en toile de fond, l'hypnotique ballet de silhouettes élémentales, furtives et insaisissables.
Without Sinking est un coup de maître. [Chorizo]
The Sound Projector (UK):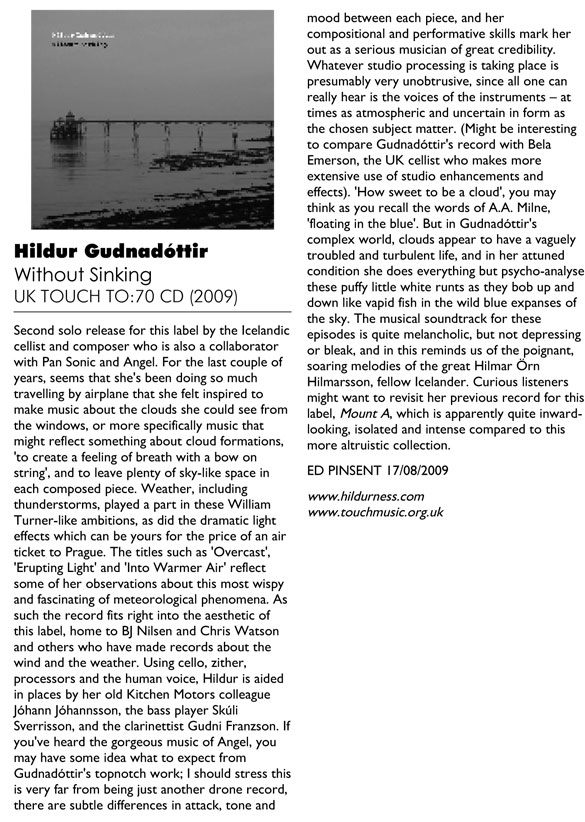 Muzikus (Czeckia):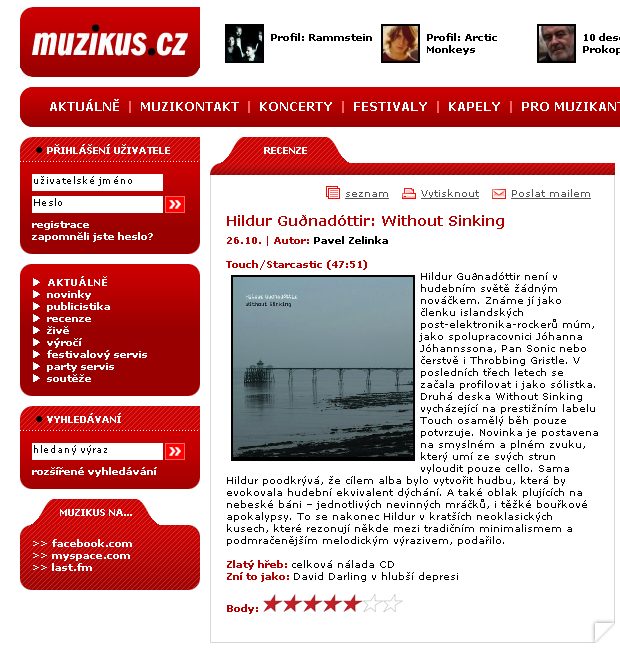 Gonzo Circus (Belgium):
It is dark, dense, and brooding. The sky is gray. Winter is refusing to leave. Wind becomes the rhythm; dissonance – the melody. In the delicate hands of the Berlin-based (but Icelandic by birth) Hildur Guðnadóttir, the cello whispers and moans. Perhaps it's grieving for an uncertain future, perhaps accepting a buried past. The voice of sorrow seeps through the trembling fingers and saturates everything around it with something invisible, but wet and salty. Then, a heavy, thick and warm knot builds up inside my chest. And when I sigh, it escapes in a condensed vapor, ascends past the naked tree tops and joins a dark cloud in a stubborn winter sky. Finally the rain falls. And I cringe at all the pain.
Hildur Guðnadóttir is not a newcomer to the scene. As a classically trained cellist, she has previously performed with and contributed to works by her Icelandic contemporary artists such as múm, Valgeir Sigurðsson, and Ben Frost, as well as Hafler Trio, Nico Muhly, and even Pan Sonic. For Without Sinking she was able to round up a talented group of friends, like Skúli Sverrisson, the prolific Jóhann Jóhannsson, and her father, Guðni Franzson. Dropping all of the above names should give you a brief idea of the circle that Guðnadóttir revolves in. I guess it's not surprising, since she is an active member in the neu-Iceland collective, Kitchen Motors. This is _the_ Reykjavík music scene think tank, owned and operated by Jóhann Jóhannsson, Kira Kira, and Hilmar Jensson.
Without any exaggerations, this is indeed an acoustic modern classical marvel. Absolutely a must for this year! Add Without Sinking and Guðnadóttir's previous works to your collection. The debut album Mount A (12 Tónar, 2006) was originally released under the moniker Lost in the Hildurness. Her recent one-track complimentary release to the album, Iridescence (Touch, 2009), is only available as a digital download, as part of a new series of digital singles launched by Touch on April 1st. On May 16th, 2009, Hildur Guðnadóttir is scheduled to perform for Short Circuit, A Festival of Electronica, during a Touch showcase along with BJ Nilsen, Philip Jeck and the Gavin Bryars Ensemble, and [back on the road!] Biosphere!!! If you're anywhere around The Roundhouse in London, please go… For me…
Touching Extremes (Italy):
The (splendid) first and fifth tracks – respectively called "Elevation" and "Ascent" – are both indicative of a hypothetical ambition to a superior level. Had the whole CD maintained the kind of mournfully gripping distinction that characterizes these two episodes, and parts of the others, it would have been a masterpiece. It's not, but the greatly titled Without Sinking is a gently heartwarming listen, definitely useful for calming the final hours of a physically taxing day. Guđnadóttir plays cello and zither, enhancing them with processing and voice; Skuli Sverrisson adds bass nearly everywhere, while organ and clarinets are supplied by Jóhann Jóhansson and Guđni Franzson when necessary. The above mentioned highs are defined by the static quality of their fundamental texture, in essence profound drones rendered quite magnificent by the sliding of the cello – especially evident in the opening segment – and additional brokenhearted materials which compare with the nebulous grey of Jon Wozencroft's cover artwork. The problems lie in the easiness of certain selections – more akin to the fragments of a soundtrack than to fully developed compositions – which lower the record's intensity of a couple of notches. However, the sounds are superb and I don't want to do a disservice to an album clearly conceived with large doses of heart by overly criticizing its candidness. You can't always ask for complications, so try and surrender to the loveliness of refined simplicity for a change as this reviewer did. You'll see that it works.
Blow Up (Italy):