CD – 8 tracks – 52mins
[also available on vinyl LP and as a CD/LP bundle.]
Track list:
1. Black Sea
2. The Colour of Three
3. Perfume for Winter
4. Grey Scale
5. Glide
6. Glass Ceiling
7. Vacuum
8. Saffron Revolution
Christian Fennesz used acoustic and electric guitars, synths, electronics, lloopp and computers
All tracks composed, performed, recorded and mixed by Christian Fennesz at Amann Studios, Vienna and C-street, Paris except "The Colour of Three" by Christian Fennesz & Anthony Pateras and "Glide" which was composed and performed by Rosy Parlane & Christian Fennesz (recorded live in Paris and then edited and mixed at Amman Studios).
Black Sea is Fennesz's 4th solo album for touch and his first since Venice in 2004.
"Black Sea is the much-anticipated new album from Christian Fennesz, his first since "Venice" [Touch # TO:53, 2004], about which US magazine Stylus wrote:
"Fennesz does with sound what Stan Brakhage did with film, altering its very fabric and texture, employing disorder and error as forms of communication and expression. He forces you to learn a different method of perception and interpretation, to look beneath the chaos that seems to govern the movements of life and find the patterns beneath." [Nick Southall]
Fennesz's career has come a long way since "Instrument", his debut for Mego in 1995, and his first solo album "Hotel Paral.lel which followed in 1998. "Endless Summer" [Mego, 2001] brought him to a much wider audience and "Venice" underlined his mastery of melody and dissonance. His songs usually embody the skilful application and manipulation of dense sonic textures with a genuine feel for the live, and real-time.
Black Sea features guitars that rarely sound like guitars; the instrument is transformed into an orchestra. Fennesz lists the elements used to make the compositions: "Acoustic and electric guitars, synthesizers, electronics, computers and live-improvising software lloopp."
On 'Glide', Fennesz duets with Rosy Parlane (NZ) [www.rosyparlane.com], whose work is also released on Touch. Fennesz also teams up with eMego artist Anthony Pateras's (AUS) [http://www.anthonypateras.com], whose prepared piano features on "The Colour of Three". Fennesz pushes his work into a more classical domain, preferring the slow reveal to Venice's and Endless Summer's more song-based structures.
Jon Wozencroft's artwork makes visible this carefully hidden world resting beneath the surface of "the first impression". A series of shots, taken in quick succession as the tide recedes, reveals a world of specific activity only visible at a particular time and place, histories appearing and disappearing.

Reviews:

Exclaim (Canada):
While this effort sees Christian Fennesz delving deeper into introspective territory than 2004's Venice it is equally, if not more, poignant, offering a newfound clarity, depth and dynamism. He still employs dense waves of processed guitar, but each fluctuation in the massive field of sound feels more tangibly three-dimensional. There is also much in the way of more delicate and stark passages. While highly fluid and abstract, each piece is utterly evocative and beautiful. On Black Sea, Fennesz has reached new heights in electronic textures and subtle, longing melodies, making it one of the past year's real highlights. [Nick Storring]
Time Out (UK):
In the crowded field of experimental electronica, Austria's Christian Fennesz distinguishes himself via his compositional elegance and an ability to coax sonic difference and a vast range of emotional expressions from what might seem like a very limited toolbox. 'Black Sea' is quite impossibly beautiful, so subtle and languorous are its shifts in dynamics, texture and tone, treated guitars and prepared piano underlining its magnificent, varied moodiness. [Sharon O'Connell]
TNT Online (UK):
Christian Fennesz's 2001 breakthrough Endless Summer wasn't an especially bright record.
Black Sea, though, lives up to the darkness of its title.
Stretched out over eight tracks and 52 minutes, it's thick with the kind of richly textured guitar atmospherics that have long been Fennesz's signature, walls of sound strung out on distortion.
Perfume For Winter is more approachable, but the record's at its best on the title track and Glide. Beautiful. [Will Fulford-Jones]
Clash (UK):
Listen between the spaces modern pop composition leaves blank in pursuit of cracking commercial codes and you discover something wondrous, music that shifts subtly on waves of static with no desire to discuss market strategies or licensing opportunities.
Christian Fennesz has long been an experimental musician of note, his previous three long-players attracting their share of acclaim; but here, on his fourth studio album, the Austrian focuses his attentions on the translation of a beauty so few stumble across in their about-face relationship with the perceived mainstream. 'Black Sea' is, at times, every bit as accessible as Sigur Rós; yet it also crackles with white noise, and its encircling drones are punctuated by the clattering of found-sound percussion – pots and pans shaking in a pantry, that sort of ambient effect.
The effect on the listener is one that triggers the fight or flee reaction: to some this will seem overly alien, its tonal lusciousness too enveloping; it will drown some who come to it. Perseverance rewards one with a significant emotional connection, however, so those who turn tail once the gull chirps of the opening title track make way for detuned radio fuzz muddled with heavenly sweeps are well advised to swallow their reservations and let the wash carry them.
At its most achingly open, all blue sky and endless horizon, 'Black Sea' taps into the otherworldly brilliance of Eno's 'Apollo' LP (see also: Hammock and Stars Of The Lid); when it cranks up the dread, Fennesz delivers tension rather than cheap-trick frills: this is a seat-edge ride, not a slasher flick for bored teens. 'Black Sea' requires patience, investment of time and attention – play it when focused on pursuits other than enjoying music alone and you will miss the nuances so vital in its appeal.
For they are many and varied – each track plays out slowly, but shuffles its bulk in a very particular way and never once repeats what's come before. So 'Perfume For Winter' balances warm strings with splashes of an icy pool and clouds of circuit-board fogginess; the very next offering, 'Grey Scale', tones down the motion, revealing itself every stretch by every yawn. It's a bleary-eyed delight, and sets up the record's sublime centrepiece 'Glide' very well indeed. Here, the most scintillating symphony is hijacked by laptop-wielding aggressors, who embellish the piece with a cacophonous veil of colour and volume that stuns the listener into pleasurable submission.
'Black Sea' is not an easy record. It will not flick your switches or press your buttons first time of asking. But it will invite you back again; it never gives up on the listener, so singular it realises its attraction to be. Do right by it and you'll find a friend for life, unlikely to abandon you when fashions change.
and
One of the finest albums of its leftfield kind released in recent months, Fennesz's 'Black Sea' is a wonderful collection of ambient sounds and enveloping instrumentals.
The record – the Austrian's fourth, available via Touch – has attracted its maker comparisons with the likes of Brian Eno and Stars Of The Lid. While the old analogy of music taking you on some kind of journey is almost exclusively rubbish, here it makes a degree of sense: listen from start to finish and you do feel moved, that's for sure. Perhaps not physically. That would be odd. First coming to prominence in the 1990s in the IDM arena, in recent times Fennesz – first name Christian – has explored music beyond the boundaries of conventional composition. Art school trained [No he's not – ed.], he finds the sounds that so often fall between the gaps in so much so-called avant-garde music. The textural element of his music cannot be undersold – its rises and falls deliver both warmth and discomfort, but always maintaining a delicate balance. 'Saffron Revolution' is the closing track of 'Black Sea'. Listen below, read our review of 'Black Sea' HERE, and we'll see you for a very different Track of the Day tomorrow.
Whatever it is, after this it will seem very different.
Pitchfork (USA):
Christian Fennesz is one of a handful of people from experimental electronic music's late-1990s halcyon days still kicking around. Where others have disappeared (Oval), taken on a curatorial role (Gas), or resigned themselves to arms-length abstraction (Autechre), Fennesz has evolved his aesthetic and found new avenues of expression. In the last few years he's released two albums with Ryuichi Sakamoto, collaborated with Mike Patton and guitarist Burkhard Stangl, knocked out some remixes, and created music for dance and films. He's been busy, but people who don't follow this music closely probably haven't noticed. They've been waiting for a new solo album, preferably something that might cross over from the "electronic music" racks in the way that 2001's monumental Endless Summer did. But Fennesz's unhurried approach to his solo work has yielded dividends. Since he takes so long between proper Fennesz records, the release of a new one still feels like an event.
Black Sea, which again finds Fennesz working primarily with guitar and computer, is his first solo album since 2004's Venice, the follow-up to Endless Summer. It's tempting to compare this record with its predecessor based on the characteristically striking cover art, once again by Touch label founder Jon Wozencroft. Where the Venice sleeve featured a lone rowboat bobbing in rich and impossibly blue water, Black Sea sports a shot of an industrial skyline across a filthy-bottomed straight at low tide. The image and title suggest that we're in for something colder and comparatively grim, and even though that's only partly true, such subtle shading via imagery has always been important with Fennesz albums. What is apparent right off the bat is that Black Sea finds Fennesz painting on an especially large canvas. While some may hope for a partial return to the pop-like miniatures of Endless Summer, tracks that could be thought of as "songs," these feel more like classical pieces– sweeping and symphonic and patiently unfolding.
It's not just that several tracks are longer, with three running over eight minutes. Fennesz has also sequenced the record to give parts of it a suite-like feel. Opener "Black Sea" bleeds into "The Colour of Three" without a pause, joining the tracks with the sort of howling, finely granulated drone he specializes in. Together the cuts add up to an 18-minute epic, one that moves from stirring rumbles of low static to a buzzing assault that sounds like it was recorded inside a helicopter's engine to a resigned acoustic guitar figure that feels like wind brushing past an abandoned building. In other words it feels like a ride, like the music transports you bodily from one place to the next rather than creating an "environment." And it's best heard loud when given lots of attention.
Indeed, Black Sea is an intensely physical album, even for Fennesz, which is ironic considering that he's always put digital signifiers– glitches, pops, crackles– in the foreground. The guitar, a common thread throughout, offers an anchor of familiarity. But it's the relentless experiments with the emotional possibilities of texture– experiments only possible with a computer– that give the album its weight. So the physicality is focused in very precise and specific ways. Where Fennesz's more abstract early material could be wild and chaotic– you pictured an unsteady hand on the lever, struggling to control the torrent of sound– he's at a place now where everything is extremely careful and ordered, with nothing left to chance.
This cerebral approach doesn't diminish the impact of the raw, enveloping moments on Black Sea's second half. "Glide", a standout that ranks with anything Fennesz has created, gets over primarily on carefully sculpted volume as it builds to a hair-raising peak. An edit of a live collaboration with fellow Touch artist Rosy Parlane, "Glide" proceeds along a single line for nine minutes, as a tense held chord is obscured by a cloud of white noise. Both the prickly wash of sound and the underlying drone gather steadily until the piece pivots on a bass tone and then finally bursts open like an overfilled balloon, allowing a gleaming synth, almost shocking in its tenderness, to come pouring out. It's here that Fennesz's mastery of pacing and structure, honed over the last decade, is so apparent. The following "Vacuum", a melodic soundscape piece that sounds like it could have come from Venice, is pleasant but comparatively slight, while "Glass Ceiling" combines thin, piercing tones, bell-like figures, and processed guitar in an appealingly disorienting way. The closing "Saffron Revolution" feels like a summing up of the record's best moments, as it gradually moves from cavernous gurgles, dissonant, sawing chords, and spidery bits of guitar into an immense drone that completely dominates whatever space its heard in.
In a sense Black Sea feels like a more self-consciously "sophisticated" version of Fennesz, as if his time playing concert halls and opera houses inspired him to compose music suitable for such grand settings. But he's a composer up to the task and Black Sea ultimately proves to be worth the long wait. And in the end, the wider scope suits him. In 1995, Fennesz debuted on Mego with an EP called Instrument, which found him probing the musical properties of the guitar/computer interface. Each of its four pieces sounded like the work of a guy tinkering with a single idea, seeing how vibrating strings and feedback might be bent and twisted to create a particular effect. Despite the thick force of these tracks, Instrument is small-scale music, a scribbled note passed from one insider to the next. Heard next to it, Black Sea is positively huge while also being much more accessible. You get a sense here of how far Fennesz has come, how far his music reaches, and the unexplored possibilities that still exist. [Mark Richardson]
The 46th Uncut Playlist Of 2008

A bumper list this week, as the 2009 releases start arriving in the Uncut office. Not everything here is going down ecstatically, but a first listen to the new Fennesz album today suggests that one was well worth waiting for. In the continuing absence of those My Bloody Valentine reissues, let alone any unreleased material from Kevin Shields' archives, "Black Sea" really deserves to bring Christian Fennesz to a wider audience, I think.
Other Music (USA):
Well my word, the new Fennesz album is finally upon us and after months of speculation and precious few promo copies, I have finally had the chance to sit back and take it all in. I must admit, the first time I heard it I wasn't sure what to think — sitting in the Other Music HQ listening through computer speakers didn't do the album a world of justice. Could it have been that Christian Fennesz, the savior of electronic music, had failed in making an ample follow-up to his breakthrough album Venice? Thankfully no, Black Sea is a subtle, quiet and measured record, every bit the follow-up we needed, and with absolutely none of the fanfare you might expect from an artist with such a dedicated fan base. It is a record which demands your absolute attention, be it from sitting in front of a good pair of speakers or soaking it in through headphones. When I finally gave the album the attention it had been craving, it was not long before I was convinced that Fennesz had again crafted a record worthy of his good name, a record which manages to be markedly different from its predecessor but carries the same emotional and harmonic weight that made him so popular in the first place.
We drift calmly through the album's first few tracks — soft, measured field recordings blended with restrained string-work. This is not the epic guitar manipulation we heard on the artist's previous works, rather Fennesz has taken a far more orchestral route, and the opening pieces lead us slowly and very softly into the album's centerpiece, the crushingly beautiful "Glide." Possibly the most gorgeous track to fall from the Austrian's battered laptop, this takes the noise aesthetic he has honed so well and pits it against the most gorgeous cascading strings, using the guitar merely to punctuate slightly the lilting harmonies. As "Glide" comes to a calming close we are treated to "Vacuum," Christian Fennesz's answer to Brian Eno's seminal "An Ending (Ascent)" — all hauntingly beautiful synthesized pads pointing mournfully to somewhere special, the kind of track you can fall back on when the rest of the world fails you. Then it all slips into place. Black Sea is more than just a title, the music becomes the sea; rising and falling, drifting slowly and crashing down violently. It bubbles and oozes, allowing distant melodies to soak through layers of froth and surf. As the eerily melodic droplets of sound herald the conclusion of "Glass Ceiling," we are brought into the album's devastating finale with "Saffron Revolution." Building from a mere tickle of strings we are pushed headfirst into the kind of harmonic electronic assault Fennesz is best known for: all density and blissful noise. Maybe this is the kind of sound My Bloody Valentine would have made if Kevin Shields had fallen in love with Max/MSP rather than his collection of pedals. It's clichéd to reference, the shoegaze genre, but that's really the only time that pure harmony and thick, dense noise have been combined to such a crushing degree. To put it simply, Black Sea is Fennesz's most mature, most delicate album to date, and possibly his most beautiful. It might not have the instant sugar-rush of Venice but this is a record that rewards the patient listener, and I have a feeling the rewards will keep coming for months to come. A genuine contender for album of the year. [JT]
VITAL (Netherlands):
It surely must have been some time ago when we saw a proper studio album by Christian Fennesz. At least: as far as I can remember. There have been live concerts and collaborations, but this is his first studio album in four years, since 'Venice' (Vital Weekly 417). Fennesz still plays acoustic and electric guitar, along with synthesizers, electronics, laptop and the software thing called Lloop. When 'Venice' was released I predicted that the next CD would be more popmusic, but I was wrong (never ask me for a good advise I guess), like I was also wrong on the expected release date. On 'Black Sea' Fennesz explores the music from right before 'Venice', and for which he is best known. The 'pop music' thing seems to be gone, but also Fennesz has moved away from the earlier, more gritty laptop improvisations, and found a balance between all of these, added with a dash of ambience and melancholia. In 'Grey Scale' for instance he finger picks his acoustic guitar, with a wee-bit of computer processing and some slight delay, in a very melancholic piece. Fennesz plays moody tunes here, sometimes plain and simple, sometimes in a more abstract vein, but never in a clear 'pop' sense, nor in a 'clear' improvised manner. A mature version, an update if you will, from his music, making things more refined, more mood music, more atmospheric, and unmistakably more soundtrack like. Like I say, my crystal ball watching qualities are quite low, but perhaps in the future, Fennesz will write us a great movie soundtrack. 'Black Sea' could serve as a great introduction into that world. [FdeW]
Boomkat (UK):
At last, the wait is over. Christian Fennesz's follow up to 2004's Venice is upon us, and it's not likely to leave anyone disappointed. The ten-minute title track gets the album underway, opening tentatively with flickers of noise and digital debris crackling like fireworks in the distance. Soon a flood of symphonic guitar and electronics overwhelms the mix and we're reintroduced to the signature sound world that's unique to this man's music – he's one of the most imitated electronic artists out there, and yet you can always pick out the real thing from a line-up of clones. Not resting on his laurels, before 'Black Sea' is even three minutes in, the magnitude shrinks down to a simple duet between oscillating tones and brittle acoustic guitar plucks. It's from here that the piece begins to swell up with majestic, incredibly warm sustains and scratchy textural details – the whole composition feels like a reintroduction to the various facets of the Fennesz sound. Next comes the first of two collaborative pieces (although it should be pointed out that this one isn't available on the vinyl edition – and while we're on the subject, nor is the ambient miniature 'Vacuum' encountered towards the end of the CD and digital tracklists): 'The Colour Of Three' features Anthony Pateras (a veteran of Editions Mego and Sirr), who supplies some nicely clanking prepared piano tones, placing emphasis on the instrument as a percussive device rather than a string instrument. Despite this augmented instrumental range we're still in familiar territory thanks to Fennesz's transcendent digital eruptions and gloriously rich sound designs. 'Perfume For Winter' is a more restrained affair, filled with contemplative acoustic figures and abrupt organ-driven chord changes. We get our first real taste of explicit melody here, reminiscent of Endless Summer's most approachable tracks. Importantly though, there are no overt attempts to retrace footsteps back to that classic album, and Black Sea sounds vehemently like a step forwards for Fennesz. This sense of progression is underlined by the spine-tinglingly wonderful 'Glide', a duet with Rosy Parlane which takes Fennesz's wall of sound into the stratosphere, sounding like an unearthly orchestra. The music itself matches the increased magnitude: if Endless Summer was a digitisation and abstraction of The Beach Boys, 'Glide' could be said to apply the same transformative techniques to more classically-geared sounds – there's an undercurrent of elegiac romanticism that might reasonably be compared to fellow notable Austrian, Gustav Mahler, specifically the well-known fourth movement of his 5th Symphony (once famously plundered by Robert Lippok for his Open/Close/Open release on Raster Noton). After the quietly glistening, chime-like tones of 'Glass Ceiling' comes previous single and album finale 'Saffron Revolution', which is a suitably grand closing gesture, stretching out a single, euphoric multi-layered chord across much of its duration before dissipating away into a pattern of delayed string plucks. Black Sea is far and away one of the year's most beautiful records, both in terms of the music itself and the sheer iridescence of the electronic sound harnessed within. Very highly recommended indeed.
Dusted (USA):
Given the immersive quality of his music, it makes sense that Fennesz has a thing for water. From Hotel Paral.lel on, it figures on the cover of every solo studio album; even the landlocked train station that adorns Plus forty seven degrees 56' 37″ minus sixteen degrees 51' 08″ looks decidedly humid, shrouded in mist. On his last – and least involving – long player Venice, the symbolism got pretty heavy-handed. In case you didn't know how to match up the music's decadent dolor, a picture of battered rowboats, and the jewel of old Europe, singer David Sylvian was on hand to wish the continent and its culture goodbye in tones that made you want to hand the guy some Pepto Bismol.
So what to make of Black Sea, which shares names with an inland body of salt water on the edge of Europe and Asia? The climate-conscious might note that some of the same forces that are sinking Venice – melting ice and rising oceans – may have formed the Black Sea in a cataclysmic rush of water that some theorists like to believe gave rise to the legend of Noah's Ark. Or maybe Fennesz just likes XTC.
Titular queries aside, Black Sea reconciles Fennesz's contradictory tendencies towards concealment and clarity. If you happened to catch him live in the years leading up to Endless Summer's release, you might recall the thrill of finding his sweet tunes buried under a blizzard of pixilated electronic fuzz. With Endless Summer, he surrendered to his inner pop musician and the tunes overtook the noise; on Venice, tunes and overtly-played guitars overtook the computer-generated rush of sound. The low tide image on the cover Black Sea suggests that this process of covering and uncovering is cyclical, and the music bears it out by adding a welcome bit of noise and depth to some stately and slowly evolving melodies. On "Perfume For Winter," for example, puffs of static and digitally distressed acoustic guitar notes bounce off low feedback swoops and a quivering synth melody, giving it a three-dimensional quality. But then the music dissolves into a churchy organ theme, and just as quickly morphs into a stately guitar theme. The filmic dissolve presents Fennesz, who in the past has appeared with improvisers like Keith Rowe and certain other gentlemen of the guitar, as an accomplished composer.
Even so, the record's best moment was born of spontaneous combustion. "Glide" is a live duet with New Zealander Rosy Parlane. Wrapping what sounds like orchestral samples in barbed wreaths of guitar noise, they build to a crescendo that's as big and shameless as From Here To Eternity. After it rolls over you, the music once more dissolves, this time to near-silence, and makes what's come before seem even more momentous. It's one of the best things Fennesz has ever done, and a fittingly oceanic addition to his virtually aquatic oeuvre. [Bill Meyer]
NRK (Norway):
Fennesz nærmer seg perfeksjon på sitt fjerde album.
Vinteren, denne forhatte årstiden som tvinger oss inn i ulltøy og eksistensialisme, er rett rundt hjørnet. På plussiden har vi kakao, skigåing (om det skulle være din greie) og ikke minst tid. Tid til å faktisk høre på alle platene vi tar med oss hjem i løpet av året, som vanligvis blir liggende i en skammens bunke ved siden av platespilleren. Det er bare å pelle av plastikken og slippe stiften på åpningssporet, for hva annet har vi egentlig å drive med? Vintertiden gir meg også både ro til og ønske om å lytte til langt mindre umiddelbar musikk, og det er der østerriske Fennesz' fjerde album Black Sea kommer inn i bildet.
Jeg velger å tro at den nå 45 år gamle elektronika-artisten har en plan med å gi ut dette albumet akkurat nå. Christian Fennesz' gjennombrudd kom nemlig med den langt varmere Endless Summer i 2001; en gitarbasert affære som mange påsto lånte fra harmoniheltene Beach Boys, dog begravd under tepper av glitsj-lyder, ambiente korfigurer og malende gitarer.
Black Sea fremstår umiddelbart kjøligere – selv om albumomslag og tittel kanskje farger førsteinntrykket vel mye – men det er liten tvil om at østerrikerens hjerte pumper taktfast fra første sekund. Og på lik linje med noe av den beste musikken fra åttitallet, der iskald elektronikk møtte sakrale ambisjoner, er det også her en mer krevende form for føleri som presenteres. Musikk som varer lenger og fortsetter å gi sterke inntrykk flere år etter sin utgivelse.
Tittelsporet åpner albumet, anført av hvit og nesten havaktig støy, med enkle gitarslag som antyder hva som senere skal komme. Prosesserte orgellyder glir inn og bidrar til vakre undertoner uten videre sørgmodighet. Black Sea beveger seg derfra videre inn i syntetiske passasjer der mann og maskin kommuniserer nærmest perfekt, og uten å gå inn på detaljer – for det trengs virkelig ikke – skapes det etter hvert en helhet som tar pusten fra en. En uvanlig følelse, mildt sagt.
Uten å si noe mer: Black Sea er kanskje årets album. Slokk lyset og lytt. [Erlend Mokkelbost]
Uncut (UK):
Driving home from the Leonard Cohen show on Friday night, I looked in my bag for something suitable to put on the car stereo, and settled fairly quickly on the new Fennesz album, "Black Sea".
The start, distant field recordings of seagulls and waves, wasn't really audible above the engine noise. But as we dipped into the Blackwall Tunnel, the billowing noisescape of "Black Sea" itself reared up. I thought I had chosen something soothing and ethereal. Instead, speeding beneath the Thames, assailed by striplights, it was mildly terrifying.
Good, though. I've been playing all of "Black Sea", in many different situations, for the best part of a week now. And in the wake of Animal Collective's "Merriweather Post Pavilion", I'm fairly confident that Christian Fennesz's new album is the second great record of 2009.
I first came across Fennesz about a decade ago, when I heard his seven-inch version of The Beach Boys' "Don't Cry (Put Your Head On My Shoulder)". The tune was barely there, almost totally unrecognisable. But in his meticulously organised electronic glitches, his digital choir of sighs, the Austrian had perfectly simulated the original's melancholy atmosphere. His music – as a subsequent album, "Endless Summer", confirmed – was a kind of sentimental avant-garde.
I suspect I've written before, more than once, about how most bands who seem to be influenced by My Bloody Valentine feel rather wan, mundane and undaventurous to me, stuck in a foursquare indie environment. I've always felt that electronic musicians understood Kevin Shields' imperative much more intuitively; not bland electro-shoegazers like Ulrich Schnauss who are usually referenced, but people like Third Eye Foundation (on his/their early records like "Semtex", at least) and Boards Of Canada circa "Geogaddi".
Fennesz is very much on the same page, and the likes of "The Colour Of Three" and "Glide" here on "Black Sea" have that sort of gaseous, unstable feel akin to "To Here Knows When". Like Shields, too, he has an extraordinarily artful way of layering noise, so that lovely melodies slowly emerge, as if implied rather than explicit.
Like Shields, too, Fennesz is ostensibly a guitarist, though one who works intensely hard to make his instrument sound like anything but a guitar a lot of the time. I can't pretend to understand technically what he does, but much of his playing is processed through a computer, diced up and assailed by interference, creating a dislocated but still aesthetically pleasing sound, most obviously evident here on "Perfume For Winter", which feels very much in the tradition of "Endless Summer".
Elsewhere on "Black Sea", however, more so than I recall him doing in the past, Fennesz strips back some of the effects to reveal a more organic guitar sound. So "Grey Scale", although still subtly altered and processed, has a delicacy which is curiously reminiscent of someone like James Blackshaw.
It all adds up to a tremendous album, right up there with "Endless Summer" and "Venice", which often sounds like the culmination of a strand of aesthetically-heightened music which you could trace through the Cocteau Twins and David Sylvian's solo work (Sylvian guested on "Venice", if memory serves) and on past MBV into those Boards Of Canada records ("Vacuum", with its sombre orchestral textures, is especially reminiscent of them, or even of the Aphex Twin's "Selected Ambient Works Volume Two").
It's also one of those records, as I wrote about "In Rainbows" this time last year, that seems to poeticise the world outside as you listen to it: never has a man with a leaf blower, of all things, looked so obscurely moving as they did this morning. [John Mulvey]
Delusions of Adequacy (USA):
It's been quite some time since we've gotten a proper album from Christian Fennesz. Black Sea is the Austrian musician's first solo full-length in four years. Known for his ability to transform gorgeous guitar melodies into industrial strength noise meltdowns via the use of a combination of analog guitar pedals and digital signal processing, Black Sea is no exception. The album manages to distill the best elements of his last two full-lengths, 2004's Venice and 2001's Endless Summer, into a cohesive sound that remains completely his own while forging ahead into new territory. Depending on what volume you play it at, the album can be subtly beautiful or unforgiving and brutal.
Black Sea begins with series of gurgling electronics and guitar that slowly recedes to reveal a gentle acoustic passage. Over the course of its ten minute time frame, "Black Sea" manages to encompass nearly all of the hallmarks of Fennesz' albums to date. It has the pastoral beauty of Venice, the surprising electro-acoustic transitions of Endless Summer, and the harsh electronics of Hotel Paral.lel. Which is to say that if you've enjoyed Fennesz' work up to this point that you will not be disappointed with Black Sea. The album adds other elements including more strings than previous releases and extended compositions in opposition to more direct song forms. "The Colour of Three" incorporates the prepared piano of Anthony Pateras to add an element of syncopation to Fennesz' usually untethered compositions. "Perfume For Winter" sounds constructed as if trying to reproduce the effect of a spray bottle. Over a bed of synth tones Fennesz chokes out several blasts of melodic static before the piece stabilizes.
The absolute highlight of Black Sea is "Glide," a collaboration with New Zealand sound artist Rosy Parlane. The piece combines the monstrous talents of both artists in a live setting to create a wall of sound. It was beefed up with string sections in post-production by Fennesz to create a distinct texture that sounds like My Bloody Valentine playing a Schoenberg composition. The track's nine minutes and twenty two seconds are filled with super distorted guitar tones married to distended string swoops.
Over the course of the album's 52 minutes, the eight tracks reveal a brilliance in construction. It all culminates in the finale, "Saffron Revolution." The piece is a brief, airy song full of glassy guitar notes that slowly unwind. The final moments sound like chimes clinking in a breeze. It ends Black Sea on a note that sounds as if Fennesz is finally letting go of all the trouble that may have plagued him in the four years it's taken to produce a follow-up to Venice. If this album is any indication, he's still got a lot of tricks up his sleeve. If you're down with music that's as challenging as it is rewarding, Black Sea will be some of the finest music you hear in 2008. [Joe Davenport]
Dagasvisen (Norway):
Sveitsiske Christian Fennesz er en av den elektroniske musikkens viktigste artister det siste tiåret – og egentlig er han gitarist. Hans signatur er de manipulerte, fremmedartede, underlig vakre gitarakkordene, der det er vanskelig å høre hvor gitaren slutter og hvor elektronikken begynner. Han er en kresen artist som jobber møysommelig, dermed er «Black Sea» en etterlengtet utgivelse. I likhet med hans forrige soloalbum, «Venice» (2005), tar han også her a23 utgangspunkt i et geografi sk sted som han lydlegger. Men ellers er dette et svært annerledes album, helt instrumentalt der forgjengeren hadde vokalbidrag av bl.a. David Sylvian. Lydlandskapet er øde, grått og postkommunistisk der forgjengeren var kontinentalt dekadent. Han har noe til felles med sin labelkamerat biosphere i evnen til å skildre et konkret sted gjennom abstrakt lyd, og begge to har beveget seg stadig lenger i retning kunstmusikken. De langstrakte bølgene av lyd er som å legge en konkylie til øret. Som havet er musikken rolig og kraftfull, med en kald skjønnhet som sakte åpenbarer seg. [Bernt Erik Pedersen]
Aftenposten (Norway):
Det er gått fire år siden vellykkede Venice, men østerrikske Fennesz vet fortsatt hvordan han setter nedslaget. Det er i møtene mellom ambient, lett støy og lune gitarer at Fennesz viser storhet. Tittelsporet setter standard med kontrastfylte bevegelser mellom kjølig elektronikk og varmt treverk. Musikken kan nærme seg det symfoniske, men også krype mot minimalisme. Mannens lyddesign virker gjennomreflektert uten å være fattig på liv. Man møter motstand, men også renskårenhet. Det som skiller Christian Fennesz fra mange andre artister i området, er detaljene og dybden i materialet. På «The Colour Of Three» bidrar Anthony Pateras på preparert piano, og denne låten er albumets mørkeste, med en foruroligende grunnstemning. Fennesz mestrer det delikate. [Arild R. Andersen]
RockLine (IT):
Un'illusione effimera, incantevole, lontana. Il suono nella sua dimensione più libera e irrazionale che diventa magia astratta, la sperimentazione acustica che si scrolla di dosso ogni tentativo di irruente ribellione concettuale chiudendosi timidamente nel suo stesso, levigato mondo. Una musica d'avanguardia intensa e struggente quella di Christian Fennesz, compositore eclettico, instancabile sognatore ma al contempo artista freddo e disincantato: il musicista austriaco ha saputo negli anni trovare il giusto compromesso tra ricercatezza e melodia, tra sperimentazione e pura bellezza uditiva, rendendo la sua arte non solo un concentrato di idee e innovazione, ma dandole le sembianze di un incantesimo sonoro terribilmente affascinante. Fennesz ha smussato l'ambient e l'elettronica dei loro più logorati stilemi arricchendone la soave atmosfera di fondo attraverso frammenti di pura musique concrete, ha trasformato radicalmente uno strumento classico (per il rock s'intende) come la chitarra abbattendo qualsiasi limite o costrizione stilistico-concettuale esistente. Scavalcato così il passato tanto quanto la modernità, Fennesz si è ritrovato davanti un universo interminabile, desolato e silenzioso e, come uno scrittore che riflette d'innanzi ad un foglio bianco i suoi pensieri prima di riversarli con fiumi d'inchiostro, ha cominciato ad assorbire e a capire quello spazio, per poi crearne una rielaborazione estremamente intima e soffusa.
E' per questo che Black Sea, ultimo lavoro dell'artista austriaco, si presenta come la più profonda testimonianza della sua emotività e della sua poetica: le levigate ricercatezze linguistiche contaminate dal glitch e dall'industrial "ambientale" degli anni '60 dell'indimenticato capolavoro Endless Summer (già smussate nell'altro gioiello Venice, del 2004) vengono qui azzerate del tutto permettendo agli istinti basilari di esprimersi nella maniera più spontanea possibile: il risultato non è nient'altro che una musica atmosferica, intensa e riverberata, una musica che non si limita a sperimentare concettualmente come accadeva nei precedenti lavori (di cui comunque viene qui ricalcata la sintassi formale ed espressiva) ma che, durante il suo scorrere, lascia fluire tutta la sua essenza più onirica ed eterea.
Black Sea è ormai lontano da quelle ultime eco di quotidianeità irreale e fittizia in cui la tecnologia si imponeva come sua rappresentazione e allo stesso tempo come suo emblematico distacco; uno stato interiore per lo più assente, azzittito da una pantomima artistica lontana da qualsiasi approccio emotivo e votata ad una (comunque abbagliante) sperimentazione stilistica. L'ultimo nato in casa Fennesz riesuma invece la sua più profonda intimità, donando all'ascoltatore un prodotto fragile e intenso che avvolge senza risparmiare fasi di assoluto straniamento (i meravigliosi arrangiamenti della titletrack che apre il disco) in cui ipnoticamente si compiono splendide elevazioni atmosferiche ora più distese e malinconiche (Glide) ora più psichedeliche (The Colour Of Three) e oniriche (Saffron Revolution e Glass Ceiling). Ma anche per quanto riguarda la creazione e la gestione del materiale sonoro Black Sea sorprende sin dall'inizio risultando raffinato ed estremamente elegante ad ogni suo movimento, aspetto che vede la sua massima realizzazione nella già citata opener e soprattutto nella magia ambientale di Perfume For Winter e della più soave Vacuum. Ma laddove il disco sembra perdersi semplicemente in anelati luoghi di perdizione (che alla lunga possono comunque risultare ripetitivi), Fennesz tira fuori dal suo infinito calderone di suoni e idee la meravigliosa Grey Scale che poeticamente riflette tutto quel mondo di emozioni perdute e di ricordi lontani che sembravano ormai definitivamente seppelliti; una perla dal forte sapore nostalgico in cui la malinconia fa da padrona ma timidamente, come se trattenuta da un istinto maggiore, permeando in ogni caso l'intera atmosfera del brano e ponendosi come unico e vero emblema dell'album.
Black Sea in qualche modo riassume ed amplifica attraverso un registro compositivo ancor più etereo ed ineffabile le soluzioni atmosferiche già presenti nel precedente (e comunque migliore) Venice, segnando definitivamente un punto di svolta all'interno della sua carriera, come del resto dimostra anche la doppia collaborazione di Fennesz con Ryouichi Sakamoto in Sala Santa Cecilia (2005) e nel godibile Cendre (2007). Inutile continuare a parlare, inutile cercare ulteriori espressioni per elogiare Black Sea: Christian Fennesz non sbaglia nemmeno questa volta riaffermando lo splendore della sua musica attraverso un disco che, sebbene non raggiunga per complessiva bellezza i due precedenti full-lenght, ne esprime il lato più introverso e malinconico in maniera semplicemente unica. Ennesima grande prova di un grande artista.
Morgenbladet (Norway):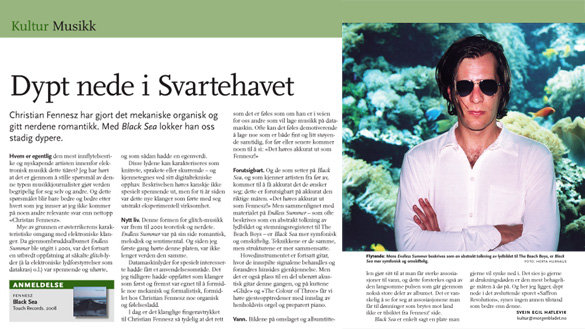 Universitas (Norway):
Der bråk møter melankoli oppstår magi. Og det er i dette skjæringspunktet Christian Fennesz lapper sammen sine elektroakustiske komposisjoner.
Black Sea er et forventningsbelastet stykke musikk. Med forrige soloutgivelse, Venice fra 2004, markerte Fennesz seg nemlig som en lydkunstner av universell størrelse.
Venice og Endless Summer fra 2001 representerer begge et tropisk uttrykk av varme og fuktighet. Men Black Sea skiller seg ut med en langt skarpere produksjon. For der de to foregående albumene høres ut som klamme sommerkvelder, oppleves Black Sea som å stå i en vinterstorm med veldig gode klær.
Man kommer nemlig ikke utenom meteorologien i Fennesz' univers. Elektronikken hans har en distinkt organisk klang som skaper assosiasjoner til naturen og estetikken. Den sprakende støyen på Black Sea strømmer som en bitende vind, men innhentes av en varme og skjønnhet som ligger i de underbyggende toneartene. Slik omdannes støy, enkle harmonier og lange droner til drømmende musikalske tablåer som gir oss en innsikt i vinterens vesen: Jo visst er årstiden kjip, lang og kald, men vi kunne aldri overlevd uten føleriet og sentimentaliteten som mørket, kulden og livet innendørs tillater oss i disse månedene. Legg deg ned og lytt. [Kristoffer Hatteland Endresen]
AVUI (Spain):
Temps després de Venice, un meravellós disc d'experimentació digital, Fennesz torna amb Black sea allà on ho va deixar. El músic austríac manipula i reinterpreta el llenguatge de les guitarres i en aquest procés acaba obtenint un so únic, colpidor i fascinant.
Slant Magazine (USA):
Relentlessly tidal, Fennesz's Black Sea shifts subtly between bluster and stillness, at times growing so faint as to almost disappear completely. The eponymous opener kicks down the door with an extended burst of harsh, busily layered noise before relaxing into a 10-minute sprawl, where electronic fiddling and acoustic guitar strums float disconnectedly over a fuzzy soundscape. This sets a clear tone for the rest of the album: languid, drawn out ambiance punctuated by the occasional burst of nearly startling noise. Still, the album's ascents from quiet to loud are so gradual that there's always time to acclimate.
Black Sea is a headphone album, packed with fragile, briefly presented sounds that seem in constant danger of escaping unheard. "Saffron Revolution" opens with a nearly indescribable sound effect—like a coin rolling down a pipe—that slowly disappears behind a building layer of patchwork sound, while "Glide" pulses with a muffled mechanical ringing that echoes beneath a dull synth roar. "The Colour of Three" spends more than six minutes building up a blaring wall of the same thick and scratchy synth, which suddenly gives way to an emptiness occupied only by sparsely ringing chimes—a ghostly touch that sounds like something out of an old Japanese horror film.
Yet even with all these subtle touches, Black Sea is the kind of album that you can't help but absorb passively, in sweeping waves that push the sound into the background through their own endless repetition. Overall, there isn't anything especially attention-grabbing here, and Fennesz's favored motif—lacquering over his most interesting bits of sound with dense layers of fuzz—is deadening. The music becomes almost inconsequential at times, with the constant synth din practically disappearing by virtue of its sameness. At other times outright silence takes over, for what feels like minutes at a time, an effect that's ultimately fitting for an album that seems bent on evading our attention. [Jesse Cataldo]
Aquarius (USA):
Which came first Tim Hecker or Christian Fennesz? If one is to merely look at the discographies of the twin kings of digitally tricked out guitar sculpting, the chronological answer is obvious: Christian Fennesz. But in the four years that have transpired between his brilliant album Venice and the 2008 opus Black Sea, Fennesz must have seen a younger protege in Tim Hecker coming up in the rear view mirror with his own dramatic sound for smeared guitar whose beauty is similarly rendered through error. Not only does Black Sea feel like a response to Tim Hecker's work, it also stands as Fennesz' most fully realized album, perhaps even more so than the sunburst explosion of meta-pop on Endless Summer.
Fennesz works best in the cold, with ice, snow, and frost dusting the strings of his guitar and seeping into the circuitry of his computer; and the cold landscape is exactly where he situates himself on Black Sea. Not surprisingly, Touch's Jon Wozencroft perfectly matches a photograph of an abandoned train track set onto a barren wintry landscape, looking a hell of lot like the photographs that Anselm Keifer uses as a background over which he dumps tar, paint, cement, lead, ash, and whatnot into his alchemical paintings.
Black Sea opens with the fizzling crunch of digital errata getting mangled even further by digital means, with Fennesz sculpting a sea swell of a half melody in the distance. Considering the contemplative and cold nature of the rest of the album, this track is a bit discordant; but Fennesz isn't going for the Menche / Merzbow attack, just something of a wake-up call. But gradually, even this first burst of noise quells in a plaintive round of finger picking on the guitar, out of which a beautiful cloud of vaporized drone begins to amass and a subharmonic throb of distortion settles in. These sounds become the template for the rest of the album, all wrapped in gray, muted timbres. When noise bursts through Fennesz' circuits, the attack almost immediately blurs into clustered loops, drones, and sympathetic noises to smooth the edges into a shimmered glisten of remarkable beauty that exhibits a cold, overcast, and gray soundsmear, certainly on par with the sleepytime shoegaze of My Bloody Valentine. After an exceptional collaborative track with Rosy Parlane of lunar landscape ambience riddled with dust before opening into a hymnal melody, Black Sea comes to an end with one of Fennesz' best tracks ever in "Saffron Revolution," with its soaring vapor trail of tone-bent guitar drone and a majestic crescendo of sustained, soft focus distortion. A truly marvellous piece of work.
Dagbladet (Norway):
Østerrikeren Christian Fennesz er ledestjerne i impro/ støyfaget, denne fryktinngytende og mangslungne sjangeren som i sine beste stunder produserer musikk som låter som selve livet – forholdet mellom menneskene og maskinene, mellom følelser og teknologi. Fennesz' innflytelsesrike «Endless Summer» fra 2001 er blitt noe av et referanseverk for laptopgenerasjonen, av samme grunnen som My Bloody Valentines «Loveless» er det i rocken. Deres gitaroriginalitet og melodifølsomhet i spenningsfeltet mellom pop og støy er nært beslektet, en suggererende stemning hvor lyset hele tida skifter og man aldri vet hvilken melodisk overraskelse som venter rundt neste sving. «Black Sea» er slik sett akkurat så vakker og fascinerende som man kunne tørre å håpe på. [Sven Ove Bakke]
Onda Rock (Italy):
Quando un artista del calibro di Christian Fennesz torna a incidere è quasi sempre perché ha qualcosa di importante da dire, un altro tassello da aggiungere in un percorso artistico ormai duraturo e costellato di spunti evolutivi. Simili premesse sono ancora più valide in questo caso se si considera che, ad eccezione del non riuscitissimo tentativo di ibridazione ambientale racchiuso nella collaborazione dello scorso anno con Ryuichi Sakamoto ("Cendre"), il quarantaseienne austriaco non licenziava un lavoro interamente a suo nome da "Venice", risalente a ben oltre quattro anni fa.
Proprio dalla linea tracciata dall'album precedente Fennesz trae spunto per il nuovo "Black Sea", e lo fa alla sua maniera, ovvero introducendo ulteriori quanto graduali elementi di discontinuità nella sua musica, come sempre curatissima e pullulante di vitalità. Se già "Venice" aveva segnato un passo importante verso l'abbandono del glitch, in favore di sonorità più orchestrali e cinematiche, "Black Sea" sembra preludere a un definitivo orientamento verso derive di chiara matrice ambientale, tutt'altro che improntate a una statica environmental music, ma proiettate verso variazioni continue, prodotte da un'instancabile manipolazione sonora, che contempla frammenti sintetici, chitarre processate, retaggi rumoristici e anche rilevanti inserti acustici. Come evocato dal titolo, l'album è un'immersione lenta ma inesorabile nelle profondità di una marea densa, oscura, scossa da moti incessanti, esemplificati a dovere già dalla title track d'apertura, lungo i cui dieci minuti increspature rumoriste si sposano con iterazioni acustiche sospese su frequenze modulate, che ora scolorano in placidità ambientali, ora si innalzano in drone appena distorti e sciabordii lievemente dissonanti.
In coerenza con la monolitica traccia iniziale, l'album scorre come un flusso cangiante, nel quale Fennesz sembra divertirsi a inserire un'incredibile varietà di elementi, filtrandoli, frammentandoli e riassemblandoli in forme sempre nuove, fino a trasformarne la stessa essenza, tanto che non sempre risulta intuitivo discernere l'origine dei suoni. Lavorio chitarristico e fragili arpeggi acustici, organo e prepared piano si rincorrono infatti in un impianto sonoro in continua trasformazione che, ormai spogliato di ogni enfasi percussiva, demanda a rade distorsioni sintetiche i pochi passaggi ruvidi dell'album. Anzi, proprio nella parte centrale e in quella conclusiva del lavoro, Fennesz dimostra una spiccata propensione alla ricerca di un equilibrio ambientale a prevalenza elettroacustica, che rideclina la definizione stessa del genere, sfociando in cammei acustici mai così pronunciati ("Grey Scale", "Glass Ceiling") e in una sorta di "ambient orchestrale", plasmato nei solitari rilanci armonici che disegnano il vuoto inafferrabile di "Vacuum" e articolato con maestria nella romantica sinfonia "Glide". Quest'ultima – che vede anche la partecipazione dello sperimentatore neozelandese Rosy Parlane – può esser considerata la composizione più rappresentativa di tutto il lavoro, col suo dipanarsi per oltre nove minuti, lungo i quali sottili distorsioni prendono a tratti il sopravvento su un substrato di toni e rumori, prima di dissolversi in un crescendo rilucente, che coniuga alla perfezione incedere magmatico e rapimento onirico.
Complesso e raffinato, ma niente affatto inaccessibile, "Black Sea" è anzi un lavoro con tutte le carte in regola per avvicinare nuovi proseliti alle infinite esplorazioni dell'artista austriaco, delle quali contribuisce ad ampliare ulteriormente gli orizzonti, sancendo al contempo un significativo sviluppo tanto in termini di fisionomia sonora che di modalità compositive. [Raffaello Russo]
cokemachineglow.com (USA):
Christian Fennesz's compositions marry the romantic sentimentality of the Beach Boys with the musical transcendentalism of Karlheinz Stockhausen. And while Fennesz's electroacoustic phantasmagoria has taken many forms—heavily distorted grumbling overlaid with angelic synths, planes of oscillating fuzz, even a couple bizarrely straightforward singer-songwriter tracks—water served as a consistent theme in his 2001 masterpiece Endless Summer and equally as masterful 2004 follow-up, Venice. For its part, Fennesz's follow-up to those records most resembles the element of water. Vaguely melodious, embedded with overtones, sometimes placid and sometimes stormy, Black Sea is like a wave in that its diverse parts meld together to form a powerful, all-encompassing entity.
Fennesz's compositional process makes songwriting and sound engineering a singular act. With his electric guitars, a laptop, and a variety of waveforms and effects, Fennesz creates ribbons of guitar plucking, chunks of white noise, and fragments of synth sounds, then mutates them and finally patches it all together into something implausibly fluid. Listening to Black Sea, you will probably feel like you're drifting. In the opener, gasps of a heavenly chorus dissipate under a wave of squiggling electronics. In "Glide," gentle hums embedded in distorted clouds gradually form a wandering chord progression and stabs of subsonic bass. (Unfortunately, the vinyl edition does not include "Glide" [YES it is! Its 'Vacuum' which isn't – ed.] or "The Colour of Three.") The white noise-tinged electronics, plinking guitar, and groaning bass in closer "Saffron Revolution" gestate like a thick fog that floats along and eventually fades away. Even the silence between the tracks seems integral to the album, serving as a bit of respite before the next miasma.
For its occasional forays into tiresome mid-level fuzz, some listeners might dismiss Black Sea as sonic wallpaper. Not only would that overlook all of the record's incredible details—like the buzzing electronic yawns in "The Colour of Three" and the cathartic blasts of mutated splashes in "Perfume For Winter"—it would miss the point entirely. Black Sea's impressionistic strands do not play specific roles so much as melt into their corresponding elements, much like the phased motifs of minimalist composer Steve Reich, to subsume all of music's parts into a unique sonic form. The subtle and savory contour of the texture, working as melody, harmony and rhythm, is an end in itself.
The uninitiated listener might compare Black Sea to being lost in deep sea, where there are no pathways, no buoys, and plenty of hungry creatures below. On the other hand, Fennesz fans might compare Black Sea to the arrival of a long-awaited vacation—one that might just take them to the unique resort city of Odessa, Ukraine, where they can splash around in the Black Sea's beaches. Either way, Fennesz's latest album needs a patient and curious listener who is willing to rethink the very things they listen for in music. [Peter Holslin]
FACT Magazine (UK):
Christian Fennesz reinvented electronic music with his elegiac LPs Endless Summer (2001) and Venice (2004). If last year's Budd & Eno-esque collaboration with Ryuichi Sakamoto, Cendre, had us worried that the Viennese guitar and laptop artist was softening, abandoning his intrepid textural investigations for a more traditional conception of ambient, then that fear is quickly dispelled by 'Black Sea', the brooding 10-minute piece that opens this album, and gives it its name. There is, as ever, considerable prettiness to Fennesz's music, but it's strenuously wrought – built on a foundation of dissonance, static and atmospheric unease.
As its title makes explicit, this is an album of murky, seemingly bottomless depths, but it's still not what you'd call a grandstanding work: this is music which must be listened to closely, and respectfully, if its strengths are to be properly perceived. Fennesz is a master manipulator of sonic space, and the whole sound-field is his canvas: many musicians aspire to put you "inside" their music, but on 'The Colour of Three' and windswept centrepiece 'Glide', Fennesz actually succeeds in this aim. Black Sea's excellence is not in doubt; but whether it will be remembered as a key work in Fennesz's mercurial career remains to be seen. [Trilby Foxx]
self-titledmag.com USA):
Take a long, hard look at Black Sea's record sleeve. Looks pretty majestic, doesn't it—like a moonlit walk along Montauk's frostbitten beach in the middle of winter? Sure enough, that's exactly what you're getting here: the kind of imaginary soundtrack cuts we'd love to hear while watching Eternal Sunshine of the Spotless Mind on mute. Rather than simply rely on his trademark blend of fluttering, fuzzy chords and distorted Eno-isms, Christian Fennesz makes his first official full-length in four years his most classically-inclined to date. While all of his sonic touchstones are here, they're delivered with a great deal of patience—a dynamic mastery of movements and emotive electronics.
Simply put, this release is as essential as a decent cardigan in the early winter months, fulfilling all the security blanket needs that set in as the nights get longer and the air gets colder. Using an arsenal of "acoustic and electric guitars, synthesizers, electronics, computers and live-improvising software," Fennesz has created something that sounds more human than that Fleet Foxes record your friend won't stop yammering about. And like its song titles ("Vacuum," "Glide," "Glass Ceiling") suggest, Black Sea is majestic and effortless, something you'll stare at for hours without realizing you hit replay three times already. Us, we're already on spin number four. [Andrew Parks]
Schlendrian (Germany):
Die Seele in und von der Dunkelheit umspülen lassen, den Kontakt verlieren und dadurch neu gewinnen, gereinigt Hinauftauchen ans Licht: Der Experimentalmusiker Christian Fennesz, dessen wunderschönes Album "Endless Summer" ihm 2001 bereits große Aufmerksamkeit diesseits musikalischer Spezialistenzirkel bescherte, mit neuen, endschöne Melancholie hervorrufenden Klanglandschaften aus der Tiefsee der Gitarrenabstraktion, Elektronik und Verfremdung.
Groove (Norway):
Mange ble nok for alvor kjent med Christian Fennesz gjennom hans eminente Summer Sun (2001), en Pet Sounds for glitch-generasjonen med en tittel som presist beskrev musikken. Med Venice tre år etterpå forflyttet han seg fra tilstand til sted, kan man kanskje si, på det som var en vel så tilgjengelig plate. Det har igjen tatt sin tid med oppfølgeren, fire år senere ser det ut til at Fennesz fremdeles er på vandring. Stoppestedet denne gang er Svartehavet.
Det er sikkert mulig å utlede noen smarte tanker rundt dette navnet. Svartehavet forbindes ofte med sol og ferie, men det er nok også mulig å knytte, i hvert falll regionen, til tungindustri, grå sletter, tåkefulle jernbanespor og fremmede språk. Noe slikt. I hvert fall er det mer i denne retningen omslaget tar oss, og det er også mot dette landskapet musikken søker. Fennesz musikk strømmer denne gangen fra Dnepr og Don mot Svartehavets bredder på bølgende gitarer, statisk elektrisitet, grumsete vann.
Black Sea er en mørk, tung – men ikke minst en vakker plate. Ambient og støy, gitarer og elektronikk er skrudd sammen til et organisk pustende vesen. Fennesz snur ryggen til den gjengse laptop-artist – altså vendt mot publikum – og det er nettopp i det analoge fundamentet og det menneskelige oppe i det hele som skiller ham i en genre som ofte blir kald og distansert i forholdet mellom utøver og publikum. For det er ikke til å underslå at det finnes cirka en million "lydskulptører" der ute, svært mange innenfor det segment som Fennesz befinner seg i. Han er blant de store, markerte seg tidlig og har en naturlig autoritet i miljøet. Om Black Sea er så vanvittig mye "bedre" enn andre er spørsmål jeg ikke nødvendigvis sitter med svaret på. Det viktigste er at Black Sea er en formidabel lytteropplevelse. Fennesz jobber sakte, men resultatet tåler da også alltid tidens tann bedre enn hos de fleste han kan sammenlignes med.
Elementene består ikke uventet av lag på lag med mektige el-gitarer, melankolske akustiske gitarer, noe som minner om feltopptak og selsvagt et kraftverk av datamaskiner/elektronikk. Hva som er hva er ikke enkelt å si, for en gitar er ikke alltid en gitar i Fennesz hender, men han søker i hvert fall mer mot tekstur enn puls, mer mot drømmebilder enn konkreter. Mye av hans modus operandi samles på første spor; det ti minutter lange tittelkuttet som tar oss fra maritime omgivelser, gjennom en urovekkende storm til vi skylles på land i et goldt, fremmed landskap. Vi er fremme, her skal vi tilbringe de neste 45 minuttene inntil vi duver tilbake på en dyne av støy til lyden av en Saffron Revolution.
Fennesz har funnet et godt hjem hos stilsikre etiketten Touch, sammen med likesinnede som Oren Ambarchi, Phill Niblock og Rafael Toral (høres ut som en Safe as Milk-festival), men han har også med seg Mego-relaterte Anthony Pateras på behandlet piano på ett kutt (The Colour of Three) og New Zealandske Rosy Parlane på et annet (Glide). Dette er bidrag som ikke utmerker seg umiddelabart på annet vis enn det man leser på omslaget, for Black Sea er helt og holdent Fennesz' prosjekt.
Et sikkert lydstykke å ta med seg neste gang du skal til Odessa. [Bjørn Hammershaug]
Tokafi (album of the month):
Triumphant in a tender way: Christian Fennesz emerges from "Black Sea" as a gifted story-teller.
Even though the artwork to his latest full-length might suggests so, Christian Fennesz' creative well was never in danger of running dry. News items and pre-release reports referring to "Black Sea" as his first album in four years carelessly omitted that Fennesz has hardly been more active before in a solo career anxiously approximating its second decade. Simply, his output had seemed to centre around poignant, short offerings (either as digital files or on 7inch Vinyl) or symbiotic collaborations – the latter including musical handshakes with Ryuichi Sakomoto and Charles Matthews among others. Regardless of whether he was accompanying the Grand Organ in York Minster, exploring spatial specifics in various live situations or entering into a metaphysical dialogue with Sakomoto's Piano, however, his main ambition has always been to find an answer to that all-deciding question: When does beauty become unbearable?
One could, of course, argue that the results of his quest have not changed all that much on "Black Sea". Admittedly, when compared to its immediate predecessor "Venice", the new material offers neither guest compositions for Guitar, nor vocals and his singularly stringent structures have been embedded into a sonambulant flow of drones and harmonies. But the much talked-about transition from instrumental songsmith to ambient master is more of a conceptual and aesthetic proposition void of any fundamental dogmas or marketing shticks. If Fennesz claims that "there are still traces of songs and song structures in 'Black Sea'" then that is actually an understatement: Tracks like "Grey Scale" and "Vacuum" still rely on lyrical melodies, compactness of form and a disarming straight-to-the-heartness, while refusing to take more than four minutes to make a point.
And yet, this conscious penchant for the immediate and uncomplicated is never without ambition. The most remarkable feature about "Black Sea", in fact, is how effectively it injects sensations of majesty, depth and capaciousness into its unpretentiously circumscribed compositions. The progressions of "Perfume for Winter" appear stretched-out and surreal in one moment and pure and crystaline in the other, while the gaping wormholes in the sleepy texture of "Glass Ceiling" efface all sense of time and space. What lies between two notes suddenly seems essential and loose motivic strands take on vital thematic meaning as main melodic development increasingly withdraws into the liquid layers underneath the sonic surface. It is the act of deliberately avoiding harmful concretion that allows the listener to come to highly personal conclusions.
It is interesting to note, meanwhile, that "Black Sea" is always at its most tangible when Fennesz calls in the support and creative input of friends: "The Colour of Three", realised all the way back in 2004 with Australian composer and jack-of-many-trades Anthony Pateras, is a powerfully fuzzy ride on the crest of a distorted two-chord wave and "Glide" renews the acoustic liason with Rosy Parlane after ten years of silence. On the latter, yearning strings and a gentle bass hymnically ascend from the ashes of a dark, resonant industrial wasteland, transforming a suggestively sombre piece of sound art into a long, ardent emotional crescendo. Even though Fennesz has reduced the size of his cast of colleagues to an absolute minimum, these contributions are essential to the album as a whole, for they counterpoint the overwhelming sense of tranquility radiated by his solo work with a necessary degree of urgency. An exception to this rule is the opening title track, an atmospheric modular symphony comprising of several episodes connected by mood and breath, which sets high hopes for an eclectic listening experience.
These hopes are never disappointed. "Black Sea" is a colourful ride and a treasure chest for anyone who thought experimental releases mostly relied on punctuating the same nerve for much too long. Christian Fennesz emerges from it as a gifted story-teller excelling both in the short story and novel-department as well as an artist capable of finding connections between stylistically divergent works in a refreshingly "irrational" way. He doesn't need exagerated layering and myriads of secretively tucked-away sound effects to come at intense results either, with tracks appearing invitingly transparent.
On the face of it, therefore, there is no great mystery at work here: Sometimes, as on closing single release "Saffron Revolution", all he does is take a romantic chord motive, stretch its fabric until it turns into a mere suggestion and allow it to grow and explode into a supernova of harmony and bliss. It is right there, however, that something essentially simple turns into an articulate form of art and the unabashed beauty of his music, triumphant in a tender way, becomes almost unbearable. [Tobias Fischer]
The Stranger (USA):
Austria's Christian Fennesz has ascended to the summit of the ever-growing "stoic guy with guitar and laptop" heap through eight solo albums, the "Fenn O'Berg" collabs with Jim O'Rourke and Peter Rehberg, and releases with Ryuichi Sakamoto and David Sylvian. Fennesz's early Mego titles privileged glitch and granulated static, but still extracted a striated beauty from the audio detritus that most engineers reflexively delete. Beginning with 2001's Endless Summer, though, Fennesz lessened the harshness of his music—which often carried the tumultuous clangor of early Cluster—and stressed a kind of attenuated melodic grandeur, like some binary-code Beach Boys (whose "Don't Talk" he's covered, very obliquely). Black Sea represents Fennesz's ultimate refinement of his beauty-amid-noise MO. On excellent tracks like "Glide" (featuring New Zealand drone-meister Rosy Parlane), Fennesz creates the wonderful illusion of hearing a minimalist symphony being played on a between-stations radio in the distance. The extra effort needed to discern the melodic contours on Black Sea is worth it, and in fact adds to the overall pleasure. Implication trumps provocation on one of the year's best albums without a single beat on it. [Dave Segal]
Hartford Advocate (USA):
The strange thing about spartan, atmospheric instrumental music is that — despite the simple sound palette — it's surprisingly difficult to do well. Ask anyone who's tinkered around with their laptop hoping to pick up where Brian Eno left off. Fennesz did it admirably on 2001's Endless Summer. Here he returns with austere guitar notes, spooky wind effects and the sonic afterburn of sizzling electronics. It's not quite dinner party music, but it's just right for the 2 a.m. post-party chill-out soundtrack. [John Adamian]
almostcool.org:
To say that a new album from Christian Fennesz is highly anticipated is probably a bit of an understatement. Since his first releases, his name has become almost synonymous with elegant microscopic sound, and his work has been referenced both as an influence for a huge number of artists and as a comparison as well. Of course, since he started releasing music, the market has flooded with musicians creating similar work, and the advances of certain software have made it easier to simulate (or copy, as it were) his once rather unique work.
That's especially true in the four years since his last solo full length Venice, and while he put out both the Sala Santa Cecilia EP and Cendre full length with Ryuichi Sakamoto, neither of those two efforts seemed to quite capture the magic of his best work (which has held up remarkably well). And so after this long (by some standards), Black Sea isn't so much a major revolution as it is a solid release that pretty much delivers what one might expect.
Over the course of eight tracks and just over fifty minutes, there is plenty of "trademark" Fennesz sound, largely created with massively filtered guitar. The end result is something that doesn't really sound like a guitar, as usual. Of course, there are trace remnants that creep through, but it's when he's powering his six string into a full orchestral plume or a skittering band of insects when he's at his best. Opening album-titled "Black Sea" seems to do just about all of those things, trading tone-dripped near-silences with huge swells of blistering grind, pastoral note floats and some simple acoustic strums. It all happens over the course of ten minutes, and pretty much encapsulates the album as a whole in that time.
From there, you get variations on that them, with some pieces (like "Grey Scale") taking a more brittle acoustic approach, others that veer into cavernous, icy ambience ("Glass Ceiling"), and others that again pretty much run the spectrum (the amazing album closer "Saffron Revolution," which ranks among the best work that Fennesz has ever done). As I mentioned in my review of Venice, I still wish that Fennesz would try something even more pop-oriented in the future (more similar to his work with David Sylvian on "Transit"), but perhaps it's too much to expect something so drastic (and that's what side-projects are for). As it stands, Black Sea is a solid, if not entirely groundbreaking. It's getting cold, though, and this is the perfect accompaniment for this kind of weather, so there is that.
The Squid's Ear [USA]:
In Christian Fennesz' Black Sea everything is sensitive to what it is not: meandering guitar – occasionally cresting in syncretic peaks — swim through overdriven, pulsing collages, merge into thickly complex, laminar drones, which themselves are then beleaguered like a wreck on the shore by waves of rough textures or haunted by distant melodies that, finally, ascend to an eldritch ambience. A wealth of territory is covered, yet everything is drawn together and mutually implied in this unique drama.
More so than ever before, Fennesz demonstrates an intimacy in the undemonstrative, non-cliched beauty of his compositional touch, in his gentle but firm caress of the ear. The sputtering of circumstantial detail opens the work. It soon rises to a jagged intensity before being windswept by gentle and evanescent textures that open up the sound field, allowing a plaintive guitar passage to pass through undeterred. After this, the piece starts to shimmer from phasing, suggesting a dizzy ecstasy is just out of reach, and at that moment the piece fades out. Not long after, the album lifts itself to a new level – in "" the proceedings become crystalline, combustible, hard as Carborundum and yet as gentle as an ocean's mist.
Fennesz takes his time and, unlike in certain past efforts, everything ultimately gets a thorough workout without lapsing into excess or redundancy. Tiny fluctuations in pitch and hazy harmonics will draw one into a dim rainbow cloud on "Perfume For Winter", for instance, and the plaintively strummed acoustic guitar melody of "Grey Scale" will stand out for its supple, tremulous, and welcoming nature, but it won't be long before either turns its back and heads down a dark corridor leading one knows not where. In the gradual, unforced shifts in direction that the music takes, the album is like a great river wending its way to the sea. [Max Schaefer]
White_Line [UK]:
The agonising four year wait for another fix of Fennesz has not been in vain – it is a constant source of amazement to me, that time has moved so quickly since Touch's release of Venice. In that time, Fennesz has refined his modus operandi with a clutch of live appearances and collaborative projects, that have seen his material further matured, and perhaps a little more distilled. Black Sea opens with a title track that is unmistakably Fennesz in feel, yet here we see his layerings and fracturings more considered, and possibly less improvisational. A host of copyists have perhaps enabled the great man to take stock of his methodology, and focus more on the musical elements, as opposed to systematically dismantling the guitar sound altogether, virtually transmuting it into another instrument.
Fennesz' strength lies in his deliciously capable handling of the instrument through a range of live permutations and restructurings, always maintaining wonderfully hooky harmonies, and blistering effects, generally amongst an ethereal foam of glitchy textures, and static mist – indeed at times, sonic references to Noto's recent Xerrox would not be out of the question, as Fennesz manipulates his raw material with sculptural dexterity, with delicate and beautiful harmonies emerging from dense and overdriven texture. Even on the second track, The Colour of Three, we hear a Fennesz whose technique is now being held in check, despite the fuzzy, overdriven familiarity, it somehow isn't quite the full on, amped up beast of the past. For me, the high points of this captivating collection have to be Grey Scale, and Glide – Grey Scale is an awesomely beautiful piece, its central themes rotating around delicately picked guitar, whilst Glide emerges from complete silence that gradually builds into a soaring sonic edifice, gilded with some of the most beautiful harmonics I have heard in a long long time. Once again, Touch have a masterpiece on their hands in the form of Black Sea, and since I received it two weeks back, barely a day has gone by without it being played..the litmus test for a highly listenable, and deeply enchanting return to the fold, by one of the experimental scene's Grand Masters. Absolutely essential. [BGN]
Blow Up [Italy]: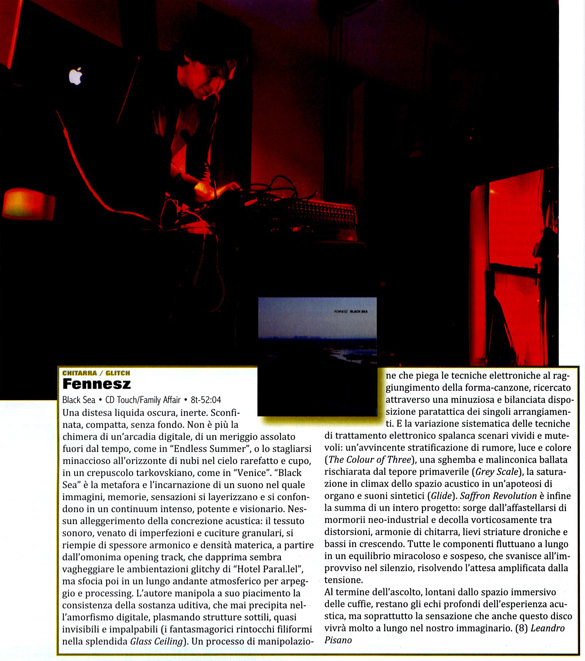 (030) [Germany]: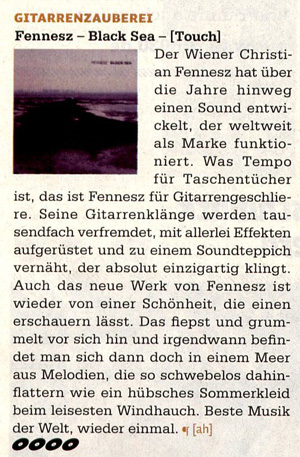 Dallas Observer [USA]:
Austrian electronic composer Christian Fennesz has influenced famous indie acts like Sonic Youth and My Bloody Valentine. And Fennesz has also performed with Mike Patton, Ryuichi Sakamoto and Sparklehorse. So how's that for indie cred? Black Sea's his fourth solo album under the Fennesz moniker, and it may well be the mercurial artist's best mix of noise, pop and more noise. Cuts like "Perfume for Winter" and "Saffron Revolution" are downright beautiful, albeit in a raucous way.
Rough Trade [UK]:
'black sea' is fennesz's 4th solo album for touch and his first since 'venice' in 2004. the wait is over. 'black sea' features guitars that rarely sound like guitars; the instrument is transformed into an orchestra. fennesz lists the elements used to make the compositions: 'acoustic and electric guitars, synthesizers, electronics, computers and live-improvising software lloopp.' on 'glide', fennesz duets with rosy parlane, whose work is also released on touch. fennesz also teams up with emego artist anthony pateras's, whose prepared piano features on 'the colour of three'. fennesz pushes his work into a more classical domain, preferring the slow reveal to venice's and endless summer's more song-based structures. jon wozencroft's artwork makes visible this carefully hidden world resting beneath the surface of 'the first impression'. a series of shots, taken in quick succession as the tide recedes, reveals a world of specific activity only visible at a particular time and place, histories appearing and disappearing. fennesz's career has come a long way since 'instrument', his debut for mego in 1995, and his first solo album 'hotel paral.lel' which followed in 1998. 'endless summer' [mego, 2001] brought him to a much wider audience and 'venice' underlined his mastery of melody and dissonance. His songs usually embody the skilful application and manipulation of dense sonic textures with a genuine feel for the live, and real-time.
Sound of Music (Sweden):
Finns en electronicaartist med lika karaktäristiskt sound som Christian Fennesz ? Från fullängdsdebuten "Hotel Paral.lel" (Mego, 1997) har han fram till den nya "Black Sea" karvat fram en omisskännlig signatur med elgitarr och elektronik. Samtidigt har han plankats så mycket att musiken nästan blivit allmängods. De där låtarna med långsamt, sprakande digitalnoise och böljande gitarrackord. Börjar det inte bli tjatigt? Då får man gå till källan, upptäcka skillnaden mellan kopia och original. Fennesz var inte först med glitchpop, men ingen har som han gjort lika vacker och gripande, charmig och rik elektronisk musik. Basta.
Föregångaren "Venice" kom för fyra år sedan. En mäktig och inbjudande skiva, mycket gitarrspel, majestätiskt och rent. Jag skattar den fortfarande högt, även om den inte kan mätas med "Endless Summer" (2001), hans banbrytande platta som smälte samman Beach Boys solsken med My Bloody Valentines taggtrådsgitarrer utan att vika en tum från den egna ljudkonsten.
"Black Sea " är, i jämförelse, mer av ett "Venice"-album. Det digitala spräcket är inte lika fräckt och experimentellt, istället harmoniskt med tydligt symfoniska drag. Dock mer Mahler än Xenakis , om man säger så, de processade gitarrer fyller innerligt snarare än beräknat ut blås- och stråksektionerna.
Första lyssningen gör mig lite besviken. Jag hoppades, i överkant, på en revolution i stil med "Endless Summer". Istället lät det bekant, alltför bekant. Men musiken växer!
Variationen är stor, från pastoralt vackert gitarrspel till floder av varmt, skönt strömmande digitalt brus. Och i det komplexa finns Fennesz unikt kontemplativa. Som i inledande, tio minuter långa titellåten där ett myller som låter som något av hans musiklaboratoriekompisar i M.I.M.E.O övergår i en glittrande, kärleksfull gitarrslinga.
På "The Colour Of Three" spelar Anthony Pateras preparerat piano, ett möte mellan akustiskt och digitalt som blir oväntat diskret och balanserat. Riktigt vass är duetten med nya zeeländaren Rosy Parlane på "Glide", en överstyrd ljudmatta med miljoner gnisslande färger som mot slutet av väven knyter ihop trådarna, samlar sig och landar i ett djupt, ljudande dunbolster.
Fennesz tar tid på sig, det hörs varför. Tekniskt låter det enastående, som alltid, och mycket finns av musikaliskt värde finns att upptäcka i varje utdraget, skenbart enkelt moment. Mäktiga oceaner, lyriska sirener. Jag räknar inte ut Fennesz, inte på länge. [Sven Rånlund]
The Bobblegum Cage (Blog):
Did I just say "favourite artists, doing what they do very well, resolutely refusing to raise the stakes"? Well, this is exactly what I'm talking about. After almost five years of waiting, what do we get from Christian Fennesz's new solo album? We get a really, really great Fennesz album. We get the Album of the Year. And we get nothing!
You might imagine the fact that Black Sea is simultaneously my Album of the Year and A Slight Disappointment is a function of unreasonable expectations. Fennesz is a certifiable genius and he hasn't released a solo album since Venice in early 2004, so – as a long-time fan – I was expecting something pretty mind-blowing.
In fact, on these terms, Black Sea isn't disappointing at all. It's a large-scale triumph: monumentally beautiful, massively brilliant. It's the work of an incredibly talented and original musician at the absolute top of his game. It's the best damn album that anyone has put out this year. So, what's the problem?
Well, for an artist who speaks a pretty abstract musical language, Fennesz has a remarkably high public profile. Since "Transit", his collaboration with David Sylvian on Venice, not to mention the distinct pop leanings of his masterwork Endless Summer, Fennesz has seemed poised to tighten up his act and make a crossover album that would introduce a whole swathe of the music-listening public to an entirely new world of sonic wonders.
It probably seems perverse for me to wish this kind of crossover success on Fennesz. But I'm still stuck on an idea the British music press drummed into me as a teenager: that to be relevant, "alternative" music has to raid the over-ground and change the world, at least a little. In the post-grunge Internet age, this kind of thinking is pretty much redundant. That's a fact but I can't help feeling it's by no means an inevitable fact or that it describes an entirely desirable state of affairs.
In any case, Fennesz has not spent the last half-decade crafting a world-changing avant pop masterpiece. Instead, he's simply been trying to make the best damn Fennesz album he can. And while Black Sea is unlikely to add anything substantially new to Fennesz's body of work or indeed his fan-base, it is going to give his existing fans an enormous amount of pleasure.
It's a remarkably focused encapsulation of all that he has achieved since his 1995 debut EP Instrument. It's a series of long-form pieces that marry the most reflective elements of the last two Fennesz albums to the more abrasive abstraction of his earlier releases. If I had to flag a single track up as a representative standout, I'd point you in the direction of the gorgeous "Perfume for Winter".
So anyway, while Fennesz isn't trying to take on the mainstream, it would be ridiculous to say that Black Sea isn't ambitious and it would be an outrage to argue that Fennesz's ambitions are modest. This is a Big Album, in absolutely the best sense.
The Transition 7″ is more of the same and an essential companion to this most essential of albums. I haven't heard the new one-sided LP on Table of the Elements yet but I'm willing to go out on a limb and say it's probably pretty good.
Respekt (Czechia):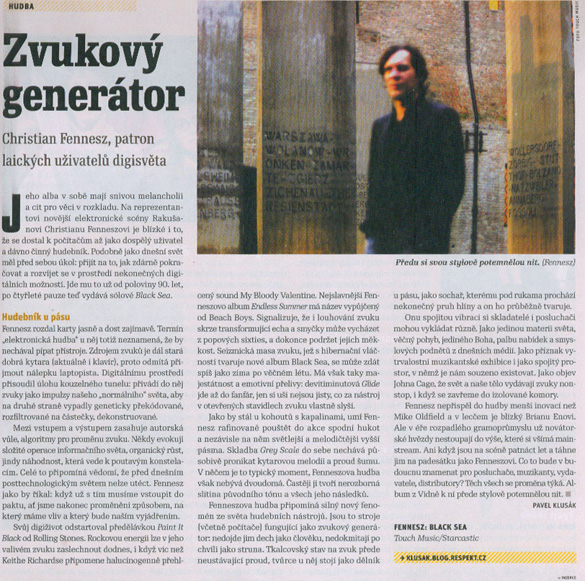 Dusted – top albums of 2008 (USA):
Wherein the saturated hues 'n' slithering drones of Venice recede from waterfall to dry riverbed; even though the album features untreated instrumental sections and undisguised chord progressions, there's something both harsher and more subtle about it. The vaguely post-Soviet landscape pictured on the album's artwork is a perfect analogue for the frostbitten, yet strangely moving monuments sculpted out of Max/MSP trickery and a previously undisclosed amount of classical competence. Heavy features and impenetrable moments of silence. [Brandon Bussolini]
Resident Advisor (USA):
Christian Fennesz's newest record opens with the seaside cries of coastal birds. The calls don't fade into the wind; they are devoured by chaos—a squall of machine-bits and canine growl—before settling into quiet lunar ambience. It's a series of moments almost artless, strangely disconnected, in the way they sew together Fennesz's intentions on Black Sea. As though seconds of keen awareness are followed, in due course, by a kind of blissful nullity, a numbing deaf sound heard best in what the ear's really missing. Following last year's Touch collaboration with Ryuichi Sakamoto, Cendre—on which Fennesz's talent for discordant beauty was backseated by Sakamoto's dark, stately piano playing—Black Sea is Fennesz's first proper solo record since 2004's Venice.
The first thing you may notice about Black Sea is just how gravelly it sounds; the record's first half is Fennesz's noisiest, most disorienting work in years. Melodies and shimmers of song occur less frequently, appearing only in brief cloud-split moments that open up blue within dense, prickly textures. Fennesz seems to be working, for the most part, with a buzz and hush dialectic, with freer and more prominent exchanges between loud/soft dynamics. "The Color of Three" almost stings, its sharp beehive drone coming in bursts of dissonance and amplified white crackle. "Black Sea" uses this small thunder more gently, wearing at the edges of acoustic guitar and wind-howl bell tones with noises like a small engine clattering. With its tiny peastone symphony of strings and a slow dinning push, perhaps "Glide" most resembles the Fennesz of Endless Summer; it's one of the record's more patient creations, invoking the vaulted choir-spaces of a composer like Jóhann Jóhannsson.
Thinking back to its opening though, the first seaward sounds of Black Sea not only set out its visual tapestry. They mark its largesse. This is his most oceanic record to date, not for its timbre but for his mammoth, wide-vista approach to each composition; it's as if you're hearing something far too big from far too close, and it's difficult to decide what to focus on 'til something moves first. Gone for so much of its most important moments are the song-structures and direct appeals of both Endless Summer and Venice.
Standout and album closer "Saffron Revolution" and "Grey Scale" have vague Celtic undercurrents to their acoustic guitars and the latter's foggy ambience and hazy shifts in tone. But they're more nuanced and sometimes undetermined in their patterns, and this lack of shape and form may make it difficulty at first for some fans, especially those of his work post-2001. Ultimately though, it's hard to imagine they won't come to love Black Sea, perhaps much like a parent for a child of often unknowable temperaments, more cherished for his moodiness, his difficulty. [Derek Miller]
Music Musings and Miscellany (USA):
It's been something like four and a half years since Christian Fennesz's last full solo album, Venice. In the interim there have been odd EPs, stray tracks and collaborative projects such as last year's Cendre with Ryuichi Sakamoto. But Fennesz took a largely back seat role on that record. So Black Sea has been eagerly anticipated. It's always easy to get a little over-enthusiastic about a record that's been awaited so long, but despite that caveat, the new album is a major work. It's both a consolidation of what he's done before, and a continuation into new areas. There are differences in nuance and emphasis, but this isn't a record that breaks with the past.
Three of the eight tracks exceed eight minutes, and there's a general air of ideas being allowed to develop unhurriedly. Melodies are sometimes slow to emerge, and are sometimes buried under layers of sound. But they are there. And they are invariably gloriously sad. Only two of the tracks are collaborations. "The Colour of Three" features Anthony Pateras playing prepared piano. It provides an almost gamelan sounding counterpoint to the crashing and ebbing waves of fuzz guitar that wash through the track. The other is the epic "Glide", processed and re-edited from a live performance in Paris with laptop artist Rosy Parlane. It's a drone piece that shape-shifts in pitch and tone whilst building in intensity, slowly revealing an almost hymnal melody. It's really quite something.
Elsewhere, there are times when Fennesz's guitar emerges largely unprocessed. It feels almost naked and vulnerable amidst the layers of squall and fizz. "Grey Scale" is a case in point – a track with an almost pastoral beauty about it. What guitar there is, is distorted unrecognisably on other pieces. The plaintive "Vacuum" has an Eno-esque vibe to it – a dreamscape of synthetic melancholy. The bookend tracks "Black Sea" and "Saffron Revolution" are both stormy, drone dominated pieces that have an elemental force which clears to briefly expose gentle acoustic guitar melodies.
Black Sea is by turns dense and fragile. Although it's quite eclectic in execution, it's remarkably consistent in tone and mood. And in quality. There are no obvious weak patches anywhere along this 52 minute journey. Others have acclaimed it as Christian Fennesz's best record yet. I would be a little cautious to pass that kind of judgement after just a few listens, but it might well be. It's certainly one of the finest things I've heard in 2008. [DEZ]
Onda Rock (Italy):
Quando un artista del calibro di Christian Fennesz torna a incidere è quasi sempre perché ha qualcosa di importante da dire, un altro tassello da aggiungere in un percorso artistico ormai duraturo e costellato di spunti evolutivi. Simili premesse sono ancora più valide in questo caso se si considera che, ad eccezione del non riuscitissimo tentativo di ibridazione ambientale racchiuso nella collaborazione dello scorso anno con Ryuichi Sakamoto ("Cendre"), il quarantaseienne austriaco non licenziava un lavoro interamente a suo nome da "Venice", risalente a ben oltre quattro anni fa.
Proprio dalla linea tracciata dall'album precedente Fennesz trae spunto per il nuovo "Black Sea", e lo fa alla sua maniera, ovvero introducendo ulteriori quanto graduali elementi di discontinuità nella sua musica, come sempre curatissima e pullulante di vitalità. Se già "Venice" aveva segnato un passo importante verso l'abbandono del glitch, in favore di sonorità più orchestrali e cinematiche, "Black Sea" sembra preludere a un definitivo orientamento verso derive di chiara matrice ambientale, tutt'altro che improntate a una statica environmental music, ma proiettate verso variazioni continue, prodotte da un'instancabile manipolazione sonora, che contempla frammenti sintetici, chitarre processate, retaggi rumoristici e anche rilevanti inserti acustici.
Come evocato dal titolo, l'album è un'immersione lenta ma inesorabile nelle profondità di una marea densa, oscura, scossa da moti incessanti, esemplificati a dovere già dalla title track d'apertura, lungo i cui dieci minuti increspature rumoriste si sposano con iterazioni acustiche sospese su frequenze modulate, che ora scolorano in placidità ambientali, ora si innalzano in drone appena distorti e sciabordii lievemente dissonanti.
In coerenza con la monolitica traccia iniziale, l'album scorre come un flusso cangiante, nel quale Fennesz sembra divertirsi a inserire un'incredibile varietà di elementi, filtrandoli, frammentandoli e riassemblandoli in forme sempre nuove, fino a trasformarne la stessa essenza, tanto che non sempre risulta intuitivo discernere l'origine dei suoni. Lavorio chitarristico e fragili arpeggi acustici, organo e prepared piano si rincorrono infatti in un impianto sonoro in continua trasformazione che, ormai spogliato di ogni enfasi percussiva, demanda a rade distorsioni sintetiche i pochi passaggi ruvidi dell'album. Anzi, proprio nella parte centrale e in quella conclusiva del lavoro, Fennesz dimostra una spiccata propensione alla ricerca di un equilibrio ambientale a prevalenza elettroacustica, che rideclina la definizione stessa del genere, sfociando in cammei acustici mai così pronunciati ("Grey Scale", "Glass Ceiling") e in una sorta di "ambient orchestrale", plasmato nei solitari rilanci armonici che disegnano il vuoto inafferrabile di "Vacuum" e articolato con maestria nella romantica sinfonia "Glide". Quest'ultima – che vede anche la partecipazione dello sperimentatore neozelandese Rosy Parlane – può esser considerata la composizione più rappresentativa di tutto il lavoro, col suo dipanarsi per oltre nove minuti, lungo i quali sottili distorsioni prendono a tratti il sopravvento su un substrato di toni e rumori, prima di dissolversi in un crescendo rilucente, che coniuga alla perfezione incedere magmatico e rapimento onirico.
Complesso e raffinato, ma niente affatto inaccessibile, "Black Sea" è anzi un lavoro con tutte le carte in regola per avvicinare nuovi proseliti alle infinite esplorazioni dell'artista austriaco, delle quali contribuisce ad ampliare ulteriormente gli orizzonti, sancendo al contempo un significativo sviluppo tanto in termini di fisionomia sonora che di modalità compositive.
playgroundmag.net (Spain):
Fennesz hay que pinchárselo en vena, sin desinfectar, un chute generoso, duradero. Esos discos de colaboración que va publicando de vez el cuando el austriaco, esos singles de siete pulgadas y exiguo minutaje que no calman nada, esos temas al por menor que va entregando en recopilaciones, incluso sus directos, lo que sirven es para matar el gusanillo, pero nunca para saciar el hambre. En vena, pues, o en atracón, es como debe funcionar el consumo de Fennesz, y por eso "Black Sea" tiene la importancia de la que carece un disco tan meritorio, pero a la vez tan poco representativo, como "Till the Old World's Blown up and a New One Is Created" (Mosz, 08), su reciente álbum a tercias con Werner Dafeldecker y Martin Brandimayr: porque éste es el título que verdaderamente continúa el linaje abierto con "Endless Summer" (Mego, 01) y "Venice" (Touch, 04), y es por tanto una entrega más del Fennesz trascendente, permanente, importante, el que hace sobrecogedora la música de raíz experimental.
Así, pinchado en vena, exagerando la dosis, es como afecta este opio cortado con trémula guitarra acústica, glitches de textura candente y especias electrónicas. Tiene que ser de este modo, porque el paso de los años –y la consolidación de la fórmula– impiden que el efecto de entonces se pueda repetir con la misma pureza e inocencia. La pureza es la del estilo de Fennesz: una vez más, consiste en palpar la guitarra –una eléctrica, otra de palo– y lo que de ahí sale filtrarlo por el ordenador para destilar un ambient fino, transparente, ornamentado de glitches, o de capas de calma. Se adviente por debajo la turbiedad, el grosor basto del proceso electrónico y del ruido, pero por encima sólo vuelan la paz y la belleza: mucho más conscientemente digital y soleada en "Endless Summer", igualmente digital y crepuscular en "Venice", aquí menos artificial y de amanecer de invierno. La inocencia es la nuestra: ¿puede uno admirar la belleza de estas capas gaseosas y chasqueantes, de este mar quieto de guitarras, tras haberlo vivido con Fennesz, revivido con los neo-shoegazers y abominado con mucho imitador caprichoso?
"Black Sea" no es un acto de fe. Fennesz lo ha vuelto a hacer: el impacto es menor para quienes hemos vivido antes este tipo de arrebatamiento místico –la única receta para el disfrute es olvidar, o fingir el olvido–, pero el magisterio creativo es el de siempre, el que ha ido elevando con los años su estatura mítica. Porque podrá haber imitadores, acólitos y epígonos –podemos pensar, verbigracia, en los siempre recomendables Belong–, pero ninguno como el original. Fennesz describe su mundo con cuatro notas, lo pinta en tres trazos, y al instante estás dentro: amplios horizontes cenicientos, cielos arremolinados, ese momento del día en el que la luz sigue a la negritud o viceversa. Si "Endless Summer", con su subtexto californiano, aludía al gran océano y "Venice" a la laguna, "Black Sea" parece el equilibrio entre ambos: el Mar Negro es agua estancada, como la de la ciudad lacustre en el Adriático, pero a la vez es agua libre, repartida por un ancho espacio, con hechura mítológica: "Asia a un lado, al otro Europa / y allá a su frente Estambul", rimaba José de Espronceda en su "Canción del pirata".
Por tanto, y en tanto que equilibrio, "Black Sea" acompaña los glitches –exiguos– con texturas de guitarra sin apenas maquillaje digital. A ratos, suenan los rasgueos acústicos sin retoques, desparramados sobre una tela ambiental serena –"Black Sea", primera pista del disco–, y desde ahí se vascula entre lo llano –"Grey Scale"– y lo abrupto –"The Colour of Three"–; entre el oleaje fuerte –"Glide"– y la marea baja –"Perfume for Winter"–; sorteando orografía rocosa –"Vacuum"– y flotando en calma chicha –"Glass Ceiling"– hasta arribar a buen puerto, un puerto de reposo y recogimiento, en la capital y definitoria "Saffron Revolution". El impacto, decíamos, no será como antes, como en "Venice", donde cayó toda la pena a plomo. Pero, ¿acaso alguien le pide a un abrazo, o a un refugio para calmar esa pena, que sea impactante? [Javier Blánquez]
The Boston Phoenix (USA):
4 out of 4.0 Stars
In the music of Christian Fennesz, there's a fine line between what's being done for you as a listener and what's being done to you.
The title track here finds a way to tame violent steely-edged noises into a trickle of acoustic guitars before sending the whole kit and caboodle down a seemingly endless passageway of dark bass drones, whispers of pink noise, and plumes of wild resonance. It's a balance of effect and affect that, over the course of four albums (and especially on '01's Endless Summer and '04's Venice), he's blurred into something like a signature.
Topics
There's enough laissez-faire melodicism throughout to retain the word "song" somewhere in your associative stream — but Fennesz is hardly the same from track to sprawling track. The subtly shifting tectonics and darkening hues of "The Colour of Three" paint him as a hungrier Ekkehard Ehlers; the canyonized guitar notes and tiny filaments of static that frame "Grey Scale" call Jim O'Rourke's more ambient works to mind. Comparisons with the countless brothers-in-noodling that he's influenced can go only so far — suffice to say that with all its slowly blooming beauty, alluring aberrations, and deftly measured brute force, the closest analogue to what Fennesz has done on Black Sea seems to be nature itself. [Michael Brodeur]
Boston Weekly (USA):
For ravers, "chill out" music is what you play after you've stayed up all night, the sun is rising and whatever drugs you've ingested are wearing off. The idea is that ambient music is like a cleansing mechanism, an aural Q-Tip to squeegee out whatever pulsing beat remnants are still glomming onto your inner ear. Fennesz is like that, but the drugs are of the everyday variety (caffeine, say) and the beat is the regular detritus that fills our craniums as we walk through the day. "The Colour of Three" sounds like a harmonium from the planet Pluto, while the melody you can hear through the static wall of "Glide" (as played by drone cohort Rosy Parlane) sounds like heaven. Christian Fennesz, of Austria, is a modern composer like none other. Whether it's his masterpiece Endless Summer or "Vacuum" here, he has the ability to make the celestial our own. [Ada Hutchinson]
Sentireascoltare (Italy):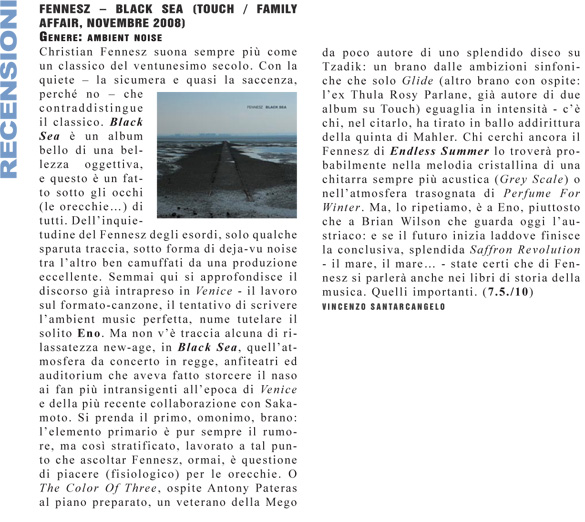 bagatellen.com:
The ancient forebears of the Georgians and Greeks did not know what to make of the Black Sea. The geographer Strabo once referred to it as the "Hospitable" sea, while the poet, Pindar, pronounced it as "inhospitable". Its long coastal expanse has been visited by the effects of war and revolution, and has inspired many works by Anton Chekov, who couldn't decide whether to stay under the Sea's recuperative climes or to be by the side of his paramour Olga Knipper in Moscow.
Christian Fennesz somehow inherits Chekov's indecision in his own Black Sea, his first release since 2004's warmly received Venice. Recorded in Paris and Vienna – two locations with very different cultural and post-radical implications of their own – there is a feeling that the composer has stumbled upon a new symphonic aesthetic, owing more to Schoenberg and Mahler than Brian Wilson or My Bloody Valentine, while on the other he seems unsure as to how to cut loose from the pop signatures he fathomed in the past.
Instead, in most of the new material he sticks to tried and tested formulas; the processed guitar hums and strums so hauntingly familiar, revealing harmonic limitations in his own tuning for the first time, and those swells of soporific noise that sometimes threaten a Viennese actionist's equivalent of "On Golden Pond".
Where once the erstwhile Powerbook noise poeticism sounded genuinely revolutionary (1995-2004), it now threatens to locate his work in a temporary creative cul de sac in the land of laptopia, where other distinct voices such as Janek Schaefer and Lawrence English are threatening to pick up his innovative baton. You would not make this conjecture on the basis of the opening clutch of compositions. The title track starts off with an innocuous enough sample of a beach recording, before being blown off course by a digitised tide of algae and distortion, whilst merging with a gaseous choir of lament. Its orchestral dynamics pick up where this years single, "On a Desolate shore…" left off, with the unprocessed guitar providing a feeling of satisfying density.
" The Colour of Three" opens with an exhilarating critical mass of angelic sound and is the first of two collaborations on the album, with the post-Cageian piano of Australian composer Anthony Pateras (Mego, Tzadik) providing a meandering percussive counterpoint to its white, bleached surfaces. In "Glide", Fennesz teams up with Touch label mate Rosy Parlane to put the listener in the eye of the storm: with the music taking the shape of a vortex of granular gales. It is these tracks, in particular, that hint at more promising directions, when the restricted tonal palette is allowed to rein other instrumentation and ideas, far beyond the Apple screen and its vast array of VST plug-ins.
But one is ultimately left with a nagging desire to hear some emotional grit. While Black Sea may be a marked improvement on the disappointing collaboration with Ryuichi Sakamoto on last years's Cendre, it leaves a feeling that there is a lack of urgency – a quality that is required in the greatest movements of sonic poetry. Perhaps a deconstructed solo from Franz Hautzinger to underscore the music's complacent sense of cosiness, or the revisiting of a David Sylvian vocal — with its challenging themes of post-radical inertia and imminent global fascism — would be directions to go forward. But for now, we have to sail with temporary indecision, as he navigates the inhospitable Black Sea. [Paul Baran]
Spin Magazine (USA):
Artist of the day – Fennesz. Austrian laptop composer continues experimental streak on his fifth album, the SPIN-approved Black Sea.
What? Although Christian Fennesz's music can be subtle, he hasn't gone unnoticed, racking up more than enough accolades for his ambient, noise-blasted compositions and experimental sound. And from the sunny pop of 2001's debut Endless Summer to the romantic shoegaze of 2004's Venice, Fennesz has explored more musical genres on four albums than some bands do in the scope of an entire career. On his fifth effort, the just-released Black Sea, Fennesz continues his streak by combining dark, fuzzy burst of noise and eliding guitar hooks.
Who? Born in Austria on Christmas Day, 1962, Christian Fennesz studied music in art school before forming a noise-pop band, Maische, in the late 1980s. Citing creative differences, Fennesz left Maische to embark on his own solo career, immersing himself in the Viennese techno scene and experimenting with guitar and synthesizer sounds. In addition to his original output, Fennesz has both remixed and covered other artists' works (Nine Inch Nails, Isis, the Beach Boys) and collaborated with musicians of similar repute, including indie-pop experimentalists Sparklehorse, visionary musician/producer Jim O'Rourke, and British singer David Sylvian. [Larry Fitzmaurice]
Washington City Paper (USA):
Ostensibly an avant-gardist, guitarist and laptop musician Christian Fennesz has become a traditionalist of sorts in recent years—his music now has much in common with Brian Eno's ambient recordings of the late '70s and early '80s. The albums Eno made in this vein, such as Discreet Music and Music for Films, are interesting enough to warrant a listener's full attention yet pleasant enough to ignore. The same could be said of Fennesz's latest, Black Sea. The album bears little resemblance to the Austrian's late-'90s electronica, which flirted with rhythmic chaos and unpleasant tones. Fennesz abandoned this approach with 2001's Endless Summer, an album as bright and tuneful as its title and cover (which looked like the poster for a surfing movie) suggested. What seemed like a fluke was actually the beginning of a new direction. The records following Endless Summer—which also include 2004's Venice and last year's Cendre (a collaboration with pianist Ryuichi Sakamoto)—are popular in large part because they embrace simple melodies and uncomplicated rhythms. But Fennesz's post-millennial output would be mere Muzak were it not for its emphasis on grit and granularity. Black Sea's title track, for example, begins with a random assortment of digital bomb bursts, and those explosions clear the way for an impressionistic guitar progression that soon disappears inside a dense sonic fog. Befitting its title, Black Sea is the darkest of Fennesz's recent efforts, yet it is no less a balancing act than any of its immediate predecessors. "Black Sea," for all of its abstraction, is brightened by a melody that runs like an undercurrent through its steady stream of changes. And on the flip, the album's best shot at a single, "Perfume for Winter," is all but obscured by thick digital distortion—it sounds as if it was initially written for a love scene but wound up on a corrupted hard drive. One gets the sense that, even as he slouches toward easy listening, Fennesz is wary of making music that is too beautiful or unblemished. There's a cold, clinical aspect to Eno's ambient music that's missing from Black Sea. It's not just the fact that you can hear Fennesz's acoustic guitar or imagine him sitting in the space where it was recorded. It's all of the digital pockmarks and instrumental imperfections combined. Perhaps more than any other Fennesz record, Black Sea exemplifies the kind of ambient music that's never so seamless that you forget it was made by a human being. [Brent Burton]
Quiet Noise (DE):
Das große Verdienst von Christian Fennesz war und ist es stets, sich nicht mit bloßer Präsentation von Möglichkeiten seines Materials zu begnügen. Statt lediglich abstrakte Oberflächen zu entwerfen, schürft er lieber tiefer, ist vielmehr am eigentlichen Prozess, Umwege und Fehler mit eingeschlossen, interessiert. So legt er Strukturen frei, verschmilzt sie auf der Suche nach Schönheit und begräbt sie erneut unter feinsten Schichten digitalen Lärms. Die Ergebnisse sind vielfältig, reichen von radikal abgemagerten Bearbeitungen diverser Klassiker und spartanisch reduziertem Ambient bis zu zwischen abendrot und tiefgrau schillernden Popsongs. Mit vorliegendem Album begibt er sich in fast schon symphonisch zu nennende Gefilde.
Und es ist, auch wenn zu Beginn eine kurze Gesichtskontrolle ansteht, sein insgesamt wohl sanftestes. Schon das Titelstück ruft auf angenehmste Weise die verschiedensten Facetten seiner Musik in Erinnerung, bleibt über gut zehn Minuten Spieldauer voller Dynamik und Spannung und geht ohne weiteres in das ebenfalls episch angelegte »The Colour of Three« mit seinen sägend-verzerrten Gitarrenschleifen über. Aus diesen klöppelt sich schlussendlich Anthony Pateras per präpariertem Klavier in Richtung Stille. Labelkollege Rosy Parlane ist übrigens der zweite Gastmusiker und im etwas düsteren, an zentraler Stelle verankerten »Glide« an dessen wunderbaren Klimax wohl maßgeblich beteiligt.
Die insgesamt acht Stücke wirken in ihrer Gesamtheit viel geschlossener und stimmiger als der Vorgänger »Venice«. Trotzdem besitzen sie, oft schon durch ihre schiere Länge, jeweils ganz speziellen Charakter – ohne jedoch das bekannte Terrain wirklich zu verlassen. Es scheint, als hätte Fennesz seine Methoden noch einmal verfeinert, beinahe unmerklich erweitert, seinen unverkennbaren Stil auf die Spitze getrieben. »Black Sea« will laut gehört werden. Es ist ein wuchtiges und dynamisches Album zwischen überbordenden Texturen und plötzlicher Stille, jederzeit voller Zwischentöne. Christian Fennesz lässt sich nun alle Zeit der Welt, doch immer wieder findet er – und damit auch wir: die Eleganz der Dissonanz, die Schönheit im Lärm.
[Tobias Bolt]
Berliner Zeitung (DE):
Es schnarrt ganz schön zu Beginn von "Black Sea". Ein metallisches Rattern schwillt aufs Ohr zu, dass man sich fast ducken möchte. Es ist eine recht ungewohnte Art der Ansprache für Christian Fennesz, der sein neues Solo-Album auf diese Art eröffnet. Doch es dauert nicht lange, bis der Titelsong in wärmere Gefilde treibt. Am Ende der knapp elf Minuten wird er gleichsam das gesamte Spektrum von Fennesz' Klanguniversum abgedeckt haben – von der ozeanisch schäumenden Feedbackgischt zum trockenen Mahlen und Schleifen zu dicht britzelnden Wolken aus Klangstaub. Damit nämlich, mit hymnischen Skulpturen aus abstrakten Geräuschen, ist der 46-jährige Wiener Gitarrist und Laptop-Musiker bekannt geworden. Wobei er selbst die wässrigen Assoziationen zu bevorzugen scheint. Jedenfalls spielten bereits vor "Black Sea" die Titel seiner beiden letzten Solo-Alben am Meer. "Endless Summer" von 2001 bezieht sich auf eine Surf-Dokumentation aus den frühen Sechzigern, die zwei Kids mit ihrem Brett an die Strände aller Kontinente schickte. Für "Venice" von 2004 inspirierte ihn die "hoch elegante Art des Zusammenbruchs" der untergehenden Kanalstadt, wie er dem Magazin The Wire sagte.
Fennesz gehört zu den Großkünstlern eines Genres, für das man sich auf den Namen "Glitch" geeinigt hat. In der Elektronik bezeichnet das recht allgemein Fehler in Schaltkreisen, seit den späten Neunzigern steht Glitch in der elektronischen Musik – als Spezialfall des experimentellen Feldes der Clicks & Cuts – für Sounds, die aus absichtlich herbeigeführten oder zufälligen Fehlfunktionen und Nebeneffekten von Computern und Programmen entstanden. So bauten Pioniere wie Oval, Autechre oder Pole seit Mitte der Neunzigerjahre ihre Tracks aus den Geräuschen hängender CDs, dem Surren von Festplatten oder kaputten Synthesizer-Filtern. In der Tradition der musique concrète lösten sie ihre Musik aus den harmonischen Vorschriften und feierten die Materialität auch der digitalen Klänge, die sie an ihren Computern bearbeiteten, wie es in den 50er-Jahren Klangwissenschaftler wie Pierre Schaeffer und Pierre Henry mit ihren Tonbändern getan hatten.
Die Geräusche der Fehler und des Zufalls kamen natürlich auch immer dem endlosen Strom der Tanzmusiken zugute. In der experimentellen Form entwickelte sich daraus jedoch eher ein zeitgenössisches Update atmosphärischer Ambient-Musik, das Fennesz – der stets auf Basslinien und Drums verzichtete – mit der inneren Bewegung und Verdichtung der Drones verband, den gehaltenen, modulierten Dauertönen aus dem Minimalismus der Sechziger.
Zunächst verließ er sich dabei ganz auf die Gitarre und deren Effektgeräte, mit deren Feedbacks er seit der frühen Jugend experimentiert. Erst für sein zweites Album, das nach den Koordinaten seines Heimatdorfes an einem See an der ungarisch-österreichischen Grenze benannt ist, begann er systematisch die Möglichkeiten verschiedener Programmierhilfen wie SuperCollider oder Max/MSP durchzuspielen. Mittlerweile ist das abstrakte Ranken und Wuchern zu einem Markensound geworden; eine Musik, der man gleichwohl gut anhören kann, wie organisiert und strukturiert sie ist. Denn auch wenn sie sich weigert, etwas jenseits ihres Soundmaterials zu repräsentieren, kann man immer noch ahnen, wie sie der Popkultur verhaftet ist, als, wie Fennesz selbst es nennt, "Herausforderung des großartigen Harmonie- oder Akkordwechsels". Durch diesen inneren Puls unterscheidet sich seine Musik vom friedvoll-sphärischen Wogen der Ambientspezialisten wie Steve Roach oder den Stars of the Lid ebenso wie von rein klangkünstlerischen Abstraktionsmanövern von Leuten wie dem Kanadier Tim Hecker, der Fennesz' noisehaltigen Nebeln klanglich dennoch oft nahe steht.
Die Offenheit gegenüber verschiedenen Klangvorstellungen öffnet andererseits die Türen für Soundtracks, Ballettmusiken oder Kollaborationen – etwa mit dem japanischen Elektropionier Ryuichi Sakamoto oder im Trio Fenn O'Berg, wo er mit Jim O'Rourke, der grauen Eminenz des amerikanischen Post-Rock, und seinem Wiener Glitch-Kollegen Peter Rehberg zusammenspielt.
Gelegentlich zeigt sich Fennesz' Interesse an klassischem Songhandwerk recht offensiv – obwohl seine Titel "Paint it Black" oder "Don't Talk" selbstverständlich nichts Erkennbares mit den Originalen der Rolling Stones und Beach Boys gemeinsam haben. Ein anderer Fall sind die Arbeiten mit dem Sänger David Sylvian, der auf "Venice" einen Track lang seinen Bariton durch die Musik wandern lässt.
Auf "Black Sea" weisen statt der Stimme glockenartige Töne, gezupfte Saiten von Gitarre und dem präparierten Klavier von Anthony Pateras aufs Organische hin, während Fennesz im schönsten Track des Albums, der neunminütigen Live-Aufnahme "Glide" mit der neuseeländischen Elektronikerin Rosy Parlane, um einen dicken melancholischen Akkord herum moduliert, den unermüdliches Noise-Rauschen überwuchert.
Am erstaunlichsten an dieser Musik ist, wie sie den Hörer bei aller Verschlossenheit doch zu Assoziationen einlädt und Bilder bereithält, ohne sich dem erzählerischen Zusammenhang traditioneller Musik zu ergeben. Sie wirkt gar nicht unähnlich den Fotografien, die Jon Wozencroft, einer der beiden Chefs des Labels Touch, für das Album bereitgestellt hat. Diese zeigen vage kulturalisierte Landschaften, mit Reifenspuren oder Industrienebeln, in undefinierter geografischer wie Wetterlage. Wozencrofts Fotos bleiben widersprüchlich, sie sprechen nicht und zeigen nur. Ganz ähnlich entsteht aus der Musik von "Black Sea" eine Art klangliche Erhabenheit, jenseits von Idyll und Überzeichnung. Als unverstellte Schönheit reinen Klangs.
[Markus Schneider]
Neural (Italy):
Enfasi melodica e discontinuità di trame, frammenti, ibridazioni e pattern dai molti incroci: denso e cangiante un mare di suoni ci sommerge, con texture ambientali, mille rivoli, confluenze e stagnazioni. Fennesz, continuando sulla strada intrapresa con il precedente 'Venice', pare oramai interessato a sovrapposizioni più ariose, ambientali, lasciando da parte click e saettanti insistiti effetti, lavorando appena sul rumore di fondo, qui utilizzando in maniera atipica chitarre acustiche ed elettriche, synth, campionatori e computer, modulati anche attraverso Lloopp, un software scritto in max/msp e dedicato – in particolar modo – all'improvvisazione live. É un flusso inarrestabile, continuo, iterato, 'The Colour Of Three', che riporta ad atmosfere da 'colonnello Kurtz', oppure 'Glide', nel quale l'artista viennese duetta docilmente con Rosy Parlane, sperimentatrice laptop altrettanto avvezza a intricate astratte elettroniche. Sfumature elegiache, solo appena dissonanti negli inserti, anche in 'Vacuum', nel quale la perfezione delle forme è obliquamente poco 'disturbata', assecondando evidentemente il tentativo di dar vita ad una nuova 'classicità' digitale.
[Aurelio Cianciotta]
[trans.: Melodic emphasis and discontinuous threads, fragments, hybridizations and crossed patterns: a thick and changing sea of sounds submerges the listener with ambient textures and thousands of streams, confluences and stagnations. Fennesz, walking down a similar path to the one he took with his previous work 'Venice', seems to be increasingly interested in more airy and ambient mixes, using background noises lightly, setting clicks and thunderous effects aside, atypically using acoustic and electric guitars, synths, samplers and computers, modulated through Lloopp, a live improvisation program written in Max/MSP. 'The Colour of Three' is an unstoppable, continuous and iterated flow, with atmospheres reminiscent of 'Colonel Kurtz' and 'Glide', in which the Vienna artist duets with Rosy Parlane, a laptop experimenter who is equally versed in tangled abstract electronic sounds. Elegiac and barely dissonant hues are to be found in 'Vacuum', where the formal perfection is obliquely 'disturbed', following an attempt to give birth to a new digital 'classicism'.]
Obskure (France):
"Black Sea", successeur de "Venice" (2004) et quatrième opus solo du Viennois Christian Fennesz, est un disque d'atmosphères. Son grain électronique prend son temps : il mange lentement l'espace, comme un écureuil qui dégusterait son festin en-dessous de l'arbre qu'il a un peu dénudé. Dans le souffle porté par des plages à l'apparence synthétique, spatiales et givrées (une substance résultant partiellement, a priori, de la transformation des guitares par les effets et autres machines), de réelles guitares, elles, gravent un éclat acoustique furtif (le titre éponyme). Elles ne font alors que ressortir davantage l'impression d'ouverture débouchant, devant nous, sur ce grand vide ; à l'instar de cette superbe pochette réalisée par Jon Wozencroft et qui, au loin, laisse le brouillard engloutir quelques restes de civilisation industrielle.
Fennesz est dans l'éloignement des choses, le recul : une action musicale qui porte autant vers l'intérieur que l'extérieur. Effets "cathédrale", impression aquatique. C'est "Grey Scale".
La nouvelle création signée Fennesz, minimale et abstraite, offre les vertiges des sensations, elle ne peut profiter qu'à celui qui la découvre seul, calfeutré en lui-même et qui, via ces exposés pleins de craquements, de parasites et de douces fréquences basses, voyage à travers temps et espace, cherche à sortir du monde pour, peut-être, mieux s'y situer ultérieurement.
Enregistré en plusieurs endroits (les studios Amann et C-Street, à Vienne et Paris), "Black Sea" est un espace de l'interrogation et du voyage, de l'incertitude et de la contemplation. Il donne l'impression de ne jamais se terminer vraiment. Son balayage sonore ne se dirige vers rien de précis, mais promet beautés accidentelles, clair et obscur.
Un disque tout en subtilité et contrastes. [Emmanuel]
Goute Mes Disques (France):
On n'avait pas vu Christian Fennesz sortir de disque solo depuis son quelque peu mitigé Venice en 2004. Ce dernier, quoique très agréable, inquiétait par sa relative simplicité : structures trop ramassées, mélodies tape-à-l'oeil et zestes d'auto-parodie. C'était peut-être le disque de trop, qui glissait vers le new-age alors que son prédécesseur, Endless Summer, s'arrêtait à l'endroit de la perfection. Il faut rappeler que l'Autrichien avait débuté dans une forme très bruitiste et exigente ( il faut écouter son Hotel Paral.lel) pour ensuite se rapatrier pas à pas sur des terres plus mélodiques et apaisées.
Donc, même si depuis Venice on l'a vu à son avantage (un bel habillage sonore pour Ryuichi Sakamoto, un passionnant travail avec Jim O'Rourke, quelques excellents remixes pour Junior Boys ou Nine Inch Nails), on attendait Fennesz au tournant. Et on n'est pas déçu : si Black Sea n'atteint pas les sommets d'Endless Summer, il replace pourtant son géniteur comme un bidouilleur miraculeux. On peut dire adieu à ses essais un peu trop pop, l'ensemble regagne ici en aridité et surtout en espace. Le silence et les plages blanches reprennent leur poste dans des compositions vastes, parfois très longues (trois morceaux dépassent les 8 minutes), dont l'amplitude émotionnelle égale tous les Mogwai du monde – il n'y a qu'à écouter le crescendo de "Glide" pour s'en assurer.
L'écoute du disque doit se faire d'une traite, sans regarder une barre de défilement ou un compteur : il faut se donner tout entier à la gestion du temps de Fennesz. Une fois cette disposition prise c'est forcément gagné : on ne peut que rester bouche bée devant une telle maîtrise du flux sonore ; les différentes guitares et nappes nous envahissent toutes de leur beauté.
Rien à faire, je ne trouve pas le moindre défaut à cette grande fresque qui combine comme rarement finesse et majesté, immédiateté et expérience limite. Et ce n'est pas le dernier morceau, "Saffron Revolution", qui me fera revenir sur mes paroles : il nous donne encore plus l'envie de murmurer "Black Sea, Black Sea, Black Sea" comme cet illustre candidat de Questions pour un Champion nous scandait en son temps "la Mer Noire, la Mer Noire, la Mer Noire". 9/10 [Julien]
Goon (Germany):
Von allen experimentierfreudigen elektronischen Musikern ist der Österreicher Christian Fennesz wohl derjenige, auf denen sich am leichtesten geeinigt werden kann. Auf der Nahtstelle zwischen Digitalem und Analogen, zwischen Krach und Filigranem erschafft der 46-jährige energiereiche Improvisationen, die Musikliebhaber unabhängig einer Genreaffinität mitreißen. Grund dafür ist nicht allein, dass er die ðGitarrenwandÐ für die Welt der elektronischen Musik populär gemacht hat, sondern eben auch, dass seinen Klangmanipulationen stets etwas ðSchönesÐ innewohnt. Fennesz liebt es, wenn sich aus dem Verworrenen und Zufälligen, Konturen schälen oder auch eine leicht fassliche Melodie an die Oberfläche zwingt; wenn sich die Nadel im Heuhaufen finden lässt und ehrerbietend ausgestellt werden kann. Diesem Grundprinzip folgend, entstanden dennoch letztlich vier sehr unterschiedliche Werke, beginnend 1997 beim eher sterilen Debütalbum »Hotel Paral.lel«, gefolgt vom warm-fließenden Meisterwerk »Endless Summer« vier Jahre später, dem spätsommerlichen »Venice« von 2004 und abschließend dem eher dunkelraunenden »Black Sea«. Der Künstler selbst würde den verschiedenen Klängen der Alben Farben zuordnen: Weiß, Orange, Dunkelblau, Grau.
Dennoch, trotz des weniger hellen Anstrichs, ist hier Fennesz ein weiterer großer Wurf gelungen, vielschichtiger und entspannter denn je zuvor. Die 8 Tracks lösen sich mal von jeglicher Statik und können gleichsam bekannten Songstrukturen gehorchen. Man kann sie einzeln entdecken oder erstmals auch als ein großes, zusammenhängendes Stück durchhören. Wie vorher nicht gibt Christian Fennesz seinen Arrangements Zeit sich zu entwickeln, ohne dass die zusätzliche Breite auf Kosten der feingliedrigen Tiefenauslotung geht. Noch immer versteckt der Musiker ausreichend Unerhörtes, kleine Sounds, Falltüren auf versteckten Wegen. Und wie stets befreit er behutsam einzelne Stecknadeln aus dem Gewirr eines undurchdringbaren Heuhaufens. Erstmals ist neben den obligatorischen Gitarren auch ein präpariertes Klavier zu hören, bedient von Anthony Panteras. Diesem Fennesz sind keine Grenzen mehr gesetzt. [Sebastian Hinz]
soundproector.com (Russia):
In his new solo album released by label Touch, Christian Fennesz didn't change his principles concerning music production – the basis is still electro and acoustic guitars, plus various electronic devices and software. Though general mood has changed – the sounding became more cool and atmospheric; compositions are less emotional and more thoughtful.
Recently I've listened to the albums Venice and Endless Summer and I would say that there are less glitches, gritting, scratches and dents than in Black Sea. There are less pauses and specifics, but more… hmm… wind and flight over people, houses, nature, everyday troubles not conquered by the time. It's the flight through the dense, enveloping mass of the special Fennesz's sound. Each track takes you into its own whirlwind, holds you tight and frees the thoughts' stream. I suppose improvisation played a great role for creating such music, it makes each track a living organism, that's why each time listening to this album you find something new…
I'd like to point out the genius album's cover made by Jon Wozencroft – staying at the very place where the photographer made this picture, everybody who listened to the Black Sea must hear this music somewhere inside his ears.
Chainwanderingdeeply (USA):
Black Sea is Fennesz's first solo album since 2004's excellent Venice, and the wait has been tremendously worth it. Utilizing his usual repertoire of a laptop and a guitar, Fennesz has created what is probably his most classically-thinking album to date with Black Sea, completely disregarding the pop-like structures on his other masterpiece, Endless Summer in favor for sweeping compositions that resemble what Satie would have made in our current age. Fennesz also favors a more structured, suite-like approach with his songs here, as many tracks evaporate into one another, creating mini-epics. When tracks don't bleed into one another, it's usually because they are opposite in goal and emotion: the beautiful, folk-ish "Grey Scale" is remarkably distant from what follows it, which is the nine-minute cacophony of noise and glitches that makes up "Glide". The contrast between the two adds a bit of dramatic effect to the middle of Black Sea.
Despite its more classical-ish leanings, and the wider scope of Black Sea, the record never once rids of the stark emotion of Fennesz's other records, nor does it rid of his traditional vivid imagery. Parts of the record, such as the droning ending of "The Colour of Three", are so striking that they put pictures of different environments inadvertently in your head. I always imagine a deserted beach when I hear the ending of the aforementioned "The Colour of Three", and I envision a rain-drenched cabin when I hear the glitch-y guitars of "Glass Ceiling", which is one of the more emotional and restrained tracks on the album. It's also one of the less alien: some tracks, or "Vacuum" in particular, are so distorted by noise and foreign computer effects that they seem unnatural, however, none of the stark emotion in songs such like "Glass Ceiling" or "Gray Scale" is lost in these more electronic songs. They just sound like sad movie pieces instead of isolated personal statements.
Black Sea ends on one of the best compositions that Fennesz has ever written. "Saffron Revolution" is a sort of reprise of everything that made the first seven tracks of Black Sea so special: fluttering and quiet guitar playing, distorted and droning gasps of endless noise, and computer effects that flesh out everything else to help create a breathtaking beauty of a drone. It's the perfect ending to a record that, in time, might be considered by me and probably many others to be perfect. Black Sea is bigger and more ambitious than any other of Fennesz's albums, and it pleasantly turns out to be the best work he's done yet. What's sad and definitely unfortunate is how Black Sea flew under the radars of our local tastemakers and way too many others, because this record is definitely something special. [Posted by cam]
tinymixtapes (USA):
It's my guess that when the votes are tallied at the end of this decade, Fennesz's 2001 opus Endless Summer will go down as one of the top five or so albums of the preceding ten years. In fact, it's likely you'll see the album vying for the coveted number one spot much the same way My Bloody Valentine's Loveless was lauded as the musical vanguard for the 1990s. Both Loveless and Endless Summer's staggering beauty and inspired vision are like touchstones for their respective contexts, acting as both a culmination of the musical past and a portent of things to come — in MBV's case, breaking down the modes of the centuries' preceding progressions by blasting them into the stratosphere, or in Fennesz's case, smashing them apart into their subatomic particles and watching them float off into the aether.
When an artist is blessed with this kind of divine inspiration and attainment of artistic perfection, there is often an inverse curse festering on its underbelly. Take for instance the Mangums and Shields who have undergone long periods of self-exiles that only now seem to be coming to a close. Although Christian Fennesz has never completely cut himself off from the music community, he has kept his profile relatively low, with sizable lulls of inactivity passing between albums (though, he does make a point to collaborate often). Admittedly, Fennesz prefers not to force his artistic hand or "manufacture inspirado"; rather, he waits for it to come, which may account for the relative rarity of his presence.
With Endless Summer, Fennesz took Brian Wilson's vision of infinite beach days and masterfully whittled it down to just a distant memory in the shattered debris of those sublime Beach Boys pop harmonies. Later, in 2004, Venice was released, and though successful in evoking the gently rowing gondolas and innate romanticism of the ancient Italian city, it clearly lacked the subsuming bliss of Endless Summer, leaving this listener feeling like its ideas didn't gestate long enough. Now, Fennesz's latest Black Sea continues his Cousteau-level aquatic obsession — in some ways, it's a sea change; in others, it's a return to form.
That's not to say that Black Sea is another Endless Summer. In fact, it may be beneficial for all of us to stop hoping for another Endless Summer, as it is unlikely to ever come again (sorry). What does bind the two albums though is their inescapable ability to ensconce their listeners in such wide swaths of digital warmth. Take for instance eponymous opener "The Black Sea," which after commencing in powerful currents of sound, sucks the listener into an aural undertow before a breakout of daylight is smothered in its own wake. After the initial deluge, we get the very recognizable, processed guitars and bubbling electronics that seem to pick up right where Endless Summer left off.
We see this aggressive side of Fennesz again in "Glide," (featuring a collaboration with New Zealand labtop wiz Rosy Parlane), with slow-burning nebulas of sound turning into a galaxy of shifting sands and ebbing tides. But just like the calming, gentle sway that follows Black Sea's initial maelstrom, Fennesz counterbalances these preternatural and dark forces with the ethereal, which is also evident on "Perfume For Winter," a whimsical suite that feels like several songs within a greater structure, like many other tracks on the album. And while the song revels in its highly digital Macintosh-generated ebullience, it also mixes in some real acoustic cranking of some old rusty machinery that seems to throw both my speakers and tympanic membrane out of whack. Segueing seamlessly from "The Black Sea," "The Colour of Three" is another track that dabbles in this territory. Featuring the Cage-inspired prepared piano, designed and performed here by Anthony Pateras, it converges around one long glancing retina scan beam of sound (that I'm convinced has healing abilities) to make for one of the most effective tracks on the album.
There is a lot to hear on Black Sea, and it's likely you won't be able to take it all in on one listen. Repeated listening is suggested, as many of the jewels of this work can only be discovered in Zen-like periods of rapt attention. In an echo of almost every other review out there, you will get the most out of Black Sea by listening to it on headphones, turned all the way up, in the dark, by yourself, in the lotus position, and perhaps in an anechoic chamber. Amidst the chaos and noise of the modern, one may never find a peaceful enough environment to fully appreciate Black Sea, but if you do, you will be duly rewarded with epic streams of sound and Cage-ian introspection on the nature of what exactly is music. And while it's not as compelling as Endless Summer, it's the closest Fennesz has come to returning to that plateau. [Mangoon]
Treblezine (USA):
The progression of Christian Fennesz's music over the past decade is akin to watching a landscape slowly come into focus. From earlier, less melody-based records like Plus Forty Seven Degrees 56′ 37″ Minus Sixteen Degrees 51′ 08″ to subsequent releases like the breathtakingEndless Summer and Venice, Fennesz has, in an almost magical way, started from fields of ambient noise and made shapes and figures emerge. In an almost chaotic landscape emerge beautiful sounds and textures, a glorious siren song heard softly through the clatter. On Black Sea, Fennesz's first new full-length album in four years, he pulls a similar trick, only unlike the ebullient soundscapes on Endless Summer, the sonic creations here are far more chilly, yet no less beautiful.
The most apt statement I've heard about Black Sea is that the music sounds like the album's cover, a dingy but awe-inspiring industrial landscape photographed by Touch label founder Jon Wozencroft. In a manner of speaking, you could say that about most of Fennesz's albums, but with Black Sea it particularly seems to ring true. These compositions are spacious and dark, delicately droning minor key pieces that fade in and out of distortion, sometimes coming together toward a more concrete climax, yet oftentimes spreading out into more sparse territory. These are not `songs' in the traditional sense; they are almost like organisms, breathing and bleeding into one another. There are no verses or choruses, but rather chilling movements and progressions that, though sometimes barely there, are moving beyond words.
With Black Sea, the overt qualities of Fennesz's past glitch work have been largely diminished, leaving ambient music that sounds almost like a series of classical pieces. The 10-minute title track is a prime example, opening with distant bursts of static and low rumbles that escalate into a more chaotic din. Between the clicks and the buzzes, there are gentle tones and elegant chimes of guitar. The track, sprawling and vast though it may be, works as merely part of a greater whole, its successor "The Color of Three" like the second part of a series, escalating from slow movements toward buzzing synths and richer textures. Taken as a whole, the two tracks comprise 18 minutes of glacial but rewarding aural depths, with subtle treats interspersed between both overwhelming buzzes and complete absence of sound.
The shorter "Perfume For Winter" is more immediate and digestible, with broad bursts of sound crashing like waves on a shore, ultimately forming a lovely melodic base. "Glide" is a rare track in which Fennesz works with a collaborator, in this case Rosy Parlane, in which a chord comes to life beneath white noise. "Glass Ceiling" consists primarily of plucked and tapped guitar strings, the execution of which is strangely reminiscent of Talk Talk. And "Saffron Revolution," a single, closes the album with an escalating hiss and tumbling guitars.
The music of Black Sea is precise and intricate, yet flows organically. It breathes and pulses, and crashes like the sea from which it takes its name. Fennesz has taken his music from noisy, difficult sound clashes to something very graceful and elegant. Black Sea is the same Fennesz that's been around all along, made bare and more delicate than before.
Spiegel (Germany):
Auch wenn man weiß, dass der Österreicher Christian Fennesz bereits mit Ryuichi Sakamoto zusammengearbeitet hat und den himmlischen David Sylvian auf seiner letzten LP "Venice" singen ließ, kennt man nur einen kleinen Teil des großen, dunklen Puzzles. Fennesz ist ein Meister der Aneignung, ein Freund des Abstrakten und scheinbar auch auf der Suche nach so etwas wie dem ultimativen Klang. Mit zitterndem Ambient, halbakustischer Schwermut und einem sonderbaren Knarzen und Schaben ist Fennesz mit "Black Sea" erneut eine herausragende Platte gelungen. Wie von Geisterhand werden Klangflächen auf- und nebeneinander geschoben, verbinden sich analoges und digitales Instrumentarium in Tracks wie "Perfume For Winter" oder "Glass Ceiling" zu etwas Neuem, noch Ungehörten. So herrlich, dass es jemand mal Edgar Froese von Tangerine Dream vorspielen sollte. (8) [Jan Wigger]
Exclaim (Canada):
I think it is important that I'm not just in one very small genre that just a few 22-year-old men are listening to." Christian Fennesz had been carving a well-respected niche in the late '90s with a series of releases that mined the noisier bedrock of electronics and essayed the deconstruction of popular themes, like his covers of the Rolling Stones and Beach Boys on the Fennesz Plays seven-inch. With his latest, Black Sea, Fennesz continues to explore beyond the margins of laptop music, garnering acclaim in highbrow mags likeThe Wire and also in Pitchfork's year-end top 50. "I think what I do is still pop music somehow."
On his 2001 breakthrough Endless Summer, Fennesz unlocked a code that allowed greater access to melody and song structure without abandoning the exploratory aspects of his music. By fragmenting themes into smaller elements than simply verses and chorus he both released trapped energy into less tamed states and gave our ears something deeper to work through. OnBlack Sea both the free and the slightly civilized swirl together like oil on water. Sombre tones and a muted palette of sounds drawn across wider spaces give the album a colder, wintry feel.
"Maybe halfway through I thought, 'OK, this is going to be a more ambient soundscape,' but if you pick certain tracks like 'Grayscale,' it stands alone as a single track." Fennesz admits drawing some of the inspiration from recent collaborations with experimental pioneers like Keith Rowe and Ryuichi Sakamoto. "It's interesting that you mention those two people; I learned from Sakamoto lately to be really simple sometimes. To play one note and let it be."
Not a final destination, Black Sea is a step along an ongoing path of development that sometimes circles back to visit traditional ideas, including "microphone techniques and good sounding rooms for acoustic instruments… but also in computer music, there's still a lot to find." [Eric Hill]
Titel (Germany):
Das Cover des neuen Albums vom Wiener Soundbastler Christian Fennesz ziert ein Foto, das in seiner radikalen Weltabgewandheit ein überaus romantisches Szenario abbildet. Bahnschienen in der Mitte führen da in einen schmalen grauen Streifen, in dem sich ihre Spuren verlieren. Im Dunst dahinter ist eine Reihe Häuser schemenhaft erkennbar. Wasserlachen liegen ringsum. Der schmale Streifen ist das Meer. Es herrscht Ebbe – oder Flut. Dieses Foto von Jon Wozencroft passt perfekt zur Musik auf "Black Sea". Auf dem Album ist alles ätherisch. Synthienebel geistert umher, hin und wieder knarzt und fiept es, Gitarren bauen an turmhohen Walls of Sound, man meint, das Rauschen entfernter Stahlöfen zu vernehmen, aber niemals eine Basedrum aus der Disko. "Black Sea" ist kein Album, das in jeder Situation gefällt. Mehr Ambient geht zwar nicht, trotzdem würde diese Musik in der Shisha-Lounge irgendwann nerven. Denn sie wirkt individualisierend. Wenn man sich auf sie einlässt, erzeugt sie unweigerlich Bilder im Kopf, die man mit niemandem teilen kann. Man steht gottverlassen im Wattenmeer und merkt, dass Wasser in den schmalen grauen Streifen läuft und einen abtrennt von der Küste und der Welt. [Benjamin Borgerding]
textura.org (USA):
A funny thing happened to Christian Fennesz on the way to Endless Summer : he discovered beauty. Oh, sure, beautiful moments appear on his first solo album Hotel Paral.lel (1998) but Endless Summer brought to the fore a startling romantic lushness and lyricism that hadn't been heard before. Having established an extremely personalized style of "noise"-laden, guitar-and-computer-generated experimentalism, Fennesz changed things up dramatically by allowing emotive warmth and melodicism to not only seep into but blossom within his material, with the resultant music exuding feelings associated with remembrance, specifically rapture, nostalgia, ennui, and melancholy. On 2004's Venice, he refined the style, and now four years later Black Sea finds him perfecting it even further.
Fennesz excels at striking a marvelous balance between the sweetly melodic and iridescent—symphonic even—and the static-laden and textural. The two extremes are suspended in a state of perpetual balance, not conflict, throughout Black Sea, the one rarely present without the other alongside it. In "Perfume for Winter," bleeding tones intermingle with peaceful acoustic strums and the subtle interjection of a pretty keyboard melody while brittle tendrils branch off of delicate acoustic guitar and keyboard melodies during "Grey Scale," a swarm of static that continually wraps itself around the calming acoustic elements.
As its title hints, Black Sea sounds like more of a natural complement to Endless Summer than to Venice, though that may simply be due to the absence on Black Sea of an equivalent vocal track to "Transit," the mesmerizing song that paired David Sylvian and Fennesz on Venice. The new release includes instrumental contributions by Anthony Pateras and Rosy Parlane that end up being, in their own way, almost as arresting as Sylvian's. In "The Colour of Three" (the Pateras collaboration) prepared piano tones clank alongside the slowly sizzling synthetic mass in a manner that's analogous, strangely enough, to the cowbells that clatter alongside the strings in Mahler's Sixth Symphony (a coincidence presumably). In "Glide" (recorded live in Paris), Parlane and Fennesz whip up a torrential storm of vaporous noise within which a melancholy, even church-like melodic progression resounds—again a balance between abstract industrial noise sculpting and melodic romanticism. The ten-minute, episodic title track offers a seemingly complete encapsulation of Fennezs's current style. After a turbulent opening of seagulls and loud industrial splutter, the piece settles down, paving the way for a becalmed episode of electronic ambiance and slow-motion acoustic guitar strums that in turn gives way to a sparkling mass of tones and vapours. At such moments, the entrancing, dream-like flow of oceanic sound can't help but recall Endless Summer, no matter the "black" term in the title. Elsewhere, "Glass Ceiling" offers a rare sampling of natural-sounding electric guitar (even a hint of tremolo) before the instrument disappears within a churning mass of chiming tones and choir-like exhalations, and a sweeping wave expands into an immense celestial mass during the closer "Saffron Revolution." Throughout Black Sea, Fennesz shows himself to be as adept at voicing a fragile melody as he is wielding a synthetic mass that's as heavy and scalpel-sharp as a scythe.
Octopus (France):
Il suffit de remonter le temps de quelques années, un peu moins de cinq, pour trouver trace de l'ultime effort en solo de Christian Fennesz – et lequel ! – quand il parcourait la lagune vénitienne le long de ses nappes mélodiques aux dissonances délicatement saturées. Proclamé depuis l'incontournable Endless Summer pape de la génération new ambient, le Viennois confirmait, si besoin était, que sa stature n'était pas usurpée, bien que d'autres albums de Lawrence English, Jefre Cantu-Ledesma ou Wzt Hearts nous aient finalement bien plus convaincus sur la durée. Pour un come back solo forcément attendu, le producteur autrichien nous convie à un séjour aux bords de la Mer Noire, en des termes finalement bien similaires à ceux déjà développées dans ses ¦uvres précédentes. Bien entendu, le niveau de musicalité franchi par le maître de Vienne demeure tout bonnement exceptionnel de maîtrise formelle et d'inventivité esthétique ("The Colour Of Three", magnifique le piano préparé de l'Australien Anthony Pateras), personne n'en disconviendra. Le rôle du critique n'étant pas de servir de caisse enregistreuse des sorties immanquables de leur temps, nous nous en voudrions cependant de ne pas remettre en question la volonté de renouvellement de Christian F. au bout de quinze années de discographie. Aussi n'est-ce qu'à demi-surprenant que les réels échos novateurs proviennent des deux morceaux en collaboration, l'une déjà citée, l'autre avec la Néo-Zélandaise Rosy Parlane aux fascinants murmures post-post-industriels sur "Glide". A l'image d'un autre travail en équipe paru récemment, l'essentiel Till The Old World's Blown Up And A New One Is Created aux côtés de Werner Dafeldeker et Martin Brandlmayr. [Fabrice Vanoverberg]
FM4 (Austria):
Wolken ziehen vorüber. Ein Blick auf die vielleicht ein bisschen zu wenig bejubelte Platte: "Black Sea" von Fennesz.
Der Einstieg täuscht, legt leise falsche Fährten aus. Da scheinen tiefschwarze Geröllschichten sich zu verschieben, abzubröckeln und eine halbe Zivilisation, die gerne darauf wartet, unter sich zu begraben. Scharfkantiges Knistern, ein Brutzeln, ein Brummern und dunkles Maschinenraunen deuten da auf einen Besuch in den mit Schnellschussapparaten vollgestellten Fabrikshallen des Industrial hin. Weit gefehlt: Nach wenigen Momenten tun sich Ambientflächen – die haben sich, da bin ich mir sicher, Engel ausgedacht – auf und leiten den Eröffnungstrack von "Black Sea", der sich da genauso nennt wie das Album selbst, nach wenigen Minuten hinein in die melancholisch gezupfte Gitarre von Christian Fennesz. Es ist eine sachte Ahnung davon, was da noch folgen soll, auf diesem, gerade noch halbaktuellen Album von Christian Fennesz: "Black Sea".
Zugegeben, das Jahr 2008 liegt schon in ausreichender Ferne in der Vergangenheit. Ja eh, die Jahresrückblicke sind längst gut abgehakt, die Bestenlisten zehnmal durchgeleiert. Traditionell können neben all soviel großartigem und gleißendem, bunt die Genres durchmessendem Pop-Potpourri, Platten, die auf ersten Blick einen reduzierteren Ansatz verfolgen, in der öffentlichen Wahrnehmung ein kleines Bisschen untergehen. Christian Fennesz hat vor gut zwei Monaten ein Album veröffentlicht und es "Black Sea" genannt. Die Zeitungen haben berichtet, Interviews wurden geführt. "Black Sea" ist allerorts mehr als wohlwollend willkommen geheißen worden und hat so beispielsweise auch in ireeelchen Jahrescharts Platz 31 belegt. Der Weg hinaus aus den mehr oder weniger speziellen Spezialzirkeln hinein in eine breitere Hörerschaft hat die Platte – wieder einmal – nicht geschafft.
Okay, soo sehr nicht zu erwarten ist das auch wieder nicht gewesen, etwas mehr Spezialeffekterauschen im Medienwald hätte man vermutet. Ist "Black Sea" doch ein Album geworden, das ohne Mühe nicht ausschließlich in den Regalen der Avantgarde verstauben sollte, ein Album, das so sehr, finster grundiert zwar, Pop – man soll ihn als gut verstehen – ist, wie es diese Art von Musik nur sein kann, ein Album für ALLE. Ein letzter, kurzer, wirklich kurzer Blick in Ehrfurcht zurück auf ein bestes Album des Jahres 2008 soll da erlaubt sein, dann ist aber Schluss. Es ist ja nie zu spät. Hoffentlich.
Immer, immer, bis in alle Ewigkeiten hinein, wenn die Rede auf Fennesz kommt, wird auch die Rede von "Endless Summer" sein müssen. Freilich ist auch das Frühwerk von Fennesz nur schwer zu überschätzen, spätestens aber mit Erscheinen dieses, ja, wegweisenden Albums im Jahr 2001 gilt Fennesz, auch wenn ihm diese Zuschreibung möglicherweise nur wenig behagen mag, als Star einer menschenfreundlichen Avantgarde. Während vielerorts häufig so apostrophierte "Laptop-Musik" im weitesten Sinne, "Elektroakustik" oder überhaupt "Elektronik" – eine Szene, wenn man so will, deren Weltzentrum um die letzte Jahrtausendwende mit Labels wie Charizma oder Mego nicht zuletzt auch Wien war – merkwürdigerweise als zu verkopft oder akademisch verunglimpft wurde, verdeutlichte "Endless Summer", dass sich Computermusik, Technikglauben, Melodie und Pop aber so was von gar nicht im Weg stehen. Wenn denn demnächst die Abrechnungen bezüglich des gegenwärtigen Jahrzehnts ausgetüftelt werden, wird diese Zusammenführung von Rechnerrauschen, delikater Gitarre, immer wieder, den Beach Boys und einer schmelzenden Sonne so erhaben dastehen wie der Stephansdom in der Wüste. Nicht nur im weiten Feld der Elektronik, schon gar nicht auf bloße Staatszugehörigkeiten reduziert.
Wenn also nun "Black Sea" nach "Venice" aus dem Jahr 2004 erst das dritte Solostudioalbum von Christian Fennesz innerhalb von knapp 8 Jahren ist, war der Mann, der Wien und Paris als seine Wohnsitze anführen darf, in der Zwischenzeit freilich keinesfalls untätig. Zusammenarbeiten mit Vielseitigkeitsmann Jim O'Rourke, Mike Patton, Großkünstler Ryuichi Sakamoto oder Peter "Pita" Rehberg, dem Betreiber des mittlerweile zu Editions Mego gemorphtem Jahrhundertlabels Mego, sind da nur ein kleiner Ausschnitt in einem vielschichtigen Schaffen. Sein gemeinsam mit Werner Dafeldecker und Martin Brandlmayr aufgenommenes, kürzlich beim hervorragenden Wiener Label Mosz erschienenes Album mit dem sperrigen Titel "Till The Old World's Blown Up And A New One Is Created" soll da nicht in Vergessenheit geraten.
"Black Sea" aber ist wieder Fennesz als Fennesz himself. Und dabei ist er auf der Höhe seiner Kunst. Fennesz hat in Interviews kein Problem damit seine Platten unter Zuhilfenahme von Farbschattierungen zu beschreiben. War "Endless Summer" noch das sonnendurchflutete Orange-Rot und "Venice" eine sumpfige, grünbräunliche Lagunenstadt, so liegt "Black Sea" unter Schlick begraben, von Asche bedeckt, schwarz und grau. Da schwellen wohlige Drones im Zeitlupentempo an, darunter hat Christian Fennesz wie gehabt aus den Gitarrensaiten herausgearbeitete Melodien versteckt, die sich nur langsam offenbaren mögen.
Immer wieder werden Fennesz die großen englischen Gitarrenwanderrichter My Bloody Valentine, die ja glücklicherweise aktuell wieder hoch im Kurs stehen, als Referenz in die Biografie geschrieben: Hinter dichten Nebeln wartet da die Wonne, hineingeschnitzt ins Detail.
Fennesz bearbeitet feingliedrig Software und Effektgeräte, zweimal bekommt er Unterstützung von Geistesverwandten: Einmal baut da der Neuseeländer Rosy Parlane, der ebenso wie Fennesz beim englischen Label Touch veröffentlicht, das Stück "Glide" zu einem der besten im an besten Stücken nicht armen Fennesz'schen Katalog mit auf, anderswo, im Stück "The Colour Of Three", trifft das präparierte Klavier des Australiers Anthony Pateras auf den großen Gitarrenpräparator Fennesz. In der Verschiebung kleiner Sandkörner manifestiert sich auf "Black Sea" ein ganzer Mikrokosmos. Man hat schon davon gehört, die vollkommene Pracht von "Black Sea" entfaltet sich erst bei großer Lautstärke. Und dann, auch wenn "Black Sea" alles andere ist als funktionslose Umgebungsmusik, wird man gar nicht mehr bemerken, dass man sie mittlerweile wieder und wieder ohne Unterbrechung gehört hat, diese mächtige Musik. [Philipp L'Heritier]
experimusic.com (UK):
The pattern that a lot of reviewers fall into when dealing with ambient/electronica albums such as Fennesz's Black Sea consists of using endless nature metaphors, long words such as 'transcendental', and talking at length about the subtlety and inaccessible nature of the genre that requires listeners to invest time and effort in absorbing everything the album has to offer. Maybe throw in something about how the record redefines what 'music' truly is and should be and you have your perfect, muso ambient review. I will now (perhaps ill-advisedly) attempt to sum up what Fennesz's latest album is about, in as concise a way I can, without resorting to any of those elements.
Christian Fennesz is known on the ambient scene for his trademark sound which combines guitar picking and experimentation with digital manipulation techniques; creating a wall of intense, beautiful noise. This sound has become somewhat more commonplace with the development and proliferation of software required to create such music, but justifiably Fennesz has remained one of the leaders of the pack, with every album release being seen as a notable event on the calendar. However, we haven't seen a proper release since 2004's Venice, so the delivery is particularly important this time round.
Thankfully, what is presented is all of the beauty and nuance that Fennesz is so acclaimed for, on a huge scale. Opening title track Black Sea is a perfect microcosm – perhaps with it's ten minutes-plus running time we should say 'maxicosm' – of the album as a whole. Beginning with layers of feedback that slowly peel away to reveal trickles of gentle melodic tones and later some clean guitar meandering, the track effortlessly segues in and out of solemnity, catharsis and euphoria, displaying Fennesz's mastery of dynamics. Indeed, he can do harsh and mechanical as well as mellifluous (hey, I said attempt, ok?!), as the following track 'The Colour Of Three seamlessly introduces a machine-like whirring punctuated by stark stabs of sound whilst an expansive melodic current drifts and flows around it. Later, 'Glide' provides the perfect plane of building tension and swell, coming to an all-enveloping peak before slowly subsiding and fading into nothingness. Fennesz saves his trump card for the final track 'Saffron Revolution' which like the title track spans the full spectrum of texture and sound that makes his music so enthralling to hear. Subtle drones and intimate guitar musings conglomerate into a wonderfully expansive dome of sound that, through a competent speaker system seems as if it was fashioned in a vast choral chamber. What the hell, I'm just going to say it; with the fading of the last chiming echo, Fennesz rounds off what is an intensely physical and personal album, more an experience than just a record.
Ok, so I didn't exactly succeed in my attempt to deliver an atypical review of an ambient album. But what is learned from records like Black Sea is that through all the subtlety, poignance and beauty that it offers, it is nigh on impossible not to enthuse, because any less would be doing the works a disservice. As such, Black Sea is a worthy addition to the standard bearers of melodic experimentalism, and well worth your time and superlatives. [Kiron Mair]
Terz Dusseldorf (Germany):
Der großartige Sound of Fennesz kann beruhigen, wenn Drähte mal wieder heißgelaufen sind. Der Effekt ähnelt Enos Ambient: die Musik drängt sich nicht auf und verändert Raum und Stimmung nicht offensiv-plakativ, dafür intensiv-nachhaltig. Die Instrumentierung indes ist komplett anders: Gitarren, Synths und Computer werden verwoben-improvisiert, die Texturen erscheinen letztlich weniger songorientiert wie bei 'Endless Summer', sondern als klassicher. Große Melodie-Klangdissonanz-Fusion. [Honker]
Total Music Magazine (UK):
Fans of the last album by Christian Fennesz, entitled Venice – including a fair smattering right here in the TotalMusic-Online office it has to be said – have been awaiting this release with no little excitement, and the wait has been worth it as Fennesz's marriage of dissonance and melody are pushed ever further out towards the margins. Of course it must be said that this is a very acquired taste, and will probably not be bothering many of the mainstream radio stations, but these warm washes of unsettling discord are a taste that is well worth acquiring, so come on in, the water's lovely (just don't wade out too far). [Drew Bass]
Jambase (USA):
Fennesz can be defined as sheer sonic experimentation. While it's understood there's much more structure and layout than first meets the ear, the notion arises while listening that what's being heard is some kind of field recording of external forces that wound up sounding like music by a matter of chance. Black Sea (Touch) could be a ball of static electricity and sunlight wrapped in a tin foil blanket, launched from the core of the Earth, with a recording device attached to capture everything within and around it as it travels through the realms of our world, and eventually into the ether. Never overpowering, yet always captivating, Black Sea is experimental, not just for the creator in his productive endeavors, but for the listener as well, as the malleable work opens up the possibility of manifold interpretations to match its spectral nature.
For his fourth studio effort, the Austrian-based Christian Fennesz, who usually drops his first name on recordings, makes use of his humble-yet-effective instrumentation bundle – electric and acoustic guitars, synths, laptop and other electronics – to mold an ambient soundscape that's both unassuming and consuming at the same time. Black Sea, whose optimal enjoyment requires a certain shade of patience (and a pair of headphones), never hits like a shot of whiskey, blasting one's eyes open after it's down the hatch. Instead, it's meant to be imbibed like an aged Burgundy, with each note and accent savored as it slowly dribbles through the body and warms the blood.
Black Sea's whizzes and warbles, crackles and creeps, drones and whips from all different directions converging and interacting with each other in the center, peacefully jostling for position but never completely drowning or canceling out what's already working its course. In the grain of Brian Eno's extensive ambient collection and Aphex Twin's critic-defying Selected Ambient Works Vol. II, what carries the album is an apparent minimalism that's actually a detailed, textured array that just happens to take time to fully form itself. A notable quality is its unique ability to reach a crescendo, such as the one characterized by stringy synths on "Glide," and redirect the energy inside the listener as it rises and finally thins out – more of an implosion than an explosion. The variation in setting also contributes a great deal and provides a vast template to let the imagination run wild. The extraterrestrial essence of "Perfume For Winter" and "Vacuum" could lay the backgrounds for their respective sci-fi films, each equally as bizarre and diverse as the other, while "Grey Scale" has a much lighter, more innocent tone, reminiscent of a silent train hugging the edges of a foggy cliff on its way to nowhere in particular.
Though Fennesz is all the aforementioned things for some, he certainly is not for everyone, and Black Sea unfortunately has the potential to be mistakenly given the label "just noise" by those who might not give the album what it demands. When absorbed with uninterrupted and focused attention, however, Black Sea can be an internally moving piece of music, and a soothing device for reflective listening.[ Greg Gargiulo]
Igloo (USA):
Black Sea (Touch) found our pioneering laptop-toting axeman picking up threads left dangling from Venice and tucking them into micro-symphonies of altered guitar states. Judiciously combining the usual DSP ravagings, but here with a surgeon's touch, Fennesz quests into more ambient and quasi-classical domains, turning from the desertified terrain of deconstruction for the call of re-construction. A hint of improv and a pinch of post-rock help forge newly arresting texture flows. Raw rubs up against Cooked. Buried melodies slowly seep and colours fly through white spume. Soundwalls rise steepling to quasi-orchestral crescendo, then break to resonant whisper. Effervescent quiescence.
Lowdown (Germany/UK):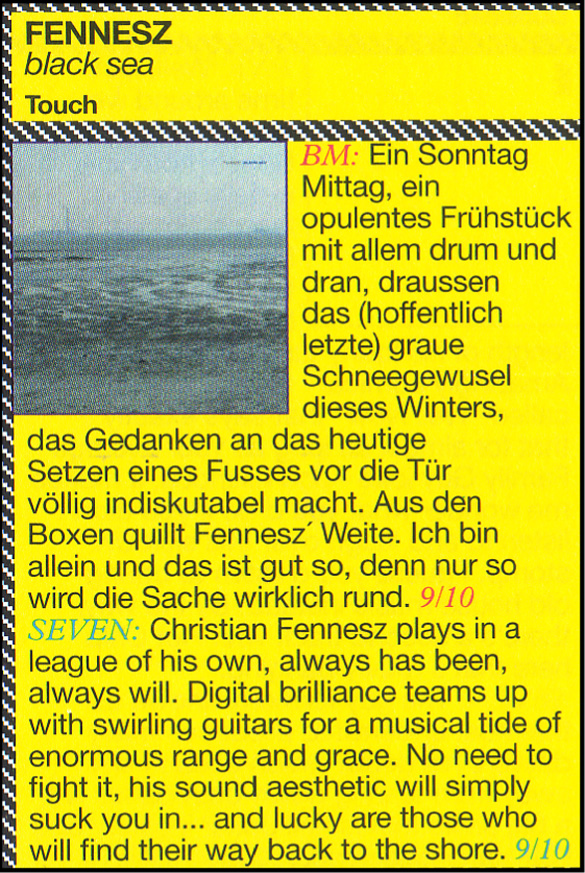 Rock-A-Rolla (UK):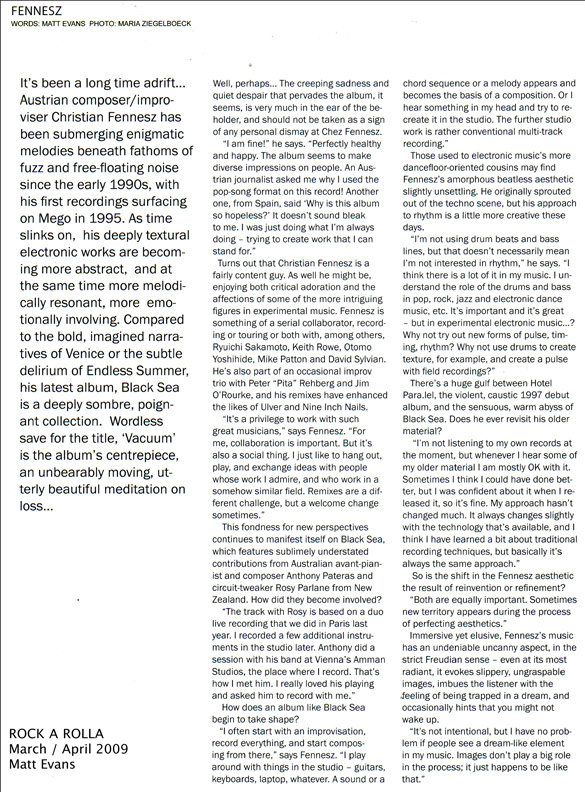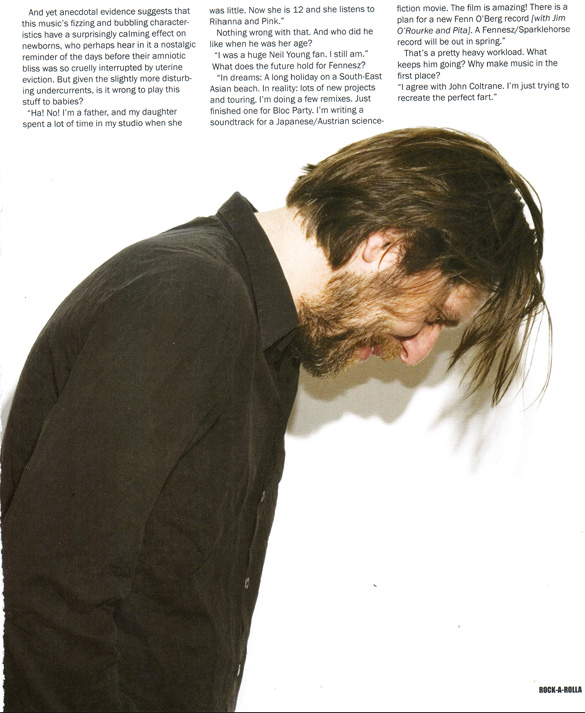 Jazzzeit (Germany):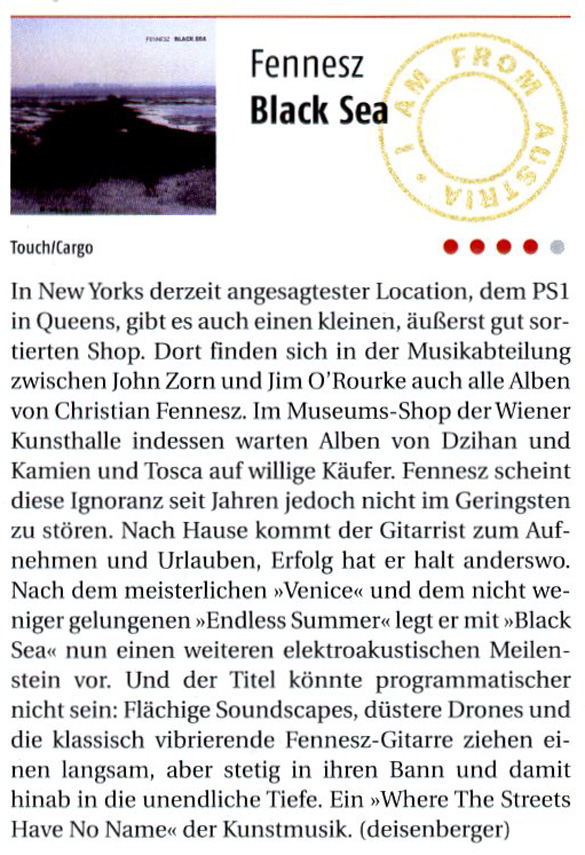 Musique Machine (UK):
Black Sea finds Fennesz in a contemplative, somewhat more experimental mood than his last two studio albums. His last album, Venice, took the melodic approach of his ground-breaking 2001 album Endless Summer down a notch, while evoking the mystery revolving around the city for which it was named. Despite the fact that many may consider Black Sea a departure for Christian Fennesz because of his choice to employ a less song oriented approach, it still bears his unmistakable hand print. If you listen carefully, and peer into the murky drones, there's actually a great degree of structure and musicianship hidden within much of the album. As always, his penchant for artful detail and masterful pacing is evident, even more so with repeated exposure.
As the title may imply, it's a fairly dark and melancholy album as well. The album opens into the title track with what sounds like thunder, then immediately launches into a noisy, glitch filled landscape for a few minutes. Then, emulating the tranquility which follows a thunderstorm, the piece quickly recedes into a tranquil sound-scape embellished with clean guitar tones. The Colour of Three and the following track, Perfume for Winter, are both tilted somewhat toward what might be termed Ambient; the former presenting a brief wavering drone, which is pleasant and somehow also ominous because of it's blustery quality. The latter sounds like a beautiful piano and guitar piece which is dismantled to reveal only signposts of its' original source. Not a new trick for Fennesz, but the music is more classical than pop, which signals a bit of a change. Most importantly, it's well executed, and involving.
Grey Scale is probably the most straight-forward track of the album. The track consists of folk infused finger picked guitar, a melancholy melody, and just enough computer manipulation to to blend harmoniously with the adjoining tracks. From then on Fennesz charts a course through murky drones, mysterious clanky found sounds, quiet ambience and tapped guitar tones (or could that be prepared piano?). The final track, Saffron Revolution, concludes the album in a fashion similar to its beginning, with a noisy, multi-layered guitar drone. This time, though, there's no let up, no sign of tranquility or reprieve. Black Sea is a dramatic work and though it takes the listener in different directions musically, it is sensitively arranged. Each piece builds upon the other, and it's best listened to as a whole. It's a work which demands your undivided attention, and rewards it in equal measure.
Tarkus (Norway):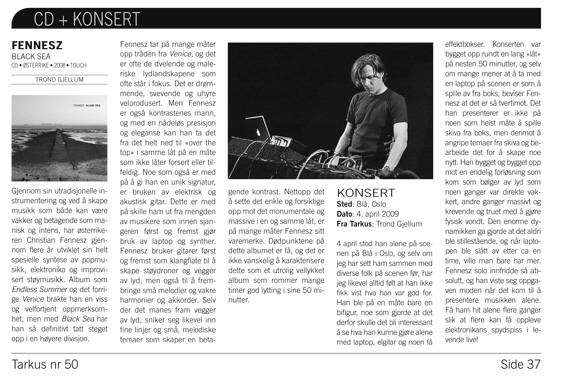 Headphone Commute (USA):
Here comes Fennesz, with his highly anticipated fourth studio album on Touch. Christian Fennesz is a prolific Vienna based composer who has been crafting electronic multi-layered laptop compositions with an aid of his guitar since the late 90s. Or is it the other way around? His guitar driven pieces with a heavy dose of DSP? Either way, Fennesz has developed that instantly recognizable and many times imitated sound. His vast discography extends through numerous EPs, remixes, soundtracks and collaborations, most notable of which is his work with Ryuichi Sakamoto on Cendre (Touch, 2007); as well as Cloud (Erstwhile, 2005) on which he worked with Keith Rowe, Toshimaru Nakamura and Oren Ambarchi. With a collection of works approaching the count of 30, Fennesz's last solo studio release was four years ago, Venice (Touch, 2004). So it should be no surprise that the fans jumped in anticipation to grab this 2008 release, Black Sea. And I hope the fans are not disappointed.
Fennesz picks up where he left off with Venice, building on his trademark of processed and filtered guitar sound. Faint melodies cut with their pale beauty through a sharp fuzzy white haze. Sure, it may sound like over-driven, bit-crushing, pixel-offsetting, standing noise you have heard before on another album. But let me remind you once more, that Fennesz has been pioneering this sound well before the advancement of software and saturation of costly plugins on the market. On a nine-and-a-half minute track called Glide, for example, Fennesz is joined by Rosy Parlane [check out his albums Iris (Touch, 2004) and Jessamine (Touch, 2006)], to build up an incredible swell of sound, that buzzes to an orchestral crescendo, until it breaks into a tidal wave of near silence, which washes off the coast of a Black Sea.
Hawai (Chile):
Cuatro años se ha tomado el austríaco Christian Fennesz para dar vida a la continuación de su último trabajo en solitario. Cuatro años se ha tardado en presentarse ante nosotros con estas ocho piezas bajo el brazo. Cuatro largos años de espera –aliviados con el excelente "Cendre" (Touch, 2007), a dúo con Ryuichi Sakamoto, más algunos singles como el 7″ "On A Desolate Shore A Shadow Passes By" (2007) para la serie Touch Sevens de Touch– que no han hecho mas acrecentar el interés y las expectativas frente a lo que pudiere ofrecer. Las opciones eran o volver a la magia pop de "Endless Summer" (Mego, 2001), o continuar reforzando lo logrado en "Venice" (Touch, 2004), o transitar nuevas vías de exploración. De entre las tres ha optado por lo segundo, lo que no significa en lo absoluto irse por el camino fácil. Simplemente ha escogido forjarse un sonido propio, una marca particular y personal. Mientras otros disparan para todos lados, tratando de acertar en el blanco, él sin embargo sigue empeñado en la búsqueda de esa canción universal. En todos sus trabajos, desde el primerizo y algo dubitativo "Instrument" (Mego, 1995), hasta sus producciones más recientes, es posible percibir esa búsqueda por los acordes imperecederos, a la vez que una intención de expandir los límites implícitos en ello. No es oculta su fascinación por la música pop, y en cierto sentido su música también lo es –exceptuando sus colaboraciones con grandes de la escena más rupturista–, sobre todo a partir del presente siglo, pero el acercamiento a ella no lo es en el sentido tradicional, sino que desde la experimentación. Es a raíz del choque de ambas visiones donde surgen sus canciones, y literalmente explotan cual big bang, haciendo nacer estrellas de una gran luminosidad.
Para "Black Sea" Fennesz utilizó para la ocasión su laptop, el programa Lloopp, sintetizadores y, principalmente, guitarras, tanto eléctricas como acústicas. Todo, desde la grabación e interpretación hasta la mezcla, corrió a cargo de él –la masterización, tan nítida como siempre, a manos de Denis Blackham–, excepto por dos tracks. Uno de ellos es "The Colour Of Three", una odisea de ocho minutos junto a su compatriota Anthony Pateras, a cargo de un piano preparado, prácticamente inaudible en un comienzo entre las masas de ruido, algo que no se atrevió a hacer, para bien, con Sakamoto. La otra colaboración la efectúa junto al neozelandés Rosy Parlane, y corresponde a una grabación en vivo realizada este año, en París, a la que luego añadiría algunas otras cosas en su estudio. En "Glide", que así se llama, confluyen ambos mundos, que tan distintos no son, en uno solo, deslizándose los sonidos, tal como el título lo indica, uno sobre el otro (muy recomendable es su disco del 2004 "Jessamine", también para Touch). En los restantes tracks hay para regodearse: la elegía de diez minutos de "Black Sea", el tema, con guitarras manipuladas hasta lograr ensordecernos, guitarras acústicas que nos arrullan, grabaciones de gaviotas; la belleza acústica de "Grey Scale", con la fragilidad del nylon de las cuerdas, sutilmente "ensuciada" con glitches varios; de nuevo al ruido del single "Saffron Revolution", más que apropiado epílogo, donde tiene plena justificación hablar de texturas para lograr aproximarse en palabras a lo que se oye: un masaje sónico con capas y más capas que se escuchan y se palpan.
Esto es Fennesz ahora, con sus mares negros y sus escalas grises, sus perfumes para el invierno y sus cielos de cristal, sus millones de colores y sus revoluciones de azafrán, envueltos –otra vez– en las impecables fotografías de Jon Wozencroft del Támesis, que lo confirman, aunque esto ya estaba probado, como uno de los grandes compositores de nuestra época.