CD – 3 Tracks – 41 minutes
Oren Ambarchi continues his otherworldly investigations with "In The Pendulum's Embrace", a dark twin to his landmark 2004 album "Grapes from the Estate" [Touch # TO:61]. Returning again to the hallowed halls of BJB Studios in Sydney, Ambarchi expands the scope and range of his unique musical language, incorporating an even broader pallette of instruments and sensibilities. Despite the use of glass harmonica, strings, bells, piano, percussion and guitars, it's startling that the world created is still unmistakably his own, and that there is such a cohesion of vision throughout the albums's three lengthy pieces. With this record there's an even more tenuous coexistence of fragility and density; sounds as light as air mingling with wall shaking low-end. The converted already know the kind of trance-inducing euphoria of Ambarchi's music. Newcomers will be scouting the back catalogue…
Track list:
1. Fever, A Warm Poison
2. Inamorata
3. Trailing Moss in Mystic Glow

Reviews:

The Sydney Morning Herald (Australia):
Feature
The Milk Factory (UK):
In recent times, Australian guitarist Oren Ambarchi has been busy with the more experimental side of his work and has published a considerable amount of music on various labels, including Southern Lord, Room40 and For 4 Ears. He has also become a regular fixture as part of Sunn O)))), and has been spotted playing alongside the likes of Fennesz, John Zorn, Keith Rowe, Günter Müller, Evan Parker or Toshimaru Nakamura to name but a few, leaving the line of work leading up to his 2004 album Grapes From The Estate to lay somewhat dormant. In The Pendulum's Embrace therefore marks his long awaited return to Touch and to more melodic forms.
Counting only three tracks, each clocking above ten minutes, with the opening piece stretching to almost eighteen minutes, this new opus continues in the footsteps of the superb Grapes From The Estate. On Fever, A Warm Poison, Ambarchi works almost exclusively with the lower end of the guitar spectrum and creates a somewhat more sombre frame of bass distortions than heard on previous Touch recordings. Expanding on his basic electric guitar setting, Ambarchi incorporates here bells, glass harmonica and drums but retains the arid aspect of his earlier work.
The scope appears similar on Inamorata. Here, Ambarchi uses a seemingly more restricted pool of sounds (electric guitars). During the first few minutes, Ambarchi assembles rare notes played on the lower end of the guitar, but as the composition progresses, he moves up the scale and builds in additional strings textures, provided by Australian ensemble Fourplay String Quartet member Veren Grigorov. This eventually proves to be the richest set of sounds heard on the album. On Trailing Moss In Mystic Glow, Ambarchi finally let's some light in by applying a series of motifs carved from the more common register on an acoustic guitar. While the piece kicks off with somber sub-bass tones and scarce electronics, the move away from guttural depths allow for much more subtle and airy melodic formations and reveals some superb ethereal moments. Like on Fever, A Warm Poison, Ambarchi adds layers of sounds, here bells and voice to give his work a wider scope.
Very much like its Touch predecessor, In The Pendulum's Embrace reaches to new, more hospitable terrains, than some of Oren Ambarchi's more extreme work. Here, he plays with a more varied set of sounds than he has done in the past, and his music gains in warmth and accessibility, yet, this new album is at times more arid and minimal than Grapes From The Estate. Ambarchi retains here the full exploratory nature of his work and makes of this latest offering a precious addition to his discography. 4.2/5
white-heat.com (Belgium):
Oren Ambarchi has made a new step in his continuing meandering solo-output. In the pendulum's embrace' is a new turn in the river. The water keeps on streaming, the swimming has never been so sweet.
The following text is a composition of some ideas on the new record, with some of Ambarchi's own words in between. The conversation was done via e-mail towards the end of 2006. Read this as an expanded review or a limited interview. Well, it doesn't really matter how you read it. Just read it. Thanks.
We have to admit something: we like Oren Ambarchi. Not that he knows about it, but the first time we encountered him (Geneva, in the magnificent and sadly lost Cave 12 2003), his live performance left an unforgettable impression on us. There we were, fascinated from the first tone to the last, not knowing what we just heard. Was this all so new, was it all so different? Maybe not. But what we knew was this: Ambarchi wasn't just producing interesting sounds and putting them after one another. He wasn't just trying to move his audience with an easy approach on harmony and emotion. What devastated us, was his ability to do all this, to integrate all these equally important parts of music, to take us for a ride into his landscape and deliver us safely home. His presence in the room remained unnoticed, until the music was gone.
Before we start, let's make sure we're talking about the same guy. Are we talking about the guy who works with key electroacoustic improvisation figures as Keith Rowe or Toshimaru Nakamura? Are we talking about the guy who likes his share of drone and metal attitude, and shares this love on stage with no one less than US outfit Sunn O)))? Is this the same guy who holds the drumsticks in another band called Sun – their name being the only similarity (what's black in Sunn is white in Sun – what's gloomy in Sunn is happy in Sun)? Well, yes, yes and yes. Ambarchi does it all, armed with one red guitar and some 30 kilo of electronic devices. He's making music since 1986, has released over 10 solo recordings, lives and breathes music, and travels the world to share his talent. Talk about a rock star!
The swing of the Pendulum
All of the above is present on the new album. In the Pendulum's Embrace is a very natural step for Ambarchi, as over his several solo albums, he's always expanding his tone language and instrumental occupation. "I had made quite a few purely 'solo' recordings", he tells us, "and after a while, especially after working with Chris Townend on the Sun record, I was interested in incorporating additional instrumentation, colours and textures in my solo work. This has continued to evolve on my recent solo recordings." On the new album, this evolution pays off. In Inamorata, Ambarchi works with strings, building a very tight suspense. The abstractness doesn't stop him from actually telling a story, something he deliberately focuses on: "I like the music to have some sort of narrative and I like it when a piece is 'epic', even if it's 'abstract' or 'experimental'. Exploring one idea with all its detail and possibilities really appeals to me. I've always loved long, drawn out pieces or improvisations that start off simply and then goes on some sort of search, such as Indian Ragas."
For the first time, this raga influence is actually audible in the music. The third and last song, Trailing Moss In Mystic Glow comes closest Ambarchi has ever come to clear guitar playing. Bells, acoustic guitars and voice (!) make of this song a very relaxed and peaceful listening experience. The long-spun guitar melodies remind sometimes of NY-based Mountains. Beautiful melodies, bells and a lot of sound are the main ingredients. That is, if we neglect Ambarchi's singing, which of course, we don't. This would be the first time we actually hear him use his voice on a record. Not that this melancholic mesmerizing is the album's main point, but it's remarkable at least. Call us chauvinistic, but what we heard, reminded us of Belgian lofi singer Ignatz. And do we need to say all of this is accompanied by heavy guitar loops on the background? Didn't think so.
A map to an unknown place
Where does Ambarchi start off? Improvisation or experiment? "I think they are both completely connected," he says. "Whenever I record, a piece usually starts off as an improvisation and then I shape it via overdubs or by removing layers, only including what's essential."
His working method has remained the same, Ambarchi says. "Even if I am improvising in a group context, I take a similar approach as I do when I play solo – composing some sort of narrative, shaping a piece of music in real-time via improvisation. I'm involved in many diverse musical projects such as The Four Gentlemen Of The Guitar (with Keith Rowe, Christian Fennesz & Toshimaru Nakamura), and as a guest with US band Sunn O))), These two projects utilize improvisation and they may seem completely different from eachother but there's definitely a common thread that connects the various so-called 'diverse' projects I'm involved in and their approach to improvisation; I don't know exactly what it is, but I think many of these projects approach sound as a landscape and, they also explore the concept of 'music as time'."
Ambarchi's involvement in recent metal combos has not gone unnoticed. His appearance in bands like Sunn O))) or the Burial Chamber Trio (with Greg Anderson and Attila Csihar) only proved his ability to put on different hats (or should we say masks?) and adapt his working method into different environments. The baseline for all of his musical output remains the same though. Not sound, or production, but the moving aspect, is what motivates our favorite Australian. "To a certain extent I'm not really interested in what it is or how it's produced – the most important question is, does it move me? Is it personal? I don't care if it's made on a 1-string guitar, a laptop or whatever." The earlier mentioned harmonic aspect may be linked to this.
Has Ambarchi's solo work changed because of his metal-pals? We would say yes. Listen to the new album's first song, Fever, A Warm Poison and compare it to doom-icon Earth's output. In a way, these collaborations are a big enrichment for his music. Subtle drums and guitars bring us a saddened mood. The clear sound unmistakably refers to the doompioneers without copying them. Controversly, Ambarchi incorporates the Earth-legacy in his own world, as if he is inviting them to check it out. Who would say no to that?
Digging a bit deeper in musician's motivations for making music can be hard. Sometimes, you just do what you got to do, no questions asked. Intuition and searching seem the most important motivations for him, but why does he do it? What does he want to bring across? "To quote Kiss' Gene Simmons: 'There are no messages, there's no inner being striving to express itself through music. We all picked up guitars because we all wanted to get laid. Plain and simple.' I don't think about it (why he makes music – red) too much but I do know that since I was very young I have always been completely obsessed with listening to and being involved in music &/or art. I buy records, books, DVDs etc on a daily basis, I continually need to hear new things, discover artists I've never heard of etc. It's like food or air for me, I need it to survive (although sometimes I think it's a sickness)."
Is In The Pendulum's Embrace a necessity for you? Let's hope by now you know the answer. [Article by Maarten Huvenne, October 2007]
experimusic.com (UK):
rating: 8/10
Australian Oren Ambarchi is a sound artist with longstanding interests in transcending conventional instrumental approaches, focusing mainly on the guitar. On his previous albums with Touch as well as on his releases for Tzadik and Southern Lord, Ambarchi has "transcended guitar into a zone of alien beauty". With 'In The Pendulum's Embrace', Ambarchi produces a follow-up to 2004's 'Grapes from the Estate' by continuing with the suffocating slices of sub-sonic blackness which are complimented by the 'light' that comes with acoustic unprocessed instrumentation.
Over the course of 40 minutes and three tracks, Ambarchi engages in an exercise of sonic-disorientation instead of sonic-destruction and this is expertly done via wall shaking bass and drone-doom which are interlaced with isolated elements of glass harmonica, strings, bells, piano, percussion and guitars. On 'Inamorata' the instrumentation scuttles subtly in the background before rising to the fore just like a slow-motion tear has been cut through a pitch black sky to reveal blinding light. The combination of lush but unhurried and solitary instrumentation creates a Grails-esque post-rock feel to the composition. The closing track 'Trailing Moss In Mystic Glow' features tightly clustered strings flickering upon foreboding droneage which has now been relegated to the background. Towards the end, murmured vocals join proceedings to add a further element of 'life' to the now blossoming piece.
On the inside cover Ambarchi has a black and grey picture of a cold, almost empty beach with an industrial port in the background. This image has particular resonance with the music of 'In The Pendulum's Embrace' as Ambarchi sonically portrays a vision of desolate plains, subtle background industrial activity, coldness and the deep black of the ocean through his sub-sonic drone and bass activity. This bleakness is offset by the warm instrumentation which may represent the life that occupies the ocean, industrial port and beach.
Ultimately, Ambarchi succeeds in creating sub-sonic doom drone which, due to the broad palette of instrumentation, has real soul. His ability to arrange these conflicting elements (density and fragility) in such a cohesive manner is impressive and makes 'In The Pendulum's Embrace' an album to cherish. Remember, play LOUD.
For fans of: Keith Rowe, Sunn O))), Phill Niblock, Earth
Boomkat (UK):
Having recently spent time scouring a darker aspect of his music, releasing on Southern Lord, and performing as part of SunnO))), Oren Ambarchi's output of late has taken a turn away from the warmer, more accessible climes of his wonderful "Grapes From The Estate" album. Within the past year or so, the Australian drone maestro has turned his attention to the raw, less sanitised tonal explorations of Stacte Motors and Lost Like A Star, both of which captured Ambarchi at his most vehemently experimental, using elements of mechanical automation to propagate a kind of industrialised drone, divorcing the more uneven, human elements from the compositional process. "In The Pendulum's Embrace" finds Ambarchi returning both to the Touch label, and the more emotive, personable sound that characterised his most enduring work. Clearly very much at home experimenting with lower frequency spectra, 'Fever, A Warm Poison' quietly plunges itself into an ocean of bass, the guitar's bottom end resonating beautifully as a corona of cymbal fizz pans across the spatial field. Via small, gradual gestures Ambarchi reaches the piece's midway point only to unleash some more conventional-sounding electric guitar phrases (you can tell this guy's been spending time around the Southern Lord crew, some of this stuff could have appeared on Earth's Hex album), before retreating into a fug of suspended bell resonance and glass harmonica tones. 'Inamorta' raises the stakes higher still, featuring the introduction of a string section – not your usual ensemble format, but rather a multitracked sequence of awkwardly beautiful drone tones, all cast against a shadowy guitar figure, looming in the background. By the time you arrive at the final piece in this gloomy triptych, Ambarchi's moved his music into hitherto unexplored sonorities with untreated, fingerpicked guitar – and even vocals – floating above the expanses of low frequency hum. There's almost a bluesy quality to Ambarchi's sound by this point: it's resolutely downbeat, yet never quite slips into the doom-laden, metallic sound he's recently immersed himself in. Instead, this is a music of meditative introspection, inhabiting dark corners. Very highly recommended.
Rough Trade Shops (UK):
oren ambarchi continues his otherworldly investigations with 'in the pendulum's embrace', a dark twin to his landmark 2004 album 'grapes from the estate'. returning again to the hallowed halls of bjb studios in sydney, ambarchi expands the scope and range of his unique musical language, incorporating an even broader pallette of instruments and sensibilities. despite the use of glass harmonica, strings, bells, piano, percussion and guitars, it's startling that the world created is still unmistakably his own, and that there is such a cohesion of vision throughout the albums's three lengthy pieces. with this record there's an even more tenuous coexistence of fragility and density; sounds as light as air mingling with wall shaking low-end. the converted already know the kind of trance-inducing euphoria of ambarchi's music.
Foxy Digitalis (USA):
Having defined his 'sound' some years ago – that definition revolving around a spiral of descended low register guitar tones, minimal composition structures and the occasional sweetly melodic overture – Australian guitarist Oren Ambarchi is evidently reaching out to a number of new sonic elements to foster continued growth of his musical language. On "The Pendulum's Embrace' he seems to have found this expanded language.
With the introduction of drums and other elements on his previous effort "Grapes From The Estate", Ambarchi offered the first inkling that his work with guitar may have reached a point of stasis – and not the kind that might continue to be uncovered in his compositions. The tempered delivery of opener "Fever, A Warm Poison" sets the aural environment for this record. Avoiding pure low frequency explosions, Ambarchi immediately introduces gentle brushed drums and as the piece evolves subtle tonal emissions care of glass harmonica. The results are rewarding and it's this piece that suggests that Ambarchi is only now beginning to find his feet as a composer, earlier records merely hinting at what might be.
The point seems reinforced by the album's final work "Trailing Moss In Mystic Glow". Whilst the title might sound like some cast off from a forgotten folk record of the early 1970s, the skillful and considered sound space Ambarchi creates in really quite exceptional. His detuned guitar notes sound out a pulsed bed of low-end richness that is invigorated with gentle patterns of acoustic guitar, bells and a surprising use of voice that brings an unusual sense of the 'human' into his otherwise stark sonic landscapes. With the voice backward masked, there's still an unsettlingly disconnected sense of self here, a detuned vision, but it seems now we are truly 'hearing' Oren Ambarchi. 8/10 [Lawrence English]
The Wire (UK):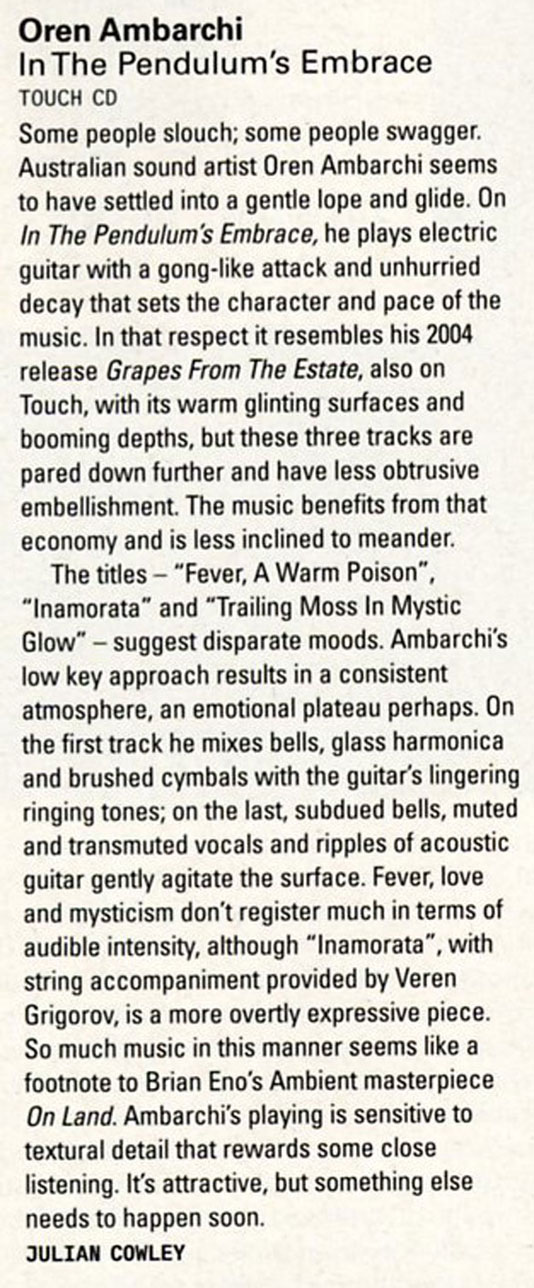 White_Line (UK):
Ambarchi continues to investigate every possible avenue available to the deconstruction of the guitar, with this – his follow up to the euphoric, pastoral, "Grapes from the Estate". "In the Pendulum's Embrace", further reduces and distils Ambarchi's guitar sound, and fuses it with glass harmonica, percussion, strings, bells, and piano. Yet from this welter of instrumentation emerges a spare, enigmatic soundscape. These protracted dirges, these tendrils of sound instantly remind me of Labradford on "downers" – all of the components of the composition minutely dissected and exposed, each tone hovering, never yielding to unbearable tension.
Ambarchi still severs his source material, reconfiguring and sliding components in and out of each piece, but with a much lighter touch than on previous works. His trademarks are still present and prevalent, and the techniques no less honed, but this time more phorensically explored; a music that consists of equal parts of space and activity, inviting the listener into taut, transcendent realms where time slows down, and all is not as it seems. "Fever, a warm poison" is an atmospheric, 18 minute opener to the album that envelops with its claustrophobic atmosphere, followed by "Inamorata", where guitar and strings take a more prominent position amongst the dense ambience.This is quietly intense stuff, a logical descendent of the previous works on Touch, "Suspension" and "Insulation". The closing piece, "Trailing Moss in Mystic Glow" tremors with sub-bass, shimmering guitar, and micro fine slithers of electronica, teetering on the brink of "clicks and cuts" sensibility. "In the Pendulum's Embrace" sees Ambarchi's sound maturing with grace and intelligence, eclipsing his previous work with a highly refined working ethic that is at once nuanced and cerebral. Never before has Van Der Roehe's infamous aphorism, "Less is More" been more poignant. Absolutely sublime, and intelligently constructed. [BGN]
Octopus (Fance):
Atmosphérique et dense, fragile et tendu, In The Pendulum's Embrace est le nouvel exercice d'équilibre sonore méticuleux conçu par le guitariste australien Oren Ambarchi pour le label Touch. Une plongée experte dans un environnement paradoxal où la matière musicale lancinante se découvre de douces et surprenantes aspérités veloutées. visuel Oren Ambarchi
Il y a trois ans, le musicien australien Oren Ambarchi proposait déjà avec son album Grapes from the Estate – également publié sur Touch – une étrange escapade au tréfonds d'un paysage sonore tout en dépouillement, où de frissonnantes digressions de guitares venaient furtivement guider l'auditeur médusé dans un no man's land intimiste et filandreux. Reprenant plus ou moins ce chantier sonique minimaliste où il l'avait laissé, In The Pendulum's Embrace gagne encore en densité, rajoutant à l'opacité ambiante trouble une dose supplémentaire de profondeur atmosphérique et de virulence toute en retenue. Tout au long des trois titres qui parcourent l'album, Oren Ambarchi développe sa vision autant paradoxale et cohérente qu'originale d'une musique capable de lier dans un même phrasé musical, presque dans une même respiration de note, une tension abyssale et une fragilité instinctive. Comme la durée des morceaux le laisse entendre, le temps qui s'écoule imperturbablement comme de l'eau filtrant lentement dans une clépsydre est le meilleur allié du musicien. Son carburant onirique qui sert de matrice à une œuvre envoûtante, traçant même jusque dans ses titres ("Fever, a warm poison ", "Trailing moss in mystic glow") une expertise musicale de l'ambivalence portée à un niveau rarement atteint jusque-là. Pour enfoncer le clou sensible de cette œuvre à l'évanescence mystique, Oren Ambarchi élargit son champ instrumental autant qu'il dilate ses courbes musicales circonstanciées. Harmonica, piano, percussion, cloches, cordes et même voix viennent tour à tour rajouter leurs caractères introspectifs à cet étrange attelage de résonance harmonique. Imaginez Sunn O))) – dont Oren Ambarchi est un des membres itinérants les plus actifs – délestant ses drones de leur puissance électrique pour s'abandonner à une évanescence organique vibrionnante et vous aurez une idée de l'expérience sensitive et sensuelle qui vous attend à l'écoute d'In The Pendulum's Embrace. [Laurent Catala]
Il Manifesto (Italy):
Nella lista degli artisti di ricerca più eclettici e impavidi degli ultimi anni l'australiano Oren Ambarchi è riuscito a ritagliarsi una posizione di prestigio; non solo per essere diventato uno dei nomi di punta della Touch, ma anche per aver attraversato la frontiera della sperimentazione per poi arrivare ai territori del cantautorato e del folk anglofono. Il suo nuovo album ripercorre questo cammino introspettivo attraverso tre lunghe tracce dai caratteri decisamente differenti: con Fever, a Warm Poison i toni sono oscuri e ossessivi, sorretti da bassi profondissimi e da continui incroci strumentali. Chitarra, piano e micro elementi cristallini vengono sciolti in questo fluido denso e opprimente, ma già con Inamorata la tensione viene alleggerita e si torna con la mente alla placidità ambient di Harold Budd. La lenta metamorfosi sonora giunge a pieno compimento nel brano finale, la romantica Trailing Moss in Mystic Glow, in cui gli scarni elementi folk prendono piena forma e si trasformano in malinconiche trame musicali e sgualciti accenni vocali. Un disco dai tratti autunnali che si propone come un'opera compiuta. [m.ca.]
The Wirewool (Web):
There is a formula at play on Oren Ambarchi's new album, 'In The Pendulum's Embrace', and it's this; improvised guitar, barely audible cymbals and electronic pulses. It's so quiet, it's barely there at times. I always point to albums like this to combat 'emperor's new clothes'-type decrying from anti-avant garde cynics – every note feels like it's in exactly the right place, like the whole thing would fall apart if Ambarchi didn't know what he was doing. The whole thing moves forward as if by willpower alone, and it's pretty mesmerising.
D-Side (France):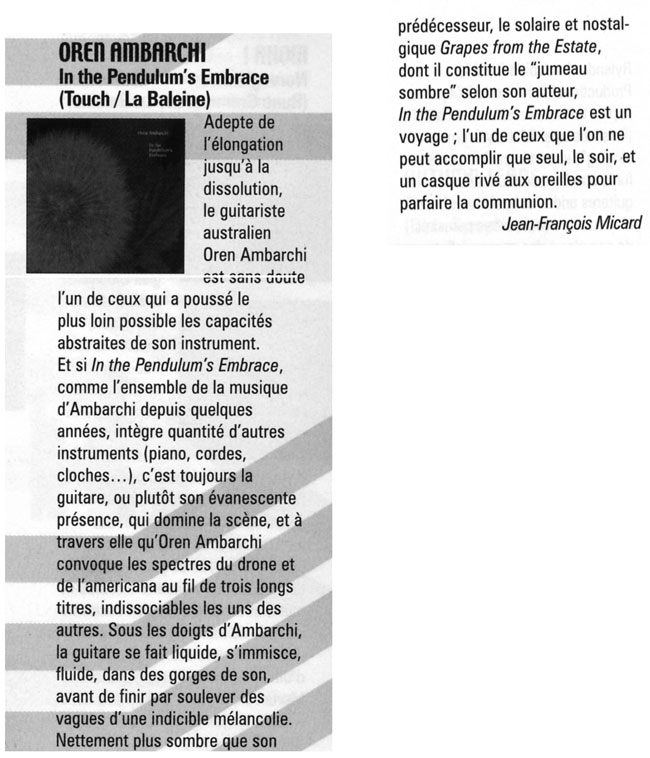 VITAL (Netherlands):
This is already the fourth CD for Touch by Australian sound artist Oren Ambarchi, who is known for his high quality ambient soundscapes. On the three instrumental tracks on this album Ambarchi explores the possibilities of the guitar even further than on his previous albums. Apart from the guitar, he incorporates glass harmonica, strings, bells, piano and percussion. These ingredients (with extended post-production) give the music a strong meditative, tranquil feeling. Opener Fever A Warm Poison features slow, deep pulses to which guitar patterns have been added. The second track Inamorata almost seamlessly continues this theme. After a while strings by Veren Grigorov set in, creating a beautiful mournful song. The closing track, Trailing Moss In Mystic Glow features more prominent guitar plucking to a similar backing. Given the close resemblance of these pieces, it would perhaps have been better if all tracks were mixed in to one long ambient experience, but that is just nit-picking really. In The Pendulum's Embrace is a fine and worthy addition to the already extensive catalogue of Oren Ambarchi CDs. [FK]
Keys (Germany):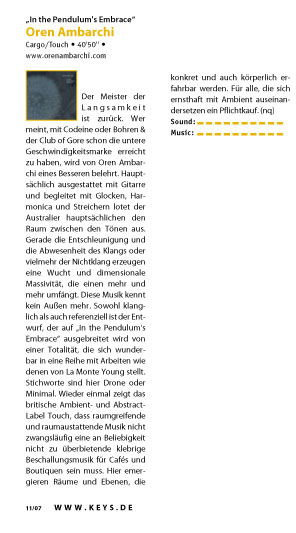 Jazzthetic (Germany):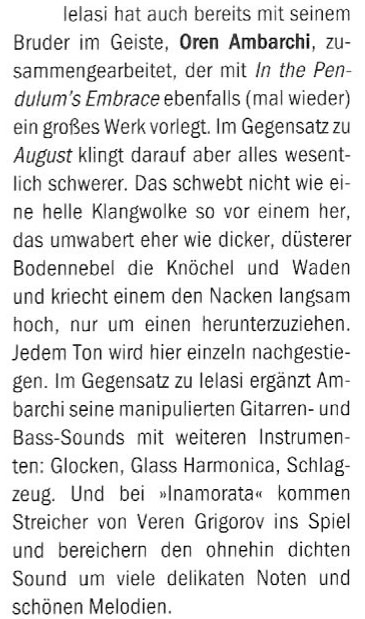 030 (Germany):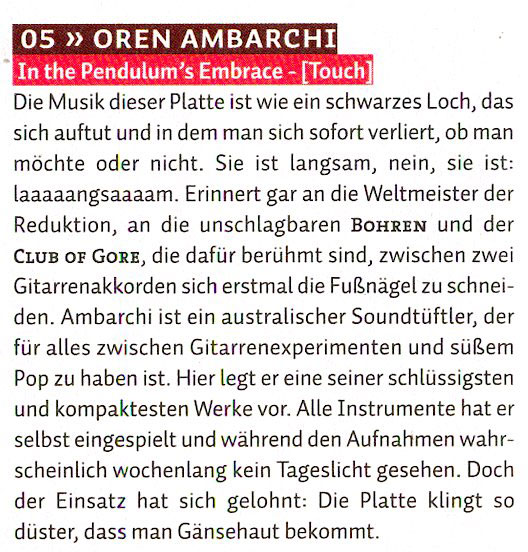 Sound of Music (Sweden):
Australiensaren Oren Ambarchi har under flera år experimenterat med gitarren som källa för ljudskapande. Av den handfull skivor jag hört är "In the Pendulum´s Embrace" den bästa. Den är mörk, men oj så vacker. Den är långsam, men oj så uttrycksfull.
Uppenbarligen har Ambarchi haft ljudens resonans i åtanke när han spelat in "In the Pendulum´s Embrace". Och den avskalade ljudbilden gör sitt till för att få fram både subtila och mer hörbara skiftningar. Samtidigt finns ett stort djup i ljuden, även det ett tecken på resonansens inverkan. Det är som att han öppnar upp gitarren och låter ljuden som ligger inbäddade långt ner i dess inre smyga och ibland nästan skutta fram.
Skivans tre långa låtar är nära besläktade med varandra, inte minst stämningsmässigt. Men de tar ändå olika vändningar. På "Inamorata" liksom studsar elgitarrens i slow motion när medmusikern Veren Grigorov (enbart på denna låt) lägger an den långa, dronande stråken mot stränginstrument. Det är väldigt vackert! Möjligen leder det fel att tala om elgitarr i sammanhanget, det låter snarare som att runda distinkta "knäpp" placeras ut i rummet och som efter själva "knäppet" sakta rinner ur ljudbilden.
Att Ambarchi samarbetat med det experimentella metalbandet Sunn O))) känns inte märkligt när man hör "Fever, A Warm Poison". Ambarchi är inte på något sätt lika ruffig som Sunn O))), inte heller lika hård. Snarare finns det en värme i låten, möjligtvis en febrig sådan, men dock. Uppbyggnadsmässigt finns det ändå klara likheter, en oerhört avskalad rock som i sin långsamhet suddar ut de rytmiska konturerna. Det är väldigt effektfullt och det är nästan så att man själv fyller ut "tomrummet" i fantasin. I Ambarchis fall blir rytmiken mer markerad allteftersom låten går.
Grunden i "Trailing Moss in Mystic Glow" läggs även den med minimalistisk ljudskapande elgitarr. Men här finns även en akustisk gitarr som varsamt improviserar. Harmoniskt och försiktigt, och inte minst avslappnat. Ambarchi visar att han är en mycket intressant gitarrist och inte "bara" en mycket intressant ljudkonstnär. [Magnus Olsson]
Spex (Germany):
Als Musiker seinen eigenen Sound zu finden, ist eine sehr schwierige, wie auch äußerst rare Angelegenheit. Oren Ambarchi kann sich diesbezüglich glücklich schätzen. Der Klang seiner elektrischen Gitarre ist einzigartig, die musikalische Gestaltung und Ausführung seiner Kompositionen sucht ihresgleichen. In konzentrierter Manier meißelt der australische Musiker, dessen Instrument nur noch in seiner materiellen Beschaffenheit einer Gitarre gleicht, unter klanglichen Aspekten aber die Grenzbereiche zwischen Computermusik und analoger Elektronik erkundet, subharmonische Klangskulpturen aus tieftönigen, glasklaren Flagoles. Diese Töne werden zu Loops zusammengefasst, die aufgrund ihrer zeitlichen Länge nicht mehr als solche erscheinen. Hinzu kommen – im Gegensatz zu seinen früheren Werken, die nur den Fokus auf die Gitarre legten – weitere Instrumente: Ein Jazz-Schlagzeug, eine akustische Gitarre und schließlich diverse Resonanzobjekte, die auch in seinen Kollaborationen mit dem australischen Turntablisten Martin Ng verwendet wurden. Das Prinzip ist einfach, das Resultat schlichtweg umwerfend.
Soweit so gut. Dennoch muss sich Ambarchi mit seiner neuesten Arbeit »In The Pendulum's Embrace« die Frage gefallen lassen, ob er denn nicht Gefahr laufen würde sich zu wiederholen. Spätestens seit dem sagenhaften Vorgänger »The Grapes Of The Estate« war klar, dass der Nachfolger sich nicht mehr auf das Altbewährte verlassen dürfe. Dies ist nun leider zum Teil geschehen. Nach wie vor bilden Ambarchis ätherische Loopkonstruktionen die Basis für seine Kompositionen. Eine Änderung muss also erneut über die Integration von weiteren Instrumenten herbeigeführt werden. Während bereits »Grapes Of The Estate« dieser Maxime Folge leistete und zum Beispiel auf den rhythmischen Puls eines jazzigen Schlagzeugs zurückgriff, vollzieht sich der Wandel auf »In The Pendulum's Embrace« über die Verwendung von Streichern. Ein genialer Schachzug von Ambarchi, der allerdings viel zu kurz ausgespielt wird und lediglich in dem Stück »Inamorata« zum Zuge kommt.
Hier verwebt er seine subharmonischen Tonmeditationen, die ihm auch Eingang in die Welt von Sunn O))) und diversen Nebenprojekten gewährt haben, mit mehrmals übereinander geschichteten Streichermelodien. Die zwei weiteren Kompositionen »Fever, A Warm Poison« und »Trailing Moss In The Mystic Glow« bewegen sich erneut auf vertrautem, qualitativ hochwertigen Terrain. Dennoch ist es ernüchternd mit anzusehen, dass ein Musiker mit einem derartigen kreativen Potenzial stets innerhalb identischer musikalischer Schattierungen operiert. Seinen eigenen Sound gefunden zu haben bedeutet schließlich nicht zu stagnieren und immer wieder mit der gleichen Form zu experimentieren. Ambarchi wird nur mit einer größeren Risikobereitschaft neuen klanglichen Gehalt in seine Stücke implementieren können. Bis dahin werden auch zukünftige Veröffentlichungen entzücken können, aufregend werden sie aber gewiss nicht sein. [Raphael Smarzoch]
Skug (Austria):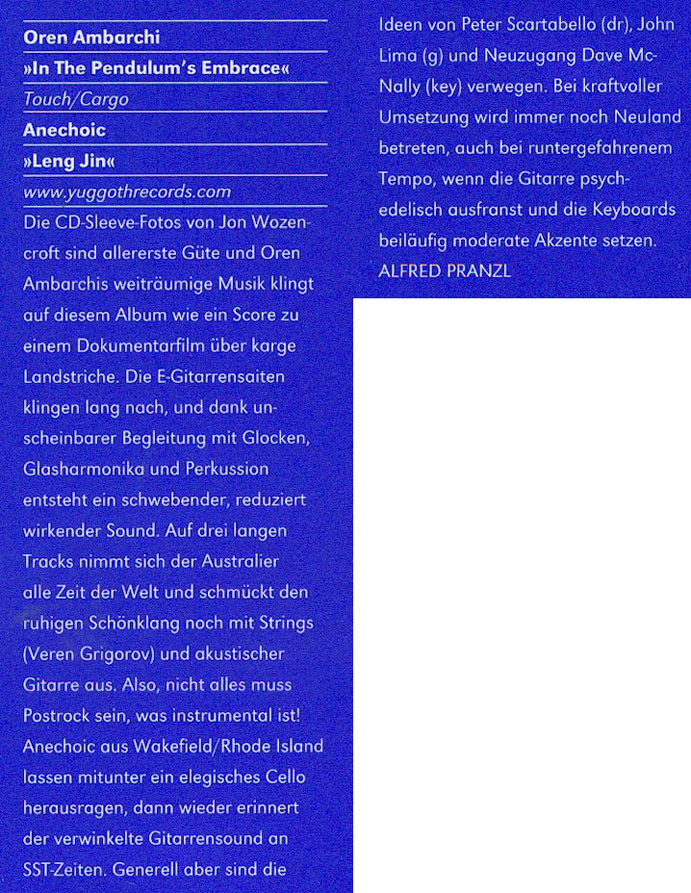 Westzeit (Germany):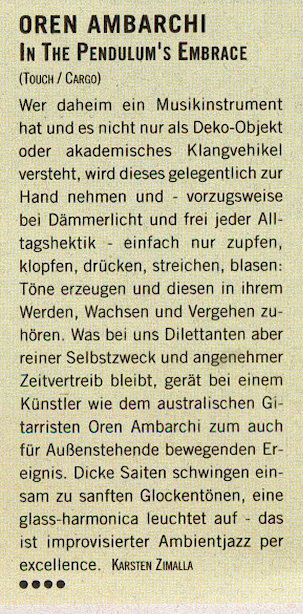 plan b (UK):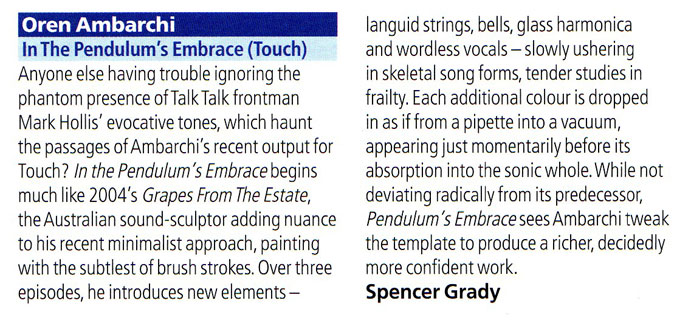 AVUI (Spain):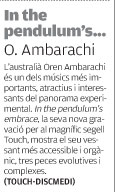 musiquemachine (UK):
This is Australian guitarist/soundsmith Oren Ambarchi's sixth solo album & it finds him centering all the tracks around deep bass-like closed, airless & often sombre guitar revolution's. With melodic, emotional & warming elements appearing here & there, like flowers opening on the tracks' closed shoulders.
As the album's title suggests, things move very slowly within its confines. The three tracks last around fifteen to twenty minutes apiece. On the surface they repeat similar guitar/cymbal patterns over and over again with seemingly little textural change or variation. But there is progression here, it's just at a snail's pace; subtle details are slowly added, as well as growing melodic and warm elements such as strings, acoustic guitars and Ambarchi's own emotional vocal murmurs on the dying embers of the last track. Throughout the album he manages to exercise great self-discipline and control, developing the tracks at this slow pace. After repeated listening it starts to slow with its pace and movement, taking in its growing wonder & glow.
A real 'slow burner' in the true sense of the phrase – an album for those who are willing to wait, contemplate and slowly take in the album's allusive beauty. [Roger Batty]
Trust (Germany):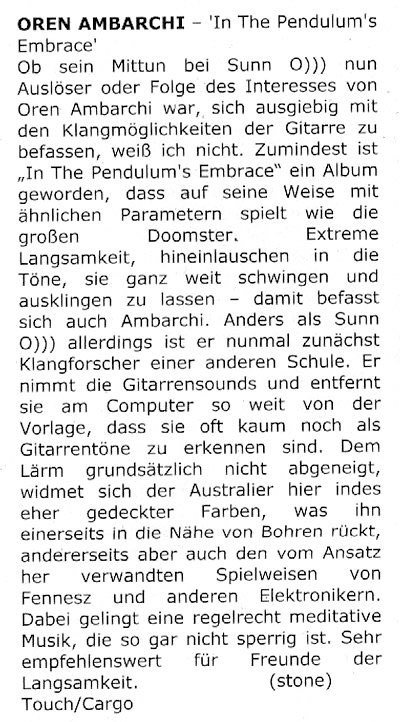 Ox (Germany):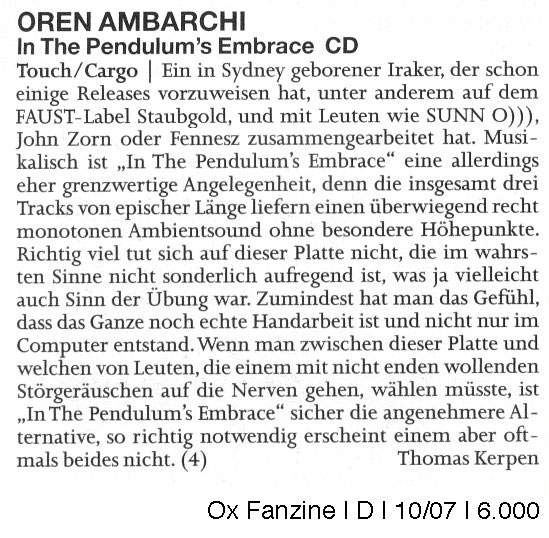 Earplug (UK):
This is Australian ambient guitarist Oren Ambarchi's fourth album for the Touch label, that dedicated English home for electro-acoustic and environmental sounds. The record's three extended pieces allow ample time for mood-enhancing seepage, as Ambarchi's guitar drifts beyond the sounds of a stringed thing. He uses his axe to shape low test-tone repeats, accompanied by the barest of cymbal caresses. Then, a slightly jangling chord brushes past, and a partial melody forms. String arrangements join in for "Inamorata," and cooing feedback makes a fleeting entrance on the final section. Ambarchi's work descends in a curving line from Fripp and Eno's mid-'70s collaborations, although the sense of suspension is even stronger. He has stripped his music down to a cumulative minimalism that imposes — or perhaps infiltrates — a sense of evening at its most lambent. This is the subliminal sound of stealthy creeping. (ML)
Triggerfish (Germany):
Keine Musik für hektische Momente
Bitte ein letztes Mal tief durchatmen und danach alle Körperfunktionen auf minimale Aktivität herunterfahren. "In The Pendulum´s Embrace" ist kein Album für hektische Momente.
Trotz konventioneller Instrumentierung wagt sich OREN AMBARCHI auf dem Nachfolger zu "The Grapes Of The Estate" sehr weit auf soundorientiertes Terrain hinaus. Anfänglich fühlt man sich an den späten Output von Bohren & Der Club Of Gore erinnert, nicht zuletzt da AMBARCHI auch ein reduziertes Jazz-Kit mit an Bord hat.
Angesichts der puren Lust an der Schönheit von Sound, die der Mittelteil von "Inamorata" ausstrahlt, mag einen vielleicht der eine oder andere Thrill Jockey Act als Referenzpunkt ins Gedächtnis kommen, aber nach und nach lösen sich alle Vergleichsmöglichkeiten in Luft und Wohlgefallen auf.
Tip für alle Freunde des Unkategoriesierbaren und dank des bewährten Touch-Artworks per se Pflichtkauf für Wozencroft-Fans
failme (UK):
Whilst flirting with the outer limits – whether it's deeply experimental laptop exercises with Keith Rowe or the doom-laden low-end speaker worship of being a supporting Sunn O))) member. Oren Ambarchi's solo musical excursions have tended to be more gentle, introverted and accessible. It may be a lot less dense than his previously acclaimed 'Grapes from the estate' LP. But if anything, it's more successful.
Guitar, bells, drums and voice unfold unhurriedly in music that never fails to captivate. A moving and staggeringly beautiful record, he nearly made everything else this month sound shit.
VITAL (Netherlands):
This is already the fourth CD for Touch by Australian sound artist Oren Ambarchi, who is known for his high quality ambient soundscapes. On the three instrumental tracks on this album Ambarchi explores the possibilities of the guitar even further than on his previous albums. Apart from the guitar, he incorporates glass harmonica, strings, bells, piano and percussion. These ingredients (with extended post-production) give the music a strong meditative, tranquil feeling. Opener Fever A Warm Poison features slow, deep pulses to which guitar patterns have been added. The second track Inamorata almost seamlessly continues this theme. After a while strings by Veren Grigorov set in, creating a beautiful mournful song. The closing track, Trailing Moss In Mystic Glow features more prominent guitar plucking to a similar backing. Given the close resemblance of these pieces, it would perhaps have been better if all tracks were mixed in to one long ambient experience, but that is just nit picking really. In The Pendulum's Embrace is a fine and worthy addition to the already extensive catalogue of Oren Ambarchi CDs.
uncut (UK):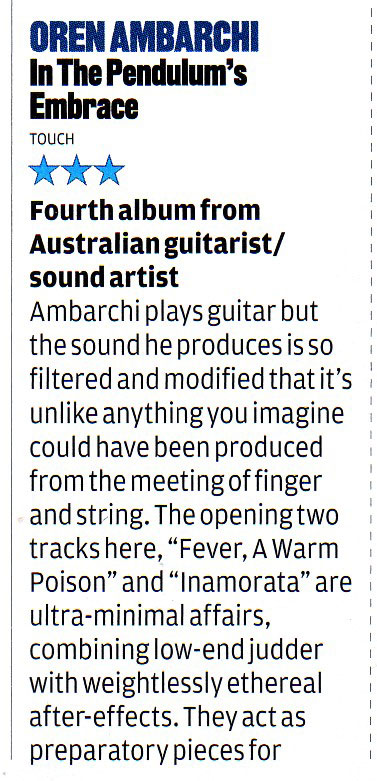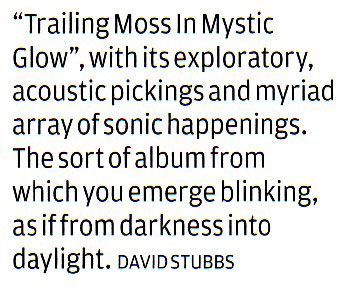 Rockerilla (Italy):


GoMag (Spain):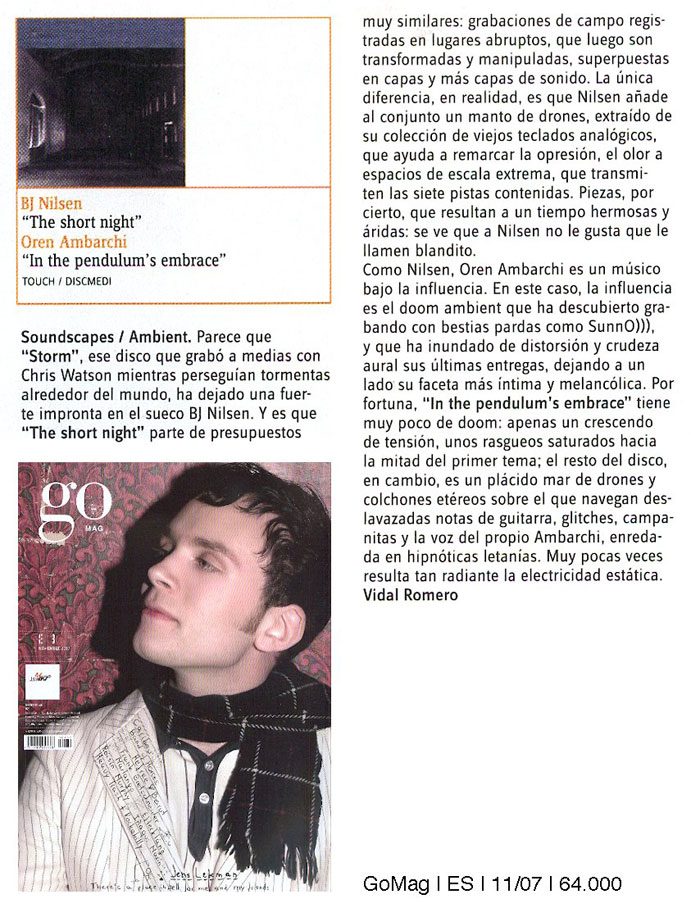 Black (Germany):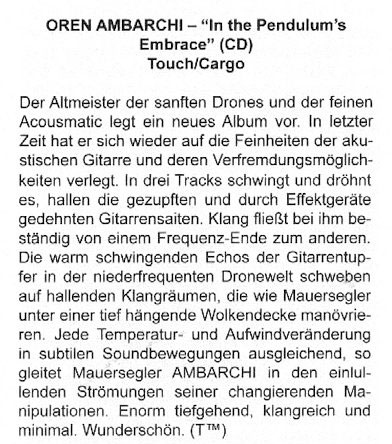 RifRaf (France):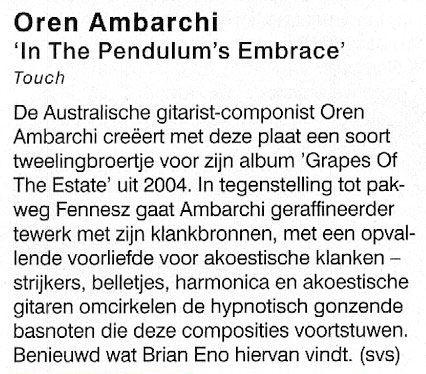 TinyMixTapes (USA):
if Oren Ambarchi's collaborations with sonic foragers like Keith Rowe, Christian Fennesz, and Sunn 0))) is like forcing sound through a physical endurance test, then his newest full-length In The Pendulum's Embrace throws it into the cosmos. It's expansive, harmonious, almost spiritual in its humbling effect. It's the playing out of sound molecules. Like its 2004 sister album, Grapes From The Estate, this solo release examines and subsequently meditates on the possibilities of using sound to tell a story, without resorting to typical sound narratives or tonal signifiers. Although this approach doesn't provide a full picture of Ambarchi's adaptability and musical range — check his work with Günter Müller and Philip Samartzis on Strange Love — it does enunciate a story so deliberately dragging you'd probably call it glacial if it weren't this warm and inviting.
Blame the expanded sonic palette for his success in this regard. With acoustic or electric guitar driving each track, Ambarchi has added even more sheets of delicate, twinkling flourishes atop his trademark sub-sonic bass slabs, such as glass harmonica, bells, piano, percussion, strings on "Inamorata" (thanks to Veren Grigorov), and the first appearance of vocals, albeit treated, on "Trailing Moss in Mystic Glow" — all of which are refracted through the loop-oriented nature of the compositions. Despite the many sound sources, the music is clear, its pacing just plodding enough so the sounds aren't rubbing shoulders. Sure, the density of the low-end is continually at odds with the crispness of the high-end, yet when entrenched together with no end in sight, the disparities erode, the differences vanish.
Maybe "tactile" is the word I should be using: these songs aren't written, they're shaped. Ambarchi is building on sensibilities popularized by Brian Eno, yet the big picture points to the human urge to do art as a way to abstract the physical. Amazingly, the resulting shape isn't constructed from typical avant-garde dissonance, but from a Debussy-esque consonance, in which the richness and warmness forms an ambiguous contour lacking a clear tonal center. And here's where the inherent physical properties of Ambarchi's signature sound-constructions take real form: A trite drumbeat couldn't make your coffee spill over, but two low notes seeking physical resolution, wavelengths vigorously vibrating off one another, certainly can.
It's perhaps Ambarchi's exaggerations of this movement that make his story that much more believable. Since he isn't adopting a musical language to which most Western ears are accustomed, it's all very impressionistic rather than descriptive, stories that allude rather than point. Yet it's all very coherent. Don't bank on Ambarchi to create an 18-minute piece like "Fever, A Warm Poison" to impart some sort of moral lesson or clearly defined payoff. You just have to trust that these ruminations are a confluence of an artist making music for over 20 years, one whose insatiable desire to create art is reflected more in his prolificacy than in the spatial, minimalistic beauty of his music. And by abruptly cutting off the last track "Trailing Moss in Mystic Glow," Ambarchi has ensured that this cosmic story is to be continued.
Bad Alchemy (Germany):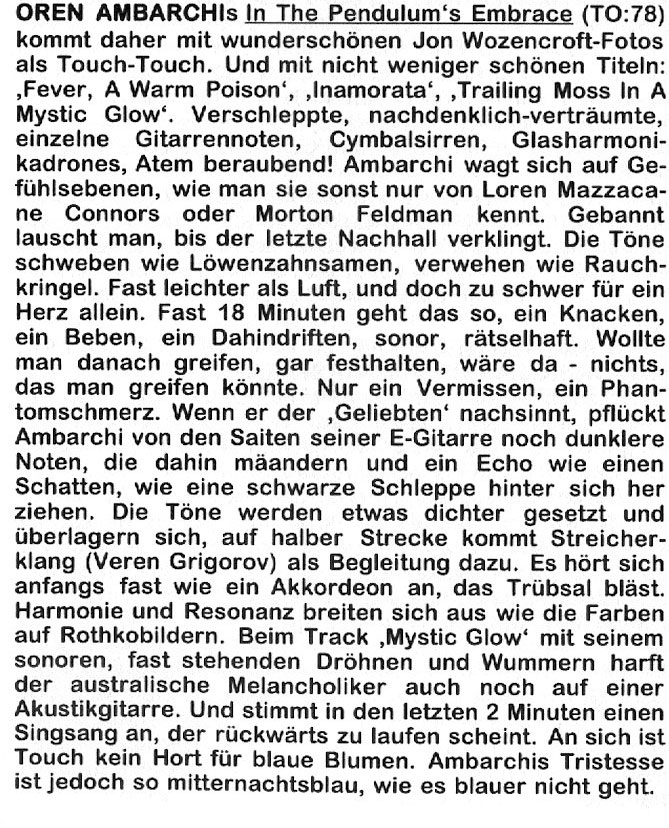 Flux (UK):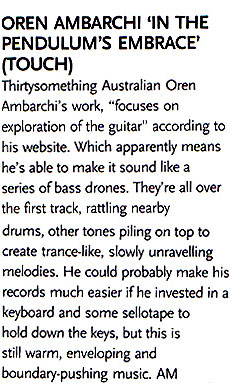 Gonzo (Belgium):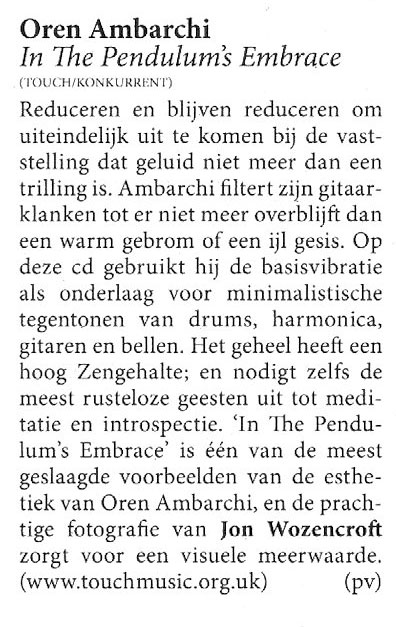 Popnews (France):
Trois ans après l'album "Grapes From the Estate", l'Australien Oren Ambarchi continue et approfondit ses explorations sonores en les accompagnant d'une palette d'instruments allant de l'harmonica au piano, en passant par la guitare et les percussions. Au travers de trois titres d'une durée de 10 à 18 minutes, la musique d'Ambarchi développe tout en douceur une musique aérienne, dense et fragile. Jouant sur les harmonies et les résonnances du son et son amplification, ce disque nous emporte dans une longue contemplation aux limites de l'abstraction.
Habitué des collaborations avec des artistes comme Otomo Yoshihide, Evan Parker, Voice Crack, Fennesz ou encore John Zorn, Oren Ambarchi cherche lui aussi à dépasser les conventions de la musique estampillée traditionnelle et opère un travail sur le son et sur les instruments pour leur faire atteindre de nouvelles limites, de nouvelles possibilités que l'on n'envisageait pas.
Principalement axé autour de la guitare, cet opus d'expérimentation ambiant souffre peut-être d'une technicité un peu rebutante dans sa démonstration, mais ce n'est pas ce genre de détails qui devrait arrêter les aficionados des artistes précédemment cités, qui sauront réserver à Oren Ambarchi la place qu'il mérite.
A noter qu'Ambarchi a été le coorganisateur du festival d'expérimentation musicale "What is Music?" en Australie, et qu'il a récemment coproduit une série télé également sur l'expérimentation musicale intitulée "Subsonics". [Xavier Cottin]
Playboy (Poland):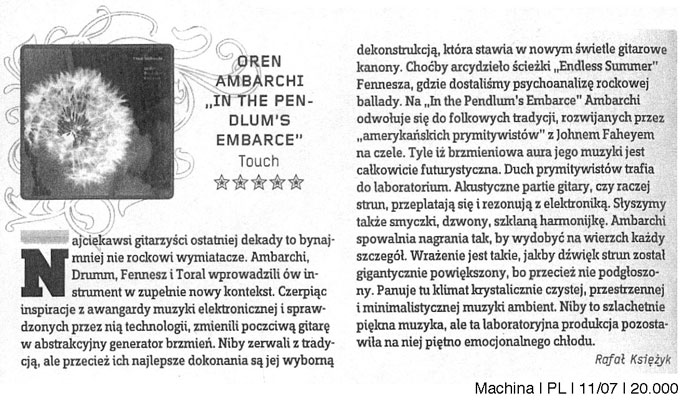 The Age (Australia):
Stripping rock'n'roll
Musician Oren Ambarchi deserves attention, writes Dan Rule.
THERE'S music that moves, there's music that affects, then there's music that sets off alarms. The work of Sydney-raised, Melbourne-based sound artist Oren Ambarchi does all three — the latter, quite literally. "About four years ago, Stephen O'Malley from Sunn 0))) was DJ'ing one of my songs at a festival and the frequencies triggered the fire alarms," he recalls over lunch. "The fire sprinkler system rained out the whole place and the fire department had to come down and evacuate everyone. "So the next day O'Malley called me and said, 'Oren, we need to work together'. That's how it all started with Sunn 0)))." Over nine years and almost 20 solo and collaborative releases — plus his work with aforementioned US ambient doom-merchants Sunn 0))), legendary experimental musician John Zorn, Mike Patton and others — Ambarchi's music has traversed the subtle extremities of sound.
Unfairly neglected in his own country, Ambarchi's reductive, pointedly minimalist and richly tonal guitar pieces have generated the kind of international attention and acclaim that most Australian artists only dream about. This year alone, he has travelled abroad for commissioned live performances and tours on six different occasions; the latest of which was as Portishead's lone Australian invitee during their curatorship of the prestigious All Tomorrow's Parties festival in Britain.
But Ambarchi's understanding of his music is a relatively straightforward one. "I think a lot of what I do is really connected to rock music," says the 38-year-old. "But it's almost like stripping it to the bones … so for some people, it becomes almost unrecognisable. It's still quite physical and it still has change, just like rock songs would, but it's all just done in a really minimal, stripped-back way. "A lot of it is actually derived from the process of elimination." Ambarchi's musical experience began in a different realm entirely. After learning the drums as a young teen in Sydney, he gravitated towards the jazz community, eventually moving to New York during the late '80s to study Jewish mysticism at a Brooklyn rabbinical college by day and dive headlong into the free-jazz scene come evening.
But it was after witnessing a live performance by legendary Japanese guitarist Keiji Haino on the Lower East Side that Ambarchi's creative expression took a dramatic turn. "It just completely blew me away. It was like this big epiphany … after seeing so many great New York musicians, I was seeing someone who didn't really have a technique. What he was doing just had so much personality that I just thought to myself, 'I want to do this, I want to play guitar like this'!"
Ambarchi's latest projects — fourth official solo album In the Pendulum's Embrace, and second album as part of Sun (a duo with Sydney producer Chris Townend) I'll Be the Same — are two of his most developed and starkly polarised to date. While Pendulum sees Ambarchi rendering some of the deepest, most shuddering pure guitar tones of his career, I'll Be the Same has the duo dabbling in the most fragile of acoustic dynamics and arcane, falsetto-laden pop. From whichever vantage point, the projects seem an odd pair. But for Ambarchi, almost predictably, they come from a similar place. "I'm just interested in stuff that draws you in," he says.
Spex (Germany):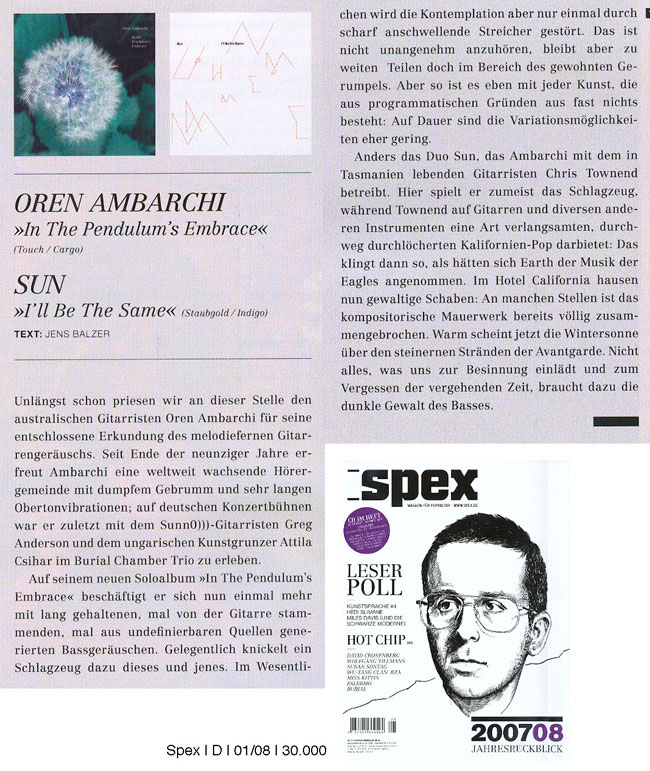 Revue et Corrigé (France):
d-side (France):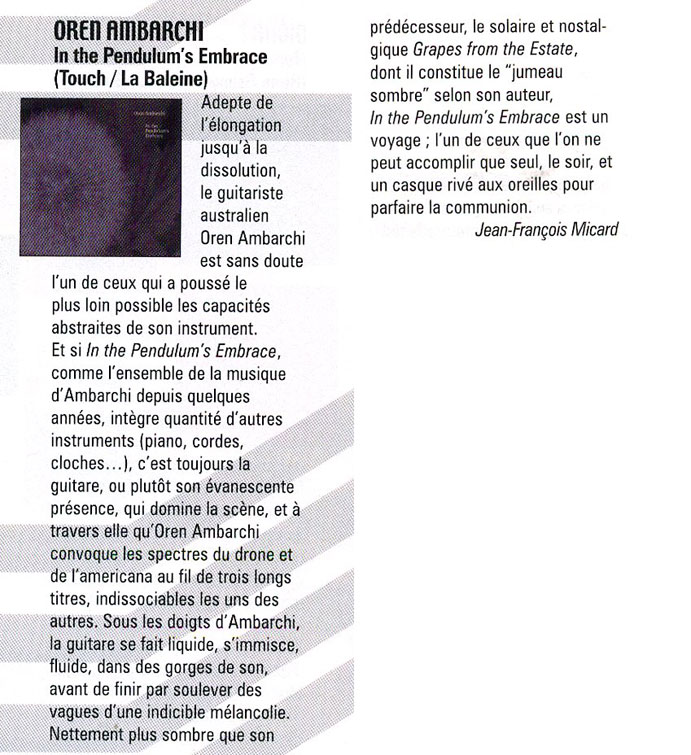 Dusted (USA):
With over two decades worth of live performances and an ever-increasing discography to his name, Australian guitarist/drummer/experimentalist Oren Ambarchi knows no bounds in his sonic explorations. Whether it be testing the depths of darkness with the hooded Sunn 0))) crew, exploring harmonic minimalism with fellow Aussie Martin Ng, or creating massive guitar compositions on his own, Ambarchi has established himself as a mighty force in the world of out-there music. His latest solo full-length, In the Pendulum's Embrace, is no exception, shaking foundations with its otherworldly tones and time-warping guitar palettes.
Though seemingly worlds apart from the skittish experimentation of 1999's Insulation, In The Pendulum's Embrace isn't too much of a sonic departure for Ambarchi's recent work, especially considering the gentle melodies explored on his 2004 full-length, Grapes From the Estate. Pendulum almost picks up where Grapes left off, descending into a deeper realm of subsonic dissonance from the sustained bass note clipped at Grapes' end. As Jason Bivins noted in his review, the incorporation of such glowing textures was rather surprising for Ambarchi's usually difficult and complex exhibitions. But while Pendulum doesn't necessarily depart from the more accessible approach exercised on Grapes, it does take steps toward marrying the dark mysticism of his Southern Lord compatriots with the invitation of patient drone.
The first of Pendulum's three lengthy tracks, "Fever, A Warm Poison," exhibits an array of Ambarchi's meticulously layered instrumentation, incorporating touches of piano, bells, glass harmonica, percussion and of course, petrifying bass frequencies. The tones topple slowly, braided in and out of tune with lazy guitar chords that could've been lifted from a recent Earth record, even more contemplative and sloth-like in their structure. The acoustic subtleties that tickle beneath the electric pressures are remarkable, generously rewarding the attentive listener. It wasn't easy to achieve the level of compromise between the competing acoustic/electric elements; in an interview with Australian blog Cyclic Defrost, Ambarchi confesses the number of mastering attempts involved with Pendulum, including the exasperation of Chris Townend, his collaborator in the pop group Sun. Australian studio Moose finally secured the proper harmonic balance though, and the results are staggering.
"Inamorata" evolves with greater density than the album's opener, solemnly stretching the overlapped guitar plucks beneath the string work of Veren Grigorov, who also lent his talents to "Remedios the Beauty" on Grapes. The track's components are stripped away as slowly as they were assembled, acquiescing into the echoes from which it originated. "Trailing Moss in the Mystic Glow" is the most uplifting of Pendulum's exhibits, though it still wades in the melancholic void that the record so gorgeously fills. He even threads his own vocals among the guitar and bells, magically fading in as if they'd been there the whole time, humming backwards among the acoustic's slippery strums. The chords are cut short at the record's end, shutting off like the timed limit of a periscope peek into infinity.
For a man whose recorded output and collaborations expand at the rate of escalating gas prices, it may seem a little late in the game to finally be covering Pendulum's release, I admit. Avantists keen enough to keep up with Ambarchi's expansive work will already be quite familiar with the record, originally unleashed in the States and the UK last Fall by the equally outstanding Touch and Southern Lord labels. However, in keeping trend with his last full-length, Ambarchi's devilish chums at Southern Lord have recently released Pendulum to 180-gram double-vinyl, more accurately equating the record's physical weight with the sonic mass it conveys and including an exclusive, side-long composition with Anthony Pateras' prepared piano. I'm hard-pressed to think of another musician whose work is so deserved of such treatment, and Pendulum proves itself as an essential step in Ambarchi's amorphous exploits. He already has several other new releases available for 2008, including a collaboration with percussionist z'ev, a breathtaking 7″ for Touch's Sevens series, and an upcoming one-sided LP for Table of the Elements, so pay attention – there's no telling where Ambarchi's excursions will find him next. [Cole Goins]