Released: 2011
CD
Track listing:
Track A: Day and Night 27:14
1. Day
2. Night
3. Alas!
Track B
4. The Sleeper in the Valley 13:32
CM von Hausswolff says: "I was approached by my old friend and Radium 226.05 colleague Ulrich Hillebrand, now director of Angered Theatre in Göteborg. He informed me that there was a new play in the process of being written by author and theorist Michael Azar called "Jag är en annan" (I is another) stemming form the famous letter written by Arthur Rimbaud in his youth. The play uses Rimbaud's life from being a young poet in Charleville ending with him being the trader in Harar, Ethiopia. Hillebrand asked me if I was willing to compose the music to this play. I accepted. I told Hillebrand that I needed to use material that had something to do with Rimbaud's life and as he had connections in Ethiopia and in the small city of Harar he said: why don't you go to Harar for 10 days and see what you can find?
So I went to Addis Ababa where a guy was waiting for me and drove me the 10 hours beautiful ride to Harar. I made recordings and looked for other useful material.
There are 2 tracks. On the first track, which consists of three "parts" I have used material from Harar. The long dronic sounds are taken form an instrument that I, after searching for days, bought in Harar – it's called a "krar" and is a string instruments (it's quite clear that I have used a string instrument- also if you study Ethiopian music you came across the name of Saint Yared and he was the first to construct a notation system for music… much earlier than the Europeans). As I could not really master the actual playing of this instrument, I bought a bow for a violin and some rosin and with this I got one good tone out from this krar. Then the computer helped me to sort the modes and pitches out. On this piece there also two location recordings: the first one you hear is a recording I did outside Harar on a hill where there are next to no car sounds or other machine sounds – just the wind, insects, some kids and that (I wanted this recording to be more or less timeless or at least 19th century and forward… The second location recording was done in the night in my hotel, where I woke up one night and became fascinated by the leaking taps in my bathroom so I decided to record this.
On the second there are only oscillators used … several of them … AND using one low pitch oscillator I ran a sound filtered through. This sound is the low "rhythm" you can hear, and it's a low pitched morse code signal… and the text is the famous poem Rimbaud wrote in his youth called Le Dormeur Du Val (The Sleeper in the Valley). This poem is a beautiful text starting off in the nature, where a person is sleeping in the grass. Slowly Rimbaud zooms in and we read that it's a soldier and at the very end we are told he has two red wounds on his chest – the guy is dead!"
Arthur Rimbaud lived in Harar from 1894 until shortly before his death in 1891.
This is Carl Michael von Hausswolff's first album for Touch, but the connection goes back many years, of course. Carl Michael von Hausswolff was born in 1956 in Linköping, Sweden. He lives and works in Stockholm. Since the end of the 1970s, Hausswolff has worked as a composer using the tape recorder as his main instrument and as a conceptual visual artist working with performance art, light and sound installations and photography. You can read a full biog on his website here.

Reviews:

Headphone Commute (USA):
This must be a weekend of field recordings for me. At least that is the case when I put on Carl Michael von Hausswolff two track composition, 800 000 Seconds in Harar. The first piece, "Day and Night" is split into three parts, and begins with a field recording on a hill outside of Harar, Ehtiopia, picking up sounds of insects, wind, and playing children. Only a single tone drones slowly on the piece, constructed from a single bow of an Ethiopian string instrument, called "krar". Then "Day" turns into "Night", and we hear a leaking faucet, recorded in von Hausswolff's hotel room. The second piece, "The Sleeper in the Valley" is composed from oscillators, with a low rumbling rhythm of a Morse code signal, reciting the text of a same-titled Arthur Rimbaud poem, "Le Dormeur Du Val". The reference to Rimbaud is no accident – the entire work was commissioned as a soundtrack for a play by Michael Azar inspired by the poet's last years of his life spent in Harar. To gather the material required for the composition, von Hausswolff traveled to Harar for ten days (hence the title of the album), in search of recordings and inspiration. Being a huge fan of sine waves, von Hausswolff produces a challenging record, even for a seasoned noise connoisseur. This is one of CM's works that, if left standing on its own, may be completely overshadowed by its eccentricities. Knowing the concept behind the album may aid in the digestion.
The Sound Projector (UK):
800 000 Seconds in Harar (TOUCH TO:82) is the new massively-droning work from CM Von Hausswolff, a unique creator whose minimalistic results often belie a complex and labour-intensive working method. This release is no exception; commissioned to write the background music for a play about the life of Arthur Rimbaud, this questing Swede flew off to Ethiopia and stayed there for ten days, taught himself to play a stringed instrument called a krar that he bought there in a shop, made some location recordings in selected areas, and thusly gathered the raw material for 'Day And Night', a tripartite piece which takes up a goodly chunk of this release. All this because Rimbaud spent the end of his life in Harar, a small town apparently some ten hours away from Addis Adaba, and the final scenes of the play are set there; von Hausswolff's thoroughness, and the need to ensure he gathered materials that were totally sympathetic to the commission, apparently knows no bounds. The remainder of the album makes use of his familiar analogue oscillators to produce the sort of intense and powerful drone that he has, over some 30 years, made into his signature; 'The Sleeper In The Valley' is strong enough to act as a lodestone for recalcitrant meteorites, and also makes use of an early Rimbaud poem. The playwright in question was Ulrich Hillebrand, Carl-Michael's old partner when they ran the seminal label Radium 226.05 between 1983 and 1993; and it so happens this is his first release for Touch, although he did make an LP for Ash International in 1997. [Ed Pinsent]
The Liminal (UK):
This may be the audiovisual artist Carl Michael von Hausswolff's first solo album for Touch, but he's been an integral part of their community for some time: indeed, he recorded with The Hafler Trio (in his Sons Of God collaborative guise) as far back as 1993. My own first encounter with von Hausswolff was in 2006, when he played after Fennesz and Philip Jeck as part of Touch's 25th birthday celebrations, which shows you just how highly they rate his work. And quite rightly too: his performance that night was the one that I still remember most vividly. Wisps of cigarette smoke and pure sine waves curled into the night air, people lay on the floor with their eyes closed and let this succession of tones wash over their heads, like waves breaking on the shore. It was a vivid demonstration of just how powerful the most minimal of music can be at the hands of a skilled exponent of the form, marrying the scientific (the precise combinations of frequencies) to a blissful emotional resonance. That isn't to say von Hausswolff has been inactive in the intervening periods, far from it in fact. In recent years he has created audiovisual installations around the world in cemeteries, ruined buildings and train sheds, documented his interest in Electronic Voice Phenomena (recordings which purport to contain messages from ghosts living within buildings or even electricity grids), and ruled over his conceptual Kingdoms of Elgaland-Vargaland, which comprise the border spaces between countries, and between the conscious and unconscious. These themes of travel, place, architecture, communication, death, and liminal space are all worked into the 2,437 seconds of 800 000 Seconds In Harar.
The album was conceived in response to a request from theatre director Ulrich Hillebrand to compose a soundtrack to Michael Azar's play about the life of Arthur Rimbaud entitled "Jag är en annan" (or "I is another", the title taken from the famous lettre du voyant sent by the poet). Von Hausswolff sought and found inspiration from the last years of that life, from the 1880s and 1890s, in which the poet's travels took him to Harar in Ethiopia, where he became a friend of Ras Makkonon, the father of the future emperor Haile Selassie, and where he settled as a trader (a trader of coffee and weapons, no less; a far cry from his middle class roots in Charleville). He spent ten days, which is indeed roughly 800,000 seconds, within the city's walls, collecting sounds, investigating native instruments, and researching the poet's time in that place. From these samples, sources and ideas he stitched together a soundtrack which is comprised of two long drone-based pieces, the second of which explicitly references the title of one of Rimbaud's most famous works, his symbolist poem entitled "Le Dormeur Du Val" or "The Sleeper In the Valley".
That piece is actually the one which is most reminiscent of the set from the aforementioned Touch show, being constructed entirely from von Hauswolff's collection of oscillators, and demonstrating a similar kind of sonic architecture. It starts off with a 60Hz electrical hum, before this is joined by a succession of pristine, overlapping sine waves at increasingly high frequencies. This creates a three-dimensional sound space that I can happily spend some time wandering around, exploring the different levels and the intersections, noticing the changes that occur when I move around the room I'm listening to it in (the effect is lost on headphones, naturally). Under all of this appears a quiet, low-pitched buzzing which quickly reveals itself to be morse code, which would have been commonly used at the time Rimbaud was in Harar to carry radio messages. And the message being carried is actually the text of The Sleeper In The Valley itself, though it is of course highly unlikely that you'd pick out its tale of the unravelling of a soldier's life, from an introduction "foaming with light" and warmth, through to a cold sleep which is finally revealed in the denouement to be a bloody, watery death, all couched in a language of grass, flowers, and herbs, even when the drones fade into silence to leave just the dots and dashes. It seems at first listen to be a particularly futile attempt to communicate, across great expanses of time and distance.
The other piece, "Day And Night" is in three sections, and is constructed quite differently. Instead of his oscillators, Von Hausswolff uses the sound of a krar (an Ethiopian lyre) to produce the drone, bowing at it rather than plucking or strumming, while field recordings from Harar are interspersed throughout. It begins with the warmth of "Day", a sonorous low note being joined by a bustle of natural activity: the chirp of crickets, the buzz of bees, the voices of Ethiopian children, the sound of plants being caressed by wind. These all vanish to leave just the stillness of the krar, and the piece takes a darker and colder turn when the "Night" section begins with a constant dripping, which is actually the sound of leaking taps in von Hausswolff's hotel room, an initially puzzling choice of sample. The intensity edges up to dramatic levels during the closing section, which gradually layers on increasingly high bowed notes to create a jarring chord, a horrible shriek of alarm, a musical "Alas!". Taken as a continuous whole, it seems to be a subtle musical symbolist reading of "The Sleeper In the Valley", from life, sunshine and optimism through stillness, and the gradual, horrifying realisation of just what that dripping must represent. When this is understood, the following morse code-based track takes on a different tone altogether, as if it's a transmission from that very particular border area, the afterlife, perhaps even a communication accidentally captured via one of von Hausswolff's Electronic Voice Phenomena devices, a voice of the dead hidden amongst radio static.
Once again, from sources of such seeming simplicity, he has created something remarkably resonant. [Scott McMillan]
Boomkat (UK):
It's hard to believe that it has taken this long for Swedish experimental composer Carl Michael Von Hausswolff to compose a solo album for Touch. In my mind he's always been a part of the label's wider roster, and listening to '800,000 Seconds In Harar' it seems perfectly aligned with the British label's wide-reaching sound. The record was produced as a soundtrack of sorts to a play focused on the life of poet Arthur Rimbaud, and since he ended up in the Ethiopian city of Harar, the theatre director saw fit to send Von Hausswolff out into Africa to explore this mysterious city. How the trip unfolds is what makes '800,000 Seconds In Harar' such an arresting experience; it is clear from the first track that Von Hausswolff is somewhere 'exotic' as flies buzz erratically and crickets squeal rhythmically. Children can be heard playing in the distance, their words barely heard, and Von Hausswolff uses all of these sounds as an accompaniment to his drones, procured from an unusual local string instrument known as the krar. The track is split into three parts, and as the chattering field recordings fizzle out, we are greeted with further dense drones creating an otherworldly harmonic push. The music is both familiar (especially to those already passionate about the Touch catalogue) and deeply alien. Von Hausswolf translates the inherent African qualities with subtlety and intelligence, and by the time we reach the album's closing piece 'The Sleeper in the Valley', its thick, electronic morse rhythms are more than welcome to upset the mood a little. This is the perfect close to a record full of mystery and awe, and one which will no doubt stand up as another jewel in the Touch crown. Recommended.
foxydigitalis (USA):
Made up of field recordings created during his time in the Ethiopian capital of Harar, Carl Michael Von Hausswolff's new record provides the soundtrack to Jag är en annan, a play based on the life of the "infant Shakespeare" Arthur Rimbaud, who himself spent time in Harar as a coffee and weapons dealer in the late 1800′s.
Rimbaud was successful in Harar but also bored. Despite turning his back on poetry he still required intellectual stimulation and this was in short shrift in Harar, a place only made accessible to Europeans 25 years before he arrived. He took up photography and produced a number of self-portraits that show a man looking much older than his 29 years. Life wasn't treating him well; despite his accumulated riches he had little to do but sit and brood, and when his old friend and fellow poet Paul Verlaine received no reply to his letters he was moved to dedicate Illuminations to "The Late Arthur Rimbaud." On top of this, Rimbaud's leg was causing him pain and had to be amputated after a gruelling 15-day trek to the coast to catch a ship back to Marseilles. "My life is over," he opined. "I'm nothing but an immobile lump."
I may be taking things too literally here, but for me 800,000 Seconds in Harar evokes these miserable final months in particular. Despite beginning cheerily with the sound of children playing and singing, the focus of Day soon shifts into the undergrowth. Flies buzz and crickets chirp. A deep and unchanging drone hangs portentously over the scene like a circle of vultures. The children's voices fade into the background and we withdraw to take up the position of outsider, happier in the bushes with the insects than we are 'out there' in an increasingly foreign country.
We're privy here to the silent stagnation – both physically and mentally – of a once-great man. Night, the album's second piece, continues with the exact same headache drone but instead of flies buzzing around dirt we hear taps dripping into water. One imagines the scene: Rimbaud sat alone in his slum, staring at his own haggard reflection and wondering what became of the trailblazing young genius he once was. These are his final sad moments, one leg down and ready to go – the "immobile lump." Occasionally there's what sounds like a sigh or a deep inhalation. A man worn out.
Alas! brings much-needed relief as the drone finally lifts and aims towards the sky. This is Rimbaud's escape; his death as imagined in his poem O Castles! O Seasons! (Alas! the hour of its release/will be the hour of my decease). Slowly it fades to nothing and the gruelling first side comes to an end.
The second side is made up of one extended piece entitled The Sleeper In The Valley after Rimbaud's magnificent poem of the same name. In the poem Rimbaud describes a sleeping man surrounded by nature's beauty and it is only in the very last line that we realise the man is in fact dead, a casualty of war. Nevertheless, he is "at peace," comfortable and even smiling. CM von Hausswolff evokes the scene using elongated, funereal organ sounds and applies it to the poet himself. At last, it seems, Rimbaud is free. [Steve Dewhurst]
The Wire (UK):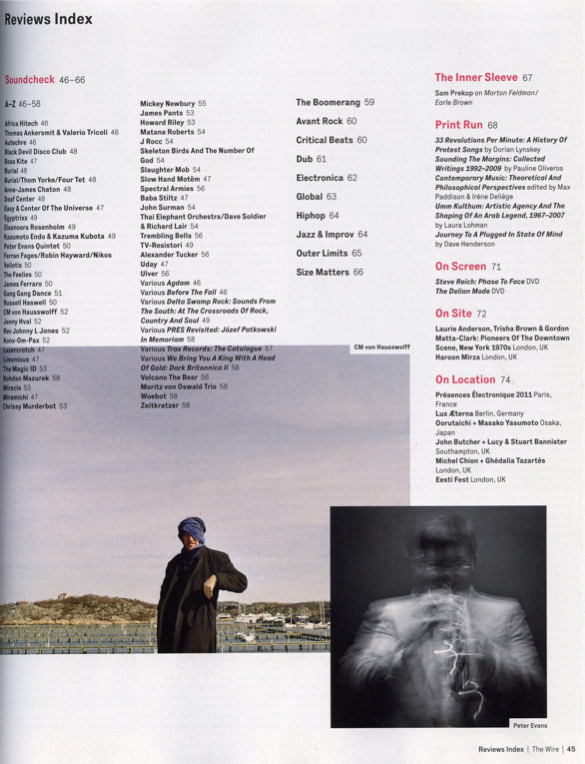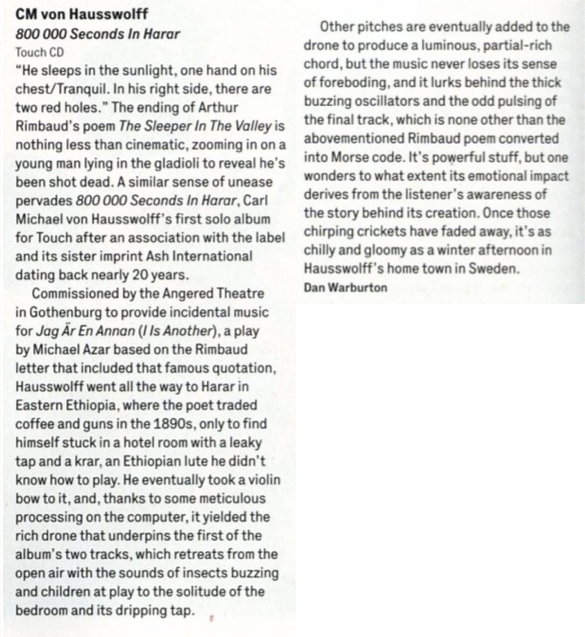 VITAL (Netherlands):
Hard to believe, but this is the first CD of CM von Hauswolff on Touch. I could have sworn there were more. At the basis of the music here was an invitation to do something for a play in Goteborg, based on a famous letter written by Arthur Rimbaud in his youth. The play is about Rimbaud's life, which ended in 1891 in Harar in Ethopia, and obviously Hauswolff asked if its was possible to go to Harar (Rimbaud spend seven years there), and so he went there to do field recordings and soak up the atmosphere. There are three parts to the first track and then one part that is the fourth track. In the first three pieces we encounter field recordings, wind, insects, children and in the second a leaking tap in his hotel room, along with sounds derived from a krar, which is an Ethiopian string instrument, but played with a bow. In 'Night' this slowly builds up to a solitary drone and in 'Alas', the single pitched drone evolves into what seems to be almost like a church organ. Compared to much his previous work, which was more conceptually based, this is actually much more musical. Quite powerful as well as peaceful, I'd say. In 'The Sleeper In The Valley', the drones continue, but then generated through various oscillators and a very faint low rhythm, which apparently is a morse code transcription of the poem by Rimbaud of the same name. Here we return to the more conceptual work of Hauswolff he is better known for these days. This is another piece though perhaps a bit long. [FdW]
Sound of Music (Sweden):
Det är svårt att inte fascineras av Arthur Rimbaud. Han dyker upp då och då i medvetandet. Min senaste Rimbaudperiod var när jag på en bokrea köpte nyöversättningarna till svenska som Alastor Press gav ut 2003. Ungefär i samma veva, när min sambo skulle åka till Etiopien i två veckor, läste jag Oscar Hemers essäbok Äventyraren vid världens ände (Atlantis, 2003) där den svenska journalisten och författaren reser till Harar, dels själv, men främst vandrar han i andras fotspår, som vistats och levt i den etiopiska staden som var knutpunkt för handel på Afrikas Horn innan Addis Ababa grundades i slutet av 1800-talet. Boken handlar om två giganter inom upptäcksresandets fält: Richard Burton och Wilfred Thesiger. Och Arthur Rimbaud, som efter att han övergav poesin 20 år ung, färdades ut i världen, i några år levde han i Aden, Jemen, innan han tillbringade merparten av sina sista år, i Harar, som handelsman, med kaffe och vapen som specialitet. Bland annat.
Nu är jag ånyo ockuperad av Rimbaud, och Harar, via Carl Michael von Hausswolffs nya skiva (faktiskt hans första på Touch), som ursprungligen är musik till Michael Azars teaterpjäs Jag Är En Annan, som spelades på Angereds Teater förra året, i regi av Hausswolffs gamla Radium 226.05-kompanjon Ulrich Hillebrand. Jag Är En Annan – som jag inte sett – är inspirerad av Rimbauds liv. Titeln är hämtad från en fras som Rimbaud skrev i några brev i sin ungdom. En annan Rimbaud-fras, från ett senare brev, som resulterat i ett annat verk, är Bruce Chatwins sista bok: Vad Gör Jag Här?
Jag undrar om Bruce Chatwin någonsin åkte till Harar. Jag tror inte det. Carl Michael von Hausswolff åkte dit, i tio dagar, för att leta efter inspiration, saker att använda, i musiken. Skivan innehåller fyra spår. De tre första – "Day"/"Night"/"Alas!" – hänger ihop. Här har Hausswolff spelat in miljöljud, vid ett berg utanför Harar, barn som pratar, insekter, vinden, fåglar. Senare en vattenkran som droppar i hotellrummet. Droneklangerna kommer ifrån det etiopiska stränginstrumentet krar, som Hausswolff köpt i Harar, där han fick fram en ton som sedan filtrerats via dator. Det sista stycket heter "The Sleeper in the Valley", efter en berömd, tidig, Rimbauddikt, "Le Dormeur du Val". Hela dikten finns i musiken – skapat av oscillatorer – som morsekod!
Jag undrar var mina associatoner hade landat om jag inte känt till skivans tema. Nu läser jag in Rimbaud överallt, återvänder till Oscar Hemers bok, ser Rimbaud tankfullt betrakta barn, fåglar och insekter vid ett berg utanför Harar, ser honom sitta framför ett skrivbord, med papper framför sig, inga dikter nedskrivna, enbart räkenskaper och ett brev till modern i Frankrike. Det är helt tyst. Förutom vattendroppar från en kran. Och i hans huvud växer ett molande ljud starkare och starkare. Han ville vara en annan. Och har blivit en annan. Men vad tänker han? Känner han sig fri?
"The Sleeper in the Valley" intresserar mig minst. Idén lockar mer än det musikaliska resultatet. Men genom att höra "Den Sovande i Dalen", som dikten heter, på svenska, som morsesignaler läser jag Rimbauds visionära lyrik för första gången på flera år. Intressant, för övrigt, att jämföra Gunnar Ekelöfs översättning med Elias Wraaks. Dikten handlar om en ung soldat. Först i den sista versen förstår man att han är död. Carl Michael von Hausswolff kan vara de små frekvensernas mästare, men jag blir inte lika fascinerad här som när jag sett och hört honom live några gånger.
Resten av skivan slukar jag med hull och hår. Miljöljuden tar mig någonstans och samsas med det djupa dronesoundet som fortsätter, på "Night", fortsätter, fortsätter, med vattendropparna som ständigt närvarande skuggor. Enkelt. Effektivt. På "Alas!" trycks musiken ut i längre vågliknande rörelser, ljusare, skarpare färger. Det kunde vara en kyrkorgel, men är fortfarande krar. Musik att gå in i, vara i, stanna i. Märkligt, men nu, ser jag den unga soldaten, i "Le Dormeur du Val", mycket tydligare. Och, inbillar jag mig, Arthur Rimbaud, på sjuksängen i Marseille, dödssjuk av cancer, med blicken riktad söderut. Till Abessinien. Där han kallade sig Adj Abdallah. Eller Abdoh Rinbo.
Cutting Edge (Belgium):
Het literaire leven van de Franse dichter Arthur Rimbaud was kort. Zijn leven in Afrika bestrijkt een veel langere periode dan zijn eigenlijke dichterschap. In het Ethiopische Harar vindt de dertigjarige Rimbaud in 1884 zijn roeping als wapenhandelaar. Hij dompelt zich onder in de lokale cultuur en leert zichzelf Arabisch en Amhaars. Begin 1891 wordt hij ernstig ziek. Zijn rechterbeen is opgezwollen. In april keert hij terug naar Frankrijk, waar zijn been wordt geamputeerd. Op 10 november 1891 sterft de pas 37-jarige Arthur Rimbaud. Het museum in Harar, Maison Arthur Rimbaud, dat volledig aan hem gewijd is en waar hij verbleef, is nu nog steeds een toeristische attractie.
De Zweedse muzikant Carl Michael Von Hausswolff reisde naar Ethiopië om de voetsporen van Rimbaud te volgen. De directe aanleiding was het toneelstuk 'I is another' van de Zweedse regisseur Michael Azar, dat gebaseerd is op de beroemde brief die Rimbaud in zijn jeugd schreef. Azar vroeg aan Von Hausswolff om naar Harar af te reizen om daar de sfeer op te snuiven. CM verbleef er tien dagen en maakte geluidsopnames die hij verwerkte voor het toneelstuk en die tenslotte ook terechtkwamen op het album '800 000 seconds in Harar' dat zopas uitkwam op Touch.
Het album bestaat uit twee langgerekte drones. Op het eerste nummer, dat nog eens onderverdeeld werd in drie stukken, gebruikt hij het geluid van het traditionele, Ethiopische strijkinstrument, de krar. Omdat hij het instrument niet echt bespeelt, bewerkte hij het met een strijkstok. Die drone werd dan gemixt met Afrikaanse omgevingsgeluiden. In het eerste deel hoor je alleen insecten, wind en spelende kinderen. Het tweede deel werd 's nachts opgenomen in een hotelkamer. Het geluid van lekkende kranen suggereert de eenzaamheid die Rimbaud ontegensprekelijk ervoer op deze desolate woestijnplek.
De aparte cd kent weinig variatie. De echte verrassing wordt opgespaard voor het laatste nummer. 'Le dormeur du val' – of 'The sleeper in the valley' – is een van de beroemdste jeugdgedichten van Rimbaud. Het gedicht beschrijft een slapende persoon in de mooie natuur. Pas op het einde van het gedicht zoomt hij in op het lichaam en komen we tot onze ontzetting te weten dat het een dode soldaat betreft met twee rode wonden in zijn borst. Von Hausswolff had het lumineuze idee om het gedicht op zijn negentiende eeuws in morsecode te vertalen. Het lage ritme dat het nummer draagt, is dus een morsesignaal. Het resultaat is een verbijsterende en opmerkelijke track die het album ruim boven het gemiddelde luisterplezier uittilt.
[Peter Wullen]
Jahrgangsgeräusche (Germany):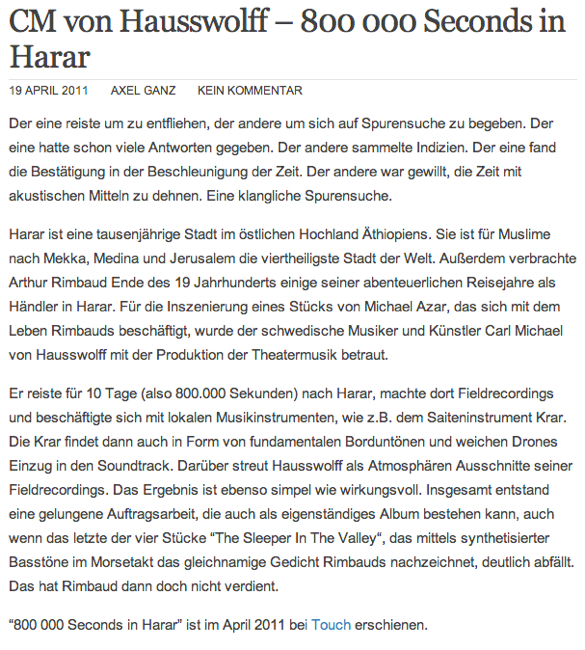 Dark Entries (Belgium):
Mensen die een beetje thuis zijn in het experimentele genre zullen misschien ooit wel gehoord hebben van Carl Michael von Hausswolff en dit wellicht door zijn samenwerking begin jaren '90 met The Hafler Trio onder de naam Sons Of God.
Ook al frequenteerde deze Zweedse componist een hele tijd met artiesten uit het Touch-label is deze "800 000 seconds in Harrar" diens eerste werk op het befaamde Britse label.
De aanleiding van dit werk kwam toen theaterregisseur Ulrich Hildebrand Carl vroeg om een soundtrack te maken voor diens toneelstuk.
Het toneelstuk is gebasserd op de Franse poeet Arthur Rimbaud die in zijn laatste levensjaar tien dagen doorbracht in de Ethiopische stad Harrar.
Vandaar ook dat je hier titels als "The sleeper in the valley" terugvindt , cfr "Le dormeur du Val", één van Rimbauds bekendste werken.
De tien dagen (en dus de 800 000 seconden) die hij daar doorbracht waren niet meteen het mooiste uit Rimbaud's levensloop want naast het verhandelen van koffie hield de romantische dichter zich ook bezig met ginder wapens aan de man te brengen.
Carl Michael zag zijn opdracht op pefectionistische wijze en vloog daarom naar het verre Ethiopië om daar een heleboel field recordings te gaan opnemen.
Deze opnames gaan van van spelende kinderen tot de mysterieuze uit de natuur.
Deze geluiden werden gebruikten als achtergrond voor diens drones die voortgebracht werden op een krar, en voor het geval dat je het niet zou weten: dit is een soort Ethiopische lier.
Ten onrechte wordt dronemuziek wel eens beschouwd als zijnde vervelend of eentonig maar dit heeft natuurlijk grotendeels te maken dat deze markt overspoeld wordt door tal van artiesten waardoor je doorheen het bekende bos de bomen niet meer ziet en waar het soms hard zoeken is naar enig talent dat bovendrijft.
Wie Touch echter kent, weet ook dat dit een label is dat uiterst zorgzaam omgaat met zijn releases en eerder kwaliteit boven kwantiteit verkiest.
Dit maar om u te zeggen dat deze dronerelease van CM von Hausswolff één van de betere uit zijn soort is. [Didier Becu]
Sonic Seducer (Germany):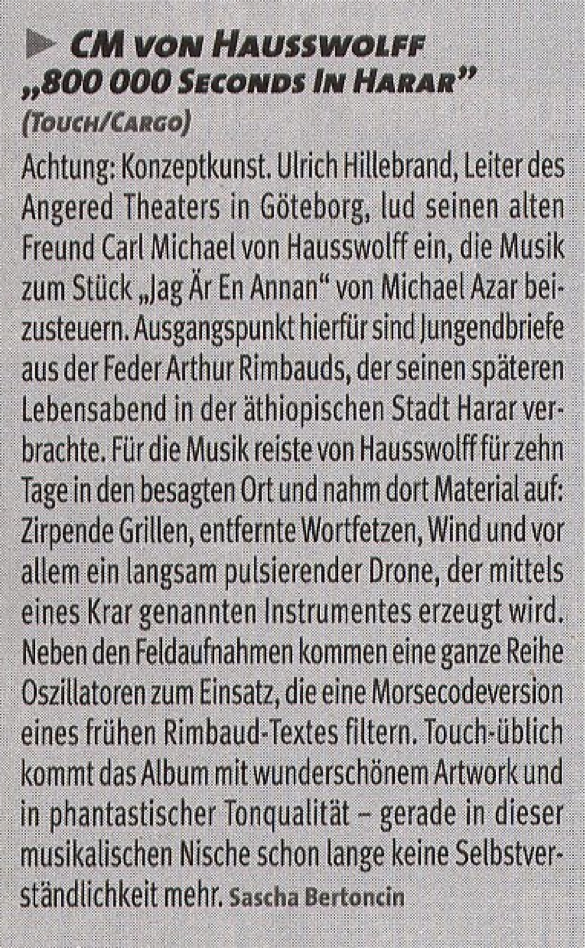 Dusted (USA):
The title is not quite as pithy as "30 Seconds Over Tokyo," and the results are likewise elongated. Carl Michael von Hausswolff is a Swedish installation and sound artist whose interests encompass electricity, constructed spaces, and paranormal intrusions upon electronic activity; he is also co-monarch of the digital Kingdom of Elgaland-Vargaland, which has no physical territory but does have a gift shop.
Hausswolff's work is distinguished by an economy of means. For many years, his compositions were based on sounds obtained from earlier work, which he boiled down to drones. In the aughts, he's pared things back further by working mainly with electrical sounds. But on 800,000 Seconds in Harar, thrift joins hands with a certain extravagance. Playwright Ulrich Hillebrand commissioned Hausswolf to make the music for a play inspired by a letter written by Arthur Rimbaud. Best remembered as a symbolist poet, Rimbaud spent the last third of his life trading guns and coffee and hobnobbing with Haile Selassie's dad, Ras Makonnen, in Harar, Ethiopia. Since Hillebrand had some connections there, he sent Hausswolff off on a 10-day junket to collect sounds and ideas. Hausswolf came back with three elements, which became the essential components of the album's first piece "Day and Night" — a field recording of sounds that includes the dripping tap from Hausswolf's hotel room, and an Ethiopian stringed instrument called a krar.
With the aid of a violin bow, Hausswolff got one usable note out of the krar and set about assembling a thoroughly persuasive 27-minute piece of minimalist drone so vivid that it suggests its own narrative in the absence of any information about how Hillebrand used it. It opens with the buzzing and chirping of bugs and the chatter of children, probably sounding just as they might have on the day that Rimbaud arrived in Harar. A low drone, perhaps signifying his arrival, looms through the outdoor sounds and ultimately overtakes them. As drones go, it's a swell one, and also a familiar one if you're a Mekons fan; it sounds so much like the synth underpinning their "This Sporting Life" that I kept waiting for Mark White to start hollering over it. But I doubt that Hausswolff knows that song, and even if he does, this drone goes in another direction, rising in pitch and density before going into a long fade. The point to any drone is the activity that teems inside of it, and if this represents Rimbaud in Harar, he was a busy boy.
There's a second piece on 800,000 Seconds in Harar, and it's as unprepossessing as the first one is impressive. "The Sleeper in the Valley" is constructed from several oscillators running without intervention and a filtered Morse code rendering of one of Rimbaud's poems. Sullen and unremarkable, it may have served some point in the play, but here it only disperses the spell that "Day and Night" sustained. Completist sentiments might have dictated its inclusion, but it adds nothing but time to the record. [Bill Meyer]
de:bug (Germany):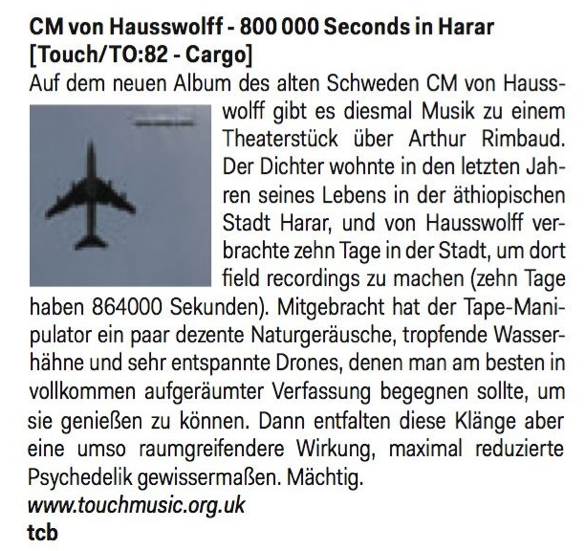 Westzeit (Germany):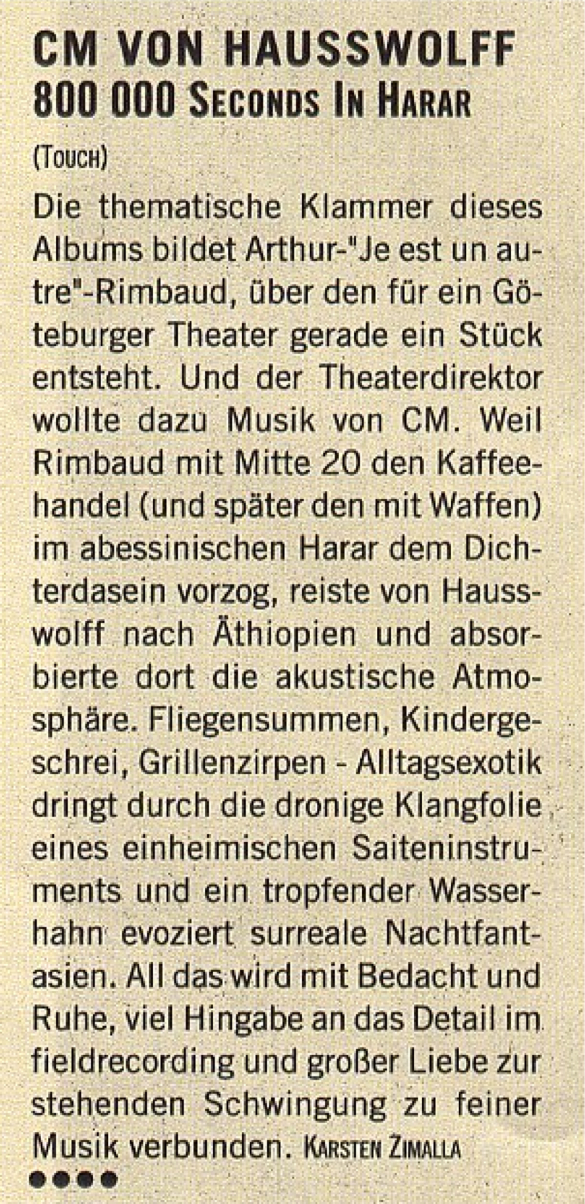 Blow Up (Italy):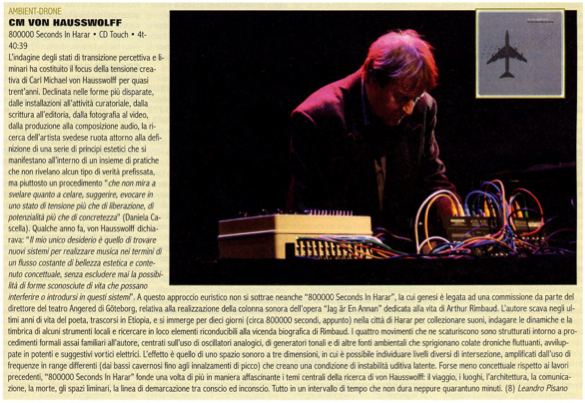 RNE3 (Spain):
Es difícil creer que el compositor de experimental sueco Carl Michael Von Hausswolff haya tardado tanto para entregar un álbum en solitario para el prestigioso sello Touch. En nuestra mente parece que siempre ha sido parte del catálogo del sello británico y desde luego este '800,000 Seconds In Harar" es puro sonido Touch. El disco fue producido como una banda sonora a modo de juego, centrada en la vida del poeta Arthur Rimbaud en la ciudad etíope de Harar. Y eso es lo que escuchamos en esta especial banda sonora de Von Hausswolff, el exotismo del lugar, que se hace patente en la primera pista del Cd en la que se escuchan moscas zumbar y grillos cantando rítmicamente. Un disco lleno de misterio y temor.
ae (Germany):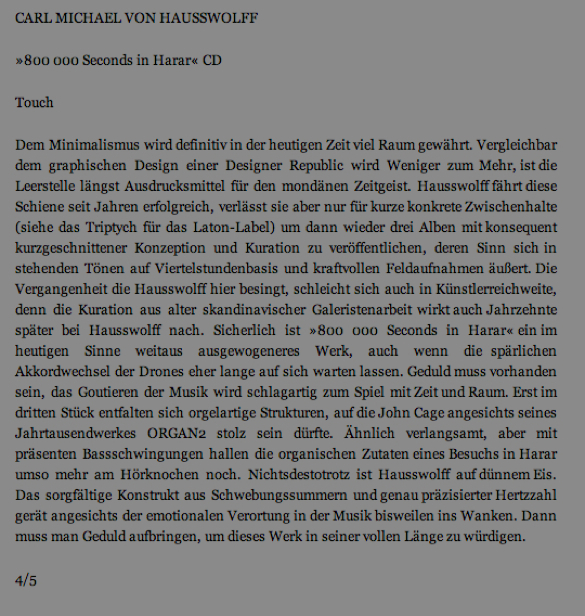 Obskure (France):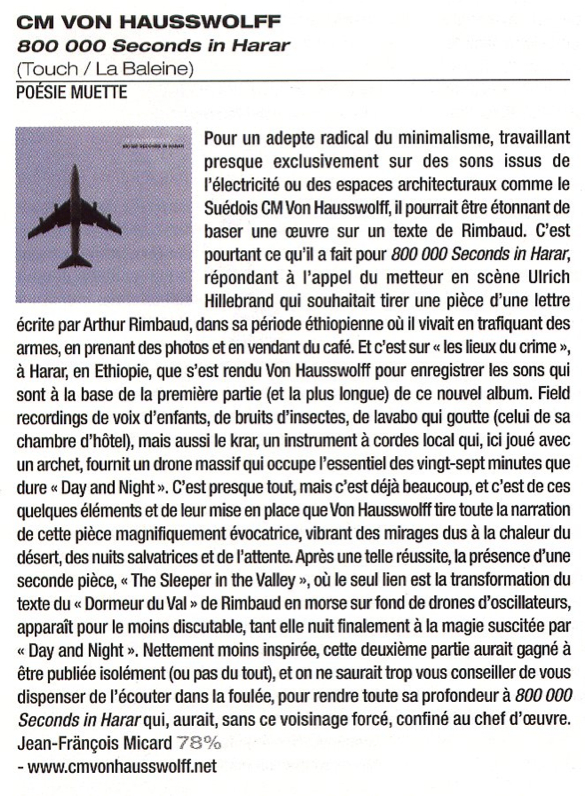 Le Temps (Switzerland):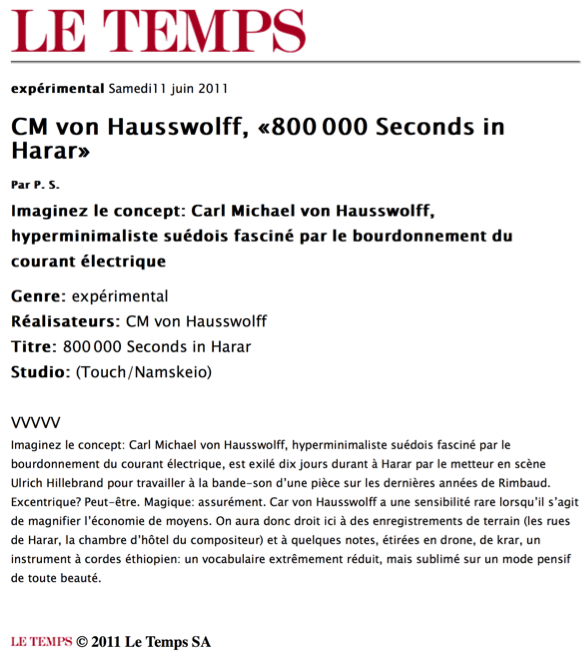 Nutida (Sweden):
Rockerilla (Italy):
Cyclic Defrost (Australia):
Rock-A-Rolla (UK):

Audiodrome (Italy):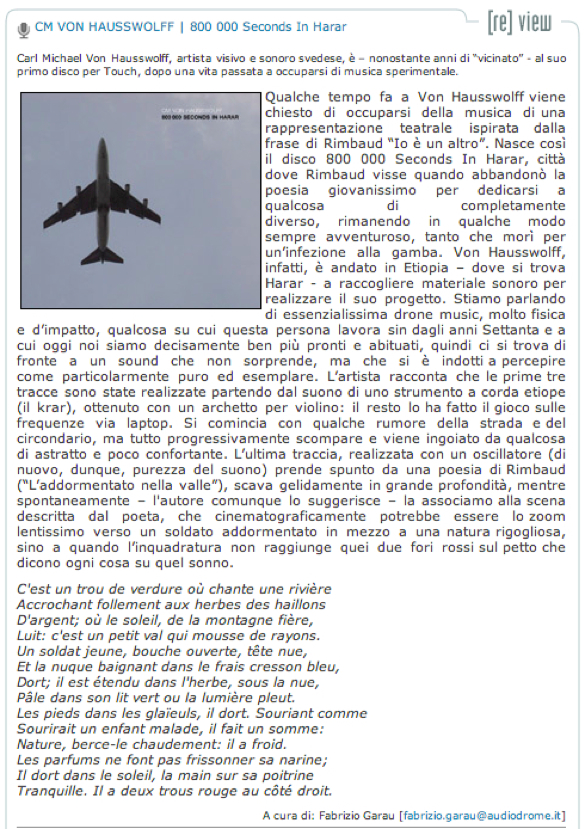 Gonzo Circus (Belgium):

Ox (Germany):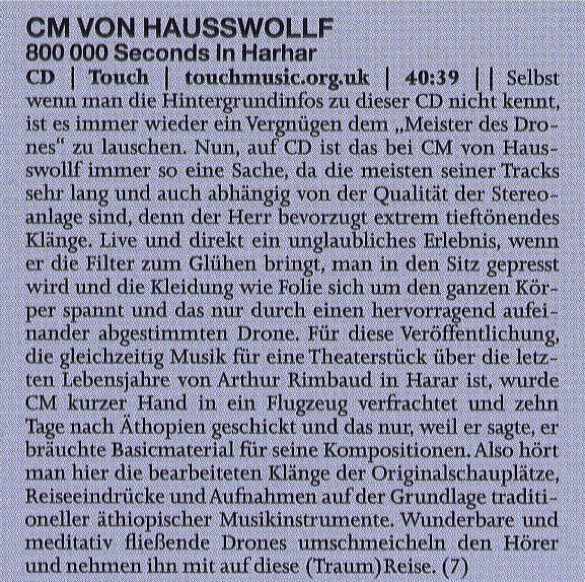 Odradek (Italy):
Un soldat jeune bouche ouverte, tête nue,
Et la nuque baignant dans le frais cresson bleu,
Dort; il est étendu dans l'herbe, sous la nue,
Pale dans son lit vert où la lumière pleut.
("Le Dormeur Du Val", Arthur Rimbaud)
Carl Michael von Hausswolff lo avevamo lasciato tre anni fa alle prese con le sue personali musiche per aeroporti di "Perhaps I Arrive" (una parte delle quali realmente eseguita nell'Atatürk Airport), seguite da un intenso biennio di installazioni audiovisive in giro per il mondo.
La nuova impresa dell'artista svedese si chiama "800.000 Seconds In Harar" e nasce da una commissione del teatro di Göteborg per musicare una nuova opera ispirata alle lettere giovanili di Rimbaud. Von Hausswolff cerca a tutti i costi del materiale legato al poeta francese da utilizzare per la sua composizione, quando dallo stesso direttore teatrale arriva l'insolita proposta: trascorrere dieci giorni nel villaggio etiope di Harar, dove Rimbaud trascorse i suoi ultimi anni, e vedere cosa ne viene fuori.
È così che prendono forma le quattro tracce di "800.000 Seconds In Harar", debutto per la prestigiosa Touch.
Nella prima metà ascoltiamo così i field recordings di "Day" e "Night", al cui interno von Hausswolff inserisce alcune registrazioni casuali catturate durante il soggiorno ad Harar (voci, insetti, le gocce di un rubinetto), mentre il drone minaccioso che fluisce sullo sfondo è in realtà il suono processato di un krar, bizzarro strumento etiope, suonato dal nostro impropriamente con un arco di violino.
Il risultato è un tappeto sonoro fortemente suggestivo, che raggiunge il suo culmine con la variazione sul tema di "Alas!", in cui il drone satura quasi del tutto l'ascolto per dodici minuti di affascinante tensione.
La seconda metà del lavoro è invece occupata interamente da "The Sleeper In The Valley", placida e straniante sinfonia per oscillatori, singolare interpretazione del celebre sonetto rimbaudiano.
Con "800.000 Seconds In Harar", Carl Michael von Hausswolff realizza non solo l'ennesimo lavoro ambizioso e di grande qualità, ma anche una delle sue opere più accessibili e comunicative.
Da non perdere. [Roberto Rizzo]
Etherreal (France):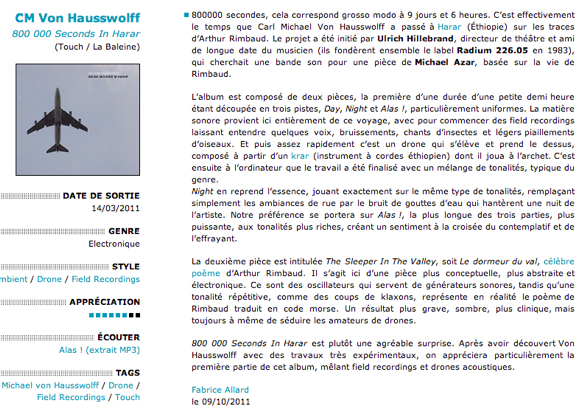 GoMag (Spain):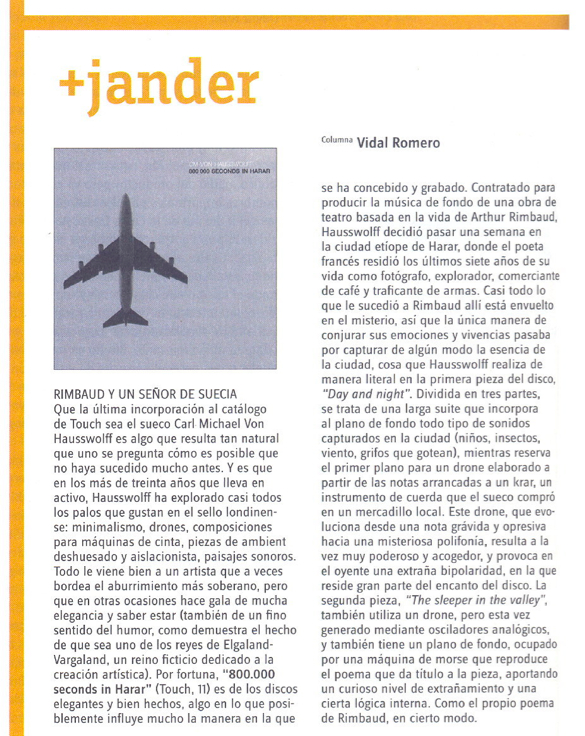 Touching Extremes (web):
Subsequently to ten days spent in the Ethiopian city of Harar, gathering materials to use as background sounds for a theatre piece based on an Arthur Rimbaud letter, Carl Michael Von Hausswolff managed to extract the maximum (for us, the listeners) from the minimum (of utilized means). In "Day And Night" a local string instrument played with a violin bow, after being treated with a computer, generates a protracted drone unfolding from – and within – a few minutes of introductory field recordings (a leaking tap contributes at one point, but it's actually scarcely relevant after having tasted the track's menacingly chilly temperament). "The Sleeper In The Valley" features parallel oscillators producing a skull-saturating quasi-monochrome texture barely "disturbed" by constant Morse code signals. It might sound normal on paper, yet this is not the work of a 21-year old geek who wants to get famous in a week (rhyme unintended). The Swedish is the lucky owner of an inquisitive inner ear that transforms a "regular trance album" into something to remember fondly. What could appear as parsimony reveals instead the intention of focusing on single sources of bitter pleasure for a mind willing to receive it. Some of the components are not immediately discernible, and the strengthening quality of those waveringly ominous pitches remains a mystery whose solution is not really necessary.
Musique Machine (UK):
The Swedish multi-disciplinary artist CM Von Hausswolff visited Harar in Ethiopia in 2010 on a commission to produce music for a play based on the life of Arthur Rimbaud. The French poet lived in the city for the last seven or so years of his life where, according to Hausswolff, his "presence persists" to this day. While it is not clear how these bold tones, brimming with intense energies, works with the play ('Jag är en annan' written by Michael Azar and directed by Ulrich Hillebrabd), it offers a powerful and poetic experience in its own right.
The album consists of two contrasting pieces both conceptually linked to Rimbaud: the first is built from sounds of the city, the second purely from electronic oscillators, one of which is slowly spelling out one of Rimbaud's poems (Le Dormeur du val) in morse code. But the conceptual link in this audio-only setting, while certainly important to the compositional process, does not extend to the listening one. Instead, it once again showcases CM Von Hausswolff's fascination with combining rich tones in space to trigger and manipulate their inner properties.
The first piece, 'Day and Night', is divided into three parts, and opens with the sounds of Harar's daytime teeming with life, from children playing and singing, through the rush of air and water, to the songs of birds and the chatter of insects. Logically, its second part indicates night through the absence of movement except for a dripping tap's uneven rhythms. Both documentaries are threaded through by the relentless, irregular throb of a single bowed tone, initially produced by a local stringed instrument (a 'krar') and subsequently extended on Hausswolff's computer. Despite its deep, stubborn presence the sounds of day and night remain unaffected, casting the tone as an invisible, questing energy that subtly gains power the nearer it gets to its goal. By the time of the third and final part the long note, now nearly 15 minutes old, is finally joined by a loose succession of other bowed pitches providing a kind of release or a blissful contrast both sacred and unnerving. As more new tones emerge the column of energy continues to gain strength, at times impossibly so, to forge a formidable sound that has the power to release adrenal flows in the listener.
The second concluding piece has similar properties to the first, deploying more totemic energy through its long layers. But, with the control afforded by its tone generators arrives a study in micro and macro rhythms. Here the equally bold but now electrical tones form the audible equivalent of moiré patterns creating ever changing slippery rhythms as they fluctuate with each other. All this atomic activity is underscored by a slow, cumbersome beat of morse code, designed by chance yet affording fresh perspectives on the combined frequencies with which its boulder-like dots and dragged dashes interferes.
While ostensibly an exercise in drone, the rich details and contradistinctions carefully borne throughout the work make it as complex and compelling as free jazz or psychedelic jams. And these intricacies sound different depending on the listening environment, seeming better on speakers than headphones so as to allow Hausswolff's deluge of sound to fill and interact with a physical space, bringing a further dimension of variances to the party. However experienced, though, it can leave ones eardrums palpitating for a while after the disk has finished such is its power and charm.
GoMag (Spain):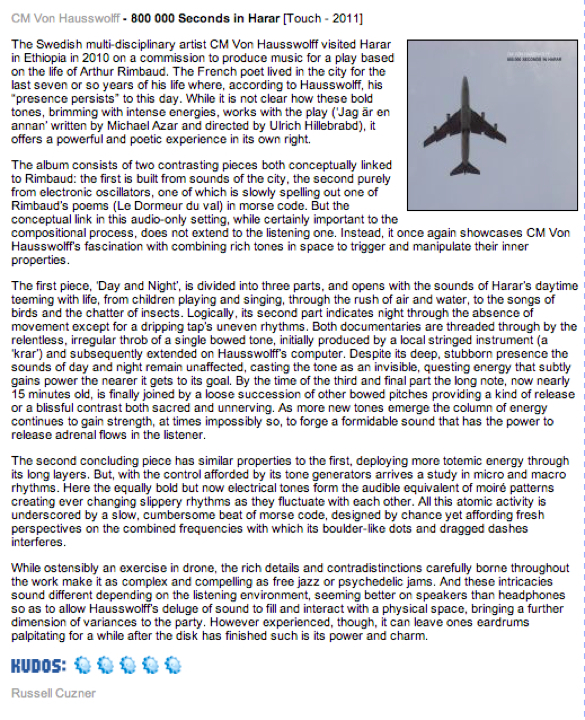 The Sound Projector (UK):