CD in digipak – 9 tracks – 49:50
Art Direction: Jon Wozencroft
Cover image: Yusuke Murakami
Mastered by Denis Blackham @ Skye
Track listing:
1. Sendai-1
2. Shika-1
3. Jōyō
4. Ikata-1
5. Monju-1
6. Genkai-1
7. Ōi-1
8. Monju-2
9. Fujiko
Geir Jenssen writes: "Early February 2011: Decided to make an album inspired by the Japanese post-war economic miracle. While searching for more information I found an old photo of the Mihama nuclear plant. The fact that this futuristic-looking plant was situated in such a beautiful spot so close to the sea made me curious. Are they safe when it comes to earthquakes and tsunamis? Further reading revealed that many of these plants are situated in earthquake-prone areas, some of them are even located next to shores that had been hit in the past by tsunamis.
A photo of Mihama made me narrow down my focus only to Japanese nuclear plants. I wanted to make a soundtrack to some of them, concentrating on the architecture, design and localizations, but also questioning the potential radiation danger (a cooling system being destroyed by a landslide or earthquake, etc). As the head of the Nuclear and Industrial Safety Agency said: "the plants were so well designed that 'such a situation is practically impossible'.
The album was finished on February 13th. On March 17th I received the following message from a Facebook friend: 'Geir, some time ago you asked people for a photo of a Japanese nuclear powerplant. Is this going to be the sleeve of your new coming album? But more importantly: how did you actually predict the future? Kind regards, David.'"

Reviews:

Popmatters (USA):
Here's one for the creepy file: In February, 2011, Biosphere's Geir Jenssen became concerned that several Japanese nuclear power plants were at risk of being hit by natural disasters, and wrote an album that focused on several facets of these majestic structures, including the human cost of nuclear radiation if such disasters ever came to pass. One month later, the Japanese power plant Fukushima 1 was hit by a tsunami and created the largest nuclear catastrophe since the meltdown at Chernobyl. You'd be forgiven for believing Jenssen was, if not a prophet, so strange and brilliant as to be able to predict the future. He remains one of ambient music's superstars and is responsible for at least one cornerstone of the genre (1997's Substrata), and he only rarely emerges from his arctic hideout to record an album or play a heart-stopping show. When you see him in the flesh, bedecked in Norwegian stoicism, he looks unshakeable. However, even he appeared to be freaked out by his terrifying prescience.
Without knowing the context, as some might not, Biosphere's ninth studio album—the first in five years—simply delivers the goods in the way fans have come to expect. With the nuclear theme and Fukushima tragedy in mind, however, N-Plants takes on a life of its own. Like the nine Japanese nuclear plants that lend their names to the titles, these tracks are intricate, metallic structures pulsing with manufactured energy, each one slightly different but built on the same basic platform. In them, you can hear Jenssen's intrigue over the power of these plants, both to keep the world running and to do monstrous damage. In one respect, the songs feel stately, repetitious, even serene—fully operational. In another, they hang on the edge of a precipice, hissing ominously, as if they know something we don't. Biosphere has, in fact, always had an underrated interest in the unknown; in his seminal track "Kobresia", for instance, a man speaks provocatively in Russian about an object he can't quite identify by its features. The Fukushima disaster might make us hear N-Plants with a kind of pathos, but in February, 2011, Biosphere was simply ensconced in his own fascination with nuclear power, asking himself questions, and that comes through beautifully in the music. (8/10)
Igloo (USA):
Typically situated on or near the shores of Japan, frequently adjacent to or in the shadow of a hill or craggy land mass, Jenssen has managed to capture perfectly the slightly sinister, otherworldly stillness of these seemingly abandoned or silent sites and structures.
It's been just shy of five years since the jazz-flecked Dropsonde – the last proper standalone Biosphere album – with nothing but a live recording and various minor projects since, and patience for the next big thing have been wearing thin. Then seemingly from nowhere Touch drop N-Plants on us. You've got to hand it to Geir Jenssen – can anyone honestly say they saw this coming down the line?
The reason for the surprise release soon becomes apparent. In early February 2011, Jenssen began working on an album inspired by the architecture, the location and the potential radiation dangers of specifically Japanese nuclear power plants and reactors, so many of which are situated in beautiful locations, near hilly, rocky areas or right on the shore in earthquake-prone areas. One month later, a terrible tragedy struck Japan as a massive earthquake created the tsunami that in turn triggered the Fukushima-1 nuclear disaster.
The first thing you should probably do when approaching N-Plants is try to forget any notions of prediction that this unfortunate coincidence might elicit, and not to read anything into the strange pun that is the album's title lest it colour what is to follow. We're given very little background on Jenssen's approach to the composition of N-Plants other than it was achieved in an amazingly short time. Did he study photographs, plans or the local geography for as reference points or inspiration? Is each track so titled because it is an attempt to sonically represent a specific power plant, reactor or its surroundings? How much was based on the physics of nuclear power and radiation?
The style of N-Plants is also surprising. Biosphere's modern minimal aesthetic is combined with beat-work, the old-school, icy tones and warm ambient house of the days of Patashnik and in particular Microgravity. On first listen it might seem a little lightweight, but actually Jenssen's trademark care and attention to precise production and sound design is very much in evidence. Every beat is precisely drawn, every bass drum and pad sculptured to maximum, room-vibrating effect.
Looking at some of the images of the various nuclear power plants located around Japan it becomes abundantly clear why Jenssen chose them as the seed of inspiration for an album: the sense of isolation and the unusual architecture all resonate with Biosphere's other chosen sources of inspiration – arctic wastelands, deserted glaciers. Typically situated on or near the shores of Japan, frequently adjacent to or in the shadow of a hill or craggy land mass, Jenssen has managed to capture perfectly the slightly sinister, otherworldly stillness of these seemingly abandoned or silent sites and structures.
N-Plants also scans like a potted history of trademark Biosphere sounds as elements, textures, drones and bass lines can be heard from almost every era. "Sendai-1″ kicks things off with a typically languid Biosphere introduction: looped, electricity-grid whirring and high-pitched hum build into bowled, oriental percussion. In "Shika-1″ (huge blocks of powder blue with white stripes) there are a few moments of dusty, hissing pads that recall Substrata or Cirque before a two-note loop introduces the first real percussion of N-Plants along with a resonant bass and glassy clinking. "Jōyō" (a test reactor) goes for Patashnik era suspense filled, icy washes and hiss.
There's a lyrical, waltzing quality to the classical chord progressions of "Monju-1″ (a characteristic that "Monju-2″ lacks) and a beguiling female Japanese voice whispers, as if telling a child a secret. And for those who have been fans of Biosphere since the days of Microgravity, "Genkai-1″ (a rather unassuming looking plant situated very close to the actual town) is a revelatory pay-off, a true return to those warm sounds, ambient-house percussion and supple bass tones, and the album's most overtly melody driven track.
N-Plants is an expectation-defying release from Biosphere, so much so that many are speculating that another album from Jenssen is soon to follow, one that has been gestating for far longer. Nevertheless, N-Plants is no minor work from the artist by any stretch of the imagination, providing a welcome and refreshing change from his more austere output, so why not indulge in this audio tour of nuclear Japan.
Available now on CD. A deluxe gatefold vinyl edition is also now available on Biosphere's own Biophon label.
Tokafi (Germany):
15 questions to Biosphere…

Pitchfork (USA):
In early February, Biosphere's Geir Jenssen made an album inspired by the architecture and potential instability of Japan's nuclear power plants. A month later, a huge earthquake and tsunami caused the Fukushima Daiichi nuclear disaster. It's healthy to be skeptical about such claims to prescience, but dissembling isn't Jenssen's style: Clearly stated intentions and ideas are a defining feature of the Norwegian ambient-house producer's decades-long career. Plus, N-Plants' sleek contours and foreboding atmosphere easily bear out his theme. Having noted the eerie coincidence, we can dispense with it and let the best Biosphere album since 1997's definitive Substrata stand on its own.
Widely regarded as an ambient milestone, Substrata represented a thoughtful dilettante hitting the reset switch. A period of fertile miscellany followed, from the processed Debussy loops of Shenzhou to the long-tone sci-fi marathon Autour de la Lune. Like Substrata, N-Plants is both a consummation and a palate-cleanser. Fully in ambient-house mode, Jenssen fashions together hazy drones, filtered synthesizers, microhouse percussion, and haunting vocal samples over classically plumb lines. Like Kate Simko's 2009 soundtrack for The Atom Smashers, the album can evoke particles of energy swarming through elegant, hulking metal curves. But this one-time archaeology student has never given up his field's patient curiosity and long view, and N-Plants can't be fully constrained by modern context. Ages of ice and stone drift through it, and the Arctic Circle is a looming presence.
Each process on N-Plants, be it a glinting synthesizer motif or a low-scudding bass line, logically catalyzes the next. Where Substrata delved deeper and deeper, N-Plants glides over level, endlessly scrolling surfaces. The tracks don't essentially change. At most, they metastasize, as on "Sendai-1", where a synthesizer plays iridescently through an aquatic atmosphere; at minimum, cycles of loops perpetually revolve, as on "Genkai-1". Either way, blissful hypnosis ensues. N-Plants is a master craftsman's reaffirmation of a fundamental but lapsed tenet of electronic ambient: You set up a conversation between the machines, and then you step out of the way. [Brian Howe]
PlayGround (Spain):
"N-Plants" is an album about the fragile instability of the nuclear facilities in Japan. Shortly after it was finished, the Fukushima disaster occurred. A prophetic album on which Biosphere leaves the icy ambient of his previous records aside and returns to the dynamic ambient of his early days.
Little did Geir Jenssen, the man behind the mythical ambient project Biosphere, imagine a few weeks after finalising the recording of his latest album, "N-Plants", the concept behind it would become one of the most spine-chilling prophetic arguments in the world of music since the album sleeve of The Coup's "Party Music". The Norwegian had spent a lot of time thinking about the reconstruction of Japan after the nuclear cataclysm of WWII, and during that process he was fascinated and surprised to find that, in a region so sensitive to earthquakes, many of the nuclear plants in the country were built so close to the sea. And that was the theme and concept that shaped an album of which the title couldn't be more descriptive and eloquent. Shortly after finishing the album, on 11th March, curiously enough, a tsunami as we know tragically hit Japan, setting off a series of explosions in the Fukushima nuclear facility, which got all alarm bells ringing and the old debates more alive than ever.
It's obvious that without the weight of the disaster and that fateful coincidence, the impact of "N-Plants" would be much lessened. Its visionary character and the tragic event's emotional influence on the musical content play an important and inseparable part in the history of this recording, but it's not decisive or essential. Because, apart from the coincidences, we're dealing with one of Biosphere's best albums to date, creatively ambitious and with a fascinating expressive unfolding. In fact, it's a surprising album even for the project itself, which over the years has got us accustomed to a series of releases that are clearly of ambient descent, some of them radically isolationist, with the drone as the main ingredient. Here, however, the sound is more craft, meticulous and variable, and the textures, sounds and work tools are notably richer and more organic.
Moreover, Jenssen has made his songs more dynamic rhythmically, providing beats for almost every track and using vintage IDM structures, which completely change the perception we could have of his sound over the past years, as if this were a premeditated return to his beginnings with "Microgravity" and "Patashnik", and a new paragraph after a more hermetic and icy period. Mature, serious, exciting and profound, very inspired in how he takes care of the unfolding of each track and how he emphasises the almost cinematic feel of the album, this Biosphere invokes the spirit of Global Communication and The Orb in a context of reflection and critical perspective. One of the albums of the year. [Julio Pardo]
Amazon (UK):
The name "Geir Jenssen" has become synonymous with "isolation". When we think of Biosphere we think of his stark compositions such as the "Insomnia" soundtrack, or his early forays into techno on albums such as "Patashnik", or his general bleak take on electronic music in general. Jenssen has taken a tired ambient genre and transformed it into an exciting cinematic experience which rivals any "darkwave" or other sinister styles that claim to plunge into the deeper parts of the psyche. On Biosphere's latest, "N-Plants", Jenssen achieves something he hasn't reached before inbringing all of his styles from the past into one cohesive piece of work. In doing this, he has never sounded warmer or closer to his beloved machinery.
Always present on a Biosphere album is its soundtrack quality. There isn't a single instance in the Biosphere catalog where you wouldn't be able to paste the music against a celluloid backdrop and not be able to make the viewing experience more rich because of it. Opening track "Hendai-1" is a stark mood piece with an underlying and sinister synthesizer foundation stringing the faint melody and percussive elements together into an intriguing introduction. "Shika-1" follows, and sets the tone for the rest of the album. It's a warm, dynamic, and human moment with Jenssen abandoning the cold and minimal sounds of most of his recent work and exploring melodies and drum patterns more akin to his early albums.
"Ikata-1" is similar with its more open approach and subtle hand claps whilst layered upon a simple foundation. Instead of being intent on establishing a complete and total reduction of the senses, Jenssen pulls you in closer and illuminates the way. With "Monju-1", the sound of a foreign voice crawls into the ear and whispers with an intense sincerity, and empathic tone. It's been quite some time where any vocals were present on a Biosphere album, but Jenssen makes sure it is poignant when it does appear.
"N-Plants" is the sound of being welcomed after a long, solitary, intense journey. Jenssen is a master at creating landscapes of sound mirroring our need to be entrenched in mystery and unease. This album extends its hand and brings you inside after the freezing walk through the tundra. "N-Plants" has more form and shape than any Biosphere album before it, but instead of completely departing from the signature sound, Jenssen uses his power of subtlety by incorporating old tricks and applying them to what he knows works. The foundation is what's important, and he slowly builds upon it by immersing himself in melody and form. He's never sounded more full and realized, not being shy to be overtaken by more traditional arrangements instead of immersing himself with desolate minimalism.
Oddly refreshing is the album's detour into nostalgia. Much of this album sounds as if it was imported from the mid-90's with its employ of synthesizers and drum pads, but instead of sounding washed-up and exhausted, it comes together in a naturally progressive way. Jenssen's nod to the old school is sincere, and you feel that he only references his past self to make his present sound more complete.
To say "N-Plants" is the best Biosphere album would be a silly thing to claim. The albums all feel like a natural extension of the other while never feeling like a silly conceptualization project. Jenssen is capable of producing music that feels like icicles being jabbed into your spine. He conjures a remoteness that can be stifling yet inspiring. "N-Plants" is a departure from this aesthetic without losing any intensity. It's not as emotionally devastating as most of the Biosphere we're used to, but we don't mind being uplifted, even for an infinitesimal amount, after trying to adjust to the darkness.
Boomkat (UK):
Okay so this is weird – in February 2011 Geir Jenssen finished an album that he had dedicated to the Japanese post-war reconstruction and, specifically, their futuristic nuclear program. After surveying photos he became fascinated by the idea that nuclear power plants could be built so close to seas and in earthquake-prone areas, and this slowly became the focus for the record. A few months later, hearing the album is a totally different experience – we are now in the aftermath of one of Japan's most grave disasters and Jenssen's findings have an eerie poignancy. The music itself is hardly melancholy, but has a damaged, cold, digital edge which mirrors the clean architectural perfection of these ominous structures, pre-earthquake of course. As Jenssen's clipped, purposeful rhythms make their way slowly into the synthetic patterns they guide the record and give a very fitting stark Kubrickian sci-fi haze. 'N-Plants' almost reminds me of early SND (think 'Stdio' or 'Makesndcassette') but played at the wrong speed. These are slow, booming passages of sound and carried out with a masterful ear, and the razor sharp precision of a true veteran of the field. Lazy, lackadaisical witch-house this is not, but 'N-Plants' certainly shares threads with its purposeful slow-down of dance music tropes. Rather than doing this for a specific trend, Jenssen's sound rather seems to be rooted in its subject matter; the visions of the future that remain entrenched in the past, and the hopes of our ancestors that simply end up dashed on the rocks of our mistakes. Without the context 'N-Plants' is an affecting, engrossing listening experience, and with the added air of melancholy it makes it all the more haunting. Huge recommendation.
VITAL (Netherlands):
Obviously we have to believe Geir Jenssen when he writes that in February he decided to make an album about Japanese post-war economic miracle, found a picture of a nuclear power plant, and wondered why so many are close to the sea, and what would happen if a tsunami would sweep the land? We know the answer by now. I assume Jenssen didn't make this story up as good line to sell a CD. Its been a while since we last heard Biosphere, a new work that is, as 'Patashnik' is still an ipod favorite here, and a work that breaks away, it seems, with the more recent ambient works. 'N-Plants' sees a return to the world of rhythm and that makes this quite a remarkable work. Biosphere going back to the world of dance music, although its hard to imagine people actually dancing to this. But if my crystal ball gazing is right, ambient house is soon to be on a revival trip, following the recent explosion in cosmic music, and then Biosphere can't do wrong. He plays here with the elements of cos mic music and adds nice minimalist beats to it. Loops of keyboard sounds, spiced with 4/4 minimal beats (more Cologne than Berlin) as well as layered drones of what might be more keyboards, or heavily processed field recordings, make up some great music, returning to his earlier music, but expanding it. Out are the voice samples, the beats are reduced to the bare minimum, the ambience is more to the foreground, making this another essential Biosphere record. [FdW]
Derivés (France):
Geir Jenssen wrote this album during the first half of February, inspired by the Japanese post-war economic miracle, and his search of information led him to the paradox of the nuclear plants in Japan, most of them in earthquake and tsunami sensitive areas, so .
One month later Japan was hit by a strong earthquake leading to the collapse of the Fukushima nuclear plant, and its innumerable consequences.
Such coincidence is amazing and strangely connects this new Biosphere album. Having a look at pictures of these Japanese nuclear plants online it becomes obvious than they exhale a kind of deleterious otherworldliness, which can echo the pure digital nature of this record.
I think the last time I seriously listened to Biosphere, it was in 1994, as he was one of the best examples of the ambient scene of this era, purely electronic and disconnected to reality. At this time I had difficulties to totally connect with this expression and it seemed somewhat superficial.
I don't know if he changes or if my perception evolved, but in 2011, "N-plants" offers much more depth and nuances than my memory of his early releases. Maybe it's because of the passing of time and of the fact there is is nothing surprising anymore in this kind of music, no real entertainment, so all the sounds can contribute to something much more reflexive and abstract, and that's how I tried to tackle up with his compositions.
The opening "Sendai-1" (each track name refers to a specific Japanese nuclear plant), is simply amazing, and vibrates not unlike some Gas, Pan•American or William Basinksi compositions, as everything seems to play at two levels, between drones and beats, with a slow evolution, due for some part to hazardous conjunctions, how something can be both soothing and worrying at the same time.
On "Shika-1" you feel like a butterfly almost floating in the air but with a spider's thread attached to your legs, bringing you back slowly towards the ground.
"Joyo" is somewhat oppressive with an almost metallic taste while the sun's warmth radiates delicately.
Seen from the distance, "Ikata-1" looks almost like an holiday resort and Geir Jenssen plays on this confusion and we feel like lazying around in a comfy chaise longue.
There is an alien quality with "Monju-1" and the use of Japanese spoken words used in the background reminds me some old Laurie Anderson tracks. The use of bells sounds during the intro of "Monju-2" is a reference to Japanese traditional music before the track falls into more typical electronic music.
And it will goes on in this direction for the rest of the album. "Genkai-1" is too generic for me, back to the old days of early nineties electronica à la Warp, with synthetic beat, bass, and pads. Same conclusion for "Oi-1" and for the last track who is also the only one not using a n-plant name.
Strangely this album loses its substance and goes on autopilot mode during the second half which probably would have justified a reworking, but for the first part only it deserves attentive listening.
Kölncampus (Germany):
Die erste Stunde verbringt die Juni Ausgabe von Partikel mit dem Norweger Geir Jenssen aka. Biosphere. Jenssen, der zu Recht als einer der maßgeblichen Prägefiguren des Ambient Techno gehandelt wird, veröffentlicht Ende Juni ein Album auf Touch, dessen Motive und die damit verwobene Geschichte einem Schauermärchen gleichen! Jenssen war lange bevor die Atommeiler in Fukushima dem Erdbeben nicht mehr Stand zu halten vermochten durch ein Foto des Kernreaktors in Mihama, ebenfalls Japan, dazu inspiriert worden, die Architektur das Design und die Einbindung in die Landschaft diverser japanischer Atomkraftwerke als Basis für Musikstücke zu verwenden. Einen Monat vor der Katasrtophe in Japan hatte er sein Album fertig gestellt…
Bei derartig apokalyptisch- seherischen Fähigkeiten sei ihm eine musikalische Retrospektive auf viele seiner Werke und Stationen gegönnt.
Raveline (Germany):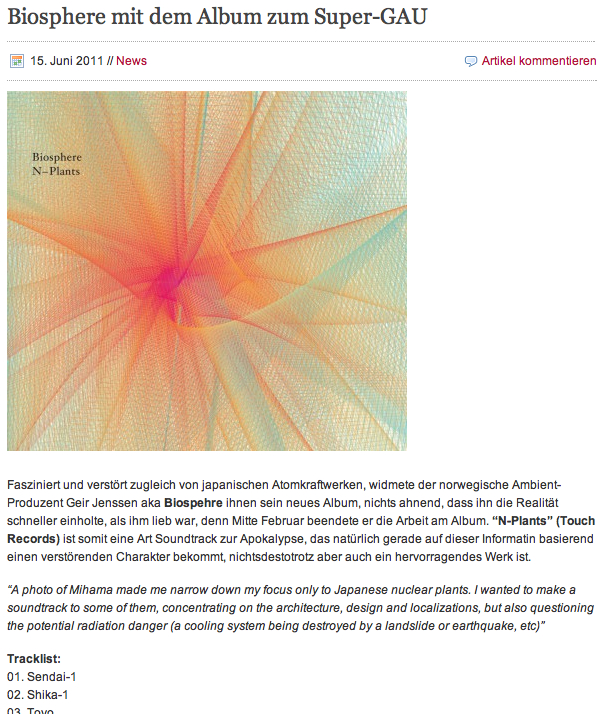 Dagsavision (Norway):
Eclectro (Netherlands):
Vijf jaar na de veelgeprezen ambientplaat Dropsonde verrast de Noor Geir Jenssen met kraakheldere beats. N-Plants is uptempo, melodisch en daarmee een wat toegankelijker album dan Dropsonde. De eenzaamheid straalt nog altijd van zijn muziek af, maar wel op een andere manier. Verstilling heeft plaats gemaakt voor een repetitieve, nogal Duitse sound.
Hadden beats op het met dromerige klanktapijten gevulde Dropsonde sporadisch een rol op de achtergrond, op N-Plants spelen onvermoeibaar doorpulserende ritmes en synths een hoofdrol. De industriële sfeer roept een vergelijking met To Rococo Rot regelmatig op. Dit had saai uit kunnen pakken, maar het tegendeel is het geval. Wat een schoonheid! De fijnzinnige gelaagdheid waarmee Jenssen beats, synths en ruisgolven in verschillend tempo langs elkaar heen laat lopen levert een erg smaakvol geheel op. Contrasten tussen wollige synths in de verte en puntige ritmes op de voorgrond geven een sfeervol ruimtelijk effect. Is dit nog wel te volgen?
Schrijven over abstracte soundscapes is vaak net roeien zonder peddels. Geluid laat zich maar moeilijk vastpinnen met woorden. De componist en zijn motivatie om een plaat te maken lijken soms een bruikbaarder aanknopingspunt. Jenssen reikt met het thema Japanse kerntechnologie de recensent peddels aan die ongetwijfeld door het legertje muziekbloggers gretig aangegrepen zullen worden. Het drama van de misschien wel grootste kernramp in de geschiedenis, wat wil je nog meer? Maar pas op: voordat je het weet laat je je verleiden tot voor de hand liggende analogieën die leuk klinken (natuurkrachten, fabrieken en geigertellers), maar waar de lezer niets wijzer van wordt. (Zet gewoon die plaat op, mensen!) Wie wil er nóg een tekst lezen waarin een bepaald genre Scandinavische muziek wordt vergeleken met ijzige windvlagen door mistige Fjorden? Ik in ieder geval niet.
Blijft dat Biosphere met deze erg geslaagde plaat waarschijnlijk nog meer lof zal oogsten dan met Dropsonde. Wat de Japanse zinnetjes in Monju 1 en Fujiko betekenen? Geen idee, maar eenmaal ondergedompeld in deze prachtige futuristische klankwereld heb je geen betekenis nodig om te kunnen genieten van N-Plants. Bij preorder via Touchmusic krijgt u er nog de bonustrack Oma bij. Het prachtige artwork is reden genoeg voor aanschaf van een fysiek schijfje. N-Plants is nu volledig te horen op de vpro-luisterpaal. [Sandra de Haan]
Norman Records (UK):
Geir Jenssen is total zen-master when it comes to producing ambient landscapes. Viewed reverentially as something of a visionary spirit within the techno world, his albums all carry a rich individuality and strong identity. What is remarkable and somewhat spooky about this eagerly awaited return to the fray is the concept – Geir was researching into the post-war economic boom in Japan and eventually narrowed his field of interest down to the humble old Japanese Nuclear power plant, their apparently safe location brought into question by the weight of historical ground faults and the prevailing geophysical dangers and risks, especially facing countries in the pacific region. How could he have known the awful fate that would befall poor Japan earlier this year? But with Biosphere's music, there is usually a strong wave of peace and optimism running throughout and this album is another classic offering I must say! With some of the most affecting gliding synths, android keys, understated pulsing rhythms and a divine underlying aura of tranquility, 'N-Plants' is a lush, cohesive album that flows beautifully, easily measuring up to past glories whilst sounding like little he's done before. When beats are employed they're unobtrusive, the electronic soundscapes he conjures up are breathtaking and sensual as you like. Like as in much Russian electronica, Norwegian ambient music possesses both intoxicating glacial moods and a strong human element in the playful, dreamy synth work. You truly get into the idea of these tunes all being attributed to the otherworldliness and powerful efficiency of such futuristic behemoths as Mihama – a chance encounter with a photo of that particular plant leading to the fruition of this particular project. One to treasure like all his others!!
The Milk Factory (UK):
What would happen if a nuclear power plant, located close to the sea, was hit by an earthquake or a tsunami? The story behind this album is nothing short of puzzling. In late 20101, whilst researching Japan in the optic of recording an album about the country's post-Second World War economic miracle, Geir Jenssen stumbled upon a picture of the Mihama nuclear power plant, situated on a tiny peninsula on the west coast of Japan, just over three hundred kilometers west of Tokyo. The plant was still then the site of the worst nuclear disaster to have taken place in Japan, when, in 2004, hot water leaked from a broken pipe near one of the reactors, killing four people and injuring seven.The plant, situated in an otherwise beautiful spot prompted Jenssen to question exactly how safe such facility would be if it was hit by a quake or a tsunami. Further investigations revealed a number of other nuclear power stations located in earthquake-prone areas. This provided him with the focus for the record, his first in over five years. The album was recorded in the following weeks and was wrapped up by the middle of February. Less than a month later, the North-East coast of Japan was hit by a magnitude 9.0 earthquake, the most powerful the country has suffered. The quake was followed by a series of tsunamis which caused widespread devastation and were responsible for the Fukushima nuclear disaster, during which three of the six reactors on the site went into meltdown, and the container of a fourth one got badly damaged following an explosion. Jenssen realised the prophetic nature of his work two days later when a friend left a message on his Facebook page.
Musically, N-Plants is almost as intriguing as its story, and sits somewhat at odds with some of Jenssen's best known work. Much of this album harks back to the sound of the early Biosphere days and the way Jenssen had to assimilate lush ambient soundscapes and dance-infused grooves. It has however been twenty years since he released Microgravity, and his work has branched out in many different directions, from the nature-conscious Substrata or Cirque and the extremely austere Autour De La Lune to the much warmer and jazz-infused Dropsonde. With N-Plants, Jenssen doesn't so much return to his sound of old as adapt it to a more contemporary context.
All named after nuclear reactors and power plants, the tracks make use of openly electronic-sounding textures and bleep-like elements, which Jenssen arranges around his more conventional ambient formations. The use of cold digital soundscapes is a clear reflection on the tight control nuclear power stations are placed under and the inherent tension created by the precarious location of some of Japan's many reactors. Right from the humming noise on which the album opens, Jenssen sets out to instill an element of malaise and tension, emphasised on Sendai-1 by what sounds like the ticking of a clock which, while extremely discreet, rapidly becomes a persistent feature, or on Joyo by layers of statics clustered into a rhythmic loop. Later on, he injects acidic electronics to Ikata-1, ice-cold synthetic strings in the backdrop of Genkai-1 as much warmer hypnotic sounds pulsate in the foreground, or distorted bleeps on Oi-1 to let the feeling of underlying pressure radiate throughout.
Jenssen doesn't always deliberately favour unsettling sequences here, and actually delivers some more peaceful moments on occasion, from the linear bass section of Shika-1 to the throbbing arpeggio of Monju-1 and Monju-2 later on, but these only serve to relieve the strain caused by the more oppressive tracks and soundscapes, and ultimately add to the tension once again.
In the aftermath of the Japanese disaster, N-Plants has become a particularly poignant project. Beside this totally unpredictable aspect though, this is an interesting move for Jenssen, away from the beautifully textured ambient that constitutes a considerable part of his work, and into a more conventional electronic set up. This is perhaps where this album falls short slightly however, its overall appearance lacking the truly individual identity of Substrata, Shenzhou or Dropsonde. Jenssen has lost none of his flair for creating evocative electronic music, but by getting closer to his contemporaries, he appears less as a frontrunner in his field. [the milkman]
Sound of Music (SE):
Historien är otrolig och den går så här: norrmannen Geir Jenssen, som kallar sig Biosphere, bestämde sig den 17 februari i år för sig att göra en skiva inspirerad av det japanska ekonomiska undret. Han gjorde research och hittade ett foto av ett kärnkraftverk vackert beläget nära havet, han hittade fler liknande fotografier, funderade på vad som kan hända om en tsunami sveper in, vore inte det förödande? 11 mars inträffade jordbävningen, tsunamin, kärnkraftskatastrofen.
Om inte profetiskt – spekulativt kan jag inte tänka mig – så är det i vart fall en anmärkningsvärd berättelse som ackompanjerar N-Plants, Biosphere första skiva sedan Dropsonde från 2006 (förutom den mäktiga livekonserten Wireless som kom för två år sedan).
N-Plants är också Biospheres återvändande till en mer rytmbaserad electronica efter en lång svit av ambienta skivor, man kan nästan beskriva den som en dansorienterad skiva om man drar ut på stegen, lite åt den electronica som satte Köln på kartan för drygt 10 år sedan. Musiken har också ett annan tysk drag – de tyngdlösa, svävande mönster som format så mycket kosmische musik. Det är en skön syntes, jag gillar den verkligen, glaserad och förmänskligad på samma gång, preppad med inslag av japanska harmonier och några få röstsamplingar, färre än på tidigare skivor.
Enkla melodier som trampar i cirklar, stort reverb och kalla ljudväggar, utsökt teknisk produktion och bemålad med knastersäker fernissa – där är några element i Biospheres musik och de märks också i flertalet låtar på N-Plants. De feta basarna, syntsvepen, de väl valda fältinspelningarna lägger an dova atmosfärer, bildar bilder, tonsatta vykort. Men tanken på att musiken är komponerad för den japanska kärnkraftsindustrin känns bisarr, det är så långt ifrån Kraftwerks charmiga techno-futurism. Snarare väcker musiken tankar på arkitektur, fabriker i natur, kontraster, vår bekvämlighet mot osäkerheten, det japanska havsbandet mot den ruvande faran. Och den elektroniska musiken, de elektroniska instrumenten, tystnaden när strömmen bryts. Är vi tillräckligt tacksamma för elektriciteten?
Möjligen spelar jag med, men jag kan inte skaka av mig tillkomsthistorien. N-Plants tonsätter med slicka beats och krautsmart rymd en himmel av mänsklig erfarenhet, aningslöshet, bortskämdhet. Kosmische house? Ett alster intill Biosphereklassiker som Patashnik, Substrata och Cirque. [Sven Rånlund]
Verdensgan (Norway):
Nordlys (Norway):
Bergenstidende (Norway):
Aftenposten (Norway):
Forced Exposure (USA):
Such strange and sad timing — at the beginning of this past February, Norwegian musician Geir Jenssen wrapped his first studio album as Biosphere since 2006, having shifted his focus from a general treatise on Japan's post-war recovery to one inspired by the country's power plants and their oft-perilous-seeming locales. The album wrapped on the 13th; less than a month later, on March 11, an undersea megathrust earthquake ravaged Japan, its people, and its seaside nuclear power plants. The idea here was to soundtrack the plants, reflecting on the beauty of their design and the inherent dangers they could pose due to positioning. Thus, while N-Plants undoubtedly began life as another pensive addition to Jenssen's oeuvre, its release in light of all that has happened in the past few months carries with it a distinctly elegiac feel.
It may sound strange to suggest, given the restrained nature of much of the man's work, but N-Plants arrives then as one of the most subdued Biosphere recordings. Quietly rhythmic (yet in a way that differs markedly from the pronounced jazz influence of 2006's Dropsonde), the album is remarkably unobtrusive, one that scores the silent, precise design of a power plant in simple ways that seem to mirror the efficiency of those constructions — nothing wasted, nothing superfluous. Tracks like "Sendai-1" and "Shika-1" come on slow, favoring the barest of elements (a simple beat here, and repeating synth phrase there) while gradually bringing them to the fore to shape and mold the tracks. As always, faint melodies dance around the edges, with spare, muted drones added for texture. Never breaking from its pensive atmosphere, pieces like the brief "Monju-1," with its echoing beeps and Japanese monologue, evoke a simplistic sense of wonder and awe, while the rhythms of tracks like "Genkai-1" and "Oi-1" take the record into darker, colder extremes. Given the gauzier, oft-beatless textures of Biosphere's previous records, N-Plants undoubtedly takes a few listens to fully establish itself. Once it does, however, it's clear that it belongs on the same level as many of Jenssen's other highlights. [MC]
de:bug (Germany):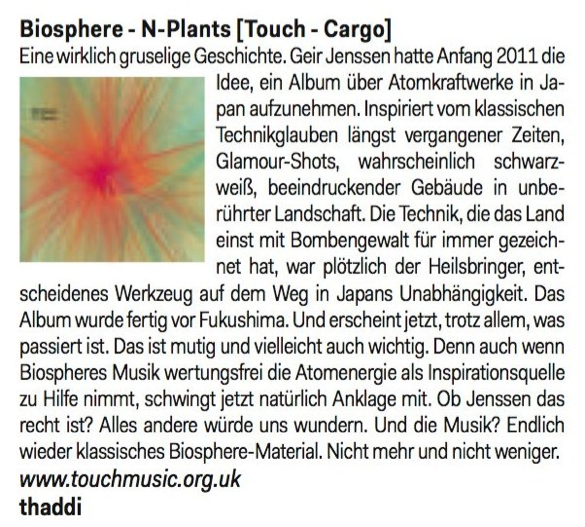 éclat (France):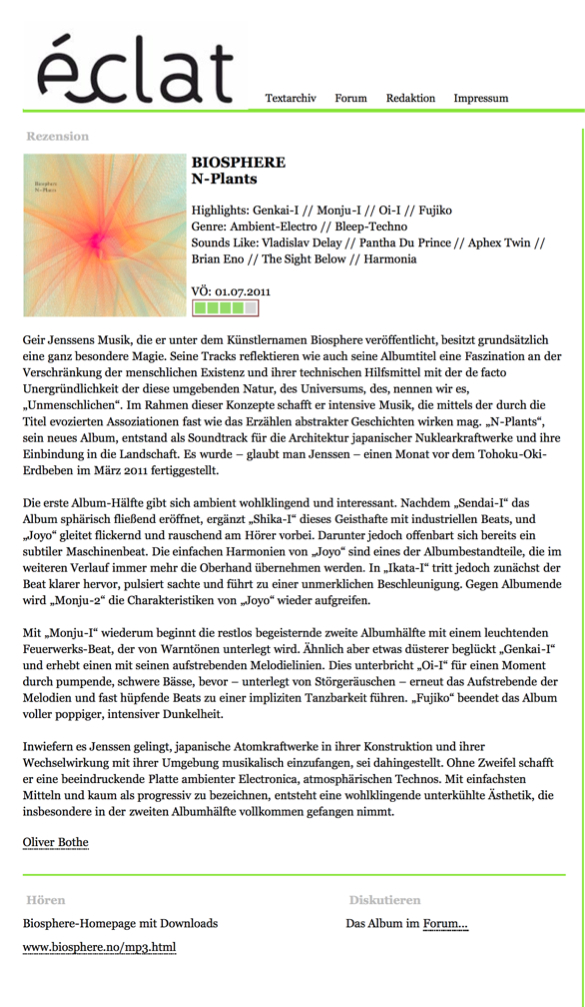 Laut (Turkey):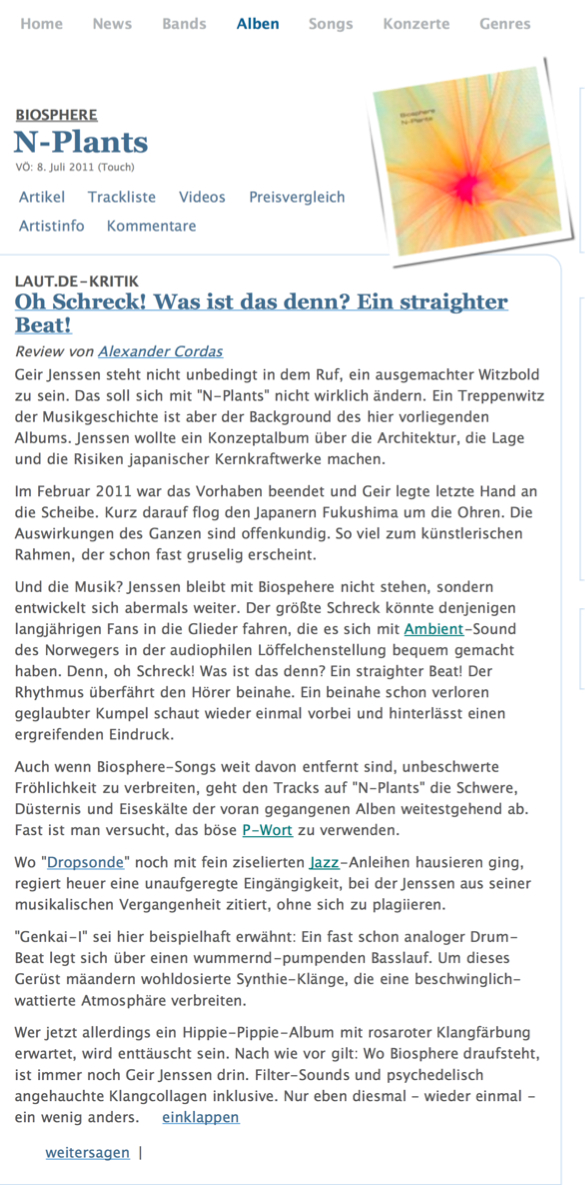 Tagespiehel (Germany):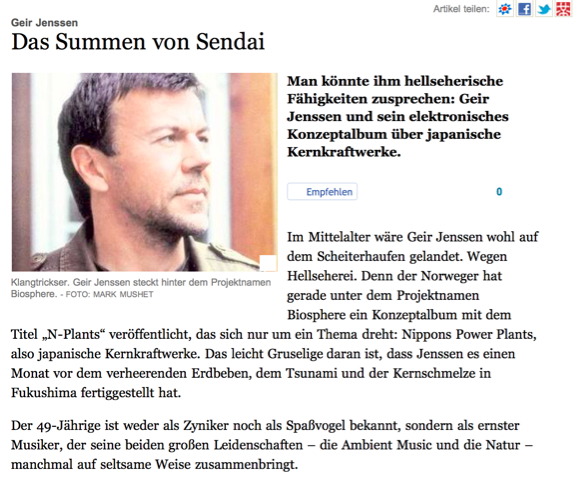 Peek-A-Boo (France):
Back in the 80's there was that genius band called Bel Canto, a Norwegian band who combined a cold synth sound with the warmth of those ethereal vocals by Anneli Marian Drecker but as soon as Geir Jenssen departed, not only did their fame collapse but also music wise there wasn't that much to discover.
Geir was interested in synthetic sounds and so started Biosphere. This electronic project was, in its first decade, inspired by acid house and new beat. During his heydays on dance label SSR, one of his tracks "Novelty Ways" was even used for a Levi's ad. But those who know Geir, know he was never in the game for fame and so he ended up on Touch.
His first release on this acclaimed label, "Cirque" was immediately the start of a new turn in his career as his electro-driven music was more and more ambient.
His newest masterpiece on this label is the heavenly "N-Plants" which is a macabre release.
In February Geir decided to make an album which was inspired by the Japanese post-war economic miracle where he came across a photo of the nuclear plant Mihama. Geir's first thought was, if it's safe for tsunamis and earthquakes? He started writing music about it, commenting on the potential radiation danger. On 13th February the album was finished and a month and four days later the world was facing an other nuclear disaster further destroying our planet.
A foreseeing genius? Who knows but Geir's certainly a musical genius as this electronic masterpiece captures everything a work as such needs. We almost wrote down that this ambient electronic sound is the ideal stuff to sink away in your sofa, but the awful truth is that there is something else sinking into the ocean.
Anyway, genius album you should not miss! [Didier Becu]
Rifraf (Netherlands):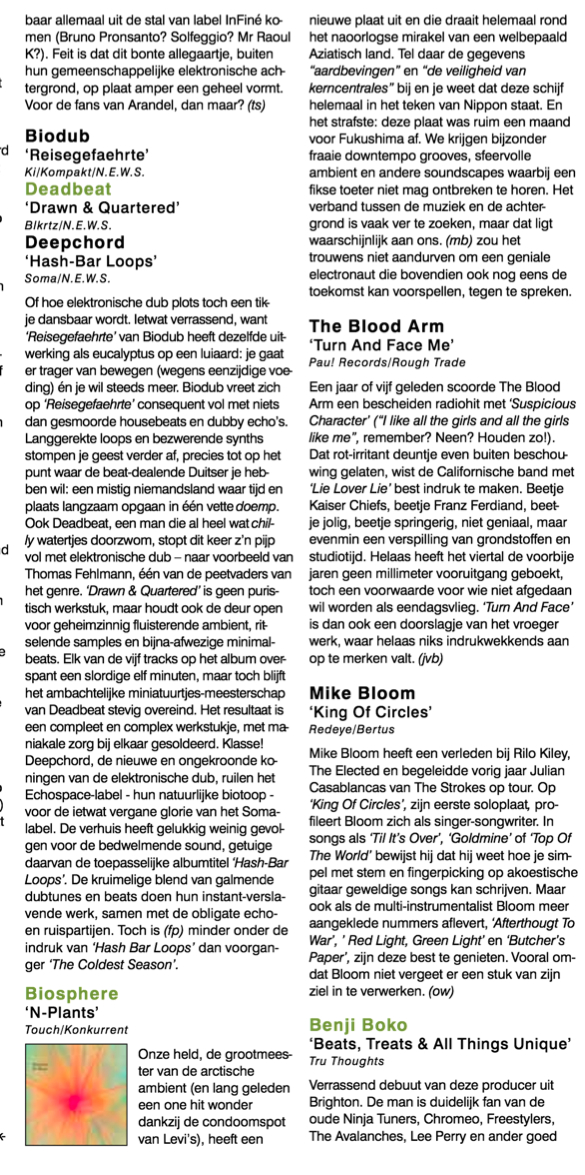 Nordische Musik (Germany):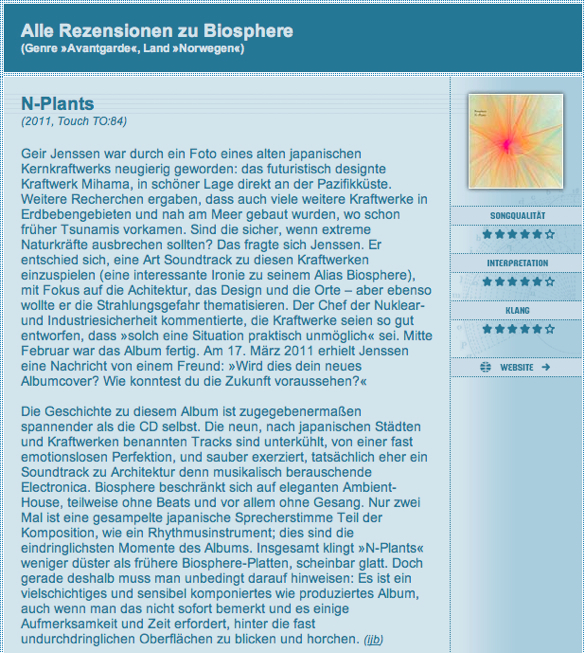 HHV (Germany):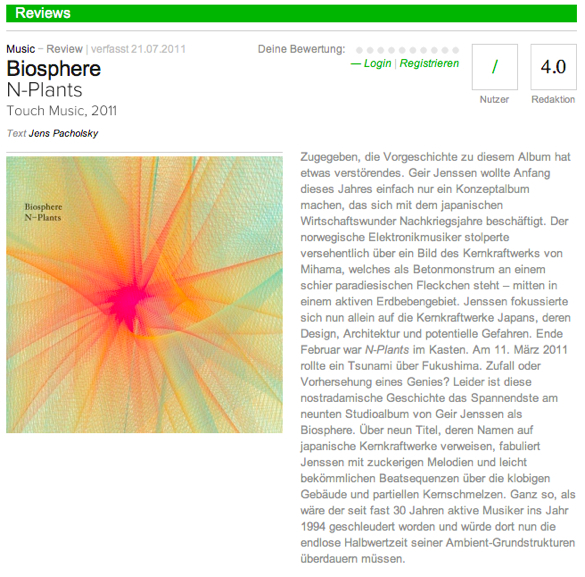 JGG (Germany):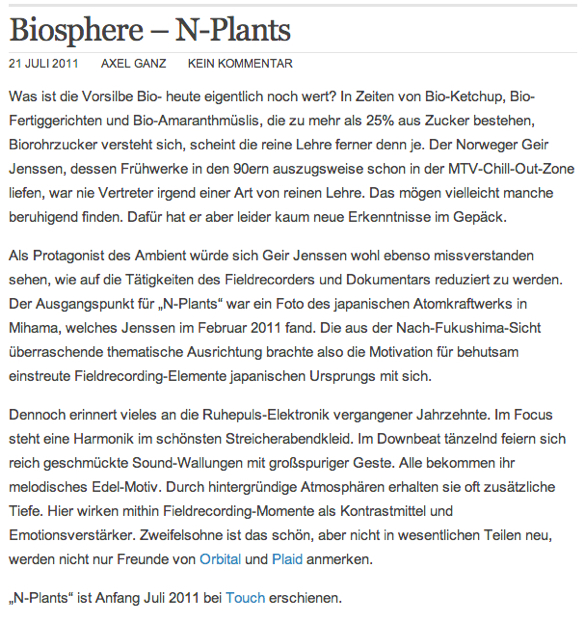 Headphone Commute (UK):
It's been a little over five years since Geir Jenssen's last album, Dropsonde (Touch, 2006). Well, there was a live performance disc, containing elements of previously released tracks, recorded at The Arnolfini in Bristol, on October 2007, entitled Wireless (Touch, 2009). But it is safe to admit that I've been patiently awaiting the next Biosphere album, and it is finally here, released on the beloved UK-based Touch label. Geir Jenssen is regarded not only as a pioneer in ambient music, but also as one of the Norwegian electronic scene's most important artists. With a career spanning two decades, half a dozen albums, multiple sound installations and just as many commissions and remixes, Jenssen is at the forefront of experimental music evolution, alongside innovators such as Brian Eno, Pete Namlook, Steve Roach and Deathprod. With N-Plants, Biosphere explores a new approach to his staple stylistic take on isolation.
Behind the album's name, Jenssen investigates an industrial concept of machinery, post-war reconstruction, and more specifically Japan's futuristic nuclear program. The whole album has an eerie feeling to it, especially since N-Plants was completed in February 2011, a few months prior to the Fukushima Daiichi Nuclear Power Plant disaster. Was Jenssen predicting the future, or simply reflecting with music on an inevitable outcome? The sinister synth pads, edgy tones, minimal rhythms with retro percussion, create a spectral soundtrack for a future documentary of an imagined meltdown. Reflecting on the architecture, design and localization, as well as questioning the potential radiation danger, Jenssen audibly doubts the proclamations of the head of the Nuclear and Industrial Safety Agency, that a potential danger is not possible.
"Early February 2011: Decided to make an album inspired by the Japanese post-war economic miracle. While searching for more information I found an old photo of the Mihama nuclear plant. The fact that this futuristic-looking plant was situated in such a beautiful spot so close to the sea made me curious. Are they safe when it comes to earthquakes and tsunamis? Further reading revealed that many of these plants are situated in earthquake-prone areas, some of them are even located next to shores that had been hit in the past by tsunamis."
The progressions on N-Plants cycle between warm soundscapes and cold atmospheres. An Orbital-esque synth walk pattern kicks in on Genkai-1, and evokes a nostalgic feeling to abandoned people, places, and music. The Japanese voice-overs create an uneasy feeling of watching a documentary on post-earthquake disaster. Perhaps fans of Biosphere's loop-based drone ambiance from Substrata (1997), Shenzhou (2002), and Autour De La Lune (2004) may be at first put off by the old-school rhythmic quality of the album. But upon successful numerous rotations, they will realize that N-Plants will reclaim a space on their record shelf, completing the ambient-house discography of their favorite artist. Reeking of plastic commercialism, desolate minimalism, industrial production and digital replication, N-Type is a score for empty power plants, as much as Eno's classic, Music For Airports.
D-Side (France):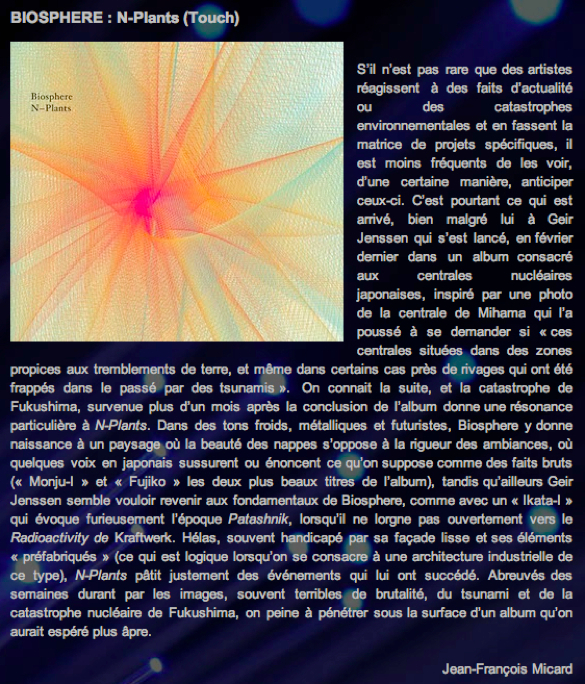 Kindamuzik (Germany):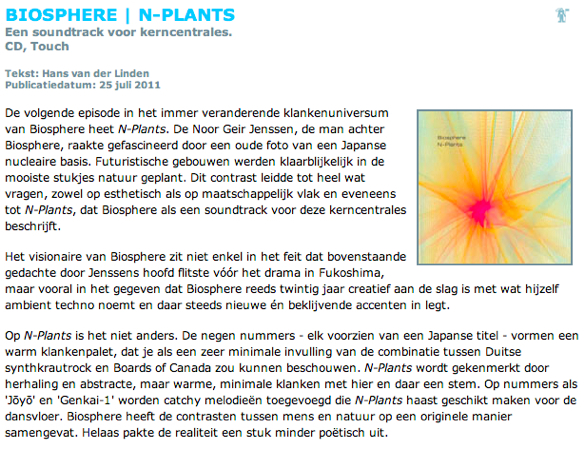 Melanchofobia (Poland):
Hudba "o jaderné elektrárně"? Proč ne: námětů o utopiích a snech z moderní historie, které se nám vymkly z rukou, je v dnešním umění plno. Norský autor ambientní hudby Geir Jenssen, známý i z českých koncertů pod přezdívkou Biosphere, komentuje nové album N-Plants (Atomové elektrárny) docela zajímavě.
"Na začátku února 2011," napsal Jenssen, "jsem se rozhodl vytvořit album inspirované poválečným hospodářským zázrakem v Japonsku. Když jsem se pídil po všech možných
informací, narazil jsem na starou fotografii jaderné elektrárny Mihima. Zaujalo mě, že tahle futuristická elektrárna je umístěná na nádherném místě na mořském břehu. Říkal jsem si: jsou v bezpečí, kdyby došlo na zemětřesení a tsunami? Při další četbě jsem zjistil, že vícero elektráren leží v zónách pravděpodobných otřesů a některé dokonce u břehů, které v minulosti postihly vlny tsunami."
Fotka z Mihamy přiměla Geira Jenssena zúžit si téma a soustředit se jen na japonské jaderné elektrárny. Soundtrack, který k nim vytvořil, hudebně odráží architekturu, design a umístění, [NB – we are not responsible for the acents – ed.]
ale taky vznáší otázky nad případnou radiační hrozbou.
Podle autora bylo album dokončeno třináctého února. Sedmnáctého března mu přišla následující zpráva od přítele na Facebooku: "Geire, před časem jsi se tu ptal, jestli někdo nemá nějaké snímky japonských atomovek. Chceš je dát na obal nové desky? Ale hlavně: jaktože umíš předvídat budoucnost? S pozdravem David."
Album před pár dny vyšlo. Přestože ambientní plochy budou asi mnozí poslouchat bez doprovodného příběhu, samotný ráz hudby se mu určitě nezpronevěřuje. Kolem osy klidného i zrychleného tepu vedou tichý svár různé elementy: hudební motivy v popředí a hrubší šumové proudy v pozadí, které zní jako strojovna za zdí či pára unikající ventilem. Zvuky v sobě mají syntetický futurismus, ale také estétský design, který tíhne k překvapivé jednoduchosti: to je velmi japonské, zároveň to Biospherovi nespoutává ruce do otrockého konceptu. Na otázku, z jakých zdrojů album utkal, mi píše: "Vysamploval jsem atmosféry ze starých japonských filmů. Hlas ve skladbě Monju říká: ´To jsem byl já.´ Jinde starý horolezec popisuje, jaké to je stoupat na horu Fudži."
Na Rádiu Wave vedl tento týden rozhovor architekt Adam Gebrian s Kateřinou Šedou. Líčila velmi zapáleně svoje přesvědčení, že občanská povolání v nás utlumují jedinečnost, skutečné "povolání k něčemu". "Každý je na něco specialista – někdo je spojka a spojuje lidi, jiný je uklidňuje" vyjádřila se Šedá, která zkouší lidem skrze své umělecké projekty pomoci najít jejich silný moment. Pokud tahle teze platí, pak skutečným a naplněným "džobem" hudebníka Biosphera je zpomalovač a harmonizér. Jeho hudba není taneční, ale její mírnější pohyb jako by setřásal nerovnosti a tenze v člověku. Někdo by u N-Plants promluvil o melancholii, jiný o vyrovnanosti, někoho tahle elektronika hřeje, další v ní vidí severský chlad. Tyhle různé odstíny lze shledat proto, že Jenssen se nevychyluje daleko od osy neutrality. Víc emocí do zážitku vneseme my sami svou zkušeností, on je kaligraficky prostý: asi tak jako název jeho skladby Ptáci létají tak, že mávají křídly.
Nespočet DJů vám řekne, že na vytváření beatů je skvělý moment ovládnutí: lidé se nechají strhnout vaším rytmem. Elektronik Biosphere tenhle moment před lety opustil: buď píše pro sebe, anebo aspoň emotivní diktát přiškrcuje na minimum. Zároveň nezní nijak experimentálně a nepřestává mít širší ohlas. Lidé jako on nastavují měřítka žánrové a široce srozumitelné muzice.
Essmaa (France):
Geir Jenssen a déjà un long parcours derrière lui. Après avoir fait partie de Bel Canto durant les années 1980, il était retourné dans sa Norvège natale, à Trosmo, pour concrétiser son projet solo. S'illustrant dans la techno et les musiques de film, la matière électronique proposée par Biosphere prenait, au milieu de la décennie 90, un tournant ambient (Substrata).
Visiblement, Gier Jenssen semble vouloir ajouter à son CV le don de prédicateur. Après avoir examiné les photos, il est devenu fasciné par l'idée que les centrales nucléaires pourraient être construites si près de mers et dans les zones à risque sismique, et cela est lentement devenu l'objet de l'enregistrement. Amateur d'environnements industriels pour le moins désertiques et radioactifs, c'est pour vous. Jenssen s'est donc focalisé sur les plans et photos des centrales nucléaires japonaises, précisant que cette démarche fut effectuée en début d'année et finalisée avant les évènements que nous connaissons tous. Drôle d'approche « marketing » pour vendre ce disque… Une centrale comme inspiration. Certes, l'idée n'est pas neuve, de nombreuses cités ou monuments ayant inspiré les musiciens plasticiens.
Vous l'aurez deviné, « N-Plants » propose des ambiances plastiques dans lesquelles on se promène comme dans une notice. Quelques crépitements, mais point de beats brise-glace accompagnant les images des gyrophares d'alertes. Au contraire, les rythmiques sont printanières. Biosphere se propose d'offrir un univers global qui voit(voyait) dans ce labyrinthe énergétique le futur des parcs d'attraction ou toutes autres possibilités pour les auditeurs à l'imaginaire sans limites. Comme une invitation à visiter ces nouveaux jardins modernes, en écoutant une musique électronique ultra-clean et estampillée Artificial Intelligence. « Les visions de l'avenir qui restent ancrées dans le passé, et les espoirs de nos ancêtres simplement en pointillé sur les rochers de nos erreurs.
Dark Entries (Belgium):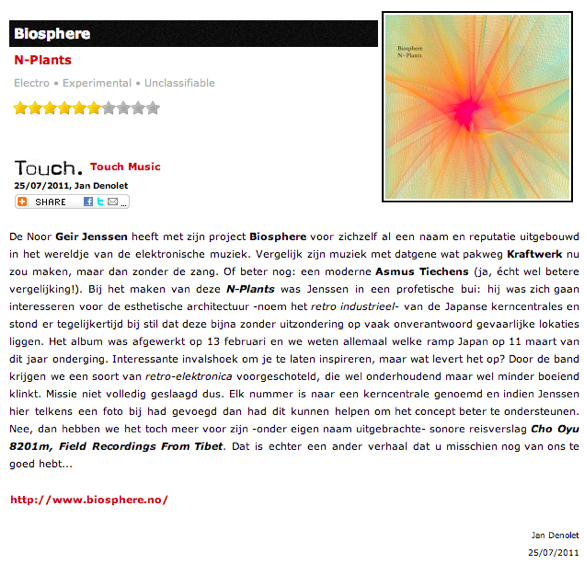 Titel (Germany):
Es ist zum Haareraufen: Nach all der medialen Ausschlachtung, dem hochnotpeinlichen Polittalk und dem Erscheinen der ersten Bücher nun auch noch ein Album, das sich konzeptuell an Atomkraftwerken abarbeitet – an japanischen, selbstverständlich. Aber, das sollte gesagt werden, Geir Jenssen, besser bekannt unter seinem Künstlernamen Biosphere, hat mit der Arbeit an N-Plants einen Monat vor dem gewaltigen Erdbeben, den Tsunamis und den Kernschmelzen begonnen. Von KRISTOFFER CORNILS.
Es fing mit einer harmlosen Recherche an: Jenssen wollte sich mit dem sogenannten post-war economic miracle in Japan befassen, der schier unglaublichen wirtschaftlichen Erholung eines vom Krieg und seinen Folgen schwer geschädigten Landes. Er stieß auf ein Foto des Atomkraftwerks Mihama in der westlichen Präfektur Fukui, welches sich direkt am Meer befindet. »Are they safe when it comes to earthquakes and tsunamis?«, so der Künstler selbst, habe er sich gefragt und sich im Folgenden nur noch auf japanische Kernkraftwerke konzentriert. Auf ihre Architektur, auf ihr Design, auf die Orte, an denen sie sich befinden und auf die Gefahren, die sie bergen können. Das alles lässt der Norweger im Pressetext sehr bedächtig verlautbaren – dass sein Album wohl trotzdem als politische Nachricht (miss)verstanden werden wird, das steht jedoch zweifelsfrei fest. Zuviel Skandalon für ein Album, das sich der beliebten Form des narrativen Konzeptalbums versperrt und stattdessen einen ambitionierten künstlerischen Versuch darstellt. N-Plants will Plastizität bilden, anstatt sich auf das Erzählen zu verlegen, Strukturen transformieren und greifbar machen. Dass die 50 Minuten Ambient Techno, die dabei herausgekommen sind, nicht unbedingt viele Höhepunkte, viel Dramatik oder gar ausgefallene Strukturen zu bieten haben, sollte offensichtlich sein.
Zugegebenermaßen: Es bedarf wohl überhaupt der Hintergrundinformation. Denn aus Songtiteln wie Sendai-1, Joyo oder Genkai-1 wird sich nicht jedem sofort die konzeptuelle Ausrichtung erschließen. Hat man die den Songs zugrundeliegende Thematik allerdings erst mal verinnerlicht, wirft man selbst einen Blick auf Architektonik und wägt, mit einem bestimmt mulmigeren Gefühl als Jenssen es noch im Februar hatte, die Gefahren dieser überwiegend pastellfarbenen Komplexe ab, dann erschließt sich die Musik immer weiter. Und wird irgendwann zum auditiv-visuellen Selbstgänger.
Biosphere liefert einen dezenten, weit weniger kühl als erwarteten Sound, der wie eine Kamerafahrt funktioniert, die mit häufigen Zitaten auf die Musik der Achtziger und glitchigen Elektroschnipseln ein schönes Finish erfährt. Würde man dem alten Bonmot folgend, das meistens Frank Zappa zugeschrieben wird, die Frage nach der Tanzbarkeit dieser Architektur stellen, wäre die Antwort eindeutig – kein Four-To-The-Floor, kein bisschen von dieser körperlichen Herausforderung, die allein der Begriff Techno schon immer an den Körper zu stellen scheint. Stattdessen sorgsam, wie Stück für Stück abfotografiert und später zum großen Bild vervollständigt, die einzelnen Motive, die sich auf einem meist gleich bleibenden Grundmuster ablösen oder umspielen, nie aber wirklich kontrapunktieren. Herausstechend sind höchstens die Sprachsamples auf Japanisch.
So viel angestrengte Exegese man auch betreiben wollte – eine Gefahr strahlen die neun Kompositionen nicht aus, es wird nicht mal der Angsttrigger Fukushima-Dai-ichi eingesetzt. Sollte Jenssen zu der Anlage Musik verfasst haben, er will mit der Katastrophe, die im März ihren Anfang nahm, nicht hausieren gehen. Selbst wenn er zugibt, mittlerweile gefragt zu werden, ob er denn die Zukunft voraussagen könne. Könnte er das allerdings, vielleicht hätte er einen anderen Zeitpunkt gewählt, um N-Plants zu schreiben. Denn so wird er leider nicht überall als der Schöpfer eines gleichermaßen genialen wie geglückten intermedialen Experiments oder der Komponist eines unendlich organischen möglichen Meilenstein des Ambient Techno gefeiert, sondern könnte Opfer der Schlagworte werden, die sich unweigerlich aufdrängen, ist von Japan und Atomkraftwerken die Rede. [Kristoffer Cornils]
Chronicart (France):
Incroyable mais vrai, ce huitième opus solo de l'indispensable Biosphere découle tout entier d'une enquête sur l'état des centrales nucléaires au Japon, et plus particulièrement celles construites sur les littoraux. L'interrogation de Geir Jenssen, inspirée par une vieille photo de la centrale de Mihama, dans la préfecture de Fukui était pour ainsi dire évidente : « Le fait que cette centrale d'aspect si futuriste soit située dans un lieu si beau et si proche de la mer a attisé ma curiosité. Sont-elles sûres en cas de tremblent de terre ou de tsunami ? Des lectures plus approfondies m'ont appris que nombre de ces centrales sont situées dans des zones à risque sismiques, et que certaines d'entres elles sont même localisées près de rivages déjà frappés par des tsunami par le passé ». Envisagé et bouclé en février dernier, N-plants a bien sûr pris un sens autrement funeste après le tsunami du 11 mars 2011. Cinq mois de terrifiant piétinage dans les terres dévastées de Fukushima plus tard, on aura même de la peine à ne pas le trouver crucial.
Loin de faire reluire son costume de Nostradamus et fidèle au crédo antique qui dit qu'aucun événement ne saurait être compris à moins de 50 ans de distance, Jenssen n'a pourtant pas changé une note ou un échantillon de son disque après le début de la crise. Loin de la diatribe anxiogène attendue, N-plants dégage plutôt un étrange remugle d'apaisement préoccupé, qui détonnera particulièrement en regard d'autres oeuvres autrement plus inquiétantes de ses comparses du cercle de l'ambient « polaire » comme Deathprod ou Thomas Köner. De fait, le Norvégien ne s'est jamais complu dans l'obscurité très longtemps. De mémoire, ses plongées dans le noir les plus longues (Polar sequences ou Fires of ork), il ne les faisait jamais en solitaire. Si Biosphere tout seul inquiète, c'est toujours à la manière des amphitryons intelligent techno du début des 90s (dont il fait partie) ou des maîtres de la musique synthétique des années 70: par jonglages de contrastes et petites touches glaçantes, comme si le Norvégien était effectivement l'un des derniers détenteurs de ce sésame onirique secret qui a été pour beaucoup d'entre-nous la première étape de notre amour fou pour la musique électronique.
De fait, les futurs archéologues embrouillés dans la chronologie de l'oeuvre épaisse de Jenssen seront bien en mal à dater N-plants par rapport à Dropsonde, Cirque ou même Patashnik. Pas que Biosphere soit plus engoncé dans son propre passé que d'autres producteurs plus dialecticiens de sa génération, mais la cohérence des formes particulièrement articulées qu'il s'est bâti est telle qu'elles semblent presque exister en parallèle du régime temporel de la musique électronique. Ainsi, ce magnifique N-plants n'est ni ambient, ni old school, ni techno, et se tient dans une rigueur de forme particulièrement têtue et décalée : attachement religieux à la répétition, petites boîtes à rythmes désuètes, arpégiateurs simplets, nappes faméliques de string machine malade, boucles de voix accordées comme chez Steve Reich (ou dans Patashnik), reverb numérique à tous les étages, petites mélodies de cristal comme chez les amis de Plaid (Genkai-1) pour figurer le tout en alchimie et rien, absolument rien de plus pour adresser frontalement l'horizon si grave du projet… Si ce n'est un unique échantillon discret de gagaku sur les dernières mesures de Fujiko, qui souligne à peine le douloureux maléfice qui stigmatisera pour toujours cet album comme une parenthèse désenchantée dans l'oeuvre de Jenssen. Avant ou après la catastrophe, pour les bonnes ou les mauvaises raisons, N-plants est au moins un opus particulièrement fier et précieux d'un immense auteur. [Olivier Lamm]
Forced Exposure (USA):
Overt rhythms had seemingly disappeared from Biosphere's work over the past decade, as he had been building his lush ambient electronica from orchestral loops and samples. Dropesonde may have broken into an electronic jazz shuffle for a moment or two, but all of his signature ambient-techno structures seemed to be something of the distant past (especially from his 1994 album Patasknik). That is until the 2011 release of N-Plants, which is the first album from Biosphere to feature the drum machine with any regularity since maybe Cirque in 2000. Gier Jenssen hasn't lost his touch, that's for sure, as a clean, mechanical breakbeat punches through the slow-as-molasses basslines and heavenly ambient swooshes on "Shika-1." Blooping melodies march alongside the clockwork rhythms of "Joyo" and "Ikata-1," and "Genkai-1" could be some missing Boards Of Canada track from Music Has The Right To Children with its off-kilter sub-melody locked in step with a warmly cybernetic tumble of algorithmic notes and a gliding hip-hop breakbeat.
This is all well and good as simply a great Biosphere record, but Jenssen actually finished this album in early 2011 as a study on the architectural designs of the Japanese nuclear power plants built during the reconstruction period in the middle of the 20th century. On completion of N-Plants, he saw this as a soundtrack to those plants, their relationship to the turbulent landscape, and the potential damage caused by radiation contamination if something were to happen. Little did Jenssen know that the Fukushima Daiichi nuclear power plant would succumb to the damage from an earthquake and subsequent tsunami. While his precognition is downright spooky, the album is not. It's quite lovely and lilting even in its mechanical design.
The National (USA):
When the artist known as Biosphere set out to make his new album, the story goes, he began to get inspired when he happened upon an old photograph of a picturesque nuclear plant by the sea. He was newly stationed in Kraków, Poland, where he'd moved after spending most of his 49 years cloistered in the upper reaches of Norway. His setting for the winter had changed: a grey city sighing beneath clouds of smoke as opposed to a remote town where the northern lights shine.
Geir Jenssen, the man known as Biosphere, was thinking internationally, and his pursuit of a theme sent his mind travelling from Europe to the "post-war economic miracle" of Japan. Not exactly the first thing that springs to mind when thinking of subjects to address by way of ambient electronic music, but then, what is?
The photo he chanced upon showed the Mihama nuclear power plant, which sits majestically, like a strange sort of mechanico-futuristic resort, on the coast of Wakasa Bay. He found the plant and others like it beautiful but also bewildering. He couldn't help but wonder: "Are they safe when it comes to earthquakes and tsunamis?"
This was in early February, a little more than a month before Japan was devastated by both. The results of his work, finished before those fateful rumblings on March 11, are gathered now on N-Plants, a striking new Biosphere album that pits an unwitting sense of portent against a disquieting air of mystery.
Geir Jenssen has been making ambient electronic music under the name Biosphere for a decade, and most of it has been at least a little bit mysterious. His classic album Substrata, held out as a touchstone of the genre since its release in 1997, layered atmospheric sounds with excerpts of speeches from the television series Twin Peaks, and his 2004 release, Autour de la Lune, was made in mind of 19th-century science- fiction writer Jules Verne and noises from outer space. Samples of the sort abound.
But none could have foretold the mysteries that greet N-Plants. Foremost among them is how much, if at all, the conception of nuclear plants really figures into the album's sound in the end. In brief notes tagged to the release, Jenssen wrote of his new-found fascination with such industrial sites: "I wanted to make a soundtrack to some of them, concentrating on the architecture, design and localisations, but also questioning the potential radiation danger (a cooling system being destroyed by a landslide or earthquake, etc)."
That's certainly intriguing, but it's the only even remotely specific statement that Jenssen offers as to his working process. Did he go visit? Did he stay at home and look at photographs, build models, chart out angles from blueprint plans? Did he consult with shadowy sorts who know more than is generally known about potential radiation danger?
None of that is clear, and so it is hard to divine what is going on in a track like the brooding, burbling album-opener Sendai-1. It reveals itself over the course of eight minutes, with a mix of subtly seething environmental noise and what sounds like a simulacrum of a muted horn in mourning. At the root of it is a gently cycling mechanical hum, the kind of sound you can imagine issuing from a big grey machine covered with feeble yellow caution tags. It's eerie but also beautiful, like an elegy.
It's also an enigma, which goes a long way towards separating such a track – and all the others on N-Plants – with corresponding titles like Genkai-1 and Monju-2 (though not Fukushima, the name of the plant that has been the source of such troubles in Japan of late) – from what might otherwise be classified as more or less conventional electronic music. Much of that owes to the unique production touch of Jenssen, whose music as Biosphere sounds improbably spacious and weighty. His widescreen vision and wandering sense of patience in tracks that take their time to unfurl tends to pay off, and his robust bass sounds come across more like natural phenomena than mere musical tones. But some of the exceptionalism owes to a simple question worth asking: is work of the kind even really music? In an article in The New York Times, Brian Eno – mastermind of what most of us now know as ambient music – addressed his own recent yearning for a different term of art. His offering to take the place of "music" in such cases was sonema, an invented word meant to signal a 21st-century set of priorities given to "sonic immersion and environment". It's less music than some other medium – or at least it can be helpful to think of it that way.
Certainly it is when taking in work by some of Biosphere's peers. Also out on Touch, the same London-based label/multimedia-enterprise responsible for N-Plants, is Cross-Pollination, a curious recent release made up of material recorded and recontextualised by the artists Chris Watson and Marcus Davidson. One piece features a time-compressed version of actual sounds heard at night in the Kalahari Desert; the other calls on a human choir to interact with the sounds of bees swarming in an English country garden. Jana Winderen, another artist on Touch who won this year's prestigious Prix Ars Electronica award for digital music, works with aural cues taken from underwater recordings of cod and shrimp.
At what point, in cases of the sort, do the connotations of sound and music diverge? Or might they remain the same? Does it even really matter?
One of the pleasures of ambient music is the way it squirms free of tidy either/or propositions, and in fact works to affirm both sound and music as guiding principles, each on its own terms.
In the case of Biosphere especially, it would be a mistake to privilege one over the other. Heard a certain way, nothing about Biosphere's work is especially abstract.
Indeed, tracks on N-Plants like Ikata-1 and Oi-1, with their skittering rhythms and formalistic designs, play like the kind of minimal techno much in fashion in numerous electronic-music realms.
Heard another way, however – with a compelling narrative attached and probing questions asked by way of implication – Biosphere's music is extremely abstract. It's stranger than it sounds at first, and then grows ever stranger as the mystery behind its making begins to suffuse a listener's interaction with it. What are we to make of such work? What are we to make of ambient electronic music in general? Does it have anything in particular to communicate and, if so, what?
The last track on N-Plants is the only one to touch down expressly on the album's stated theme. Over some synthesised electronic whirling and a series of severely constricted beats, it features the voice of a Japanese man talking.
To a listener not versed in Japanese, he sounds nervous, reticent, maybe anxious about the potentiality of a menacing event to be delivered in some eerily unidentifiable way. He might be talking about radiation danger or the precariousness of certain nuclear-plant locations or the weird unknowability of technology at large. Then again, he might just be talking about the weather. [Andy Battaglia is a New York-based writer whose work appears in The Wall Street Journal, Artforum, Spin and Pitchfork.]
Goûte Més Disques (France):
Sans le vouloir Geir Jenssen, mieux connu sous le pseudonyme Biosphere, est parvenu à prédire l'une des plus grosses tragédies de l'année. Tout commence par l'idée de réaliser un album autour du miracle économique d'après-guerre qu'a connu le Japon. Très logiquement, le Norvégien s'est penché sur l'industrie nucléaire, et une photo lui a rappelé à quel point les centrales étaient proches de la mer, souvent dans des zones connues pour être les épicentres de tsunamis passés. Biosphere a voulu faire une bande sonore dédiée à ces centrales nucléaires, traitant de leur design, leur localisation mais également de la question de leur sécurité.
Cette réflexion a débuté en février et s'est concrétisée par un album sorti ce mois-ci, le présent N-Plants. On ne refera pas l'histoire, mais un mois après le début de ses travaux, l'une des plus grave catastrophes nucléaires au monde frappait les lieux-mêmes de ces recherches. Pourtant, il ne faudrait surtout pas en déduire que N-Plants est un disque austère, ni même industriel. Au contraire il est particulièrement lumineux, très dense. L'ambient –techno du maître Norvégien touche une fois de plus à quelque chose de pur, tout en revenant à une certaine esthétique inspirée par les premiers élans techno – qu'ils viennent d'Angleterre ou de Detroit. On y entend les exploits ambient-electronic de Global Communication, les visions futuristes d'un Arpanet ou le rêve éveillé d'un Barbarella sous morphine. Bref, le beat est en retrait, presque electronica, et les claviers réveillent en nous le mythe du Mensch-Machine kraftwerkien, comme pour nous rappeler les dangers de l'union entre homme et science. Mais n'exagérons rien dans la dramaturgie qui nous occupe, tant il parait présomptueux de rattacher N-Plants à ce que nous connaissons aujourd'hui de la tragédie. Disons plutôt que ce disque s'impose comme une vraie réflexion globale sur la technologie dans toute sa beauté, et toute sa cruauté.
Etrange objet que nous propose ici Biosphere : un disque de très haute volée, marqué de manière involontaire par une certaine noirceur. Ce qui est sûr, c'est que si vous aimez le versant ambient du premier âge techno, vous aurez avec N-Plants matière à réflexion. Science sans conscience n'est que ruine de l'âme, disait le philosophe.
Malheureusement.
Hifly (web):

The Silent Ballet (USA):
Geir Jenssen, a.k.a. Biosphere, wasn't predicting the future when he started working on N-Plants back in February of 2011. The Norwegian laptop producer simply wanted to create music inspired by the architecture of Japan's nuclear power plants and their precarious proximity to the sea. Less than a month after his work was done, the world witnessed the destructive movement of tectonics plates within the Oshika Peninsula region and the ensuing nuclear disaster. Months after that, Jenssen's work was finally released as nine electro ambient tracks, each named after a different Japanese nuclear plant. Culturally speaking, the release is obviously pretty significant. But since the inspiration for the release occurred to the artist prior to the tragedy, it leads one to wonder if the work would still have been capable of standing on its own had the lithosphere decided to just stay put.
Jenssen has worked consistently since releasing Substrata in 1997, a record widely regarded as his magnum opus. And for the most part, his work is pretty damn engaging. This is the reason I was slightly disappointed by N-Plants. It lacks the pure, organic signature that has secured a permanent spot for Biosphere in the annals of amazing music. Then again, if one wants to compare N-Plants to Jenssen's previous material, it's obliviously stupid to hold it up against Substrata. The more prudent comparison would be with his 2006 release Dropsonde. Both records share a similar construction regarding downtempo beats and scattered glitches of electronic frill.
Aside from the track titles, there isn't much on the release that leads one to a direct conclusion that the theme here is the design and localization of Japan's nuclear power plants. It's quite a stretch, but I suppose one could draw a parallel between the ubiquitous sawtooth waveforms on tracks like "Ōi-1" and "Ikata-1" to that of the constant electrical and mechanical processes that operate in order to sustain nuclear fission. Simply put, the sounds on the release lack any audible references that directly relate to the established theme.
Oftentimes, after a tragedy or horrific happenstance, the masses retroactively attach meaning to art that's either undeserving or completely non-existent. Suddenly, coincidences become conspiracies and books are unnecessarily published. Overall, N-Plants isn't much to scream about. There are a few gems that will hopefully serve as compositional benchmarks for future explorations. "Monju-1" and "Monju-2" are fairly strong examples of this because, structurally, they're less abstract and noise-driven than everything else. They take on more elegant arrangements that are more accessible to those familiar with Jenssen's epic career. [Brent Andrew Dare]
Westzeit (Germany):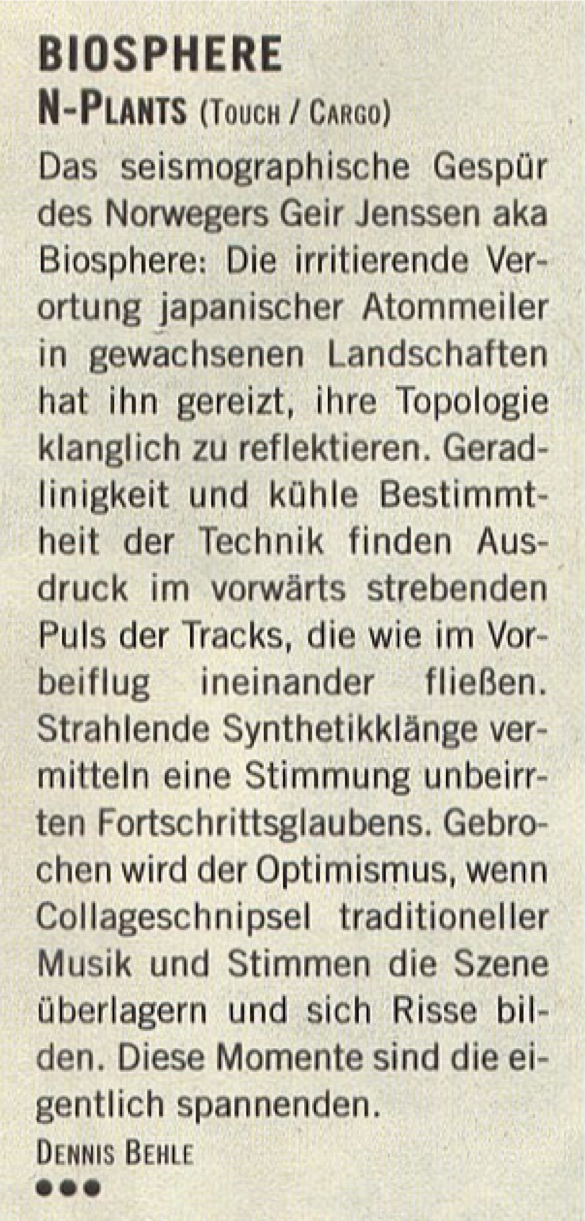 Tokafi (Germany):
Critics and listeners alike have interpreted the work of Geir Jenssen in colourful ways: As a translation of his "arctic" homeland Norway into music; a minutely crafted and emotional continuation of Eno's pure ambient concept; a melancholic soundtrack to solitude; and even (with reference to his much-revered Fire of the Orks project with Frankfurt's Pete Namlook) a contribution to Nitzsch'ean philosophy. Jenssen himself, who is often, mistakenly it seems, taken for a somewhat over-serious, unhumorous and forever-deep-thinking sceptic, has taken a both more pragmatic and poetic stance. To him, his music was never intended to serve as aural wallpaper but, as he put it in a revealing Invisible-Jukebox-feature for The Wire in August of 2006, as "a painting on a wall that you listen to". This inevitably discrete difference may explain the amount of conflation his intentions have been prone to. Beauty and ambiance have their place in the Biosphere-universe, but they never come for free: The wall these paintings are hung on is your mind and the as a listener, you need to engage with the compositions, observe, follow and evaluate their unfolding (or resting) in time for them to truly take on meaning.
This is perhaps more true of N-Plants than of any other Biosphere-full-length. If a previous effort like Autour de la Lune, a serene, minimal, whisper-quiet and disturbingly subsensorial release, managed to take the polarities in his oeuvre to their point of highest refinement and peaceful cohabitation, they are now systematically turned inside out and brought to a head-on collision. The remarkable threedimensionality of Jenssen's aural sculptures has been replaced by a more direct and concrete sound, in which merely a few fizzings and hissings create a vague sensation of depth and plasticity. The mysterious intangibility of his arrangements has given way to pieces built on traditional concepts of bass, harmony and melody. And although rhythms have never, strictly speaking, been in a stranger to his oeuvre, beats are staging an unexpectedly upfront comeback here, with stoically linear percussion patterns underpinning more than half of the material. If one's first assessment of N-Plants is therefore one of a somewhat conventional song-cycle pierced by the occasional sonic surprise, then that impression is not entirely incorrect – the album is indeed marked by the friction between amicable atmospheres and ambitious stimulation, between the trivial and the triumphant. And until the very end, the tension between these poles will not be resolved.
As if to serve as markers, the two opening tracks, towering over the other contributions with their eight-minute expansiveness, are expressing this dichotomy most obviously: "Sendai-1" is all but entirely made up of a gently undulating sequencer pattern played on a xylophone-like synth-sound running through the entire piece, embedded into a soft sonic environment comprising of a cool, crystalline drone and warm, distant string harmonies. The outwardly repetetive nature of the track is a miraculous result of a chain of subtle variations, re-adjustments in dynamic relations as well as an arrangement made up of bewilderingly unadjusted elements: Somewhere in the distance, an almost inaudible high-hat is ticking out of sync and the sequencer line turns out to be stumbling, stuttering and doubling-up on closer inspection. It is an equally ambitious and beguiling piece which depends as much on its determination to re-invent itself in every single moment as it does on the listener's temporary perspective and involvement. The contrast with subsequent "Shika-1" could hardly be more striking. Here, Jenssen works with little more than a gently floating three quarter time beat and a richly resonating bass. What sounds as though it could be the beginning of an epically designed waltz quickly reveals itself as an exercise in repetition: After a mere three minutes, Jenssen has already run out of motives and is reverting to muting and un-muting different channels and trying out various combinations of existing elements. There is no sense of development here, not even the faintest trace of progression, save for one or two discretely inserted percussion rolls. Instead, the music keeps spinning and whirring in its private cocoon until it has reached saturation point.
Jenssen once claimed that the sole reason why he moved from techno to ambient in the early 90s was because he simply "got bored with beats". And yet, the return to the more upfront structures of N-Plants does not retract that statement. Rather, the record is caught – comfortably in one moment, uneasily in the next – right between these genres and the experiences implied by them. The whole architecture of the album, in fact, as part of which the more intricate and complex tracks are immediately juxtaposed with accessible, pure loop-pieces, suggests that it is not each individual piece as such which counts, but the effect created by demonstratively pitting these contrasting approaches against each other. At times, Jenssen seems to be overstretching things, especially when, as on the closing "Fujiko", he is relying on nothing but a few supposedly narrative samples to do all the talking. And yet, there are moments, when his strategy lends an unexpected emotional force to pieces which would otherwise seem outright trite: Clearly, the two layers manifesting themselves on N-Plants are not just each other's opposites, they also feed from each other, entangled in a symbiotic relationship.
As mentioned, it's a fine line the album is treading. As a listener, you'll certainly have to look closely: If these are indeed aural paintings, then their imagery matters less than the composition of colours, textures and contrasts. [Tobias Fischer]
Groove (NO):
Melankolsk optimistisk
Med profetiske følere svever Biosphere ut i eteren, søkende etter nye horisonter.
17. februar var Geir Jenssen (aka Biosphere) sitt siste album N-Plants ferdig.
N-Plants har en vakker og avslappende atmosfære, til tross for en urovekkende rastløshet som ligger til bunns. Inspirasjonen til utgivelsen er Japans økonomiske vekst i etterkrigstiden, med et sterkt fokus på landets atomkraftverk. Låtene er døpt etter japanske atomkraftverk, og som Geir Jenssen selv skriver på www.touchmusic.co.uk, så er låtene deres lydspor. Jenssen sier lyden omhandler arkitekturen, plasseringen, og den overhengende fare for ødeleggelse. Noe som han er opptatt av er det finurlige ved å plassere atomkraftverk i områder frekventert av jordskjelv, og så nærme havet i et land hvor tsunamier ofte braser innom. Det hele virker nesten profetisk med tanke på den tragiske katastrofen Japan nå nylig opplevde.
Lyden på N-Plants skaper en leken og kjølig atmosfære, akkompagnert av Biospheres lunefulle varme. Den futuristiske lydbølgen Jenssen presenterer bærer dette godt, med en sonisk kvalitet som om fra et instrumentalt atomkraftverk. De tonale utspringene stiger og stiger, messende lag av synther, lette rytmer spretter stadig stødig på lydlandskapet, et isende, skurrende og glødende tak av elektrisitet, nervøse alarmer, japanske monologer, som holdes i tråd med et avmålt men ekstatisk mål.
Dette er et godt gjennomført album. Biosphere har evnen til å dra deg ut på en reise i psyken med både dystre og lystre inntrykk, uten å ty til sorte lunder. Med andre ord er det en unik reise. Konteksten som Geir Jenssen valgte å skape dette albumet i, beveger Biosphere videre ut i den futuristiske eteren, og setter opp enda en ny flaggpost. [Thomas Holme]
Opplandarbeiderblad (Norway):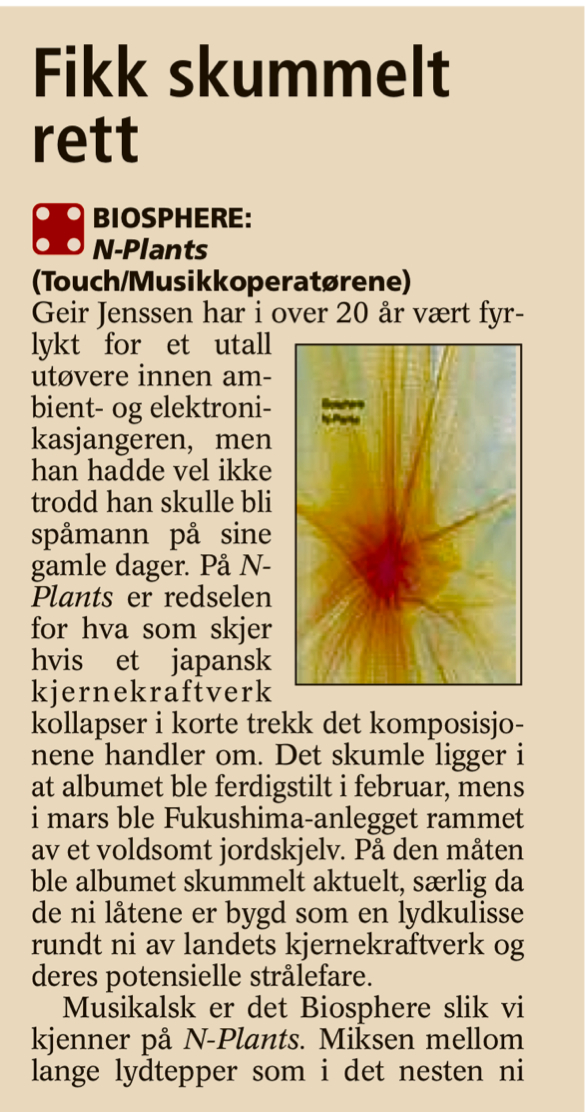 Cyclic Defrost (Australia):
Geir Jenssen's output under his Biosphere guise has been quite prolific, since the debut Microgravity a phenomenal 'debut' album in the arena of techno for this Norwegian producer. Previously he worked with the synth band Bel Canto and released an album under the name Bleep, which had all the depth charge effects and slightly dubby ambiance with a heavy nod to aspects of acid house. The second album as Biosphere, Patashnik, continued the slightly ambient house aspects of his work and Substrata, released with some unfolding drama through Eno's All Saints label, proved to be the outstanding ambient album of the Nineties, a glacial isolationist epic. Since then there have been a string of releases that have headed into more oblique art directions with greater degrees of subtlety and rigor but without the mass appeal of his earlier works. The release of N-Plants was accompanied by a snippet of writing by Jenssen alluding to his interest in February 2011 of making an album based on the Japanese post-war miracle which sparked an interest in their nuclear power plants especially Mihama. The writing concludes with the words of a facebook friend : "'Geir, some time ago you asked people for a photo of a Japanese nuclear powerplant. Is this going to be the sleeve of your new coming album? But more importantly: how did you actually predict the future? Kind regards, David.'" The slight invocation to mystery and /or misreading is one that I could not let by but it gave me a chuckle as it is as good a hook as any to land your ears on.
Musically the album is a very discrete affair with quite dubbed out feel in a pristine manner and a metallic and warm ambience underpinning it's minimal forms. As with Jenssen's other works it conveys a melodic touch which work against the isolationist tendencies of his sound to invite the ear and sensibilities to a comforting place amongst the stark scapes of his ambience. 'Ikata -' is a fine example of this which pars the sounds to aspects of drum programming over a warm ambient wall and introduces a focal aspect of static patterns as a display. 'Monju-1′ has Japanese spoken word samples a concentration on melodic tones and long synth actions. 'Monju-2′ incorporates aspects of Japanese instrumentation and has the field recording of a fly, but these are almost precursor aspects to the track which is moves into the melodic with dark undertone electronica, bringing back the fly as perhaps a chorus aspect to the work. 'Fujiko' ends the album and is composed of familiar Jenssen patterns as well as Japanese spoken word, it moves more upbeat and has deeper dub elements to it's drums as well as subtle but insistent build that holds pace and provides an immanence without suggesting a destination to its impulse. Notably there is also a remix EP stemming from this album called The Sight Below which is a project created by Rafael Anton Irisarri. [Innerversitysound]
Opplandarbeiderblad (Norway):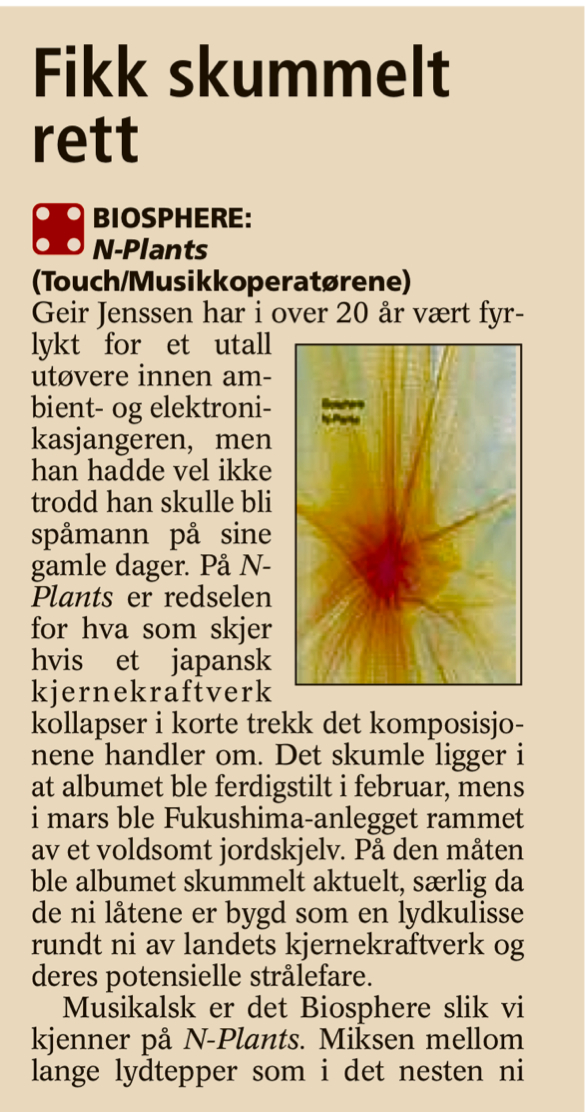 Rolling Stone (Germany):

Sonic Seducer (Germany):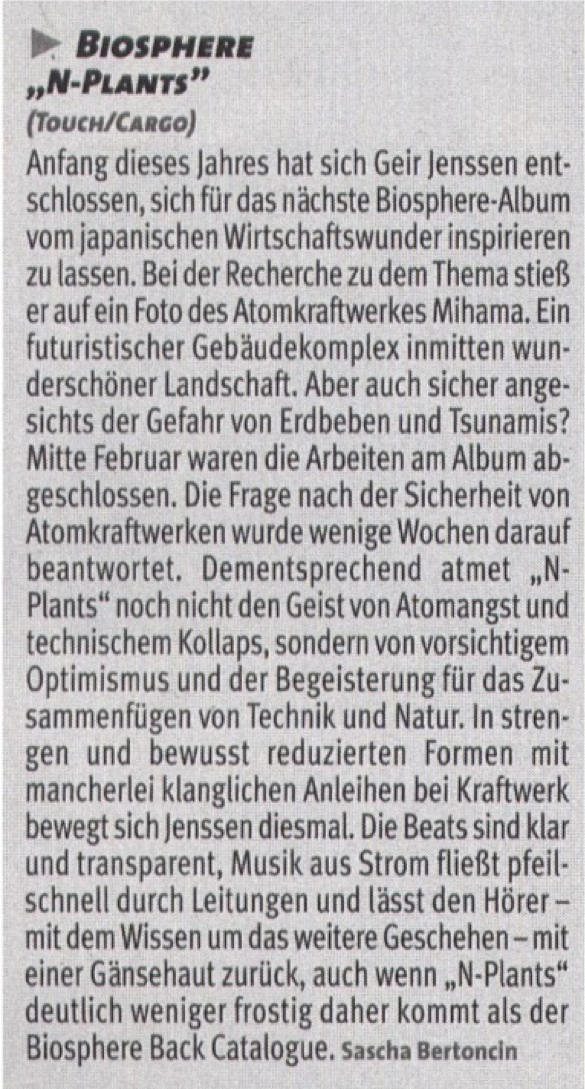 Rock-A-Rolla (UK):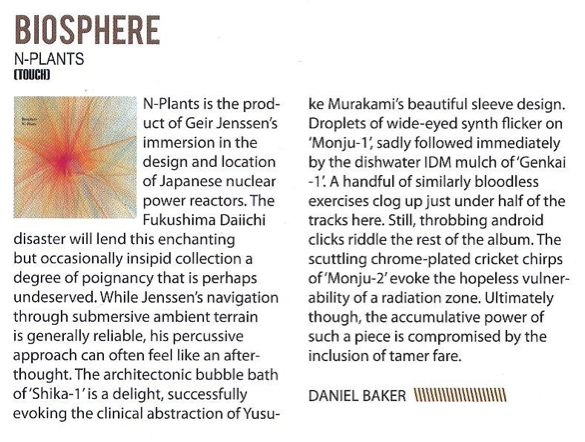 Aufabwegen (Germany):
Textura (USA):
Having learned that Norwegian electronic music producer Geir Jenssen had decided to draw his inspiration for his latest Biosphere album from the the architecture and potential instability of Japanese nuclear power plants (with all nine of the album's tracks named after them), I expected the collection's mood to be generally foreboding and ominous, an expectation bolstered by the recent earthquake and tsunami that led to the Fukushima nuclear disaster, even if that horrible event occurred a month after Jenssen completed the album material. In February of 2011, Jenssen himself wrote: "Decided to make an album inspired by the Japanese post-war economic miracle. While searching for more information I found an old photo of the Mihama nuclear plant. The fact that this futuristic-looking plant was situated in such a beautiful spot so close to the sea made me curious. Are they safe when it comes to earthquakes and tsunamis? Further reading revealed that many of these plants are situated in earthquake-prone areas, some of them are even located next to shores that had been hit in the past by tsunamis." How sad it is that, only one month later, his words would prove to be so tragically prophetic, yet how surprising it is, on the other hand, to discover that N-Plants isn't oppressive in the manner anticipated but much sunnier in tone. Not only that, but the fifty-minute recording is much more dance-oriented than expected, with many of the tracks rooted in beats. As a result, N-Plants reveals itself to be less a meditative set of ambient settings than a collection of quietly jubilant ambient-techno (ambient-house, if you prefer). While the rhythmic focus is generally in the techno-house vein, "Genkai-1" pushes the album's rhythmic feel into downtempo hip-hop territory without losing any of the material's lush character.
The album's uplifting spirit is conveyed repeatedly. The brightly coloured, even effervescent synthetic flow pulsating through the opener "Sendai-1" establishes the mood at the outset, and most of the subsequent tracks follow its lead. "Shika-1" is filled with luscious synthetic textures and smooth and syncopated rhythmic flow, while "Ikata-1" evokes a serene ambient-techno paradise. The geographical locales associated with the release are captured not only in the track titles but also the samples of Japanese voices that surface during the pastoral synthetic idyll "Monju-1" and the driving tech-house closer "Fujiko." With its mix of grainy industrial emissions and brooding synth melodies, "Joyo" comes close to the foreboding character one might have expected from an album based on a nuclear power plants theme, but generally speaking Jenssen's polished tracks aren't weighed down by portent but more convey in sonic form the interlaced radiance of the cover design.
Those of a more critical bent might see N-Plants as too frivolous a recording for such serious subject matter and call Jenssen out for squandering the opportunity to produce a work that investigates the phenomenon in question with the utmost seriousness. Others more kindly disposed might hear it as a welcome breath of fresh air from a producer working within a genre that has a tendency to take itself too seriously and lapse into over-ponderousness. Position me in the latter camp, as I found myself to be rather charmed by the album's sunny disposition, especially when I expected to be listening to another meticulously crafted collection of icy isolationist ambient music.
Brainwashed (USA):
A disturbingly prophetic release, this album was sparked by Geir Jenssen's interest in the post-war Japanese economy, and especially the nuclear power plants that were built, often in geographically precarious positions. The album was completed in February of this year: one month prior to the tsunami that damaged the Fukushima power plant. Sonically it's a bit more conventional than what Touch has been doing as of late: there are actual beats and melodies on here, but with the unique Biosphere edge.
Jenssen has created a wide variety of electronic music during his nearly two-decade career, and N-Plants fits nicely into this discography. While the tracks use sequenced synth melodies and analog drum machine rhythms, it mostly takes its own route, using these conventional elements in unconventional ways. "Jōyō", for example, is mostly sharp high end sounds paired with an erratic, heavily filtered rhythm that sounds nothing like music to dance to, even when the dense synth strings arrive.
"Ōi-1" patches together clicking, fragmented bass lines with short electronic pulses and blips into an idiosyncratic mix that stays even when the more traditional rhythms kick in. Tracks like "Shika-1" err more into "normal" territory, with its syrupy melodies and radio wave static augmenting an otherwise traditional ambient techno vibe, though bolstered by some great old school electro synth sounds.
The missteps are, to me, the moments in which Jenssen starts to follow more traditional blueprints of electronic music. The slow, steady beats and repetition of "Ikata-1" are nice, if forgettable in the grand scheme of things. Some of the sounds in "Genkai-1" are great on their own: deep bass rhythms and a synth line pulled right out of New Order's "Hurt," but as a whole it just becomes a rather faceless down-tempo electronic track.
These are exceptions rather than the rule on N-Plants, however. There are more moments like the textural static and Kraftwerk like synth bleeps on "Monju-2" that come together brilliantly. The closing "Fujiko" ends the album on a high note, with its sparse structure and voice samples coming together into a calm, mellow close without being trite or cliché.
It was a bit surprising for me to hear this coming off of Touch, who have been much more abstract and oblique in their recent releases. N-Plants isn't a conventional techno album by any means, but in comparison to the recent releases from the likes of CM von Hausswolff and Phill Niblock, it feels much more traditional. There are a few bland moments but the overall sound is one that's more compelling than many of Jenssen's peers in electronic music.
Babylon (Germany):

Kultblog: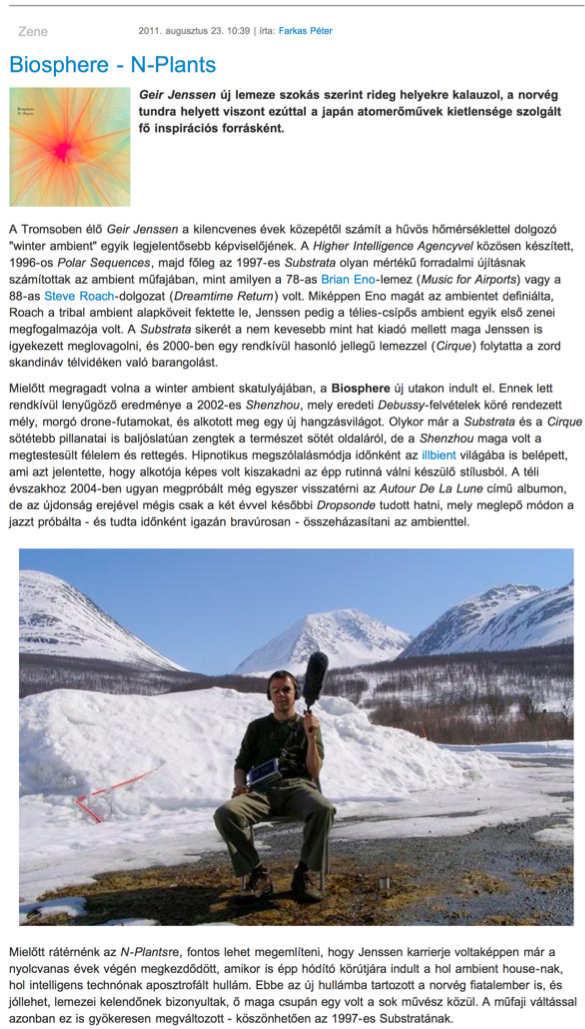 Rock & Pop (Czechia):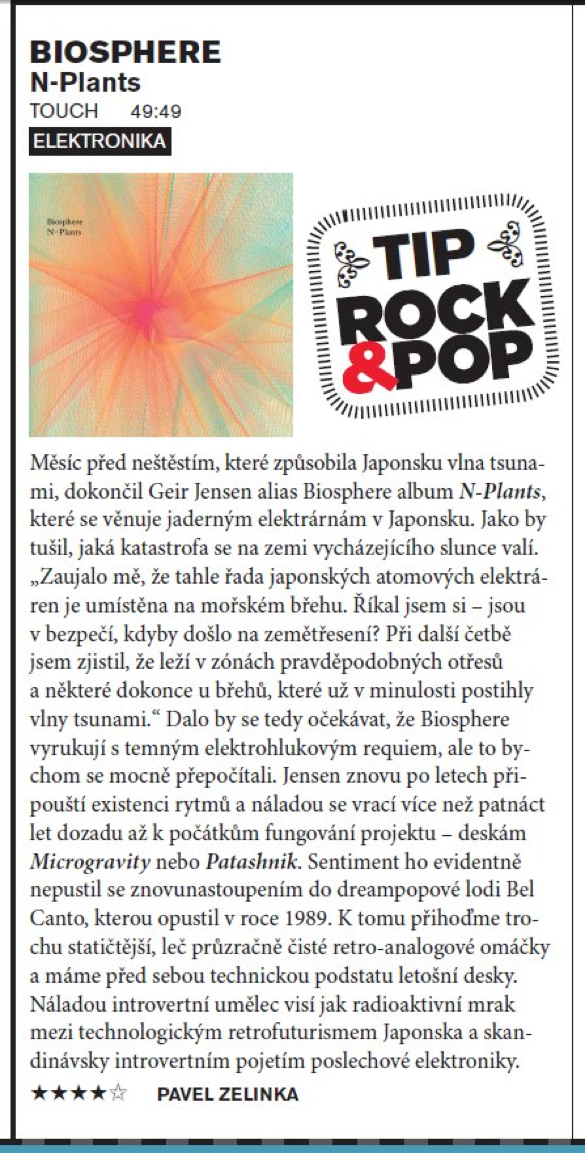 Elegy (France):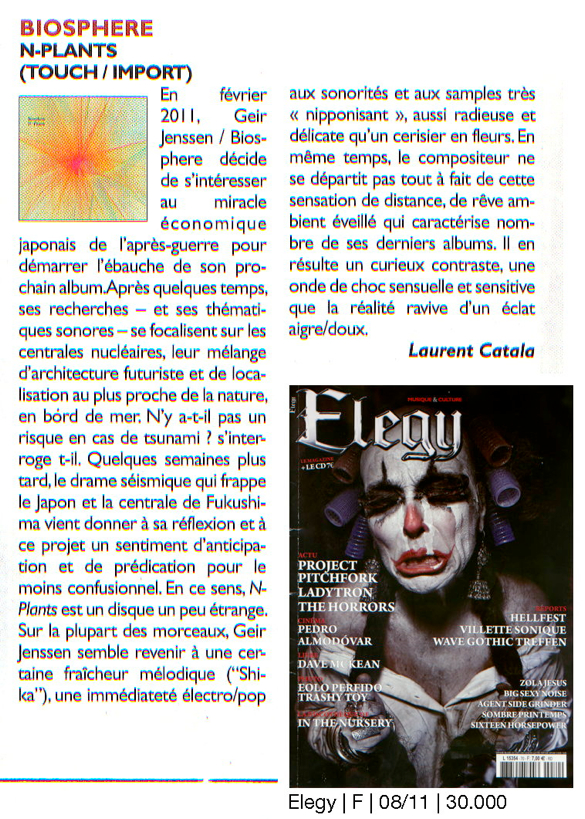 Blow Up (Italy):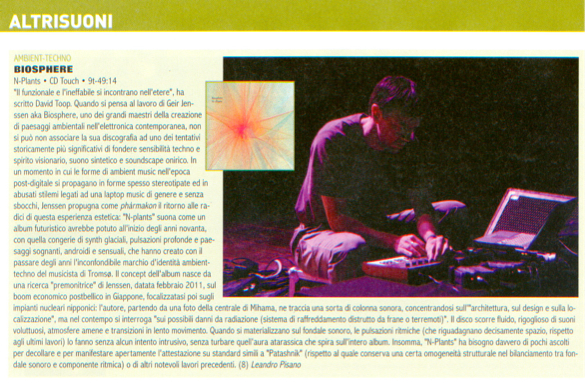 Rockdeluxe (Spain):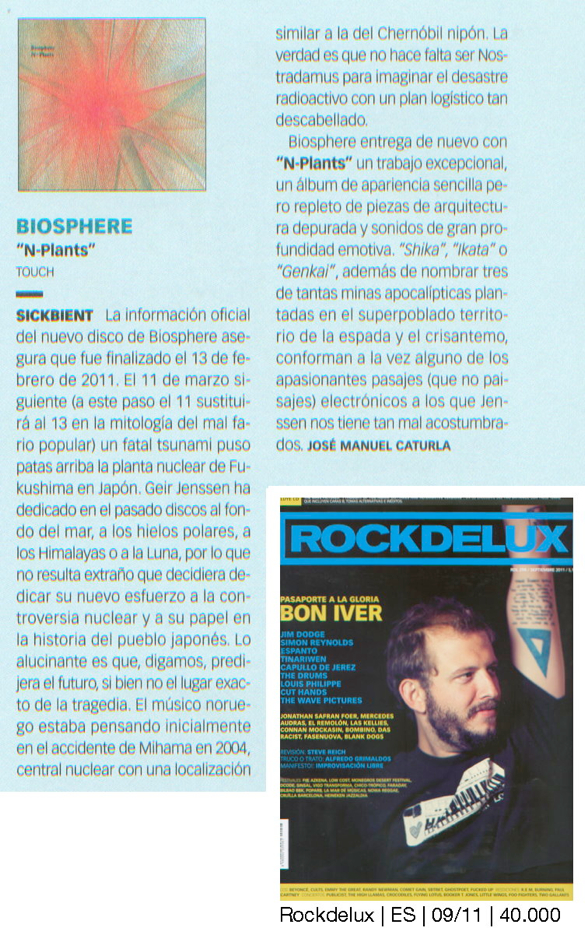 Laif (Turkey):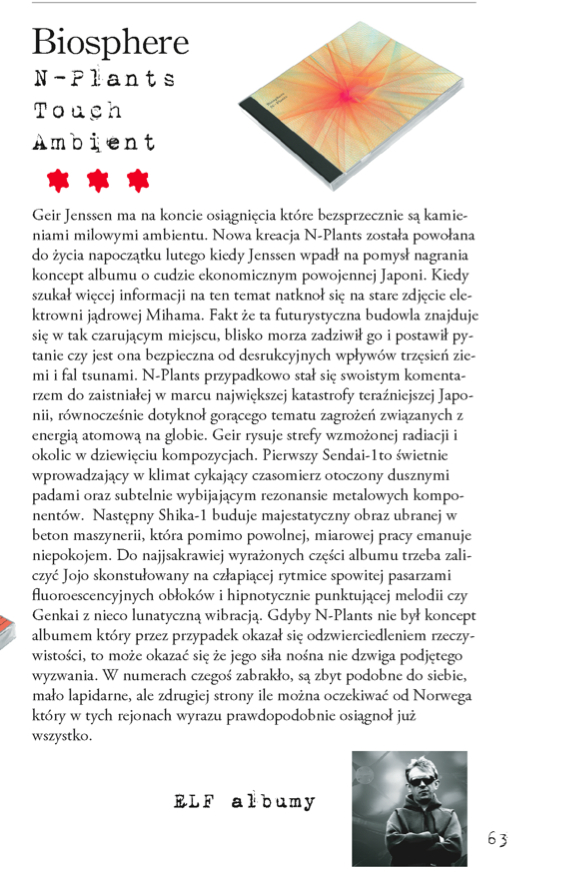 freiStil (Austria):
Das Touch-Label und Biosphere, der in seiner bürgerlichen Existenz auf den Namen Geir Jenssen hört, werden mit dieser prächtigen Platte zum wiederholten Mal verhaltensauffällig. Nicht zum ersten Mal paart Jenssen größtmögliche Eleganz mit radikaler Einfachheit; einer Einfachheit allerdings, die unter fett gedruckte Anführungszeichen zu setzen ist. Bei näherer Betrachtung stellt sich nämlich die Textur der Stücke ähnlich komplex dar wie die jener Pflanzen, auf die er im Zuge der Recherchen nach Motiven des japanischen Nachkriegswirtschaftswunders gestoßen ist. Pflanzen, die sich in der Nähe von oder direkt in Erdbebengebieten befinden, fand er auf alten Fotos, so etwa die "Mihama Nuclear Plant", eben eine jener "N-Plants", die er zum Plattentitel erkor. Von der Bauweise dieser auf ihn futuristisch wirkenden Pflanzen zu der ebensolcher Stücke, die er rund ums Epizentrum des Abstract Techno angesiedelt, scheint es für Biosphere nur eines kleinen Sprungs zu bedürfen. Stellvertretend dafür seien die Tracks ##6 und 9, "Genkai" und "Fujiko", namentlich erwähnt. Biospheres Kompositionstechnik legt auf unverwechselbare Weise den weiten Weg von der Natur zur Kunst zurück, die zu jedwedem Naturalismus völlig selbstverständlich auf Distanz geht. Gleichzeitig also auch den Weg von der Biologie zur Architektur, von der Flora zur Mathematik, vom Gewächs zum Sound, vom Idyll zur Gesellschaft. Es warnen das Gesundheitsministerium und der Anstandswauwau: Diese Platte kann süchtig machen. Fangen Sie erst gar nicht damit an! [felix]
Taz (Germany):
ATOMARER AMBIENT
Strahlende Symbolik
Sich als Musiker an ein tragisches Ereignis heranzuwagen, ist immer heikel. So nachvollziehbar es ist, wenn Künstler versuchen, die Erinnerung an Katastrophen mit ihren Mitteln am Leben zu halten, so durchwachsen sind mitunter die Ergebnisse.
Oft genug scheitern Arbeiten einfach daran, dass die eigene Betroffenheit sich in schwer verdaulichem Kitsch Bahn bricht.
Geir Jenssen aus Tromsø im Norden Norwegens, der unter dem Namen Biosphere diskrete Ambient-Musik macht, braucht diesen Vorwurf nicht zu fürchten. Sein neuestes Album ist zwar von japanischen Atomkraftwerken inspiriert, was der Titel auch andeutet: "N-Plants", also nuclear plants, doch damit sind Kernkraftwerke im Allgemeinen benannt, selbst wenn die einzelnen Titel konkreter werden und "Seindai-1" oder "Monju-2" heißen.
"Fukushima" ist nicht darunter. Jenssen begann mit den Arbeiten für das Album angeblich schon Anfang Februar und stellte sie Mitte des Monats fertig. Da war an der japanischen Ostküste noch alles ruhig. Bei seinen Recherchen fand er ein Foto des Kraftwerks von Mihama, eine futuristische Anlage in malerischer Landschaft – und auffällig nahe am Meer.
Er habe sich gefragt, ob so eine Anlage wirklich sicher ist vor Erdbeben und Tsunamis. Die Antwort weiß man inzwischen. "N-Plants" ist, wenn Jenssens Chronologie stimmt, eine retroaktive Form der Trauerarbeit für Fukushima. Da hat jemand buchstäblich "vorgearbeitet".
Resignierter Bass
Ein halbes Jahr nach dem Unglück haben die Medien andere Brennpunkte im Blick. Dafür kann man jetzt zu melancholischen Klängen der Opfer oder der mangelnden Reaktorsicherheit der Nuklearanlagen rund um die Welt, in Frankreich etwa, gedenken. Dass die Musik gar nicht zu diesem Zweck gemacht wurde, darf man als großen Vorzug sehen. Man braucht sie gar nicht erst an irgendeinem Anspruch zu messen, zugleich bieten sich die stoisch mäandernden Flächen, über die vereinzelt japanische Stimmfragmente gelegt wurden, bestens als akustische Projektionsfläche an. Ist das Schmerz, der aus diesem stockenden Beat spricht? Hat dieser Bass schon resigniert? Im Grunde klingt Biosphere aber gar nicht bemerkenswert anders als sonst.
Was sehr dafür spricht, die Wirkung von Musik immer auch in ihrem symbolischen Zusammenhang zu sehen. Welchen Zweck sie erfüllt, welche Bedeutung sie hat, bestimmen stärker die Entstehungsumstände als die Absichten des Künstlers. [Tim Caspar Boehme]
Whisperin' & Hollerin' (UK):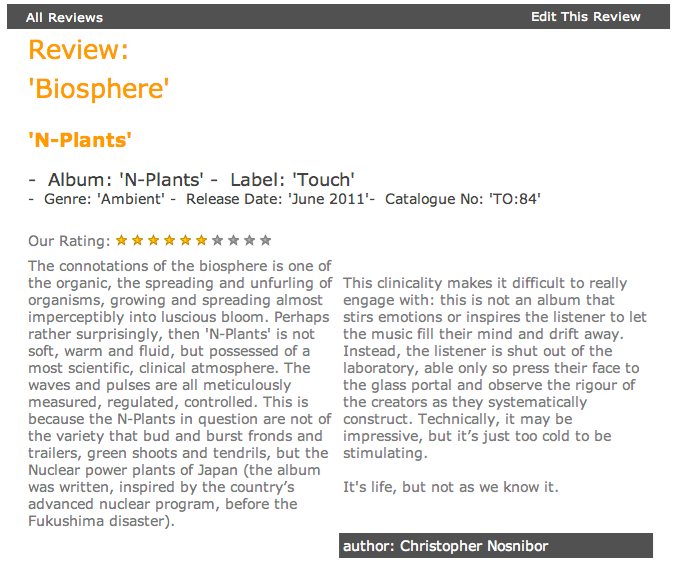 GoMag (Spain):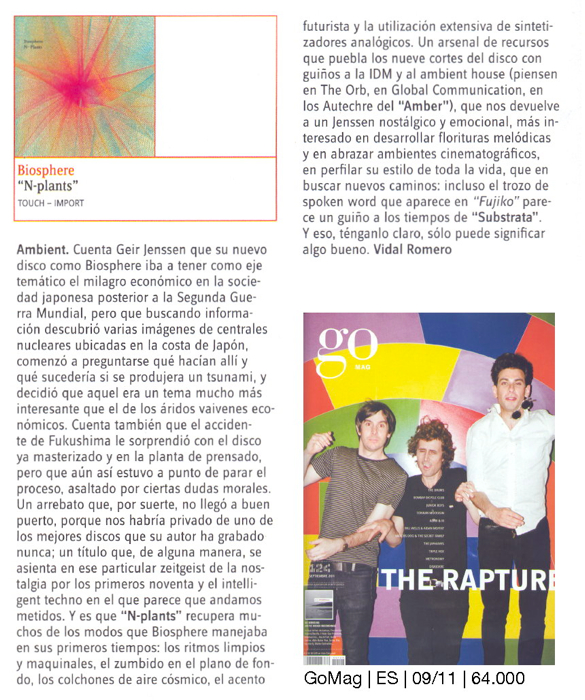 Terz (Germany):

Gonzo Circus (Belgium):

Hawai (Chile):
El día 11 de marzo de este año, mientras el mundo casi su totalidad seguía girando de manera casi intrascendente, en una parte del mundo algo grande y trágico estaba por ocurrir. Eran las 14 horas y 46 minutos y un terremoto de 9 grados golpeaba Japón. Seis minutos de movimientos interminables que provocarían algo aún peor, un maremoto con olas de hasta diez metros. Las costas del norte del país asiático convertidas en la nada. Resultado de todo ello, diez mil muertos, dieciséis mil desaparecidos. Lamentablemente, la desgracia no quedaba ahí. Debido a todo lo anterior, fallas en el sistema de refrigeración provocan liberación de radiación en la Central Nuclear de Fukushima, una de las muchas que existen. Otras más vivieron situaciones similares. De un desastre natural pasamos a uno nuclear, todo en un país que constantemente se ve afecto a situaciones difíciles. Y ese difícil momento alguien lo vió venir un tiempo atrás, como prediciendo el apocalíptico futuro.
El anterior trabajo en estudio de Biosphere, "Dropsonde" (Touch, 2006) data de hace cinco años –el más reciente, "Wireless – Live At The Arnolfini, Bristol" (Touch, 2009), es un disco en vivo–, misma época en que publica "Cho Oyu 8201m – Field Recordings From Tibet" (Ash Internacional, 2006), el primero con su nombre de nacimiento, Geir Jenssen. A diferencia de esas grabaciones desde el Tibet, un paréntesis e su discografía, este retoma su faceta de melodías ambientales para la eternidad, pero con la diferencia que este no es tan espaciado como otros discos del noruego. Y como muchos de ellos, existe un motivo unificador, una idea que cruza todo el disco, que lo inspira y de donde nacen estas nueve canciones. "Decidí hacer un álbum inspirado por el milagro económico de la posguerra en Japón. Mientras buscaba más información encontré una vieja foto de la Planta Nuclear de Mihama. El hecho de que esta planta de aspecto futurista se encontrará en un lugar tan hermoso, tan cerca del mar, me causó curiosidad. ¿Están a salvo cuando se trata de terremotos y tsunamis? Una lectura más detallada reveló que muchas de estas plantas se encuentran en áreas propensas a terremotos, algunos de ellos incluso están situados junto a las costas que habían sido golpeadas en el pasado por los tsunamis". Parece que la pregunta era del todo razonable. El disco fue terminado el 13 de febrero de 2011, y un mes después, esa pregunta se hacía drama. El disco pretendía, entre otras cosas, "cuestionar el peligro potencial de radiación". Aún cuando fue tarde, las predicciones de Jenssen de todas maneras sirven para llamar la atención y que demuestra la fragilidad de casi todo. Sus canciones, las de "N–Plants", también lo son. Imbuido de la rica tradición de la música japonesa, pero sumado a la ricos sonidos que Jenssen ha creado, tenemos un puñado de temas delicados, que viene del ambient puro y delicado, de un house exquisito y agradable, que se decora de tonalidades minimalistas y de un cierto pop floral, de una electrónica perezosa, trazos de música flotante. Ese carácter educado y humilde, de contención que tienen los japoneses se refleja en todo el álbum. Aunque el panorama sea el más desolador, no demuestran tristeza. Y este es un disco que va sobre aquello, no lo pretendía, y es por ello que no hay lágrimas. Quería ser una banda sonora sobre las plantas nucleares, su entorno, el contraste entre progreso y tradición. Este es un trabajo hermoso a rabiar, que en pequeñas miniaturas sintéticas entrega burbujas de sonidos luminosos.
Dejando de lado los paisajes desolados y fríos de otros discos, este álbum profético golpea y avisa sobre los peligros del avance energético no de manera violenta, sino que todo lo contrario, muy sutilmente, casi entre líneas, que tiene otra percepción por todo lo que sucedió después, pero que no quita que sea una obra bella –hermosa portada de Yusuke Murakami–, un respiro en medio de la niebla.