CD in digipak – 2 tracks – 48:20
Art Direction: Jon Wozencroft
Cover image: Yusuke Murakami
Track listing:
1. Midnight at the Oasis 28:03
2. The Bee Symphony 20:00
Notes:
Midnight at the Oasis: – The piece is a 28 minute time compression from sunset to sunrise in South Africa's Kalahari desert and features the dense and harmonic mosaic of delicate animal rhythms recorded in this remote habitat. "Midnight at the Oasis" was first performed at the Marquee in Parliament Street, York, on 13th September 2007 as part of Sight Sonic.
"The Kalahari desert is a vast and open space where most of the wildlife is nocturnal. After sunset the dunes, grasses and thorn bushes are patrolled by an emerging alien empire – the insects.
Midnight at the Oasis' presents an unseen soundscape from this beautiful and hostile environment.
The Bee Symphony: A project conceived by Chris Watson originally for "Pestival" in 2009 to explore the vocal harmonies between humans and honey bees in a unique choral collaboration around and within the hives of an English country garden. Recorded live at The Rymer Auditorium, Music Research Centre, University of York, England on December 17th 2010 by Tony Myatt, using a Soundfield SPS200 microphone recorded onto an Edirol R4 (surround version), and 2 x Neumann U87 microphones via Grace Microphone Preamplifiers, recorded onto an Edirol R44 (stereo version). Composed and arranged by Marcus Davidson using recordings made by Chris Watson & Mike Harding, and diffused through a 4.1 Genelec system by Chris Watson. The Bee Choir: Dylan de Buitlear, Lisa Coates, Steph Connor, Lewis Marlowe and Shendie McMath. With thanks to Peter Boardman (the event producer), Tom Emmett, Celia Frisby & Bridget Nicholls, who originally commissioned The Bee Symphony.
Marcus Davidson writes: "The first thing that struck me about the bees was how tuneful they were. During the day, their pitch was always based around A an octave below 440, the note we tune orchestras to. I found that the bees formed chords around the A, which varied depending on their mood. I spent time notating these bee chords, or note clusters, and as the bees sing easily in the human vocal range, I then scored the actual bee music for choir.
The sound of humans singing bees was strangely engaging. I thought it was reminiscent of Aboriginal music, perhaps showing how in tune with nature the native civilisations are. In fact, all the chords and 'tunes' in The Bee Symphony are taken from actual notes sung by the bees in the field recordings. The score was written so the choir sings exactly with different aspects of the bee song in real time, so hopefully we indeed have humans singing in harmony with bees!"
For further information, visit The Bee Symphony microsite

Reviews:

Headphone Commute (USA):
Next up is a fascinating release from Chris Watson & Marcus Davidson. There are only two tracks on Cross-Pollination. The first 28 minute piece, titled Midnight At The Oasis, is a time compressed recording by Watson, from sunset to sunrise, if South Africa's Kalahari desert. Just as you can imagine: the sounds of insects, birds, and nocturnal animals, are captured during their undisturbed activities. "After sunset the dunes, grasses and thorn bushes are patrolled by an emerging alien empire – the insects. Midnight at the Oasis' presents an unseen soundscape from this beautiful and hostile environment." If you don't plan on camping out in Kalahari, you can thank Watson for this wildlife experience. My dog loves this field recording! For the second piece, The Bee Symphony, Marcus Davidson arranges Watson's recordings of The Bee Choir scored after the notations of the bee hives of an English country garden. "I found that the bees formed chords around the A, which varied depending on their mood," writes Davidson. "I spent time notating these bee chords, or note clusters, and as the bees sing easily in the human vocal range, I then scored the actual bee music for choir. The score was written so the choir sings exactly with different aspects of the bee song in real time, so hopefully we indeed have humans singing in harmony with bees!" Quite fascinating, don't you think? You'll have to hear this for yourself!
Sound Projector (UK):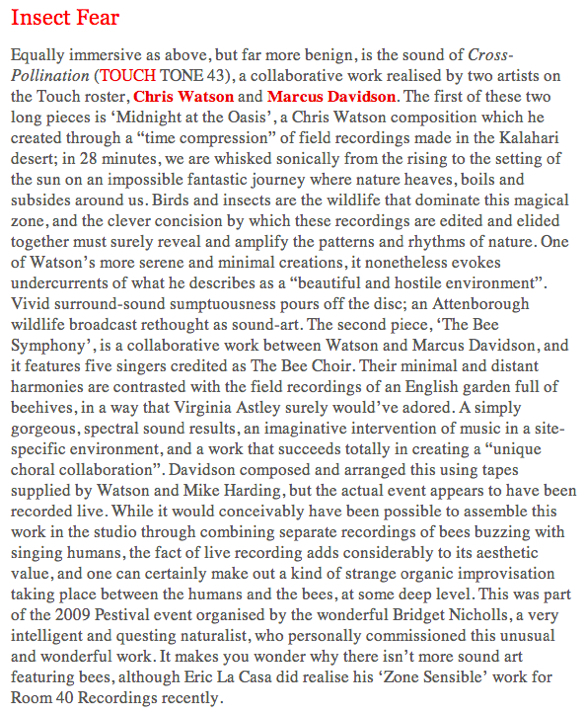 Texture (USA):
Want to visit the Kalahari desert, an immense, remote area filled with dunes, grasses, and thorn bushes and teeming with nocturnal creatures, but can't afford a trip to South Africa? Put on Chris Watson's "Midnight at the Oasis," close your eyes, and for half an hour at least you can pretend you're there. It's the first of two long-from settings featured on Cross-Pollination (and, no, it's not a Watson re-interpretation of Maria Muldaur's 1974 hit), with the other a twenty-minute collaboration with Marcus Davidson provocatively titled "The Bee Symphony." Of course, "Midnight at the Oasis" is as pure a field recordings soundscape as one would expect from Watson, who's built up a distinguished discography of field recordings-related releases over the years, even if it condenses the time betwixt sunset and sunrise into a twenty-eight-minute running time. "Midnight at the Oasis" also presents, fascinatingly, an experience one might never actually be able to have in person, as the creatures that surface throughout—many of them insects (flies, crickets, and the like), though birds of various kinds appear too—do so under cover of darkness and therefore would remain unseen by human eyes. Watson does an impeccable job of creating the illusion of a literal sound portrait, as at no time is one reminded that the piece is a distillation of an entire night's activity into a half-hour setting. As a result, the air teems with buzzing, whooping, and cawing life-forms and the level of activity stays at a fever pitch throughout, with an occasional rustle of wind punctuating the material along the way. It's a veritable symphony of entomological sound that allows one to arrive without travelling, so to speak, at the South African location.
Composed and arranged by Davidson using recordings made by Watson and Mike Harding, the twenty-minute live recording "The Bee Symphony" presents a unique choral collaboration combining the vocal harmonies of honey bees and humans, with the bee sounds recorded at an English country garden and Dylan de Buitlear, Lisa Coates, Steph Connor, Lewis Marlowe and Shendie McMath constituting the so-called "Bee Choir." In the true spirit of cross-pollination, the human voices sing in real time with actual notes sung by the bees in the field recordings (specifically, Davidson notated the bee chords and note clusters, and then scored the results for the choir). What results is a fascinating commingling of insect and human utterance that exudes a somewhat primal character (in the choir singing specifically). In certain moments, their respective sounds move in and around one another, as if each is responding to the other, with the bees' buzzing sometimes swelling into a violent swarm and the voices assuming a dark choral character that might remind certain listeners of Ligeti's Lux Aeterna. As the piece enters its more intense second half, however, the elements, now conjoined into a blurry mass, begin to surge with wave-like force, a development that renders the piece all the more engrossing, until a gradual diminishment draws the piece into silence. Put simply, Cross-Pollination finds Watson continuing to stand out from the field recordings crowd, so to speak. The conceptual imagination he brings to the two pieces is matched by the excellence of their execution, and the result is field recordings-based pieces raised to the level of art.
Rock-A-Rolla (UK):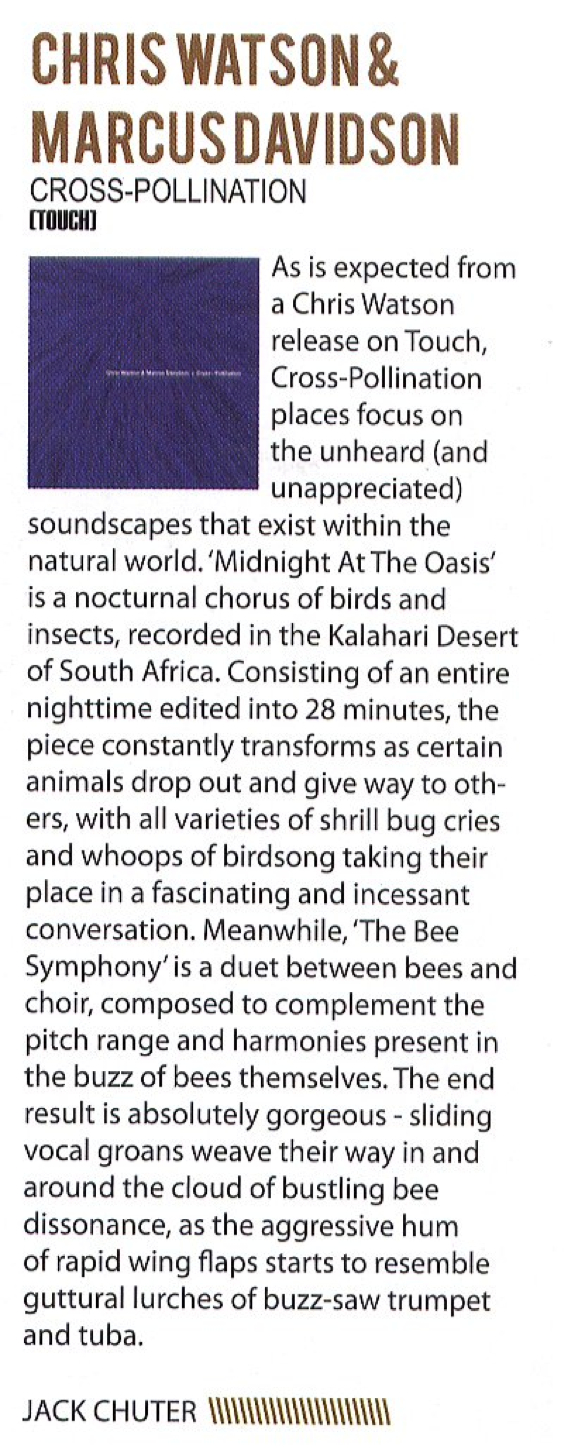 Sound of Music (Sweden):
I am test-driving several of Chris Watson's albums – and some BBC radio programs – in iTunes and travel between different natural environments. Sometimes the focus is on diurnal animals, birds, amphibians or insects, but equally often wind or water takes centre stage. Chris Watson explores the sound picture with the microphones that have taken him around the world, from rain forests in Costa Rica to Britain's untouched oasis, the savannahs of Africa, the Arctic or Antarctica.
On Chris Watson's first albums released through Touch – Stepping into the Dark and Outside the Circle of Fire – short soundtracks of around the same length as a "normal tune" are presented. These are from recordings he has made – the majority are, I believe, made during trips in connection with the BBC's productions featuring David Attenborough's programs. On later records and sound installations he moves into considerably longer "compositions", compressed in time, like in the album Weather Report, where for instance 14 hours from Kenya's Masai Mara are fitted into 18 minutes.
This holds true also for "Midnight at the Oasis", the first of two long tracks on Cross-Pollination. We are now in the Kalahari. It worries me a little that the exact geographical position is not given. The Kalahari desert – in reality more of a plain, a savannah or a half desert – covers an enormous area, mostly in Botswana and Namibia but also stretching into South Africa, Zimbabwe and Angola. Nature can change completely, from areas teeming with animal life, to salt marshes and sandy desert.
But what Chris Watson wants is to present a sound environment which people hardly ever experience. The night sounds are in an environment far from populated areas. The Kalahari is home to the San-people, described by Lasse Berg in his two latest books. Lasse Berg lived for ten years on the fringes of the Kalahari, both in Botswana and Namibia. I leaf through Evening Song in the Kalahari, reading some parts, admiring the pictures. The cover photo shows the author by a campfire at dusk, the sounds he hears must be similar to the ones on the album.
Kalahari has a special quality, above Serengeti or Masai Mara in East Africa, where large numbers of tourists travel to see and experience African nature. It is practically untouched – or has been. Berg's book describes how the diamond and farming industry has introduced game fences which prevents hundreds of thousands of wild animals from migrating, causing them to perish from starvation. The San-people – who are hunter-gatherers – have fought to be allowed to return to the Central Kalahari Game Reserve in Botswana, from which they were forcibly moved in the 90s. Some have been given the court's permission to return, others still live outside of their natural environment.
I presume that the recording has been done by a waterhole, although nothing apart from the title tells us whether this is so. However, the recording is made in the hours of darkness, between twilight and dawn. Although I am only a hobby ornithologist and can't be sure, it sounds at times as though sea birds can be heard in the recording, including some of the large colonies of flamingos who visit the Kalahari during the rainy season. And in the background, at times you think you can hear water. A number of birds can be heard as well as the occasional diurnal animal (like a large antelope or buffalo, or perhaps wild dogs) but first and foremost it's insects that rule the Kalahari's dark hours. Cicadinea or similar insects dominates the beginning of the 28 minutes long piece, funnily enough it makes me think of albums by digital musician/sound artists like Ryoji Ikeda (who has released several albums through Touch), it could be sinus waves. And a couple of times it sounds like cars in the distance, but it's just the wind playing tricks with your ears.
Are there silent, quieter moments in the raw material, I wonder, which has been comprised into a nature composition. What has been removed? But to know for sure, you have to travel to the Kalahari. I trust Chris Watson and am fascinated by the multitude of sound, the nuances, the contrasts between the piercing signals of the insects and the monumental swaying of the wind. And what is that flapping noise, like a helicopter? It is interesting to think that Chris Watson, if he was nearby during the recording, perhaps is no wiser than I am, listening to the album. It's black. Night. And then the sounds must be even stronger, take over completely. By rights I should listen to this in the darkness. I turn off the light – and nod off. Dawn approaches. The birds are awake. Singing, tweeting. The cicadinea are back and so is the wind.
I know more about birds than about insects, but bees must exist in the Kalahari. On the other half of Cross-Pollination – "The Bee Symphony" – we leave Africa and land in England, inside a beehive. Chris Watson and Touch-boss Mike Harding have recorded bees in one or several hives and the composer Marcus Davidson has written/arranged a choir of five people singing in harmony with the humming and buzzing of the bees. Birds, too take part in the periphery, from the immediate surroundings, by the beehive in the English countryside.
And for 20 minutes, the human voices meet the ancient sound of the bees. The idea is that the voices should sing in harmony with the bees and Davidson has noted the humming of the bees (close to an A), then composed the arrangement for the choir. It works extremely well. A wordless tune, at times reminding me of medieval song, which fluctuates on opposite sides of the bees' humming, if that makes any sense. In the end the bees make a powerful, droning noise. It is dark, as did it spring from the underworld. The light voices float on top. Would it have been even more powerful without the choir of human voices? Possibly, but then that isn't the point of the piece. Which – it its way – is the most fascinating piece of choral music I have heard in a very long time. [Trans.: Marta Dixon]
Tokafi (Germany):
Nature speaks for itself: Illuminates the parallels between environmental sounds and man-made music.

Cross-Pollination brings two pieces together that use the environment as a source of musical material. The first, a solo endeavor by British electroacoustic musician Chris Watson, constructs a contextual window in which nature speaks musically for itself and, in the process, offers a sonic snapshot of a day in the South African desert. The second pairs Watson with British composer Marcus Davidson for an electroacoustic choral composition that uses the sounds of a beehive as source material. Together, the two compositions make a powerful statement about the inherent musicality of nature while delivering a highly enjoyable album of innovative music.
"Midnight at the Oasis" is 28 minutes of mesmerizing field recording. Watson traveled to the Kalahari Desert of South Africa and spent a day (from sunset to sunrise) recording the sounds of the environment. More a sonic collage than a composition, the piece is a seamless condensing of time chock full of natural musicality. The sounds of insects and birds create strangely consistent polyrhythms over backdrops of rain falling, rumbling thunder, and breezes rustling the brush. As the recording progresses, we hear the rhythmically consistent calls of unknown animals that, in the last third of the piece, give away to the droning buzz of insects and strange, high frequency birdcalls. The second half of the piece in particular is strangely reminiscent of modern electronic and electroacoustic music. The sounds take on an almost synthetic quality and the often rhythmically even, layered sounds of birds and insects makes for a minimalist sound.
"The Bee Symphony," a composition originally conceived by Watson for London's 2009 "Pestival" (the International Insect Arts Festival), is a remarkably innovative and musically effective concept piece. Davidson transcribed Watson's recordings of bees and used the transcription to create a 20-minute choral piece. Though at times the piece brings to mind Penderecki's microtonal choral music or Ligeti's textural clouds of sound, it's difficult to think of any vocal piece quite like this one.
Davidson built chords for the choir based directly on the sounds of bees – allowing voices to separate by microtones and gliss up and down together over droning notes all while maintaining a powerful compositional curve. Watson blended the choral sounds with the sampled bee recordings, using the sounds of the insects as the piece's beginning an end. During the composition, he subtly arranged the samples around the live voices, making for a somewhat unnerving but strangely natural sonic hybrid. The composition's most powerful moment occurs near the ¾ point, when deafening tape noise suddenly overtakes Davidson's climatic choral chords, sending vocal soloists scurrying downward in microtones.
"Midnight at the Oasis" and "The Bee Symphony" work as conceptually powerful companion pieces. The first, a time-lapse snapshot of the South African desert, lets nature speak for itself and in the process, illuminates the parallels between environmental sounds and man-made music. The second brilliantly uses the environment as a template for composition, then weaves the source material (bee sounds) and the end result (high brow choral music) together, making for a wildly inventive blend. Together, the pieces make for a startling innovative album that pushes the boundaries of both electroacoustic music and contemporary classical composition. [Hannis Brown]
Brainwashed (USA):
The latest album to feature Chris Watson shows a different side to his art, harking back to his roots in Cabaret Voltaire and The Hafler Trio while staying true to his current role as a field recorder. The two pieces (one a collaboration with Marcus Davidson and the other a solo work) are both designed as performance pieces utilising Watson's recordings of nature as the source. However, trickery and aesthetics play a role here that has been absent from his body of work for a long, long time. It sounds like you are there but "there" is not as it seems.
The two long tracks here follow very different paths. The first, "Midnight at the Oasis," is a classic solo Watson field recording and it is exactly what I would expect from such a title: Watson ventured out into Kalahari at night to record the nocturnal desert soundscape. While I expected plenty of night life in such a place (as the unrelenting heat of the day means that most desert creatures are nocturnal rather than diurnal) but I was completely unprepared for the sheer noise of the scene. The insects put most noise musicians to shame and what sounds like mammalian and avian species add a color to the chirping and droning of the invertebrates. It is only when I investigate the liner notes that I see that this is not a 28 minute excerpt during the night but an audio compression of sunset to sunrise (I suppose something akin to time-lapse photography).
On the subject of droning invertebrates, "The Bee Symphony" makes up the rest of Cross-Pollination. Here, Davidson combines Watson's recordings of honeybees with similar documentation by Mike Harding before arranging a choral accompaniment to the apoidean sounds. The Bee Choir gives a human countenance to the bees' buzz, their vocalizations following the swells and undulations of the high-frequency beating of the tiny wings. It is a fascinating experience and although the sounds of animals have always interested me, hearing human voices mimic the bees makes me listen to the bees here and in my garden in a more focused way. This has always seemed to be Watson's goal on his previous solo recordings and Davidson has hammered this point home with firm precision on "The Bee Symphony."
While I think I prefer Watson's regular recordings, unadorned moments in time caught on tape, I do feel that Cross-Pollination is a successful experiment. It would be nice to hear the bee recordings on their own but equally it would be interesting to hear more of Watson's recordings integrated into other works. Davidson has done a wonderful job here; the balance between the choir and original recordings is perfect. Equally, Watson's way of playing with time on "Midnight at the Oasis" could be employed in a number of different environments with, I imagine, interesting results. [John Kealy]
peek-a-boo (Belgium):
Cross-Pollination is an experimental album that contains two compositions based on the combination of electronics and the sounds of insects, which were sampled especially for these recordings. I have to think immediately of The Insect Musicians, the masterpiece by Graeme Revell from the eighties, where this Master himself sampled tons of insect sounds to create a melancholic experimental masterpiece. Would these men make a similar treatment? The first composition is "Midnight at the Oasis". Chris Watson creates a quiet 28 minutes long symbiosis of diverse sounds he recorded during one night in the Kalahari Desert. During a night because the insects there are most active at that moment. This piece is a beautiful, quiet sound collage where you can daydream, thinking about the many strange sounds that those insects create. I must say there's a resemblance with Revell's masterpiece from the eighties. Despite the beauty of this composition, it is especially the second piece, "The Bee Symphony" that tempts me a lot. Chris Watson & Mark Davidson work together to create a harmonious balance between electronics, bee sounds and a (human) choir. The interplay of vocals and samples of bees intensifies as the 20 minutes long song progresses. The intense threat currently posed by the song does make me think of some compositions by Wendy Carlos & Rachel Elkind (though they are structurally different, the same intense threat is created, compare for example, with the intro of Kubrick's The Shining). The intensity of this composition requires you just to listen. When I listen to this music, I almost automatic stop reading, stop writing, stop cooking or any activity. This bee symphony absorbs my attention in a rarely seen manner. It is a true gem that I often will listen to. [Ward DE PRINS]
Norman Records (UK):
Chris Watson is pretty much the lord of recording the natural world. He ventures all over the planet armed with his microphones. For the first recording here 'Midnight At The Oasis' he presents a time compression from sunset to sunrise in the Kalahari desert. Most of the wildlife in this habitat is nocturnal and so these recordings represent a scene one could never really see. Perhaps a tiny glimpse under the moonlight but I imagine it is dark to say the least. And so these recordings transport the listener to the remote habitat where all these delicate insect rhythms can be heard. The second recording was composed and arranged by Marcus Davidson using recordings made by Chris Watson. The project was originally conceived to explore the vocal harmonies between honey bees and humans, the people involved in these vocal parts have been dubbed 'The Bee Choir'. The bee sounds were captured around and within an English country garden and are absolutely magnificent. As with all of Chris Watson stuff it really does get as close to the action as possible. The mixing with the human vocals works a treat and makes for a unique listen. [Ant]
The Liminal (UK):
Cross-pollination is the germination of one species using seed from another. More specifically, the name of this album comes from an event that was held on the South Bank a couple of years back, which sought to combine human voices with the sounds of insects to produce new musical hybrids. As part of this, the sound recordist Chris Watson and the composer Marcus Davidson created 'The Bee Symphony', which took recordings Watson and Touch's Mike Harding had made at bee hives, and set them in a choral context. The production of this piece came at a time of increased focus on the relationship between bees and humans, thanks to the worldwide spread of Colony Collapse Disorder, the causes of which are still unclear, but which are more than likely man-made. A quote is famously (if perhaps erroneously) attributed to Albert Einstein in which he was purported to have claimed that if bees were to entirely disappear from the planet, then humans would be extinct within four years. Without their role in the pollination process, the plants which we rely on for food (or to feed the animals we rely on for food) could die out, with terrible consequences. It is an extreme example of how one species can not just make convenient use of another to prolong the life of its genetic material, but actually be entirely dependent on another for its continuation.
A version of 'The Bee Symphony' recorded at a later performance in York is is one of two pieces on this new CD released by Touch. The above context aside, there is a clear musical logic behind the work, with Davidson finding that the insects on Watson and Harding's recordings "sang" in clusters around the note of A during the day, dropped down a semitone as the day progressed, and rose back to a stronger unison A when their hive was threatened. And so 'The Bee Symphony' begins with the bees buzzing tunefully and rhythmically amongst birds in the morning, human voices gradually mixing in – the singers are not imitating the bees, more finding their own harmonies, making notes and sounds that fit, from long fluctuating sequences to short clipped yelps. The symphony becomes noticeably darker and more sluggish later, the voices sliding down that semitone, the sound of the bees (the "drone drone", if you will) now processed, becoming increasingly muffled and indistinct. Finally, both bees and humans are silenced. 'The Bee Symphony' isn't just a third of an hour in the life of a bee, it is an entire life cycle in twenty minutes, and a stark warning about the fragility of ecosystems.
You can read similar themes into the other piece on Cross-Pollination, which is entitled 'Midnight At The Oasis'. It isn't a cover version of Maria Muldaur's hit from 1974, you may or may not be pleased to hear, but rather a set of recordings from the Kalahari desert. Watson is famous for recording sounds that you just wouldn't be able to hear with your own ears, but on 'Midnight At The Oasis' he is going further, to create an entire sonic event you couldn't ever actually experience, by layering and concatanating an entire night's worth of recordings into a continuous thirty minute piece (he did something similar with his rainforest installation 'Whispering In The Leaves' at Kew Gardens last year). Despite temperatures which can reach into the high forties celsius, the Kalahari is surprisingly full of nature, though its presence is felt more obviously in the welcome cool of the night. Flies dance wearily between the last rays of that raging-hot sun at the start, to be joined by birdsong and the onset of what is to become a very intense burst of insect stridulation. The desert floor seems to be teeming with an incredible variety of species, each with their own distinct sound, and the recordings are rich: full of different frequencies, and different pulsations. Some Japanese monks believe that the voice of Buddha speaks through crickets: listening to the immersive 'Midnight In The Oasis', I can certainly hear why they would choose to meditate to these sounds.
However, one thing you don't hear on 'Midnight At The Oasis' is any human activity. You might think that was a given, because of the harshness of the location, but in fact the Kalahari desert is home to the San bushmen, one of the oldest genetically distinct races of human on the planet, with their own sonically fascinating language of click consonants. These people have long been completely dependent on the desert, on its climatic cycles, and on its vegetation and wildlife. However, this balance is under threat, with the Botswana government forcibly and illegally relocating them from their ancestral homeland so that they can make more money through exploiting its tourist potential. A tribe can live for millennia in the most unforgiving of conditions, and amongst some of the most dangerous animals on the planet: ultimately, their enemy is not nature, but other men. As 'The Bee Symphony' reminded us, perhaps the delicate harmony that exists between humankind and the environment is one that we should be leaving undisturbed.
Derives (Belgium):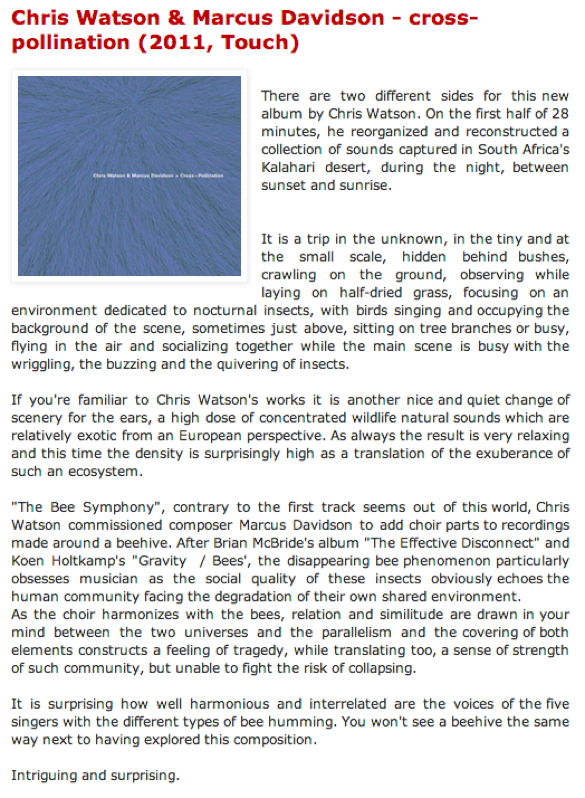 Liability (France):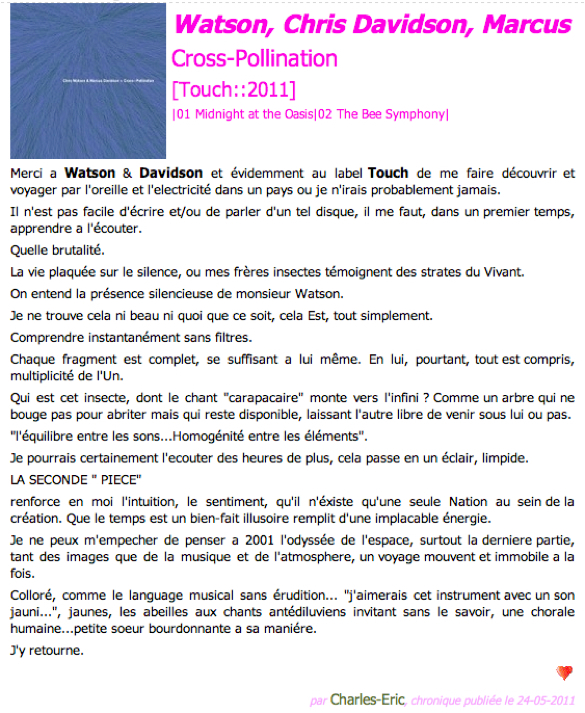 VITAL (Netherlands):
What on earth am I doing inside the house? The sun is bursting, with a totally friendly temperature, which scream: walk! walk! walk! But no, I am inside, listening to music. Music made with the use of field recordings to be precise, as is certainly the case with the first piece by Chris Watson. Entirely recorded in the Kalahari desert, from sunset to sunrise, but then trimmed down to twenty-eight minutes. A remote area, where most of the wildlife is awake at night – with lots of insect chirping and buzzing. Its almost an electronic piece of music, which I guess is exactly why this is such a great piece of music. With much of the field recording artists who merely capture the environment, Watson takes it all a step further and actually composes with those sounds into quite a captivating piece of music. No by looping sounds, or putting on fancy plug-ins, but merely a process of editing and fading. Simple but difficult in order to create such an overwhelming mass of sound. And masses of sounds is also what's happening on the second piece, which is by Watson and one Marcus Davidson. It explores the vocal harmonies between humans and honey bees. Watson is here responsible for the field recordings used (which he did with label honcho Mike Harding), while Davidson gets the credit as composer. The bee choir consists of five human voices, who buzz like bees. If you are melissophobic then this will surely be a scary piece. A lovely CD of music derived from nature, as well as an interaction of human activity and animal sounds. Now its time to go out and the hear the real action. [FdW]
Kindamuzik (Germany):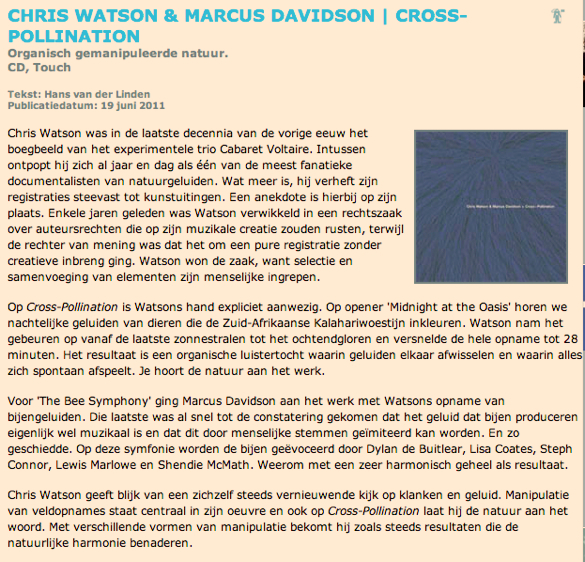 Forced Exposure (USA):
It's not entirely clear why these two pieces were bundled together, other than they're awesome, and they're both by Chris Watson, he formerly of electronic legends Cabaret Voltaire, now composer and field recordist, the first half of this here two-fer, is in fact, a processed field recording, but not processed in the way we're used to, where found sounds are mutated into new sounds, no, what Watson has done is recorded 12 hours (sunset to sunrise) of South Africa's Kalahari Desert, the hidden nighttime symphony that is the world of the nocturnal animals and insects, but that whole 12 hour recording, compressed into a mere 28 minutes. The cool thing is, it doesn't actually sound strange or processed, it's not a barrage of overlapping sounds, instead, Watson has deftly created a half hour glimpse of the desert at night, the trill of crickets, the high pitched whine of other insects, the whipping wind, chirping birds, some of the sounds identifiable, but many of them downright alien sounding, the whole thing in some ways playing out like some abstract experimental 20th century electronic tape music, only as always done better by nature. A gorgeous, haunting listen.
The second piece by Watson for a festival called PESTival focusing on "insects in the arts and the art of being an insect" (we definitely need to check that out!), and composed and arranged by Marcus Davidson using recordings by Watson, exploring vocal harmonies between humans and bees, a choral piece woven into the sound of buzzing bees, the result is pretty stunning.
A warm summery afternoon, replete with wildly chirping birds, is underpinned by the deep thrum of buzzing bees, over which the choir sings long tones, creating lush harmonies, and mysterious overtones. At first, it's more vocals, the bess way down in the mix, but as the track progresses, the buzz of the bees grows more prominent, the human voices more hauntingly liturgical, building to an intense operatic crescendo culminating in a squall of blurred smeared sound, sounding neither animal or human, before fading back into the insect chorale, the human voices drifting dreamily over the lovely low end hum of buzzing bees, that buzz, growing murkier and muddier until for the last few minutes it's just a warm washed out thrum. So lovely.
Sonic Sedcucer (Germany):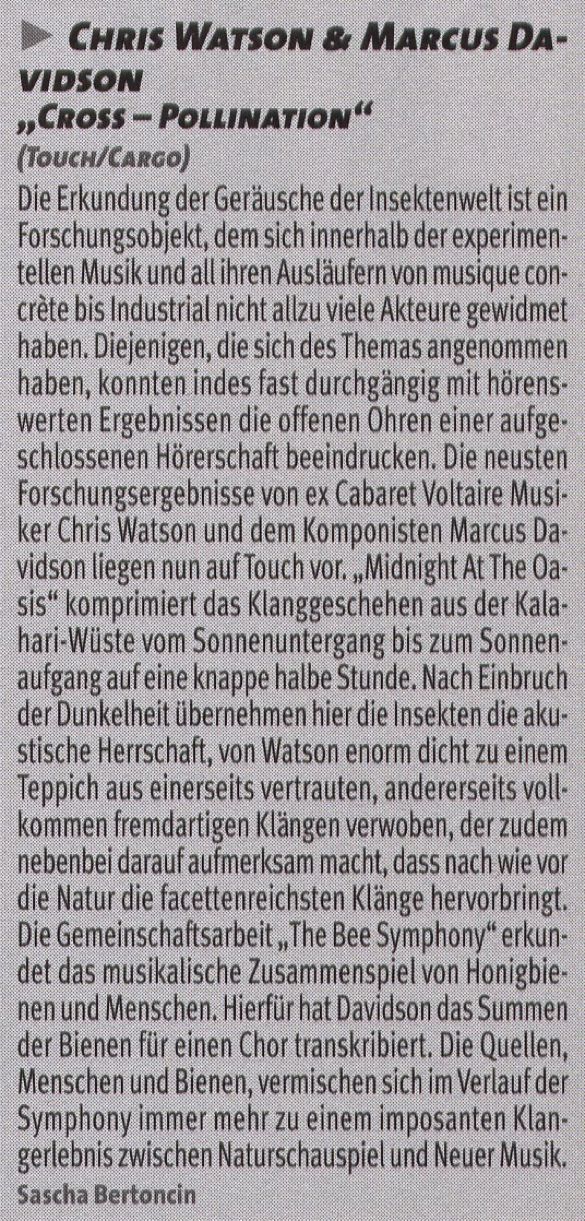 Whispering & Hollering (UK):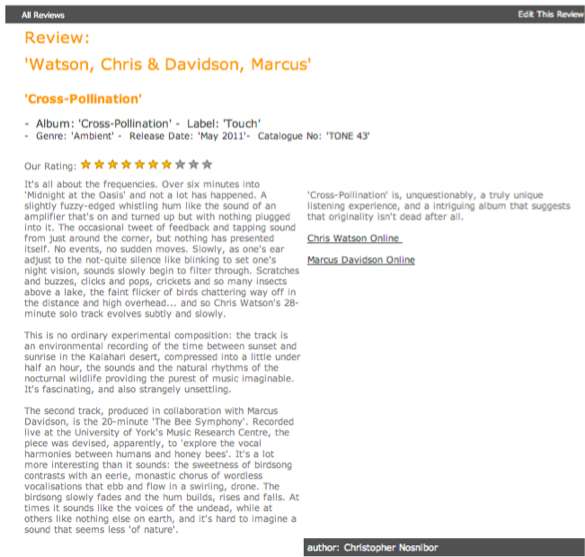 Ekspress (EST):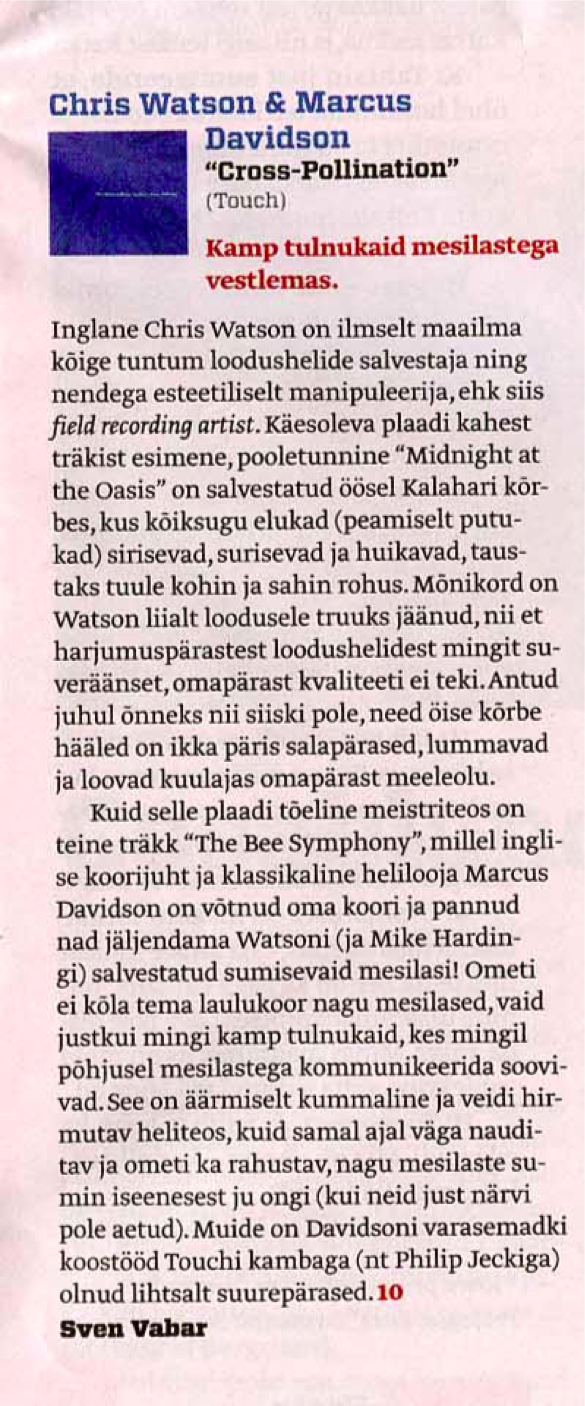 Peter Wullen (blog):
'The Bee Symphony' by Chris Watson & Marcus Davidson is certainly one of the strangest albums of the year. 'The Bee Symphony' explores the vocal harmonies between humans and honey bees. If bees had human voices they would probably sound like this. It's a strange experiment and one that certainly proves somehow that humans still don't really understand animal soundworlds. A vocal choir tries to sing like bees on this album. At first they sound very lazy and dull. Wieeee…. wieeee…. Like the bees are too bored or drunk to keep up a tonal range. Maybe they really are drunk on nectar. Later on we hear some more exhilarating sounds. A nice alternation between male and female voices and some very ethereal harmonies. In the end the buzzing sound dies down when the bees retreat in their hives to go to sleep. Imitating bees is not new of course. Canadian artist Sarah Peebles did it before. 'The bees' by Animal Collective is one of the weirdest songs ever, but a 'bee symphony' is quite fascinating and new. It's been performed on the BCC and it's one of these albums that we keep on playing in our mp3. Buzz… Buzz… Very extraordinary!
Jahrgrangsgeräusche (Germany):
Zwei Fieldrecording-Projekte des Cabaret-Voltaire-Mitgründers und BBC-Soundexperten der letzten Jahre werden nun zusammenfassend in einer Kollaboration mit Marcus Davidson vorgestellt. Im ersten Track dampft Chris Watson eine komplette Nachaufnahme aus der namibischen Kalahari-Wüste auf intensive 28 Minuten Naturexotik in vielgestaltigsten Facetten ein. Da tauchen neben Sand, Wind, Vögeln und für mich nicht näher identifizierbaren Tierlauten eben auch zahlreiche Insektenklänge auf, die irgendwann so amorph, fremd und dicht zu bekannten Grillenkonzerten schwellen, dass man sie mit mancher Errungenschaft elektronischer Synthesen verwechseln könnte.
Trotz aller Faszination stolpere ich gleich zu Beginn über einige leichte Windrumpler in der ansonsten exzellenten Aufnahme. Eigentlich möchte ich solche Unsauberkeiten bei Fieldrecordings auf diesem Niveau nicht hören. Aber möglicherweise übertreibe ich auch mit diesem Anspruch. Schließlich stand ich noch nie in der Kalahari, schon gar nicht mit Recorder und Angel.
Mit Track 2 folgt die Steigerung ins Kompositorische mit dramatischer Geste. Den Landbienenstock- aufnahmen Watsons fügt Marcus Davidson mit feinem Einfühlungsvermögen einen fünf-stimmigen menschlichen Chor hinzu. Verstörend und voluminös stehen die Klangmutationen im dicht gefüllten Raum. Bei "The Bee Choir" wird in Spuren und Spezies verdichtet, nicht im zeitlichen Ablauf wie bei der Kajahari-Aufnahme. Statischer Glanz, stabil und befremdlich. Ligeti winkt aus dem Hintergrund. "Cross-Pollination" ist eine gekonnt verdichtete klangkünstlerische Arbeit, wie man sie selten findet.
Dusted (USA):
Marcus Davidson might be the guy who gets his name on the spine of this CD, but he wasn't Chris Watson's only collaborator in the making of Cross-Pollination — he was just one of the only ones with two legs. Insects of many varieties make themselves heard on the album, both as performers and conceptual inspiration. The anonymous mass of African arthropods and English honeybees captured by Watson's recordings are only part of the equation, of course: there's editing, accompaniment and arrangement across the two tracks. The evidence of the human presence on the two tracks is palpably different, however, with the pieces exhibiting very different approaches to the intersection of nature and musician.
"Midnight at the Oasis" condenses a night in the Kalahari Desert into a half hour, the span between sunrise and sunset edited for dramatic effect. The animal comings and goings feel far more noticeable, the overnight movements fashioned into a smoother arc, rather like how time lapse photography can turn the seemingly chaotic jumble of rush hour pedestrian traffic into a beautiful exhibition of large-scale choreography. Birds are a heavy presence at both ends of the piece, but it's the bevy of African bugs that keep things going throughout the night. The buzzing, whirring, and chirping of the insects reaches surprisingly intense proportions at times, a biological blueprint for the high-pitched extremities plied by some of today's most aurally invasive human artists. Watson's chosen spot is a busy one, especially as dawn approaches and the birds make themselves more plentiful; there's even an appearance from what sounds like a late-night storm.
Save for the more exotic bits, like the calls of hyenas that whoop like solos behind the crickets' chorus, there's much that will sound familiar, even to those listeners who reside halfway around the world. Watson's build a beautiful tapestry, and while we don't all have the South African desert in our backyard, this is the sort of music that attunes one's ears to their surroundings: the everyday hubbub beyond our speakers becomes its own brand of music, coming to life as Watson's Kalahari convocation fades.
Watson and Marcus Davidson team up for a far more explicitly conceptual application of natural sound on "The Bee Symphony." The piece pairs Watson and Mike Harding's recordings of English garden beehives with a score, penned by Davidson, that attempts to recreate the apian output with the human voice. The thrum of the bees is a dynamic backdrop for Davidson's Bee Choir; it's an incredibly dense mass of activity that's both accompaniment and inspiration for the quintet. The vocals were composed to mimic the actual sounds made by the bees, with Davidson transcribing the teeming buzz, arranging things so that the choir would be, in a sense, singing along with the bees in real time. The drone of the bees is sometimes represented by extended notes from the choir, while at other times, the vocals swoop and swirl more dramatically, like melodic fragments amidst the bees' unwavering buzz.
What's most frustrating about "The Bee Symphony" is how often one wishes the voices weren't even in the mix: even at their strongest, the choir is seemingly at a loss to recreate the intricacy of the hives' busy clamor, and while there are satisfying moments in which the drone of human and bee intersect in a beautifully woven stream, too much of the human input feels performative and staged, and thereby weaker against the backdrop of the bees, whose buzzing is a minimalism more compelling than much of that's come from the hands of humans. It's an interesting piece to be sure, but, for my money, it can't match the simple magic of "Midnight at the Oasis." In a comparison of its two tracks, Cross-Pollination illustrates an idea that resonates far beyond the world of music: the natural world is usually best experienced without too many human fingerprints. [Adam Strohm]
RNE3 (Spain):
Escuchamos ahora un proyecto ideado por Chris Watson originalmente para 'Pestival en el año 2009 en el que explora las armonías vocales entre los seres humanos y las abejas, en una colaboración coral única alrededor y dentro de las colmenas de un jardín Inglés. El tema, que dura 20 minutos y del que escuchamos un pequeño fragmento, se grabó en vivo en el Auditorio Rymer, en el Centro de Investigación musical de la Universidad de York, el 17 de diciembre de 2010. El responsable de la grabación fue Tony Myatt. Marcus Davidson se encargó de la composición y los arreglos de las grabaciones realizadas por Chris Watson y Mike Harding que difundió a través del sistema 4.1 Genelec de Chris Watson.
Es espectacular el coro de vocces que cantan imitando a las abejas, es como una especie de sintonia con la naturaleza. De hecho, todos los acordes y 'canciones' en esta "Sinfónica de las abejas" se han tomado de notas reales producidas por las abejas en las grabaciones de campo.
La partitura fue escrita para que el coro cantase exactamente igual que las abejas con los diferentes aspectos de sus tonalidades en tiempo real. Resulta sobrecogedor desde luego.
Blow Up (Italy):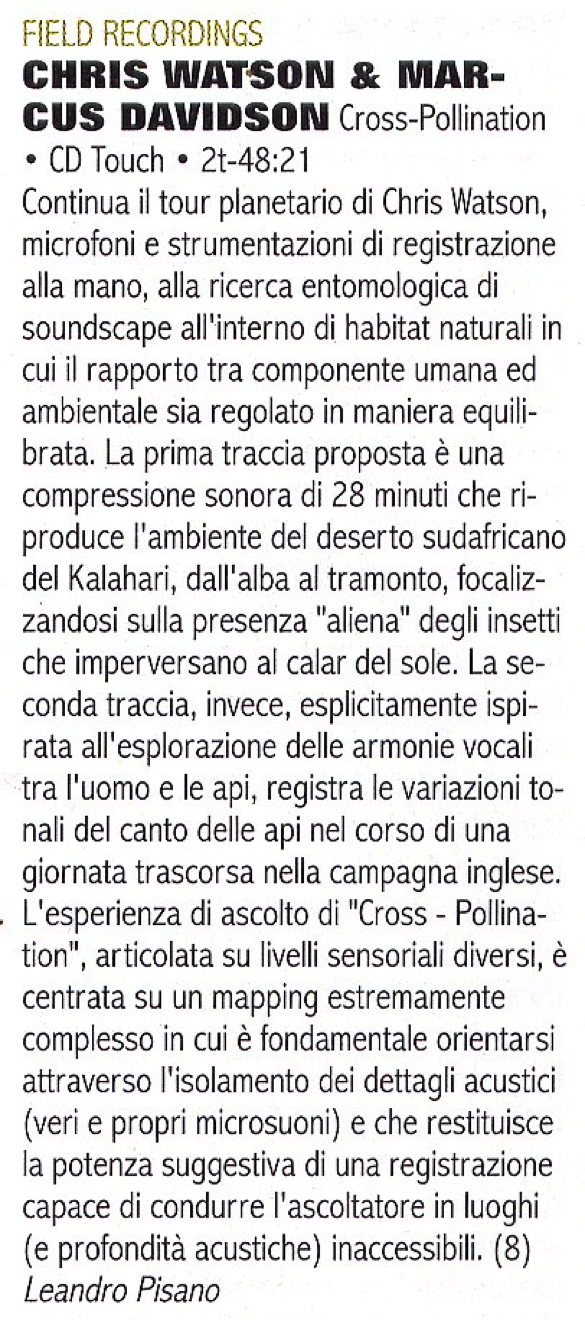 de:bug (Germany):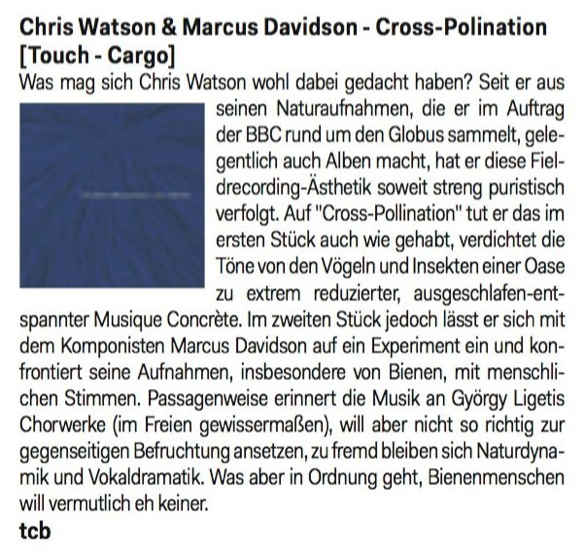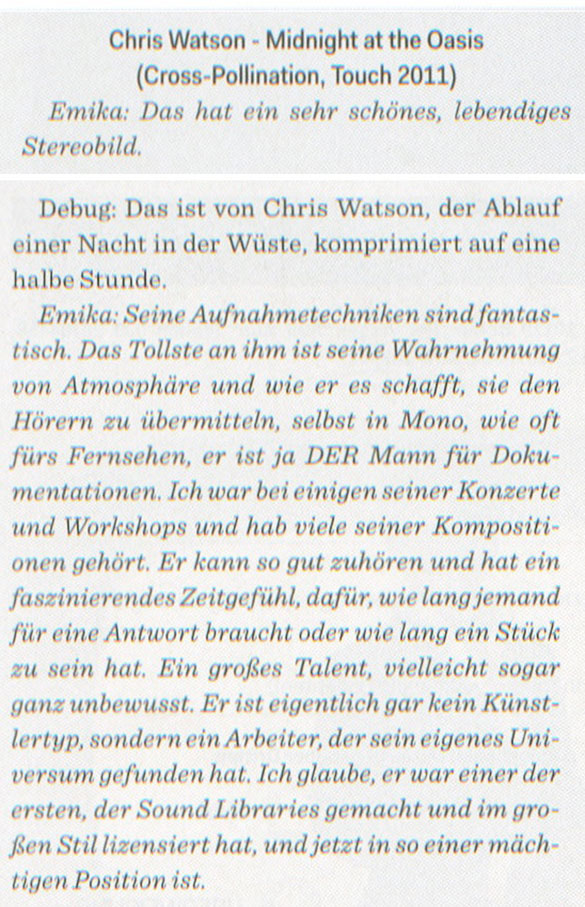 Cyclic Defrost (Australia):
Westzeit (Germany):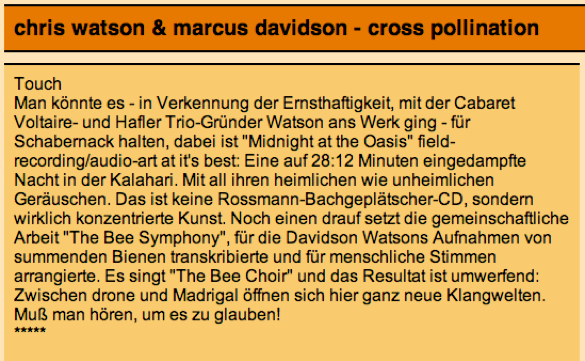 Rifraf (Netherlands):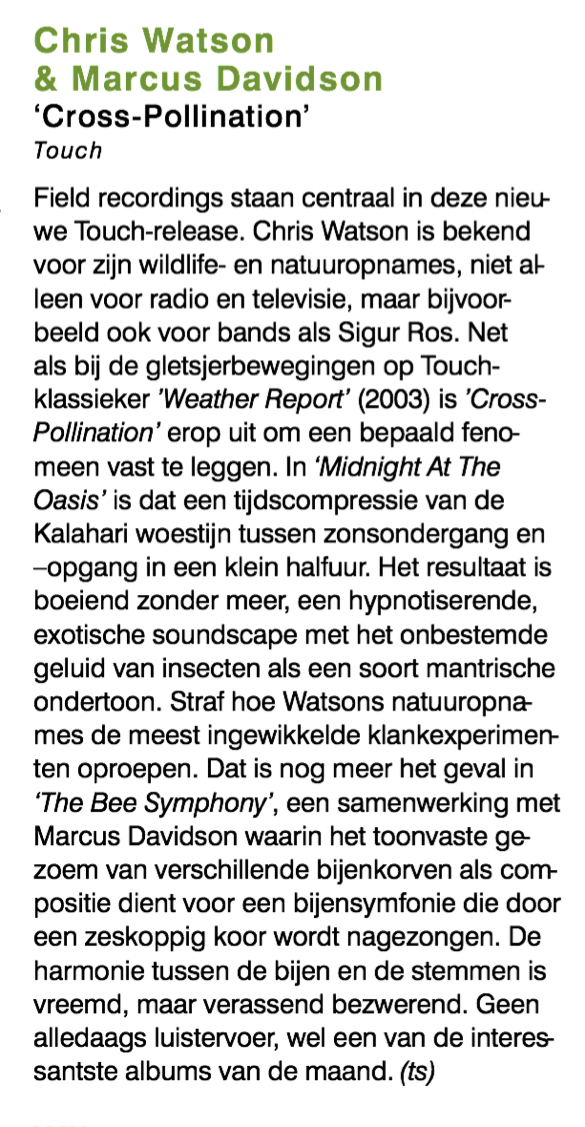 Rifraf (France):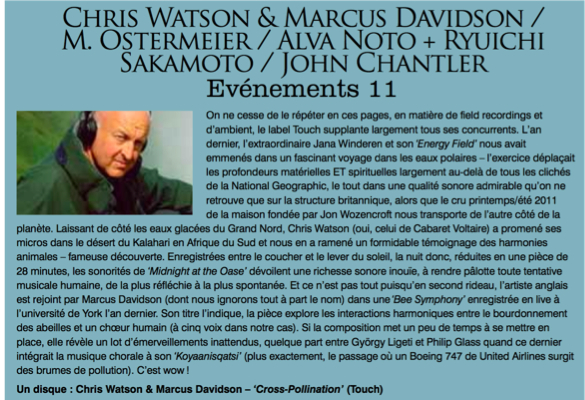 irrational arts (UK):
In the world of human nothing is new. Only directional concentration reveals what was already there if we were only aware enough to perceive it. Even our attempts at electronica are secondary mimicry of what Nature richness already produces. In the 28 minute 'Midnight at the Oasis' the insects form a high pitched wirring drone that breaks the conventions of what we know in electronica. This recording made in the Kalahari desert is a snapshot of the sounds created by the diverse insects between sunrise and sunset. The clicks, the ticks, the wirrs, the rattles, the buzzes form a seamless improvisation; a communication that we're too dim to understand beyond the aesthetic. One insect's brief sounds are like helicopter blades at full flight. The clicking sound of one insect did remind me of the Clicking language of the San and Hadzabe tribes of southern and Eastern Africa respectively. One of the oldest human languages.
Watson's approach is to record sound faithfully and not process them. It's a far more interesting method of field recording than one where the recorder is overtly present in the recording or uses the recordings as raw materials for their own work. As it is we bring a lot of baggage to the recordings merely by being present or by listening to the CD. But that's a whole other debate.
For the second track, 'The Bee Symphony', Marcus Davidson used Watson and Mike Harding's recordings of beehives in unspecified parts of England to compose a choral piece that worked with harmonies. Bees like a distant drone of a hurdy gurdy eventually separate into individuals, combining with human choral voices. I did dread hearing this live performance recorded in 2010 at the Music Research Centre in the University of York, but it works impressively. The interaction between the trained voices and the bees is done sensitively and the first instinct is to think of Ligeti's compositions. The buzzing drones of the glorious bees and the smooth drones of the choir run parallel, intertwine, diverge, swarm to a peak and dive menacingly. A grand sequence of events when taken for what it is, it does also encourage the activity of interaction rather than passive listening to the natural sounds.
There are many others who make wonderful field recordings, most notably Gordon Hempton, but for me Chris Watson's immaculate recordings bring about an understanding that awareness and comprehension isn't an instant thing, it's a gradual reveal.
Yusuke Murakami's strangely detailed cover photography features what looks like a hard close-up on blue fibres. What is it? The CD comes presented in a digipak.
Resident Advisor (USA):
The latest recording on Touch once again features field recordist Chris Watson, this time along with composer Marcus Davidson on one of its two lengthy tracks. Watson opens solo with "Midnight at the Oasis." Creatures like crickets, bees and distant birds assist in Watson's keen shaping of an otherwise seemingly peaceful scene into a meta-hinterland of pure noise. In nearly a half hour we get an eerie restructuring of the natural world in the Kalahari desert. The arrangement celebrates the power of combined tonalities of tiny and towering beasts that become more like sine waves as the piece crescendos at the 20 minute mark with flutter-tronics of singing birds at sunrise. In the final moments cascading waters rise and wash away all but crackle and hiss.
"The Bee Symphony," Watson's collaboration with Davidson, starts where part one ended. Morning birds chirp and the distant hum of a bee swarm gains traction alongside a midground drone that utilizes a throaty, ghostly vocal ensemble to great effect. (The five member buzz-worthy choir was recorded live at the University of York in December of 2010.) The human voice here mimics the delicate and speedy movements of honeybees, and harmonizes as a unit just as a swarm shapes itself in unison like an army. By phasing the fore/backgrounds throughout, Watson and Davidson keeps the bees and the humans dueling, mixing the organic and composed effortlessly. [TJNorris]
De Subjectivism (Netherlands):
Het mag geen onbekende naam meer zijn: Chris Watson, voorheen lid van Cabaret Voltaire en The Hafler Trio, geluidsman/kunstenaar voor vele BBC natuurdocumentaires en uiteraard als solo muzikant met meerdere releases gebaseerd op veldopnames all-over-the-place. Al jaren heeft hij met zijn bijzondere field-recording collecties een vaste stek in de Touch catalogus. Op zijn nieuwste werk, Cross-Pollination, werkt hij samen met een relatief nieuwe naam in het veld: Marcus Davidson (die we ook al kennen van zijn samenwerking met Philip Jeck op de 7" Spliced en bijdragen aan de Spire serie ook op Touch). Davidson werkt met name aan dansvoorstellingen en stukken voor radioshows.
Het eerste stuk Midnight at the Oasis is een typisch Chris Watson werk waar we het nachtelijke leven uit de Kalahari woestijn in Zuidelijk Afrika te horen krijgen. Marcus Davidson doet hier ook nog niet mee. In deze woestijn speelt het leven zich met name 's nachts af, wanneer alle insecten en ander klein leven te voorschijn komen. In het 28 minuten durende stuk horen we de gehele nacht gecomprimeerd terug. Het start rustig met het geluid van vermoedelijk krekels, maar naarmate de nacht donkerder wordt zwelt het volume aan en komen er steeds meer vreemde stemmen opdoemen. Het stuk presenteert zich als een ware symfonie van natuurgeluiden. Al lijkt het soms ook veel weg te hebben van micromusic met de hoge frequenties die door de speakers knallen. Zodra het weer licht begint te worden merk je ook een grote toename aan vogels die van zich laten horen. Naast de opvallende krekels en vogels zijn ook de vreemde insecten die voorbij komen indrukwekkend. Sommige klinken alsof een helikopter over vliegt. Als geen ander weet Watson het beeld van de droge vlaktes om te zetten in geluid. Als je de ogen dicht doet waan je je ook daadwerkelijk even in deze lege ogenschijnlijk toch niet zo lege vlaktes.
In het tweede stuk komt ook Davidson zijn inbreng terug. The Bee Symphony is een symbiose tussen natuur en mens. De geluiden van bijen en de menselijke stem worden samengebracht in een zoektocht naar de harmonie tussen beide.Met opnames gemaakt door Chris Watson en Mike Harding (Touch head honcho) is Marcus Davidson aan de slag gegaan. Voor een vijfstemmige koor (The Bee Choir) heeft hij bij de opnames zang arrangementen geschreven. Het stuk start met zachte natuuropnames, we horen vogels fluiten en een zachte bries. Al vrij snel komen de eerste bijen voorbij gevlogen wat aanzwelt tot een volume alsof je in de bijenkorf zit. En op dat moment komen ook de zangstemmen opzetten. Het vijfstemmige koor zingt geen woorden, maar volgt qua stem geluid continu het geluid van de bijen. De zanglijn bestaat uit microtonale verschuivingen waardoor een zoemende drone ontstaat die een harmonieuze symbiose aangaat met het zoemen van de bijen. Op momenten zijn de bijen en stemmen niet te onderscheiden; het is alsware een kruisbestuiving tussen de bijen en het koor. In het stuk zit veel dynamische ontwikkeling waar beide stemmen door het gehele volumespectrum bewegen. Hierdoor ontstaat veel spanning die continu wordt aangehouden.
De twee stukken op deze cd passen, ondanks totaal verschillende methoden, zeer goed bij elkaar. In beide wordt gezocht naar een natuurlijke harmonie tussen verschillende organismen. Cross-Pollination is een van de betere werken van Chris Watson en daarmee een van de mooiere documentaties van field-recordings en de mogelijkheden die hiermee zijn. In Midnight at the Oasis word je continu gegrepen door het drukke nachtleven en The Bee Symphony waagt zich op een geheel nieuw vlak in de zoektocht naar de symbiose van mens en dier.
Hulde.
Black (Germany):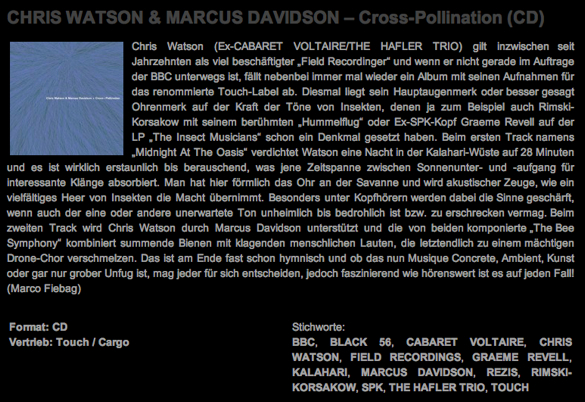 Collecting Records (UK):
He shouldn't be a stranger any more: Chris Watson. On his resume we can find Cabaret Voltaire, The Hafler Trio, sound artist for the BBC recording sounds for nature documentaries en of course his solo output of field-recordings from all over the place, going from the South to the North, from East to West and back again. With his field-recordings he has earned his tight place in the Touch catalogue.
For his newest work, Cross-Pollination, we find him working with a fairly unknown artist: Marcus Davidson, who has worked together with Philip Jeck on the 7" spliced and also participates in the Spireproject. Davidson's main work is in the field of theater/dance music and radio show music.
The first piece of Cross-Pollination, Midnight at the Oasis, is a typical Chris Watson work where we hear the night life from the Kalahari Desert in the Southern regions of Africa. This solo work contains recordings from sunset to sunrise which are compromised to 28 minutes. The sounds start quiet with humming crickets. Though with the night getting darker and darker the volume increases, as do the different voices. A true symphony of animal sounds arises, a micromusic symphony that is. High piercing frequencies reach the ear with small detailed fluctuations. When light returns in the earliest morning you also get aware of the birds in the desert. In the end they even seem to be the king and master with their sounds. Besides the various crickets and birds we also hear much weirder sounds, which can probably be traced back to small beetles and bugs. These sounds are really impressing. Watson really knows how to present this desert in sound. He clearly has a good ear and sense for these sounds. With your eyes closed it even feels as if you are in the desert yourself.
In the second piece we also get to hear the work of Davidson. The Bee Symphony is a symbiosis between nature and humans. The sounds of bee colonies and the human voice are brought together in a search to their harmonies.
Marcus Davidson used recordings the bees that were made by Christ Watson and Mike Harding (Touch head honcho) as base for his composition for five voices (The Bee Choir).
The music starts out with soft field-recordings where we hear some birds twitter and a soft breeze. Quickly an occasional bee pass by which eventually swells up as if you have your head stuck in a beehive. And right at that moment the choir sets in. It aren't words they sing, but instead the voice follows the sounds of the bees continously. The voice lines are build up from microtonal shifting sounds which creates a humming drone that creates a harmonic symbiosis with the bees. At some points you can't even tell the different voices apart. It can be bees, it can be human voices, you just can't tell. It is a pure cross-pollination between nature and humans. The music contains huge dynamic variations where both voices go through the whole volume spectrum. This creates a continuous tension which makes you want to listen over and over.
The two pieces on this CD really fit together, even with the totally different methods used. In both there is a search to the natural harmony between different organisms. Cross-Pollination is one of Chris Watson's best works and with this one of the most beautiful documentations in field-recoridngs en the several options with those. In Midnight at the Oasis you are continuously grasped by the nightly desert life and The Bee Symphony explores a whole new territory in symbiosis of human and animal.
Highly recommended.
Elegy (France):

SA (Spain):
Dark Entries (Belgium):
Dat Touch ver durft gaan in zijn interpretatie van wat men nog muziek kan noemen, is algemeen geweten. Doorgaans heb ik geen probleem om me tot hun visie te bekennen. Ook deze keer heb ik daar niet de minste moeite mee, hoewel voor anderen de grens hier al overschreden zal zijn. Op dit albums zijn 2 werkstukken te vinden van telkens minstens 20 minuten. Midnight in the Oasis van Chris Watson onderzoekt wat een experimenteel muzikant zoals kan aanvangen met de diergeluiden die men 's nachts in een oase in de Kalahari-woestijn hoort. Hij ving vooral veel vogel- en insektengeluiden op, waar hij dan ongeveer de centrale pitch van ging opzoeken. De natuurlijke geluiden blijven rond deze pitch zweven,wat de luisterervaring al de moeite waard maakt. Watson gaat dan ook nog eens na wat de, percussieve mogelijkheden van de natuurgeluiden zijn en zie: in beperking toont zich de meester!
Voor het tweede stuk, The Bee Symphony, werkte Watson samen met Marcus Davidson. Met een quintet van zangers togen ze naar een groep bijenkorven op het engelse platteland. Met de nodige zorgvuldigheid probeerden de zangers de eigen stemgeluiden te laten versmelten met het gezoem van de bijen, wat op zich al een mooie uitdaging voor de oren is. De zangers verlaten gaandeweg het veilige pad en beginnen te experimenteren met de mogelijkheden van de vrije improvisatie. De soundtrack ontaardt in een demonische weeklacht waar niet meer uit te onderscheiden valt welk geluid van mens of van dier komt. Ik kan niet anders dan erkennen dat dit honing voor mijn oren was! Weerom een originele en geslaagde operatie van Touch Music dus…
Musique Machine (UK):
"Cross –Pollination" brings together highly respected British natural sound recordist & field recording arranger Chris Watson, and British chorister & composer Marcus Davidson for an album that blurs the lines between field recordings & music. The album features two twenty minute plus pieces of manipulated field recording sound art that focus in on the harmonic & rhythmic qualities of both animals and insects.
The first piece "Midnight At the Oasis" finds Chris Watson working on his on own. And the piece consists of a time compressed recording of Sunset to Sun rise in the Kalahari desert, which is located in Southern Africa and extends over 900,000 square kilometres to covering much of Botswana and parts of Namibia and South Africa. The twenty eight minute piece starts with a mixture of bird song twitter, fly buzzing, cricket chattering & distant wind buffeting. As the track progresses into first dusk then night time the sound map becomes more insect bound with stretched out buzzing, alien like chattering & hammerings, and insect drills which all build to a complex, alien & vibrate map of both harmonic & rhythmic sound. As the track passers it's halfway mark it becomes a deeper 'n' denser map of buzzing & humming insect texture's that are moved over by haunting animal bays, compressed bird chatter( I guess this is what birds sound like when there asleep?), and other animalistic like shrieks wails & calls. And of course as we come towards the end of the track & dawn the bird sounds get more chirpy, active & detailed as the desert world slowly lights up. Yet the piece really ends on quite a mysterious and haunting note as the desert wind takes centre stage as if we're walking away from the detailed sonic activity of the oasis & into the billow & buffeting loneliness of the desert it self. All told " Midnight At the Oasis" is a simply breathtaking, complex and multi-layered piece of subtle manipulated & sped up field recording sound art. Watsons recording equipment has picked up every little sonic detail of desert oasis life to create this captivating near on half an hour track that captures the deserts many harmonic, rhythmic and alien tinged musically soundscapes.
Track two is a twenty minute piece entitled "The Bee Symphony" and this track explores the connection between human choral voices and the sound of Bees. The track finds Watson & Davidson bounding together field recordings of English honey bees, and human male & female vocal harmonise. The pair create this swooping, descending and building epic track that effortless blurs the line between bee & human sound- it mangers to sound both strange, spiritual, sombre and vast. The Bee sound really leads the tracks path with the choral elements descending & rising with the Bees joint amassed sound. The Bee sounds seem to magical shift between been harmonic & then been rhythmic.
So "Cross –Pollination" is a fascinating & wholly rewarding journey into a sonic world that blurs the boundary between insect/animal harmonics & rhythms, and there human counterparts. [Roger Batty]
GoMag (Spain):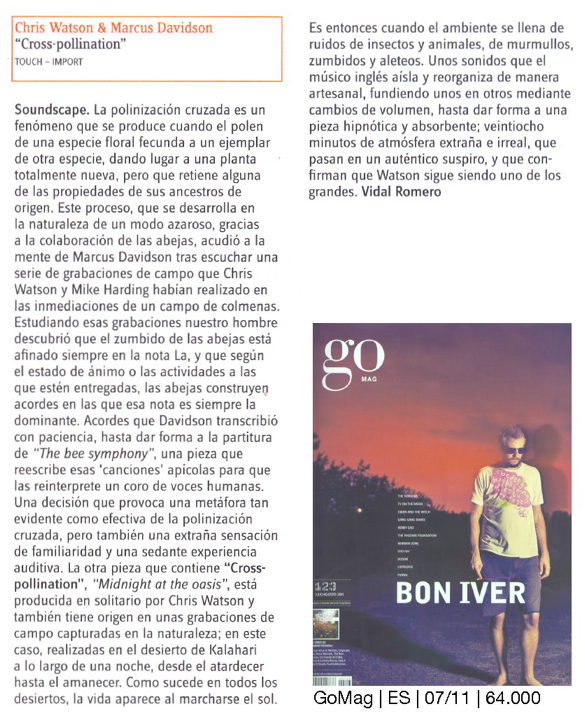 kwadratuur (Netherlands):
5/5
Susumushi of de Japanse bel-krekel: één van de insecten waar Chris Watson door gefascineerd werd tijdens zijn bezoek aan Japan. Daar ontdekte hij dat er een hele cultuur bestaat van mensen die in de zomer de natuur in trekken om naar insecten te luisteren. Een traditie die terug gaat tot in het 15de eeuwse China, waar er kleine kooien werden gemaakt voor de beestjes, om in de woning op te hangen. Bij de juiste tempartuur zouden ze vervolgens beginnen zingen. Want dat is precies hoe Watson de mechanische geluiden van insecten benadert: alsof het stemmen zijn.
'Cross-Pollination' bevat twee nummers waar de, in aantal grootste diersoort, duidelijk de overmacht heeft. Voor 'Midnight in Oasis' trok Chris Watson met microfoons naar de plaats van actie: de Afrikaanse Kalahari woestijn. Het is de samenbundeling van opnames van een nacht vol geritsel en gesuis. Deze locatie van open vlaktes, grassen en doornstruiken wordt na zonsondergang een plaats waar heel wat dierlijk leven (met hun bijhorende klanken) valt te bespeuren. Deze 28 minuten durende geluidsregistratie laat de luisteraar van dichtbij kennismaken met allerlei uiteenlopende geluiden uit het dierenrijk. Het stuk is een prachtige harmonische verzameling van de meest precieze én natuurlijke ritmes van deze planeet.
Watson mag dan wel gebruik maken van veldopnames, hij is meer dan een geluidstechnicus en heeft gevoel voor compositie. Hij weet de geluiden van Moeder Natuur heel mooi te presenteren en waar nodig klemtonen te leggen. Na zo'n zes minuten krijgt de luisteraar het bijvoorbeeld benauwd als een wolkenmassa over het land scheert en vogels hevig beginnen te panikeren.
'The Bee Symphony', het tweede nummer van het album, werd gecomponeerd door Marcus Davidson met geluiden van honingbijen, opgenomen door Chris Watson. De toonhoogte van het vibrerende geluid van de bij verandert met de gemoedstoestand van het nest: wordt het nest bedreigd, zingen de beestjes hoger. Het nummer begint met opnames die gemaakt zijn 's ochtends, rond het nest. In dit deel zijn er vooral omgevingsgeluiden te horen (zoals vogels) maar er wordt geleidelijk aan met de macro-lens ingezoemd op het bijennest.
Davidson maakte akkoordenschemas van Watson's opnames die hij liet zingen door een mensenkoor. De zang werd nadien gemixt tussen de ritmische tonen van de bij. Het bijenkoor zingt harmonieus samen met de bijen, zonder ze te imiteren. Dit vormt een prachtige combinatie van de gevoelsmatige uitdrukkingen van mens en insect. Uiteindelijk volgt de luisteraar de honingbijen tot in het middelpunt van het nest. Daar ontstaat een hechte samenklank van vele stemmen die de luisteraar van dieptes naar hoogtes tilt.
De titel 'kruisbestuiving' is dan ook niet lukraak gekozen. Dit werk gaat over de interactie tussen mens en insect. Het plaatst de luisteraar vanuit zijn stenen huiskamer tot op het niveau van de natuur. Nog dichterbij komen is haast onmogelijk.
Rockdelux (Spain):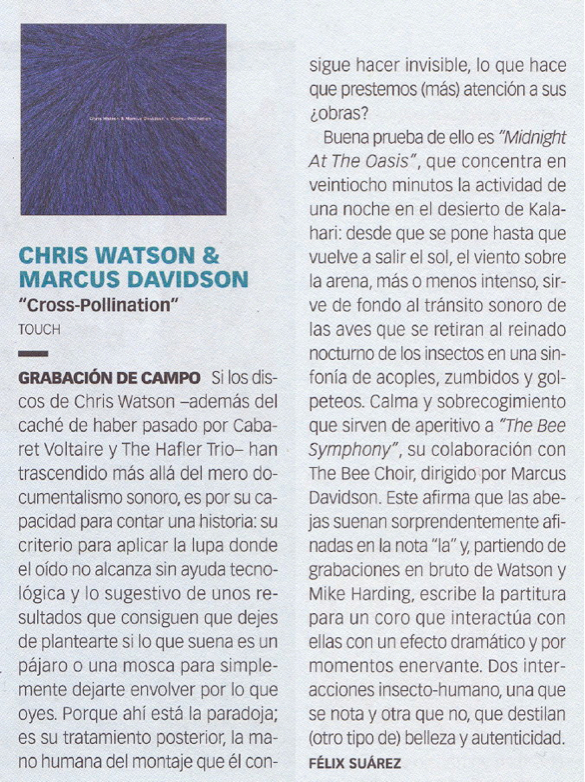 JGG (Germany):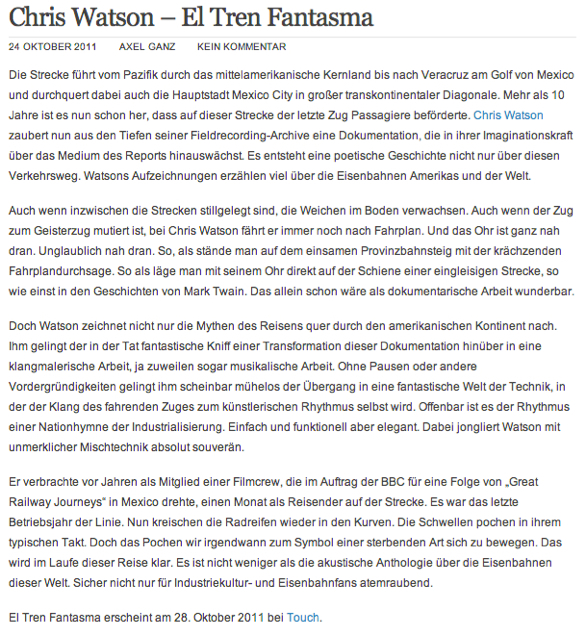 The Wire (UK):

Etherreal (France):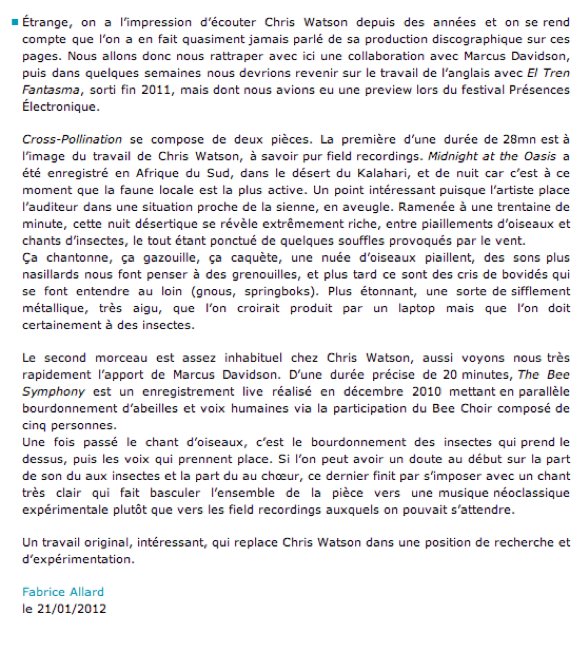 goddeau.com (Netherlands):
Uitsmijter is The Bee Symphony van geluidskunstenaars Chris Watson en Marcus Davidson, dat al een tijdje uit is op het elektronicalabel Touch. De bijensymfonie onderzoekt de overeenkomst tussen de vocale harmonieën van mensen en die van honingbijen. Als bijen konden zingen, zouden ze waarschijnlijk zo klinken. Het is een bizar experiment dat nog maar eens bewijst dat we de geluidswereld van de dieren maar moeilijk kunnen doorgronden. Een koor probeert te zingen als bijen. In het begin klinken ze lui en verdoofd, alsof ze net teveel nectar ophebben. Later horen we wat opgewekter geluiden: een mooie afwisseling tussen mannelijke en vrouwelijke stemmen en etherische harmonieën. Naar het einde toe sterft het brommende geluid uit — de bijen trekken zich terug in hun korven om te gaan slapen. Bijen imiteren is niet nieuw. De Canadese artieste Sarah Peebles deed het enkele jaren geleden. "The Bees" van Animal Collective is een van de vreemdste songs ooit, maar een volledige bijensymfonie is behoorlijk fascinerend en nieuw. De symfonie werd intussen al uitgevoerd op de BBC, en speelt onophoudelijk op onze MP3-speler nu de lente langzaam nadert. Buzz buzz buzz…
Neural (Italy):

Hawai (Chile):
En el arte de captar los sonidos tal y como suenan en la naturaleza, inmaculados, y trasladarlos a un objeto que los reproduce de la misma manera, sin mayor modificación más que la estrictamente necesaria, el inglés Chris Watson se encuentra en el más alto lugar, la cumbre. Nacido en Sheffield de joven formaría Cabaret Voltaire y posteriormente sería parte de The Hafler Trio. Ya a comienzos de los años ochenta se inicia en la grabación de sonidos, tarea que ha desarrollado hasta ahora con trabajos que se desenvuelven en ese parte del arte sonoro. Discos como "Outside The Circle Of Fire" (Touch, 1998) y "Weather Report" (Touch, 2003) forman parte de un amplio y variado catálogo de investigaciones que son el reflejo de un lugar y un clima específicos. Un año específico, este 2011, tenemos la suerte de tener entre manos dos trabajos más, uno de ellos el primero en 7 años de uno elaborado en solitario, lo que no sucedía desde aquel "Weather Report".
Lo primero, cronológicamente, es "Cross–Pollination", dos extensas piezas en un solo CD en el cual somos testigos, una vez más, de la enorme habilidad para simplemente instalarse en el lugar correcto y así aprehender a la naturaleza y robarle un poco de su música. "Midnight At The Oasis" son veintiocho minutos en el desierto de Kalahari en Sudáfrica desde donde mayormente registra el transitar nocturno de seres minúsculos, aves, toda una fauna que casi nunca vemos pero si podemos oír. Es esta la pieza en la que la alteración del entorno es menor. El detalle está en colocar el micrófono en el sitio exacto, y acto seguido, sucede el milagro. Millones de voces aparecen en le inmensidad de la noche, en la infinidad de un lugar que se dice desierto pero es cualquier cosa menos vacía, mucho más que arena. Basta con cerrar los ojos y dejarse arrullar por silbidos y zumbidos, banda sonora de la vida silvestre en estado puro. "El desierto de Kalahari es un espacio amplio y abierto, donde la mayor parte de la vida silvestre es nocturna. Después de la puesta de las dunas, los pastos y arbustos espinosos son patrulladas por un imperio emergente extranjero, los insectos". Ellos son los mayores protagonistas que emergen de entre los matorrales escondidos en las sombras. Media hora fascinante que es solo la mitad de este álbum. Polinización cruzada, o alogamia es la transferencia de polen de una antera de la flor de una planta a un estigma de la flor de otra planta. A ello hace referencia el título, y ello se debe principalmente a esto, "The Bee Symphony". Concebido para el 'Pestival' en 2009para explorar las armonías vocales entre humanos y abejas, fue grabado con posterioridad en el Auditorio Rymer del Centro de Búsqueda Musical de la Universidad de York en diciembre 17 de 2010. Usando grabaciones hechas por Chris Watson y Mike Harding, Marcus Davidson compuso y arregló esta sinfonía para abejas y cinco humanos, The Bee Choir. "El sonido los humanos cantando abejas era extrañamente atractivo. Pensé que era una reminiscencia de la música aborigen, tal vez mostrando cómo en armonía con la naturaleza esas civilizaciones estaban. De hecho, todos los acordes y 'canciones' en The Bee Symphony se han tomado de las notas reales cantada por las abejas en las grabaciones de campo". El compositor habla acerca de las proximidades entre sonido ambiente y música primitiva, ambos entrelazados. De hecho, los dos guardan relación con el minimalismo más tradicional. Pero, relaciones aparte, acá tenemos a un coro de insectos artificial cantando en consonancia con un coro de insectos reales, formando una armonía de un tono pero de muchos colores, más allá del amarillo y el negro.
Y cuando parecía que el tiempo se nos acababa, Watson nos da otra prueba más de su aproximación a los ruidos puros, "El tren fantasma". "Tome El tren fantasma de Los Mochis a Veracruz y me desplacé a través del país, de costa a costa, del Pacífico al Atlántico. Viajar al ritmo de los raíles a bordo de los Ferrocarriles Nacionales de México (FNM) y la música de un viaje que ahora ha pasado a la historia". Ese tren ya no existe más, no desde hace diez años, el mismo que fue parte de la serie 'Great Railways Journeys' de la BBC y del cual Watson fue pasajero durante un mes. Corto período en el que condensar décadas de historias y de vidas. Desde "La anunciante" que nos avisa la 'última llamada para El tren fantasma' escuchamos los rieles sobre el acero y de ahí una multitud de sonidos que son parte de un viaje al interior de México. Gallos, pájaros ("Los Mochis"), electrónica de avanzada para carriles ("El divisadero"), cruces de caminos ("Crucero La Joya"), ambient para máquinas ("Chihuahua"), ritmos silenciosos ("Aguascalientes"), más cánticos de aves que resuenan como son, hermosos ("El Tajin"), cánticos que se pierden en la memoria. "Gracias por haber viajado en El tren fantasma. Este servicio ha dejado de existir".
El desierto, las abejas, los trenes, tres mundos que se unen en manos de un recolector de lugares-sonido –en el caso de "Cross–Pollination" junto a la ayuda de Marcus Davidson–, documentos que impiden olvidar y que ayudan a conocer lo desconocido, que hacen a los animales más pequeños cantar y a los más grandes emitir zumbidos. Un cumulo de estruendos a campo abierto coleccionados por un observador silencioso.
The Sound Projector (UK):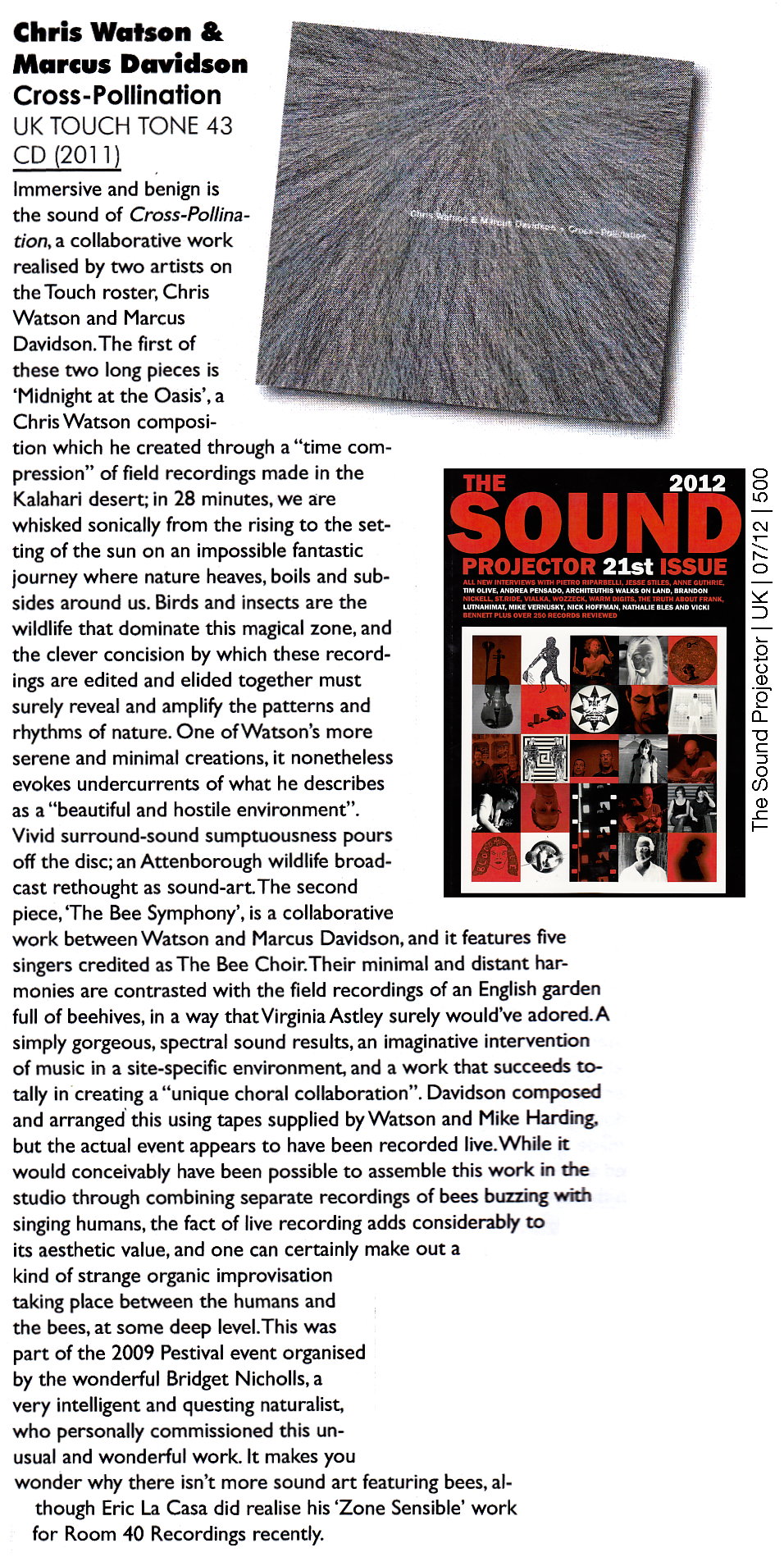 Oro Molido (Spain):