DCD – 24 tracks
Photography + cover design: Jon Wozencroft
Mastered by Fernando Aponte
Track listing:

CDOne
12 tracks
01: 0318
02: 0319
03: 0320
04: 0322
05: 0324
06: 0325
07: 0327
08: 0328
09: 0330
10: 0401
11: 0402
12: 0404
CDTwo
12 tracks
01: 0405
02: 0407
03: 0409
04: 0411
05: 0415
06: 0417
07: 0419
08: 0423
09: 0424
10: 0425
11: 0428
12: 0429
The 24 pieces of 'flumina' are based on piano compositions/improvisations which Ryuichi Sakamoto had recorded whilst touring in Japan. On that tour Ryuichi played a piano piece in a different key at the beginning of every show, always having a 'fennesz sakomoto' project in mind. After 24 shows he had 24 tracks in 24 different keys, covering all 24 tonal steps of the western tonal system. Sakamoto sent the tracks over to Christian Fennesz and he worked on them using electronics, guitars and synths. They met in New York then and mixed the album together with Fernando Aponte at KAB Studios.
This is their 3rd collaboration released on Touch, after the live recording of 'Sala Santa Cecilia' [Touch # Tone 22, 2005] and 'Cendre [Touch # Tone 32, 2007].

Reviews:

Blurt (USA)
9 stars
Ryuichi Sakamoto and Christian Fennesz are the twin pillars of advanced music composition in the 21st century. And the concept of these two coming together in collaboration is akin to a dream tag team union of Karlheinz Stockhausen and Philip Glass.
But the fact of the matter is that unlike those aforementioned titans of experimental classical, Sakamoto and Fennesz have worked together on and off since the 1990s, drawn to one another's abilities and affinities for melding modern classical composition with the electronic sounds of techno, microhouse, synthpop, new wave, hip-hop and IDM. Yet while the two men have performed concerts in tandem for nearly 20 years, their recorded output up until now has been as sporadic as their sonic methodology, boasting only a 2005 live EP called Sala Santa Cecilia and a 2007 studio effort entitled Cendre.
However, the Fen-Sak duo make up for their studio sparsity in spades with the release of their epic third set, an expansive two-disc set entitled Flumina rooted in two dozen improvisations for solo piano recorded by Sakamoto while on tour in his native Japan. During these 24 dates, he played each piece in a different key until he wound up covering all 24 steps of the Western Tonal Spectrum, which encompasses an equal temperament of 12 major keys and 12 minor keys.
After the tour wrapped, the former chief proponent of the pioneering late '70s electronic rock band Yellow Magic Orchestra processed the pieces he recorded through his computer and sent the tracks to his old friend Fennesz, who in turn extrapolated upon these piano improvisations by augmenting them through the utilization of treated guitar drones, laptop science and an arsenal of synths. The pair then met up in New York, where they worked together on mixing the double LP with the help of fellow composer and engineer Fernando Aponte at KAB Studio.
What they ended up with nothing short of a masterpiece of electro-acoustic ambience that builds upon Sakamoto's conceptual spin on the Western Tonal Spectrum with a plaintive sense of futuristic calm tailor made for late nights in the office and quiet mornings of meditation.
Flumina is an arresting and beautiful work as deep and open as the body of water that graces its cover art.
MOJO (UK):
4 Stars
For this, their third full-length collaboration, Sakamoto prepared on-the-road compositions which the Austrian guitarist Christian Fennesz, then altered and embellished in the studio. The pieces cover all 24 steps of theWestern tonal system, but the overall mood is one of muted, minor-key sadness, Sakamoto's clear simple piano lines being eroded and blurred by Fennesz' melancholy atmospherics. [Andrew Male]
Fluid Radio (UK):
Blue; a darker blue; pink; orange. Short stabs of paint, like light stabbing at squinting eyes, quick as water. Vertical lines cross river and sky, and a single ember-red eye is quietly shattered into a comet-tail of shards. Two figures in a boat, one sitting, the other standing and pushing gently with a pole. Unhurried as the dawn. Light flows, a constant stream, liquid-like.
I am looking at Monet's "Impression, Sunrise" (1872), and I am listening to Fennesz and Sakamoto's "Flumina" (2011). Twenty-four tracks, their keys corresponding to the twenty-four steps of the Western tonal system, spread across two one-hour discs. Ryuichi Sakamoto's piano came first, recorded live while on tour in Japan. These recordings were then sent to Christian Fennesz in Austria, who added guitar, synth and electronic elements, before the duo met in New York to mix and master with Fernando Aponte. As might be expected from such a working process, the piano takes on lead melodic duties for the vast majority of the album, with the other instruments supplying various textures, ambiences and harmonic layers.
With their shimmering flurries, leaps up and down the keyboard, and theatrical use of pauses, hesitations and notes left hanging in free-fall, Sakamoto's compositions strike me as being reminiscent of Ravel – no bad thing at all in my book. Fennesz's contributions, subtle and unobtrusive though they may be, nonetheless infuse the whole album with a hazy blue light. 'Background/accompaniment' gives form and shape to 'foreground/melody', allowing it to recede slightly, taking a step back from the listener, into reminiscence and dream.
At just over two hours, "Flumina" could have easily felt like overkill, either boring with too much of the same or losing coherence through an overabundance of ideas. Fennesz and Sakamoto avoid both of those traps, and again the working process probably helped here. Each piece sets out from the same point, maintaining a mostly fixed relationship between piano lead and ambient accompaniment, allowing for a degree of innovation and experimentation while ensuring that all twenty-four tracks still sound like they belong together. To my mind disc 1 is slightly more conventional and melodic, while disc 2 leans towards darker and more experimental territory, while containing some of the album's most lyrical moments. The difference between them is nevertheless a subtle one – there is a formal and tonal unity across the whole album that marks it as a single work, rather than two self-contained collections that could have easily been released separately.
This is Fennesz and Sakamoto's third collaboration for the Touch label, and their creative partnership shows no sign of running out of ideas. "Flumina" is their most ambitious project so far, and yet it is also their most restrained and refined. In an age of a thousand EPs and three-minute YouTube clips, it takes skill and imagination to keep the listener engaged and entranced across two hours, to deliver a work of such length and such substance. "Flumina" is a vividly beautiful release, a moment of silhouettes and quiet light in the early dawn. [Nathan Thomas]
Norman Records (UK):
This is the third full on collaboration between these two heavyweights of your neo-classical ambient genre or whatever you want to call it. It came about when Sakamoto played an improvised piano piece in a different key to open up each show of some world tour or other. He then sent the tapes to Austria where Mr Fennesz had his wicked way with them. It sounds almost exactly like you would imagine a collaboration between these two would sound. Sakamoto plays deliciously glacial piano stabs – leaving plenty of room between the notes for Fennesz to add haunting guitar and synth tones. Tracks like Track 3 (they don't have titles) are surprisingly atonal but on Track 4 the whole majesty of Sakamoto's playing is visible in a stunning haunted piece of blissed out ambience. There is something really distinctive about Sakamoto's playing – you can tell it's him even if you were blindfolded and had your ears wrapped in a sheath. He errs on the side of quick stabbed notes throughout – seemingly at random but obviously lovingly crafted. Fennesz does his thing with care, creating subtle backgrounds and cushions on which the piano can sit without ever getting in the way. It's a double CD and it goes on forever, not that you'd mind – it's truly compelling stuff. [Clinton]
Tinymixtapes (USA):
Sometimes two things or people come together to create something greater than the sum of the individual parts. Think peanut butter and jelly, Simon and Garfunkel, or alcohol and bad decisions. So it is with Ryuichi Sakamoto and Christian Fennesz — they just go together.
Following up on their 2005 live EP Sala Santa Cecilia and the 2007 album Cendre, Christian Fennesz and Ryuichi Sakamoto will release another collaborative album via Touch on December 6 titled Flumina.
After three years without a release, Sakamoto found himself pondering another collaboration with Fennesz. With this idea in mind, Sakamoto set out on tour, opening each performance with a piano piece played in a different key. After 24 performances, Sakamoto had a set of compositions and improvisations comprising all 24 steps in the Western tonal system; the groundwork for another melding of music had been laid.
Next, Sakamoto sent the piano recordings to Fennesz, who played with the pieces, adding in guitar, synths, and electronics to transform them into something altogether new. The two finally met up in New York to mix the album together and Flumina became the end result.
VITAL WEEKLY (Netherlands):
Last week a Dutch newspaper ran an article on the new quiet scene, highlighting such artists as Nils Frahm and Peter Broderick, placing them in the same tradition as Brain Eno collaborating with Harold Budd. Now either the journalist isn't aware of Fennesz's work Ryuichi Sakamoto, or he may have missed out on this CD by just a bit. But if he would have, he would have surely admitted to the fact that this one is more alike Eno/Budd than Frahm, Broderick et all would be. Whilst on tour in Japan, Sakamoto recorded twenty-four different compositions/improvisations at the beginning of each show, with a future collaboration with Fennesz in mind. These pieces cover all twenty-four tonal steps in the Western tonal system. Fennesz worked on these pieces using electronics, guitars and synthesizers and then, together with Sakamoto, mixing the whole thing. Very much like "The Pavilion Of Dreams" or "The Plateaux Of Mirror" this is some excellent ambient music of great, pure piano music with sparse 'other' means. A guitar for instance is something that is very hard to recognize in this, but indeed there might electronics or synthesizers lurking somewhere to add a bit of space and spice to it. Elegant, late night music of great, unworld-like beauty. Tones shimmer from all corners of the room and through it has a great gentleness. Spacious in a big, universal way. [FdW]
Pitchfork (USA):
Released in a month which most music nerds spend pouring over year end best of lists and gorging on a buffet of unheard, exotic and often wildly disparate music, Flumina is basically the equivalent of a weeklong juice cleanse. While any collaboration between electronic producer Christian Fennesz and composer Ryuichi Sakamoto has always veered safely into minimal territory, this is easily their most ascetic thing yet; across two discs and two hours, it maintains an almost religious focus on the subtle, slyly shifting interplay between Sakamoto's wandering piano melodies and Fennesz's woolly atmospherics, never peaking or troughing in any dramatic or otherwise notable fashion, and in fact never moving too far from the style and sensibility that it establishes in its very first minutes. Whether you consider this discipline or laziness might depend entirely on how long you listen for, and how.
As with all of their collaborations– as well as a lot of their individual efforts– the emphasis here is on subtle shifts and interplays, and the rewards therein. Flumina spends the vast majority of its two hours vacillating between holy moments of harmony and others that are subsumed by an undercurrent of atonality and portent. If I were to try to illustrate the pattern by which Sakamoto's cascading piano notes and Fennesz's pulsing and gauzy guitar lines swarmed around each other, I'd guess I'd draw three parts responsiveness for every two parts of randomness. It's a thing that always threatens to unravel but never does.
There's a thrill to that, but there's also an inherent formula, and if these tracks feel more like formal exercises than structured compositions, it's because, well, they kind of are. Flumina is actually a concept record that Sakamoto hatched before going on tour earlier this year, and the concept itself is every bit as elegant as you'd expect from someone of his restraint. Beginning in March, he opened each live show by playing a new composition in a different key. By the end of April, he'd accumulated 24 recordings, each in a different key, thereby covering every tonal variant in modern Western music.
According to Sakamoto, these tracks were composed from afar with a Fennesz collaboration in mind. That's a lovely thought, and the fact that the record was released so soon after speaks to their mutual admiration. And yet, if one can complain about anything on an album as diffuse as this, it's that Fennesz isn't foregrounded often enough. While something like 2007's Cendre benefited greatly from an occasional splash of his cotton-wool electronics, there are very few moments like that here, and frankly, it needs more. Those who listen to Flumina actively for its full two hours might also miss that extra element. If you listen to Flumina like I do, though, passively or in short bursts, you're ultimately left with variations on the same thought: This is still an inspired combination. [Mark Pytlik]
Hifly (Denmark):

Forced Exposure (USA):
The third collaborative album between the two disparate avant-electronic pioneers Ryuichi Sakamoto and Christian Fennesz is a concept record of sorts, built around 24 short piano pieces that Sakamoto wrote and improvised, one in each of the 24 keys of the Western tonal system, for 24 consecutive live performances. He recorded these performances and delivered the tapes to Fennesz, who added his wooly sound environments using electronics, guitars and synths, before the pair met in New York at KAB Studios to mix the album with Fernando Aponte. The results, spread across two hour-long discs, are as minimalist as the concept's tight focus might imply. Like the cover photo of gentle ripples moving across a lake face, this music swells and recedes, pulses and fades, with quiet variations that give the record motion without ever making waves or rocking the boat, so to speak. The piano and electronics communicate and interact in a subtle drift; it is beautiful and haunting music, cool but embracing, with a consistency and a lack of drama that in the end is its defining trait and purpose. It takes the earlier collaborations of these groundbreaking experimentalists to their logical conclusion, and while there are few among us who will have the persistence to listen — truly listen, not just play — to this one from start to finish in one sitting, there is a lot to experience here, if you can slow down your heart rate and let it wash over you. [JM]
and
It's fitting that the year closes with a breathtaking collaboration between Christian Fennesz and Ryuichi Sakamato, as 2011 was a great year for both of them individually. This past summer Fennesz released Seven Stars, his first solo recording in almost three years. Sakamato not only teamed up with Alva Noto for perhaps their best collaboration yet, Summvs, but also hit the road with his legendary old band Yellow Magic Orchestra to rave reviews.
This is not the first time these two musical visionaries have collaborated, as they released a great ep back in 2005 that left us very hungry for them to come together again. With Flumina they have created one of the most patient, subdued, and beautiful records of the year. In fact, a few of us are already rearranging our end of year best of lists to make sure we include this, as the record has already seeped so deep into our subconscious, in just the few weeks its been out. Sakamoto's fragile piano playing and Fennesz' gauzy and blurry guitar sound glide in and out of each other to create a melancholic daydream of sound. Much like some of our favorite Harold Budd records and collaborations, these tracks really do sound as if they are unraveling slowly from the heavens. We've been going to sleep with one of the discs playing and then starting our day slowly with the the alternate disc, as its such a perfect record for the space between sleeping and dreaming.
We also really love that despite the use of their laptops, the record seems so minimally processed. This isn't about forced static or manipulative feedback, but instead a powerful restraint in sound that allows each note to leave such a lasting impact. Highly recommended!
Essmaa (France):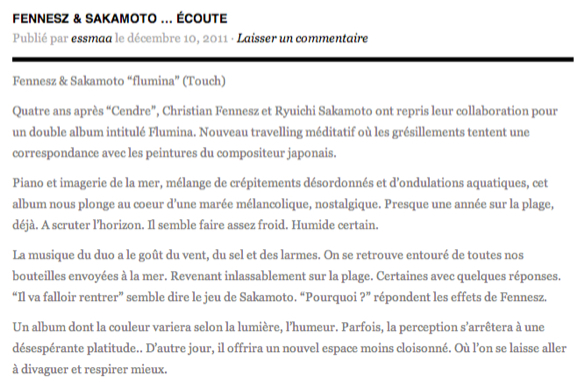 Groove (Germany):

(030) (Germany):
France Musique (France):
Il s'agit de la troisième parution sous cette forme entre le guitariste autrichien Christian Fennesz et le pianiste japonais Ryuichi Sakamoto. Il faut se souvenir également des excellentes collaborations du même tonneau entre Sakamoto et Alva Noto sur le même label (Touch). L'album est sans surprise, on reste dans un style acoustique et électronique très atmosphérique sur des influences d'une musique française du début du vingtième siècle. A défaut de sentir leur génie, on sent (sur le disque 1) les ombres de Ravel, de Debussy qui planent tout au long de ces 24 plages en apesanteur. Sur le disque 2 l'influence de Christian Fennesz est plus présente, l'électronique est plus en avant, peut être plus en rupture, volontairement moins en harmonie avec le piano. Mais on ressent sur l'ensemble de ce double album plus de cohérence. Les musiciens semblent se lâcher un peu plus pour produire une musique moins aride, plus riche, plus accessible et beaucoup plus humaine.
Mouvement (France):
Inspiration poétique, sens du détail et quête de la perfection sonore : les collaborations entre Ryuichi Sakamoto et Christian Fennesz tendent toujours vers les sommets. Leur troisième disque, Flumina, est sans aucun doute le plus abouti : double album exempt de scories, il invite à une idéale rêverie.
Fennesz et Sakamoto ont construit leur nouvel opus autour des 24 tonalités de la gamme classique occidentale. Un morceau par tonalité, douze plages par cd, chacune portant en titre sa durée. Ce principe d'architecture tonale est le même que celui du Clavier bien tempéré de Jean-Sébastien Bach, et ses 24 préludes et fugues. Il est également identique à celui des 24 Préludes de Chopin ou de Rachmaninov et à celui des 24 Préludes et fugues de Chostakovitch. Il apparaît toutefois clairement que les deux compères se sont inspirés ici des 24 Préludes de Debussy. Les deux cahiers qui les composent cultivent une modernité plus actuelle que jamais : ambiguïtés, glissements, ruptures et hyper densité harmoniques, modalité, mais aussi une utilisation fabuleuse de l'espace et des couleurs. A plusieurs reprises dans son jeu, Sakamoto fait directement allusion à Debussy en y incorporant des inflexions modales et des gimmicks harmoniques très reconnaissables. Bel hommage. Cependant, cette paternité ne pèse pas. Le prélude, forme libre par excellence, prépare à la fugue… Les compositeurs qui s'en saisissent en profitent pour laisser courir leur imagination. Sakamoto et Fennesz ne dérogent pas à la règle.
Au cours d'une tournée, le Japonais a enregistré 24 petites pièces pour piano, composées ou improvisées, qu'il a envoyées à l'Autrichien afin que celui-ci les (re)travaille à sa manière. Le mixage a été réalisé par les deux musiciens réunis à New York. Le résultat est une merveille qui, plus que Sala Santa Cecilia (2005) et Cendre (2007), leurs deux premiers disques, fait entendre la musique autrement. Celle de Flumina ne se déroule pas dans le temps. Elle ne possède pas de rythmique sensible. Elle ne s'organise autour d'aucune pulsation. Sans début ni fin, chaque morceau semble être en totale apesanteur. En fait, il vibre aux oreilles comme un paysage magnifique et dépouillé se découvre aux yeux. Là, devant nous, cette musique se développe dans l'espace, en profondeur et en perspectives. Sakamonto occupe le premier plan en jouant de douces mélodies de piano acoustique qui viennent de nulle part et ne se terminent jamais. Elles sont agréables, ces mélodies. Chantantes, sereines, légères comme des méduses en suspension.
Néanmoins, leur candeur porte en elle une gravité presque dramatique. Sakamoto les fait évoluer, lentement, tout en leur faisant faire du sur-place. Du grand art. Derrière, autour, avec, Fennesz crée le tableau. Il construit un fond sonore électronique dont les lignes de saturations dressent des perspectives fulgurantes et majestueuses. D'imperceptibles éclats électroacoustiques produisent des brumes miroitantes. Des balayages microcrépitants provoquent de gigantesques aurores boréales soniques. Le champ se réduit quand le fond devient monochrome, sans aspérité et sans écho. Il s'ouvre quand des drones soniques se tendent vers un horizon lointain. De temps à autre, le piano se fond dans ce paysage. Sa sonorité se nimbe d'un voile électrique. Il ressemble alors à un souvenir mystérieux. Là, Sakamoto est le maître du temps suspendu. Fennesz, celui de l'espace et de ses infinies variations. [Camille Guynemer]
Dusted (USA):
It's not exactly news nowadays when folks collaborate over email; it's more remarkable when someone springs for the airfare required to get musicians from different continents playing in the same room. The construction sequence that avant-heroes Ryuichi Sakamoto and Christian Fennesz followed to make Flumina doubtless influenced its outcome.
First, Sakamoto recorded 24 solo piano pieces in as many keys — one for each step in the quartertone scale — whilst on tour in Japan. He sent these to Fennesz in Vienna, who added guitar and computer treatments, and then they got together in New York to mix the thing down into their third record as a duo. Thus the piano melodies dominate each track; guitars limn them, electronics swell and course around them, and occasionally the piano's notes blur and distort.
The obvious precedent here is the work of Brian Eno and Harold Budd, and like their predecessor, this set blurs the lines between pretty and beautiful. But because they were identified with Eno's Ambient series on EG, the older duo's music faced different expectations. It was supposed to work as background music, so if you found it too sweet, you could just turn it down. Sakamoto and Fennesz don't say how you should take their music, but its piano-forward sound aligns it with decades of delicate minor-key melodies that have accompanied countless images of rain on window pains and lonely pining lovers. Fennesz's subdued surges of electronics sometimes push against this effect, rather like an astringent solution that strips furniture of layers of polish. This makes the record rather more interesting as foreground than background listening, but only in smaller doses than its length — two CDs, 24 tracks, two hours — suggests. Play it all the way through and you're likely to find it poking in and out of the attention you give to your household chores. [Bill Meyer]
Playground (Spain):
Inesperado lanzamiento con el que no contábamos a estas alturas de la temporada –de momento, tan solo disponible en Japón a la espera de que el sello Touch lo edite en el resto del globo–, "Flumina", un doble CD formado por material íntegramente nuevo, recupera una de las colaboraciones artísticas más prometedoras y excitantes del panorama musical experimental del momento. Digo prometedora porque si bien Ryuichi Sakamoto y Christian Fennesz ya han compartido estudio en dos ocasiones previas, el álbum "Cendre" y el EP "Sala Santa Cecilia", además de alguna coincidencia en directo, la sensación que han dejado ambas referencias es que de su unión todavía no ha surgido la grabación definitiva o, cuando menos, la que haga justicia al potencial de ambos. De la misma manera que de la dupla formada por el pianista japonés y Alva Noto sí tenemos la percepción de que la fórmula ha tocado techo y ha exprimido al máximo sus posibilidades, al dueto Sakamoto-Fennesz le queda recorrido y margen de mejora.
En ese sentido, "Flumina" ya sugiere muchas más cosas, interesantes la mayoría, que "Cendre", por ejemplo. Su discurso conjunto todavía acusa la falta de confianza e interacción entre ambos, y eso se traduce en una fórmula muy respetuosa en la que parece que ninguno de los dos quiere asumir más protagonismo del debido para no pisar la aportación del otro. Y también sospecho que al lado de Alva Noto, por aquello de que la confianza da asco, Sakamoto se siente más liberado o habilitado para improvisar a su aire, mientras aquí su campo de batalla puede parecer más acotado y comedido. Pero incluso así el proyecto ha ganado calidez, intensidad y profundidad, como si poco a poco se fuera rompiendo esa timidez y se encontrara el cruce de caminos idóneo entre sendos discursos.
Fennesz está más presente que Noto, por ejemplo, y adopta un rol muy activo en todo el recorrido. Sus nebulosas de ruido disipado ejercen de telón de fondo, pero también de leitmotiv argumental, de las canciones, marcando su tono y tempo, envolviéndolas con delicadeza, es mucho más participativo. Y es en medio de sus chorros gaseosos donde aparece, con la sutileza y el candor nipón habitual, el piano de Sakamoto. Un Sakamoto quizás menos aventurero y explorador que el de "Vrioon" o "Summvs" pero más melancólico y sensible, como si sacrificara el espíritu de improvisación de estos proyectos para conseguir un efecto más emocional. Directa o indirectamente, haya ejercido de influencia o no, haya o no coincidencia temporal entre los hechos y la grabación del disco, la tragedia del 11 de marzo sobrevuela constantemente en unas partituras afligidas que revelan una atmósfera turbia, tensa, de absorbente tristeza. Y ahí es por donde "Flumina" acaba conquistando y seduciendo al oyente. A pesar de su excesiva duración y, quizás como consecuencia de esto primero, del aspecto lineal y monótono del contenido, que requiere escuchas dosificadas y a conciencia, su fuerza emotiva es tan poderosa y evocadora que acaba convirtiendo el álbum en el título más sólido y conseguido de cuantos han orquestado juntos hasta la fecha.
Tip (Germany):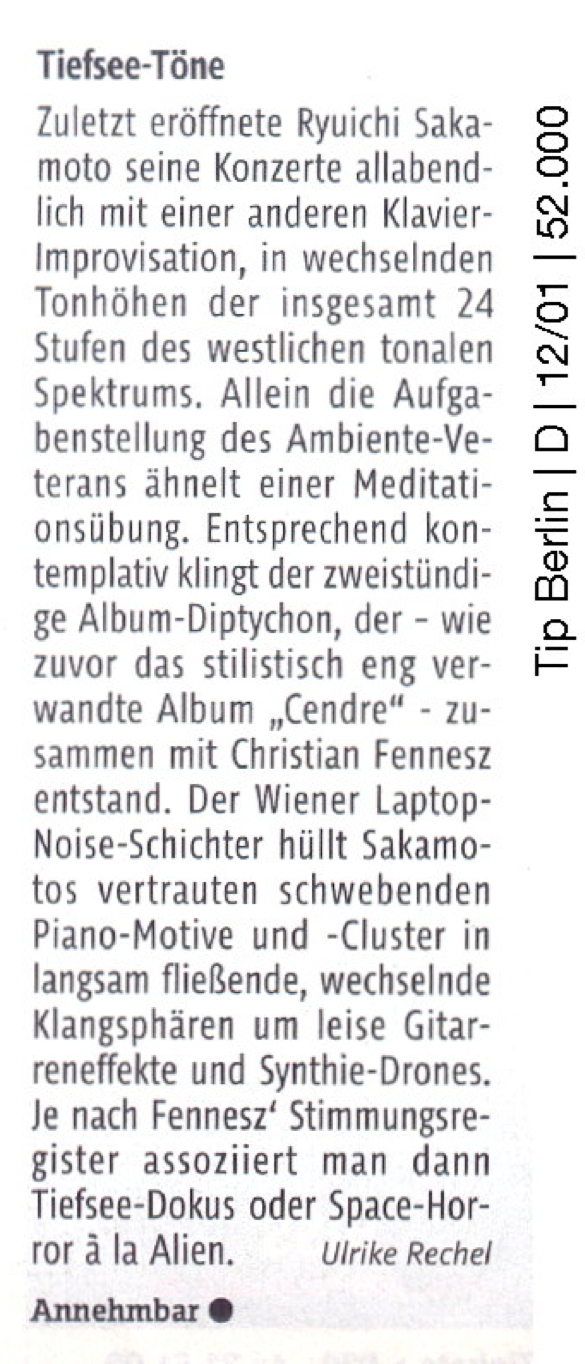 Debug (Germany):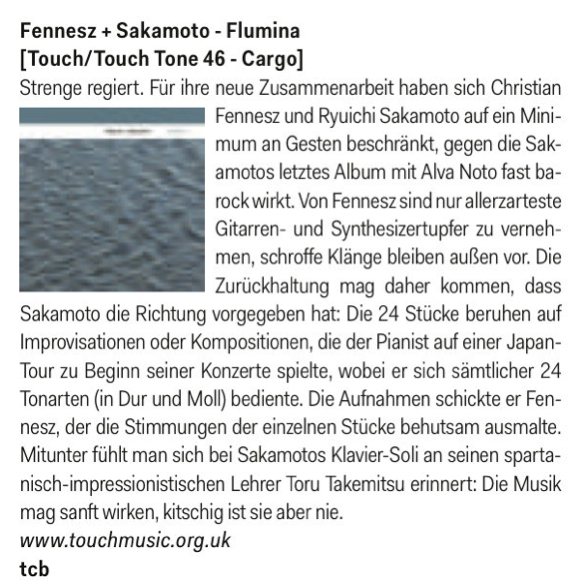 Magic (France):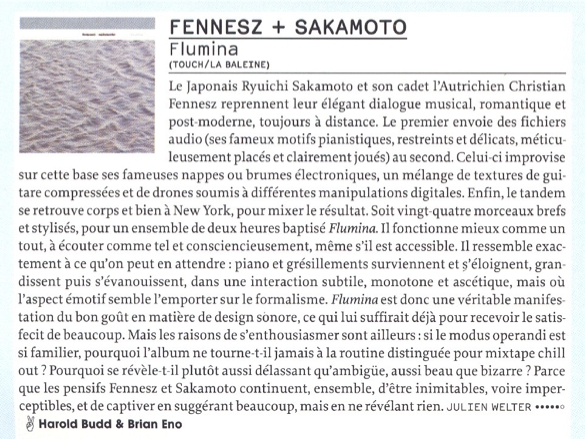 GMD (France):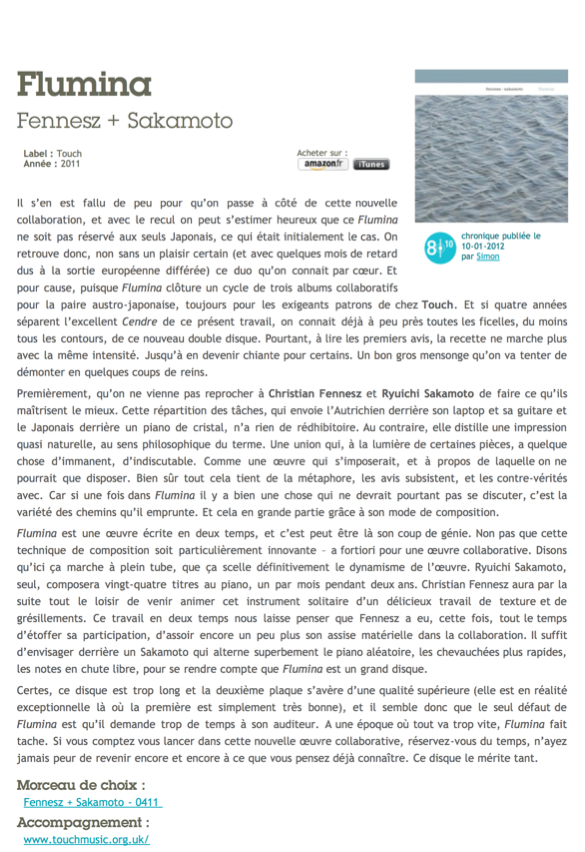 Titel (Germany):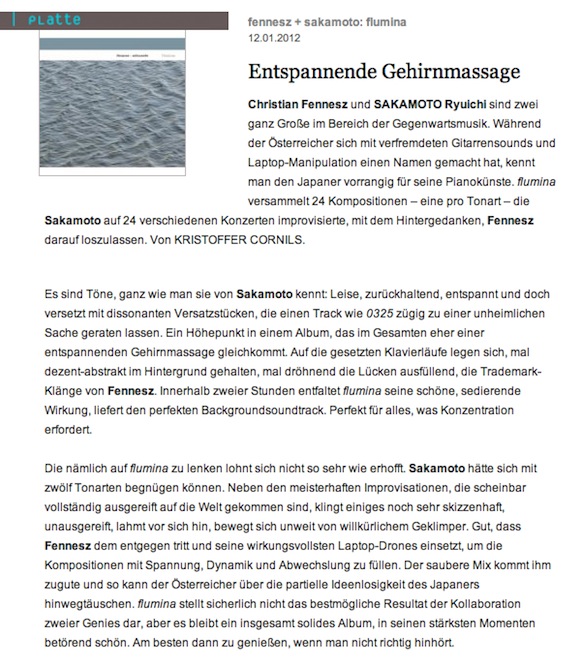 Kindamuzik (Netherlands):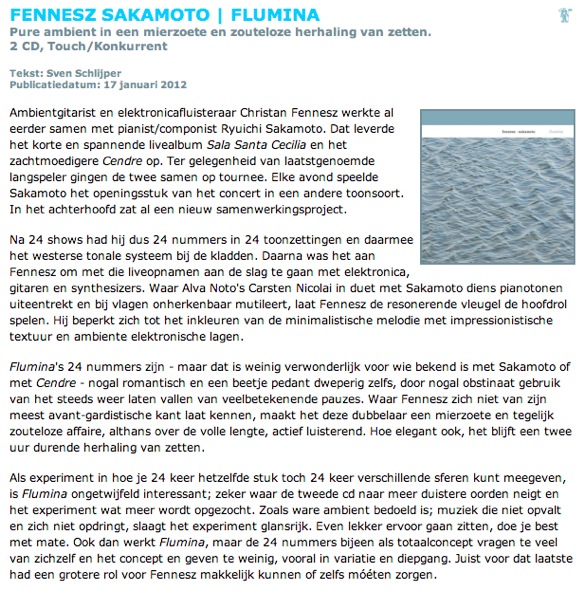 Plosca (Slovenia):
Še preden sem si pozorneje pogledal naslovnico skupnega albuma avstrijskega eksperimentatorja Christiana Fennesza in japonskega pianista Ryuichija Sakamota, me je glasba spomnila na mirno valovanje morja. Po eni strani je statična, da zanese v stanje zamaknjenosti, po drugi notranje bogata in stalno spreminjajoča v podrobnostih. Resda je Fennesz tu izpisan prvi, sta se verjetno držala abecednega reda imen, a Sakamoto tu igra vodilno vlogo. On je zložil vseh 24 skladb, vsako v drugem tonalnem načinu. Drugo načelo, ki ga je vodilo pri ustvarjanju, je bilo načelo "vsak večer ena skladba". Z vsako skladbo/improvizacijo je uvedel posamezni koncertni večer na lanskoletni japonski turneji. Potem je posnetke poslal Fenneszu, ki jih je nadgradil/obarval z lebdečim sintetiziranim zvokom.
Hote me razvoj Ryuichija Sakamota spomni na Davida Sylviana. Že zato, ker sta sodelovala in zato, ker je z obema sodeloval prav Fennesz. Tako Sakamoto kot Sylvian sta začela kot ekstravagantna pop umetnika, resda na oddaljenih koncih sveta, a skoraj istočasno; Sakamoto v japonski sintesajzerski pop skupini Yellow Magic Orchestra, Sylvian v skupini Japan (sic!). Ko sta šla na samostojno pot, sta se njuni poti zbližali pri glasbi za film Zadnji kitajski cesar, oziroma sta posnela vokalno verzijo naslovne teme z novim naslovom Forbidden Colours. Prav tako sta v novo tisočletje stopila s korakom v intimo; Sakamoto je po seriji ultra modernih plošč (Neo Geo, Beauty…), ki so zato hitro zastarele, objavil solistični klavirski recital BTTB (Back to the Basics), in glej čudo, tudi Sylvian je obrnil hrbet populizmu in začel sodelovati z improvizatorji na svetovni ravni. Še enkrat mu je sledil Sakamoto, najprej z multimedijskim umetnikom Carstenom Nicolaijem(Alva Noto), kasneje še z Fenneszem. Ta pa raje kreira sam, le redko se spusti v sodelovanja, a očitno takrat igra stransko vlogo. Na dvojni plošči Flumina se je očitno in zavestno podredil abstraktni klavirski igri. Po pravilu klavir zariše prve obrise skladbe. Zdi se celo, da se je Sakamoto načrtno izogibal "konkretni" melodiji, da je načrtno izpuščal tone oziroma vmesne korake prepušča poslušalčevi domišljiji in Fenneszu, ki pa kvečjemu barva ozadje. Vsaj v prvem delu vedno čaka, in sledi klavirski liniji. Najprej previdno, sčasoma se lebdečemu zvenu pridružuje elektronski drget, ki je pravzaprav njegov zaščitni znak. Na drugem disku njuno morje postane bolj zlovešče, pridobiva na globini in valovi se zgoščajo. Klavirska igra ni več tako linearna in abstraktna, ampak razvija svojstveno dinamiko, in tudi Fennesz ne več zgolj sledi igri, ampak jo resda za nazaj, celo vodi in navidez usmerja. Prav tako dodaja nabor zvokov oziroma odtenkov, ki vedno znova vzpostavljajo drugačno razmerje do čistega zvena klavirja. Glasba postaja manj analitična, domišljena, ampak pridobiva na momentu presenečenja in eksperimentalnega tveganja. Bliže je Sakamotojevemu sodelovanju z Alvom Notom kot elegantnemu predhodniku, skupnemu albumu Briana Ena in Harolda Budda iz začetka osemdesetih (Ambient 2: The Plateaux Of Mirror). V vsakem primeru pa ponuja dvojni pristop k poslušanju; kot ozadje je ta glasba zlahka nemoteča, podrobnejši posluh pa odkriva vsakič nove podrobnosti, nova razmerja. Kot valovanje morja, pravzaprav.
Freistil (Germany):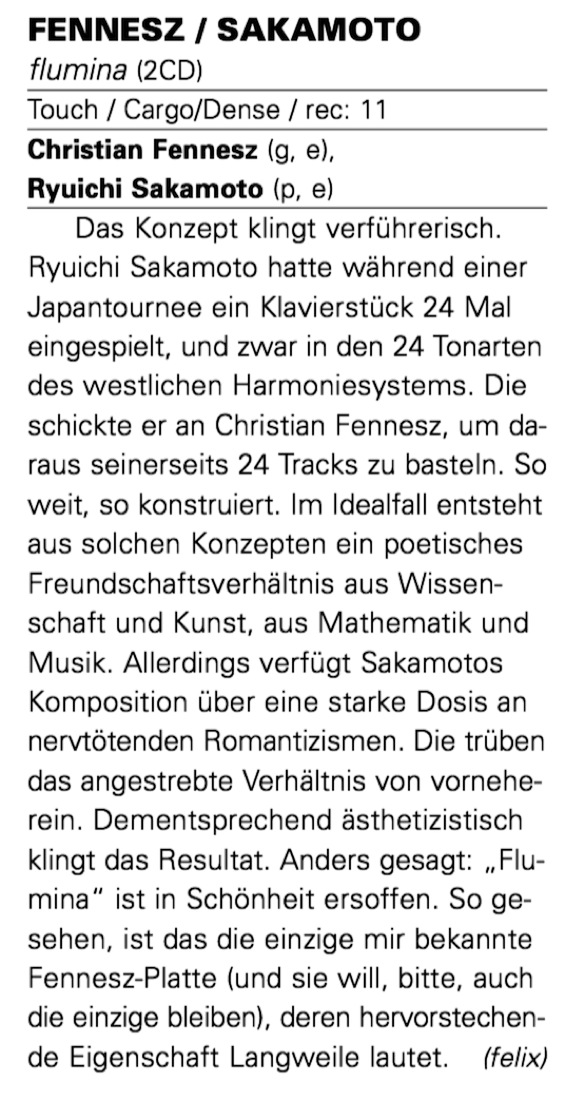 Sampler (Spain):
Esta es la tercera colaboracion de la dupla Sakamoto / Fennesz,el disco es lanzado por el selloTouch de Jon Wozencroft (quien como es habitual en su sello nuevamente el arte de la caratula esta hecho a base de una fotografia suya) y es un cd doble que consta de 24 piezas que se basan en composiciones e improvisaciones para piano que el mismo Ryuichi Sakamato habia grabado mientras estaba de gira en Japon.
En esa gira Sakamoto toco una pieza en clave diferente en el inicio de cada show,siempre con la idea en mente de incluirlo en un futuro proyecto junto a Fennesz. Al final de la gira tenia 24 pistas que abarcaban 24 pasos tonales del sistema tonal occidental.
Sakamoto se las envio a Christian Fennesz y el las trabajo amoldando sus guitarras y sintetizadores con su estilo caracteristico, reuniendose despues en Nueva York para mezclar el disco.
Nuevamente las texturas y las hermosas notas de piano se juntan en un disco que marca espacio y amplia el sonido de forma cinematografica,haciendo de su escucha solitaria una verdadera maquina de generar imagenes,es otra obra maestra creada por estos dos genios de la musica minimalista contemporanea. [Jose Sepulveda Lastreto]
Noise (France):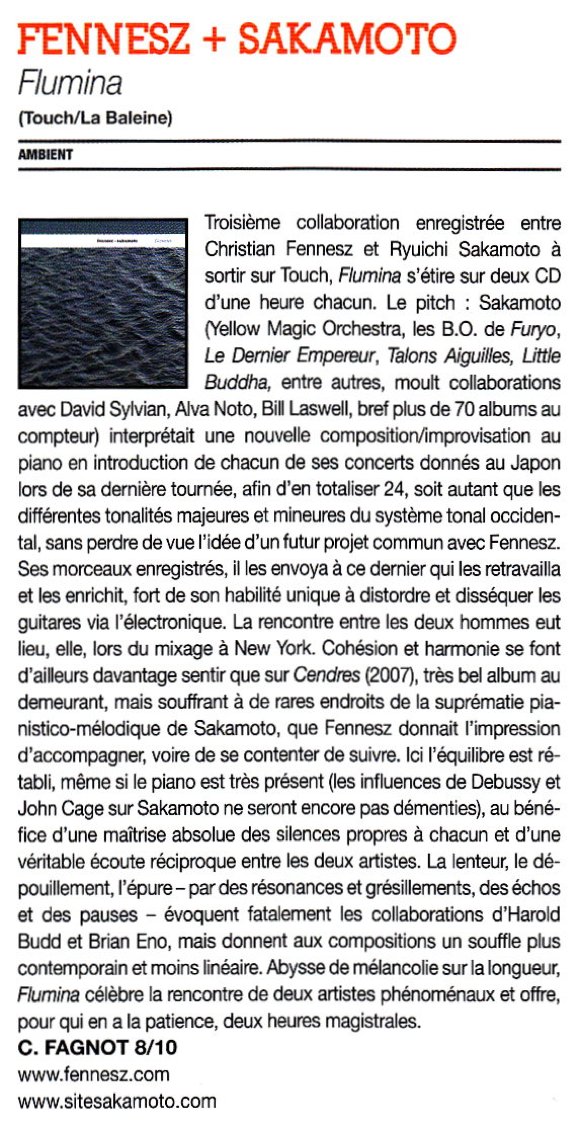 GoMag (Spain):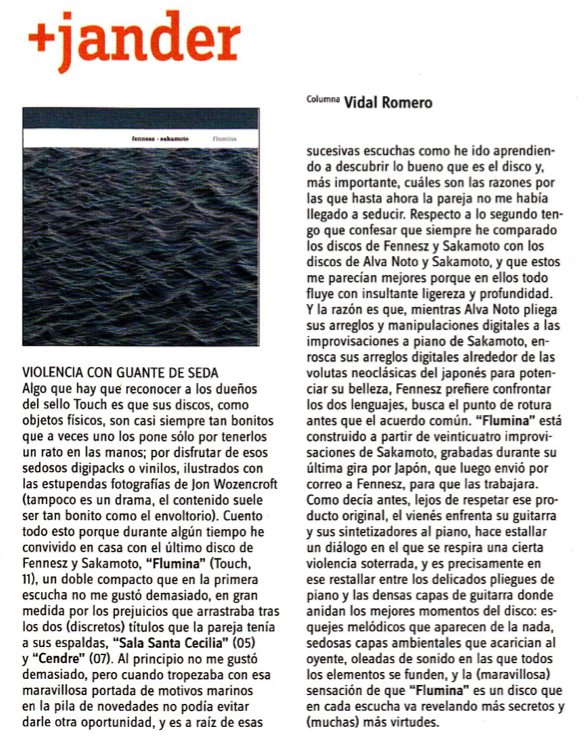 Kultblog (Hungary):
Christian Fennesz és Ryuichi Sakamoto munkásságával már többször foglalkoztunk, ezért nem volt kérdés, hogy leellenőrizzük a legújabb kollaborációs munkájukat is. A Flumina című kétcédés összeállítás anyagát a legutolsó közös turnéjuk során szerezte a páros: Sakamoto meghitt zongorajátékára Fennesz improvizál valamilyen elektronikus kíséretet. Mivel az ötletben sok újdonság nincs és a két művésznek már a kisujjában van egy ilyen projekt kivitelezése, ezért számítani lehetett arra, hogy valami kiemelkedőt kapunk. S éppen emiatt adhat okot csalódásra a Flumina, ugyanis semmilyen plusz, semmilyen meghatározó dolog nincsen benne. Rosszmájúan akár mondhatnánk azt is, hogy nincs unalmasabb a szürke középszerűségnél. Ezek a zenék ugyanis nem rosszak, de éppenséggel nem is jók. Nem lehet kiemelni egyiket sem, ellenben mentségükre szóljon, hogy a háttérben, elfoglaltság közben tökéletesen elszólnak, egyszer sem érezni azt, hogy cserélni kellene. Csak azért egy Fennesz/Sakamoto felállástól ez nem valami sok. (Hármas)
textura (USA):
On paper, Flumina promises much. Arriving as it does after 2005's live recording Sala Santa Cecilia and 2007's Cendre, this third Touch collaboration between Ryuichi Sakamoto and Christian Fennesz grew out of an arresting notion: during a Japan tour, Sakamoto played a piano piece in a different key at the start of each show until, twenty-four shows later, he'd accumulated twenty-four pieces in twenty-four different keys, covering all twenty-four steps of the Western tonal system (that they were recorded live is borne out by the occasional cough that's faintly audible). He then dispatched the material to Fennesz, who elaborated upon it by adding electronics, guitars, and synths, after which the two convened in New York to mix and put the finishing touches on the project.
All of which sounds fabulous in theory—but in practice is slightly less so, for a couple of key reasons. The first relates to the production process involved: recorded first, Sakamoto's piano playing is the lead and thus central element; Fennesz's compelling voice is thus relegated to a secondary role as mere colourist, as atmospheric enhancement designed to complement the pianist's musings. Yes, Fennesz is identifiable by the micro-slivers and fuzz that ornament the tracks, but what comes out the other end is indeed painterly but lacking in intensity, with pretty much all of it pitched at a low level and in a ruminative style. With the musicians having recorded their material sequentially, there's naturally little evidence of spontaneous interaction and unpredictability. Instead, everything feels under control and thus largely tension-free. Refined settings of compelling textural design emerge and do so for an overlong two-hour duration on a double-disc release that—inevitable though it is to say so—might have been better pared down to a single-disc presentation (even if that would mean either twenty-four abbreviated pieces or a smaller number of them).
My slightly underwhelmed impression of the project could admittedly be attributed to misguided expectations. That is, given Sakamoto's involvement, it wouldn't make sense for the more aggressive side of Fennesz's guitar playing to be present—and that's especially so when the pianist's playing is so delicate and impressionistic. And a strong argument can be made that the release includes a goodly share of lovely moments and exudes a light-fading quality that enhances its appeal. The second album in particular eases up on the prettiness to allow some welcome moments of grime to seep in; Fennesz's textures veritably envelop the piano playing during "0409" rather than merely accompany it and elsewhere the pianist's restrained playing allows the guitarist lots of room to add his distinctive signature. Having said that, hearing him used as a mere colourist can't help but seem like a lost opportunity of sorts, as it leaves much of his singular and marvelous voice out of the recording. Sakamoto is his usual self, but Fennesz sounds like someone forced by circumstance to rein it in so as not to overpower his partner. In essence, Flumina amounts to a pretty and pleasant collection of atmospheric mood music—rather less than what one might have hoped for, given the personnel involved.
Whisperin' & Hollerin' (UK):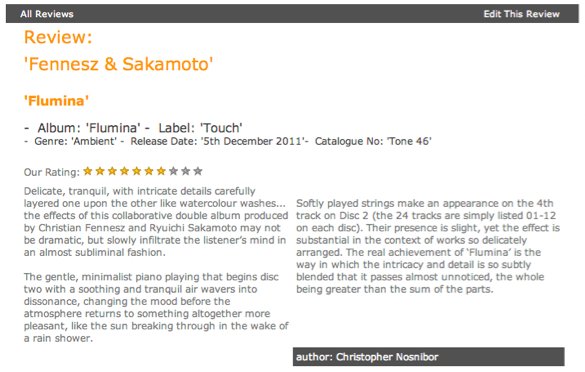 The Milk Factory (UK):
Flumina is the third collaboration between Ryuichi Sakamoto and Christian Fennesz, following Sala Santa Cecilia (2005) and Cendre (2007), and, with twenty-four tracks spread over two discs, it is also by far their most extensive. The project began when Sakamoto was touring in Japan some time ago; opening each one of the twenty-four shows of the tour with a different improvisation, each played in a different key to cover the complete steps of the western tonal system, and documenting them all, he then sent his recordings to Christian Fennesz in Vienna for him to add textures and ambiences before the pair reconvened in New York to mix the record.
Very much like their previous work, where the balance between Sakamoto's modern classical piano compositions and Fennesz ambient soundscapes fueled the creative process, Fennesz here replicates Sakamoto's minimal melodic treatment and sparse performances, the difference being that, on Flumina, the compositions are all extremely bare and pure, at times sounding more like sketches than fully developed pieces. Instead of treated guitars distortions, Fennesz opts here for much more restrained atmospheric soundscapes, built primarily from electronics and synths. He still uses guitars extensively, but he chooses to work from much softer sounds sources and processes them so heavily that they retain very little of their natural aspect once incorporated into his overall soundscapes.
Sakamoto's improvisations are all extremely intimist and delicate, at times almost grinding to a halt or going through intensely quiet moments, at others building from note sequences which, whilst arranged into clusters, are so complex or disconnected that no melody as such can develop. His pieces are like miniature impressionist narratives, their angles purposely blurred and out of focus to leave space for the mind to wander, and this is how Fennesz approaches his parts too, emphasizing Sakamoto's performance with restraint rather than completing it. It is therefore easy to get lost in this record, the relative absence of distinctive features resulting in the whole record sounding somewhat uniform and indrawn, especially considering that it stretches over two hours, making it easy to miss some of its most wonderful moments, of which the cloudy aspect of 0320, the pastoral feel of 0327 or the medieval tones of 0424 for instance are only the tip.
This is rather quite a shame as individually, each one of these creations is utterly exquisite and tastefully set, Sakamoto's sparse and elegant improvisations beautifully showcased against Fennesz's impressionist backdrops. There is no doubt that as a pair, Fennesz and Sakamoto form an intensely creative partnership, and that they instinctively know how to respond to each other. The downfall of this record may be that they ultimately have stuck to the original idea a tad too closely and lost sight of its overall harmony and balance. [the milkman]
Trust (Germany):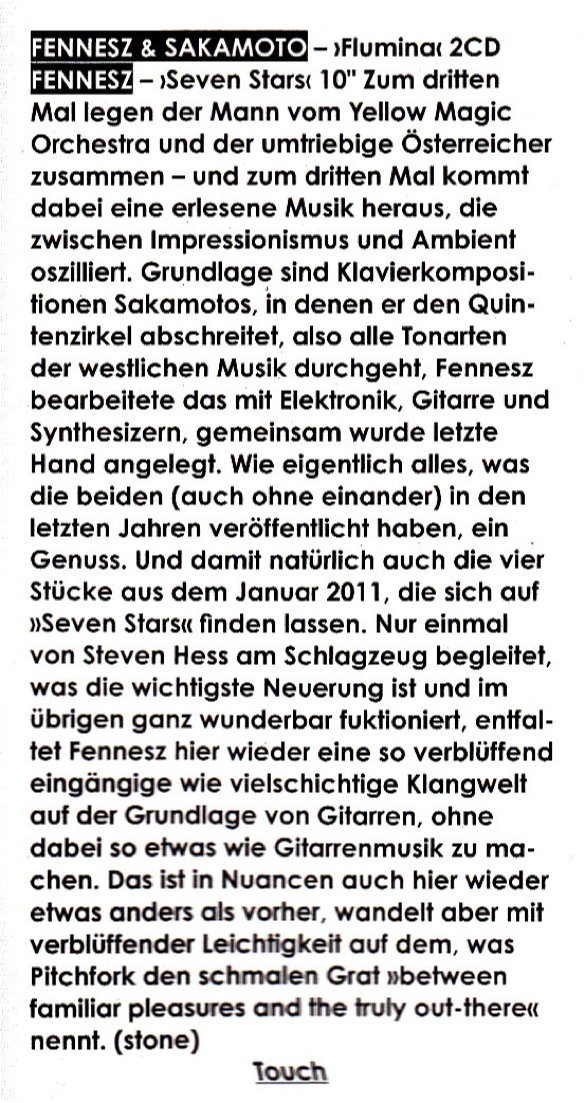 Leicester Banks (UK):
"Flumina" is the third collaboration between Austrian guitarist and laptop pioneer Christian Fennesz and the ex-Yellow Magic Orchestra leader, and Oscar winning soundtrack composer, Ryuichi Sakamoto. On their second record, 2007's "Cendre", they merged Fennesz' ambient electronics and processed strings with Sakamoto's fragile piano to make tremulous, sometimes melodic, ambient soundscapes. Their new two-disc set continues the concept, gently coaxing structure from swathes of current flecked hum, static blasts and piano droplets that fall like summer rain. Older listeners may be reminded of Fripp and Eno's "The Heavenly Music Corporation" and "Swastika Girls", and although "Flumina" isn't as grandiose, it's just as spellbinding.
There are no titles here, just numbers. Though as individual tracks merge and become signifiers for pieces that follow, designations become meaningless and using words to label wordless sound appears almost crass. Let digits carry that particular burden and concentrate instead on the massed swells of treated electronica. It's very beautiful, icy cool yet embracing, and emotionally distracting. It's ambient music to listen to. [Simon M.]
Wiener (Germany):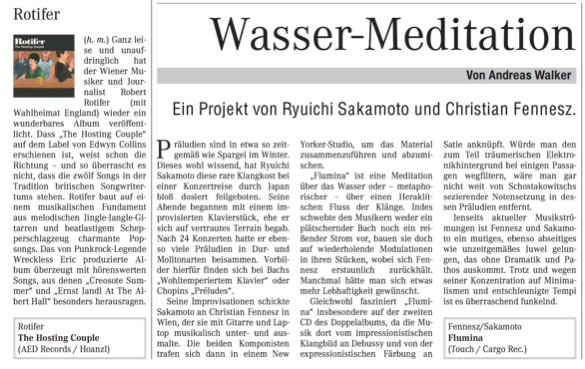 goddeau.com (Belgium):
Die andere sterkhouder van het experiment Christian Fennesz is al een tijdje niet meer vernieuwend. Sinds hij samenwerkte met Sparklehorse, David Sylvian en Ryuichi Sakamoto is hij eveneens een soort superster en gaat zijn traject meer mainstream. De vinylrelease Seven Stars van vorig jaar was naar alle normen een esthetisch verantwoord plaatje, zowel qua hoes als door het incorperen van drums van Steven Hess. Prachtig, maar… Het is alsof Fennesz dit ook aanvoelt. De tijd die verstrijkt tussen zijn soloreleases wordt almaar langer. Zijn laatste worp Black Sea dateert alweer van 2008.
De samenwerkingen daarentegen blijven komen… Onlangs weer ééntje met de eeuwige mister Sakamoto, die zich blijkbaar definitief tot het experimentele bekeerde. Sakamoto werkte vorig jaar samen met Alva Noto op het vrije knappe Summvs (Raster-Noton). De pianoklanken van de Japanner werden mooi geïntegreerd in de elektronische klanklandschappen van Carsten Nicolai met enkele prachtige ambient uitschieters. Flumina, Latijns voor stromen, met Fennesz, is zowaar een dubbelaar.
Het album bevat 24 sobere en titelloze stukken van ongeveer 4 minuten elk. Dat betekent je 2 uur lang onderdompelen in spaarzame pianoklanken en nog schaarsere elektronica. Jammer dat we de indruk kregen dat de bijdragen van Fennesz hier stelselmatig naar de achtergrond gedrukt werden. Zijn interventies zijn nauwelijks hoorbaar. De aandacht wordt gelegd op de Satie-eske études van de Japanner maar die helaas niet boeiend genoeg zijn om de volledig op te eisen. En al komt de naam van Fennesz op het album op de eerste plaats, toch eist hij hier nooit de volledige aandacht op en blijft hij te veel op de achtergrond. Misschien ligt het aan de klankbalans van de cd. De verstilde schoonheid van de videoclips van het album op YouTube bieden een beter klankbeeld. Daar komt Fennesz wel beter tot zijn recht.
Flumina is een album dat je volledige aandacht vergt. We hoorden enkele interessante momenten op het tweede schijfje, zoals track 8, waarop de ruis van Fennesz de toetsen van Sakamoto even overstemmen, maar het blijft allemaal te vaag en het kon ons nauwelijks beroeren. We hebben moeite gedaan om de volledige 2 uur van de cd uit te zitten, maar het leek ons even boeiend als het kijken naar het groeien van de planten of het luisteren naar kabbelend water. Op den duur wordt een mens wat kregelig van al dat drippen en ruisen… Na Sala Santa Cecilia en Cendre is dit voorlopig het laatste deel van de Fennesz + Sakamoto trilogie. Misschien maar beter ook. We kijken liever uit naar de nieuwe van Fennesz later dit jaar. [Peter Wullen]
Rock-A-Rolla (UK):
allmusic.com (USA):
This double disc is a collaboration between Ryuichi Sakamoto and Christian Fennesz, with the former man taking a decidedly dominant role throughout. The concept behind the album is fairly straightforward: on each night of a 24-date tour, Sakamoto wrote and performed a piano piece in a different key. By tour's end, he'd explored every possible tonal variation within Western notation. He provided these short, jewel-like solo piano melodies to Fennesz, who laid them in soft beds of gently caressing electronics. The results are very pretty…but they're not much more than that. Flumina is a decidedly insubstantial album. Despite the key changes from track to track, the two discs retain a single mood from beginning to end. Each piece feels like it should be playing over the end credits of an indie film about a man who falls in love with a young woman who then dies of a lingering illness. It's hard to convince oneself to listen to this music with focused attention, hard to imagine playing it at top volume; it seems designed to hover in the background, covering the sound of clinking glassware and forks tapping plates and blending smoothly with subdued conversation. All of which is fine. If that's what you're looking for from a two-CD, two-hour set of music, Flumina will meet your needs and then some.
Spex (Austria):
Radio Student (Slovakia):
Album Flumina je rezultat tretjega sodelovanja med avstrijskim laptop čarovnikom Christianom Fenneszom ter legendarnim japonskim skladateljem in pianistom Ryuichiem Sakamotom. V ponedeljkovi Tolpi bumov pa več o tem, kaj sta nam tokrat zakuhala ta dva profilirana glasbenika … (v celoti!)
* Glasba, ki jo skupaj ustvarjata avstrijski laptop čarodej Christian Fennesz in japonski pianist Ryuichi Sakamoto, nastaja v okvirih izredno prostranega manevrskega prostora. To je muzika, ki na eni strani nosi izredno močan emocionalni naboj, na drugi strani pa navkljub temu ne zanemarja akademsko-tehnološkega pristopa k glasbi. Medtem ko čustven način lotevanja glasbe na neprisiljen način ruši akademske trdnjave, kjer ni prostora za emocije, akademskost sočasno minira čustvene okope, od koder se prav ironično ne vidi čustvenega potenciala različnih tehnologij. Tehnologija v tem primeru pa se nanaša predvsem na znanje in uporabo različnih orodij, metod in sistemov. Posledično bi lahko glasbo Fennesza in Sakamota označil za tehnologijo čustvenega izraza, album Flumina pa kot raziskovanje zmožnosti tovrstnega početja.
Album Flumina seveda ni prvi ali edinstveni album, ki bodisi hote ali nehote raziskuje različne tehnologije čustvenega izražanja. Vsekakor pa gre za izdajo, ki v tem oziru prednjači pred mnogimi tovrstnimi izdelki. To pomeni, da imamo opravka z izredno eklektičnim albumom, čeprav nam bežen prelet albuma namigne ravno obratno. Od daleč se namreč zdi, da dveurno glasbeno epopejo skupaj drži le trmasto nepopuščanje v monotonosti.
Dvojno zgoščenko Flumina sestavlja 24 komadov, katerih hrbtenico predstavljajo klavirske kompozicije in improvizacije Ryuichija Sakamota. Te so bile posnete tekom Sakamotove japonske turneje, vsaka od njih pa je bila odigrana v svojem tonovskem načinu. 24 komadov tako sovpada s 24-imi tonovskimi načini, ki jih najdemo v zahodnjaškem tonalnem sistemu. Klavirski posnetki so bili nato poslani v Fenneszov studio, kjer je album zorel vse do točke post-produkcije.
Sakamotov minimalistični klavir pušča veliko prostora za Fennesza, njuna kolaboracija pa je tudi tisto, kar je imel Sakamoto v mislih med samim izvajanjem in komponiranjem. Navkljub temu, da je Fennesz tudi editiral Ryuichijeve posnetke, si ni izboril kakšnega dodatnega prostora zase, da bi se iz ozadja prestavil v ospredje. Zdi se, da je bilo editiranje izredno minimalistično, verjetno le korekturne narave, tako da Ryuichijev klavir tekom celotne plošče ostaja v ospredju. Fennesz se je posledično predvsem osredotočil na aranžma, dodal dodatne harmonije ter razširil barvni spekter zvoka. In glede na to, da je vsak komad odigran v različnem tonovskem načinu ter da prav tako variira sam način igranja, se seveda spreminjajo tudi Fenneszovi odzivi oz. načini aranžiranja. In ravno v tem se skriva poprej omenjena eklektičnost plošče, ki pušča poslušalca v šahu skozi celotno ploščo. V nekaterih komadih Fennesz dodaja harmonijo preko svoje procesirane kitare, tako v smislu razmerja kot zaporedja med posamičnimi toni. Včasih namreč pred kakim klavirskim akordom zaslišimo kitarski akord, ki vpliva na samo dinamiko komada, kljub temu, da je ta v grobem že determinirana z Ryuichijevem klavirjem. V nekaterih drugih komadih pa s Fenneszove strani ni skoraj nič harmoničnih komponent in tam Christian le barva področje med ozadjem in ospredjem z različnimi teksturami in zvoki, ki predvsem ustvarjajo atmosfero. Meja med obojim je seveda spretno zabrisana, komplementarni spoj s klavirjem pa se dogaja v daljnih odmevih in spektralnih priključkih. Različnih tehnik in kombinacij je na albumu enostavno preveč, da bi se spuščali v podrobnosti, zato bi na tem mestu opozoril le na raznolikost Fenneszovega zvoka, ki še najbolj eksplicitno opozarja na poprej omenjeno eklektičnost plošče.
Zvočni "chiaroscuro" plošče Flumina je potrebno poslušati izredno pozorno na dobrem ozvočenju ali slušalkah. V nasprotnem primeru ostane skrit ogromen del plošče. To je predvsem del, ki razkrije Feneszovo vlogo na tej plošči – ta je vse prej kot minimalistična, le izredno tiho in subtilno je vtkana v izteke klavirskih tonov. Prav tako se nam v sami čistosti zvoka kaže Fenneszov napredek njega kot studijskega tehnika. Navkljub njegovi genialnosti zvočnega procesiranja oziroma sintetiziranja, ki jo je razkril na ploščah Endless Summer in Venice, so bili njegovi miksi pod drobnosluhom malček preveč nejasni in zabrisani. Tega mu niti slučajno ne moremo več očitati na plošči Flumina, saj je zvočna slika jasno definirana, kljub temu, da se zvoki velikokrat utapljajo v ogromnih odmevih. Prava mojstrovina! [Tadej Droljc]
Progress Report (UK):
This is the third time Fennesz and Sakamoto have collaborated for a Touch release though the germination of this one is a little different.
The 24 pieces of "Flumina" are based on piano compositions/improvisations which Ryuichi Sakamoto had recorded whilst touring in Japan. On that tour Ryuichi played a piano piece in a different key at the beginning of every show, always having a "Fennesz Sakamoto" project in mind. After 24 shows he had 24 tracks in 24 different keys, covering all 24 tonal steps of the western tonal system. Sakamoto sent the tracks over to Christian Fennesz and he worked on them using electronics, guitars and synths. They met in New York then and mixed the album together with Fernando Aponte at KAB Studios.
It's 2 CDs that really very much need the right set and setting. The ambient nature and sparseness of these 24 tracks make it a really difficult set of pieces to explore without quiet surroundings and a level of concentration that you might not otherwise feel the need to give to a more pop/rock/ noise orientated collection.
As a whole set of 24 tracks played back to back it's hard going. The very nature of the minimal and improvisational method of Sakamoto's piano playing here makes it easy to lose concentration. Fennesz would be the element that would keep your interest but on these pieces he seems to be happy to take a more relaxed and subdued approach to normal and almost comes across as being an accompanist rather than a collaborator. A few more upfront moments from him would possibly have pushed this release up a level.
Ultimately, for me, this has become something of an album to dip into. A track here and there, one, two or three at a time rather than a whole disc works, whereas the whole of one or two discs just seems to accentuate what seems to be lacking which at the end of the day is Fennesz. There isn't enough of him here. [DB]
Fucinemute (Italy):
La collaborazione fra Christian Fennesz e Ryuichi Sakamoto sta ormai diventando una piacevole abitudine nell'ambito della musica elettronica. Flumina infatti rappresenta la terza uscita di questo improvvisato duo, dopo il live Sala Santa Cecilia del 2005 e Cedre del 2007. La formula della collaborazione sembra essere particolarmente adatta a esaltare l'estro dei due compositori, soprattutto nel caso di Fennesz. Nella sua storia infatti troviamo, oltre che con Sakamoto, partecipazioni alle opere di Keith Rowe, Jim O'Rourke, David Sylvian fino alle performance live con il grande Mike Patton. Anche Sakamoto non disdegna i progetti condivisi anche se oramai, data la sua fama, risplende di luce propria. Non che Fennesz sia da meno, almeno per quanto riguarda la qualità della sua storia musicale, ma è chiaro che la popolarità di Sakamoto, emancipatosi da tempo dal circuito underground, superi di gran lunga quella del manipolatore austriaco. Tuttavia il maestro giapponese, nonostante le partecipazioni a importanti colonne sonore e l'oscar per quella dell'Ultimo Imperatore (1987), non esita a rimettersi in gioco firmando progetti come questo Flumina, doppio cd di musica ad alto tasso di sperimentazione. L'umiltà e la volontà di ridisegnare ogni volta proprie coordinate sonore è tipica dei grandi. Penso a Lou Reed, e a quando si intestardì nel produrre quel Metal Machine Music (1975) che rischiò di segnare la fine della sua carriera, almeno a livello di credito presso la critica, ma che alla fine risultò essere una delle influenze maggiori per tutto il noise rock degli anni successivi, nonché punto di riferimento di intellettuali del rumore come Merzbow o Masonna.
Nella collaborazione fra Sakamoto e Fennesz, quest'ultimo non ha certo un ruolo marginale ma anzi ne è il motore principale. Questo Flumina per esempio, non avrebbe probabilmente ragione di essere senza il suo trattamento elettronico alle note di piano prodotte da Sakamoto. Il concetto da cui nasce Flumina è infatti assai semplice. Nel corso dell'ultimo tour, Sakamoto apriva ogni serata con un pezzo improvvisato al piano, basato su un tono diverso per ogni serata. Dopo 24 concerti, il pianista si trovò con 24 pezzi basati sui 24 toni che compongono la scala tonale occidentale. Consapevole che nelle mani di Fennesz tale materiale avrebbe trovato l'ambiente ideale per svilupparsi e divenire materia musicale completa, Sakamoto spedì le tracce in Austria e, dopo pochi mesi, i due si riunirono a New York presso i KAB Studios per il missaggio finale con la supervisione di Fernando Aponte.
Flumina è il risultato di questo processo, un opera monumentale che è quanto di più sperimentale i due abbiano composto insieme. È una operazione molto cerebrale che, va detto subito e senza mezzi termini, è di difficile fruizione. Non è infatti semplice digerire le 24 tracce (alcune anche molto lunghe), in cui note di piano reiterate vengono accompagnate dalle manipolazioni di sintetizzatori e chitarre, per un plot fatto di ambient minimalista, riverberi, sibili soffusi e atmosfere cicliche. Una cosa che salta subito all'occhio è l'utilizzo delle serie numeriche per i titoli, usati forse per sottolineare la metodicità dell'opera e che sembra quasi un omaggio al math rock, quella particolare corrente di rock alternativo basata sull'applicazione della matematica alla musica, attraverso l'uso di rigidi e complessi schemi ritmici (7/8, 11/3 0 13/8) e che ha visto fra i suoi protagonisti gente come Steve Albini, Slint e Don Caballero. Qui ovviamente siamo lontani dal rock, anzi ne siamo agli antipodi, ma il paragone risulta appropriato per esaltare la duttilità mentale di questi due compositori.
Parlare dei singoli pezzi, oltre che difficile, risulta riduttivo e in fondo inutile. Tuttavia vi sono dei brani che colpiscono più di altri. Il primo pezzo 0318 resta ovviamente subito in mente, perché rappresenta il leitmotiv dell'intera opera. I rintocchi di piano sono inizialmente rarefatti; poi partono gli arrangiamenti sintetici che creano un atmosfera di vuoto, e in questo vuoto il piano entra e infittisce la propria presenza creando giri armonici sempre più complessi con la sovrapposizione delle note. In 0320 si ottiene l'effetto opposto, ovvero i sintetizzatori creano un tappeto sonoro lieve ma pieno, sul quale cadono rintocchi di pianoforte come gocce sullo scorrere di un fiume. In altri pezzi (come 0419) il piano diventa protagonista di un episodio di musica classica contemporanea di grande bellezza e profondità, austero nel suo essere incastonato in scultoree atmosfere ambientali, ma anche evocativo. All'ascoltatore attento, sembrerà quasi di sentire piccoli frammenti di melodie appena accennate, iniziate e poi sospese, quasi a voler spronare chi ascolta a lavorare di immaginazione. A me ad esempio, a metà di questo brano mi è parso di sentire riecheggiare gli accordi di Forbidden Colors dalla colonna sonora del film Furyo, composta dallo stesso Sakamoto e cantata con voce sofferta e intensa da David Sylvian, apice del romanticismo japan oriented di qualche anno fa. Probabilmente sarà stata solo suggestione, ma mi fa piacere pensare che il maestro nipponico abbia voluto quasi omaggiare quella piccola perla di raffinato pop. Il disco (anzi i dischi) non sono solo eterei. Vi sono pezzi, come 0405 o 0407, che si presentano più inquieti, quasi a voler rappresentare una minaccia, o una ancestrale paura che si cela fra le ombre della sera. Ma tutto torna quieto negli altri pezzi dell'album.
So che non è andata così, ma sarebbe stato bello se i 24 brani fossero davvero nati suonando il piano sulla riva di un fiume, mentre Fennesz ammira le nuvole scorrere nel cielo sdraiato nell'erba lungo l'argine. Sakamoto è acqua, forte e imprevedibile, Fennesz aria, eterea e sfuggente. Invece, tutto è nato su un freddo palco e da una sorta di equazione matematica. Ed è questo il lato meno riuscito del lavoro, questa contraddizione fra la pura evocazione emotiva del disco e la progettazione "a tavolino" dello stesso. Non ci sarebbe stato nulla da dire se la musica fosse stata espressione di una rappresentazione meccanicistica della realtà moderna, come accadeva nel math rock prima citato. Qui si investono emozioni interiori in cui non dovrebbero trovare spazio algide elucubrazioni numeriche: aria, acqua, la ciclicità del fiume nasce, muore nel mare, sale in cielo come vapore e ricade come pioggia alla sorgente da dove riparte, perfetta rappresentazione della vita. Ma tant'è: Flumina resta comunque un bel disco, e gli animi sensibili trarranno delizioso godimento dal suo ascolto.
Muso (UK):

Gonzo Circus (Belgium):

Liability (France):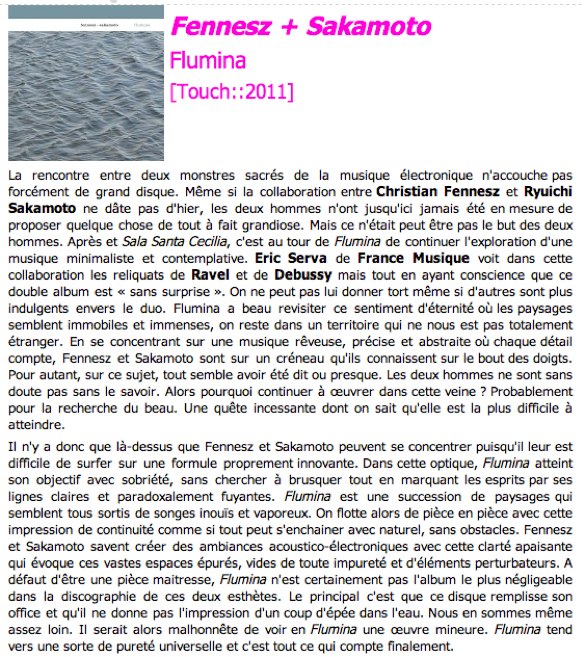 debug (Germany):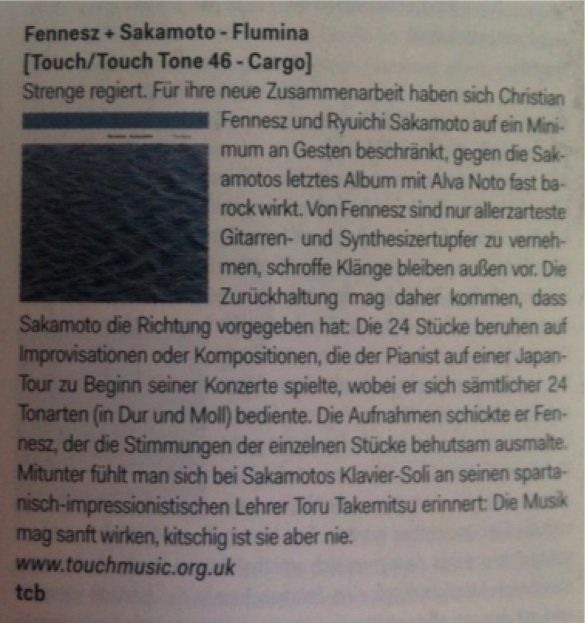 Lidove Noviny (Czechia):

Etherreal (France):
On était complètement passé au travers de Cendre, la précédente collaboration de Christian Fennesz et Ryuichi Sakamoto sortie en 2007. On découvrait donc le duo avec ce monumental Flumina composé de deux CD qui, après les collaborations Alva Noto / Sakamoto, n'était guère une surprise.
Par contre la musique qui en résulte nous surprend, en particulier de par le déséquilibre qui apparait entre les deux musiciens. L'album s'ouvre sur le piano contemplatif de 0318 avec au second plan de douces nappes subtilement texturées, simple habillage ambient. On pense dans un premier temps qu'il ne s'agit que de l'ouverture mais la suite confirme notre crainte : une musique très minimaliste, de belles mélodies cristallines et pour ceux qui tendront un peu l'oreille, apparaitra au second plan l'aspect légèrement granuleux et grésillant de Fennesz.
On est donc marqué ici par la grande, la trop grande discrétion de l'Autrichien et on se met à considérer ce disque comme un album solo de Sakamoto, à la rigueur produit par Fennesz. On reconnaitra toutefois un jeu plus complexe sur 0324 et 0401 avec un piano chaotique, une guitare aux cordes métalliques malmenées, un accompagnement plus fracturé, mais des pièces telles que 0327 ou 0330, certes très belles, restent proches d'une ambient néoclassique, trop classique.
Pendant un temps on se dit que Ryuichi Sakamoto a pris la responsabilité du CD1 et que le deuxième volet sera plutôt consacré à Fennesz. On se rendra bien vite compte qu'il n'en est rien : l'Autrichien est en effet quasi inexistant sur le 0405 qui ouvre ce deuxième CD tandis que le jeu du japonais est ici très contemporain, plus complexe.
Pour le reste, on est dans la droite ligne du premier disque et c'est là que surgit une impression de musique au kilomètre. Est-ce que l'on est mauvaise langue ? Blasé ? Peut-être… mais toujours est-il que l'on est un peu énervé de voir ces deux artistes se laisser aller à ce genre de production, de facilité.
Pourtant les deux hommes font quelques efforts. Un effet de reverb nous projette sous l'eau sur 0407, le son se renouvelle quand le piano semble être remplacé par un clavier sur 0409, des nappes métalliques habillent le silence sur 0417, et bien sûr les mélodies de Ryuichi Sakamoto font toujours mouche, mais cela reste trop peu.
Un sympathique album ambient, qui s'écoute plutôt avec plaisir, mais on attendait tellement plus d'une telle collaboration !!