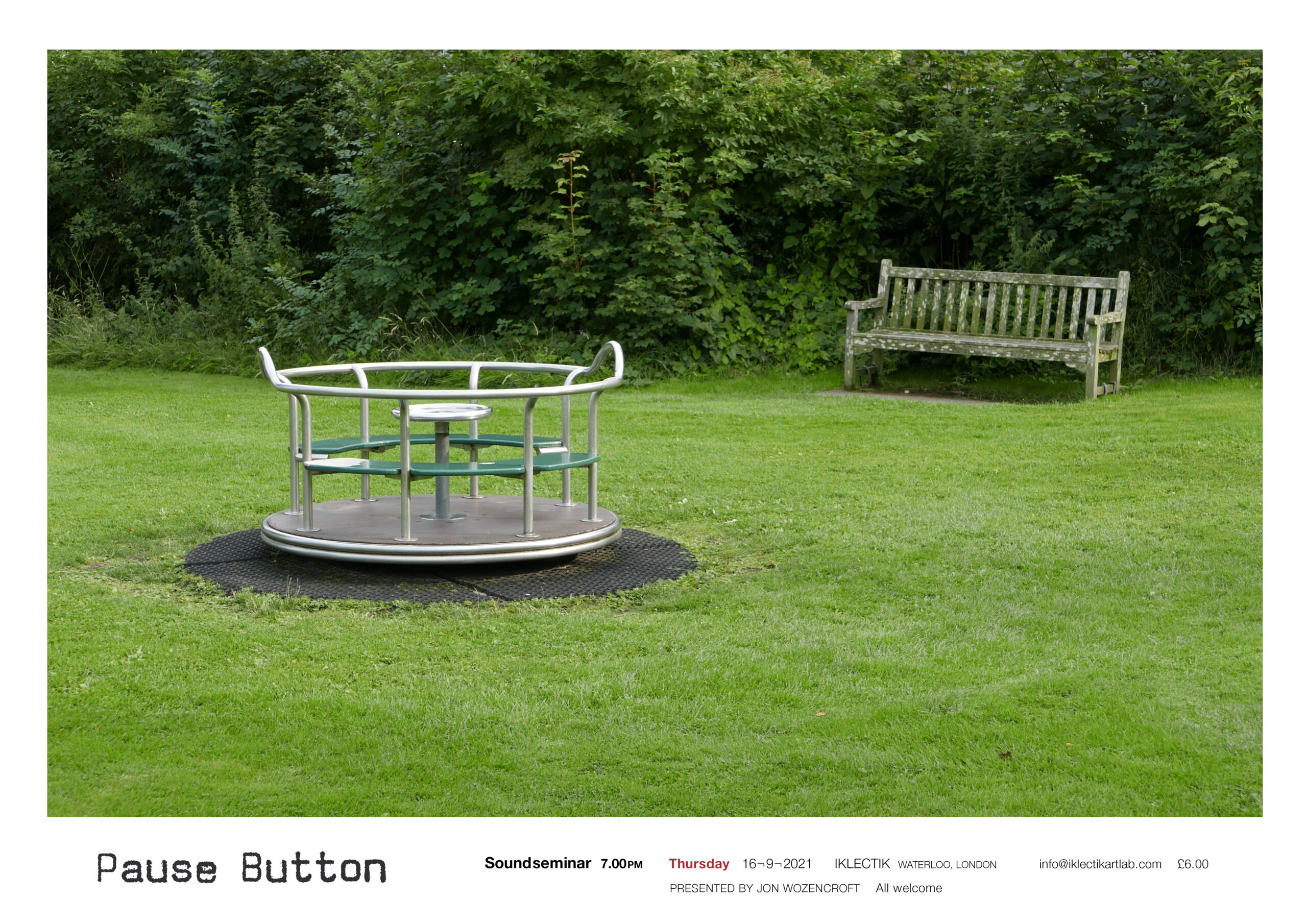 IKLECTIK presents,
Jon Wozencroft Sound Seminar: Pause Button
Thursday 16 September 2021 | 7:30pm (7 doors)
Notes:
The pause button first appeared on reel-to-reel tape recorders in the early 1960s, on Ampex machines. Thanks to financial help from Bing Crosby, Ampex had developed reel-to-reel magnetic tape and tape recorders in the late 1940s, so Bing could play golf and not have to do live radio broadcasts on a Saturday. Reel-to-reel tape technology had been invented by BASF in Germany during WW2, eventually discovered by U.S. Army Signal Corps in a studio at Radio Frankfurt at the end of the war.
Compact cassette recorders were developed by the Dutch company Philips not in the Netherlands but in Hasselt, Belgium, by Lou Ottens and his team in 1963, but the format took a few years to hit the home recording market. Seven-inch singles, jukeboxes and portable radios ruled at the time.
VCRs had developed in parallel but VHS did not become a big thing until the 1970s. One could argue that pause buttons had been there years earlier, in the form of stop frame film cameras like the Bolex (1935) or even the on/off switch of a wireless.
No-one thought to pause a vinyl record until turntables and slip-mats let DJ's reinvent their functionality. In digital/electronic contexts, the pause button is an essential feature, from soundcloud sites to washing machines. Pause for thought, or a vital tool to offset frequent interruptions?
The button itself – "In musical notation, caesura is the term used for a pause of decent size. The same word is used for the part of a poem when you take a breath." A caesura is indicated in poetry by the symbol || and in music by the symbol //."
The root meaning of the word is specific, it comes from the Greek 'pausis', to halt, or to stop. Could a pause be an opportunity to take stock, to think twice and maybe change your mind – or simply a delaying tactic, a respite from the endless now?