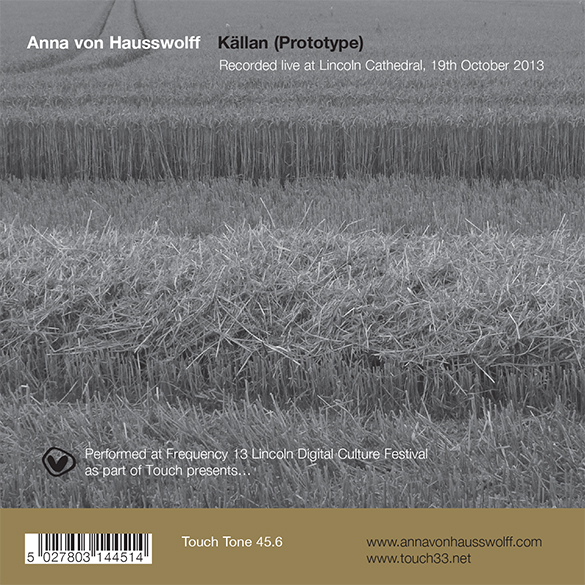 Digital Download – track – 39′ 57″ [24bit/48kHz wav]
Track listing and notes:
1. Källan (Prototype) 39′ 57″
Artwork & photography by Jon Wozencroft
Organ: Anna von Hausswolff. Recorded live at Lincoln Cathedral, 19th October 2013.
Performed at Frequency 13 Lincoln Digital Culture Festival as part of Touch presents…, (which also featured Chris Watson & Hildur Gudnadottir). Recorded live by Mike Harding using 2 x dpa 4060s onto a Nagra Ares Pll digital recorder. This recording is unedited from the original raw file.
Though she now lives in Stockholm, Anna von Hausswolff grew up in the once vibrant, bohemian neighbourhood of Haga in Gothenburg, Sweden, in a family who counted amongst their ancestors Bernhard Reynold von Hausswolff, an 18th Century governor of Falun, Sweden, who helped bring an end to the burning of witches. Although Anna has achieved acclaim with her song-based albums 'Ceremony', 'Singing from the Grave' (both first released on Kning Disk in Sweden) and the latest 'The Miraculous' (released on her own label, Pomperipossa Records), she has always had an ear for the radical approach, and this is the first step in a long-term collaboration with Touch.
Download Anna von Hausswolff "Kallan (Prototype) [Digital Download] in the TouchShop
www.annavonhausswolff.com