CD & Download – 3 tracks – 55:50
Release date: 12th April 2019
Limited edition of 500 CD in full colour jacket; artwork and photography by Jon Wozencroft
Zachary Paul: Violin & Electronics
Track listing:
1. Premonition (3:30PM Lake Perris) [31:50]
i Rays ii Clouds
2. Slow Ascent (9:30PM Downtown) [12:06]
3. A Person with Feelings (Original score) [10:24]
You can listen to an extract here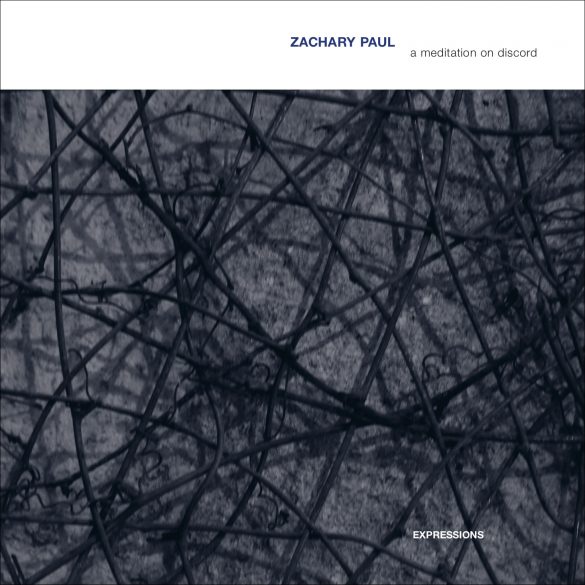 Premonition was recorded live at Desert Daze, Oct 12th 2018. With thanks to Cris Cichocki.
Slow Ascent was recorded by Mike Harding at Touch presents… Live at Human Resources, Feb 23rd 2018. Remastered by Simon Scott.
A Person with Feelings; a short film by Tanner Smith.
On Zachary Paul's debut album for Touch, "A Meditation on Discord" compiles two live recordings from 2018 and a short film score, showcasing his expressive range and unique playing style. Both live recordings — "Premonition" and "Slow Ascent" — were fully improvised on his violin ("The Duke," 1878), a minimal assortment of pedals (Earthquaker Afterneath, Diamond Memory Lane Jr, and Boss RC-30) and looped vocals.
Notes:
"Premonition" (October 12, 2018) was recorded on the first day of Desert Daze music festival. For this performance I tuned my violin in open G (G-D-G-D) for the very first time. The afternoon was warm and bright, but storm clouds, yet to be seen at the time of this recording, loomed on the horizon.* My improvisation began in the present moment, reflecting the vibrations of the sun. Once locked in with these higher frequencies, the instrument took control and painted the evening. This performance was both a premonition of night and an astral projection towards the clouds crawling towards the festival grounds, catalyzed by an instrument resonating with the frequencies of the earth.
"Slow Ascent" (February 23, 2018) was recorded at Human Resources, Los Angeles, for an event celebrating the release of Yann Novak's second solo album for Touch. This performance was an inverted guided group meditation. In front of my biggest audience to date, I was extremely anxious. Rather than letting my nerves lead the way,** I fed off of the energies of the audience, letting their patience, calm and warmth guide the instrument.
"A Person With Feelings" is a score for a short abstract film to be released in 2019. A modern trance film, the piece follows a young actor's internal journey. The soundscape reflects the arc of the film and showcases the textural range of my instrument.
* Later that night, the headline act was forced to leave the stage and the festival was shut down after intense lightning and rain storms.
** My anxiety, manifesting as physical tremors in my arm, can be heard in the jagged bow stroke that opens the piece.
Available to order the CD from Bandcamp now
www.thezacharypaul.com
Bad Alchemy (Germany):