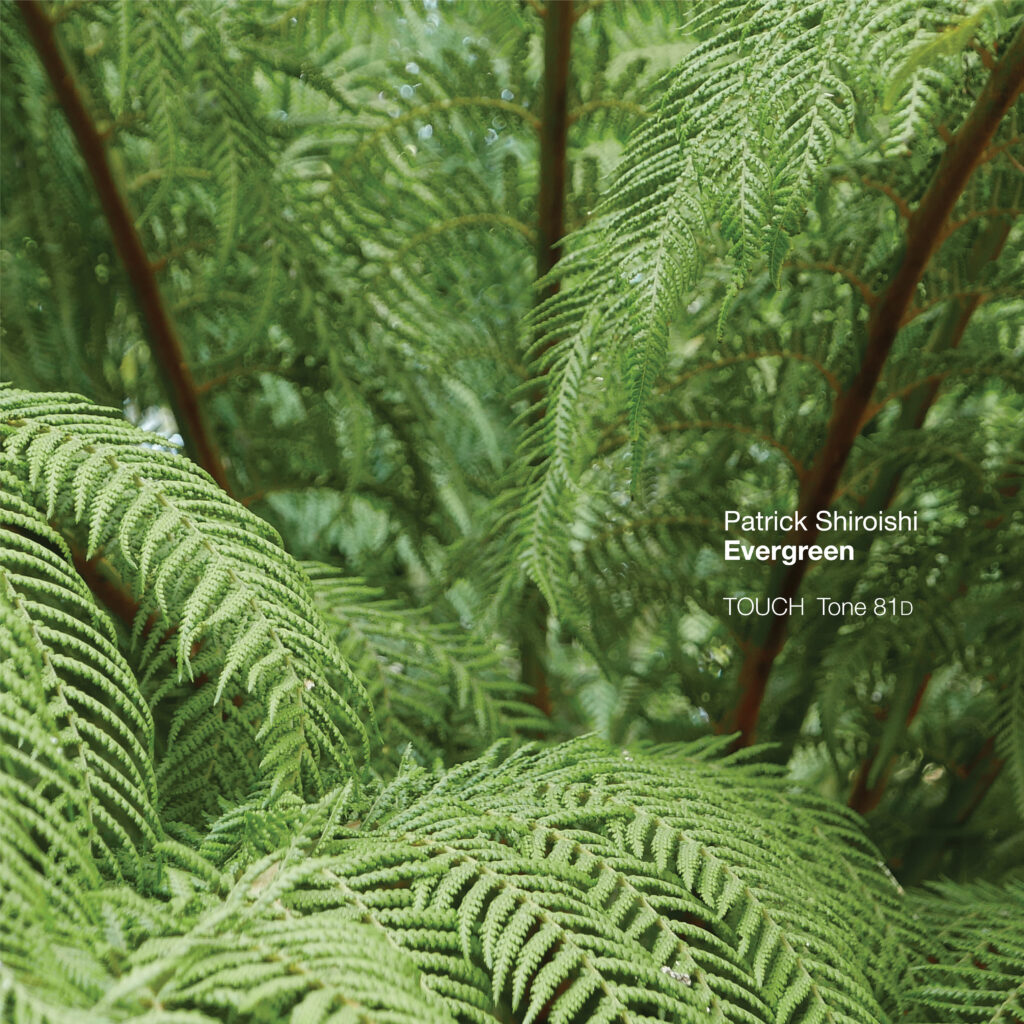 DL – 4 tracks – 41:56
We are now taking pre-orders for Patrick Shiroishi's first solo album for Touch, Evergreen, having previously collaborated with Zachary Paul on the exquisite Longitude: Live at Roughage (2018.)
Release date 1st November 2022
Now available
Track listing:
1. a place where sunflowers grow 11:10
2. there is no moment in which they are not with me 9:32
3. a trickle led to a quiet pool, where still, black water reflected the night sky 9:06
4. here comes a candle to light you to bed 12:18
All tracks composed, performed and recorded at Orange Door in September 2022. Field recordings taken at Evergreen Cemetery, Los Angeles in 2021.
Patrick Shiroishi – synths, clarinet, field recordings, voice & tenor saxophone
Photography & design by Jon Wozencroft
Mastered by Simon Scott @ SPS Mastering
Story told by Yukio Kawaratani
Patrick writes: "I can't recall the first time I was introduced to Touch but it might have been around 2017, right before a duo recording with Zachary Paul in the spring of the following year. I do, however, remember the winter when i dove into their catalogue and discovered artist upon artist of tremendous weight and vision who created worlds in their recordings… it was inspiring and something that I have kept with me through the years.
Since that time five years ago, correspondence with Touch became little by little, more and more frequent. In early September 2022, Mike contacted me about putting something together for the label with a deadline of a few weeks. I first thought of a collaboration with Bana Haffar, someone for whom I have huge respect on many different levels and was lucky enough to travel with and play some shows for the label's 40th anniversary celebration in the Bay Area earlier this year… unfortunately the timing didn't work out. I pondered about other potential partners, ultimately deciding on the idea of presenting a solo work.
Familiarising myself with the Touch back catalogue, I wanted to create a work that was unique in its own world. Someone reading this may or may not know that I have been diving into my family history and processing that through music. Last year, I took a couple of trips to Evergreen Cemetery in Los Angeles, where several generations of Shiroishis are buried and a place often visited when growing up. Sitting there with my Zoom recorder on, at what seemed like the peak of the violence towards Asian Americans, i felt at peace being close to them.
The foundations of this album are from those recordings. The first half is built upon one I made during daytime and the second half from a recording in the evening. The music took on many forms and was worked on daily in the mornings, which is something that was very different from my usual practice. As the album was getting close to being finished, I sent it over to Mike and Jon and with their guidance helped to shape the music towards its final form.
Hoping that you listen to this music in one sitting and think about your ancestors as you do – we all come from somewhere, and there is not a moment when they are not with you."
Patrick Shiroishi is a Japanese-American multi-instrumentalist & composer based in Los Angeles. He is perhaps best known for his extensive and intense work with the saxophone. Over the last decade he has established himself as one of the premier improvising musicians in Los Angeles, recording and playing solo and in numerous collaborative projects. Shiroishi may well be considered a foundational player in the city's vast musical expanse. [Chris Lowenthal]