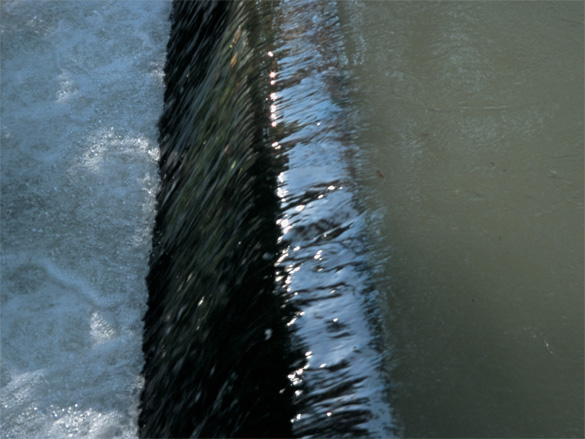 A rare viewing of Jon Wozencroft's film 'Liquid Music', produced for Christian Fennesz's live performances, can be seen at Faster Than Sound on 9th June 2006. This installation will be shown with a selected edited audio track from a Fennesz concert.
The DVD remains unreleased…
Philip Jeck also performed – here is a review of his set:
from k-punk:
Philip Jeck – a godfather of sonic hauntology, of whose work I was shamefully ignorant until last weekend. Using two turntables and a magic-box of effects which defamiliarise the vinyl source material to the point of near-abstraction, Philip reconceives DJing as the art of producing sonic phantasmagoria. The occasional recognizable fragment (the Byrds, Mantovani-like lite classical kitsch, sonic objet as made all the more alluring by their partial submersion) thrillingly bobs up out of the whooshing delirium-stream. As he performs, Philip leans over his machines with a look of tender melancholy (perfectly captured in Jon Wozencroft's picture, above), almost as if he is tending a dying puppy.
Earlier in the evening, there was a duet from Hildur Guadtir & BJNilsen.
Here is what kpunk says about their set:
"Hildur Gudnadottir first to perform in the 'Multi-National Circle', an outdoor concrete circle adjacent to a runway, Hildur overcame the unceremonious conditions in which she was asked to play (she wasn't introduced, and the late afternoon sunlight threatened to dissipate any atmosphere) with a performance of sombre rapture, her cello multiple tracked (with live playing augmented by laptop loops) into a slow sonic ocean sound whose ebbs and flows were shifted expertly around the six speakers of the ultravivid PA by BJNilsen. Hildur achieved something akin to the dark tranquility about which Dominic writes so eloquently, the suspension of all urgencies in a viscously tactile sound that gives the illusion of being poised on the edge of stasis (perhaps it's no accident that Xasthur use cello)."
There is also a review in the Financial Times