CD & full album download – 11 tracks – 47:06
Release date: 7th September 2018
About the Album
Ecce Homo explores the lighter and darker shades of the human psyche, behaviour and existence, and humanity's ability to create beauty and destruction. What lies in the essence of such complexity has become a core idea for the album, while Gorgun seeks to figure out if there is a true meaning to being human, and human being.
Starting with "Neroli" as a human fascination with nature and finalising with "To Cross Great Rivers"; the album reflects the contemplations of a spectator being exposed to the human civilization, and witnessing human activity, including his/her own.
Trying to acquire a glimpse of the various layers of human flesh and bones, the sound of the album aims to present a diversity of the sonic spectrum, with tracks varying between ambient and noisy landscapes.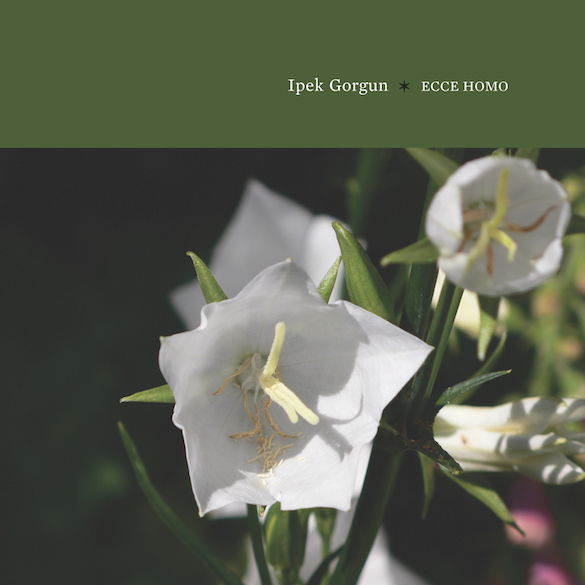 Track Titles:
1. Neroli – you can hear this track here
2. Afterburner
3. Tserin Dopchut
4. Le Sacre l
5. Le Sacre ll
6. Bohemian Grove
7. Seneca
8. Knightscope K5
9. Reverance
10. Mileva
11. To Cross Great Rivers
All tracks recorded and mixed by Ipek Gorgun, Istanbul 2016 – 2018
Mastered by Denis Blackham @ Skye
Photography & design by Jon Wozencroft
Artist Biography
Ipek Gorgun is an electronic music composer currently enrolled in the doctoral program of Sonic Arts at Istanbul Technical University's Center for Advanced Studies in Music. After graduating from Bilkent University with a degree in Political Science, she completed her Master's studies in Philosophy at Galatasaray University.
As one of the participants of the Red Bull Music Academy in 2014, she performed in Tokyo as an opening artist for Ryoji Ikeda's "Test Pattern No: 6" and joined Otomo Yoshidide for a collective improvisation project.
​As a bass player and vocalist for projects and bands such as Bedroomdrunk and Vector Hugo between 2001-2013, she also performed in an opening gig for Jennifer Finch from L7 and Simon Scott from Slowdive, as well as performing live with David Brown from Brazzaville. She has released two EPs with Bedroomdrunk, entitled "This is What Happened (2003)" and "Raw (2007)".
​Besides group projects and solo performances, she also composed the soundtrack for the documentary 'Yok Anasinin Soyadi (Mrs. His Name) directed by Hande Cayir in 2012, portraying Turkish women's struggle for keeping their original surnames after marriage.
​Her debut album Aphelion was self-released in February, 2016 and is reissued by Touch in December, under the TOUCHLINE catalogue. In 2017 she released a collaborative album from Halocline Trance, with Canadian producer Ceramic TL (aka Egyptrixx) entitled "Perfect Lung", and a mini-album with the Italian electroacoustic duo, Alberi.
Aside from many performances following these albums, she also performed in Sonar Istanbul (2017), BBC Radio 3's "Open Ear" at LSO St. Luke's (2018) and opened for the Royal Philharmonic Orchestra in Oggimusica Acousmonium with an electronic rework of Igor Stravinsky's "The Firebird" (2018).
Ipek Gorgun also practices performance, street and abstract photography. She won the IPA honorable mention award in 2013-14 with her work entitled "Bubblegun Daydreamer" and in 2013, she worked as the advertisement photographer for Contemporary Istanbul Art fair.
Reviews:
Boomkat (UK):
Highly impressive new full-length from Ipek Gorgun. Eschewing any notions of easy-to-consume ambient music, Ipek instead orcestrates an ambitious mass of sound indebeted to musique concrète but also taking in field recordings and a documentary style that lends the album its winding narrative structure. If you're into anything from Lenka Clayton's collage work to Ilhan Mimaroglu's pioneering electronic works – we wager this one will rule your world.
"Ecce Homo explores the lighter and darker shades of the human psyche, behaviour and existence, and humanity's ability to create beauty and destruction. What lies in the essence of such complexity has become a core idea for the album, while Gorgun seeks to figure out if there is a true meaning to being human, and human being.
Starting with "Neroli" as a human fascination with nature and finalising with "To Cross Great Rivers"; a never ending hopeless dream of the mankind to conquer and control the world, the album reflects the contemplations of a spectator being exposed to the human civilization, and witnessing human activity, including his/her own.
Trying to acquire a glimpse of the multiple layers of such narrative, the sound of the album aims to present a diversity of the sonic spectrum, with tracks varying between ambient and noisy landscapes."
The Wire (UK):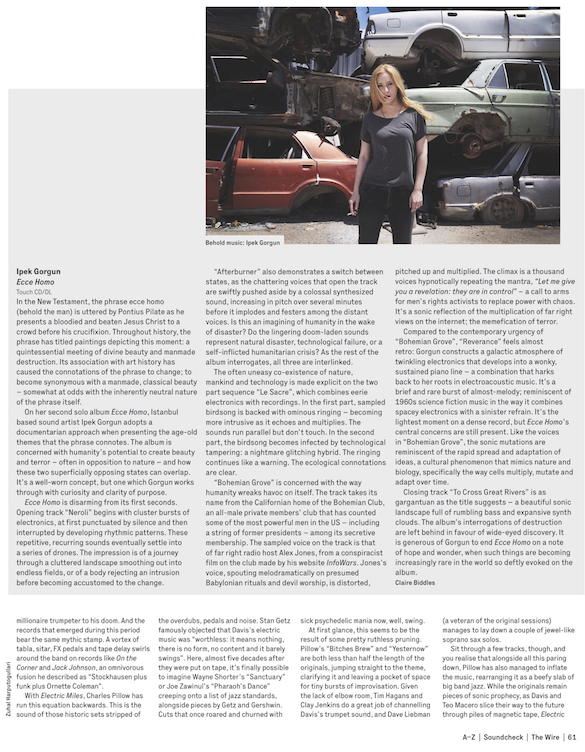 Beach Sloth (blog):
Wild, weird, and whimsical, Ipek Gorgun goes for a disorienting experience with "Ecce Homo". Time becomes indiscernible for the way shifts in tempo and texture changes means no track has a recognizable center. Rather, the whole of the work goes for something that becomes truly all-consuming, possessing its own peculiar logic. Close analogues to this particular approach might be Oneothrix Point Never's equally befuddling style, yet Ipek Gorgun's take feels rather fresh. Everything about it radiates with a sense of life. Compositions have a sun-soaked disposition to them while they carefully amble about.
By far the most beautiful and optimistic piece comes first with the opener "Neroli" which conveys a mysticism of sorts. Far harsher thought still somehow giddy with anticipation "Afterburner" conveys a different sort of light, one of intense heat as the piece virtually melts into "Tserin Dopchut". Gentle fragile structures return on the duo of "Le Sacre I" and "Le Sacre II" which at times recall Tim Hecker's delicate take on ambience. Totally unclassifiable "Bohemian Grove" serves as the very confusing maze of it all while samples skitter through revealing a sort of paranoia that seems to permeate so much of the news lately, the conspiracy theory fringes that have moved closer to the center. Unhinged to its core "Knightscope K5" at times feels akin to similar sonic explorer Madalyn Merkey, with the vocals becoming their own melodies humming to themselves. Ending things on a surreal note is the impossible to place tones of "To Cross Great Rivers".
A truly unusual and downright beautiful intersection of the experimental and emotional, Ipek Gorgun's "Ecce Homo" is a true triumph.
Toneshift (USA):
On her third record (released this week), her second with Touch, Turkish electronic/electroacoustic composer Ipek Gorgun explores humanity on Ecce Homo from the inside-out. Currently she's a doctoral student at the Istanbul Technical University's Center for Advanced Studies in Music, and I find that making your studies public in this fashion just may be one of the greatest tests of all, especially in our virtual times. She's been working on this particular recording for the last two years, so the blooms of late Summer (like Jon Wozencroft's lovely coverart) are about to arrive (along with the early Monarch migration here in TX). Though the Bandcamp page is not active until the release I managed to locate a few postable soundclips for your ears, so please take my words for it, and anticipate the delivery of something quite special come this Friday. If you cannot wait that long you can listen to the album's opener, Neroli, here.
The track immediately dazzles the ears with a magical uplifting melody, a tangle of bright punchy synths. Neroli is the natural essence of bitter orange, its oil. And the piece comes off like a mystical fusion, a floral pasture as seen through a kaleidoscope. In the second half of the piece the atmosphere shifts into a more subdued affair, more still with a luminous drone like a long note played on a church organ, into a gray fade out. With all the unrest in her home country there's no escaping the current environment, both physical and/or political, cannot be diverted from her creative voice, however restrained. And this rises in Afterburner, a cascading and course atonal work of ambient/industrial quiet fervor. The muffled roar and partially erased voices speak of our challenging times. It's a fiery reminder of the human condition and it's fragility. This leads into the layered, spacey distortions on Tserin Dopchut which are bathed in reverb.
Le Sacre I + II are both two short extractions, up next and filled with a whole range of sound effects, and atmosphere, looped and de-constructed bird whistles. Though these sort of act as intermediate music in the context here, they are worth noting for the complex structure and balance between the natural and the plugged in. Bohemian Grove edits soundclips from a 'religious' radio program which is twisted into a windy drone peppered with all sorts of wry effects. If you've ever heard the sound collage work of Ultra-Red or Mark Van Hoen you'll be in a similar ballpark here. Expertly edited.
Seneca can only be described as abstract edgy ambient with its queasy and emotive tone, all wound down, forlorn. But it's on Reverance that I hear her passion play for the first time. Gorgun delights with an imbalanced, discordant core, but takes the liberties the take mystery to bed  with an eerie dalliance on the piano. It's as gorgeous as it is idiosyncratic, and that hybrid is rare.
On Mileva an impassioned drone has this essence of inner light burning through, one that goes from quiet to racket in a bit more than sixty seconds, though manages to keep the chaos finely quarantined. The white noise sears on through in this short but sweet noise work.
And finally, on To Cross Great Rivers the atmosphere once again shifts darkly to an ambiguous clang, muffled and dragged. Though after a few minutes the tone softens with the partial light we heard in the beginning. A whirring vortex of sci-fi synth creates an audio/visual scope, breathy with a bit of a hovering sensibility in its defined warble. As a whole these eleven parts are a patchwork of short stories, and I can only want to imagine them being overlaid and mixed into one long-playing work with a light show set in a planetarium, or some such spherical space. Take the trip. [TJ Norris]
Pitchfork (USA):
The Turkish sound artist balances technical precision, emotional potency, and trenchant cultural critique on an album whose individual sounds are as compelling as their widescreen narratives.
In the work of Ipek Gorgun, small moves and grand gestures are equally important. Before she molds her instrumental electronic music into massive shapes, the Turkish sound artist infuses it with precise detail. "I work with milliseconds in the beginning, then I switch to seconds, then to minutes," she once explained. "At the end, I think about the whole arrangement of the structure… So I zoom in, zoom out, and try to find a way to fit everything in place." As a result, her compositions connect on the micro level of individual sounds as well as on the macro level of widescreen narrative.
On first listen, Ecce Homo, her second solo album, seems more about the micro. It opens with the tactile chimes of "Neroli," a track that gets progressively denser but never loses sight of the sonic molecules that comprise it. Gorgun has a talent for spinning fine-tuned sounds that stay resistant to blur no matter how thick her mix becomes. It's easy to get lost in those textures, the shiny whirrs and low rumbles and drilling noise. But as the album moves forward, Gorgun's ever-deepening forests prove to be just as compelling as the trees they encompass.
As technical as all of this may sound, Ecce Homo can be quite moving. On pieces like the creeping, piano-echoed "Reverance" and the expansive, atmospheric "To Cross Great Rivers," Gorgun uses both natural sounds and utterances that feel alien to create habitable worlds. She can sustain these attention-commanding arcs over long stretches, too; on the consecutive tracks "Le Sacre I" and "Le Sacre II," extended tones and pointillist stabs seem to echo the cycle of calm and nerves that so often characterizes the mood of a momentous occasion. The emotion in Gorgun's music is sneaky, though. Her technique is so fascinating that you might not notice, at first, that the music is working on your mood as much as on your intellect.
What makes Ecce Homo even more compelling is that, though her music is generally pretty abstract, Gorgun doesn't shy away from pointed statements. This is most apparent in her use of vocal samples, which ground her open-ended sounds. The most stunning example is "Bohemian Grove" (a reference to the California campground that hosts an annual retreat for an all-male cabal of political elites and the ultra-wealthy), which blends quotes from fearmonger Alex Jones into a hellscape of metallic horror sounds. It's a risky move; trying to make meaningful art out of cartoonish grandstanding could easily result in a simplistic critique. But by applying the same techniques she uses throughout Ecce Homo, Gorgun creates a work complex enough that it can take multiple listens to fully appreciate.
Most of Ecce Homo is not that literal, however, as Gorgun proves adept at making music that feels universal while retaining her very specific signature. This talent helped make Perfect Lung, the collaborative album she released with Toronto producer Ceramic TL last year, sound unique without throwing out any compositional rulebooks. But it's when she's patiently stitching together whole sonic universes on her own that Gorgun's musical identity is at its most potent. On Ecce Homo, each tiny step reveals the will to run a marathon. [Marc Masters]
Cyclic Defrost (Australia):
Istanbul-based electronic composer Ipek Gorgun last made an appearance with her collaborative album alongside Ceramic TL 'Perfect Lung' earlier this year, and now a few months on, this latest collection 'Ecce Homo' on Touch offers up her second solo album. Recorded over a period spanning two years, Gorgun describes the eleven tracks here as "exploring the lighter and darker shades of the human psyche, behaviour and existence, and humanity's ability to create beauty and destruction."
As with 'Perfect Lung', there's an emphasis on maximalism and total sensory immersion here, with many of the tracks here shifting between serene ambience and intense noisy textures. It's certainly an apt sonic metaphor for the full spectrum of human nature being explored by Gorgun. 'Neroli' opens this album with a sparkling ambient wash of melodic notes, the tones seemingly to hang suspended in mid-air as they wash back and forth between the speakers, phasing and glistening like chimes, before more brooding bass chords bass chords arrive during the second half, taking things out into a void of droning harmonics.
'Afterburner' meanwhile lives up to its title as layers of what sounds like reversed vocals in different languages give way to rushing walls of noise, the phased frequencies seemingly to intertwine into a thundering vortex before suddenly dropping down into ominous dark ambience as eerie noise sweeps whisper against chattering contorted vocal samples.
Elsewhere, 'Bohemian Grove' sees samples of a US televangelist getting cut up into surreal non sequiturs ("they are coming") against icy washes of bass ambience, pitched up cartoon vocals and glitchy bursts of digitally treated noise, before 'Reverence' takes a completely different turn as delicate minimalist piano arrangements get reshaped into howling harmonics and ping-ponging ricochets.
Personally though, I found that closing track 'To Cross Great Rivers' was easily one of this album's biggest highlights as glowing walls of ambience trail like an aurora against glittering keys and vaporous textures, the entire blend of lush, immersive textures offering up perhaps this album's most fully realised work. A gorgeously sensual album, 'Ecce Homo' continually reveals more with each subsequent listen. [Chris Downton]
FACT (UK):
Istanbul sound artist Ipek Gorgun knows our search for meaning manifests in all we do
FACT Rated is our series digging into the sounds and stories of the most vital breaking artists around right now. This week Adam Badí Donoval speaks to Turkish sound artist Ipek Gorgun about her new album Ecce Homo.
The title, Ecce Homo, of the latest solo endeavor from Turkish sound artist and producer Ipek Gorgun  translates to "Behold The Man(kind)." Gorgun wants to shine a light on our individual and collective search for meaning, on whether there is "anything meaningful beyond flesh and bones." Her music, full of abstraction, looks to reflect human civilization and its ability to create both beauty and destruction, its tendency to progress and to then decline. "I didn't focus on one specific aspect of the human," she says. "There are so many layers to human behavior and human nature to be explored and discovered."
Gorgun took up solo production after playing bass and singing in bands like Bedroomdrunk and Vector Hugo for over a decade. In 2016, she self-released her debut, Aphelion. Her latest follows a collaborative LP Perfect Lung with Ceramic TL fka Egyptrixx, performances at Sonar Istanbul and BBC Radio 3's Open Ear and opening for the Royal Philharmonic Orchestra in Oggimusica Acousmonium with an electronic rework of Igor Stravinsky's 'The Firebird'.
This outward quality of Ipek Gorgun's music is new, and especially stark when compared to her "more introverted" debut which she says she wrote only in the solitude of night. Ecce Homo isn't a nocturnal noise album, but rather a deeply insightful observation, and a reflection of our collective reality. Full of contrasts – bright and dark, heavy and light, glistening and dim, gentle and harsh – the album sounds holistic, open to many interpretations, and aware of its context and purpose. The glistening chimes of 'Neroli' tackles our fascination with nature; closer, the ominous 'To Cross Great Rivers', she says is an ode to mankind's "never ending hopeless dream to conquer and control the world." In between, she explores everything from capitalism to royalty and religious practice.
These contrasts are certainly also connected to Gorgun's instruments and sound sources. "In our lifetime we are exposed to millions of sound events, so why restrict ourselves by choosing a few components and stick to it in every single album?" she says. On Ecce Homo, Gorgun worked with guitars, piano, field recordings, samples, pedals, Ableton Live and MAX environments. The results play with our expectations of what is loud and harsh as opposed to gentle when it comes to sound. "We can still hear a mockingbird sing when the neighbors go crazy with the hammer and the drill," she says.
And similarly, while the past few years in Gorgun's homeland have been very dark she regularly reminds herself of "what a blessing it is to be alive and to be able to perform." In the next few months, she will perform in Istanbul alongside Christian Fennesz for the Red Bull Music Festival, contribute to Berlin's Dystopie Sound Art Festival with a multichannel audio installation, write a piece based on some of the landmark sounds of Istanbul and work on a photography project to be exhibited sometime by late 2019 or mid-2020. And if that weren't enough, she has a Ph.D. thesis to complete, "hopefully before becoming a very old woman."
Ecce Homo has the feel of a grand statement about sound, for Ipek Gorgun it is the first of very many. "It's been 200 thousand years, and we are still looking for that which could explain the reason we are here," she says. "This search of meaning seems to manifest itself in everything that we are doing." [Adam Badl Donoval]
Twittering Machines (blog):
****Album of the Week (in September 2018)****
Ecce homo, "behold the man", are the words spoken by Pontius Pilate as he presented a bound and crowned Jesus Christ to the angry masses before the Crucifixion. It has been referenced throughout history by painters, writers, poets, and philosophers. I owned a copy of the work by Nietzsche, a first printing from 1908 with decorations by Henry van de Velde, so you could say Ecce homo and I have some history.
"Carnicvale" Ipek Gorgun. Beyond music and photography, Gorgun is currently enrolled in the doctoral program of Sonic Arts at Istanbul Technical University's Center for Advanced Studies in Music. She holds a Masters in Philosophy.
Turkish electronic music composer and sound artist Ipek Gorgun takes on this weighty theme in her new album for Touch.
Ecce Homo explores the lighter and darker shades of the human psyche, behaviour and existence, and humanity's ability to create beauty and destruction. What lies in the essence of such complexity has become a core idea for the album, while Gorgun seeks to figure out if there is a true meaning to being human, and human being.
Sound art makes sense to me as the music contained in Ecce Homo is cinematic in scale, richly textured, and chiaroscuro-like in its handling of light and dark. As such, there's great beauty to be found here, both super-micro and mega-macro, coupled with real horror. On "Bohemian Grove", Gorgun samples the dangerously unbalanced fearmongering self-serving preacher-of-hate Alex Jones, allowing his words to set off a cacophony of madness. I don't know about you, but I need artists to take up the good cause and Gorgun does so deftly.
This is a record that takes repeated plays to take in—the sound-world Gorgun creates is as rich, dense, lovely, light and dark just as, you know, life. Highly recommended.
The New Noise (Italy):
Dopo aver preso parte alla Red Bull Music Academy del 2014 e una volta dato alle stampe l'autoprodotto Aphelion (2016, poi ristampato da Touch), lo scorso anno la musicista e fotografa turca Ipek Gorgun ha collaborato con Ceramic TL, meglio noto come Egyptrixx, alimentando l'elettronica in alta definizione del canadese con un appropriato lavoro di sound-design: il risultato si apprezza nelle otto tracce che compongono Perfect Lung, un disco che, a partire dall'ironia pungente e amara del titolo, affronta temi contemporanei nell'ambito di narrazioni oramai consolidate, che vanno dalla dark ecology alle distopie bene introiettate dalla produzione culturale di questi anni.
Oggi la Gorgun, intenta ad ultimare il dottorato in Sonic Arts presso l'Istanbul Technical University's Center, sposta l'asse concettuale verso un quesito parallelo – ma questa volta di estrazione ontologica, diremmo – alla riflessione eco-politica manifestata in Perfect Lung. Con Ecce Homo, edito ancora da Touch, Gorgun interroga sé stessa sui diversi aspetti della psiche, sul comportamento dell'Uomo e sulla sua esistenza, facendo leva sulla tendenza umana a oscillare tra bellezza e distruzione, progresso e declino, Bene e Male. È questo l'universo concettuale che innerva l'intero Ecce Homo e lo rende spiazzante, vagante, sospeso tra abrasioni avvelenate ("Afterburner", "Tserin Dopchut", "Knightscope K5"), illusorie stasi ambientali piene d'inquietudine ("Neroli", "Seneca") e registrazioni trasfigurate (il cinguettio sotto aggressione nel doppio atto di "Le Sacre" oppure l'audio-meme di "Bohemian Grove", che distorce la voce del complottista Alex Jones). Menzione a parte va fatta per la conclusiva "To Cross Great Rivers", un drone che congiunge e disgiunge le sue componenti; ma anche, nelle parole dell'autrice confidate alla rivista Fact, un'ode all'infinito sogno umano di controllare, capire il mondo e agirvi dentro.
Ora astratto come un esperimento di musica concreta, ora definito al dettaglio, traslucido quasi fosse una variazione sul tema dell'elettronica high-tech dei giorni nostri, Ecce Homo è un album dispersivo e disorientante, tanto che sarebbe lecito intravedere in Ipek Gorgun, e in questo suo ultimo parto, un'eccessiva incertezza tra i vari poli su illustrati. Di certo, che sia o meno un punto a favore, non è il solito disco marchiato Touch. [Davide Ingrosso]
Sentireascoltare (Italy):
Originaria di Ankara, Ipek Gorgun si è sempre interessata alla musica, tanto che le sue prime apparizioni risalgono addirittura ad una decina di anni fa in alcune band della scena locale: Ecce Homo è invece il suo secondo disco solista e arriva mentre la producer e compositrice completa il proprio dottorato in Sonic Arts alla Istanbul Technical University's Center. Sviluppato nel corso degli ultimi due anni questo sophomore-album esce per Touch dopo che l'esordio del 2016, l'autoprodotto Aphelion, aveva acceso i riflettori sull'artista turca, portandola anche a collaborare con il canadese Ceramic TL (meglio noto come Egyptrixx) per l'oscura psichedelia elettronica ispirata ai cambiamenti climatici dell'acclamato Perfect Lung.
Questa volta però Ipek Gorgun si concentra non sull'ambiente ma sull'uomo, sui diversi aspetti della sua psiche, sulla sua capacità creativa, per cercare di scoprire cosa si nasconda all'interno oltre alla mera anatomia: un'impresa non semplice, ma anche il pretesto per addentrarsi nelle più diverse soluzioni soniche. È infatti Ecce Homo un album che, pur muovendosi sempre tra ambient elettronica, field-recordings e diverse intuizioni dell'avanguardia novecentesca (su tutte il lavoro coi nastri di Pauline Oliveros, omaggiato chiaramente nella vorticosa Afterburner e in una Bohemian Grove che rielabora, distorce e moltiplica addirittura un discorso del complottista americano Alex Jones), si dimostra decisamente vario: l'iniziale Neroli esplicita sin dal titolo l'omaggio all'Eno più placido, mentre Tserin Dopchut e la pulsante Knightscope K5 si avvicinano più al noise elettronico del luminare Carlos Giffoni; ma sono le due brevi parti di Le Sacre (dove registrazioni del cinguettare di volatili sono progressivamente infettati da striduli fischi elettronici) e soprattutto la conclusiva e profondissima To Cross Great Rivers a rappresentare i momenti più alti dell'opera.
C'è un leggero slittamento percettivo in Ecce Homo: dall'inchiesta sull'umanità dichiarata inizialmente, l'opera muta in un viaggio di scoperta, un percorso anche tormentato, ma che sorprendentemente si conclude con note di speranza. [Nicolò Arpinati]
Truants (net):
Ipek Gorgun has featured here before, so there's little need to go deep into her history. In brief, she has played in rock bands, taken part in the Red Bull Music Academy, made music with Ceramic TL and completed a PhD in Sonic Arts. Very brief. She recently released her second album, Ecce Homo, and it's a crystallisation of her efforts to date. Opener "Neroli" – named either for the essential oil of the bitter orange tree or a 1993 Brian Eno album (or both, or neither) – flourishes like a bright organ song on a spring morning, somehow both joyful and insidious in how it offers its welcome. Looped glistening harp notes feed terror and uncertainty, forward and reverse, like the time-lapsed opening and closing of the flowers that appear on the album's cover.
Tracks feature strange vocals in unknown languages, unknown to this writer at least. "Afterburner" moves from pitched-up male sounds into the building drone of the titular flight. "Tserin Dropchut" (more unknown words/languages?) features beautiful sounds that are undermined by distorted clipping, as well as throbbing bass that kicks down into your chest. Like being at a show where the levels are off in every direction, but in a good way. "Bohemian Grove" features the voice of right wing-fantasist Alex Jones, speaking about the supposed occultist tendencies of the eponymous campground. His words are repeated and looped over dark and muted bass tones. The word "Satan" is played over and over, Jones's voice stretched and squeezed in tape-like format. It's darkly comical, his paranoia rendered parodic. His almost prurient interest in this "twisted behaviour" becomes twisted itself, any demon worship rendered seductive and intriguing opposed to his conservative finger-wagging. This is an art piece, and his voice sounds many decades old, when in fact the recording is from 2000. It's a heightened take on puritanism, reminiscent of Mylo's "Destroy Rock & Roll", only less danceable.
"Seneca" features muted melodies that could be built from old-timey jazz records, while "Reverance" pits beautiful electronic bells against unsettling piano themes. "Mileva" – potentially named for Mileva Marić, a Serbian mathematician who studied under Einstein and later married him – continues the thread of dark tones, strange distortion, deep bass and overall dread. Gorgun's work is fascinating in that it can leave a startling impression without lodging specific memories in your head. It's a feeling. Bar the opening notes of "Neroli" and Jones's deranged ranting in "Bohemian Grove", it's hard to think of single elements once the music stops playing. Whether that means the work is successful – in that it forces you to return and pay attention – or not – because it's not memorable – is a question of perspective. Ours is that it works.
Resident Adviser (USA):
The Turkish artist opens new temporal and textural dimensions on this immersive ambient LP.
We're often drawn to ambient music for its fluidity. Compositional guidelines can be broken down to create soundscapes in which the listener is able to detach from ordinary understandings of space and time. As a Ph.D student in Sonic Arts at Istanbul Technical University, Ipek Gorgun is intimately familiar with this phenomenon. "I enjoy hearing sonic components that open up to new temporal dimensions," the sound artist, poet, and photographer once said. "And I'm still obsessed with the idea of a never-ending present tense that we keep chasing while making music. No matter how hard we try to hold on to a musical gesture, it always ends up being past."
On her second album, Ecce Homo, Gorgun explores sonic and theoretical motifs she's only touched upon before, to striking effect. 2016's Aphelion was comprised mostly of ominous tones. Last year's collaboration with Ceramic TL, Perfect Lung, was a maximalist full-length that riffed on environmental degradation. Ecce Homo falls somewhere between the two LPs. Its electroacoustic compositions drill deep into your brain, always with a creeping sense of physical and existential pressure.
Ecce Homo is tense and dynamic, changing from the micro (clicks, brief samples, single notes) to the macro (organs, concentrated filters, tenuous changes in melody) at a moment's notice. But the macro moments are where Gorgun really thrives. The grating strings and chaotic vocal ambience of "Afterburner" are terrifying in their intensity. The subtler "Tserin Dopchut" feels like a windstorm, moving suddenly from piercing frequencies to heavy static chaos. "Bohemian Grove" samples an Alex Jones film from 2000, in which the right-wing conspiracy theorist tries to sneak into an elite Northern California gentlemen's club to prove the existence of occult happenings. The track gradually becomes more glitchy and unhinged, to the point where Jones transforms into the satanic demon he's warning us about.
The LP's calmer moments are still heady. "Seneca" drifts with a glacial beauty. "To Cross Great Rivers" re-contextualizes the brightness from "Tserin Dopchut" and "Le Sacre I" into music that soothes and surrounds. Throughout the course of Ecce Homo, no sound consistently holds the same space, mood, or tone. Gorgun asserts this as her method from the outset—the album opener, "Neroli," refracts multiple facets of sound, like a slowly rotating crystal catching the light. Throughout the record, there are gestures toward what has already passed and what will eventually come. With its constant shifts in energy, Ecce Homo succeeds in opening up new temporal and textural dimensions. [Nina Posner]
Exclaim (Canada):
In the Christian New Testament, when Pontius Pilate presents Jesus Christ to a mocking crowd just prior to his crucifixion, he utters the words "Ecce homo" ("Behold the man"). Throughout the ages, an endless list of artists and intellectuals have turned to the scene and Pilate's words to interpret its complicated depiction of human judgment and understanding, and on her sophomore follow-up to 2016's Aphelion, Istanbul composer Ipek Gorgun invokes the phrase as a means to plumb "the lighter and darker shades of the human psyche, behaviour and existence, and humanity's ability to create beauty and destruction."
It's a uniquely anthropological pursuit, but as with Gorgun's debut and last year's collaborative release with Toronto's Ceramic TL, the subject of this record is an ontological one, with Gorgun endeavouring to "figure out if there is a true meaning to being human, and human being." Answering those questions with an expressionistic palette that oscillates gently between noise and ambient music, Gorgun plugs into the landscape while harking back to philosophy, science, mathematics, and current events to place these consuming compositions in a variety of emotional contexts.
After taking a sound bath in the lapping, glowing tones of album opener "Neroli" — think Eno's iconic Windows startup sound struggling to assert itself through the fragmented lens of the pastiche digital present — "Afterburner" thrusts the action into overdrive, a subtle grinding noise growing to overcome a series of voices to manifest in an awesome, supersonic crescendo, the sheer spectacle of its force implying the jet fuel injectors for which the track is named.
That display of man's brazen dominion over nature is sharply contrasted with the anxious searching of "Tserin Dopchut," where what sounds like it could be a field recording of a nature scene turns dark as chirps and croaks are abruptly manipulated into something menacing and violent, blurry squalls of snowy noise flooding your ears. It's a reminder of the essentially tenuous position we occupy in the world, but with the track's reference to a Siberian toddler that grabbed local headlines when they wandered coatless into the frigid, wolf-filled taiga, subsisting for three days only on a small supply of chocolate and the protection of a dog and two puppies before — amongst search parties of hundreds — his uncle found him and brought him home, there's a nod to the persistence of the human will.
For Gorgun, being human is to hurtle headlong into conditions we cannot control, but with a propensity to adapt, affecting and incurring external trauma along the way.
The juxtaposition of these tracks with a collection of pieces addressing the corroded coexistence of humanity in the album's latter half provides a compelling look at how we define ourselves in relation to others through class, ritual and technology, reducing the inflammatory conspiracy mongering of Alex Jones into a brain-melting collage on "Bohemian Grove," while "Knightscope K5" — named for a Silicon Valley security droid — paints an increasingly hostile portrait of regulation, surveillance and data collection with oppressive blasts of noise.
A challenging listen full of shifting, ephemeral environs marked by harsh, disrupting events, it's a deeply unsettling record about our ongoing becoming, and perhaps the science fiction soundtrack our brave new world deserves. [Tom Beedham]
indierockmag (France):
Héritière des expérimentations microambient foisonnantes de Cindytalk chez Editions Mego dont on retrouve ici le goût pour les stridences oniriques et radiantes (Neroli), la musicienne d'Istanbul s'intéresse aux rapports entre musicalité et chaos, humanité et destruction sur ce deuxième album dont la beauté semble se désintégrer à même nos tympans, comme sur Tserin Dropchut aux sonorités cristallines phagocytées par une noise analogique vorace ou Le Sacre II avec ses réminiscences bucoliques en déréliction. Incorporant des field recordings, notamment sur l'étrange Afterburner qui en fait une cacophonie de fin de monde ou le dystopique Bohemian Grove aux monologues triturés, Ecce Homo impressionne par un sens du contraste qui culmine sur Knightscope K5 dont les nappes éthérées sont comme assaillies par des tourbillons bruitistes et bourdonnants, tandis que sur Reverance l'électronique déstructurée laisse soudain place à un piano néo-classique atonal et hanté.