CD – 7 tracks – 41:44
OZMOTIC is a multidisciplinary artistic project, deeply fascinated by the dynamics of contemporary society, by architecture, cities and vast uncontaminated spaces.
OZMOTIC creates world sounds characterized by an intense tonal variety and a refined rhythmic research. The interaction between electronic music and digital visual art in
real time is an essential trait of OZMOTIC's aesthetic.
Having previously collaborated with Fennesz, Murcof, Bretschnider and Senking, "Elusive Balance" is their third album, following "AirEffect" in 2015, and "Liquid Times" in 2016 (both for FolkWisdom). OZMOTIC now release their debut album for Touch.
Mastered by Denis Blackham
Artwork & photography: Jon Wozencroft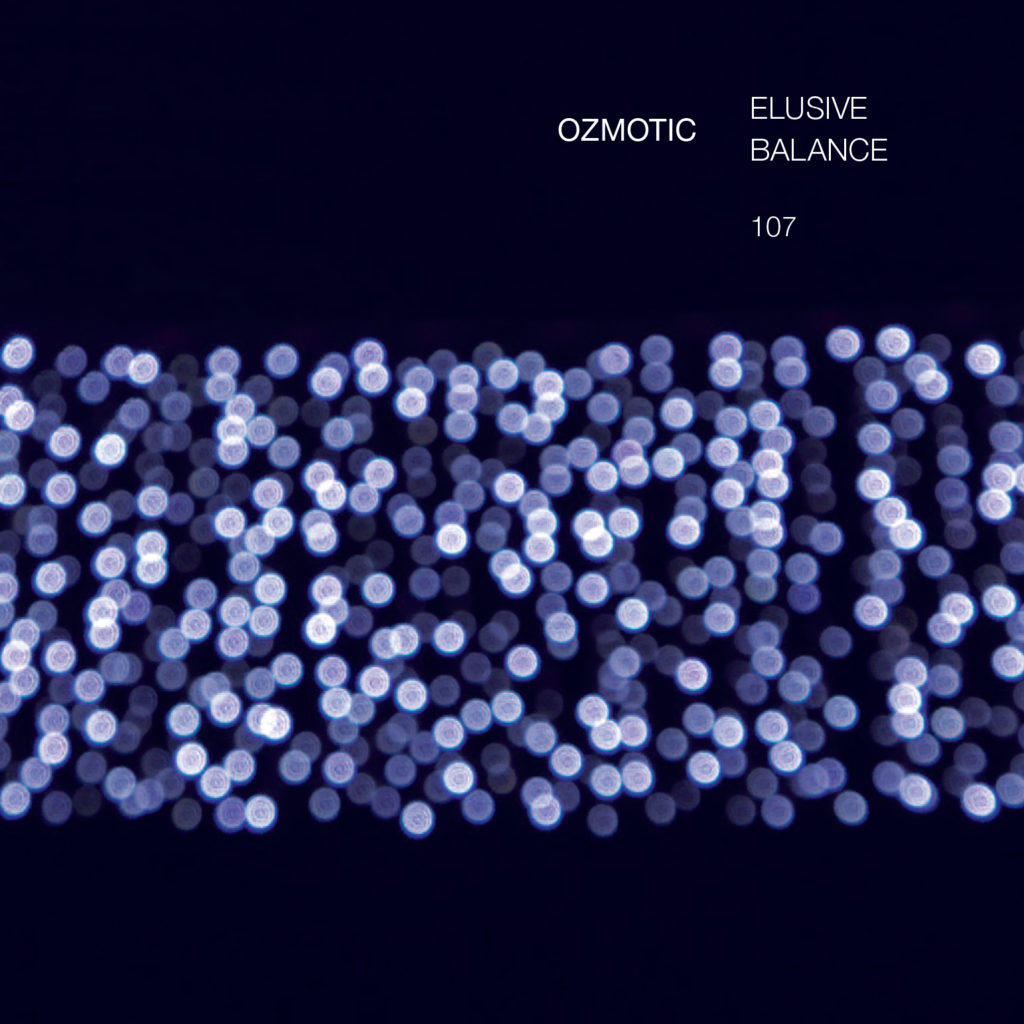 Track listing:
1. Elusive Balance
2. Hum
3. Pulsing
4. Lymph
5. Being
6. Whisper
7. Insecting
CONCEPT
"Elusive Balance" explores the relationship between humans and nature, as well as the search for balance between these two great entities.
The theme of equilibrium and its precariousness, and its natural tendency to achieve relative stability connects all living things. Equilibrium is also a junction point and evolutionary engine – unstable and elusive, ready to deteriorate and to start a new reaction mechanism bringing organisms to a new harmony.
"Beauty is a rare and fleeting thing; it oftencorresponds to those phases where we can grasp that unstable equilibrium which exists between us and the world at large."
THE ALBUM
Musically the album seeks resolution of sound contrasts, in a continuous search for an emotional component that gives simultaneously a feeling of tension and stillness.
There is a duality between the 'organic'components (represented by soprano sax and percussion) and their interaction with machinesand computers.
In "Elusive Balance", OZMOTIC investigate the essence of their sound to expand its emotional and compositional potential. Each track contains a search for a synthesis between sound elements apparently distant from each other, but in reality create a new balance – as poetic as it is musical.
The album's seven tracks draw a sonic flow in which the melodic aspects are countered by glitchesand angular sounds, and the ambient passages are subjected to heavy rains of rhythm, leaving space for dreamlike moments.
Reviews:
FBI Radio:
On their new album Elusive Balance, the Italian duo of Riccardo Giovinetto & Simone Bosco (known for collaborations with Fennesz and Murcof) explore the dividing line between human and nature, with ambient sounds colliding with frenetic stuttery beats, high-pitched electronic interjections and melodic saxophone… Elusive indeed, but utterly compelling.
Toneshift (USA):
After several collaborations, Italian duo OZmotic is perched to release their sophomore effort, Elusive Balance (Touch; CD/DL) on July 6. The recording is comprised of seven tracks, all under eight minutes which they describe: "explores the relationship between humans and nature, as well as the search for balance between these two great entities." This being the great balance in so many soundworks and contemporary art of late, the call for change and understanding is internationally broad. The album's title track begins in total silence, and begins with a synthetic drone, minimal hiss and small electronic bleeps and flutters. The atmosphere is cool and detached, until a sweeping soprano sax enters. It's voice is silky and clean, yet effuses an emotive consternation.
Moving into the next track, Hum, the space is vast with sweeping, drawn out synths and barely audible bright tones that are cordoned to the edges. They are capturing a sketch, an audio version of our changing Earth, hoping to define a kind of collective metamorphosis that occurs almost unconsciously. Operatic voices elusively emerge from the background and this recording finds its sweet spot early on in a seamless transition between contemporary electronics, to opera, to the field recording of birds charmingly chirping away. They explore the contradictions between the virtual and the real. And just as the transitions within the track are impressive, as is the passage into Pulsing. It's moody and transparent until becoming something plot-like. The meandering sax, micro percussion and other effects make this a neon-lit all-nighter. Some may call it space jazz – not at all to be confused with the leanings of say, Sun Ra. It's got it's own flavor, blended with the smoother side of jazz razzmatazz.
Elusive Balance is endlessly listenable, and doesn't go too dark or light, kind of coasts in this glossier space of electronic music that just stays neatly under the radar of categorization. Lymph is one of those transitional tracks that gets slightly lost in the mix. It's a midpoint in this exploration, and as such reads as a view from the scenic long road trip. When they roll out the dusty Whisper the atmosphere is pin-drop, slow and low. It's a gorgeously twisted ambient work in many shades of gray. The nebulous drone is quite breathtaking, as they briefly augment with those remote disembodied voices once again – it's by far the highlight of the album, and separately could effortlessly be woven into a piece of cinema.
And then Being shape-shifts the sound/space on the recording, with starts and stops and the pitter-patter of microelectronica atop a sweeping sax line. The overtones of classical, jazz, and contemporary digital music are a bit odd at first, but the deeper they go, with timing and editing, the combination just makes a new kind of sense. Finally, wrapping things up on Insecting, when a low rumble is met with variegated drone and other flash glitch tones that are quite potent. The buzzes continue, like an alarm set on a bank vault. Something is hatching, something is breaking – it's a very exciting, dramatic conclusion. Grab some additional details about the record here. [TJ Norris]
sherwood.it:
Riccardo Giovinetto e Simone Bosco ovvero Ozmotic, un duo che coglie l'essenza del suono e la traduce con un liguaggio personalissimo che crea una sorta di osmosi – è il caso di dirlo – tra i suond artists/musicisti e l'ascoltatore. La ricerca dell'equilibrio tra il nostro mondo sempre più artefatto rispetto all'altro da cui proveniamo, la possibilità di rialacciare un rapporto con la natura abbandonata, sette tentativi di contatto che riescono a stordire e trasportare chi ascolta in luoghi altri, lontani ma stranamente familiari. Una miscela sonora che sorprende, ambient, minime tessiture glitch appena accennate, drumming programmato, la voce narrante di un sax soprano che commuove e rende viva, umana questa esperienza sul confine tra poesia e lampo digitale. Questo è il terzo Ozmotic e il primo stampato sulla prestigiosa etichetta Touch; solo i migliori esploratori possono permettersi tali imprese.
pastemagazine.com (USA):
Electronic and instrumental duo OZMOTIC have announced their upcoming album "Elusive Balance" which is set to drop on July 13 (USA) via TOUCH. Comprised of Simone Bosco and Riccardo Giovinetto, the duo has received support by notable publications Resident Advisor, Fact Mag, UNCUT, Noisey as well as radio play from BBC Radio 3. Bosco and Giovinetto have collaborated individually and as a collective with the likes of Christian Fennesz, Murcof, Senking, Bretschneider, William Parker, Mary Halvorson and Murcof, just to name a few. As individuals, they represented Italy in the International Biennial of Sarajevo, won the "Movin 'up" award of the Italian Ministry of Culture and conducted 80 percussionists in the opening ceremony of the XX Olympic Games at Teatro Regio di Parma, Turin, broadcast worldwide, a popular theatre which has hosted extraordinary performances by legendary artists such as famed opera-star Luciano Pavarotti.OZMOTIC are an innovative duo with extensive musical affiliations. Also having performed at festivals such as Todays Festival, State-X Festival, also at the prestigious Army Theater in Sarajevo, Petrozavodsk Theater and Corner Exchange in Turin.Inspired by ambient to techno and instrumental music, the duo was established in Italy and have been experimenting with electronic sounds that can be characterized by intense rhythmic research, tonal variety as well as visual art. Using their extensive musical techniques to work with actors, performers and digital artists to integrate visual art and audio video concepts to give their performances a deeper dimension.Drawing influences from artists such as Bjork, Miles Davis, Steve Lacy, Pan Sonic, Chris Watson amongst others, OZMOTIC's style could be compared to artists like Alva Noto, Boards of Canada and even hints of Jon Hopkins, or rather a cohesive blend of all three. With an impressive list of skills the duo have also collaborated with Fennesz ("Air Effect") – Senking (remix in 'Liquid Times') and Frank Bretschneider (remix in 'Liquid Times') and have hypnotized fans with their artistry of cinematic layering and electro infused ambient sounds. Their use of an array of electronic equipment paired with mixing different genres like IDM, noise and jazz create a unique sound that expresses OZMOTIC's true form.OZMOTIC give insight into their upcoming LP, commenting, "'Elusive Balance' explores the relationship between humans and nature, as well as the search for balance. Equilibrium is a junction point and evolutionary engine – unstable and elusive. Musically the album seeks of resolution of sound contrast, in a continuous search for an emotional component that gives simultaneously a feeling of tension and stillness." [Daphne Gilden]
Clash (UK):
Production duo Ozmotic create small but wide-ranging incisions in electronic music. Continually probing for fresh ideas, the pair have stumbled across a sound that is both immediate and penetrating. Currently working on a full length album (order LINK), the duo – Simone Bosco and Riccardo Giovinetto – apply years of experience to each project they undertake. Languid new piece 'Elusive Balance' opens with minimalist electronics, the stuttering, at times almost chaotic, approach linked to modern developments in classical music. The pair explain: "'Elusive Balance' explores the relationship between humans and nature, as well as the search for balance. Equilibrium is a junction point and evolutionary engine – unstable and elusive. Musically the album seeks of resolution of sound contrast, in a continuous search for an emotional component that gives simultaneously a feeling of tension and stillness." An engrossing and highly moving piece. [Robin Murray]
Blow Up (Italy):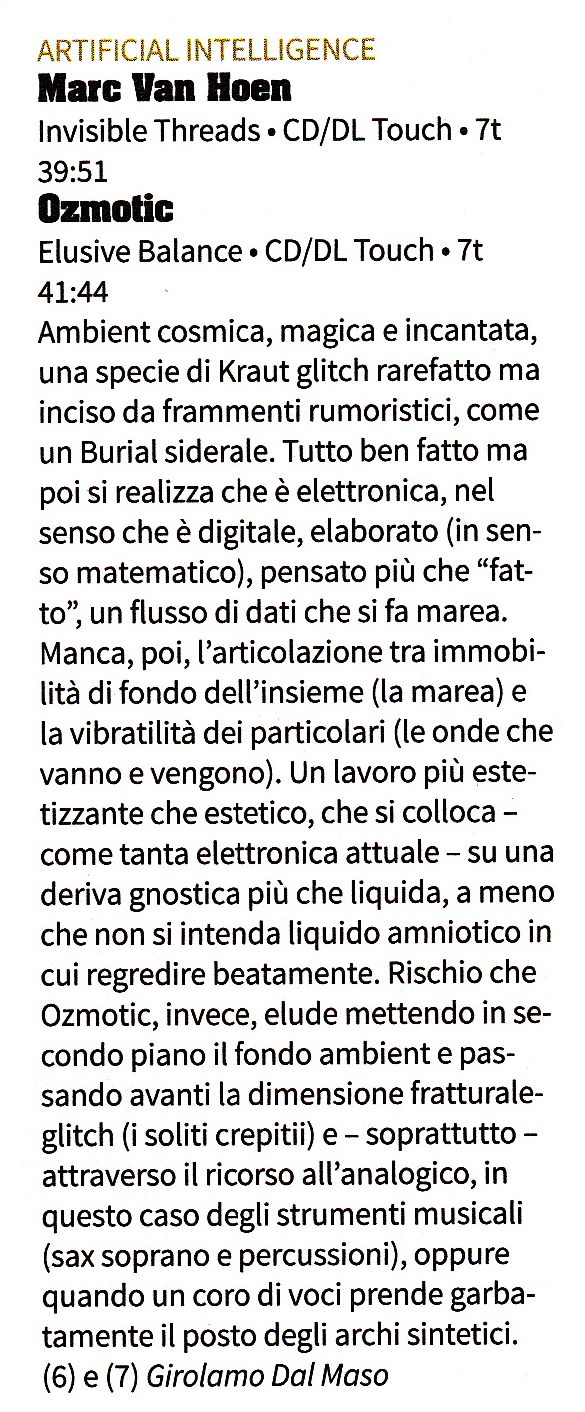 Bad Alchemy (Germany):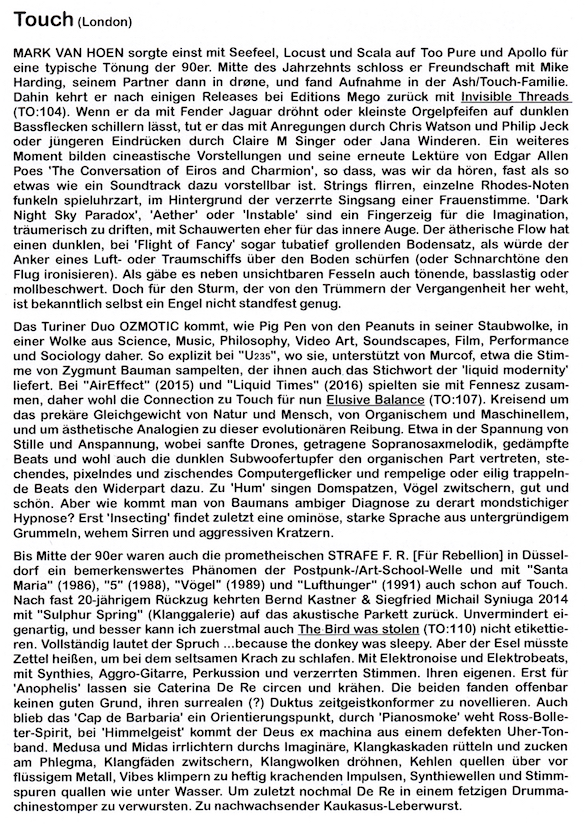 Chain D.L.K. (USA):
The balance of "Elusive Balance" lies in blending bold, slow soprano sax playing and some percussive elements against rapid electronic glitches, cold sci-fi synth atmospherics and drone pads in a way that works and doesn't just sound like two styles of music trying to occupy a single space. And by and large, it's a balance well struck.
At times, it's very familiar synth-ambient material. "Hum", with its cool choral-vocal ahhh sounds, muted melodic strings, and digital clicks like distant radio signals in deep space, is well-worn territory, but handled very smoothly. "Pulsing" has shades of moody sci-fi gameplay soundtrack, especially when the subbass pulsing in question comes in after three minutes and adds an irregular-heartbeat-ish sense of mild tension. "Lymph" adopts a warmer mellower ambient flavour which then throws the spontaneous drum hits of its second half into a different style of relief.
Final two tracks "Being" and "Insecting" are both strong track and slight anachronisms, driven by some more rapid pulsing that catches you unawares just as you've begun to think of this as a going-to-sleep listen, as though creeping- slightly- towards the finale of a sci-fi horror affair- bht the dramatic denouement isn't included here.
It's a nicely packaged short album of sci-fi, soundtrack-y electronica with a great deal of polish and atmosphere. It maybe likes the unique elements (or the game tie-in licensing deal) that would bring it a great deal of attention, but nevertheless it's very strong. [Stuart Bruce]
Westzeit (Germany):

Amusio (Germany):
Auf Glitch folgt Richard Wright. Und dann wird "Wirkungsgleichheit" erzielt. Was ist das denn?! Das neue Album des italienischen Electro-Duos Ozmotic, das auf seinem neuen Album Elusive Balance (Touch/Membran) noch mehr auffährt (Chöre etwa), als ihre ohnehin berückenden Klanglandschaften benötigen würden, um sich der ungeteilten Wahrnehmung eines auf emotional wirksame Feinheiten erpichtes Publikums zu erfreuen.
Ob und inwiefern diese Freude von Dauer sein wird, lässt sich indes noch nicht prognostizieren. Doch die gekonnt unmodisch gewahrte Balance aus in leibhaftig ins Leben gerufener Bläsertätigkeit und auf Unaufdringlichkeit gepolter Digitalität lässt Überdauerung erhoffen.
Besonders gelungen erscheint der ans Nachtlicht gebrachte Impetus von Riccardo Giovinetto und Simone Bosco seine proaktive Ungezwungenheit und sachte Dezenz. Ohne dabei ins Seichte zu geraten. Nein, man hört gerne auf und reibt sich die Birne, wenn Ozmotic ihre liebenswerten Stiche setzen.
"Beauty is a rare and fleeting thing; it often correspondons to those phases where we can grasp that unstable equillibrium which exists between us and the world at large", meinen die Macher. Der Hörer sollte sich Elusive Balance für entsprechende Momente aufbewahren. So sie sich auch unverhofft einstellen, ändert dies nichts an der Güte eines traumhaft gültigen Albums. [Stephan Wolf]
Groove (Germany):
Der Wendepunkt, an sich dem Wohlklang in Noise und Schönheit in Schmerz umkehren, hat eine ganz eigene Faszination, die besonders Künstler*innen aus dem Dark Ambient-Genre magisch anzieht. Das Duo Ozmotic aus der norditalienischen Motorcity Turin spielt besonders gerne auf dieser Kippe. Ihr drittes Album Elusive Balance (Touch, VÖ 13. Juli) verwebt elegische Klänge, dunkelblaue Note aus dem Sopransaxofon, nach GAS– oder Celer-Rezept verwehte Klassiksamples und gewittrige Abstrakt-Beats mit mysteriösem Krach. Das Ergebnis ist wunderschön, aber nie zu schön. Es verbleibt immer ein Stachel, etwa Trommelfell wie Lautsprecher strapazierende hochfrequente Glitches und dunkel knuspernde Störgeräusche. Auf der Ebene von Sound und Produktion ist das wohl eines der besten (Dark) Ambient-Electronica Alben die je gemacht wurden. In all seiner nie vollständig befreit aufspielenden Schönheit wirkt das Album als Ganzes aber auch ziemlich ausdrucklos und inhaltlich beliebig. Eine Aneinanderreihung toller Sounds. Leidenschaft ohne Liebe.