Track list:

1. Part One
2. Part Two
3. Part Three

Reviews:

Nutida Musik (Sweden):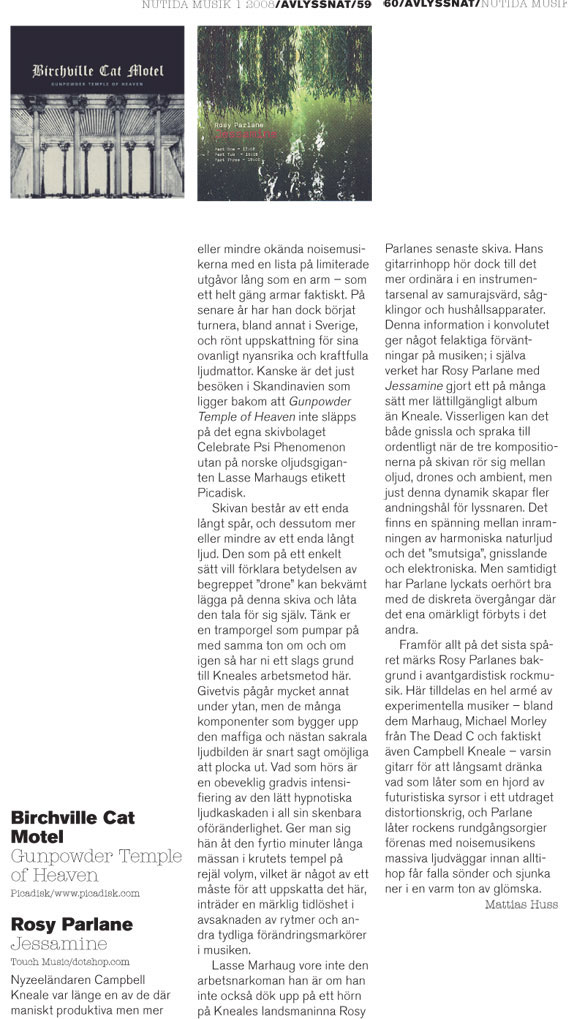 Mojo (UK):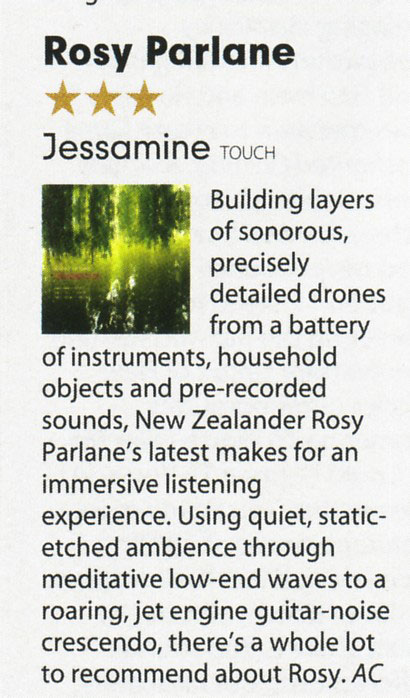 Paris Transatlantic (France):
He is mostly unsung and not overly prolific – his previous Iris dates from 2004 – but Rosy Parlane is one of the kingpins of slowly uncoiling, constantly changing drone music whose purposefulness is directly proportional to its smothering beauty. Divided into three movements, Jessamine was composed between 2004 and 2006, and features important contributions on the guitar front from Tetuzi Akiyama, Lasse Marhaug, Anthony Guerra, Michael Morley, Donald McPherson, Matthew Hyland, David Mitchell, Stefan Neville and Campbell Kneale. In addition, Marcel Bear designed and built "amplified sawblade" and "shimsaws" (and also plays the latter in the first section). Parlane recorded the tracks using a plethora of electric and acoustic instruments, bowed metals, radio, computer and field recordings, masterfully assembling and layering his sounds to create textures that range from organic to post-nuclear. After the leaden quasi-consonant sky evoked by the dirty electric mantra that is "Part One", listening to "Part Two" made me think of a fenced-off radioactive area attacked by sonorous weapons of destruction which we're forced to watch in awe. Especially here and in the third movement, whose apex is a monstrous, hypnotizing wall of distorted guitars, Parlane shows his ability to create mind-numbing atmospheres without resorting to fancy tricks; a consistent framing "tonality" is established, but it's what happens inside the frames that counts – and that includes extraneous noise, electrostatics, subtle deviations. Overall, the album's most alluring feature is its sense of imminence, of waiting for an event that might or might not happen. During this uneasy anticipation of what's still to come, various paths to possible harmonic wholeness are glimpsed; the onus of foreseeing and understanding the right ones falls on us. It took more than two years, but Jessamine was well worth the wait. [Massimo Ricci]
London Milk (UK, blog):
After a spell in experimental rock outfits Thela and Parmentier, New Zealand-born Rosy Parlane established himself as a sound artist with a series of releases for Sigma Editions and Synaesthesia. He has also collaborated with artists such as Fennesz, AMM founder Eddie Prevost and avant-garde musician Mattin. In 2004, Parlane joined the ranks of influential UK label Touch and released the magnificent Iris.
Following a similar template to the one applied to Iris, Jessamine is articulated around three distinct tracks clocking at over thirteen, sixteen and nineteen minutes respectively. Like its predecessor, this album is a fascinating journey through dense soundscapes built around a multitude of instruments (guitars, piano, melodica, violin, drums), various objects (sawblade, radio, computer, bowed metal) and field recordings, all blended into thick and complex drone-like atmospheric formations which continuously change texture, tone and feel as new layers are applied. Although intrinsically monotone and austere, Parlane's creations are extremely detailed, rich and evocative. Melodies may be almost entirely inexistent as such, yet there is undeniable musicality throughout, giving Jessamine a surprisingly pastoral and light appearance.
The album opens with shimmering noises layered over a scarce backdrop, but the piece becomes more vibrant as Parlane applies delicate touches. It takes a while for the track to settle, but just as it reaches its climax, it reluctantly begins to recede, lingering out for some time. There is much more grit in Part Two as interferences and environmental glitches continuously emerge from a seemingly orchestral cloud. After circling for a moment, they eventually evaporate, only to materialize once more in a condensed form toward the end. Part Three is perhaps the most rewarding composition here. While its first section gently develop over a series of soft and warm sounds, a wall of guitars progressively washes over before exploding into autonomous particles of distortion. As this cloud of noise comes crashing down, all is left is a single thread of sound which eventually brings this album to a close.
Parlane is responsible for the vast majority of the sound sources used here, but additional contributions from sound artist Marcel Bear on Part One, Japanese guitarist and violinist Tetuzi Akiyama on Part Two, and no less than eight guitarists, including Norwegian noise artist Lasse Marhaug and Dead C member Michael Morley, on Part Three. Yet, it is very much the New Zealander's vision that transpires throughout. Rosy Parlane has found in Touch his spiritual home and Jessamine is sure to continue establish him as a major artist.
Neumu (USA):
On his previous full-length effort, New Zealand sound sculptor Rosy Parlane used cycling guitar and organ patterns to erect mountainous drones and dense layerings. Spurred on by mite-like rustlings and frozen blocks of digital ice, they loomed off into a vertiginous, chromatic climb. John Wozencraft's immaculate blue-filtered photographs of snow-encrusted landscapes and silent stone buildings seemed to echo the album's mystique, and here on Parlane's second CD, his images once again prove telling.
The album's artwork features leafy foliage dangling over a murky pool, which reflects the dense pall of green. The album works in much the same manner, as subtle guitar dynamics stretch into tightly manipulated, gently expanding and contracting textures. In turn, a cluster of high-frequency tones and the soft thrum of an organ quickly mirror their movements, creating a fine sense of space and letting the sound grow wider and deeper.
This almost minimalist discipline continues on the second track, as composed, chiming harmonics and swooping feedback tones are gradually fragmented by the scuttle and trickle of field recordings. The crisp digital repetitions and sustained tones then begin to drift towards despondency — a steely-edged, roaring patch of noise suddenly attacks the errant drone before receding into the night.
Here, Parlane demonstrates restraint and delicacy of feeling. Although heavily manipulated, pieces proceed naturally, with each discrete element quickly responding and often building upon the subtle movements of the others, which themselves disappear and reemerge at key moments. There's a fine coordination on display in pieces both constant and disjunctive, diffuse and coherent.
At 19 minutes, the third and final track again builds up blocks of sound, then rearranges them to suit the mole-like burrowings and slashing shards of digital clicks and hiccups. The opening moments are serene, but the sounds of nature slowly encroach, joined by various string-scraping sounds, pointillist guitar plucks and hoarse feedback, turning the entire sound field into a mucky pulp. It's the most blistering, overblown piece Parlane has put together so far, and a fine highlight to his deceptively knotty sound.
Jessamine draws from Parlane's ongoing tendency to contrast arching drones with slivers of digital noise — which, in one way or another, often mimic animals or events normally seen in nature. But it also shows a new complexity, capturing his sound from new angles, bringing in jarring elements to create a tense balance. [Max Schaefer]
New Zealand Herald (NZ):
Sound experimentalist Rosy Parlane is better known in Europe and parts of America then here because there's a bigger market for the Aucklander's "abstract, electronic-based music". It's a shame because what he creates is inspired, exquisite, and although it takes patience to fully realise it, a work of art. Using loops, samples, piano, guitars and field recordings, he produces soundscapes of beauty and, if parts of his latest album Jessamine are anything to go by, destruction. For example, on Part 2 of Jessamine there's a resonator guitar being played with a samurai sword (courtesy of player Tetuzi Akiyama) and the searing ambience is lethal. His last solo album, Iris, which was released in 2004 and gained high praise from Red Hot Chilli Pepper John Frusciante, was an icy and brittle beauty. Put simply, Jessamine – a three part, 49 minute journey – has more movement. And just you wait until Part Three; a climactic 19 minute odyssey with contributions from eight different guitarists, including New Zealand's own Michael Morley (Dead C) and David Mitchell (3D's, Ghost Club). Admittedly this sort of music is not for everyone, and just plain odd to most. But for fans of bands like Jakob or Mogwai, and for those who appreciate challenging and beautiful music, it's well worth checking out. 4/5 [Scott Kara]
The Wire (UK):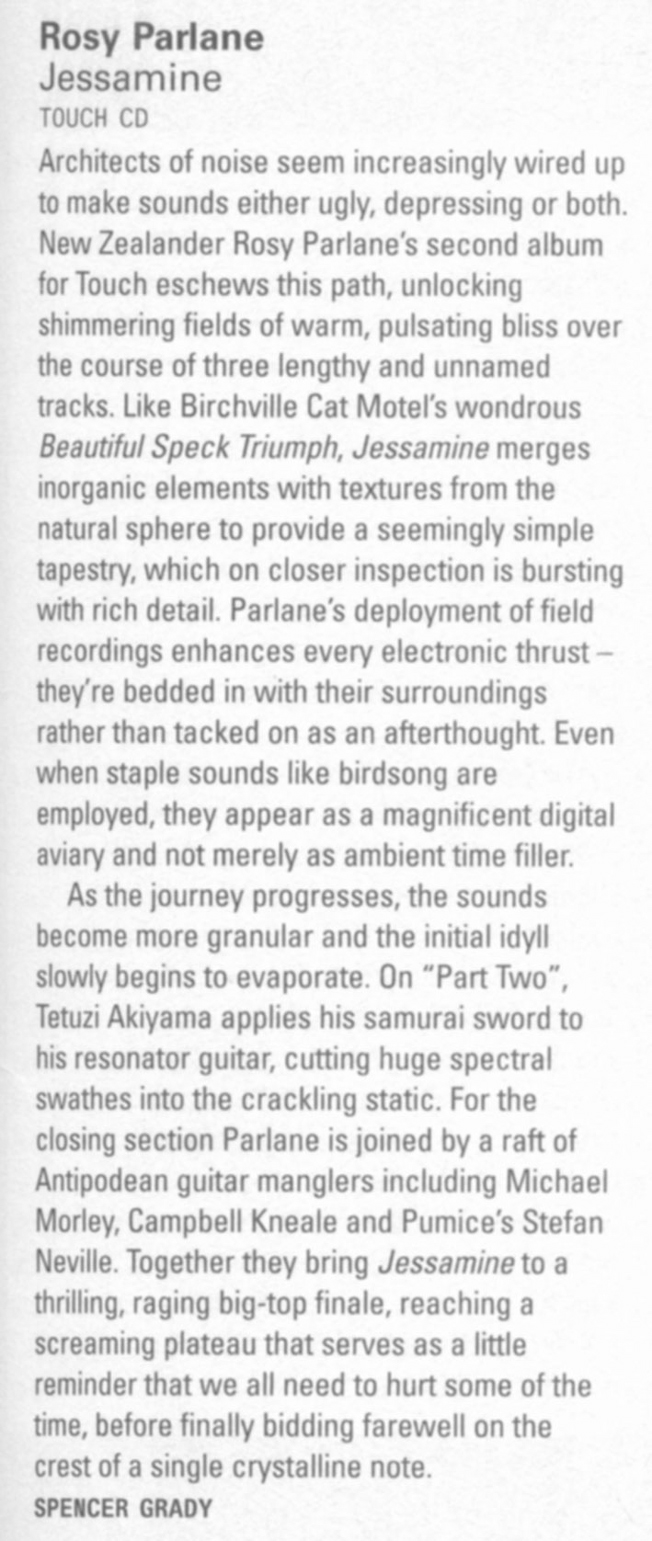 Other Music (USA):
Absolutely gorgeous drone piece from New Zealand's Parlane, coming off like Flying Saucer Attack intercepted in between field recordings and FM radio static. Thick, melodic, meditative sheets of noise drift down like sediment and rest upon one another, as Parlane manipulates guitars, saw blades, bowed metal, and various other instruments to a profound and disquieting effect. For the finale, the cream of New Zealand's guitar crop (including Birchville Cat Motel's Campbell Kneale, Gate/Dead C.'s Michael Morley, and 3D's David Mitchell) step in to contribute shimmering, dense waves of fuzz and feedback. Triumphant, dark, and all-encompassing soundscapes for the next journey inside your mind. [DM]
boomkat (UK):
New Zealander Rosy Parlane's second full length for the Touch label sees the musician taking a slightly different route from his revered 'Iris' album – where 'Iris' dealt with the more glacial end of the sound spectrum, 'Jessamine' sees him throwing caution to the wind and working with slow moving guitar-based dronescapes, occasionally venturing into ear-shattering noise. It's a acptivating move for the artist that sees him shuffle more in line with labelmate and occasional musical sparring-partner Christian Fennesz as the guitar becomes far more audible in the mix than it was on his previous work. Split into three parts, the album begins with a thirteen-minute piece of cascading digital detritus which drifts and pulsates glacially until, mid way through, organic sounds enter into scope. It is a welcome addition and brings the sound into the wet ground, mimicking the marshy landscapes of Jon Wozencroft's typically stunning cover art. Rather than bringing to mind frozen Northern European ice fields we are in baking heat, dragonflies buzzing past, brushing our way past reeds and watching carefully for Alligators. The album's second chunk builds on this theme still further, introducing a low end thrum which would give Sunn O))) a run for their money, again changing pace mid-way through to allow field recordings to creep in, this time of rainfall bringing to mind a tropical shower somewhere deep in the rainforest. It is the third act however which amazes the most, and brings focus to the entire record – slowly building over twenty minutes this starts simply enough with bubbling synthesizer sounds and decaying glitches but over it's duration the track builds and builds into a symphony of harsh noise, peaking in total cacophony at sixteen minutes before plunging into near silence. The track is absolutely mesmerising and is easily one of the most outstanding pieces Parlane has put his name to yet, polishing the album off in truly earth-shaking style. Yet another corker of a release for the crucial Touch label this should have experimental fetishists and noise aficionados beaming this Christmas. Huge recommendation.
rarefrequency.com (USA):
New Zealand's Rosy Parlane first popped up on the musical radar as one third of the psychedelic post-punk outfit, Thela, alongside Dion Workman and Dean Roberts. After a pair of excellent releases in the early 90s, the trio split. Parlane and Workman continued to work together, forming the Sigma Editions label, but their music changed considerably, shifting towards digital reductivism, and Parlane's work, both solo and in collaboration with Workman as Parmentier, became increasingly spare and minimal. In recent years, however, he has returned to his analog roots somewhat, creating shimmering, finely detailed drones. With Jessamine, his fourth solo record, Parlane continues down this musical path, but this time injects considerable sonic grit in the mix. Comprised of three, long, meditative pieces, the record, even during its extended periods of apparent calm, teems with activity. Parlane uses a multitude of sound sources and instruments from bowed metal to household objects, field recordings to acoustic and electric guitar to create his densely textured music. Each piece is an example of the beauty of subtle sonic evolution, but perhaps none more so than the third and final piece, which builds slowly and inexorably from pastoral tranquility until the listener is engulfed in glorious, crashing waves of guitar-based distortion (using samples from Norway's Lasse Marhaug and fellow New Zealander Campbell Kneale among others). Mind-bendingly beautiful. [Susanna Bolle]
Dusted (USA):
New Zealander Rosy Parlane's second effort for Touch embraces the broad outlines of music without conceding his orientation towards pure sound. Specifically, this record outs him as a child of rock; like Campbell Kneale (Birchville Cat Motel, Black Boned Angel), electric guitar racket is threaded into his artistic DNA, and here the strands push against the sonic surface until it bursts.
Jessamine comprises three unnamed tracks, as did Parlane's last album Isis; both albums consist of carefully treated sounds stretched against the sort of continuous backdrop computers are so good at providing. But where Isis was as chill and light as its icy cover illustration, Jessamine feels earthy. And while the earth, like ice, moves slowly, it's capable of much greater violence. "Part One" opens with a humming drone similar to Rafael Toral's Wave Field and the last minutes of Sonic Youth's "Xpressway To Yr Skull," then accumulates scrapes and groans that wouldn't sound out of place on a Mirror or AMM record. Parlane places and processes these sounds so carefully that you might not notice the natural progression from Prévost-like metallic protests to Neil Young-like feedback shrieks until it's a fait accompli. "Part Two" has less movement but a bit more grain and grit, with crackling static bubbling up through the bright foundational drone like nighttime mist rising off the damp ground.
High-pitched digital flickers flit across the opening of "Part Three" like birds' voices at the start of a new day. Then a violin rises in the mix, as though the listener was approaching a practicing Tony Conrad from around the hill, and the natural world yields to churning rock action. Throaty roars and fuzz tones accumulate, like cosmic matter flying into a black hole; eight guitarists, ranging from New Zealand vets Michael Morley and David Mitchell to noted non-guitarist Lasse Marhaug, bring the noise. And a glorious noise it is. But like all the best walls of sound, "Part Three's" is not monochrome, but rich in seething details that burst through like newly-hatched winged beings anxious to fly. Rock on.
[Bill Meyer]
Gonzo Circus (Belgium):
In onze contreien is de groep Parmentier nooit echt doorgebroken en heeft de groep rond Rosy Parlane en Dion Workman het enkel bij een select clubje van doorgewinterde kenners tot een cultstatus gebracht. Die status hebben ze te danken aan hun in 1998 verschenen meesterwerk 'Luxsound' die tot een standaardwerk van de moderne klassieke composities gerekend mag worden. Tenminste als we de biografie mogen geloven, want Parlane en Workman brachten 'Luxsound' op slechts honderd stuks en op hun eigen label Sigma Editions uit. De plaat werd gemaakt met een low-tech sampler en combineert op een uiterst inventieve manier drones, minimale soundscapes en modern klassieke muziek. De samenwerking tussen Parlane en Dion Workman dateerde al van bij Thela, een groep die vooral tot de verbeelding sprak omdat ze getekend waren op Lee Ronaldo zijn Ecstatic Peace! Label. Parlane zelf liet Nieuw Zeeland achter zich en vond een onderkomen in Engeland waar hij in contact kwam met Mike Harding en Jon Wozencroft van het Touchlabel. 'Iris', zijn debuutplaat voor het label paste wonderwel in catalogus van het gereputeerde Touch. De fragiele, mooi vormgegeven soundscapes die haast organisch evolueren tot een levend landschap konden op veel bijval rekenen en zorgde ervoor dat Parlane John Frusciante tot zijn fanbasis mag rekenen. Met 'Jessamine' neemt hij draad weer op. Over een periode van twee jaar werkte Parlane aan de plaat en engageerde een trits muzikanten, waar Tetuzi Akiyama en Lassa Marhaug de bekendste van zijn. De hoesnota's geven ook mee dat onder meer een samoeraizwaard, huishoudapparatuur en een viool tot het instrumentarium behoorde. Het uitgelezen arsenaal aan middelen en aan mensen, Parlane engageerde tien muzikanten en meer dan zestien muziekinstrumenten (of afgeleiden) voor zijn project, mondt uit in een uiterst sobere plaat. Alsof alles verdampte in de atmosfeer die Parlane hier creëert. Parlane opent rustig met 'Part One', vaak lijkt het alsof hij nog zijn weg zoekt en eerder aftast dan duidelijke keuzes te maken. In het tweede deel bouwt hij verder op het eerste luik. Magistraal is vooral het derde gedeelte waarin hij op een haast verborgen wijze stap per stap elementen toevoegt, eerst wat resonantie, daarna enkele niet toe te wijzen geluiden (de keukenrobot?) om vervolgens in een orkaan van geluiden aan te komen waarin Parlane de rol van gids voor zijn rekening neemt. Overvol, maar evenzeer heel open, maar misschien vooral het mooiste stuk muziek dat we sinds lang hoorden. We hebben meer dan twee jaar moeten wachten op een vervolg, het bleek de moeite waard te zijn. Voor fans van het werk van Fennesz, Biosphere, Oren Ambarchi of Deathprod is dit met voorsprong de plaat van het jaar. [PDS]
VITAL (Netherlands):
A little over two years ago, Rosy Parlane, made his debut on Touch with 'Iris', following solo releases on Sigma, and a membership of such bands as Thela and Parmetier. Three tracks back then, and on 'Jessamine' again three tracks. Rosy plays here electric and acoustic guitars, piano, melodica, accordion, violin, trombone, snare drum, shimsaw (an instrument designed by Marcel Bear), bowed metal, household objects, field recordings, radio, computer and contact microphone, and if that isn't enough there is also help from a whole bunch of people who played guitar. The first track starts out in common territory: ambient glitch made with bowed guitars, violins, but Parlane's music is more angular. It has a sharper edge, already in this first piece. Even a bit of old Organum could be traced in these scraping and bowing sounds. It's hard to say if all the instruments mentioned on the cover are also there, but guitars are definitely there. In the loudest part, 'Part Three' things become orgasmic loud, almost in a Merzbow manner, but Parlane keeps things nicely under control. Overall, Parlane has a richer sound than on 'Iris', there is more happening and he is stepping out of the more safer microsound glitch. Quite a leap forward! [FdW]
OneLouderNYC (USA):
It's Epic! Rosy Parlane's "Part 3"
Do you have 20 minutes to spare? Rosy Parlane's "Part 3", the denouement of his second album Jessamine, is time well-spent. In over a quarter of an hour, Parlane moves the track from the blissful sound of the pop and crackle of a needle on a dusty record to a menacing storm of sound. It's a stunning composition, never boring or incidental.
It may be dominated by a cacophonous meltdown, but "Part 3″'s peaceful beginning is just as interesting. Specks of sound flitter from ear to ear. In the distance, a mournful whistle descends down the spine, chills left in its wake. It's a warning. This idyllic moment will come to a violent end.
The onslaught begins around the 8-minute mark. A white wave of noise slowly builds and surges to utter chaos, thanks to the contribution of eight guitar players and the augmentation of amplified sawblades and shimsaws. If all-absorbing sound is your thing, the next 11 minutes is nirvana. You may start praying for it to end; relief does come on just at the brink of insanity. Parlane ends the track as it began, a quiet moment wrapped in the analog crackling of an old record.
Blow Up (Italy):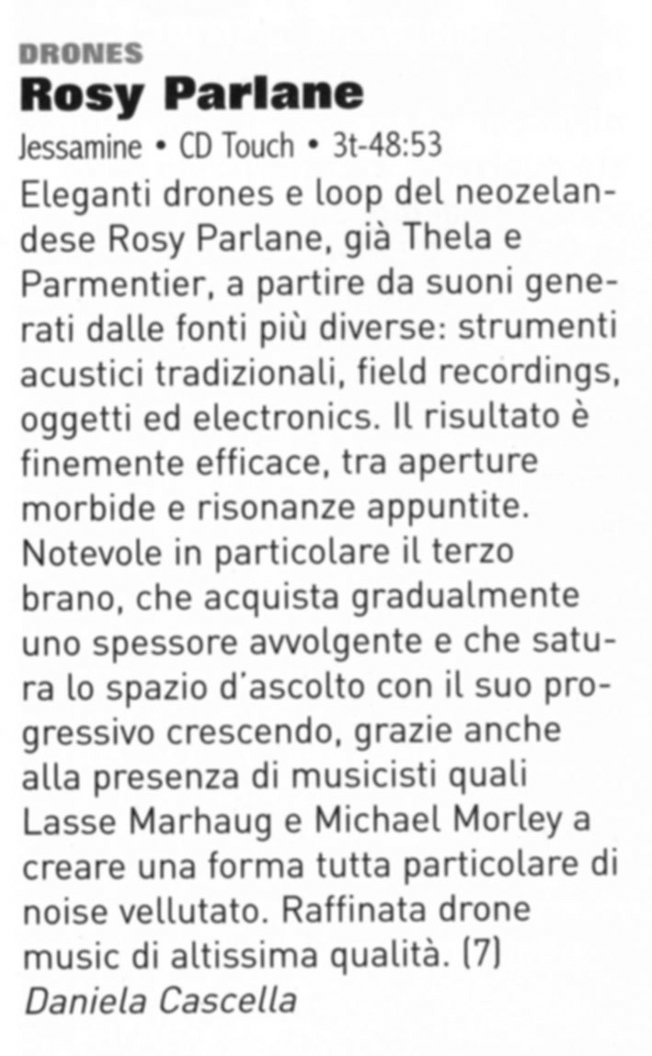 All Music (USA):
Rosy Parlane's second solo effort on Touch doesn't have anything to do with the Portland space rock outfit that also used that name, but Jessamine, divided into three parts on the disc, does share a similar affinity for the exploratory, moody, and mysterious – no bad things in the right hands. Again recording everything by himself for the most part along with some contributions here and there – notably including no less than eight guitarists on the third and final part, whose contributions are used by Parlane in the overall mix – Parlane's constructions balance the evocative, wasted hush of any number of ambient doom mongers and the evanescent grace of those inclined to a warmer, enveloping feeling. These aren't unfamiliar fields by any means, but Parlane's gift lies in his ear for slowly unfolding arrangements – rather than simple loops or monotone constructions, the feeling is one of organic evolution, tones, cries, and drones interlocking and developing in slow progression. Certainly this is the feeling of the first part in its entirety, with Marcel Bear's guest shimsaw work sometimes cutting through the mix with a high-pitched scream, softened and slowed. In notable contrast is the second part, which is almost barely there – not minimalist but simply minimal, the subtlest of high tones starts to evolve into a full flowing interweaving of lighter but still vast sounding drones, ending on the calmest of notes. The third part, as noted, attracts attention for its personnel alone (participants include Michael Morley and David Mitchell), but deserves it most for its excellent valedictory feeling, wrapping up the disc almost as an extended coda of calm tone-float. The guitar feedback starts to grow and grow more audible a third of the way into the song, transforming the piece and thus the end of the album into a simultaneously serene and extremely violent conclusion – a balance of extremes that combines excellently. [Ned Raggett]
Almost Cool (USA):
Like his previous album Iris, Jessamine finds electronic artist Rosy Parlane creating three long, untitled tracks that mix pretty flutterings of ambience with downright harsh bits of noise for a nearly fifty minute journey through sometimes pastoral, and sometimes uneasy listening. It's possible that I'm reading into things too much, but it seems that once again the packaging on the release ties very closely with the music itself. Iris was all blue hues and snow, and the sometimes icy, sometimes billowing musical portraits seemed to match up with the cover art just about perfectly.
This time around, the cover art is green, and while the music of Parlane still has many things in common with his past release (slowly evolving pieces that build and bloom slowly, sometimes crackled by feedback), Jessamine has an organic feel that again ties to Wozencroft's photos of a dense jungle and lush foliage overhanging murky green water. Parlane plays electric and acoustic guitar, piano, melodica, accordion, violin, trombone, and loads of other household objects, but as always the resulting mass of sound barely lets anything through in original form.
"Part One" opens the release and at thirteen minutes is the shortest on the disc. The first third of the track finds some gentle drones morphing underneath a higher, ringing tone before the piece opens up about halfway through with lighter hums and some organic noises that vary between the crackling of insects and the quiet sound of water. "Part Two" opens where the first piece left off, with lower drones that again introduce some field-recording type sounds that come in somewhere between the flickering of a hard fire and what you'd imagine the inside of a wasps nest to sound like. The track again shifts about halfway through, into a much more dark section before a high-pitched squeal of noise punctures the spooky drone and then crawls off again.
In terms of sheer dynamics, it's "Part Three" that gives the most bang for the buck, as a beautiful introduction of phases chatter gives way to encroaching feedback that lulls you at first and then completely sandblasts the track in a way that would make Kevin Drumm throw the devil hands. In many ways, Jessamine reminds me of the work of Francisco Lopez, who samples different sounds of nature and then turns them into sometimes glorious, sometimes downright scary pieces of sound that manage to retain a portion of their organic feel, but are pushed into new and otherworldly territory with the use of filtering and layering. An album that can really only be appreciated on headphones or when played loud, Parlane is definitely a fine sound technician. It's definitely not for everyone (and even with the changes is a little too uniform overall for my taste), but power ambient fans should lap this up.
Gonzo Circus (Netherlands):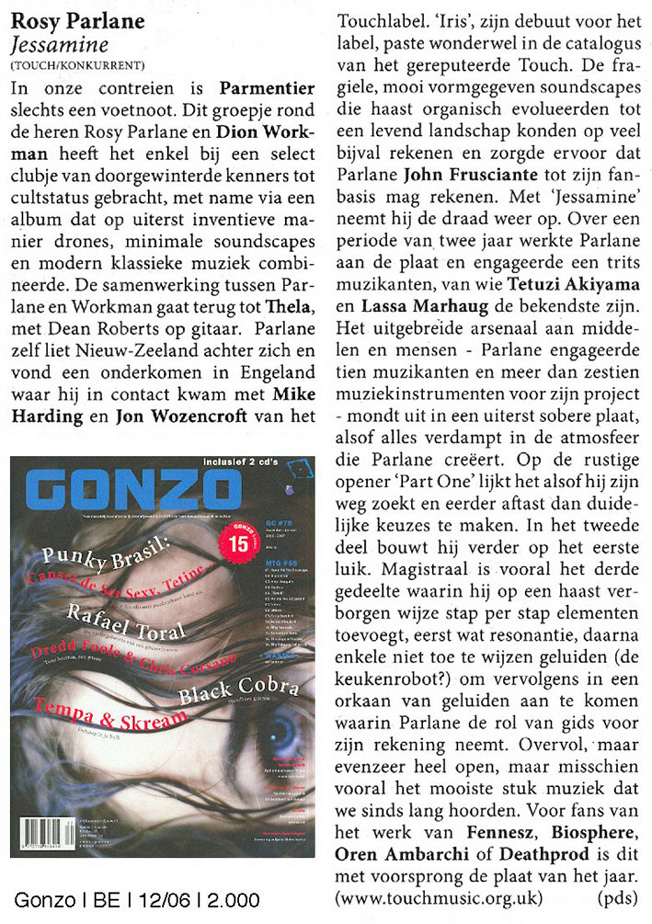 Musciclub (Italy):
Il neozelandese Rosy Parlane si ripresenta a due anni di distanza dal precedente lavoro su Touch (quel 'Iris' che gli garantì un ritorno critico più che positivo) con un disco ancora descrittivo e finalizzato alla creazione di modulazioni sonore in movimento. Un movimento spesso rallentato, tanto rarefatto quanto intenso e carico di energia cinetica, incentrato sulla creazione di fasce musicali stratificate e che si alimentano di molteplici arricchimenti strumentali (elettrici, acustici o elettronici, dal piano alla chitarra trattata in ogni modo possibile, dalla fisarmonica al laptop passando per il trombone) così come di field recording, addizionando e sottraendo a seconda delle esigenze strutturali. Tre lunghi brani che palesano una certa staticità di fondo (il primo), un crescendo lineare nella norma, pur se emotivamente significativo per l'ascoltatore (il secondo), e una deriva noise, rispetto alle elucubrazioni drone/ambientali dei primi due, non particolarmente creativa (il terzo). Da tutto ciò, ovvero da quanto appena affermato, se ne evince che 'Jessamine' è album più che sufficiente, ma non eccezionale e che Rosy Parlane continua a navigare in un mare già scandagliato a fondo da numerosi colleghi e che difficilmente lo porterà a percorrere rotte inesplorate. [Roberto Michieletto]
Aquarius (USA):
New Zealand prime minister Helen Clark should really have a word with one of her country's citizens about the paucity of material he's been producing over the years. When so many other New Zealand sound artists release dozens of albums every year (you know, Birchville Cat Motel, Peter Wright, Anthony Milton, etc.), how can almost three years go by between albums for Rosy Parlane? Fortunately, Parlane's delinquency in keeping up with his fellow New Zealanders is made up by the quality of Jessamine. While Parlane's work harbors a glassine drone sensibility found in the similarly minded aforementioned NZ artists, his work has a considerable density and an appreciation for digital processing rarely heard in the feral drone underground. Parlane's ephemeral atmospheres strive for an activated minimalism, occasionally harboring similarities to the sparkling electronica of the Kompakt Pop Ambient sensibility; but he often pushes the work into teethgrinding electro-acoustic studies paralleling the Hafler Trio and even Hitoshi Kojo's vastly under appreciated collaboration with Maurizio Bianchi. The closest thing that Parlane gets to the tempestuousness of a Campbell Kneale outing is on Jessamine's finale which culminates in a steadily building track of monochromatic psychedelic distortion.
d-side (France):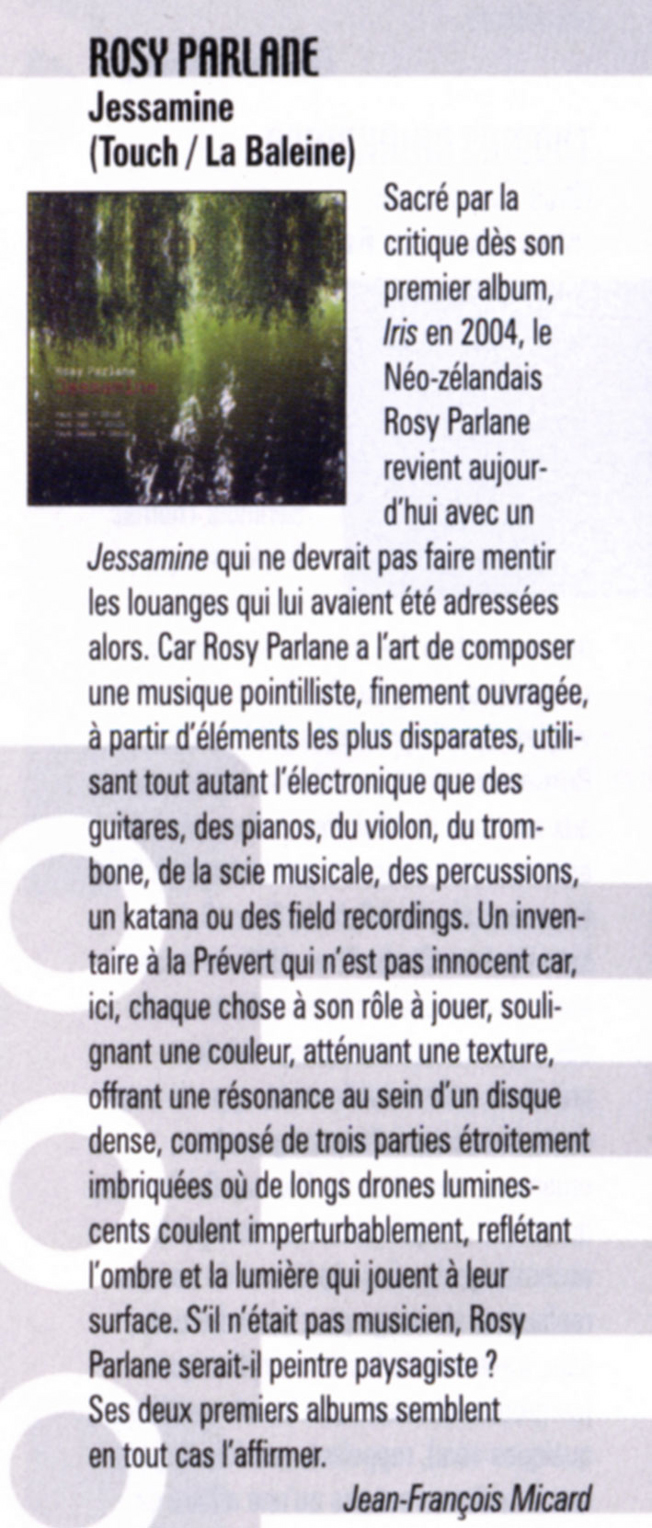 Neural (Italy):
Three long recordings, as in the 'Iris' debut album, bless again the elegant fruitfulness of Rosy Parlane. And again her sounds are presented with the refined Jon Wozencroft artwork: the charm of the images seem to suddenly suggest a more organic inspiration, with an iterated structure. The forms are lively with a metallic substratum, that relates everything to a hefty nature, where earth is a primeval and pulsating core. An amalgam of sounds that flows, with drones, subdued frequencies, micro emergencies made out of amplified rustlings, that slowly come into life. There are hints of mystical ritual music, almost spontaneous fruits of energy that springs and then drains away. In the third suite there's a choral and harmonious intro that holds the stage, almost classical but suddenly besieged by effects, cracks ad resonances. It's a suspended tale, that lies over a sort of dragonfly movements (to the latter some natural / synthetic processing seem to hint at), while all around the complexity of everything unfolds in epic tones, with its charming strength. [Aurelio Cianciotta]
Westzeit (Germany):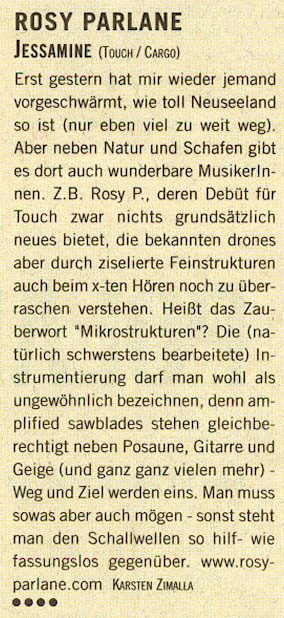 Rockerilla (Italy):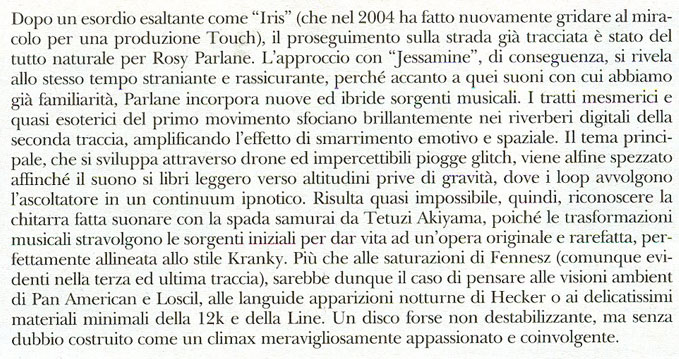 Debug (Germany):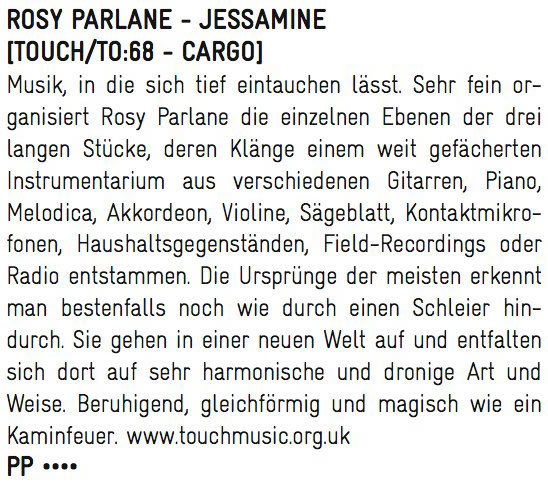 GoMag (Spain):

Areen (Estonia):
See on Uus-Meremaa muusiku Rosy Parlane'i teine plaat Touchi all. Esimene, "Iris", pälvis küllaga ülistussõnu jms. " Jessamine" on tihe, (kesk)konnahäältega segatud ambient, aga ikka muusika, mitte soundscape. Metafoorses mõttes küll "helimaastik", niipalju need välilindistused juurde annavad. Eno ("Ambient 4") ja paljud teisedki on midagi sarnast teinud, kuid "Jessamine'i" omapära on heliallikate suur hulk ja tuvastamatus. Koos kompositsioonide meloodilise ülesehituse ja rohelise jõe või konnatiigiga plaadiümbrisel muudab see albumi võrdlemisi külgetõmbavaks. "Part Two" läheb keskel päris müraseks. Üks tähelepanekule sarnanev hüpotees: "Jessamine" moduleerib stiili erinevate helikihtide valjusega: ülesvõimendatud mürakiht annab noise'i,poolkuuldamatuks keeratu aga ambient'i. Viimane lugu, "Part Three", on meloodiliselt kõige uhkem, tegelikult väga lihtne, kompositsioon edeneb hoopis eri kihtide lisamise ja rütmi toel. Kõik algab diskreetse tule- või lindikrabinast aleatoorilise meloodia taustal, suubub kurdistavasse mürra ning lõpeb õelas kabelivaikuses. 7 [Erkki Luuk]
musiquemachine (UK):
Rosy Parlane (male) is a New Zealand based musician who specialises in dense complex electro-acoustic music based around unrecognisable loops, field recordings, guitars and other instruments. Iris, his previous release on Touch, received considerable praise, including surprisingly from Red Hot Chilli Peppers guitarist John Frusciante. His second release on Touch is another tour de force of contemporary drone and electro-acoustics.
The three long tracks have no titles but are far more distinct than this lack of separation would suggest. The first track grows on a wave of deep metallic drone that could be conjured up from bowed metal or manipulated string glissandi. There appears to be field recordings that could be from a forest or country setting. There are no discernable instruments as such, only a thick miasma of noise out of which strange otherworldly sounds emanate. It fills the room and holds the attention far more than most music of this kind.
The second track begins with a tense high pitched drone that carries more dread than the earthy warmth of the first piece. Harsh crackly digital noise flitters around the edges as a semi-orchestral wave of noise swells up amid distant unfathomable loops and shards of incidental sound. Tetuzi Akiyama guests on this track, providing resonator guitar with Samurai sword and contact microphones. I have no idea what that would sound like but the dense metallic drone and string-like hum that invades the track at about six minutes could be it. The thickness of the sound reaches a breaking point at just past ten minutes at which point the whole thing collapses on a sharp bed of saw like digital noise. This falls away as quickly as it began leaving an empty minimal undulation and rustling.
The final track revisits some of the warmth and flow of the first tracks opening few minutes. Vinyl-like scratches and pleasant little electric flares and twitches, like insects, crawl across my speakers. We are in the forest again. However the tension from the second track is here also and builds over the first ten minutes with evermore oppressive guitar-like drone and thick swathes of digital noise. By the midway point the track has ascended to a vast wall of noise that Merzbow would be proud of. This continues unabated for the remainder of the track before falling away leaving only the stumps of the forest behind.
The power and emotion conveyed in Rosy Parlane's music is a rare gem in the field of drone and electro-acoustic music, and is one that warrants significant investigation by all fans of said genres. [Roger Batty]
Total Music (UK):
Here in the TM-Online bunker we spend huge great chunks of each week hot swapping CD's faster than our ears can feasibly accomodate, wading through vast swathes of derivative drivel, or just diving for the eject button halfway through track one, all of which makes interludes like Jessamine very welcome, if difficult to recommend. We are talking textures here, from the gently undulating to the downright ear shredding, spread over three parts and about as removed from the concept of a 'song' as you can get, often beautiful, occasionally scary and altogether intriguing, we suggest you listen before buying, but we do suggest you listen.
His Voice (Czechia):
Playboy (Poland):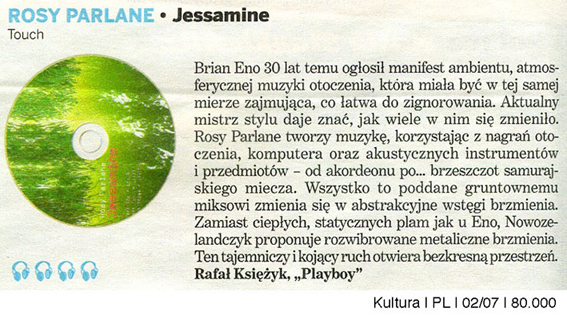 Geiger (Denmark):
Komponisten Rosy Parlane, der udsendte debuten Iris i 2004, har allerede fået en såkaldt celebrity fan i guitaristen fra Red Hot Chili Peppers, John Frusciante, der kaldte albummet et mesterværk. Nu er ros fra musikere fra musikindustriens sværvægtsklasse sjældent et kvalitetsstempel, men når det er Frusciante, der udtaler sig, så er der grund til at slå ørene ud, for guitaristen er kendt for sin eklektiske, men kvalitetsbevidste musiksmag, der omfatter alt fra tysk krautrock til obskur electronica.
Også Jim Haynes, hvis udgivelse Telegraphy By The Sea, der af denne anmelder blev udnævnt til en af årets bedste, har udtalt sig særdeles positivt om Parlane. Med vanlig poetisk præcision skriver Haynes i The Wire om Iris:
"On the one hand, Parlane stretches sounds from guitar, piano and organ into unrecognisable drones that swell into dense layerings, every once in a while coalescing into fluttering half-melodies. On the other, he emphasis the textual qualities of those digital fragments, simulating the natural acoustics of ice crackling from trees in winter or the gentle patter of rain on a windowsill. When fusing these together by placing the textures against the backdrop of the drone, Parlane effectively builds pointillist sound environments with a profoundly human melancholia."
Når jeg citerer Haynes kondenserede beskrivelse af Iris, så er det fordi, den musikalske poetik stadig passer på Jessamine. Parlane skaber stadig komplekse musikalske droner, der modsvares af lag af taktile lyde. Netop det taktile element ved Parlanes musik er så bjergtagende. Det er nærmest som om man kan "gribe" lydene ud af luften og de har en overvældende effekt, idet de glider ind under huden. Der er, som Haynes skriver, igen tale om alle former for manipuleret lyd fra guitar, violin, trombone, klaver, sav, metal osv., men de originale kilder er blevet rippet for deres referentielle element og genfundet i deres poetiske potentiale. Grænsen mellem "naturlige" field recordings og kunstige "rock" instrumenter er egentlig udvisket.
Parlane er på Jessamine optaget af at skabe en musikalsk progression, der foregår over tre afsnit: "Part One" (13:08), "Part Two" (16:28) og "Part Three" (19:06). Som man kan læse ud fra numrenes varighed er der tale om en dobbelt tidslig udvidelse dels af det overordnede musikalske rum og det enkelte kompositoriske rum, der gradvist øges i antal af minutter. Den dramatiske effekt tager også til i løbet af albummet, hvor storslået ambient efterhånden giver plads til en orkestral mur af lagdelt knitrende støj. Det bemærkelsesværdige er imidlertid, hvorledes Rosy Parlane hele tiden beholder den poetiske skrøbelighed i sine monumentale walls of sounds. Værket føles aldrig overlæsset på trods af de mange lag af lyd, og det manglende melodiske element er ikke savnet i et værk, der konstant leder lytteren frem mod nye mutationer og inviterer til skærpet opmærksomhed.
Jessamine er en dobbelt triumf: dels for selskabet Touch, der fortsætter med at sætte nye standarder for udgivelse af posthuman kompositionsmusik, og dels for Rosy Parlane, der må tages seriøst som en komponist på linje med de allerstørste og mest relevante i vor tid – heriblandt Jim Haynes. [Jakob Bækgaard]
Sound of Music (Sweden):
Subtilt men utan tvekan leder Rosy Parlane in dig i vackra landskap i den tredelade sviten "Jessamine" på nyazeeländarens andra Touchalbum. Hela sviten bottnar i minimalistiska toner som ger olika grundstämningar; varmt och mystiskt, kyligt expanderande och mjukt vibrerande.
Kring grundtonerna placerar Parlane ut kretsande digitaliserade ljud från en uppsjö av instrument och objekt – gitarr, piano, melodica, accordion, violin, trombon, metall, sågblad, hushållsattiraljer, kontaktmikrofoner, fältinspelningar, radio – som förvandlats till oigenkännlighet. Vad som är vad spelar ingen roll, inte heller kan jag riktigt härleda var i "Part Two" Tetuzi Akiyama kommer in med sin "resonator guitar" spelad med samurajsvärd. Ljud kommer och ljud förvinner, inte som i en kakafoni, utan allt känns välplacerat och tillför den musikaliska kroppen nya detaljer och utväxter.
Kraften i den avslutande "Part Three" är stark. Den musikaliska kroppen växer sig ofantlig av gitarrer som kastar ut massiva ljudmattor av distortion. Helt fantastiskt! Och det är storartat att han inte med datorns hjälp skapar mattorna, utan har bjudit in musiker som Lasse Marhaug, Campbell Kneale, Michael Morley och fem till. [Magnus Olsson]
Neural (Italy):
Three long recordings, as in the 'Iris' debut album, bless again the elegant fruitfulness of Rosy Parlane. And again her sounds are presented with the refined Jon Wozencroft artwork: the charm of the images seem to suddenly suggest a more organic inspiration, with an iterated structure. The forms are lively with a metallic substratum, that relates everything to a hefty nature, where earth is a primeval and pulsating core. An amalgam of sounds that flows, with drones, subdued frequencies, micro emergencies made out of amplified rustlings, that slowly come into life. There are hints of mystical ritual music, almost spontaneous fruits of energy that springs and then drains away. In the third suite there's a choral and harmonious intro that holds the stage, almost classical but suddenly besieged by effects, cracks ad resonances. It's a suspended tale, that lies over a sort of dragonfly movements (to the latter some natural / synthetic processing seem to hint at), while all around the complexity of everything unfolds in epic tones, with its charming strength. [Aurelio Cianciotta]
Aufabwegen (Germany):

EtherREAL Disques (France):
Rosy Parlane est néo-zélandais, et Jessamine sorti en décembre 2006 était son deuxième album chez Touch chez qui il trouve assez logiquement sa place avec une musique ambient à la fois hypnotique et expérimentale, plus complexe qu'il n'y paraît. Ce nouvel album connaît la même structure que son prédécesseur (Iris paru en 2004) avec 3 longues pièces d'une durée comprise en 13 et 19 minutes.
Ce qui surprend d'abord, ce sont les premières minutes de l'album alors qu'on lit les notes de pochette. L'instrumentation est on ne peut plus éclectique, mais surtout surprenante au regard de la musique produite : guitares, piano, mélodica, accordéon, violon, trombone, autant d'instruments qui ne serviront que de source sonore, au même titre qu'une scie et autres objets qui lui tombent sous la main, des micro-contacts, une radio, un ordinateur bien sûr, et des field recordings assez logiquement. Difficile de retrouver l'origine des sources sonores à l'écoute de ces nappes et textures enchevêtrées, même si le son clair et métallisé du titre d'ouverture, quasi orchestral, laisse apparaître de nombreuses percussions, genre timbales ou bols tibétains, grincements métalliques, larsens.
Au second plan, on trouve toujours un drone qui sévit, mais il sera plus présent encore sur Part Two, parsemé de grésillements, puis de nappes tendues, et frétillements métalliques pour un rendu quasi aquatique. Après une minute d'agression stridente, retour au calme, eau dormante et vagues de pluie.
Le dernier titre laisse apparaître des nappes cristallines, des sifflements tombés du ciel, féériques, quelques crépitement, jusqu'à ce qu'à mi-parcours, l'ensemble se voit envahi d'une texture grésillante. On approche alors du son de guitares saturées qui a fait le succès de Fennesz, dans un style d'abord hypnotique, déviant petit à petit vers un univers plus dérangé, plus destructuré, et finalement très rock.
Si l'on pourrait ranger Rosy Parlane un peu aisément dans une veine ambient-drone, la richesse de ses compositions, ses élans imprévisibles, son instrumentation orchestrale sont autant d'éléments qui lui confère un univers plus personnel, difficilement classable et donc indispensable. [Fabrice Allard]
ideabiografica (Italy):
Decisamente è – ormai – da qualche anno che ascolto musica e scrivo di essa, ma – fino ad ora – non mi era mai capitato di "sentire" ciò che ora vi descriverò. Ghiaccio, diamante freddo allo stato puro… La label imputata alla pubblicazione di questi cd "bianchi" si chiama Touch e ha sede in quel di Londra. Ma con la pop music, la dance ed il rock non c'entra proprio nulla. La Touch impone una sua personale interpretazione (e naturale visione) dell'arte. Questa "personalissima" (e cruda) "interpretazione" si sviluppa in lavori veramente stranianti. Ad esempio Chris Watson (britannico di Sheffield, e nessuna parentela con la scena elettronica dei Cabaret Voltaire ect.) e Bj Nilsen (svedese) hanno letteralmente creato dal nulla "Storm". "Tempesta" nella traduzione in italiano, cioè hanno registrato gli sconvolgimenti della natura nel mare del Nord. Tutto in stereofonia, così si potranno ascoltare il debordare delle acque e le "grida" degli uccelli. Opera totalmente avulsa da qualsiasi concetto commerciale. Come "Jessamine" a firma della neo zelandese Rosy Parlane, in cui rumori o "drones" urticanti scavano nel profondo della mente. Melodia ovviamente zero, tabula rasa desertificata. Rosy spezzetta vorticosamente tutto quello che si potrebbe definire suono, e castra ogni possibilità dell'arrivo di semplici note. Sarà che sto vertiginosamente invecchiando, però questi lapilli di "cultura" mi hanno catturato il cervello. Tutto molto bello come il capodanno dell'anno 2007, solitario, in preda alle onde marine e a scricchiolii circospetti… [Claudio Baroni]
Stellage (Russia)
14 лет назад на британском лейбле Touch вышел альбом «Jessamine» – четвёртый сольный релиз в музыкальной карьере новозеландского электронщика Пола Дугласа (который скрывается за псевдонимом Rosy Parlane). К тому же, этот альбом – последняя на сегодня сольная запись музыканта в принципе. Но прежде, чем понять, чем именно интересно «последнее слово» эстетического высказывания Пола, пожалуй, лучше обратиться к нему самому.
Музыкант и звуковой художник Пол Дуглас пришёл на новозеландскую андеграундную сцену ещё в 90-х годах, успев поиграть в авангардном рок-трио Thela, экспериментальном электронном дуэте Parmentier, а также основать свой лейбл Sigma Editions совместно с бывшим участником Thela. Кроме того, среди коллаборативных релизов Пола особо выделяются совместные записи с Кристианом Феннешем (Fennesz) и даже с основателем AMM Эдди Превостом.
Учитывая весь этот весьма серьёзный бэкграунд Пола и тот факт, что сам он называет свои сольные записи «саундскейпами красоты и разрушения» (soundscapes of beauty and destruction), что можно сказать по итогу про «Jessamine», эту массивную работу, состоящую всего из трёх треков (но длинной от 13 до 19 минут)? Разумеется, сейчас нет особого смысла вдаваться в детали записи альбома, которые любой желающий может прочитать в его пресс-релизе. К слову, детали эти и сами по себе весьма интересны, как, например, участие японского экспериментатора Тетузи Акиямы, который играл самурайским мечом на гитаре при записи альбома. Так вот, оставляя в стороне все эти подробности, а говоря именно о звуке, можно без сомнений заключить, что этот альбом – не просто длительные атмосферные саундскейпы, которыми почти никого не удивишь. «Jessamine» – это в первую очередь тщательная, почти ювелирная, работа над выстраиванием собственного звучания и музыкального почерка.
Никита Ровнов для STELLAGE