CD – 25 tracks
3rd EDITION OF THE CD [SAME AUDIO] IN A SLIP CASE [SAME FRONT COVER ART] WITH NO BOOKLET
Photography & Design by Jon Wozencroft
Mastered by Denis Blackham
TOUCH 25th Anniversary edition CD with exclusive tracks from:
Oren Ambarchi | Biosphere | Fennesz | Bruce Gilbert | Ryoji Ikeda | Philip Jeck | Jóhann Jóhannsson | Jacob Kirkegaard | Mother Tongue | BJNilsen | Pan Sonic | Rosy Parlane | Peter Rehberg | Rafael Toral | Mark Van Hoen | Chris Watson |
There are also several insert recordings and a live edit from Hild Sofie Tafjord & Tanja Orning
Touch was conceived by Jon Wozencroft in 1981, and released its first cassette magazine 'Feature Mist' in 1982 [more information on the early cassette releases can be found at www.touch33.net/catalogue/first.html].
This compilation was produced initially for the magazine, His Voice, to promote new music in the Czech and Slovak Republics. These questions [below] were originally in response to Hynek Dedecius and Pavel Klusak at His Voice. This edition was made for Qwartz 4, Paris.
Track list:
1 BJ Nilsen Gotland
2 minutiae
3 Oren Ambarchi Moving Violation
4 Fennesz Tree
5 quick and cold
6 actual time of arrival
7 Chris Watson Conversations
8 safety short
9 Chris Watson Oujela Mine
10 Mother Tongue Rewording
11 Peter Rehberg TT 1205
12 Tanja Orning & Hild Sofie Tafjord Live at Blå, Oslo
13 Pan Sonic Slovakian Rauta
14 Jóhann Jóhannsson Tu non mi perderai mai
15 Jacob Kirkegaard Heavy Water [Bärseback]
16 solent rd
17 Ryoji Ikeda Untitled #25
18 Rafael Toral Glove Touch
19 Philip Jeck Hindquarters
20 ATC graph
21 Bruce Gilbert Sliding off the World
22 Mark Van Hoen Put My Trust in You
23 chorale
24 Biosphere Spring Fever
25 Rosy Parlane Atlantis

Reviews:

Dream (USA):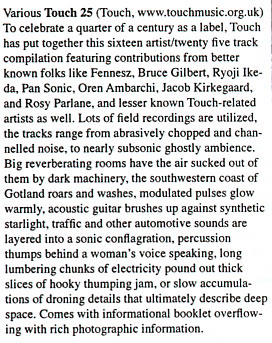 S&V (Russia):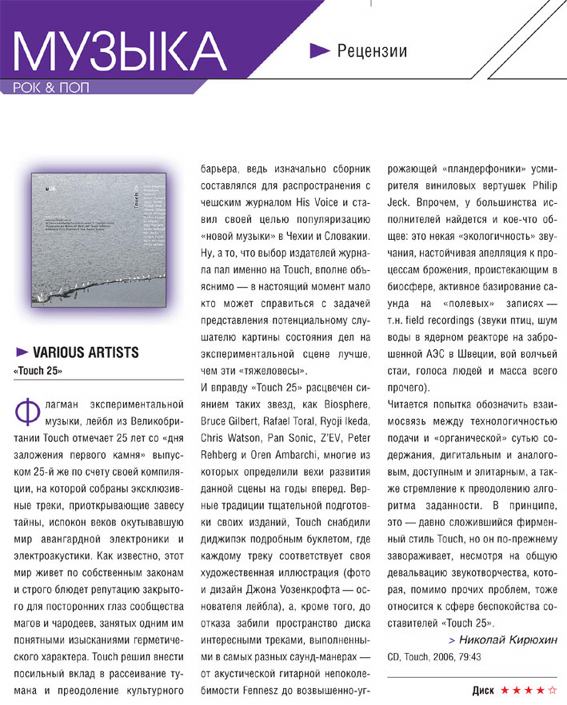 Sanctuary (Peru):
This 2006, an austrian [UK, actually! – ed.] label celebrate one more year being at the top of underground experimental electronic music. Yes!!, TOUCH was conceived by Jon Wozencroft in 1981, and one year after appears the first cassette magazine Feature Mist. Right now on my hands we present 2u this new compilation, produced initially for the His Voice magazine, but the final decisition was that this one will be the 25th anniversary cd.
Touch 25, is the title of the CD that has exclusive tracks from known artists like Fennesz, Pan Sonic, Ryoji Ikeda or Peter Rehberg, and several insert recordings (with a few seconds) yeah 'unknown artist tracks are field recordings and found sound, with no artist credits'.
The cd start with not so known artists: BJ NIELSEN with "Gotland" and the australian OREN AMBARCHI into "Moving Violation" with 'come and go' sounds similar to the sea waves. Related to the next track … do you remember the slow movements of Red House Painters? .. well readers .. CHRISTIAN FENNESZ (the well know underground austrian artist of this label) makes one in which the acoustic guitar has the main rol.
The next ones are titled "quick and cold" and "actual time of arrival", while tracks seven and nine belongs to CHRIS WATSON, a man that recorded 'transport conditions': the first are confused sound 'on water' while in the second one we can hear 'train alarm' and all the atmosphere of those moments.
MOTHER TONGUE (that started as a trio: Andrew McKenzie, Dorothea Franck, Stefan Weisser with the LP "Open In Obscurity" in TOUCH too) appears with a theme with some hard beats of percussion, along its XXX minutes (that includes unidentified noises and voice), followed by -personally- the best track of the compilation "TT 1205", that contains the experience of the famous PETER REHBERG with his sound ala laptop, sometimes similar to c&cuts, with a fast rhytm
PAN SONIC appears in the most ambient and industrial style with a theme in two different parts, the next one "Tu non mi perderai mai" by JÓHANN JÓHANNSSON is similar to a soundtrack for a moment of trance. The largest one "Heavy water (Bärseback)" from the brain of JACOB KIRKEGAARD is another rare track followed by the minimalist japanese RYOJI IKEDA (that started with TOUCH in 1996 with the CD "+/-") with his known drones into "Untitled #25". The next one belongs to the brain of the London music and visual artist PHILIP JECK (b. 1952) with "Hindquarters".
The 22th track is "Put My Trust in You" by MARK VAN HOEN (ex-SCALA, and mostly know by his work in LOCUST: since 1993 with the 12″ Skysplit) that seems a soundtrack of a happy end in slow motion, with those delightful sounds. The last 2 are: "Spring Fever" of BIOSPHERE (dark sounds with some howls in a lost forest) and "Atlantis" by ROSY PARLANE (that cames from Auckland – New Zealand and started with the band THELA). We should be attent to the future releases of this label that started the 'cassette culture' in the 80's with Jon Wozencroft and Mike Harding, incredible isn't it?.
ideabiographica (Italy):
Venticinque brani (che definire brani è una "filosofia astratta" la quale non rende -scriviamo così- l'esatta realtà di questa situazione) per "celebrare" i venticinque anni di una label: la britannica Touch, per un totale di circa ottanta minuti di veri e propri "onanismi sonici" (nel più totale rispetto del lavoro dei musicisti coinvolti). Minimalismo "electronico" suonato e sofferto, con partecipazioni che vanno da Fennesz, Jòhann Jòhannsson e Pan Sonic; tutti ma proprio tutti legati in comune da un grandissimo filo rosso (solo rosso) che si dipana per tutto questo tempo e che si potrebbe definire sperimentazione. Strumenti, computer che vogliono integrarsi in un affastellarsi di perverse e carnali congiunzioni sessuali. Esperienza ostica, molto ostica ma decisamente (al termine dell'ascolto) appagante. [Claudio Baroni]
Gaz-Eta (Poland):
Undoubtedly what Jon Wozencroft started 25 years ago, with the release of cassette magazine "Feature Mist" has had an immense impact on the way quiet, minimal music is heard. Through crucial output from artists such as Pan Sonic, Philip Jeck, Ryoji Ikeda, Fennesz, Biosphere, Rafael Toral, Oren Ambarchi, Chris Watson and numerous others, Touch has grown as a label and has lead the way in terms of new, often uncategorizable sounds. As with many labels [Last Visible Dog, ECM, Mego] it has created its own unique niche of music. People in search of a particular, low-impact, hushed music know exactly where to turn. To celebrate its quarter century mark, Touch released "Tone 25", a compilation brimming with previously unreleased tracks from its regular line-up. Along with Oren Ambarchi's intensely still "Moving Violations", we get gems like Chris Watson's field recording "Oujela Mine", Ryoji Ikeda's glowing hearth "Untitled # 25" and Mark Van Hoen's organic and orchestral piece "Put My Trust In You". Some of the other stand-out pieces include Rafael Toral's "Glove Touch", which was performed on glove-controlled sinewaves and Jacob Kirkegaard's "Heavy Water [Barseback]", which was recorded at the site of a closed-down Swedish nuclear plant. One thing I don't feel works in this compilation is a certain amount of disconnect. When I was first listening to the CD late one night in bed, I couldn't settle into any particular mood. In fact, there are pieces thrown in here that actually disturb the system. The disturbance starts around Mother Tongue's [Z'EV's old project] organic percussion piece and continues on until Pan Sonic's "Slovakian Rauta", which is a mish-mash of various, distraught electronic slabs. This middle section breaks the flow of the sounds. It almost acts like a wake-up call to those who doze off when listening to this stuff. Worth the price of admission alone is a thick booklet filled with Jon Wozencroft's detailed and immensely beautiful photographs. "Tone 25″ is a yummy birthday cake, with 25 unique candles on the top, waiting for you to blow them off. [Tom Sekowski]
londonmilk.blogspot.com (UK):
With a solid twenty-five years at the forefront of contemporary music, releasing music by artists as diverse as The Hafler Trio, Sweet Exorcist, Sandoz, Oren Ambarchi, Chris Watson, Scala, Philip Jeck, Mika Vainio, Biosphere, Christian Fennesz, Jóhann Jóhannsson, Ryoji Ikeda or BJ Nilsen to name but a fraction, Touch have collected one of the most impressive and inspired catalogues around, encompassing a wide array of genres, from noise to post-modern classical, ambient and electronic.
To celebrate this massive slab of work, the label, founded in 1982 by Jon Wozencroft Mike Harding, Nevelle Brody and Andrew McKenzie, of Hafler Trio fame, have put together a collection of twenty-five exclusive tracks from the likes of Biosphere, Fennesz, Pan Sonic, Chris Watson, Mark Van Hoen, Rafael Toral, Mother Tongue, BJ Nilsen, Philip Jeck and many more. Touch 25 doesn't intend to document the label's history, and only seems to give a vague and short insight into the various musical grounds covered by these artists, yet it is true to the label's ethic in every way, from the instantly recognisable cover artwork, by Wozencroft to the depth and reach of each one of the tracks featured. Acting as inserts are seven short pieces, scattered all across the album, none of them attributed to a particular artist. Set against fully developed compositions, these short intervals regularly bring in some fresh air and occasionally provide some welcome light relief.
Right from the outset of Gotland, contributed by BJ Nilsen, which opens the album, the tone is set. In this short piece (1'47), the Swedish composer works found sounds into an ebbing and flowing structure which eventually morphs into a vague white noise blob before merging into the first interlude. The mood here is somewhat introvert, with Nilsen taking the ambient scope which he has been developing in one way or another since his Morthond days to its environmental noise extreme. Orem Ambarchi's Moving Violation is a stern and mournful drone-based composition. Here, he processes electric guitar sounds into an ever-changing drone where traces of statics and feedback provide the clearest signs of life. Fennesz's Tree is, in comparison, a far more approachable affair. Built on the sonic shards of an acoustic guitar, the man constructs a delicate and peaceful composition. While Chris Watson's double contributions rely heavily on found sounds, the next couple of tracks steer this compilation towards a more urban tone, first with Mother Tongue's tribal Rewording, a track recorded back in 1988, then with Peter Rehberg's minimal TT1205. Yet, while Pan Sonic juggle for a moment between post-industrial and desolate ambiences, it is back to more introvert pieces with contributions from Jóhann Jóhannsson, Ryoji Ikeda, Philip Jeck and Bruce Gilbert. Only Mark Van Hoen's dreamy Put My Trust In You appears somewhat connected to reality. The album concludes with the bucolic Spring Fever, from Biosphere, and Rosy Parlane's haunting Atlantis.
While Touch 25 doesn't represent a comprehensive review of the label's outputs over it's twenty-five year history and is only a fraction of what the Touch team have put together to celebrate this major milestone, it still represents an important release and proves to be a truly essential collection. Although there is an undeniable consistency all throughout, each track reveals one of the facets of this most stimulating of labels.
Touch 25 Features
Contemporary Magazine (UK):
Getting close to Touch – the London-based project founded 25 years ago by Mike Harding and Jon Wozencroft who still run it today – is a strong perceptual experience, in which the sense of listening is challenged and gains depth by means of a multifaceted number of stimuli. The outcome of Touch – not just a music label but rather, as its founders claim, an audiovisual project – sheds light on a network of productions in music that seem to have sprung out of nowhere but in actual fact reveal more than one connection with the most obscure experimentations of the 80's. As you journey through the Touch catalogue, ominous drones merge with clear-cut sonic shapes, ruthless rhythms screech against the surface of polished sound washes, unpredictable field recordings run parallel to frenzied percussive patterns, pictures of idyllic landscapes are presented near urban sceneries or close-ups of flowers and plants. Over the years, Touch has been reshaping the way sound is perceived as a whole and not only as a purely aural experience. Not only did this happen through audio constructions that transcended and re-interpreted reality into new forms, as witnessed by the early cassettes from the 80's in which gamelan or ethnographic recordings would mingle with the most avant-garde instances of post-industrial sound collage – it also did so by means of a striking graphic design and considerable attention made to the record sleeves and packaging, resulting in one of the most enduring graphic identities to come out of the Nineties alongside raster-noton's.
Eclecticism is one possible key to access Touch, ensuring unique experiences in a style that is never rigid but dynamic in scope and in genre: Touch stands out for promoting some of the most original voices in experimentation, which may have sounded eccentric when they first appeared, but often turned out to highlight pioneering new paths in music and foresee their most daring developments.
Thanks to their vision, Harding and Wozencroft have been promoting off-the-track approaches way ahead of time, rather than lazily sheltering themselves beneath easy perpetuations of style: publishing the enigmatic and hard-to-label work of Chris Watson with field recordings, or believing early on in an outsider such as Philip Jeck, at a time when the new emerging credo seemed to be digital abstraction above all things – Jeck's aesthetics of dust and memory, seeping through his use of old vinyl and turntables from the 50's and 60's, anticipated many nostalgia-hued productions of the late 90's. In the same span of years, Touch released one of the most extreme records in clear, sharp abstraction, +/- by Ryoji Ikeda, which is considered today as a landmark release for minimal computer music.
For Harding – who also runs the Ash International label – Touch can be considered 'an ongoing conversation' and 'a developing narrative', which through the years has been matching the most unlikely forms of sound. Today, the customary publication of cd's is paralleled by the web broadcasts of Touch Radio, streaming at www.touchradio.org.uk, and the Spire touring project, in which organ music is adopted and redefined in a new sonic creature which includes suggestions from past and present, and brings forward notions of site-specificity and 'history-specificity'.
Not only giving space to an impressive mixture of genres, Touch also favours musicians from different generations and backgrounds – take a father of drone-related experimentation such as Phill Niblock, and a master in edgy digital architectures such Peter Rehberg; consider the meandering analogue constructions by Mika Vainio and the fluctuating arabesques of orchestral music by Jóhann Jóhannsson, alongside younger artists such as Jacob Kirkegaard and BJ Nilsen. All of them are documented in Touch 25, the cd that was published earlier this year to celebrate the 25th anniversary of Touch, choosing to focus on current and most recent musicians involved with the label, rather than recollecting names and moods from the back catalogue. Nilsen's powerful yet nuanced recordings in the island of Gotland open up the space for the oscillations in Oren Ambarchi's electric guitars, which walk a thin line between what's overwhelmingly solar and the deep dark shadows that lurk beneath. In a singular moment tones seem bathed in light, the very quality of Ambarchi's touch in abusing those notes brings forth an alien feel – a picture of stasis that is mirrored in Kirkegaard's accelerometer recordings carried out in a former nuclear power plant in Sweden, echoes chasing one another in ring-like trajectories that never open up. A variety of noises and fragments are slotted in-between tracks, forming a connecting thread and making us wonder what sounds are around us and which of them are picked up, or overlooked. "Please consider this music a romantic journey", thus the Touch 25 cd liner notes, "to be firmly linked to a narrative that is neither nostalgic nor processed to a temporary screen value… An enduring attempt towards building a more progressive relationship to the activity of listening and the idea of 'awesome'." By locating itself deeply in the present, not giving in to any nostalgic recalling of 'ways we were', Touch 25 sets the standard for yet many more awesome releases to come. [Daniela Cascella]
Big Load (Germany):
To download click <a href="
">here
Beat (Spain):
Touch 25
Introductory text from the Touch 25 compilation CD which appeared on the front of HIS VOICE magazine, Prague, March 2006:
A quarter of a century is a significant marker – and for an independent label nothing obvious. But the actual reason why in music we cannot ignore the London label Touch is different: it is their distinctive sound.
In the nineties we used to approach music as a technological lab. Then something happened: either it is a movement forward or a return, that doesn't matter. Those who want to absorb this transformation fully and at the level of absolute creative honesty should touch upon 'Touch'. Electronics and media serve here as guides on an expedition to a natural world. Chris Watson, a former member of pop group Cabaret Voltaire, today looks for music and drama in the sound of arctic icebergs or the African jungle. Christian Fennesz and Philip Jeck descend into the depths of electric guitar and vinyl records, to freshly attack our memories of the music of former days. Field recordings and questions of a relationship between music and sound are – each in their own way – touched on by BJNilsen from Sweden, New Zealander Rosy Parlane or Geir 'Biosphere' Jenssen from Norway. Fragile, auditory minutiae minimalism of Icelandic Jóhann Jóhannssen or the mathematically precise electronics of Ryoji Ikeda from Japan can then appear as hand-drawn maps of the same ideological terrain. The perfect companion to this 'geometry of the living' is Jon Wozencroft's graphic design, which not only consolidates the music of Touch, but also furthers its expression.
Certain labels have the structure of a crystal: not only specific recordings but the whole catalogue can be perceived as a work of art. This way the story of Touch keeps being redrawn: with the new releases we look for the links with their predecessors, in the light of the new the older ones suddenly appear different. Yet again this compilation shifts and transforms everything: it brings exclusively fresh, exclusively published music of the most essential artists on the label. [Pavel Klusák. Trans. Tereza Stehlikova]
The Sound Projector (UK):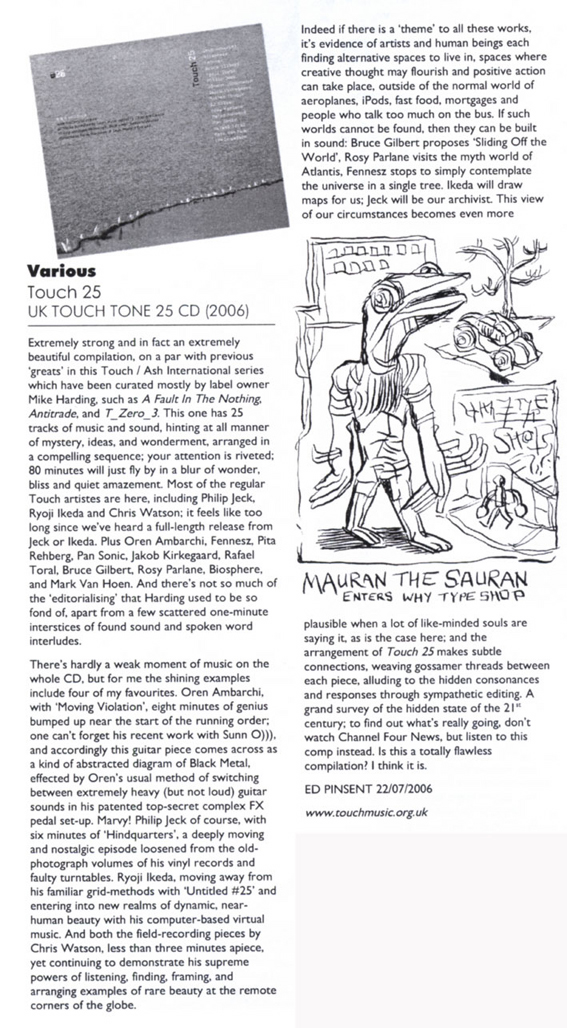 His Voice (CZ):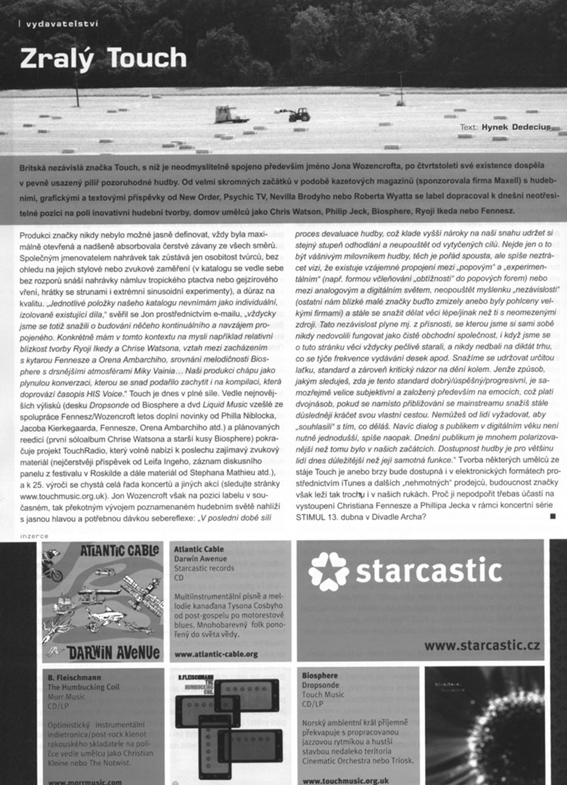 Delusions (USA):
The Touch label began life in 1982 as a series of cassette magazines featuring the kind of delicious packaging that has gone on to become one of its staples. It's first release included, among other things, New Order's "Video 5-8-6" intended as the soundtrack for the initial opening of the now legendary Hacienda club. Even so far back, the label's guiding lights had a motto that resounds in every release to date that "Touch can be anything it desires, from words to music to images. Each medium received equal opportunity and the only necessary pre-item is conviction with tolerance. No two items are alike. Sameness is anathema. Quality is only born of change and that stimulus is the real motivation." Pretty ambitious.
Continuing in this tradition, the label has commissioned several concerts in the UK this year to mark its quarter-century birthday. Most of the artists involved with the label were or will be a part of these events, and to go hand in hand with them, we get this lovely label compilation (adorned with beautiful Jon Wozencroft photos) featuring tracks from some of the outstanding Touch roster. Contributors here include Christian Fennesz, Oren Ambarchi, Rafael Toral, Rosy Parlane, BJ Nilson, Phillip Jeck, Biosphere, and Johan Johannsson to name a few. Dispursed between many of the tracks are strange voiceovers, ambient field recordings, and stock soundclips from what may be old newsreel.
The oddly acoustic track from Fennesz, "Tree," with its icy adornment of white noise held just in check exemplifies this observation. Oren Ambarchi's glitchy, slow "Moving Violation" is a nice contribution that could've easily come off either his Triste or Grapes From the Estate records. The surprising standout of the entire compilation is Johan Johannsson's "Tu Non Mi Perderai Mai," a drawn-out drone of celestial violincello, organ, and ring modulator. Believe me when I say that if you like drone, this song is "the shit." The only other piece here that can even come close to it is Phillip Jeck's "Hindquarters," with its lonely piano wrapped in swathes of static.
I have many records in my collection that I would consider "seasonal." Bjork's Vespertine and The Black Heart Procession's Three would definitely be winter discs, while something like Nirvana's Nevermind or Snoop's Doggystyle is definitely summer listening. I can't help but feel that Touch 25 is another winter disc, even though here it is in July, newly released and I'm sitting in my nice air-conditioned house avoiding the 100-plus-degree Tennessee heat. As pleasing as these recordings are, it might be a while before I pull the thing off the shelf again. I imagine that in the dead months of January and February, this thing would be getting some heavy rotation.
For any fan of the Touch label and its A-list of pioneering experimental electronic artists, this disc is an absolute must-have. While all of its 25 tracks come together to make one cohesive listen, the aforementioned tracks are the cream of the crop. Searching for a place to get in on the ground floor of the avant-garde? Look no further. [Joe Davenport]
Stylus (USA):
The toast to Touch Music's silver anniversary begins with a complaint. Call it a pout. Most of the Touch 25 compilation's liner notes lament the rise of digital music consumption that overthrew the "tactile dimensions" of vinyl and cassettes. The notes fear an epidemic of "brain damage" to come from the masses enjoying the glut of those cursed iPods, podcasts, and MP3 blogs. "The audience seems to be in control, probably in a honeymoon period that masks the deeper questions of infinite hard-disks, brain damage and Chinese firewalls. Will data be selectively removed?…History about to be rewritten? What will your brain feel like when you find it has disappeared?" The anonymous author then clears his or her throat and gives a brief mention to its actual compilation, which is "hopefully an enduring attempt towards building a more progressive relationship to the activity of listening and the idea of 'awesome.'"
The humor is refreshing, but Touch's 25-year history is absent from Touch 25's liner notes. That's a disservice. Label founders Jon Wozencroft and Mike Harding were pioneers in 80s underground cassette culture when they released "cassette magazines" that compiled the likes of New Order, The Residents, Einstürzende Neubauten, and Cabaret Voltaire. It was not until the late 90's when Touch truly began impacting the experimental music world at large, though. I first came across the label when my ears were seared by the microtonal blowouts of Fennesz's +47° 56′ 37″ -16° 51′ 08″. That album insert's lush calendar photographs of European pastures made the audio violence contained therein particularly unnerving.
The label's releases possess a sublime sense of adventure and visceral might without attempting to articulate lofty concepts. That strength is heard in the hits of sunshine and white noise in Fennesz's neo-shoegazer masterwork Venice, the ghosts that arise from the mechanical din of Philip Jeck's turntables, and the raw earth symphonies of Chris Watson's field recordings. The Touch label's excursions in modern music typically draws one into a profound sense of otherness—a quality that makes Touch 25 one of this year's more compelling compilations.
The 24 tracks are fittingly sequenced to drift through moments of the natural and the alien. You can hear cold microtones and hazy drones before jumping to the track of a train wailing along its route, or even a quiet moment's rest of a fireplace's ember snapping. But the record begins with 20 minutes of ethereal grace: BJ Nilsen's recording of waves crashing against a Swedish island, Oren Ambarchi's guitar drones sleepwalking on the frozen tundra, and Fennesz strumming under the Northern Lights. Elsewhere, there is a rather disturbing, close-up recording of a flushed toilet settling down and then leaking, the sounds of Peter "Pita" Rehberg pounding and twisting a metal wire into a mangled paperclip sculpture, and Pan Sonic taking a tour through an active power plant falling to pieces. Yet, not every track maintains the compilation's energy and momentum: Rafael Toral's "Glove Touch" is a whining drone piece, while the microtones in Jacob Kirkegaard's "Heavy Water" float down a creek like poisoned fishes.
Touch 25's heart is Jóhann Jóhannsson's nine-minute masterwork, "Tu Non Mi Perderai Mai." He leads a string ensemble to brilliantly recreate that time in the early morning where the sun begins to rise and makes the black sky fade into turquoise. There is hope, but dread remains: the strings hum, murmur, and then snarl, while rumbling electronic drones and growling bits of piercing distortion scar the air. The tension thickens when each minute passes; no climax or resolution follows. Philip Jeck's sublime "Hindquarters" nearly shares the same evocative pull. He chases a ghostlike woodwind drone that arises from a disintegrating vinyl surface and then runs through a marketplace of rattling cymbals and cookware, only releasing an achingly sad, but delicately beautiful string melody when he meets his destination.
Despite the high drama and startling artistic statements of its releases, it's pleasing to know that the Touch label does not take itself too seriously. Touch 25's helium-filled liner notes about mass "brain damage," and the label's catalog of cell phone ringtones both attest to such campiness. However, at a moment when so many people deem electronic music to be useless without a dance beat and when ambient music is denounced as new-age fluff, much of Touch's output still challenges imaginations to exercise well.
Kultureflash (UK):
Few compilations can maintain an integrity and flow but Touch has consistently enabled a listening experience over its 25-year history with its exploratory collections of visionary sound. To celebrate its silver anniversary, Touch 25 compresses the voices of many of its artists into a singular listening experience, with previously unissued recordings from Philip Jeck, Ryoji Ikeda, Biosphere, Chris Watson, Christian Fennesz, Pan sonic, Wire's Bruce Gilbert and many more, snuggled in between field recordings of news items, in-flight announcements, and sundry quirky audio reports. Drones slip across mournful electronica, elevated strings envelop unexpected harmonies and subterranean bass frequencies threaten to pierce the surface at any moment. Epic moments are born from the simplest voices, as with Jeck and Ikeda, whilst Johann Johannsson leaves a hauntingly transcendental note in your ear. Touch 25 marks out a certain point in our history that will continue to resonate in years to follow. Immerse yourself in this moment and savour it.
BBC Music (UK):
Over the last 25 years Mike Harding and Jon Wozencroft's Touch imprint has established itself as one of the UK's most worthwhile and challenging labels. To celebrate their quarter century, they've compiled previously unissued works from the likes of Biosphere, Chris Watson, Philip Jeck and Ryoji Ikeda in a typically beautiful package.
As with the label's output in general, there's a lot of variety; from deep listening droneology to field recordings to lush electronica. Much of it is staggeringly beautiful, and that seems to be the aesthetic that binds all this disparate stuff together. The sounds of a rusty dredger squealing its way up the River Clyde or the brutal distortotronica of Pan Sonic nestle snugly alongside the Oren Ambarchi's womblike drones or Fennesz's gauzy electroacoustics.
Some bursts of found sound (from in-flight announcements to news reports to sundry 'field' recordings) appear between tracks, gently (and sometimes not so gently) disorientating the listener. There's some powerful stuff here; Biosphere's "Spring Fever" is one of the most hallucinatory, dreamlike three minutes and twelve seconds I've had for a long while. [Peter Marsh]
Record Collector (UK):

Boomkat (UK):
Touch 25
I don't think I need to tell you about the Touch label, after 25 years of activity they have built up an unmatched reputation for themselves. Releasing classic albums from experimental electronic music guvners such as Biosphere, Philip Jeck, Fennesz, Mika Vainio and Oren Ambarchi has put them into a hallowed place for discerning music fans, and quite rightly each release from the label is hugely anticipated. It's not only the music that's attained them the reputation though, and the label's founder Jon Wozencroft has continuously repeated 'Touch is not a record label!' – rather they are an 'audiovisual' label, a collective that puts just as much care and attention into the packaging and imagery as the music. And it shows, indeed their releases have garnered miles in column inches merely due to the fact everything looks so damned delectable – something difficult to say for a majority of Touch's contemporaries. So 25 years on, why should we still care? Well, if a cd featuring EXCLUSIVE material from Oren Ambarchi, Biosphere, Fennesz, Ryoji Ikeda, Philip Jeck, Johann Johannsson, BJNilsen, Rosy Parlane, Peter Rehberg (Pita), Pan Sonic and Chris Watson among many more doesn't get you hot under the collar then I don't know what will. This disc features a lineup of the absolute cream of experimental electronic music right now, and will engross, astound and amaze in equal measures. It really doesn't get much better…
Plan B (UK):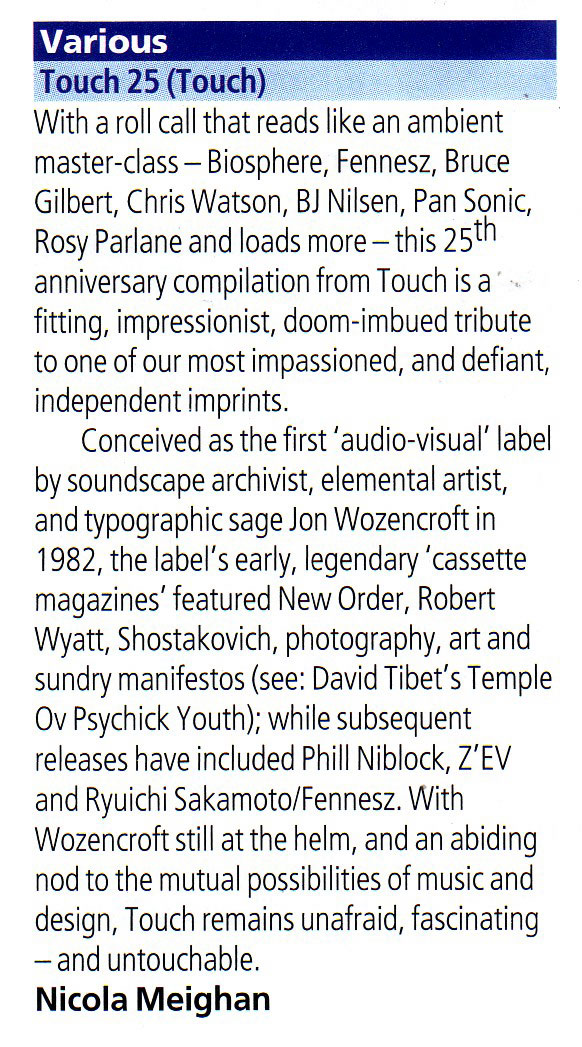 Musique Machine (UK):
Touch 25 is an audio and visual celebration of the touch label's 25 years in existence. They are one of the most respected and quality consistent labels in the sound work, ambient, electronics fields.
On offer here are exclusive tracks from the likes of Biosphere, Fennesz, pan sonic, Philip Jeck and many more. Working more like a collection of audio snapshots then a conventional compilation, this makes it the more approachable as an all-in-one audio experience, which neatly fits together. As usual with all touch productions, the design and artwork is unparalleled, each track has its own photo in the accompanying booklet and the digpak is constructed as a piece of art, as well as holding the cd nice and safe. They've also managed to fill the cd length near to the top just short of 80mins, so you can really let the experience float over you, undisturbed.
BJNilsen opens the compilation with Gotland, which offers up the wonderfully calming ambience of slow crashing wave, like tones. The piece turns out to have been recorded on the southwest coast of Gotland, during an icey stay there. Later on Chris Watson's conversations is just that, but it's between the creaking and dragging of chains of a huge dredger, as rolls its way along the river Clyde. Ryoji Ikeda's untitled # 25 ushers the listener into a room full of opening flower drones, that develop slowly into head- drilling pitches of sound giving a strangle hypnotic feel, that seems to still be imprinted in your mind, long after the track has ended. Almost a slight feel of woozy off-balance, tinged with a clinical air. All I can say is, I advise the listener to be seated when playing it.
Biosphere mangers once again to merge natural sounds into a breath-taking ambient canvas. Pulling together the sound of fire crackle and wolves, along with rushing water, and as the track develops he adds bird song in such a captivating manner. Fennesz's Tree offers up a tranquil piece of guitar work, sailing with exquisite brushstrokes along the surface of a pond of ambience. One can imagine watching a tree's heavy limbs stroking a stream of water, making a wonderfully track to drift off to.
A captivating and invigorating mix of sound, music and sight. An enchanting sound photo album, on to which you can imprint your own visions and memories. More than a compilation, it's a piece of art. [Roger Batty]
Ear Plug (UK):
Touching the Void
Touch 25 offers eulogy for cassettes
Most of us probably can't remember when we last bought a commercially released cassette tape. Even hip-hop's ubiquitous "mixtapes" are a misnomer, existing almost exclusively on CD; in North America, aside from an underground DIY scene, the format has been definitively phased out. Luckily, England's iconoclastic label Touch is giving us all one more chance to wrap our hands around one of the rattling plastic bricks with the release of Touch 25 — a compilation celebrating 25 years of the label's history that will be made available on both CD and cassette. (Many of Touch's early releases were in the form of so-called "cassette magazines," and with CDs becoming available in 1982 and tapes phased out in 2006, the two formats effectively bookend the label's history to date.) Touch 25 presents exclusive tracks from label mainstays like Biosphere, Ryoji Ikeda, Philip Jeck, and Pan Sonic; interstitial elements, such as Touch founder Jon Wozencroft's 1984 recording of his flat's plumbing, complete the compilation. Typically for the uncompromising audio-visual imprint, the album aspires to be more than a mere collection of songs, ranging as it does from field recordings to spoken word. Pan Sonic and Ikeda, meanwhile, "have managed to condense their whole approach into two five-minute pieces that make you reappreciate their past innovations," according to Wozencroft. Rounding out the project, Touch 25 screensavers for computers and mobile phones are also available for free download, along with a free Touch 25ringtone. [PS]
DJBroadcast (Netherlands):
Bij liefhebbers van avontuurlijke electronica is het Touch label uit Sheffield wellicht niet onbekend. Zo bracht men albums van Biosphere, Ryoji Ikeda, het Finse Pan Sonic en electronica pionier Richard H. Kirk (onder het alias Sandoz) uit. Touch begon in 1981, middenin de new wave periode toen synthesizers en electronica een nieuw muzikaal universum openden, en heeft zich vanaf dag één niet uitsluitend op muziekuitgaven geconcentreerd. Daarmee is Touch vergelijkbaar met Factory (sinds 1992 verdwenen) en Warop (iets later gestart en nog steeds actief).
Zegt mede-oprichter Jon Wozencroft: "Toen we begonnen, zagen we Touch als het eerste audio-visuele label ter wereld. We zeggen het nog maar eens, en we blijven het zeggen: Touch is geen muzieklabel! Alles is gebaseerd op samenwerking. We zijn afhankelijk van artiesten met wie we een langdurige relatie opbouwen en van ons netwerk dat fungeert als onze antenne. We brengen muziek en kunst uit in kleine oplages, zoals een fotograaf een kleine oplage van zijn foto's laat maken voor tentoonstellingen." Naast muziek bracht Touch ook boeken en speciale T-shirts uit.
Dit jaar bestaat Touch 25 jaar en ter gelegenheid daarvan brengt men een speciale compilatie uit, Touch 25 getiteld. En opvallend genoeg is het album – met exclusieve bijdragen van producers die via Touch platen uitbrengen, zoals Biosphere en Rioyi Ikeda – niet alleen op CD beschikbaar, maar ook op het inmiddels overleden medium van de audio cassette.
Daar zit uiteraard een verhaal aan vast. Toen Touch in 1981 begon was de cassette (door liefhebbers ook wel liefkozend als K7, à la française, geschreven) het medium voor do-it-yourselvers. Vinylplaten waren duur en ingewikkeld om te laten maken, en de cassette was een uitkomst voor liefhebbers van thuisvlijt. Een jaar na de start van het label werd de compact disc geïntroduceerd en inmiddels heeft de audio cassette onlangs het loodje gelegd. Beide audio formaten markeren dus de eerste kwarteeuw van Touch.
Overigens is Touch ook verantwoordelijk voor het slotevenement van het lopende Holland Festival. Op zaterdag 24 juni vindt in de Oude Kerk te Amsterdam onder de noemer Spire een drie urende voorstelling plaats waarin het orgel centraal staat. Klassiek orgelrepertoire van ondermeer Bach, Sweelinck en Gorécki, maar ook eigentijdse stukken van bijvoorbeeld Focus en enkele nieuwe composities, worden door middel van orgel, piano, draaitafels, samplers en electronica op een eigentijdse, 21ste eeuwse wijze uitgevoerd.
Spire is een idee van Mark Harding, met Jon Wozencroft het team achter Touch. Het Touch team dat zich tijdens Spire laat inspireren door het orgel bestaat uit Charles Matthews, Marcus Davidson, Fennesz, Philip Jeck, Robert Millner en Cor Fuhler.
de:bug (Germany):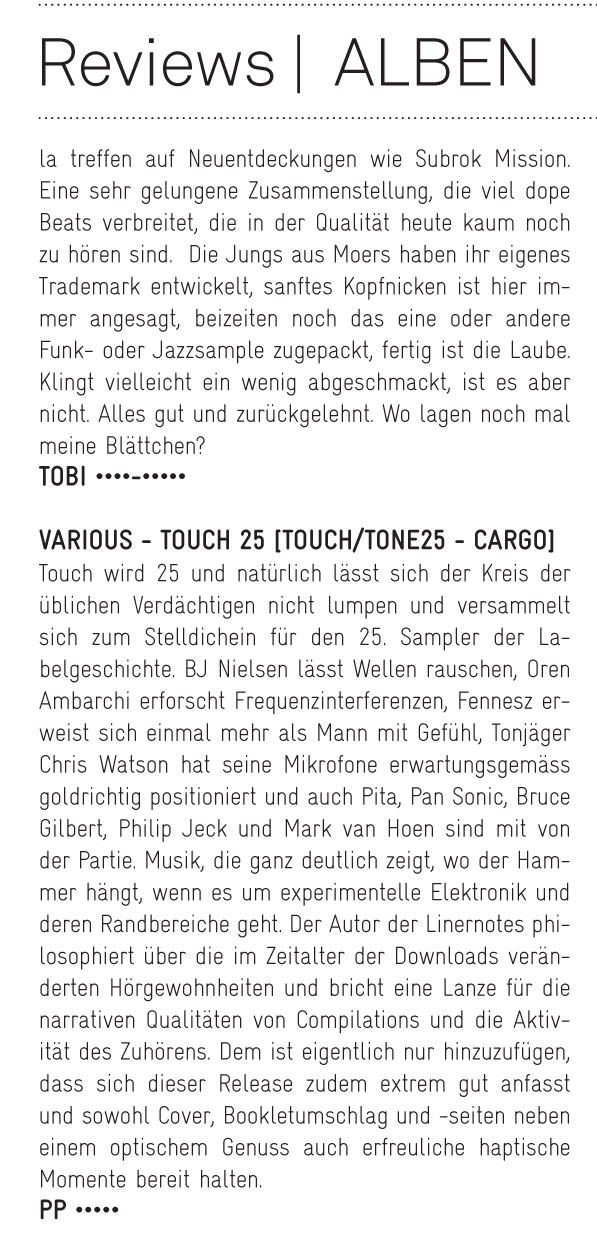 Subjectivisten (Netherlands):
Er zijn labels waarop altijd kwaliteit wordt uitgebracht en die invloedrijk te noemen zijn. Voorbeelden die zo in mij opkomen zijn Warp, Kranky, Rune Grammofon, Tzadik, het vroegere 4ad en het jonge Type. Maar een voorbeeld voor allen is toch misschien wel het in 1981 opgericht Touch label uit Sheffield. Niet alleen muziek, maar ook andere kunstvormen. Niet alleen een statische catalogus, maar altijd in beweging. Niet alleen cd's, maar (tot voor kort) ook altijd cassettes. Soms op de voorgrond en soms in het ondergrondse, maar altijd kwaliteit of intrigerende experimenten. Zo lang ik bewust muziek verzamel is het label trouw aanwezig, met dikwijls dingen die ik wil hebben. In het bijzonder vanaf 1992 belanden er regelmatig titels in mijn handen om niet meer te vertrekken. Kijk maar eens naar hun indrukwekkende catalogus, die voor zich spreekt. Van The Hafler Trio, Z'EV (aka Mother Tongue) en Richard H. Kirk tot aan Fennesz, Philip Jeck, Biosphere, Mark Van Hoen, Jóhann Jóhannsson en ga zo maar door. Namen die er toe doen. De muziek is altijd gestoken in de prachtige ontwerpen van labelbaas Jon Wozencroft. Nu bestaan ze 25 jaar en verschijnt de jubileumcompilatie Touch 25, voor de gelegenheid nog een keer op zowel cd als cassette. Het is een goede greep uit de catalogus en nog veel leuker, een greep vol exclusieve bijdragen. Tussendoor vind je allerlei leuke intermezzo's (zie cursieve titels hieronder). De cd bevat prachtige, experimentele en intrigerende stukken, net zo gevarieerd als het label zelf. Het is zowel voor de verzamelaar als de beginneling een geweldig overzicht. Ik buig diep en wens ze nog vele jaren!
The Stranger (USA):
England's Touch has been showcasing the finest esoteric, abstract electronic music and field recordings for a quarter century. Touch 25 celebrates the company's rarefied aesthetics (which includes some of the most consistently beautiful CD-cover art, as demonstrated here by a gorgeous booklet illustrating all 25 tracks) with this collection of exclusives from its loaded roster, including Fennesz, Oren Ambarchi, Chris Watson, Pan Sonic, Philip Jeck, Biosphere, Ryoji Ikeda, z'ev, and Wire's Bruce Gilbert. As a font of keenly chiseled sound design and cerebral tone painting, Touch remains nearly peerless.
Cokemachineglow (USA):
When Touch turns 25, what can we expect but to have our psychoanalytic phantasms shuffle off their mortal coil? This is the label that has brought us Fennesz, Rehberg, Jóhannsson, Ikeda, Jeck and others, and the singular message of all of these artists is simple: our dreams might eat us. The label is working out its quarter-life crisis in grand style; if its artists have always been forward looking, here the concept is that each is creating a piece that attempts to encapsulate their vision of what music will be like 25 years from now. If we still have glaciers in 2031 (and the melting erosion of the tundra is only one way to describe what this compilation sounds like) I don't know if any of these will be our new summer jam (although I'd love to hear Beyoncé cooing over Rehberg's "TT 1205" ricochets), but let's face it: Touch's vision of music has never been one voiced by the people.
I talk about populist intentions a lot; it's much harder to make a broad-appeal case for a label that houses someone like Jeck, since his music sounds roughly like a melting pile of vinyl caught on tape (and "Hindquarters" is no different here). He finds beauty in that ethic, and he does so in line with (or perhaps leading) the main focus of Touch music: find those moments of emotion in the liminal and subliminal spaces we rarely think about. Which isn't always dark necessarily, but on this record it mostly is and therefore the compositions here seem far less pleasant than albums like Jóhannsson's Englabörn or Fennesz's Venice. Jóhannsson, who normally manages to throw all sorts of popish elements into his string fantasies, goes evil here; his zombie-sonata "Tu Non Mi Perderai Mai" sounds like cello strings being peeled apart, and leaves Mark Van Hoen's "Put My Trust in You" as the comp's most melodic track ("Midnight Cowboy" without the western romance).
Rosy Parlane's bubbling field recording opus "Atlantis" is more the median; it closes the album, but the fizzing synths encapsulate the albums meandering story by carving the unified Touch-sanctioned body of melody and dissonance right down the middle. On one side is Rehberg, BJ Nilsen's aleatoric waves, Oren Ambarchi's subterranean bass excursion, Chris Watson's insane noise collages (never heard him before, and, wow!), Pan Sonic's spazzed effects patches, Ryoji Ikeda's rumbling slowcore glitch-hop (yes — this is now a genre), and Jeck. On the other is Mother Tongue's "Rewording" (which, when pared with Rehberg, is like the political spectrum of drums), Fennesz, Jóhannsson, Jacob Kirkegaard's haunting drones, Tanja Orning and Hild Sofie Tafjord's grueling-yet-temperate live performance, Rafael Toral's piercing melodies, Bruce Gilbert's spoken-word guitar duet, Van Hoen, and Biosphere's cat calls. But they don't reach across the divide without touching; they're playing red rover trying to break through one another, trying to get somewhere else.
I think there's a certain political bent to the work here; divorced from their conceptual albums and simply asked to state affairs, the darker mood of many of these tracks seems to suggest a call for change. Musically, however, I suspect this comp is more for diehard fans of the label than it is meant to sample their wares for the curious. This stuff is dark, and often grating, and while Touch 25 shows some of the most capable and creative artists being dark and grating in implicit concert with one another, I suspect those unfamiliar might do better to start with Venice orEnglabörn. Otherwise, welcome to the future. Touch is an incredibly important label, and this is an incredibly important document. If only all tactile sensations were this charged. [Mark Abraham]
030 (Germany):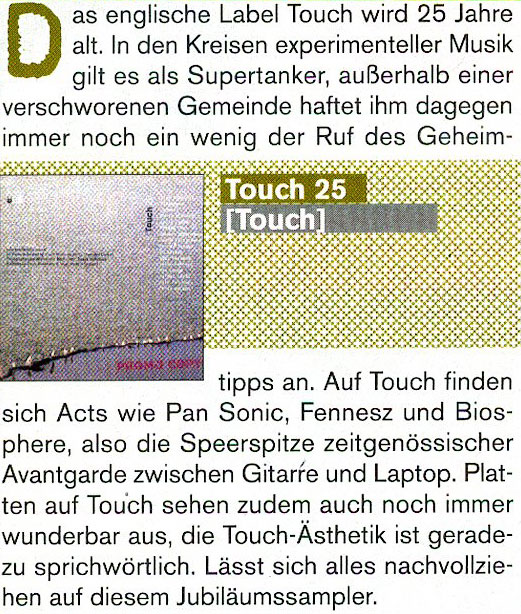 Brainwashed (USA):
To celebrate a quarter century of great compilations and albums by many exciting artists, Touch have released this new compilation. 25 exclusive tracks featuring most of Touch's luminaries sum up both Touch's history and mission perfectly while at the same time showing that Touch still know how to make a great compilation (an art that is neglected by nearly every other label).
The disc is presented in a digipack with an included that contains lots of beautiful photos by label head/graphic designer Jon Wozencroft. Some of these have been included in previous releases on the label but it's nice to see them again. Wozencroft also contributes a number of short field recordings ranging from a recording of an air captain's announcement before landing to plumbing to a myriad of noises I cannot identify (the liner notes are non-existent for these recordings). These brief vignettes clear the aural palate between the meatier contributions.
Staying with field recordings, Chris Watson has provided two pieces to Touch 25. Unusually for Watson, these two pieces are fairly pedestrian (no, not recordings of people walking). Neither piece holds my attention for long which is especially unfortunate as both of them are less than three minutes each. The aforementioned recordings by Wozencroft have more vitality to them. As does Jacob Kirkegaard's "Heavy Water [Bärseback]," a recording of water from a nuclear plant's cooling system which captures the power and menace associated with splitting atoms.
Oren Ambarchi's "Moving Violation" is one of my fave pieces on the album. The looped guitar hum and drone shows how much he has contributed to Sunn O)))'s last album. In fact, without the riffing Ambarchi's guitar playing sounds more threatening. In stark contrast to Ambarchi is "Tree" by Fennesz which follows immediately. His acoustic guitar playing is warm and delicate; soft electronics smooth the edges of his playing. The difference between these two artists highlights the range of artists that Touch has championed over the years.
The jewel that shines more than any other on Touch 25 is Jóhann Jóhnannssonn's "Tu Non Mi Perderai Mai." It is haunting, beautiful and transcendental. I keep coming back to this particular piece to play and play again. Although the liner notes state that it is just two instruments (a ring modulated Hammond organ and a cello) it sounds like there are a host of synthesisers and sequencers at work. The natural sounding cello sounds almost unnatural with the celestial Hammond sounding like it's going into orbit.
Touch 25 is a wonderful compilation, few compilers show as much quality control as the folks at Touch have. Unlike the vast majority of compilations, this disc runs smoothly like a good album by a single artist. Considering the scope of artists and styles appearing on Touch 25, this is some feat. [John Kealy]
Leeds Guide (UK):

Pitchforkmedia (USA):
I'm sort of a Jóhann Jóhannsson groupie: His Virðulegu forsetar still gives me goose bumps after dozens of listens, so when I visited Rekjavík, I made a pilgrimage to Hallgrímskirkja, the church where the hour-long piece debuted and was recorded. Listening now, I feel like it's better understood, the sense of place concrete in my mind's eye.
Makes sense then that Jóhannsson's contribution to Touch 25 would be my favorite. The disc, which celebrates Touch's twenty-fifth year, includes new work from Fennesz, Oren Ambarchi, Peter Rehberg, Philip Jeck, Biosphere, and a host of others, but it's Jóhannsson who forces me to pause and press repeat (repeatedly). The nine-minute soundscape, written for a performance by Italian choreographer Raffaella Giordano, was composed for Hammond organ, ring modulator, and violin/cello. With the help of an Italian dictionary, I translated "Tu Non Mi Perderai Mai" to mean "You will never lose me." What's that sound like? Like losing someone – an airy, scraping drone with modulations approximating fallen, smearing stars.
The compilation's a well-curated sonic collage, so "Tu Non Mi Perderai Mai" leaves its strongest impression within that context, arriving between two tracks with near-silent borders: When Jóhannsson hits his stride, it's like deep, blue projections in the middle of nowhere spelling out the names of the lonely and the dead. [Brandon Stosu]
D-Side (France):
Gonzo Circus (Belgium):
Met een staat van vijfentwintig dienstjaren blijft Touch – meer dan een platenlabel, vooral een multidisciplinair huis waar beeld en geluid een éénheid vormen – tot op vandaag een van de meest vooruitstrevende muzikale spelers. Het Britse label startte vijfentwintig jaar terug als een cassettelabel / magazine dat naast releases van New Order, Cabaret Voltaire en The Residents ook oog had voor het visuele en geschreven werk van Neville Brody, Jon Savage en Joseph Beuys. Anno 2006 is Touch de veilige thuishaven van Oren Ambarchi, Biosphere, Fennesz, Ryoji Ikeda, Philip Jeck, Johann Johannsson (die recent wel naar het 4Ad label verhuisde), BJNilsen, Rosy Parlane en Chris Watson. Het label bracht ook platen uit van Peter Rehberg en solowerk van Mika Vainio (Pan Sonic) en Mark Van Hoen (Locust). Allen leverden ze voor deze compilatie exclusieve nummers aan die door de bezielers, de tandem Mike Harding en Jon Wozencroft vakkundig en erg strak in elkaar werden gepast. 'Touch25' is een uitstekende verzamelaar, goede wijn hoeft geen krans, die de unieke positie van het label onderstreept. [pds]
Urb cuts of the month (USA):
(Touch) Dowtempo with a buffered IDM edge, this exclusive Fennesz track is pulled from Touch's excellent 25th anniversary disc. In a welcome change, the producer's usual fuzz frenzy of swarming bee synths is nowhere to be found, replaced by a more personal, human-rather-than-alien sound of a mournful plucked acoustic and spare EFX.
The Wire (UK):

Bad Alchemy (Germany):
Touch, 1981 von Jon Wozencroft auf den Weg gebracht, ist und bleibt State of the Art in Sachen EnvironMentalität. Nichts zeigt das augen- und ohrenfälliger als die Reihe der Touch-Compilations, von der Feature Mist-Cassette 1982 über Meridians 1983, Ritual 1985/87 und Spire 2004/05 bis zu dieser 25. Anniversary-Zusammenstellung, wie immer mit Wozencrofts Fotodesign güteversiegelt. Versammelt ist der ganze Touch-Pulk an Time- & Space-Travellern, deren 'romantische' Reiseroute mit BJNilsen in 'Gotland' beginnt und mit Rosy Parlane endet in – 'Atlantis'. Die Touch-Augen & -Ohren richten sich unterwegs auf alles, Landschaften, Wetter, Tiere, Menschen, Medien. Nicht idyllisch und eskapistisch, sondern mit dem Mikrophon nahe an der Realität, fast erschreckend hautnah und plastisch bei Chris Watsons ächzendem Nassbagger auf dem Clyde und dem Tumult auf einem mexikanischen Rangierbahnhof. Gerade die Touch-typische compilatorische Eklektik plus Engführung erzeugt dabei eine Reibungshitze zwischen so unterschiedlichen Ansätzen wie dem konkreten von Watson oder abstrakten von Ryoji Ikeda, zwischen flächigen (Oren Ambarchi, Jacob Kirkegaard) und rhythmischen (Peter Rehberg), zwischen Fennesz' akustischer Gitarre und Rafael Torals Dataglove, zwischen BJNilsens Meeresbrandung und Biospheres Wolfsgeheul und Vogelgezwitscher. Als Mother Tongue rufen ZE'V & Doro Franck mit Drumming & Poetry Touchs rituellen Aspekt in Erinnerung. Pan Sonic steuert sein erstaunlich dramatisches 'Slovakian Rauta' bei, Jóhann Jóhannsson sein innig-pathetisches 'Tu non mi perderai mai' aus zitternden Cellostrichen und einem nicht geheuren Wind from Nowhere. Philip Jeck lässt auf den Plattentellern Geheimnisvolles knistern, bis sich elegische Streicherklänge heraus schälen. Bruce Gilbert erzählt eine gespenstische Geschichte von einem Jungen, den Kuckucksrufe zu Tode erschrecken. Mark Van Hoen lässt mit 'Put My Trust in You' ein wunderbares Lied ohne Worte erklingen. Dazwischen gibt es immer wieder kurze Feldaufnahmen von Wozencroft selbst, die gerade durch die Alltagsanbindung für gleichzeitig V-Effekte und persönliche Note sorgen. Wozencrofts Anspruch kreist wie eh und je um die problematische Reibung zwischen 'populär' und 'experimentell', analog und digital, availability und function, data und storage und darum, mit knappen Independentmitteln dennoch zu besseren Lösungen zu kommen als der resourcenreichere Kommerz. Und ist doch realistisch genug, um in den Touch-Stories nicht mehr zu sehen als eine ins Fenster gestellte Kerze.
Othermusic (USA):
Jon Wozencroft's Touch's 25th Anniversary edition CD with exclusive tracks from: Oren Ambarchi, Biosphere, Fennesz, Bruce Gilbert, Ryoji Ikeda, Philip Jeck, Jóhann Jóhannsson, Jacob Kirkegaard, Mother Tongue, BJ Nilsen, Pan Sonic, Rosy Parlane, Peter Rehberg, Rafael Toral, Mark Van Hoen and Chris Watson. For 25 years, Touch has championed ambient and noise artists long before it was fashionable to do so, and here's hoping they will continue long after. Excellent tracks spanning generations, from tape-manipulators to modern laptop warriors.
Spex (Germany):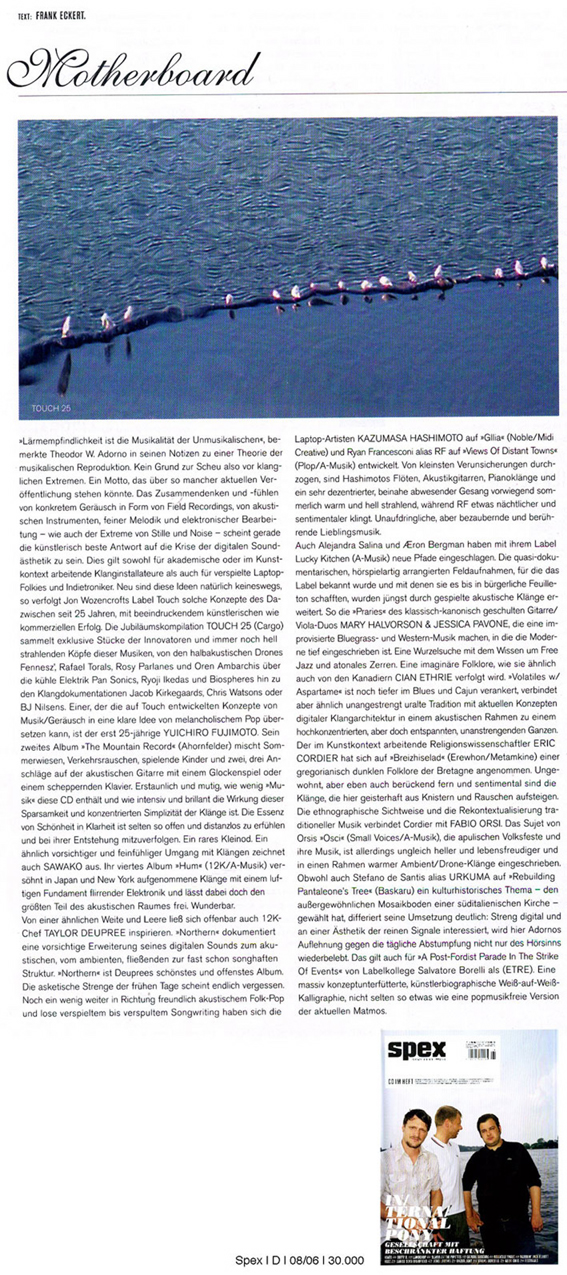 Almost Cool (USA):
Even though most people don't realize it, the Touch label has been kicking around for twenty-five years now. I personally didn't realize it until I looked through their complete discography the other day, but they started out releasing cassette magazines (the first one was called Feature Mist) back in the early 80s and have continued on for two and a half decades, growing into the highly reputable and boundary-pushing label that they are today. Touch 25is a lengthy compilation that includes exclusive tracks both past and current artists, held together with field recordings from label-head Jon Wozencraft and a booklet of his beautiful photography.
Although I love a lot of artists on the Touch label, I'm also one of those fans who just doesn't care for a certain swath of their discography (mainly their noisier material). Because of that, and the inclusion of all the artists on this release, Touch 25 isn't exactly a smooth ride for me, and I think that's most likely the point. Considering some of their past work, the contributions from both BJ Nilsen and Chris Watson are all fairly subdued, with the opener from Nilsen creating a nice lead-in with field recordings of water, while the two tracks from Watson capture movement (more water and a railway), but neither get too loud.
Pan Sonic is fully prepared to drop the noise, though, and they do with the blistering "Slovakian Rauta," a dense piece of noisy blasts and gut-rumbling low-end. Field recordings also play a large part on the release, from the shorter, interstitial pieces from Wozencraft, to "Spring Fever" from Biosphere, a track that captures howling wolves (or something similarly eerie) and features none of his usual electronic gurglings. Fennesz's "Tree" is a short slab of fuzzy guitar pickings, but doesn't really bring much new to the table in terms of his own work.
The real standouts on the compilation are the longer pieces from Oren Ambarchi and Jóhann Jóhannsson. The former is a minimal, but lovely piece that continues along the lines of his great output from the Grapes From The Estate album, while the latter finds Jóhannsson creating a spooky epic that mixes ring modulated Hammond organ and some droning violincello. Philip Jeck's "Hindquarters" is another welcome addition, a crackling, squirming edit of several live recorded pieces from different venues that oozes with all his familiar mood. Because of the weird flow of the release (a majority of the tracks are under a minute and a half), the nearly eighty-minute disc is somewhat hard to really sink into. That said, it is a great overview of a label that seems intent on really pushing the boundaries of electronic music, both in the past and in the future.
The Times (UK):
Touch's 25th birthday album testifies to how some people want a little more from their music than simply 'The X Factor's' production pop.
That said, the kind of experimental music that this London label has championed was once a viable wing of the alternative scene, but it is now as marginal as music gets. Some of the old industrial guard are here, from the Cabaret Voltaire founder Chris Watson (the excellent 'Conversations') to the former Wire guitarist Bruce Gilbert ('Sliding off the World' fuses synths with disorientating FX to wonderful effect). But there is also a large wedge of ambient electronica, such as Oren Ambarchi's monastic moods and Rosy Parlane's queasy, underworld beauty.
If you have ever succumbed to weird soundtracks in the cinema or in your
dreams, then this album is for you. [Martin Aston]
Mojo (UK):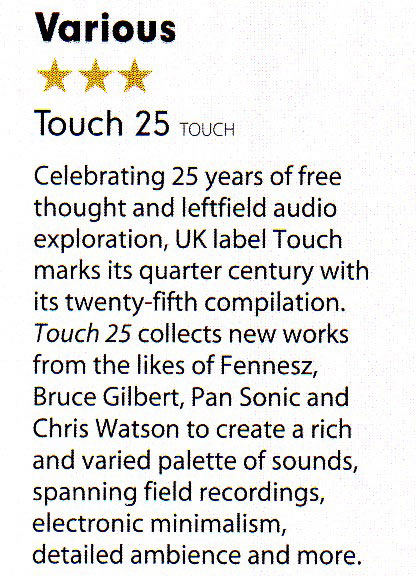 Lost at Sea (UK):
Few labels can boast a lifespan as extensive as that of London's Touch, but the fact that the label has existed on the very fringes of conventionality through 25 years of new romanticism, Britpop, grunge and the million and one brief fads of the musical world marks its most remarkable feat. Touch has been a forward-thinking label since day one, and if its designs for the immediate future cut edges to the magnitude of its pioneers of the early 80s, our children will have a mighty treat in store for them.
Although Touch 25's purpose is to mark 25 years of Touch, it doesn't delve much into the label's history: there is no mention of early Hafler Trio recordings or the cassette magazines of the 80s, and there is no Touch discography in the liner notes. Instead, the CD compiles a collection of unreleased tracks from the label's contemporary starlets: the likes of Fennesz, Biosphere, Ryoji Ikeda and Philip Jeck. Granted, one of Chris Watson's recordings dates back to November 1980, but its nature is timeless to the point that it reveals very little about Touch's roots.
BJNilsen opens the floodgate with a two-minute recording of strong winds and crashing waves, which he captured on an island off the coast of his native Sweden. It makes for a dramatic setting and presents a useful insight to the sound exploration synonymous with recent Touch projects. Chris Watson continues this pattern further towards the middle of the compilation with recordings of bustling dredgers and the din of urban activity surrounding a railway line in Mexico. Biosphere's contrasting recordings of howling wolves in the Arctic Circle sees Touch at its most haunting field-recording-wise.
In balance, Touch's exploration of low-end drones commences with Oren Ambarchi's "Moving Violation," a monotonous low frequency guitar track lined with sporadic rumbles and slight changes in pitch. Pan Sonic's track, "Slovakian Rauta," is equally weighty and perhaps more destructive. Drenched in distortion, it collides and collapses about itself before climaxing and disappearing into a tunnel of reverberating room tones.
Touch 25's most inviting tracks are left to Fennesz and Mark Van Hoen, who both reside towards the most accessible end of Touch's spectrum. Fennesz presents "Tree," a glistening, stripped-down guitar track laced with hazy static and with processed vibes shimmering in the distance. Van Hoen's "Put My Trust in You" incorporates pianos, strings and percussion in a relatively straightforward manner. Although it's not the most breathtaking track on Touch 25, it adds cohesion and provides some light relief, which, in the midst of the flickering electronics and muffled field recordings, is a nice touch.
It would only be appropriate for Touch, one of the most consistently challenging labels of recent decades, to release a consistently challenging anniversary compilation, so it follows that Touch 25 may not be the most logical gateway to the label's repertoire. Once Fennesz's masterpiece album Venice, and Biosphere's ambient classic Substrata have been truly comprehended, Touch 25 may present an insightful introduction to the murkier elements of the label, but until then, Touch 25 will, for the most part, remain an artefact for Touch's existing fans. One thing's for sure: if Touch's modern day artists are as forward-thinking as history would suggest, Touch 50 will blow the mind.
Exclaim (Canada):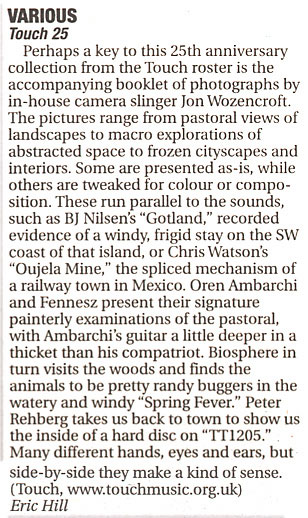 [Wrong! There is no processing of the images in Touch artwork. That's the whole point! – ed.]
Sonic Seducer (Germany):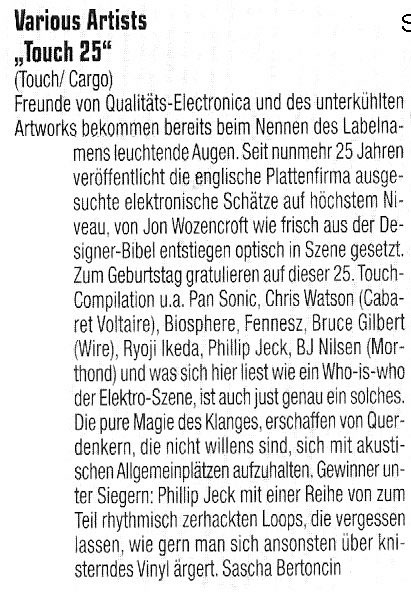 Bizarre (UK):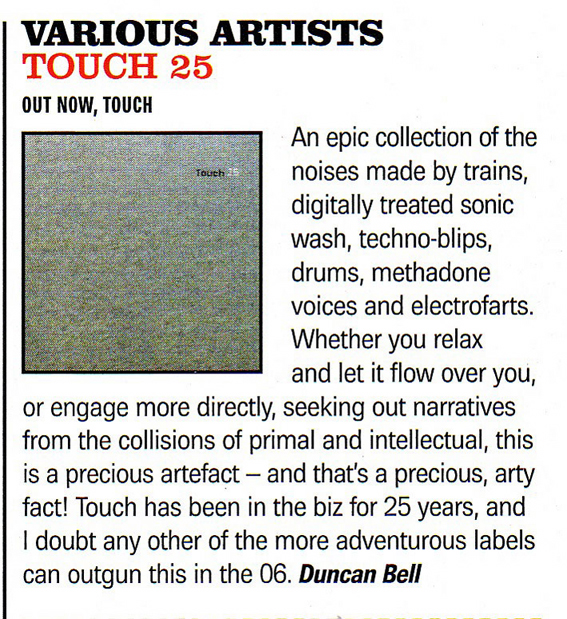 MusikZeitung (Germany):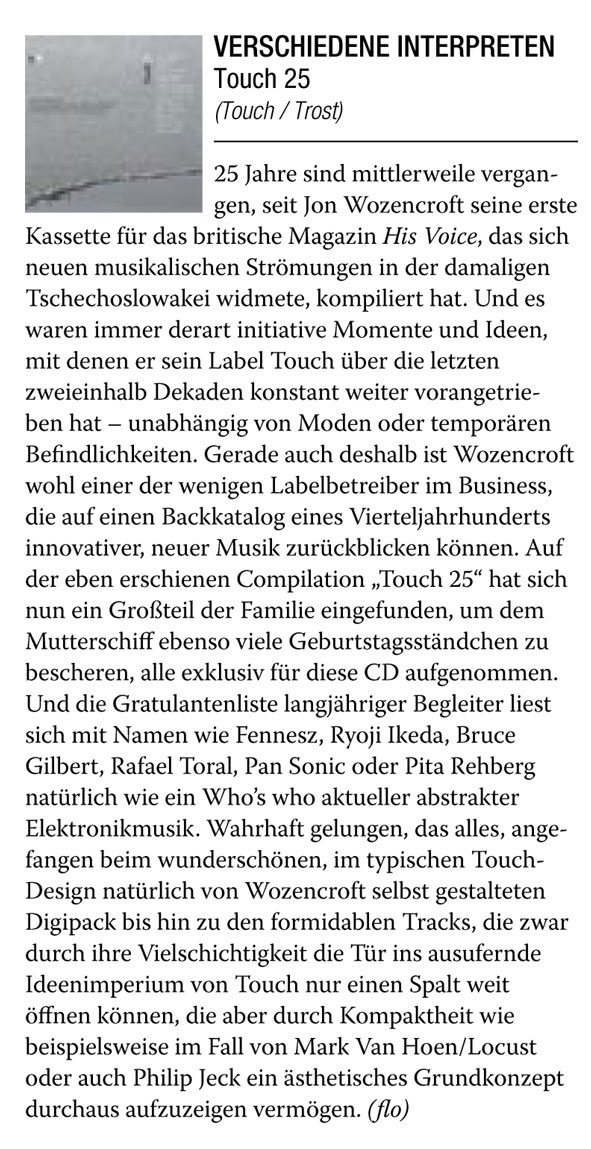 Les Inrockuptibles (France):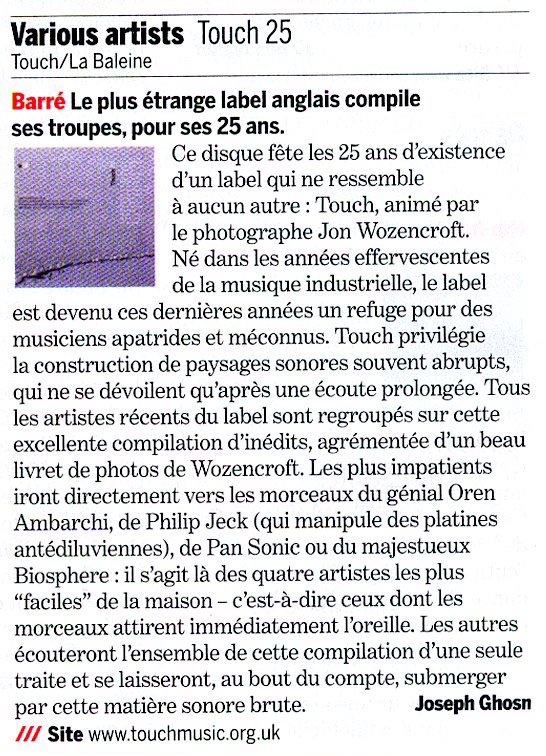 Sonhors (France):
Touch 25 : 25 titres pour un quart de siècle ! Fondé en 1981 par le graphiste Jon Wozencroft (auteur des fameuses pochettes de disques "naturalistes"), Touch demeure un exemple pour bon nombre de labels, tant par sa longévité que par son engagement. Voyez plutôt au travers de cette énumération non exhaustive la diversité d'un catalogue visuel et sonore qui débute en 1982 par l'édition de la toute première cassette audio "Feature Mist" : Jean Tinguely, Gilbert & Georges, Current 93, Cabaret Voltaire, General Strike (David Toop et Steve Beresford), Einstürzende Neubaten, Zoviet france, Lol Coxhill, Hafler Trio, de la musique balinaise (Islands In-Between), des percussions africaines (Drumming for Creation), de la musique de l'ancienne Egypte (Soliman Gamil), et… ces dernières années, une bonne partie de la crème des électroniciens expérimentaux : John Duncan, Philipp Jeck, Biosphere, Mika Vainio, Ryoji Ikeda, Christian Fennesz. Rajouté à tout cela d'incroyables documents sonores anthropologiques et scientifiques, et même la création en 1993 du sous-label Ash International (dont le co-fondateur n'est autre que Robin Rimbaud aka Scanner) et vous avez une vue partielle de la nébuleuse : vingt cinq années dans la vie d'une plateforme au service des nouvelles musiques issues de l'after punk !
Plutôt qu'un panorama historique, Touch 25 nous propose un état des lieux imparable du radicalisme sonore actuel à travers 25 pièces inédites et récentes réalisées par les coutumiers du label. Hors des modes et à la fois toujours à la pointe, Touch a su résister et innover en développant divers projets sur le web, comme par exemple l'excellente TouchRadio qui propose en streaming des créations et sessions live !
Total Music (UK):
Celebrating 25 years of Touch (the brainchild of Jon Wozencroft) – initially produced to promote new music in the Czech and Slovak Republics – Touch25 can best, indeed only, be described as experimental sound and features such sonic explorers as Biosphere, Wire's Bruce Gilbert, Fennesz and Pan Sonic alongside a raft of performers most of you won't have heard of but, if you've tired of the constant reinvention of the wheel going on in the charts, certainly need to check out. Clicking, droning, stuttering and glitching through 25 tracks and almost an hour and twenty minutes this is the sound of envelopes being pushed.
Neumu (USA):
Numerous experimental print publications (E/I and Grooves come to mind) have been boarding up their doors recently, if only to shield their eyes from the glow of the Internet. All signs, written or otherwise, are becoming detached, disembodied from any real content, floating in an immaterial realm where everything seems exchangeable. This is an old story of which many have taken notice; Touch have taken notice of it, using it as a springboard for the tracks on their 25th anniversary album.
Touch 25 is not so much mourning for a real image as an attempt to reconstruct one. The tracks side with the digital realm, pushing compositions beyond the reach of gravity, beyond the plane of the real — but with the apparent intention that all this pushing will eventually bring about their collapse. Sound artist BJ Nilson (who's followed by Oren Ambarchi, Fennesz, Chris Watson, Peter Rehberg, Pan Sonic, Philip Jeck, Ryoji Ikeda and a host of others) opens the disc with "Gotland," burying the sound of rustling leaves beneath caustic digital textures and crashing waves, amplified so as to be recognizable yet unnatural. The spatial acoustics and microphonic recording process are manipulated to bring out a number of hidden themes, into which the following tracks delve further
Philip Jeck's contribution offers a spectral woodwind hum, swathed in crackling particles of static, rattling cymbals, with a wistful (though altogether out of place) string melody giving the piece an uncanny air. Selections from Peter Rehberg and Ryoji Ikeda, meanwhile, seem to find the group lodged all but entirely in some far-off hinterworld. Rehberg slips a flurry of sharp chords into jagged rhythmic sequences, while a more minimalist Ikeda pastes cold microtones and ultra-low frequency sine-waves into gray, cavernous drones.
The contributors' similar interests make the album flow well, especially for a compilation. Even molecularized pieces such as the Mother Tongue's "Rewording" manage to keep the album's momentum going. Tribal drumming gives the track a ceremonial atmosphere; unidentified noises growl as a disengaged female voice tells a story of "Words/ Once these words had been flesh/ Full like young lips/ Now without your breath, they are dried-out/ Footmarks in dry land." The standout work, though, is Icelandic composer Johann Johannsson's. "Tu Non Mi Perderai Mai" begins with the slow burn of a string section fighting against the steely dissonance of its background. Clusters of alien sonar signals soar above the turbulent violin winds, but the piece never crests, and gradually the howling drone breathes in the strings and high-frequency tones. A dreary, challenging and unrelenting album, Touch 25 allows each fragment to produce its own vertigo. [Max Schaefer]
Touching Extremes (Italy):
Jon Wozencroft's label is 25 years old this year. "Touch 25" is a tasty birthday cake, made as it is of previously unreleased tracks by Touch artists interspersed with real life fragments and particulars. Such is the conceptual affinity of these recordings that one could play them in random mode all day and still get the feeling of being part of a sound installation, not as a visitor but as a sonic reproduction unit. Philip Jeck fuses three live segments to inundate the air with hunchback melancholy; Rosy Parlane walks very slowly through a quagmire of morphing timbres over a pretty basic harmony. Bruce Gilbert talks with deadpan voice over a fabulous slowed down cuckoo clock, while Johan Johansson presents an engrossing piece for Hammond organ, ring modulator and violincello(sic). Oren Ambarchi, Fennesz and Rafael Toral's contributions are exactly what you'd expect (loops from the centre of the earth, acoustic pastel-cum-laptop and crystalline sinewaves) and all three are just beautiful. Field recordings come from BJ Nilsen, Chris Watson and, unexpectedly, Biosphere (you gotta love those Norwegian howling wolves and forest birds). Nice, but pretty average material is given by Mother Tongue (z'ev), Peter Rehberg, Pan Sonic and Mark Van Hoen. And now, my personal podium: Tanja Orning and Hild Sofie Tafjord's 33 seconds (too bad) for cello, horn and electronics and Jacob Kirkegaard's gorgeous hypnosis, generated by recording a giant tube leading sea water into a nuclear reactor, are beaten by a split hair by Ryoji Ikeda, whose "Untitled #25" features frequencies that stopped my breathing for a few, long seconds while putting all my house's glass in full-tremble mode, earthquake-style. [Massimo Ricci]
Goon (Germany):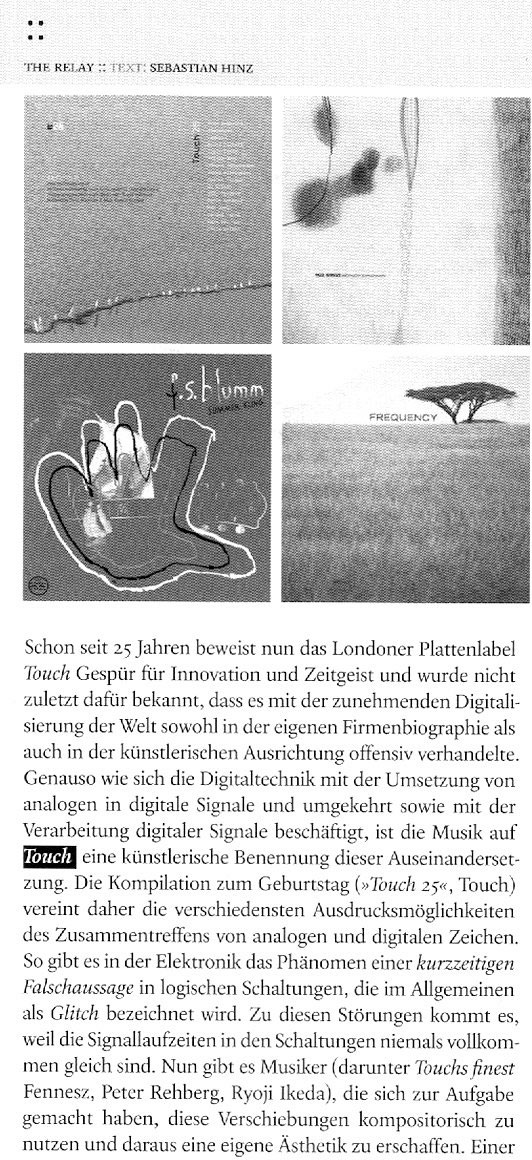 Magic (France):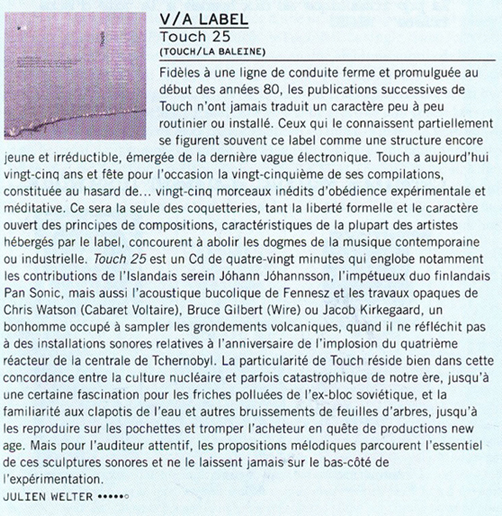 Notes (Germany):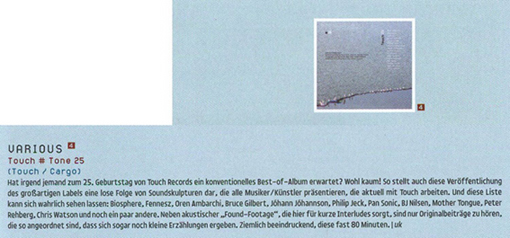 Orkus (Germany):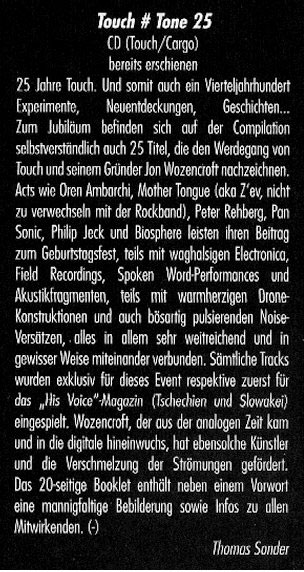 Tinymixtapes (USA):
Label showcase or conceptual art piece? There's a little from column A and a little from column B when listening to Touch 25, a compilation marking the 25th anniversary of the European label Touch that features all the current favorites on their roster. For the last quarter of a century, the label has gone from way underground to slightly less underground, but has always been pushing the envelope when it comes to cold, science-project-like sound experiments.
Often, the request for an artist to shell out material exclusive to a compilation produces second-rate work, and while there are certainly better examples of what most of these artists do, no one sells their label short such that Touch maintains the trustworthy name that they've so firmly established. Its highlights include Chris Watson's (of Cabaret Voltaire fame) musique-concrète style cityscapes, Oren Ambarchi's minimal guitar swells, Jóhann Jóhannsson's melodic music for ring-modulated organ and cello, Philip Jeck's pseudo lo-fi murkiness, and Ryoji Ikeda's psycho-acoustic minimalism. Amongst Jon Wozencroft's cerebral photography, the liner notes contain a short essay (presumably written by Wozencroft) regarding the state of how we listen. He has indeed come to terms with the iPod generation (which should be a given, considering at least half the musicians associated with Touch are likely sporting high-powered laptops of their own) and raises legitimate concerns regarding music as data and its archival ability (or lack thereof). His woes of historically important digital documents being erased over time is undoubtedly an important concern and extends beyond just music. The most interesting part of his text, however, (which he doesn't actually "touch" on) is where Touch stands in the midst of this changing medium. The label's artists, whether using old analog gear, high-powered laptops, or no gear at all, have always seemed one step ahead of the technological curve, but after reading his forward, the question arises: At what point will Touch sound more like a nostalgic trip down memory lane and less like the advancement of music? (Closing his declaration by referencing Frank Sinatra doesn't help his cause.)
How his label will move forward during this time of change has yet to be seen, but at the moment, Touch is still focusing on the importance of the album as a complete work of art. To keep from being another label sampler/compilation, with solitary tracks from individual artists, Wozencroft attempts to tie it all together with artwork, tracks bleeding into each other, and miscellaneous sonic interludes of nature, metro stations, and safety alerts. Considering the well-defined, signature sound of the label, it's actually surprising that each artist contrasts each other so greatly when placed back-to-back. The differences become so apparent that, unfortunately, Touch 25 doesn't flow so much like an album, but more like the sampler that they were so desperately trying to avoid. Worse things could've happened, and while this disc might be somewhat unfulfilling for those better acquainted with the label (or perhaps a necessity due to its previously unreleased material), it's an excellent introduction for those who've been curious about Touch.
foxydigitalis (USA):
The years pass quickly, but the British Touch label is one of those mainstays that not only has remained active throughout a longer period, but also maintained to put out exciting and up to date music at all points of its existence. Loosely connected by short snippets of field recordings, drone and vocal statements, 17 artists from the Touch roster contribute excellent examples of their recording talents.
It´s hard to pick out any particular songs that leave the most impression, just because "Touch 25" flows consistently from beginning to end with hardly any superfluous material. Field recordings come from BJ Nilsen and Chris Watson, the latter present with two tracks. While Nilsen focuses on wind and nature sounds, Watson concentrates on vehicles noises. His first piece samples the slow and heavily aching squeaks of a cargo ship and his second the various traffic sounds in a railway town in Mexico. Things get more physical in the middle of the disc with heavy sub-bass notes from Finland´s Pan Sonic that are frighteningly present. Before Pan Sonic, Peter Rehberg delivers another of his not so abrasive, but still almost painfully compositions. In line with these two artists goes the slowly evolving "Moving Violation" by Oren Ambarchi. Ambarchi has his highs and lows, but this 8-minute piece is on par with his very best previous efforts, gently adding more and more elements to prepare for the track´s climax.
On the quiet side is Fennesz whose track is maybe a bit dull compared to his last full-length "Venice", but still very pleasant to listen to. Icelandic composer Jóhan Jóhansson provides a slowly droning string composition, vaguely similar to Tony Conrad or LaMonte Young, which tenderly shifts different levels to the foreground and back, adding subtle organ and effects. My personal favorite on the disc comes from Locust (the band) alumnus and producer Mark Van Hoen. It starts out with echoed piano and a telephone conversation. Drums evolving from dancing hi-hats and what sounds like a melodium supplement this basis and form a beautiful soundscape that could go on forever. Almost equally stunning is Rosy Parlane´s contribution at the end of the CD. It´s an atmospheric ambient piece with lots of love for detail that breathes, rises and falls like a soufflé in the oven. Additional tracks by Ryoji Ikeda, Philip Jeck and Biosphere among others as well as photos by Touch regular Jon Wozencroft complete this fine retrospective. [Stephan Bauer]
Skug (Germany):
Blow Up (Italy):

Bant (Germany):

Mondo Sonore (Spain):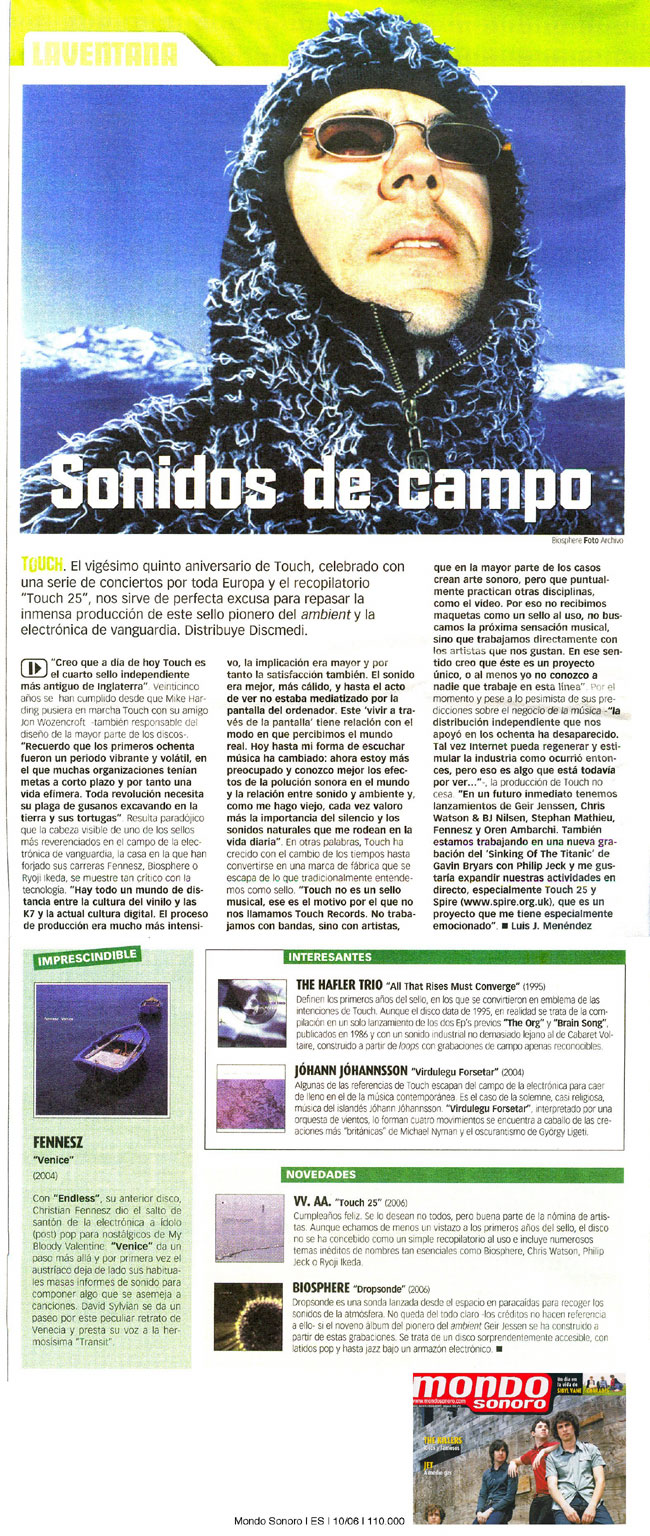 Liability (France):
Le label Touch fête ses 25 ans. Cela peut paraître complètement anodin, comme ça, mais l'évènement est de taille. Pour un label comme celui-ci, durer aussi longtemps relève de l'exploit. Surtout dans le registre où il a toujours excellé : la musique électronique cérébrale allant du minimalisme le plus extrême à l'ambiant la plus vaporeuse ou aux expérimentations les plus tordues. En usant d'un esthétisme s'identifiant à cette musique aussi exigeante, Touch s'est construit une identité qui a servi de modèle à bon nombre de labels voulant s'essayer à la diffusion de sonorités iconoclastes. Touch est ce vecteur qui a permis à bon nombre d'artistes de se faire un nom. On pense immédiatement à Biosphere, Christian Fennesz, Ryoji Ikeda, Rafael Toral, ou Peter Rehberg. D'autres, au passé déjà bien fourni, n'ont pas hésité à s'entremettre avec la structure tel Pan Sonic, z'ev, Evan Parker ou Bruce Gilbert (Wire). Difficile alors de retracer en quelques lignes l'épopée pleine de risques qui fut celle entreprise par Touch. Au moins on retiendra que ce label reste une référence en la matière et que peu arrivent à sa cheville tant sur le fond que sur la forme. Bien sûr, nombreux sont ceux qui ont suivi la trace laissée par le label (on ne s'en plaindra pas) mais bien souvent ils firent office de suiveurs, aussi injuste que cela puisse paraître. Ce qu'on retiendra, finalement, c'est l'émulation qu'a suscité cette structure. Une émulation qui n'est pas près de se démentir.
Célébrer ces 25 ans de carrière c'était donc bien un moindre mal. Pour autant, sortir une simple compilation n'aurait pas été suffisant. L'idée était de sortir un disque qui ne contiendrait que des inédits qui seraient à l'image de Touch, du moins de ce que le label a toujours été. Ce disque est ce laboratoire sonore qui se réinvente à chaque fois, laissant libre cours à tout l'imaginaire esthétique que peut générer la musique électronique. Outre les historiques du label on aura plaisir à retrouver des artistes comme Rosy Parlane, Oren Ambarchi, Philip Jeck ou encore BJ Nilsen, pour ne citer que ceux-là. Chacun aura eu à coeur de donner à cette compilation une identité forte, de celle qui n'aura laissé transparaître aucune faiblesse au cours de ce quart de siècle qui aura semblé passer à une vitesse affolante. En même temps cette compilation est un avertissement. Touch a bâti ses fondations sur une exigence sonore et architecturale qui n'a pas changé d'un iota tout au long de ces années et, ici, on se rend bien compte que rien ne changera. Touch restera ce label défricheur, toujours en quête d'une musique curieuse, profonde, délibérément hors des sentiers battus et qui fera appel à la remise en cause de toutes nos conceptions musicales. Que demander de mieux? [Fabien]
Big Load (Germany):
Resonance (USA):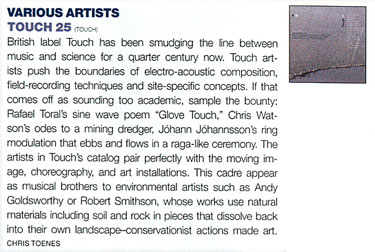 La chronique d'Eric Serva (France):
Puisque nous parlons de perception sonore, je suis venu aujourd'hui avec deux enregistrements qui font particulièrement appel à notre sens de l'écoute mais également à notre mémoire sonore, à notre faculté de mettre des images sur des sons perçus. Le premier extrait est une pièce de Ryoji Ikeda, intitulée untitled # 25. Ryoji Ikeda est né au japon en 1966, il notamment composé pour la très renommée formation d'art multimédia Dump Type et l'une de ses caractéristiques est qu'il travaille toujours sur des micro fréquences très graves ou très aiguës avec lesquelles il façonne une véritable architecture, un peu comme un mobile sonore en perpétuel mouvement. Les sons d'Ikeda sont d'une finesse et d'une transparence extrême, il les manipule avec beaucoup d'ingéniosité, les fait monter, descendre ou tourner jouant ainsi avec notre perception sonore. Dans de bonnes conditions d'écoute on a l'illusion que sa musique est constituée de sons microscopiques amplifiés en toute transparence et dirigés vers nos oreilles pour opérer sur nos sens un troublant massage acoustique et cérébral. Une expérience enivrante que vous pourrez personnaliser à tout instant puisqu'il vous suffira de changer votre position d'écoute pour entendre différemment. Ce titre est disponible sur une excellente compilation éditée par le label Touch qui fête ses 25 années d'existence. Une compilation qui permettra à ceux qui ne sont pas familiers du label fondé par Mike Harding de découvrir une liste de musiciens exceptionnels et pour les habitués d'acquérir 25 ¦uvres inédites de très grande qualité.
Je vous parlais en introduction de cette chronique d'une ¦uvre qui fait appel à notre mémoire auditive, à notre faculté à mettre des images sur des sons. Cette deuxième oeuvre est tirée de cette même compilation, il s'agit d'un enregistrement de Chris Watson. Ancien membre de Cabaret Voltaire et du Hafler Trio, deux formations majeures de la scène électronique anglaise, Watson est devenu un chasseur de sons exceptionnel. Depuis plus de 20 ans il parcourt la planète avec ses magnétophones et sa collection de micros pour nous offrir de formidables documentaires audio. Ceux qui se sont déjà essayés à la prise de sons en extérieur savent combien il est parfois difficile d'enregistrer un son naturel pour qu'il soit immédiatement reconnaissable sans son image. Là aussi notre perception sonore nous joue souvent des tours que Chris Watson sait déjouer avec précision. En voici un nouvel exemple avec cet enregistrement réalisé au Mexique près d'une mine dans un milieux difficile car excessivement bruyant. Chris Watson nous plonge au c¦urs d'un vacarme de moteurs diesels, de roulements de klaxons et de cloches qui finiront par s'éloigner lentement nous laissant seul près d'un chien au milieu du vent et de la poussière. Ce titre est également disponible sur la superbe compilation réalisée pour les 25 ans du label Touch. Je vous engage à visiter le site du label où vous trouverez une mine d'info, d'extraits et d'images. [Eric Serva]
Trax (Spain):