CD – 8 tracks – 51:00
Track list:
1. 01
2. 02
3. 03
4. 04
5. 05
6. 06
7. 07
8. 08
Fertile is KK NULL's first album for Touch, following his collaboration with Chris Watson and z'ev [Number One – Tone 24, 2005], which boomkat called "moving and atmospheric", and The Wire wrote "a complex dramatic work from a strict economy of means".
KK NULL (real name KAZUYUKI KISHINO) was born in Tokyo, Japan. Composer, guitarist, singer, mastermind of ZENI GEVA and electronic wizard. One of the top names in Japanese noise music and in a wider context, one of the great cult artists in experimental music since the early 80's.
Kazuyuki writes:
"In June of 2006 i had the good fortune of visiting Darwin in the Northern Territory in Australia and explored in Kakadu National Park with some good friends. I took my digital recorder along with me and did some live field recordings there. First we encountered a flock of wild birds (Little Corella or Cacatua Pastinator) just beside the South Alligator River, and then we happened to find "bush fire" flaring just beside the road we were on. I also had a unique opportunity to record a magnificent symphony orchestra of insects, frogs and birds in wetlands just before sunset.
At that time i had no idea or no specific purpose for using these field recordings, and in the middle of working on this album [Fertile] in my home studio, suddenly came up with the idea of mixing these field recordings into some of the tracks that were unfinished.
I felt comfortable with layering & mixing different sounds from different locations and times, digital and analogue sounds into one piece. I like also the balance of spontaneity (field recording) and intentional act (studio recording)."
Biography
In 1981 KK NULL studied at Butoh dancer, Min Tanaka's "Mai-Juku" workshop and started his career by performing guitar improvisations in the clubs in Tokyo. He continued by collaborating with MERZBOW for two years, and joining the band YBO2 (with Tatsuya Yoshida, drummer of RUINS) and starting the improvized noise/rock trio ABSOLUT NULL PUNKT (with Seijiro Murayama, the original drummer of Keiji Haino's FUSHITSUSHA).
In 1985 he established his own label NUX ORGANIZATION to produce & release his own works and subsequently the bands such as MELT-BANANA and SPACE STREAKINGS. He also produced the series of "Dead Tech" (compilation albums by Japanese bands) which heralded a Japanese alternative music boom internationally from the early 90's to date.
In the early 90's he gained world-wide recognition as the mastermind, guitarist and singer of the progressive hardcore trio ZENI GEVA with their extremely heavy sound, releasing five albums produced by STEVE ALBINI (two on Jello Biafra's Alternative Tentacles label) and a few more on other labels such as NEUROSIS's Neurot Recordings. Also ZENI GEVA recorded twice for JOHN PEEL SESSIONS on BBC, and toured heavily throughout Europe, USA, Australia, New Zealand and Japan, playing hundreds of concerts.
Throughout, KK NULL has worked on his solo career and collaborated with other musical innovators such as Z'EV & CHRIS WATSON, [Number One, released on Touch in 2005], DANIEL MENCHE, KEIJI HAINO, SEIICHI YAMAMOTO, JON ROSE, BILL HORIST, PHILIP SAMARTZIS, ALEXEI BORISOV, ZBIGNIEW KARKOWSKI, JAMES PLOTKIN, JIM O'ROURKE, FRED FRITH, JOHN ZORN to name a few, and has been invited to perform at international festivals such as "Sonar" in Barcelona (Spain), "Beyond Innocence" in Kobe (Japan), "Exiles" in Berlin (Germany), "International Sound Art Festival" in Mexico City (Mexico), "Sergey Kuryokhin International Festival (SKIF-6 & 8)" in St.Petersburg & Moscow (Russia), "X-peripheria" in Budapest (Hungary), "Totally Huge New Music Festival" in Perth (Australia), "Avanto Helsinki Media Art Festival" in Helsinki (Finland), "All Tomorrow's Parties UK" and more.
After playing the guitar as his main instrument for some twenty years, KK NULL has gradually moved towards a more electronic approach. In recent years he has concentrated his efforts on his solo & collaborative recordings, exploring the outer territories of electronica His intense clashing wave of noise, structured electro-acoustic ambience, broken down rhythmics, scattered pitch sculptures, droning isolationist material could be described "cosmic noise maximal/minimalism".
At present KK NULL has more than 100 recordings released (inc. solo, bands, collaborations, compilations).

Reviews:

Boomkat (UK):
Kazuyuki Kishino's first solo disc for Touch, 'Fertile' finds the Japanese musician in typically noisy territory, chopping up distorted field recordings and heavy industrial beats and ending up with something sounding a little like Pan Sonic remixing Merzbow (or the other way round maybe?). This is an odd disc for Touch who aren't really known for their explorations into the outer realms of extreme noise, but it somehow sits perfectly in their lineup – KK Null is, after all a master of the genre rather than merely a young punk fan experimenting with a laptop for the first time. These tracks of well sculpted extreme synthesis embody the ghosts of industrial music, extreme rock and also, more surprisingly academic electronics and I suppose that's where Touch come in. Packaged somewhat deceptively with the usual gorgeous Jon Wozencroft photography, within seconds of the disc starting you know you're not in for a shimmering watery listening experience. Screaming noise hits you instantly before giving way to metallic clattering and oscillating tones and then building into the kind of pummelling cyclic noise-beats that Sahko made their own all those years ago. This might not be new territory for Kishino who has now been making loud noise since the early 90s, but here we find a musician who has honed his art, and in my opinion 'Fertile' is his most focused work to date. Fitting then that Touch have stepped in to take hold of the reigns, and by the time the disc comes to its ear-pummelling finale you will see that this fits surprisingly well next to Oren Ambarchi or Rosy Parlane. These other artists might not have the same desire to cause internal bleeding of the brain, but there is a similar philosophy in their sound experiments, a similar attention to detail that makes their work (and Null's) intensely listenable. A good starting point for Null beginners and an essential purchase for seasoned fans 'Fertile' is a stunning piece of work. Highly recommended.
Brainwashed (USA):
Being a noise musician is kind of like joining the mafia. Sure, you can do other things with your life, branch out and try something new, but you can never really leave the scene. Seeing a release on Touch, that bastion of UK beard-stroking electronic experimentation, would lead one to think Kazuyuki Kishino has dropped the guitar noise and tossed out the effects in favor of a Powerbook and Max/MSP…but that would be wrong.
KK shows a more medatative, compositional side here yet still manages to throw enough feedback and distortion in to keep it a KK Null release. The opening screech of the first track, "0415," is just as harsh as anything else he's recorded as KK Null, ANP, or Zeni Gava, and is more jarring than a hot coffee enema in the morning. The difference between this and any other faceless noise release, however, is that the static eventually fades away, revealing a backdrop of heavily effected and delayed electronic tones, junk metal percussion, and finally swelling back up into the harsh static from the beginning. This is a somewhat stark contrast from the next track, "0418," which is based around low end loops and rhythmic electronic tones, with just a hint of noise mixed in.
Fertile was inspired by field recordings made during a trip to Australia, many of which were then integrated into unfinished studio tracks, though often mangled beyond recognition. It makes for a nice contrast between the digital harshness of his electronics, and the subtle, organic sounds derived from these nature recordings. Just don't expect Chris Watson audio documentaries here.
One of the excellent things about this work is how strikingly diverse it is from track to track. Besides the aforementioned tracks, there's "0500," with its looped field recordings and electronic percussion, right next to "0359," which sounds like Null playing a rousing game of Space Invaders through a bank of guitar effects. The album ends with two longer tracks, both consisting of more overt field recordings and organic textures and enough reverb to scare Lee "Scratch" Perry.
Kishino has made a very different release under the Null moniker that shows he is exhibiting a sense of growth and an urge to try new things and styles, but still keeps that harsh noise history of his around to keep that cred with the noise fans. [Creaig Dunton]
White Line (UK):
From the fearsome opening explosion of electronics in "0415", it is blindingly obvious that Touch have given KK NULL free rein to carry out all manner of sonic assaults in the name of art.
Rarely do Touch depart from their idiosyncratic comfort zone, except in unique circumstances, and this release is one of those. NULL, former Zeni Geva frontman, and a legend in the noise underground since the early 90's, has formerly released on Touch in the relatively safe company of z'ev and Chris Watson, his extremist tendencies being kept in check by his collaborators. On "Fertile", NULL goes full throttle, and draws from an impressive armoury of source material, ranging from overdriven and heavily skewed field recordings from the Australian outback, to swathes of angular, warped electronica, industrial metal beatings, and all points in between.
All of the tracks are nameless, and are instead assigned numerological titles such as "0357", or "0644". These could be the numerical classifications of some twisted cryptozoological menagerie, or parts numbers for a host of rogue psychotic cyborgs. These anonymous, and apparently insignificant title numbers suit the work perfectly, as (freely associating) interpretation of these pieces could be anything from the sounds of deep space alien environments, to the rabid imaginings of an escaped lunatic. Tracks like "0957" come over like Masami Akita (Merzbow) on sedatives, but aural anaesthetic this is not. That is not to say that Fertile is without subtleties. NULL's strength lies in his impressive handling of tension and resolve, gradually building crystallised, layered edifices of sound that suddenly and spontaneously dissipate into the ether, and emerge as something entirely different, even beautiful at times. Throughout though, there is a sense of deep foreboding, the feeling that all is not well, and NULL plays on this spectacularly, creating audible images that are un-nerving, almost filmic in their presence.
Comparisons in this situation are futile, but I would liken NULL's compositional technique to Christian Renou, the unsung genius of Musique Concret, and mastermind of Brume, whose work reflects an equally masterful hand. From the slick production to the understated beauty of the cover design, Fertile is one of Touch's more radical releases of recent years, but will, I am sure, emerge as one of the most memorable. Fine work indeed. [BGN]
Musique Machine (UK):
Fertile finds Japanese audio explorer KK Null tightening up and reigning-in his often sprawling sci-fi sound worlds into more atmospheric, shorter and more earth-based collection of tracks. That also highlight the more straight forward cinematic tendencies of his work.
Maybe it has to do with his use of field recordings from the northern territory in Australia that gives the material a more stripped-down, eerier and earthy feel?. That said, you'd be hard pressed to make out any open and untouched field recordings here. Sure the harmonic traces are still present but KK Null has put them through all manner of filter and laptop trickery to give them his own audio sound print.
I think it has to do with him cutting the tracks shorter and focusing more on stripped -own and often repetitive textures, undertied by eerier/dark cinematic tones. He also Concentrates on creating an atmosphere instead of blowing the listener's mind with audio gymnastics. Most of the tracks here don't run much above the five minute mark, which he fills with pounding almost gone wrong aboriginal rhythms/beats, bush fire noise hazes, and chugging decaying corrugated shack almost metallic elements. It feels like one has ingested some very strange drugs and then been dropped in the middle of night in Australia's outback and swamp lands. Left to make sense of your surroundings and often hostile environment, as you travel through the remains of freezing night into the scorching day.
Don't get me wrong – this isn't anything close to simplistic or any less daunting for the uninitiated. It's jarring, mind altering and often frightening as ever. It just takes his sound art into a more sun-stroked, swamp-sick and eerier cinematic angle. [Roger Batty]
R&C (France):
Kazuyuki Kishino est un japonais hyperactif qui fait partis depuis vingt ans des figures innovantes de Tokyo tantot sous le nom personnel de KK Null tantot sous l'alias de Zeni geva son power trio post rock hyper hargneux.. Il est aussi une incarnation crédible sur la scéne internationales avec jim o'rourke et d'autres du "guitar heroe" ayant contribué à sortir l'instrument de l'orniére rock ou il semblait tombé comme sur le génial et ancien "Absolute heaven" par exemple. Il a d'autre part collaboré avec quasiment tout le monde de Jim o 'Rourke à Kaiji Haino en passant par Zbigniew Karkowski..Bref KK est tout sauf Null, un bosseur inspiré à téte de catcheur qui inspire le respect et adore la musique.(A t-il lui aussi promis à Schoenberg de vouer sa vie à la musique!?) Depuis plusieurs années il a opérer un sérieu virage electro dont "Fertile" est un des plus beaux témoignages. A partir d'un set up de kaoss pad,,synthétiseurs, multieffet il délivre une musique incroyablement dynamique qu'il nomme "cosmic electronic" trés éloigné du noise comme de l'electronica cachexique et linéaire du culte sinuséen.(Une sinus sinon rien!)mélange de climax à la fois dramatique et processuel machinique et humain (chaleureu si cela veut dire quelque chose) festif/technoide /expérimental étant peut étre la synthése exacte de ce que produit KK Null. On retrouve ici gérer avec rigueur un gout pour le plaisir sonore qui emporte via des boucles et des hybridations de bruit et de fields recordings des montées soudaines cuté pour céder le champ à quelques motifs répétitifs psyché- electronique de nouveau pris dans quelques maelstrom jouissif sans répit mais sans explosion inutiles. Il y a de l'originalité heureuse dans tout celal, De faire "avant garde à tout pris" (l'avant garde sinon rien !) et tomber dans le maniérisme voir le fétichisme "art contemporain" KK Null se fout préférant déferler et dispenser des giclées électriques à faire reluirent le client . Trés bon en somme comme l'est toujour la grande musique c'est à dire celle qui a un parfum de rue et de sexe sans pour autant avoir jeté sa cervelle au corbeau. Pour ce faire une idée plus précise de ce disque on dira qu'il est proche dans le matériau et la construction d'un Mika Vainio mais avec plus de chien,de folie juvénile et de groove tordu. Plus de Tokyo et moins de Finlande plus d'Ice et moins de Vodka!? Conclusion sous quelques angles qu'on le prenne "Fertile" est un disque excitant ,synthétique, charnel, barré qui emporte instantanément l'adhésion aussi bien du novice complet que du sévère junkies aux larsens et silence.
Trés bon quoi. [Boris Wlassoff]
VITAL (The Netherlands):
An active force since the 80s, Kazuyuki Kishino, better known as KK Null. Once the guitarist of Zeni Geva, Absolute Null Punkt, YBO2 and later of Monster DVD, but in the last decade (or more even) best known for his solo work, as well as his many works in the field of improvisation and collaboration, with the likes of Daniel Menche, Jim O'Rourke, James Plotkin, John Zorn and many, many others. These days the guitar is usually left at home and KK Null uses just electronics. Splicing up sounds in the smallest particles and moving them around in a highly fragmented, but curiously rhythmic fashion, he found a niche of his own. 'Fertile' is his first solo release for Touch, following a disc he shared with Chris Watson and z'ev. On this album he applies his usual branch of scattered rhythms along side with field recordings he made in Australia. Insect choirs, fires, birds and such like are used, but they are not easy to find. In the world of KK Null it's electronic sounds that rule the game. Harsh electronic sounds, I should add, as his music is not for the faint hearted. The rhythmic slices remind very occasionally to the work of Pan Sonic, but it's much more minimal and do not resemble any sort of dance beat. On top he knits together a pattern that could be cosmic as well as noise. At times he takes the listener by the hand and let things flow about, but all of sudden he let's go of the listener and with a loud bang the listener wakes up in a nightmarish reality. Although indexed as eight pieces, with all the sudden shifts in sound, it could have been one track or ninety-nine. I am not sure however if this disc stands out from his vast amount of work (I should check some out again), but it's a particular sturdy one. Quite nice altogether. [FdW]
Hair Entertainment (Germany):
Seit Kazuyuki Kishino (KK Null) 1981 begann, als Student in Min Tanaka`s Mai-Juku Workshop den expressiven japanischen Butoh Tanz zu erlernen, erscheint die Expansion als Performer, auch musikalisch gesehen, als naturgegeben. Kishino arbeitete mit Merzbow, YBO2, Ruins, Keiji Haino, Absolut Null Punkt und seit 1985 in der eigenen Formation Zeni Geva. Zeni bedeutet in der alt-japanischen Sprache "Geld" und Geva entstammt dem deutschen Wort für "Gewalt". 1993 nahmen Zeni Geva mit Klangregler Steve Albini das heavy-metallene Desire For Agony für Dead Kennedys/Jello Biafras Label Alternative Tentacles auf. Zeni Geva, das Bandprojekt von KK Null, existiert auch heute noch, für 2007 war sogar eine Europa-Tour geplant, die durch den Tod eines engen Familienmitglieds von Kishino abgesagt werden musste. KK Nulls Biografie und Diskografie ist zu umfangreich, um hier alle Einzelheiten zu nennen, seine Kooperationen reichen vom experimentellen Noise- und Voice-Sample Projekt Hanatarashi mit Yamatsuka Eye von den Boredoms über methodische Feldforschungsaufnahmen mit Jim O'Rourke sowie zuletzt zu den quecksilbernen Industrial-Sounds mit Z'EV. Das neue KK Null-Album Fertile, das Debut bei Touch, dem englischen Spezial-Label der innovativeren Klänge, ist nach einer vorangegangenen Kooperation mit Chris Watson entstanden. Es beginnt mit einem hellen Pfeifton, analog über einen Korg Synthesizer, mit elektronischen Morsecode-Tupfern a lá Frank Bretschneider und einer asymmetrisch anschwellenden Welle aus flatterndem White Noise. Die 8 Stücke auf Fertile bleiben unbenannt, sie dienen der Projektion, der Assoziation auf ungegenständliche, unmittelbare Introspektiven. Clicks & Cuts, Bleeps und Hisses durchziehen die Landschaft, mischen sich mit einem infernalisch-klopfendem Tuckern, das entfernt an das Keuchen und Brummeln ölgetriebener Motoren erinnert. Bei Track 4 treibt ein heavy-metal Basslauf das nervöse Klicken und Glucksen in ein aufwühlendes Crescendo, das sich stetig steigernd zur düsteren, dekonstruierten Mathrock-Symphonie erhebt. [PE]
musicmissions.com (USA):
Eight untitled tracks that continue Null's fascination with electronica, "Fertile" mines both aggressive and contemplative moods and drones to create a complex but intense soundscape. Null incorporates field recordings of insects and wetland birds into the mix, the layering of which creates the effect of a specific place in the act of dying and being reborn; the crankiness and pain of such a part of nature exists hand in hand with the beauty and peace to be found in such change. This is a powerful and moving tribute to chaos, and to the price to be paid for order. Null continues to expand the definition and possibilities of noise.
Gomzo Circus (Netherlands):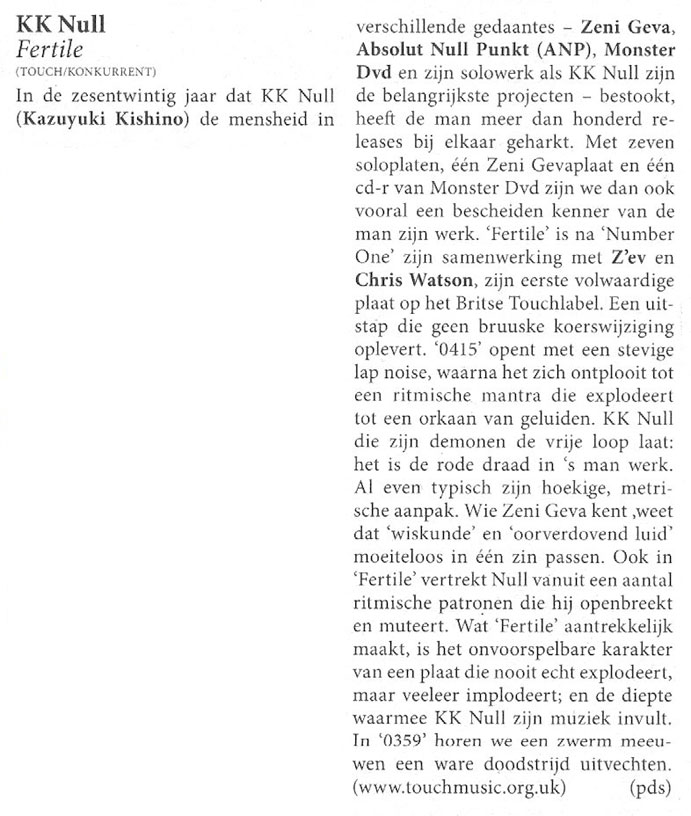 Skug (Austria):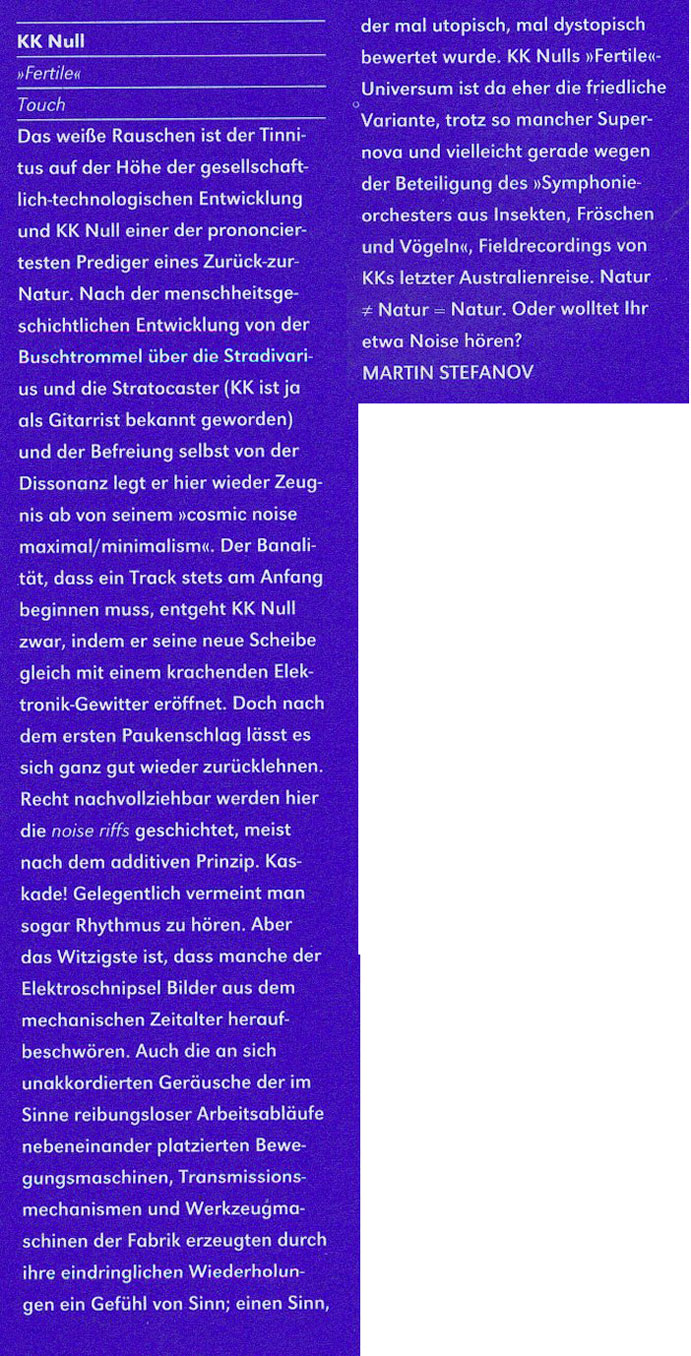 The Wire (UK):

Orkus (Germany):

D-Side (France):

Rockerilla (Italy):

His Voice (Czechia):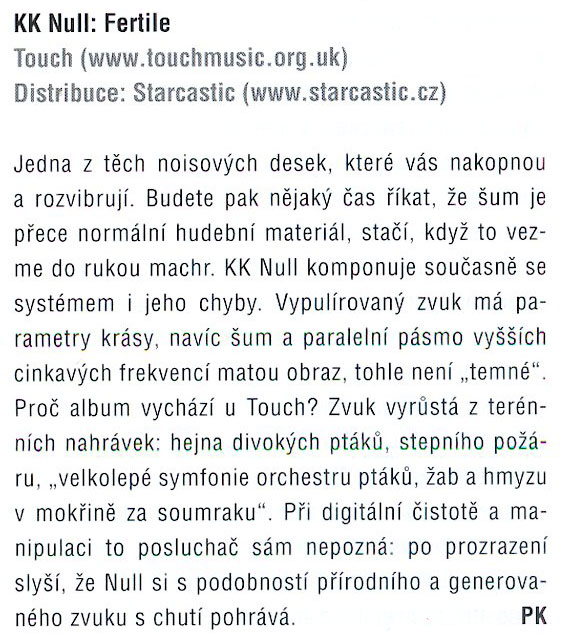 Blow Up (Italy):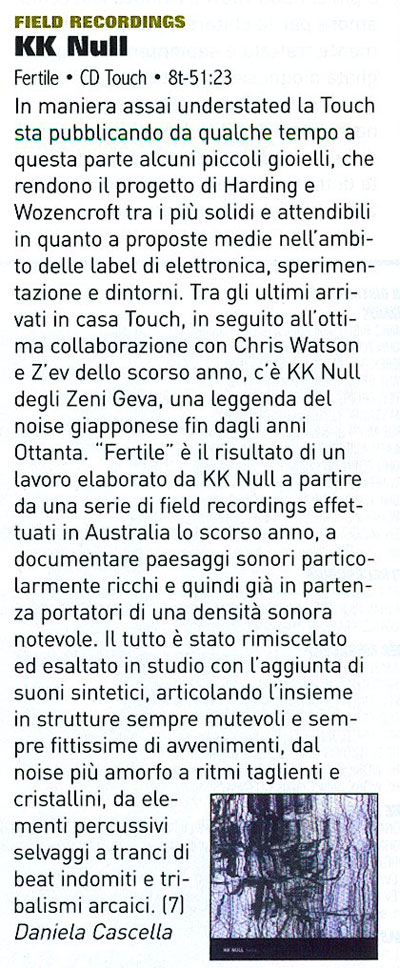 Bad Alchemy (Germany):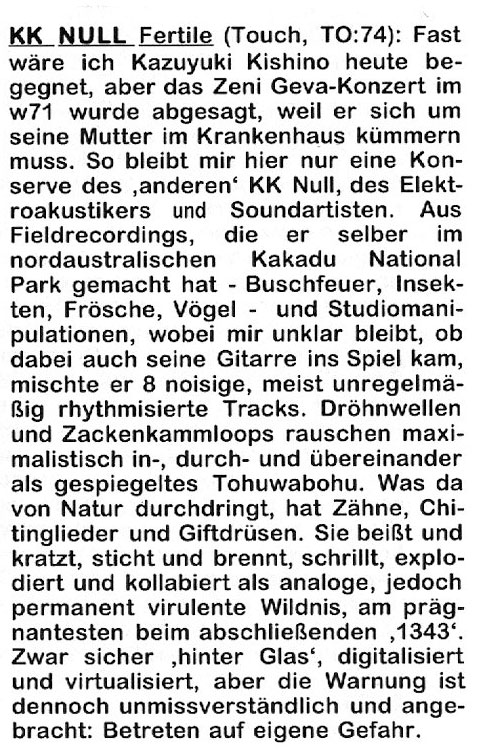 de:bug (Germany):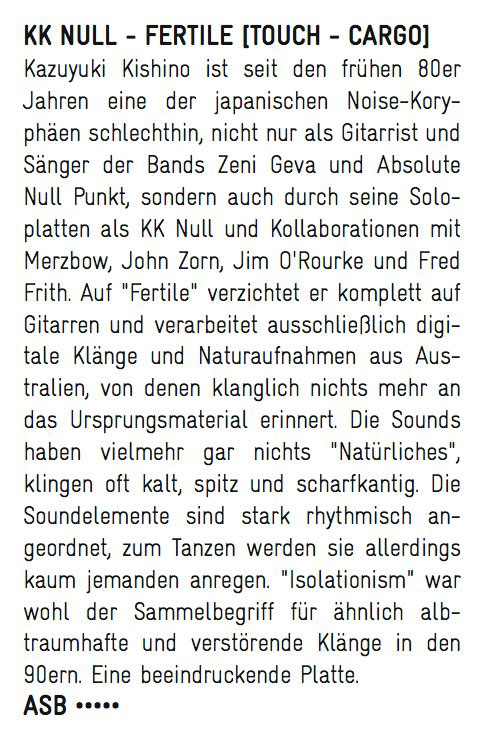 Ox (Germany):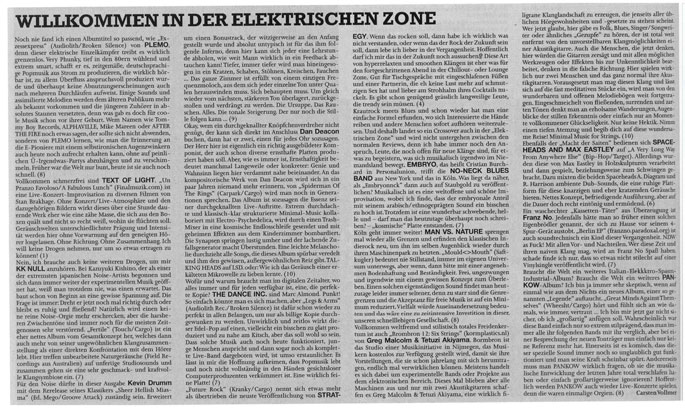 Schlendrian (Germany):

Rockdeluxe (Spain):
Trust (Germany):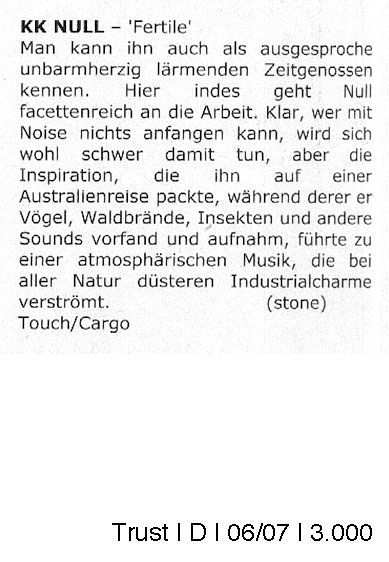 S & V (Russia):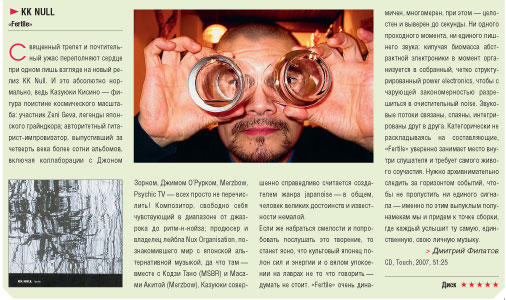 cokemachineglow (USA):
Either Kazuyuki Kishino's heart rate is always over 100 or his hometown of Tokyo just moves too fast. Or maybe his once-work with Steve Albini (who produced five of Kishino's Zeni Geva albums) has left him keenly interested in the source of distortion; Zeni Geva's hardcore never stopped to deliberate, but Kishino's work as KK Null is all about building harshness out of contrast. You know: the fertile places. The press release calls it "cosmic noise maximal/ minimalism." I call it "turn your speakers down so you can adjust appropriately, or don't, but don't blame me when ears bleed because of those high pitched soundwaves." Okay, fine…my headphones were probably on a little loud. Whatever: this music is gorgeously painful.
There's a point about midway through "0357" where Kishino filters some percussive samples to the point where it sounds like a beat constructed from popping bubbles of reverb. Places like this are the happiest in Fertile's arc; we get some bouncy noise drawn into mimic of conventional arrangements. But most of the disc seems to take air and busy it up, launching into the very currents and eddies that provide the foundation for gain on a signal in the first place. It's not quite Iancu Dumistrecu — Kishino isn't trying to create the most distortion — but it is very much a game of molding different patterns into various grueling ambient collages (check the scariness of "0418"). Like Kevin Drumm or KTL (both of which he predates, so I'm misleading a little) he's building songs by letting himself be guided by the tone created by modifying his source material's signal.
There's probably a better way to explain this. Much of the source material is culled from field recordings Kishino made in Kakadu Park near Darwin, Australia. Since the album sounds like a city, I think you can take literally the idea that, amplified enough, any environment sounds chaotic. This is the worm's perspective, or the ant's; we don't need complicated mathematics and chaos theory to tell us that "0359" sounds foreboding in the worst way despite the fact that comfortable getaway back-to-the-landisms simply leak off the piece. I think that's intentional. The point isn't to weld flora and fauna to industrial music; the point is that every dandelion seed has its own Horse Rotorvator (1986) to push it along. If you listen hard enough, that is.
We can't listen that hard, of course, so Kishino amps everything for us: flocks of birds, a burning fire, insects and bog dwellers jamming at sunset. With a glaze of distortion on everything he's creating a busy sub-human world that sounds just as industrial as ours. "0957" echoes back upon itself like the interior of a cave, or a submarine; the point isn't that's it's either/or, but that Kishino has melded an environment that is enclosed, that we are inside of. You can hear the ocean in a shell, right? Kishino is just taking that idea and giving it warmth, amping the signals until the interior of the song undulates like a swallowing throat. Each song is a different kind of experiment in location: "1343" is a point right outside your window; you aren't inside it because you can feel it approach you. Collapsing trash can samples explode against insect legs and fizzy static. "0415" is like a jellyfish blob coagulating in front of you. Its surface ripples and pools but when you touch it you get burnt. Like I said, "gorgeously painful." [Mark Abraham]
KindaMuzik (Belgium):
De Japanner Kazuyuki Kishino, gekend als brein achter ANP, Zeni Geva en KK Null, gaat op Fertile aan de slag met veldopnames die hij in het Australische Northern Territory opnam. Deze samples vormen de vruchtbare grond waarin KK Null electronica injecteert om zo een atmosferisch plaat af te leveren.
Het grote verschil met zijn andere werk is de opvallende ingetogenheid waarmee hij het dit keer aanpakt, en daar is de keuze voor Wozencrofts Touchlabel, dat in de regel toch voor eerder introverte electronica bekend staat, waarschijnlijk bepalend is geweest.
Op Fertile tref je immers geen harde noise of beukende gitaren aan maar elektronische composities die – afgezien van het oorverdovende gepiep dat de luisteraar op opener '4:15' verwelkomt – erg rustig zijn.
De geluiden die Kazuyuki Kishino verzamelde vormen de basis van Fertile. De field recordings zijn zeker een vruchtbare ondergrond voor de organische composities maar de structuur is steeds lineair. De manier en de intensiteit waarop KK Null er electronica op loslaat zorgt voor de variatie.
Dat neemt niet weg dat het om een abstracte oefening gaat die allerminst licht verteerbaar is. Toch slaagt KK Null erin om af en toe toch met een interessante geluidstextuur op de proppen te komen, zoals bijvoorbeeld het gelaagde '5:00'. [Hans van der Linden]
Digg (Belgium):
Vanop diverse Europese muziekforums steeg onlangs een geweldig geweeklaag op: de legendarische Japanse progcoreformatie Zeni Geva voelde zich gedwongen om haar volledige Europese tournee te annuleren. Reden: de wankele gezondheidstoestand en kort daarna ook het overlijden van de moeder van bandleider Kazuyuki Kishino, in de juiste kringen vooral gekend als noise- en ambientveteraan KK Null. Op nieuw werk en optredens van Zeni Geva blijft het dus nog even wachten en voorlopig moeten de Null-fans het stellen met 'Fertile', een plaat waarop Kishino de muren van zijn trommelvliesperforerende elektronische noise sloopt en consequent de ambienttoer opgaat.
De kans dat u ooit al een plaat hebt opgezet waaraan Kishino heeft meegewerkt, is vrij groot. Naast bijdragen aan en samenwerkingen met noise-projecten over zowat de hele wereld, deden ook rare, herrieverslaafde snuiters als Jim O'Rourke, John Zorn en Mike Patton al beroep op de diensten van de nu 46-jarige Japanner. Met recht en reden, want als het aankomt op het construeren van pijnigende elektronische geluidsdraperieën, moet hij in weinigen zijn meerdere erkennen. Dat hij in zijn half-geïmproviseerde experimenten meestal blijk heeft van een gevoel voor opbouw en de onderhuidse razernij perfect weet te kanaliseren in afwisselend maximalistische uitbarstingen en minimalistische speldenprikjes, zal ook wel helpen.
Op 'Fertile' trekt Kishino zijn 'zachte kant' haast tot in het extreme door: de noisegesels beperken zich vrijwel volledig tot het openingsnummer en de dertien minuten lange afsluiter, en zelfs dan zijn de statische ruis en verneukte ritmes nog genadig en functioneel. Veel heeft te maken met het spontane opnameproces dat aan 'Fertile' voorafging. Tijdens een excursie door het Australische Kakadu National Park maakte Kishino veldopnames van de plaatselijke fauna en zelfs van een ontluikende bosbrand, waarna hij die thuis integreerde in enkele onafgewerkte nummers. Het resultaat is vaak verontrustend 'mooi': in het vierde nummer doen flirtende kikkers hun ding tegen een backdrop van chatter en een dreigende elektronische drone.
Iets verderop nemen onze gevederde vrienden de honneurs waar, en waarschuwen ze middels repetitief getsjilp voor een knetterende bush fire, om daarna luid klapwiekend de plek des onheils te ontvluchten. 'Fertile' is evenwel meer dan een 'Allemaal Beestjes' voor ambient-freaks: de dieren- en andere geluiden zijn vrijwel uitsluitend door de koptelefoon te onderscheiden en werden bovendien nog eens door de mangel van diverse elektronische effecten gehaald. Of hoe in KK Nulls sonische universum alles wat we kennen ook digitaal weer tot leven komt.
Hoewel 'Fertile' een andere KK Null laat horen, is ook deze symfonie van natuur en apparatuur bevreemdend, desoriënterend en in eerste instantie moeilijk te bevatten. Deze plaat leent zich dan ook uitermate tot geconcentreerde luistersessies, maar geeft ook als geluidsbehang ruimschoots voldoening. Het zou fout zijn om te denken dat alleen Ozark Henry een patent heeft op was-, plas- en strijkplankmuziek. [Joost Devriesere]
Goddeau (Belgium):
Zo er al één artiest de naam productief mag dragen, dan is het wel de Japanner Kazuyuki Kishino die, naargelang de bron, al tussen de zestig en honderd of meer albums uitbracht en lid was van diverse combo's als Merzbow, Zeni Geva en Absolut Null Punkt. Fertile is vanuit die optiek niet meer dan het zoveelste blaadje aan de boom die KK Null heet.
Het is haast onmogelijk de vele muzikale exploten van Null anders te omschrijven dan als avant-gardenoise. Of het nu om de aan mathrock en hardcore verwante gitaarreleases van zijn eigen groep Zeni Geva gaat, om de samenwerking met gelijkgestemde noise-ziel Merzbow of om de vele uitstapjes met schoon (en al even geschift en productief) volk als John Zorn, elke bepalende definitie schiet tekort. Null is een geluidskunstenaar en klankentapper die sferen creëert en universa oproept, hij is niet zomaar een muzikant.
Elke willekeurige greep uit zijn oeuvre levert een verwarrende en diverse dwarsdoorsnede op van een schizofreen brein dat maar één doel voor ogen heeft: creatie. Fertile vergelijken met zijn eigen werk, laat staan dat van een ander, is vrij zinloos want KK Null is, net als Zorn bijvoorbeeld, een genre op zich. Een artiest die zijn eigen wetten en conventies bepaalt en deze overboord gooit wanneer ze niet langer van dienst of achterhaald zijn.
Fertile is de zoveelste vruchtbare bodem voor (waan)ideeën die al spelend en zoekend een nieuwe wereld scheppen. Deze maal vertrekt Null van "field recordings", opgenomen tijdens een tocht door Kakadu National Park (Darwin, Australië), die hij mixt met tracks die in de studio werden opgenomen. "0415" start relatief rustig maar klinkt gaandeweg steeds luider en onrustiger. Net zoals bij de J-horrorsoundtracks wordt een onaardse sfeer gecreëerd door middel van dissonante klanken die een verontrustend en aliënerend verbond aangaan.
In "0418" wordt de horror van alledag ingeruild voor een paranoïde toekomst. Het deterministische en grimmige wereldbeeld van sci-fi-auteur Philip K. Dick krijgt een klankbord in deze vreemde track die nog maar eens speelt met klanken en een pulserend antwoord biedt op de vraag of androïden dromen van elektrische schapen. Het vervolg laat zich raden in "0357", dat met David Cronenberg een fascinatie voor het gemuteerde vleselijke deelt. Hoge tonen en blubberende klanken vormen een perfecte symbiose met koude technologische machinerieën.
In "0500" is geen rustpunt te vinden, maar wel een reflectie. Het is een adempauze die de zenuwen laat gieren en de spieren samentrekt terwijl het lichaam in rust is en de hersenen met de snelheid van het licht neuronen afvuren. Een beven dat zo snel gaat dat het wel lijkt alsof alles stilstaat, tot een verblindend licht alles opslokt en alleen een verdwazing overblijft. "0359" vangt die apathie slechts gedeeltelijk op. Het zijn zorgzame maar van alle medeleven ontdane handen die lichaam en geest aan een nieuw experiment onderwerpen. Snerpende tonen verstoren de witte ruis tot alleen nog maar een enkele klank te horen is.
De strijd om het zelf wordt voortgezet in "0644", dat uit halfvergane filmbeelden de geschiedenis van een strijd puurt en de angst en verwarring een gedigitaliseerde stem geeft. "09757" en "1343" omspannen het hele album. Een rijkdom aan klanken, sferen, geluiden en emoties die zich niet meer in woorden laten vatten en al het voorgaande dat hier geschreven staat, logenstraft. De totaalervaring is alles wat nog telt, woorden zijn futiel.
Fertile laat zich niet omschrijven, laat staan recenseren. KK Null is een universum op zich, waarbinnen dit album een eigen plaats heeft. Ambient, electro, klanklandschappen, noise, paranoïa, angst, berusting, vervreemding … de taal schiet tekort om te vatten wat niet minder dan een auditieve totaalervaring is die de ziel uitpuurt, kastijdt en verzorgt. Fertile is als het Zijn, even kenbaar maar even onuitspreekbaar. Fertile is avant-gardenoise. [Jurgen Boel]
modisti (Spain):
Plunge into noise head first, a direct stance in the exploration of abstract sound as available through recent technology. The album's direct statement, its physical force long wanting from the realm of experimentation –of late dominated by liminal explorations of inaction- is related to a certain eastern weakness for harshness. The aesthetic explores a wide palette of sonic possibilities, occasionally featuring random sequences and exploring various textural possibilities, and partly hinting at the rhythmic industrial music ascendancy if immersed into the possibilities of abstraction.
Salto de cabeza al ámbito del ruido, una propuesta directa en la exploración del sonido abstracto mediante los recursos de la tecnología reciente. La actitud directa del CD, su fuerza en lo físico, que llevaba tiempo ausente del ámbito experimental –últimamente dominado por exploraciones liminales en el terreno de la inacción- tiene algo de la debilidad oriental por la dureza. La estética explora una amplia paleta de posibilidades sonoras, a veces con secuencias aleatorias y diversas texturas posibles y también apunta su ascendencia industrial aunque inmersa en las variables de la abstracción.
paristransatlantic.com:
The increasingly psychedelic works of KK Null suggest his "cosmic" fascinations show no signs of abating. Tapped into some alternate wavelength, each of his most recent recordings has been a galactic frenzy of intense sonic detritus, but sonically not what might be classed as "noise". If anything, Null's work is courting a more fractured sonic relationship – one in which sound sources are brought to the fore through exhaustive but overwhelmingly chaotic processing and sonic maximisation. Synthetic pulse, warbling rhythms and piercing electronics on works like "three" take on an almost post-techno vibe – the evidence of the kick drum replaced or subsumed into a wall of pulsing slabs laid down across the stereo field. The results are disorienting but not without direction; as one element is introduced, another slips from the audio scape in a perpetual cycle of replacement and transformation. "Five" is decidedly darker, the rhythms again permeating through a rich forest of dense audio foliage that gives way to screeching bird calls that dominate much of the work. There's a conflict going on in many of these pieces, a push and pull as various elements collide, erupt and eventually combine into a gloriously frenetic and overwhelming sound experience. With intermittent field recordings, including a perfectly suited flock of Little Corella that shriek with an intensely disturbing quality, this album marks a refinement of Null's practice over the past three years. His post-Metal dabbling of the 1990s seems a long way off – in its place comes a new, brutal sonic assault, one involving full frequency walls of sound. Fertile indeed. [LE]
Otsechka (Macedonia):
Minimal Sine Wave v.s. Lap Top Metal. Extreme components appear not to show how mean KK NULL is, but rather to clarify his stream of raw snapshots towards well defined multi layered noisy concept. Microcore inspired by certain field recordings made during his trip to Australia.
Gonzo Circus (Belgium):
In de zesentwintig jaar dat KK Null (Kazuyuki Kishino) de mensheid in verschillende gedaantes – Zeni Geva, Absolut Null Punkt (ANP), Monster Dvd en zijn solowerk als KK Null zijn de belangrijkste projecten – bestookt, heeft de man meer dan honderd releases bij elkaar geharkt. Met zeven soloplaten, één Zeni Gevaplaat en één cd-r van Monster Dvd zijn we dan ook vooral een bescheiden kenner van de man zijn werk. 'Fertile' is na 'Number One' zijn samenwerking met Z'ev en Chris Watson, zijn eerste volwaardige plaat op het Britse Touchlabel. Een uitstap die geen bruuske koerswijziging oplevert. '0415' opent met een stevige lap noise, waarna het zich ontplooit tot een ritmische mantra die explodeert tot een orkaan van geluiden. KK Null die zijn demonen de vrije loop laat: het is de rode draad in 's man werk. Al even typisch zijn hoekige, metrische aanpak. Wie Zeni Geva kent ,weet dat 'wiskunde' en 'oorverdovend luid' moeiteloos in één zin passen. Ook in 'Fertile' vertrekt Null vanuit een aantal ritmische patronen die hij openbreekt en muteert. Wat 'Fertile' aantrekkelijk maakt, is het onvoorspelbare karakter van een plaat die nooit echt explodeert, maar veeleer implodeert; en de diepte waarmee KK Null zijn muziek invult. In '0359' horen we een zwerm meeuwen een ware doodstrijd uitvechten. [Peter Deschamps]
Neural (Italy):
This is the first solo album for Kazuyuki Kishino, who used to release his works under the same moniker with Chris Watson and z'ev in 2005. Other albums are already on their way to be released for the American labels Blossoming Noise and Important, and for the Russian Electroclub. 'Fertile' is a fascinating and obscure work, with clear-cut and crystal-like sounds, bordering on noise, but with very pure field recordings, taken in the Australian Northern Territories, in Darwin, in the Kakadu National Park. KK Null has got a glorious past as leader of Zeni Geva, a Japanese punk band, so his ability to put the same vigor and restlessness into his sound even in a completely different musical field is remarkable. His inspiration, in this case, includes flying drones, tangled rhythms and industrial percussions, through many levels that shuffle endlessly, resulting in an experimental electronica with extremely rarefied moments. [Aurelio Cianciotta]
Pop Matters (USA):
When you spend two years in an MFA creative writing program, you're bound to run into a discussion about "difficult art." Is all art difficult? Should all art be difficult? Is so-called "difficult" art more important than other art? It is an unfortunate pitfall to the academic side of creativity, in the end. But it isn't a question without merit. In the end, a piece of art should be difficult (read: experimental, dense), but only if it is a necessity to the piece's creation. You can't set out to create something difficult; that is something the piece and its process must dictate.
These were the kinds of thoughts that came up while listening to KK Null's new record, Fertile. To argue that this album is not a well-crafted piece of sound, that it isn't meticulously put together, would be an argument that doesn't hold much water. These songs swell and drone with the reliability of the tides. They have moments that sound perfectly crafted, the blips and churns layered together in the only way they could possibly be. And Fertile is nothing if not difficult. The structure of each track—there's eight here, all untitled—is nearly impossible to figure out, let alone the structure of the album as a whole.
Still, it isn't the difficulty of the album that becomes the problem. The trouble with KK Null's latest is a flaw inherent in much of what is considered to be "difficult" art—be it literary, musical, or otherwise. For all its dense laptop instrumentation, the album doesn't really ever try to approach emotion. Instead, Null (a.k.a. Kazuyuki Kishino) prefers to go for reaction. There are moments here—particularly the screeching build of the first track—that provide a reaction nothing short of visceral. But the song itself remains cold, impersonal. And while it might be interesting enough to wonder how Null put it together, it doesn't really spark questions about what Null might have been feeling.
Listening to Fertile is, in the end, an intellectual exercise. You may wonder about how it came together, how the songs stretch out as the album moves along, how they mellow and settle into the sound of the album, and what all that means. But it probably won't remind you of your own experiences; it's not likely to ring personal for you because there is too much of a wall between listener and music. And this isn't to say that music shouldn't be intellectual or difficult. On the contrary, it is the function of all art—not just music—to poke at things and make holes and examine what's going on around us. The Clash was difficult, Animal Collective is difficult, Bowie was difficult, you could even call the Hold Steady difficult—and they are all fantastic in their own ways. Because they know, in the end, that music can't be just intellectual. There has to be some feeling behind it, or how can it resonate with an audience? Music should make us think, but we should be feeling something while we're doing all that thinking. And while the movement of Fertile, from the screech of track one to the more drawn-out, muted drones on track eight, suggests the possibility of an emotional movement, there just isn't enough of it there to hold onto.
Someone once recommended Joyce's Finnegan's Wake to me by saying, "My friend read it and she said it was one of the most beautiful sounding books she'd ever read. But she didn't know what a word of it meant." Unfortunately, so it is with Fertile. It might sound interesting, but its density is its downfall. It prefers difficulty over meaning, and all this sound pushes against the listeners, rather than inviting them in.
Foxydigitalis (USA):
Kazuyuki Kishino has come a long way since his debut solo album back in 1990, 'Sonicfuck USA'. Back then it was all noise, noise, noise. Screaming metallic clusterfuck was the game, and screaming metallic clusterfuck wasn't far from its name either. Seventeen years and now 60+ albums down the line, things have, erm, changed. People move on and they mature. Whitehouse now wear glasses. In June 2006 Kishino was strolling around Kakadu National Park outside Darwin, in Australia's Northern Territory, with his portable digital recorder. Over the course of his wanderings, he recorded some birds; insects; frogs; even a bush fire. Returning home he emptied these field recordings onto his computer and set about making this record. Out of the box straightaway comes what can only be described as a screaming metallic clusterfuck. I think what Kishino is basically saying to us here is: fuck you. This is a KK Null record. Just because I've been away on vacation and recorded some birds etc, this does not mean you're going to get pretty fucking birdie noises, OK? Also as Japanese noise artiste second only to Merzbow (also the mighty, quasi-erstwhile Hijokaidan, which actually puts KK third now, not second sorry), what exactly did you expect? Bird noises?
Despite all these bird noises and the allusion in its title, 'Fertile' isn't an organic-sounding album in the slightest. After the initial titanium scree of '0415' (track titles are their length) recedes, 'Fertile' lowers itself into marginally more ruminative climes, maintaining a synthetic claustrophobia throughout . And despite the found-sound roots of most of the tonal sources within, 'Fertile' remains a stark, clinical listen. Like much of Kishino's recent output, it makes no attempt to disguise its mechanised gestation: freewheel burning is thin on the ground; even at its most amorphous and downbeat, the music here remains overtly calculated; shat out through robots; the overriding sense is of being subjected to a steely, processed electronic needling.
Such consistently idiomatic sound rewards then when the field recordings and machinal exactitude intertwine and overlap and there is tension and release and a new thing emerges from all the magnesium top-end. This doesn't happen very often. It happens on '0500', and '1343', both of which achieve a symbiosis that the majority of 'Fertile' singularly fails to cook up. Other than these two, everything sounds somewhat uninspired; a little lazy; Kishino's deep inside his comfort zone here and that's fine – just don't expect us all to start jumping up and down about it.
Octopus (France):
Premier album solo d'une légende des musiques extrêmes japonaises (et internationales) – Kazuyuki Kishino – KK Null élargi son spectre sonore et nous donne à embrasser une expérience des plus abouties, qui marquera d'une pierre blanche son abondante production discographique. 8 morceaux, sans titres, dont le premier démarre par une explosion de larsen qui résonne jusqu'à ce que l'on croit être son extinction. Mais le feu est mal circoncis et laisse s'échapper quelques escarbilles, sous forme de boucles de synthés inoffensives, d'éclatements secs ou métalliques, le tout sur fond de drone inquiétant. Après cette relative accalmie, des ricochets successifs et retravaillés donnent naissance à des flammèches de bruits, de samples synthétiques qui, en s'amplifiant, mènent au chaos et à un nouvel embrasement. Un combat humain-contre-nature dont l'homme sort pour une fois (la dernière ?) vainqueur, par un quasi silence après la fournaise. Un grand écart auditif de 4 minutes qui mérite un coup de chapeau. En introduisant des enregistrements naturalistes (symphonie d'insectes, cris d'oiseaux, grenouilles,Š) capturés en Australie, bien souvent filtrés et difficilement indentifiables (à part sur l'excellent dernier titre qui dépasse les 13 minutes), K.K. Null nous offre là un inédit. Les intenses cordons abrasifs, distorsions délicates, subtilement agencées avec ses field recordings, font de ce Fertile un ouvrage technoïde-expérimental de premier choix. Vivement recommandé. [Jean-Marc Clogenson]