CD – extended digipac
Artwork and photography by Jon Wozencroft
11 tracks – 51:56
This release features a duet between Christian Fennesz [guitar/lapop] and Ryuichi Sakamoto [piano/laptop] – a continuing collaboration between two highly regarded composers. Their first, 'Sala Santa Cecilia', was a 19 minute overture from their live performance in Rome in November 2004 [Touch # Tone 22, 2005]. Bill Meyer in Magnet (US) wrote: "Cross-generational encounters are never a sure thing, but this one strikes sparks" and Max Scaefer in Cyclic Defrost (USA): " a moment of much beauty, not to mention anticipation for the promised full-length effort to come." Tom Sekowski adds in Gaz-eta (USA): "We can only hope this astonishing collaboration will turn into something more tangible, more permanent."
So now we have 'Cendre'… Cendre was recorded between 2004 and 2006 in New York City by Ryuichi Sakamoto and in Vienna by Christian Fennesz. They came together for the mix in New York City in February of that year. Fennesz would send Sakamoto a guitar or electronic track and Sakamoto would compose his piano piece. This process was also reversed – Sakamoto initiating the track with a piano composition and Fennesz responding. Meanwhile they met for live shows, or communicated via digital means to compare notes, swop ideas and develop themes… And the cyclical process continued right up until the final mix.
Ryuichi Sakamoto and Christian Fennesz blend the unstructured and imaginative qualities of improvisation with the satisfying sculpture of composition. Sakamoto's piano, his style reminiscent of Debussy and Satie, perfectly complements Fennesz with his powerful blend of shimmering guitar and passionate electronics.
Together they have combined to create 11 tracks of satisfying and challenging possibilities…
Track list:
1. oto
2. aware
3. haru
4. trace
5. kuni
6. mono
7. kokoro
8. cendre
9. amorph
10. glow
11. abyss

Reviews:

Cendre was one of the 2007 Albums of the Year in Kulturflash (UK)
The Observer (UK):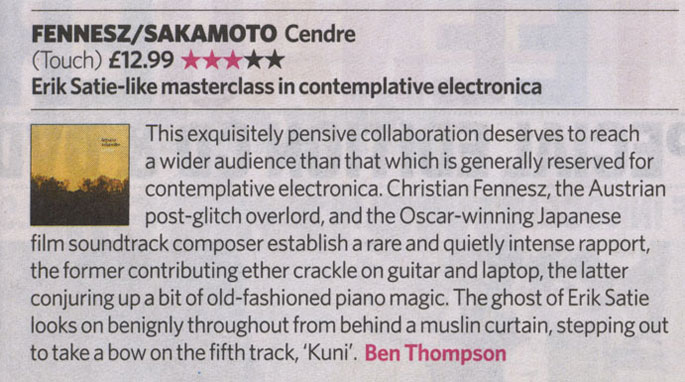 Rant Magazine (UK):
In a time wherein petty tight trousers, the Kooks and I-Pods hold sway, this is real rebel music. The second collaboration between these two celebrated artists, Cendre sounds – even within it's stripped down sonic palette – like the world is existing, living, breathing amidst its wordless sonic poetry.
Some history then? Not that it'll impact upon your enjoyment of this music but the names might suddenly appear more familiar if I tell you about the two gentlemen involved, Christian Fennesz and Ryuichi Sakamoto. The former is esteemed star of Austrian electronica. When his Mego released Endless Summer album dropped at the turn of the new millennium, all hailed the way in which his digitally refracted pop warmth bathed in the perpetual sun of Brian Wilson-esque melody. Sakamoto was one third of J-Pop synth trio, Yellow Magic Orchestra and scored the soundtrack to Merry Christmas Mr. Lawrence amongst many other musical endeavors. This is their second collaboration and a work of sublime beauty it is.
What Cendre does, in essence, is marry the heavily processed guitar soundscapes of Fennesz with the minimal, Satie styled, piano improvisations of Sakamoto. The process of collaboration between these two artists was, by all accounts, a long distance one. Yet they perfectly compliment each other and conspire to produce music which is (paradoxically) at once intimate and awe-inspiring. It's hard to articulate just how near transcendental Cendre is, especially its first half. I've been listening continuously for the past two weeks and each time prompts a new feeling within me, a different shade of wistful romance which typifies the music. When you return from a hard day at work – that twilight period between popping your collar/getting on with your evening and reflecting on the shit you've had to put up with from The Man. Or that moment when your mind disconnects from your body before falling asleep, the brain still racing with thoughts, assimilating the music but your body is still, unable to respond physically. These moments, these obscure but oddly everyday and mundane moments, are when Cendre works best, filling your void with beauty the way Sakamoto's piano fills up the ample spaces created by Fennesz's guitar textures.
Such saccharine excursions into sound design reach a high point with the gorgeous Haru. It then melts into Trace, a track which epitomizes Cendre's darker, disconcerting but no less soulful side wherein discordant piano lines weave minor key patterns over near industrial, ultra-treated guitar noise. Indeed, it's a testament to the extent of Fennesz's digital manipulation that his guitar sounds nothing like a guitar – more like the oppressive skyline of a smog fuelled city or a relentlessly glitching piece of archaic computer software- until the track Glow commences and traces of cut'n'paste guitar melody intertwine with Sakamoto's melancholic piano mediations.
Don't let my ramblings put you off. Look at it this way: Fennesz loves the Beach Boys and Sakamoto was in Yellow Magic Orchestra. What I mean is – dive in and explore. It's accessible, genuine and melodic enough to appeal to people who don't read Wire magazine…and it deserves your attention. [Rich Hanscomb]
BBCi (UK):
This first, full-length recording by Christian Fennesz and Ryuichi Sakamoto is a hauntingly beautiful piece of work. It's essentially a marriage of delicate acoustic piano played by Sakamoto and ambient textures courtesy of Fennesz. As such, cendre (all text is studiously rendered in lower-case) is a very different work from the duo's first release, the 19 minute Sala Santa Cecilia (2005), on which it was nearly impossible to tell which performer contributed which sounds.
First piece, "oto", is ushered in on a gulf stream current. Sakamoto drops brief, pendant chords that fall into opaque depths like pebbles into a blue ocean. The texture of "aware" is grittier, as if gravel were being ground to dust in an iron cylinder. Sakamoto's piano briefly merges and disappears into the mixture before clearly delineated upper notes appear like sudden stars in a night-sky, followed by reassuring chords suggestive of a comforting hand on the shoulder.
By the fourth piece, "trace", Sakamoto's melodic approach is familiar, which makes his decision to sketch unresolved patterns all the more unsettling. Fennesz's setting changes key as well and the mood becomes tremulous and uncertain. There's a new-found eeriness that conveys a sense of disruption and loss. Sakamoto's piano sounds treated, as though the hammers, Cage-like, have been muffled. His brief return to the initial melody towards the end only underlines the beauty of the composition.
In addition to the reference to Cage, it's impossible not to relate Cendre to two other key piano and electronics recordings: Harold Budd and Brian Eno's The Pearl and Sakamoto's ongoing collaboration with German artist Alva Noto. cendre is ultimately closer to Budd and Eno's work as no overt rhythms trouble or pierce Sakamoto's playing. The amount of space the two performers allow each other is remarkable. Although the predominant initial impression is of Sakamoto's piano, familiarity gradually reveals Fennesz's contributions as equally rich and essential. cendre is a sure bet for lovers of sonic pulchritude. [Colin Buttimer]
Pitchfork (USA):
This piano/electronics duo is an arrangement Ryuichi Sakamoto has been recently exploring in concert, with ultra-minimalist Alva Noto among others, so it seems a natural for his second collaboration with Christian Fennesz. Listening to Cendre after returning again to Sala Saint Cecilia, their EP from 2005, affirms that the two records couldn't be more different. The latter was a single live 19-minute track that found Sakamoto inhabiting the abstract digitalia we've come to associate with Fennesz, directing his diverse talent toward epic computer- based composition. Cendre feels like a meeting of equals occurring precisely halfway between the two.
The obvious precursors here are the two albums composer Harold Budd made with producer Brian Eno. Like Ambient 2/Plateaux of Mirror and The Pearl, Cendre consists of one person playing delicate pieces on an acoustic piano while another fills the ample spaces with electronic treatments. Eno's contributions to the Budd records were sometimes so subtle you weren't sure he was doing anything beyond giving the reverb slider an occasional bump. Fennesz' omnipresent drones and crackly beds of sound, on the other hand, are central here, providing a virtual room for Sakamoto's piano and regularly shifting the tone of the pieces by several shades in a given direction. Fennesz also plays and processes guitar, and he and Sakamoto both are credited with "laptop."
There's an intriguing openness to this music, a sense of suggestion that nonetheless refuses to favor any particular mood. Fennesz and Sakamoto seem to be constantly searching for those in-between spaces, where serenity is infused with a sense of uneasiness and hope is laced with dread. The music's emotional cast can move in any of several directions depending on what the listener brings to it. Because of this atmospheric flexibility, Cendre as a whole is at first difficult to get a handle on, and single-word song titles like "Trace" and "Mono" provide few clues.
Sometimes the musicians seem to be pushing against each other, as on "Aware". Here Sakamoto's right hand plays a soft melody while the disconcerting electronics stew and churn, a veritable cauldron of trouble and unease. "Glow" derives its energy from the contrast between the measured piano lines and the unpredictable surges of feedback and bits of cut-up guitar, which emerge like random flutters of sound bouncing against some Chopin nocturne. Elsewhere, the two composers seem to be working in concert toward a single goal, as with the title track, which is mostly electronic drone with bits of a garbled transmission and just a foreboding bass note or two from the piano. Ever since having my guts torn out by an encounter with Satie's Gymnopédies many years ago, a certain kind of piano makes me a little suspicious. From watching films, we're so used to hearing spare keyboard melodies propping up melodrama, it can seem too easy to rig an effect, so I've always got an ear out for something that feels manipulative. This music, which is most interesting when the record is heard at its full length, seems to come from a different place. With its even mood and patiently unfolding tracks, Cendre leaves a lot of time and space for contemplation, and there is the sense that the listener is expected to do some work to "complete" the music. Cendre seems to be a series of exquisitely phrased questions that we're all to answer as we wish. [Mark Richardson]
Brainwashed (USA):
The first full length collaboration between these two internationally known electronic composers lives up to the hype, showing both artists demonstrating their considerable strengths, and the sum is even greater than its parts.
An international collaboration of the most literal sort, Japanese (by way of NYC) composer Ryuichi Sakamoto and Austrian laptop/guitar maestro Christian Fennesz come together here, following their earlier collaborative EP Sala Santa Cecilia, in this case manage to work together while never actually being in the same place at the same time. The tracks were composed between 2004 and 2006, with each artist initiating a piece. This early work was then sent to the other for reworking, and then returned until the track was complete. Sakamoto and Fennesz did meet for live shows, but the recording continued to be separate endeavors. This distinctly modern working style had no adverse effect on the proceedings, as the tracks make for a cohesive, consistent feeling throughout.
For the purposes of Cendre, both artists used laptops as an instrument, while Sakamoto contributed piano, and Fennesz his requisite guitar. For the most part, Sakamoto's piano playing remains a clear and distinct element, sometimes clear and gentle ("Oto," "Haru") other times dissonant and oblique ("Trace," "Abyss"). This is in stark contrast to Fennesz's guitar work, which is often tweaked and processed into something barely recognizable. Exceptions come in the form of "Kokoro," where, though noisy, guitar is distinctly heard along with low bit rate samples and subtle piano, and on "Glow," where clean acoustic guitar playing is heard above the submerged aquatic tones and otherwordly digital effects.
The stringed instruments are not the overwhelming element of any of the tracks, as neither composer's digital contributions should go unspoken. "Mono" features electronics that, percussively, best represent bubbles coming up from a thick, mucky mud, while the title track mixes drone and piano with what sounds like cell phone interference recorded and then manipulated. "Abyss" ends the disc with tons of reverb, calm melodies, and what sounds like wind blowing out of the titular darkness.
While these two artists represent different points on the continuum of electronic music's evolution, their combined effort makes for a intergenerational collaboration that meets its lofty expectations. [Creag Dunton]
Boomkat (UK):
We've pulled a lot of strings to bring you the immense Fennesz / Sakamoto collaboration a little earlier than its official UK release – and it's an album that would have justified turning the world upside down to acquire. It's a collaboration that sounds pretty much exactly how you'd imagine – Sakamoto's lilting, unparalleled piano motif's rendered through and surrounded by a warm fuzz of process and soundscaping from Fennesz, abandoning the more experimental leanings of their previous union "Live At Salsa Santa Cecilia" in favour of something that's both sweeping with its micro-orchestral flourishes and engrossing with its emphasis on simplicity and beauty. It's hard to imagine many other records this year tapping into quite so many of our customers interests, if you have a pulse you'll already know how lovely this record is going to be – it's a total must.
The fact that you're on this site and reading this review assumes you're of a certain musical disposition, and if you are in any way interested in the more beautiful things in life, the sensitive yet experimental end of modern music – pay close attention as this album is just about as good as it gets. I first heard "Cendre" a few weeks back and it blew me away instantly. Christian Fennesz and Sakamoto working on a full album together? Yes, and rather than go down the route of their previous short-form collaboration 'Sala Saint Cecilia' (which was drifting and sometimes impenetrable), "Cendre" is an album focused on layered harmonies and simplicity. Taking Sakamoto's signature piano work (think 'Merry Christmas Mr. Lawrence' and you're on the right track) and classic Fennesz production ('Endless Summer', 'Venice', '"Plays") 'Cendre' feels like the perfect meeting of minds – and while it might be obvious to reference Sakamoto's high-profile collaborative work with Carsten Nicolai, these two musicians seem much more evenly matched. Sakamoto's haunting motifs may be wrapped up in sheets of harmonic noise, but they never become overwhelming – rather this is an album which revolves around subtlety and attention to detail. The emphasis here is on an almost Zen-like calmness and the restraint around which the two have balanced the album is just hard to fathom. It's the sort of record that can change your mood, but without resorting to cliché or emphasis on 'ambience'; it is optimistic and life-affirming but never over-wraught, I wouldn't even say that it is sentimental. Cendre, rather, is an album that you can imagine piecing together your own stories to, an album which is primed for you to remember ten or twenty years down the line, leaving you with that nameless, warm, fuzzy nostalgia and a heavy heart. I don't even think I need to mention Eno or Harold Budd do I? Absolutely gorgeous, and without a doubt one of the finest, loveliest records you'll hear this year. ESSENTIAL PURCHASE….
Serial Consign (USA):
When vanguard musicians of different generations decide to collaborate the results can vary wildly. Ryuichi Sakamato has helped define avant garde music in Japan for about three decades, and the one-time member of Yellow Magic Orchestra has waded into the microsound post-mille plateaux waters in recent years through collaborations with Carsten Nicolai. I never found (Vrioon (2003) and Insen (2005)) that engaging as they don't sound particularly synergistic. For me the outcome of these encounters has been less than the sum of its parts (as I love both of their solo work). So when I heard that Sakamoto was to release a collaborative album with Christian Fennesz I was a bit hesitant about the project, but still made a point of tracking it down.
Fennesz, of course, is the alchemist who weaves tapestries of distorted tectonics and numerous varieties of soul nurturing warm fuzz. Fennesz's 2001 Endless Summer is undoubtedly one of my favourite records of the last decade, and I've enjoyed his subsequent work. So what happens when this world of processed guitar meets Sakamoto's melancholic piano composition? The concise answer would be brilliance.
The album has a depth and emotional resonance the likes of which I have not encountered for a while. Beyond that it is downright eerie how complementary Fennesz and Sakamoto's aesthetics are. Sakamoto is known for the stoic, restrained handling of the keyboard but when Fennesz is added to the equation the mix becomes magical.
Cendre will be released on May 15th on Touch [via Forced Exposure]. In my opinion it is definiely one of the essential recordings of 2007 thus far.
Worth the Wait
If there had been any doubt (and honestly, why would there ever be?) about the new album featuring the collaboration between Christian Fennesz and Ryuichi Sakamoto, the first notes to enter your ears lay all fears to rest. Like a building tide, Cendre opens with delicate melodies – not unlike the delicateness found on the Vrioon, Insen and Rev EP albums – and beautiful sound washes blending together for a unique phonic experience. Ruichi Sakamoto's piano immediately envelopes the lisetener into an ethereal soundscape and Fennesz's presence is equally as powerful, weaving a beautiful and haunting ambience throughout each track. "Amorph", "Glow" and "Abyss" are the tracks to listen for, though the entire album is an aural feast that wholly satisfies. [Submitted by Michael in Philadelphia, PA, USA]
Ear Rational (USA):
This is the highly anticipated full-length collaborative release by Christian Fennesz and Ryuichi Sakamoto, following the 19-minute CD EP overture, Sala Santa Cecilia (a completely separate release which is not included here). This release features a massive duet between worldwide laptop guru Fennesz (guitar/laptop) and Japanese electronic music legend Sakamoto (piano/laptop) – a continuing collaboration between two much-lauded composers. Every once in a great while, a collaboration comes along which hints at a brighter future, a collision of giants that indicates a convergence of method and music. This is one such event. Cendre was recorded between 2004 and 2006 in New York City by Ryuichi Sakamoto and in Vienna by Christian Fennesz. Fennesz would send Sakamoto a guitar or electronic track and Sakamoto would compose his piano piece. This process was also reversed – Sakamoto initiating the track with a piano composition and Fennesz responding. Meanwhile, they met for live shows, or communicated via digital means to compare notes, swap ideas and develop themes. And the cyclical process continued right up until the final mix. Christian Fennesz is far and away the standard-bearer of laptop music, his thawed sound of fractured guitar chords and warm noise melts hearts around the world. Ryuichi Sakamoto, meanwhile, has been a contributing force in electronic music for almost three decades in Yellow Magic Orchestra, not to mention his vast solo oeuvre. This remarkable duo blends the unstructured and imaginative qualities of improvisation with the satisfying sculpture of composition. Sakamoto's piano, his style reminiscent of Debussy and Satie, perfectly complements Fennesz with his powerful blend of shimmering guitar and passionate electronics. Together they have combined to create 11 tracks of satisfying and challenging possibilities.
Musica (Italy):
Etichetta: Touch – Voto: 8
Brano migliore: Cendre
Se avevate apprezzato "Sala Santa Cecilia", il bel gioiellino (il diminutivo è dovuto solo alla durata) registrato dal vivo a Roma nel 2004, questo primo album in studio della coppia Christian Fennesz e Ryuichi Sakamoto non vi deluderà.
A colpire, principalmente, è il fatto che in quest'occasione il lavoro dei due musicisti è basato sulle individuali capacità di relazionarsi con i propri mezzi e i propri talenti.
E se, da un lato, Fennesz si prodiga nella squisita arte della manipolazione elettronica dei suoni, dall'altro Sakamoto fa quello che da sempre gli riesce meglio, ossia suonare il pianoforte. Facile dunque, questa volta, distinguere l'operato dei due. Meno facile, invece, è riuscire a rimanere indifferenti dalla magia che Cendre riesce a creare.
Se le trame concrete elaborate dalla sapiente programmazione di Fennesz vi sono sempre piaciute, qui riusciranno a sbalordirvi risultando magnificamente adatte nella veste di playback per le sublimi divagazioni di Sakamoto sugli ottantotto tasti.
Non è Classica e nemmeno Jazz o Avanguardia. E' qualcos'altro. Un necessario momento di stacco da tutte le inquietudini della vita moderna, comprese quelle che talvolta escono per distrazione dalle casse dei nostri impianti domestici. Undici composizioni di Neue Musik che rimandano tanto a Varèse e Pousseur quanto a Mahler e Bartòk ma senza dimenticare gli insegnamenti di Gérard Grisey e della sua Musique Spéctrale.
Non vi spaventino tutti questi nomi altisonanti, l'album ha il pregio di risultare gradevole anche a chi, magari, non ha mai avuto l'occasione o la voglia di addentrarsi nei meandri della musica sperimentale. Il gioco di questo disco consiste proprio nel tentativo di rendere fruibile una sonorità fino ad oggi appannaggio di circuiti elitari ed un po' snob che, nonostante il percorso (giustamente) ambizioso dei due autori, rimane scevra da richiami simbolici, mistici o (peggio) esoterici.
Ciò che principalmente viene chiesto è di apprezzare la veste romantica e affascinante che questa opera mette in scena immaginando paesaggi bucolici di musicalità sopraffina. [Joyello]
VITAL (Netherlands):
The first collaborative release between guitarist/laptop artist Christian Fennesz and pianist/laptop artist Ryuichi Sakamoto was a nineteen minute work called 'Sala Santa Cecilia' which for some reasons didn't make it to Vital Weekly, even when much later it was heard in the head quarters. In that work it seemed fore most a battle of lap-tops and less based on their own instruments, and made a good but perhaps not always convincing. In the years to follow the two continued to work on new material in each of their own studio, sending sounds to the other and occasionally they met during concerts and further developed their work. Perhaps this is the reason that the emphasizes lies much more on Sakamoto's piano and lesser to Fennesz' guitar and both (perhaps!) do an equal share of electronics. When I played it first time around it was a somewhat softer volume and it seemed to me that the piano played a louder contribution, but in the times after that, turning up the volume, things are indeed more in balance. The Budd/Eno connection was made more in the past weeks (Red Needled Sea, Feu Follet, Krater), so it seems like a small revival, since Fennesz Sakamoto add their share too. Sakamoto's light touch on the piano may remind the listener also of Eric Satie, but with Fennesz laptop in the back, things never sound too smooth or easy. 'Kuni' is a slightly dissonant piece with creepy electronic string like sounds, and is almost like a horror movie soundtrack. In other pieces they are much more accessible, but it defines the strength of this album. What on just a superficial level may sound similar, is in fact the difference in the details. It's a beautiful, well-balanced album that displays the qualities of both performers in the best possible way. Two masters at work. (FdW)
Pitchfork (USA):
Here Ryuichi Sakamoto plays an evocative nocturne on acoustic piano while Christian Fennesz bathes him in soft digital rain. In terms of noir-ish mood, this particular combination can't miss, as the Japanese renaissance man and elder statesman of experimental music is so well versed on what to leave in and what to leave out. The spaces between the notes is what Fennesz plays along with, and he conjures a static-ridden treatment that would have sounded noisy 27 years ago, when Eno was engaged in broadly similar experiments with pianist Harold Budd. Here in the post-glitch era, however, his bed of sound soothes and placates with its subtle crackles.
Exclaim (Canada):
The impetus behind Cendre, the new full-length studio session between Japanese classical pianist Ryuichi Sakamoto and Austrian glitch guitar impresario Christian Fennesz, is 2005's Sala Santa Cecilia, the 20-minute live EP recorded at an Italian festival. Ever since, a repeat performance has been highly anticipated and, with Cendre, those who've been waiting for these two to release more material together can breathe a sigh of relief because Cendre is as good, if not better, than the EP that preceded it. Of course, Fennesz fans should approach this album with a grain of salt. Much like Ryuichi Sakamoto's collaborations with Carsten Nicolai, Cendre is very much a classical piano album that has Fennesz filling out the background with ambient guitarscapes. And, to his credit, Sakamoto has been more willing than any other established classical composer (where are you, Philip Glass?) to engage the new generation of electronic classicists. The results have revitalised his career and introduced his catalogue to an entirely new demographic. That said, Fennesz fans will find here the musician's warmest and most approachable work to date since Endless Summer, even though it does not constitute his most ambitious. An inspiring album, Cendre is filled with beautiful passages, even though it's not as inspired a collaboration as some would have hoped. [Dimitri Nasrallah]
Dusted (USA):
A willfully disconnected piece of music achieved by global disconnection, Cendre is a true airmail special. Christian Fennesz sticks with his usual panoply: guitar and laptop; Ryuichi Sakamoto likewise with laptop and piano. As is often the case, Fennesz's guitar sounds nothing like strings, wood and electricity. He might as well be bowing a steel snow-shovel. Sakamoto resists artful manipulation, though, leaving the ivories wholly intact to create a lovely unification between organic and inorganic sound, a subtle jarring trick that comes off as painterly disguise. Cendre is a wide white brushstroke over a palimpsest of cray-pas'd peonies.
Both laptops work fervently, but with that sort of chilly stoicism held by keys and hardware that quietly beg for warm human input. The color achieved by electronic tinkering is spring-like; their explosive tones are embellished and slowly erased of their hues by a piano that is at once friendly and pryingly invasive. Sakamoto rightly – and successfully – stays within the close margins of Satie's minimalism, occasionally drifting into environs sparsely populated (see "Trace" for its spidery and often atonal couplets reminiscent of Cornelius Cardew's early work at the keys). Fennesz's macrocosmic washes don't ever collide with Sakamoto's wincing fragility; they work as subtext, allowing the listener to shift focus between a narrative that could have resembled two ships passing in the night in clumsier hands. Their success with long-distance "improv" isn't exactly startling: Fennesz and Sakamoto have had plenty of time to feel each other out and absorb individual languages and processes since getting together in 2004.
Whatever is "gleaned" from this music is user dependent. Meaning is everywhere and nowhere. Impressions could – and should – range from gentle, impassioned fucking to the discovery of a body in full rigor to the taking of a bull moose from 300 yards away. This is definitively an emotional music, built of expressive and subtly ponderous layers with able and careful hands, and, like the foreshadowing offered by its title, ultimately reduced to the nothingness of ash – created and destroyed, with only the unidentifiable rubble of ruin to prove that it ever existed in the first place. [Stewart Voegtlin]
Rough Trade (UK):
when vanguard musicians of different generations decide to collaborate the results can vary wildly. ryuichi sakamato has helped define avant garde music in japan for about three decades, and the one-time member of yellow magic orchestra has waded into the microsound post-mille plateaux waters in recent years through collaborations with carsten nicolai. i never found (vrioon (2003) and insen (2005)) that engaging as they don't sound particularly synergistic. for me the outcome of these encounters has been less than the sum of its parts (as i love both of their solo work). so when i heard that sakamoto was to release a collaborative album with christian fennesz i was a bit hesitant about the project, but still made a point of tracking it down. fennesz, of course, is the alchemist who weaves tapestries of distorted tectonics and numerous varieties of soul nurturing warm fuzz. fennesz's 2001 endless summer is undoubtedly one of my favourite records of the last decade, and i've enjoyed his subsequent work. so what happens when this world of processed guitar meets sakamoto's melancholic piano composition? the concise answer would be brilliance. the album has a depth and emotional resonance the likes of which i have not encountered for a while. beyond that it is downright eerie how complementary fennesz and sakamoto's aesthetics are. sakamoto is known for the stoic, restrained handling of the keyboard but when fennesz is added to the equation the mix becomes magical.
Gothtronic (UK):
In 1983, my little world changed and it was partially because of Ryuichi Sakamoto. Being a huge fan of David Bowie, I had to see 'Merry Christmas Mr. Lawrence' where Bowie starred as Major Jack Celliers. In that movie Ryuichi Sakamoto also had a role, but he as well wrote the score for the movie. Together with David Sylvian he wrote the theme song 'Forbidden Colours' which was released on one of the most impressive Japan albums ever: 'Secrets of the Beehive'. Yes, Ryuichi Sakamoto earned a special place in my heart.
Still I lost track of his works. I was young, there was other music, girls, school, and you don't impress too many 17 year olds by saying you're heavily into classical music and Japanese composers.
Until the year 2003 …
I was totally flabbergasted when I first heard the magnificent 'Vrioon' on Raster Noton. Ryuichi Sakamoto and Alva Noto. The album made it straight into my personal top-list as 'best albums ever'.
And now there is a new album released on Touch by Christian Fennesz and Ryuichi Sakamoto. Great massively produced soundscapes which are still fragile as minimalistic drones, combined with the erratic yet melodic pianosounds from Sakamoto. A pleasure to the ear of both classicist as well as droner or experimentalist. Somehow it seems like another episode – and a higher state of consciousness – in the live and works of both artists, but there is a 'but'.
The works of Sakamoto on this CD are great, and the additional sounds are gorgeous, yet it feels like something is missing. The CD doesn't have the sparkle or chemistry I personally felt with the release with Alva Noto. Don't misinterpret these words, as it is a brilliant release.
I advice everybody to get it. A glass of red wine, this album and a few burning candles will turn every evening into an unforgettable one …
Cyclic Defrost (Australia):
At first blush, the computer-bleated guitar drones of Christian Fennesz mirror, in a dreamy manner, the rise and fall of Sakamoto's rolling piano chords and gentle note-runs. Quite apart from the pairs first effort, which seemed all but trapped in Fennesz' serrated nest, Cendre initially seems to bear out Sakamoto's fluid, sweeping signature and, as such, may perhaps be likened to a warped Satie pastiche. Successive sojourns through the album makes apparent that more of a spiderweb logic is at play here, though. The contours and emotional birthmarks of 'Mono' slowly morph. When a piece consists of wispy electronic sounds and the smooth glide of Sakamoto's piano and an internal harmony is achieved, the piece is turned away from its truth in a subtle manner, either by Fennesz' droning power-chords hanging suspended in a curious aura or by acts of challenge and mimicry, all of which serve to lend the work a ritualistic quality. As an extension, the work is undoubtedly repetitive, but it's one which is mostly absorbing rather than flustering in its palpable presence.
For all their tiny, refracted events, for all of their needling stutters, cascading loop constructions and moments of harmonious ascendance, pieces dwell in a hinterworld, without an origin or end, and are simply fascinated with their own muted melodrama, with the reversal of their signs and the ongoing trials involved in each player trying to outbid the other. 'Haru' presents this in the most obvious, and perhaps also most affecting manner, pinned down as it is by weighty piano chords, tracing a contemplative, slightly forlorn melody, and shaded by resonant echoing tones and distant, searching buzzsaw fuzz. Although fashioned by way of the impersonal medium known as e-mail (or perhaps because of it), Cendre is a multifaceted work whose tremulous breaths prove intoxicating stuff. [Max Schaefer]
Time Out (USA):
Decades ago, multitrack recording made it possible for musicians to work together without actually appearing in a studio at the same time. Modern technology has augmented that process: Nowadays, electronic auteurs can pursue globe-spanning collaborations without ever leaving home.
Cendre, by Austrian laptopper Fennesz and Japanese composer-pianist Ryuichi Sakamoto, took shape during two years of e-mailed files and brief encounters. The disc casts off both the earnest sentimentality of Sakamoto's work and the muzzy sensuality of Fennesz's celebrated pop abstractions. Stark acoustic-piano melodies are set within cavernous washes of reverb and glitch, like a shortwave radio broadcast of a Satie recital played in a cistern. Fans of both artists will likely admire the disc, but curious newcomers may be put off by its curious chill.
residentadvisor.net (USA):
Fans of both Sakamoto and Fennesz (the latter in greater numbers, undoubtedly) have watched over the formation of this new partnership with gleeful expectation: a trans-generational collaboration between stars of the ambient avant-garde. Sakamoto, who has recently been blending the micro end of digital music with laptop and piano, would seem to be a natural counterpoint for the processed guitar-scapes Fennesz is renowned for. But fix-ups, always good in theory, don't often turn out to be the hoped-for perfect match.
Ryuichi Sakamoto has been a mercurial collaborator, wading through different scenes with a long list of working-partners. Early on he worked with Haruomo Hosono as YMO and scored the films 'Merry Christmas Mr. Lawrence' and 'The Last Emperor', while more recently he's worked with David Sylvian and entered into the laptop fray as Vrioon, a delicate collaboration with Carsten Nicolai released on Raster-Noton in 2001. Fennesz, on the other hand, is the definitive soloist. Though he's also racked up plenty of collaborations, the Austrian's textured sounds are a constant. His lauded albums, 'Endless Summer' and 'Venice' are singular works, and his individuality washes through other voices like an incoming tide.
When the maxi-single 'Sala Santa Cecilia' was released, it suggested greater things to come. It's a live performance recorded in a Roman church, and the atmosphere is appropriately soaring and spacious. The nineteen-minute piece is a cogent whole; Sakamoto with laptop, Fennesz on guitar and laptop, making it difficult to discern who might have been doing what, exactly, but it's dominated by Fenneszian textures and movements, tempered to something in line with the quiet, sullen passages of 'Venice'. In 'Cendre', Sakamoto's piano lines make an appearance, drawing a clearer picture of respective contributions.
The balance of power shifts towards Sakamoto and wobbles through most of the album without ever finding the pulsing accord of 'Sala Santa Cecilia'. The result of two years of file exchanging, 'Cendre' is loaded with sad dissonance and a tension that sounds uncomfortably like well-intentioned match-making gone wrong. The distinct streams of lyric piano and dystopian electronic soundscape cross paths often without merging, barely recognising each other.
There is, though, some suspense and even beauty in the tension. The second track is suffused with melancholy through the deep piano notes. But by the fourth track, 'Trace', figure/ground issues – the piano is blurred by static and digital fog – obscure the emotional impact. The standouts are the distinctly Fenneszian title track, 'Cendre', and the weighty resolution 'Oto' at the end. 'Oto' is a crucial envoi – after close to fifty minutes, the tension is resolved with stronger piano chords and a gentleness that sounds like reconciliation.
It's an album of drawn-out disquiet and fleeting resolution that maps an interesting partnership, with all its awkwardness. [Janet Leyton-Grant]
Sound of Music (Sweden):
Christians gitarr och laptop möter Ryuichis piano och laptop. Visst påminner upplägget delvis om det som Brian Eno och Harold Budd iscensatt på en rad fina skivor. I princip: elektronisk wizard möter akustisk musiker. Men jag tänker också på alla de nutida, "postklassiska" kompositörerna (Max Richter, Johánn Johánnsson, Ryan Teague m fl) som väver egna ljudbilder där gnistrande electronica skjutsar de klassiska stråkarna in i nutid och framtid. En ensam pianist riskerar att bli aningen endimensionell, medan det däremot finns mycket att vinna i ett kreativt möte med en ljudtrixare. Och omvänt naturligtvis.
Tidigare har de två musikerna samarbetat på mini-cd:n "Sala Santa Cecilia" (Touch Tone, 2005). Nya "Cendre" består av elva snarlika spår (alla titlar består av ett ord) som är uppbyggda på samma sätt: Fennesz karakteristiska ljudmattor svävar bakom, bredvid och ibland framför Sakamotos sparsmakade pianotoner. Tydligen skickade de grunder till varandra som den andra fick reagera på, för att sedan tillsammans mixa ihop resultatet. Sakamoto slår bokstavligen an tonen och visar upp ett imponerande tålamod med sina klangytor. Fennesz bidrar med stämningsskapande kulisser som sticker fram som alptoppar mellan molnen.
Jag föll pladask för duoskivan "Insen" (Raster-Noton 2005), som Ryuichi Sakamoto gjorde tillsammans med Alva Noto (Carsten Nicolai), och den här skivan spelar i samma liga. På ett plan extremt rogivande musik, men ändå tillräckligt oroande för att man aldrig ska tappa intresset eller slumra till. Man hör både Satie och Budd i musiken, särskilt med tanke på den ekonomiska spelstilen hos Sakamoto. Upprepade lyssningar slår dessutom sönder illusionen av att allt låter likadant. Här finns små nyansskillnader, inte sällan signerade Fennesz, som definitivt skiljer låtarna åt. Även om man kanske inte kan säga att stämningen någonsin blir direkt uppsluppen.
Andra spåret "Aware" är exemplariskt. Ömsom mörka och ljusa pianotoner signalerar fara respektive filmisk nostalgi. Samtidigt vandrar ett hotande bakgrundsbrus mellan högtalarna. Det är statiskt och stillastående, men på samma gång hyperspännande. Man sitter där och skärper öronen för att inte missa vad som ska komma härnäst. Stillsamma "Glow" är finessrik med sina små Fennesz-drillar som dyker upp titt som tätt. Avslutande "Abyss" har ett sorgset Titanic-tema och är en perfekt avslutning på en skiva som jag sannolikt kommer att hålla högt när skivåret skall sammanfattas. [Magnus Olsson]
KindaMuzik (Belgium):
Twee jaar terug al verscheen de eerste vrucht van de samenwerking tussen Christian Fennesz en Ryuichi Sakamoto. De single 'Sala Santa Cecilia', waarop de Oostenrijkse laptopkunstenaar en de beroemde Japanse pianist een voorzichtig duet dansten.
Overheersten op die mini-cd nog de zoemende en gemanipuleerde gitaardrones van Fennesz, op Cendre (met prachtig artwork van fotograaf Jon Wozencroft) is de samenwerking veel meer in balans.
Wellicht heeft dat te maken met de ervaring die Sakamoto ondertussen opdeed met Carsten Nicolai, waarmee hij vorig jaar op de internationale podia te zien was. Zo was hij in Nederland te gast op uitnodiging van het prestigieuze Holland Festival.
Wie Insen van Sakamoto en Alva Noto (Nicolai) mooi vond, zal ook vallen voor de schoonheid van Cendre, al is het geen album dat zijn geheimen gemakkelijk prijsgeeft.
Op het eerste gehoor klinken de composities erg losjes en geïmproviseerd. Sakamoto tokkelt wat op de piano en Fennesz vult de gaten en stiltes met drones van vervormde gitaren en zacht pruttelende computergeluiden. Van de enkelvoudige titels met woorden als 'Amorph', 'Glow' en 'Haru' word je ook weinig wijzer.
Maar wie Cendre de tijd geeft en de koptelefoon opzet, ontdekt dat het album een sterk meditatieve kracht heeft. Dankzij de langzaam schuivende patronen en de losse structuur wordt Rust op dit album ineens met hoofdletters geschreven. De razende wereld van piepende sms-berichten, deadlines en een overdosis e-mail valt compleet weg. Een droom van een album. [René Passet]
Allaboutjazz.com (USA):
This album is the second release from Christian Fennesz and Ryuichi Sakamoto, following their live 2005 EP, Sala Santa Cecilia. It builds on the promise shown there. Despite very different histories, Fennesz and Sakamoto have separately demonstrated an acute ear for popular music, Fennesz most notably on Endless Summer and Sakamoto repeatedly with Yellow Magic Orchestra.
Although Cendre sits comfortably in the rack marked "ambient," those pop sensibilities have contributed greatly to the music; Sakamoto's simple sustained piano chords give melodic structure to the music and combine with Fennesz's guitar—for which the frequently used adjective "shimmering" is actually an accurate description—to give a surface sheen to everything here.
Of course, there is also some sand in the Vaseline—Fennesz's electronics provide enough drones, glitches and white-noise backdrop to ensure that this never strays too close to chill out territory—but the overwhelming impression one is left with is of music that is both tranquil and haunting. Or just beautiful.
Although the album has eleven tracks, the transition from one to another can pass almost unnoticed; the eleven have a uniformity of sound and style that means they combine into one continuous piece with different facets, rather than being eleven different pieces.
All of this makes it remarkable to discover that Fennesz and Sakamoto weren't even on the same continent while creating the music. True, they came together for gigs and for mixing, but over the years 2004 to 2006, Sakamoto was based in NYC; he would send piano tracks to Fennesz—who was based in Vienna—for him to add guitar and vice versa. Given that methodology, for the album to have the unity it does, is remarkable.
Losing Today (Italy):
Primo esperimento sulla lunga durata per il nuovo sodalizio musicale formato dal maestro giapponese Ryuichi Sakamoto e dal laptop-performer austriaco Christian Fennesz. Si tratta infatti della seconda esperienza per questa strana coppia: dopo il loro primo disco in collaborazione ("Sala Santa Cecilia", ouverture di 19 minuti tratta dalla performance all'Auditorium Parco della Musica in occasione del festival RomaEuropa nel Novembre 2004), i due tornano ad affiancare i propri laptop per produrre una combinazione delicatissima di musica elettronica. Chi è familiare col catalogo dell'etichetta tedesca Raster-Noton, ha già potuto apprezzare l'accostamento alla sfera elettronica minimale di Sakamoto nelle sue collaborazioni con Alva Noto. Christian Fennesz, indiscusso maestro nel forgiare rumori piegandoli fino a che non si arrendano alla melodia, non si è tirato certo indietro alla proposta di una collaborazione col pluripremiato maestro giapponese (ricordiamo l'Oscar come migliore colonna sonora nel per "L'Ultimo Imperatore" di Bertolucci). In "Cendre" troviamo tappeti sonori che si fondono con frammenti di composizioni al piano, chitarre processate, suoni e silenzi curati nel dettaglio. Registrato tra il 2004 e il 2006 a distanza, con Sakamoto a New York e Fennesz nella sua Vienna, le undici tracce si pongono nello spazio vuoto che separa Satie da Murcof, proiettando il classico nel post-moderno. Dalla prima traccia fino all'ultima (la splendida 'Abyss'), un'immersione in una pacifica continuità musicale: Fennesz rinuncia agli eccessi distorsivi, mentre le note del piano di Sakamoto si lasciano abbandonare, inerti. Il risultato è sublime.
Delusions of Adequacy (USA):
Of the two collaborations between Christian Fennesz and Ryuichi Sakamoto thus far, Sala Santa Cecilia was obviously geared more towards Fennesz' crumbling swathes of guitar and Cendre is former Yellow Magic Orchestra member Sakamoto's turn in the spotlight. Having never been fond of Sakamoto's solo work for the most part, I was especially surprised to find that for its piano-centric focus Cendre is definitely the better of the collaborations. Here Fennesz seems content to take a backseat to Sakamoto's emotive piano motifs, revealing himself only when absolutely necessary utilizing the "less is more" approach. His signatory contribution being magical processed guitar fairy dust.
Unlike Sala Santa Cecilia, Cendre is comprised of multiple tracks. The first of these display the kind of careful attention to space and placement of notes that made Brian Eno's work with Harold Budd so captivating, or to go another route you can imagine listening to Erik Satie on some old vinyl LPs that are very dusty and crackle continually. In the middle of the album are several tracks where Sakamoto's piano playing takes a decidedly less melodic, more sparse and minor key turn. It's on these pieces that the record becomes a slightly more difficult listen yet one that continues to be rewarding on repeat listens.
The overall feel of Cendre is one of haunting elegance. Seemingly tailor made to be played at dusk, even the cover art is suggestive of such a use. Christian Fennesz' slow motion sparkle sheds the right amount of light on Sakamoto's piano to effectively peek through its shadowy dirge. Sakamoto's parts serve to diffuse the oppressive reverb-heavy glitch of Fennesz' guitar. Its only disappointment is that a few moments feel tossed off in a structurally careless fashion. But even if it fails to produce the same level of voluptuous ear candy as Fennesz solo work, what it lacks in framework it makes up for in sublime alcoves of subtle bliss. [Joe Davenport]
GoMag (Spain):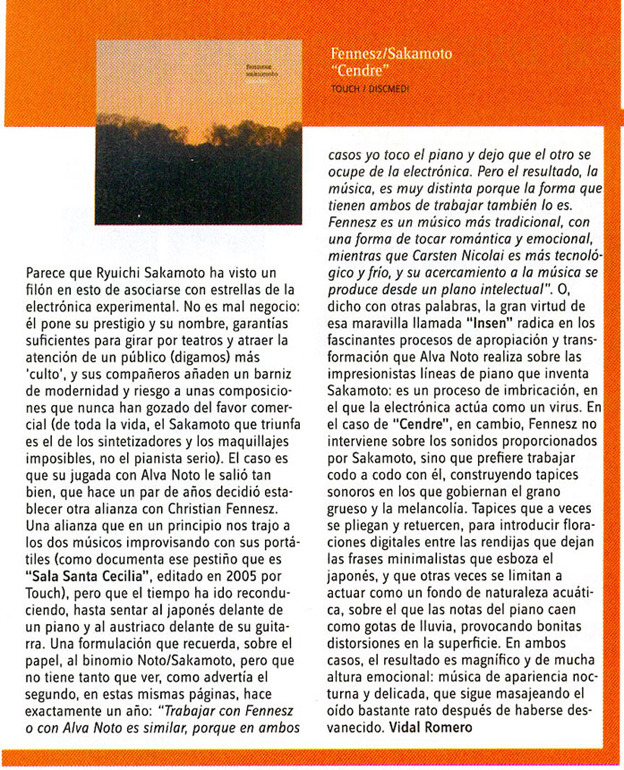 Style (Germany):

Paperthinwalls (USA):
If we didn't let on that "Trace" was laptop golden boy Christian Fennesz working in collaboration with Yellow Magic Orchestrator Ryuichi Sakamoto, you might think that Spa 73 on your Sirius settings had some Grape Nuts-y static mixed in with the uninterrupted ambience of their smoothing low-fat vanilla yogurt. And yet, that telltale hiss from the outset could evoke nothing but Endless Summer, that apex from Fennesz. Only a few years on, his kaleidoscopic and frenzied glee now gets undercut with Sakamoto's reticent piano, but for such an avatar, it's slightly curious that the Austrian composer has remained floating in one place so many years on, his sounds no longer pushing the envelope but instead being reactive, as if rummaged from a bag of sound files. There's enough space in Sakamoto's sustained and meditative ponderings that even Morton Feldman could squeeze his cube truck through, but past the bed of crackle and interference, there's not much for the computer to do. Instead, it is left to squirm, accentuating random string scratches and that telltale sound of fidgeting on the piano bench, unable to hold a yoga pose. [Andy Beta]
Earplug (USA):
Christian Fennesz and Ryuichi Sakamoto share an aesthetic you might call "postmodern romantic." Drawn to the mutability of facade, they tweak notions of surface and depth, using beauty to interrogate the received wisdom of the profound and the shallow. Cendre, their second collaboration, is gorgeous, warm, and strangely inhabited: the duo's laptops create a glittering scrum of electronics, over which Sakamoto wilts petals of piano loveliness. A cursory audition may suggest a slight preciousness, all about mood lighting and color fields, but hissing hotplate glitches slowly trouble the initial bucolic idyll. Bathed in autumnal light and composed of shifting patterns that twist and tumble as though blown in an evening breeze, Cendre is an enchanting slice of modern laptopia. [JD]
Otsechka (Macedonia):
Happy 25th anneversity to Touch! Three years old collaboration has produced their first studio record. Cendre combines 'the unstructured and imaginative qualities of improvisation with the satisfying sculpture of composition'. They've made two polarities bound to happen. With complexity in the digital texture that Fennesz accelerates, Sakamoto wipes the sound with piano clarity, just like the finger tip draws lines on a blurred window glass and makes figures.
Dummy (UK):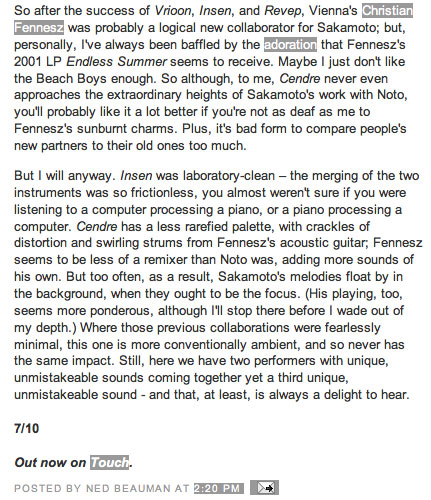 Gonzo Circus (Belgium):
Voor platen als deze zijn superlatieven uitgevonden, het was een gedachte die bij me opkwam toen ik 'Cendre' uit de brievenbus plukte. Een dag vol kleur kondigde zich aan. Geen noot had ik gehoord en toch weet een mens dat 'Cendre' een plaat is die het verschil zal maken. Daarvoor is de erfenis van Ryuichi Sakamoto en Christian Fennesz te overweldigend. Twee muzikanten die de (elektronische) muziek een andere richting uitduwden en die zichzelf met voorsprong van het peloton weten te onderscheiden, al moeten we eerlijkheidshalve bekennen dat Sakamoto een paar serieuze miskleunen in zijn oeuvre heeft steken. Na enkele liveconcerten – de korte liveregistratie 'Live At Sala Santa Cecilia' verscheen twee jaar terug – is 'Cendre' de eerste volwaardige samenwerking tussen de twee goden. 'Oto' het openingsnummer balt de plaat krachtig samen. Fennesz legt de basis van de plaat, hij permitteert zichzelf geen forse uithalen, maar legt een geluidstapijt als was het fijn, glinsterend stof. Sakamoto voegt enkele schaarse pianopatronen toe en laat zijn bijdrage verzinken in de rijke klankenwereld die Fennesz zo uitmuntend weet uit te tekenen. Spaarzaamheid is een deugd. Een plaat lang overheerst het mystieke zengevoel. Echte uitschieters heeft 'Cendre' niet, daarvoor ligt de klemtoon teveel op het geheel en vloeien de nummers te coherent in elkaar over. 'Cendre' is een pure Fenneszplaat en een zinderende Sakamotoplaat geworden. De samenwerking tussen Alva Noto en Sakamoto leverde enkele grootse momenten op, 'Vrioon' mag een bescheiden mijlpaal genoemd worden. Toch klopt de samenwerking tussen Sakamoto en Fennesz meer. De leefwereld en muzikale passie van beiden loopt moeiteloos in elkaar over. Van een conflict of strijd der titanen is op 'Cendre' geen sprake, daarvoor is het respect tussen de beide iconen te groot. Voor platen als deze zijn superlatieven bedacht. [Peter Deschamps]
Debug (Germany):

Orlando Weekly (USA):
It's ironic that it took a minimal-minded musician like Christian Fennesz to wake the mighty Ryuichi Sakamoto from his creative slumber. With Cendre, the Japanese composer finds considerable inspiration from the Austrian laptronicist, escaping from the familiar orchestral themes and circular, regressive beats that have marked his recent work. Likewise, the enveloping ambience of these 11 pieces show Fennesz nodding considerably in the direction of Sakamoto's lush, cinematic tendencies. In other words, Cendre is a collaboration in the truest sense of the word; both artists moved outside of their expectations and comfort zones to create impressive new pieces. The result is a warmly engaging collection of drifting, futuristic atmospheres that is neither smoothly snoozy nor abrasively glitchy.
Trax (France):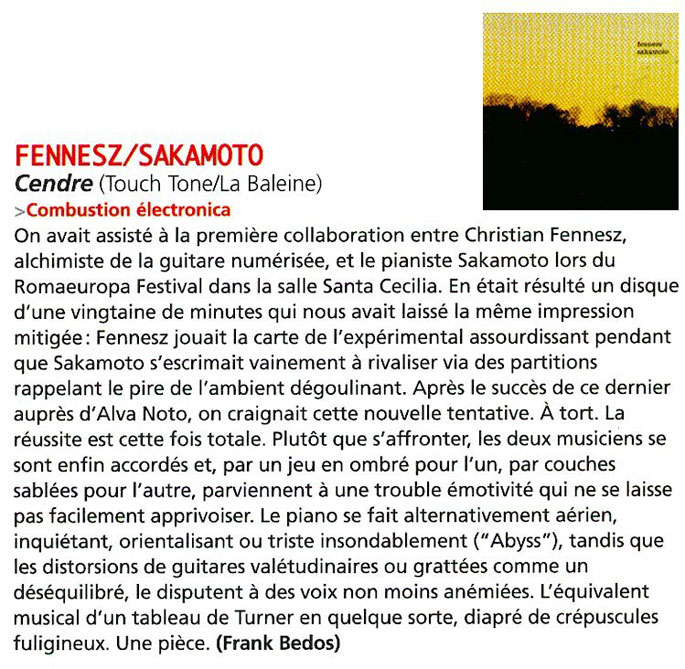 Dogmanet (UK):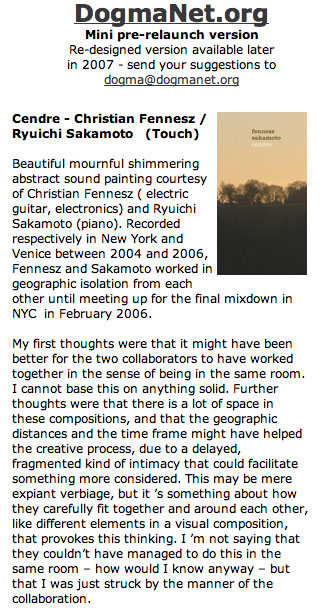 The Wire (UK):

MixMag (UK):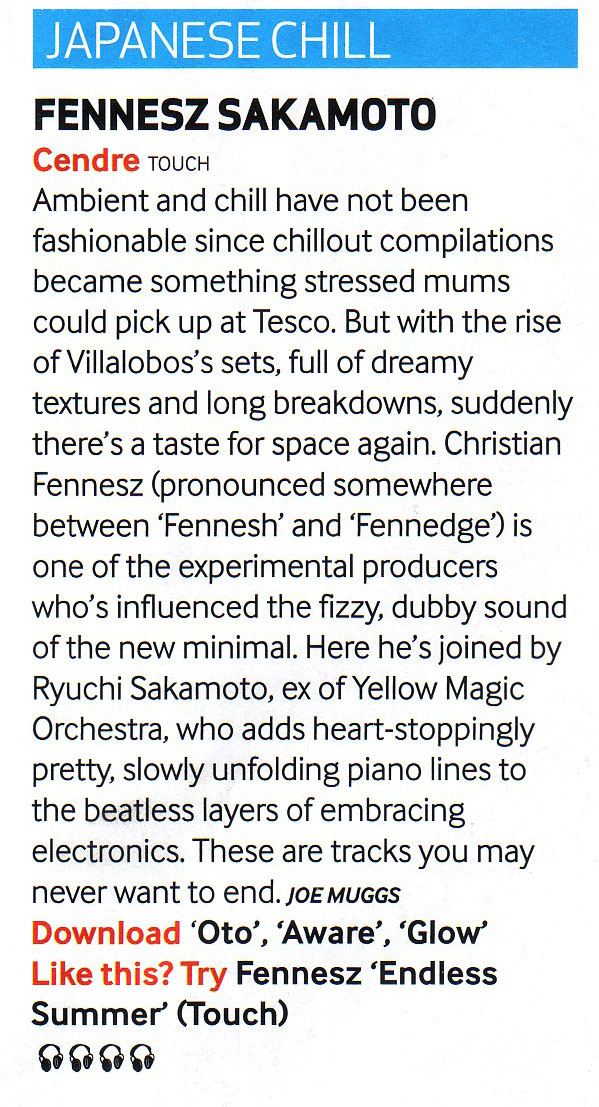 ei mag (USA):
The information superhighway, its myriad exits and transportation forms, bring together experimental titans of the East and West for the second time in as many years. Christian Fennesz and Ryuichi Sakamoto first formed their Vienna/Tokyo axis on Sala Santa Cecilia, a single 19-minute live recording released as a 2005 EP. Since then the duo have traded ideas and sounds in person, via the mail, and online, finally honing the results down to an album called Cendre that is nothing if not a study in seamless execution. Both artists earn performance credit on "laptop," making it difficult to tell just who meddled with what. Both otherwise handle the workload about evenly: Ryuichi seems to lead six of the eleven tracks, Fennesz plays the closest thing to a solo piece (the title track). Both flip a musical script: Ryuichi's piano melodies and abstractions doggedly work to attach a "neo" to European classicist ideals, while Fennesz' guitar manipulations form walls (floors?) of subtle sound punctuated as needed, the well-groomed sonic Zen garden. Ryuichi is at his best on the album's truest instance of duet and interplay "Glow," and especially on "Trace"—misdirecting listeners with pleasantries that fight against Fennesz' hissing steam, static, and creaking gears before deconstructing his part into base random elements, allowing a glimpse at Fennesz' own buried melody. Apart from his shambling playing in the transformed guitar-and-clicks piece "Kokoro" Ryuichi offers much sparer support when Fennesz actually takes the lead. The synthesized serpents' tails of "Aware" slide over broken low keys; Ryuichi is almost reduced to bystander status as Fennesz has "Kuni" lift off and fly away while "Amorph" buzzes and hovers just overhead. This could almost be ignored; what can't be are the times where this album aches to be Thomas Newman's American Beauty soundtrack. It makes Fennesz the more important half here, as his contributions sometimes fail (on "Mono") but at least aim (on the cavernous "Oto") to elevate Sakamoto's above the territory of dread, despair, and faint hope traversed by Newman's piano score. Everything about Cendre is so crisp, and lit so brightly by the glow of the musicians' respective reputations, that it all comes off almost too polished—a collaboration seemingly resting on laurels only just planted. [AB]
flux (UK):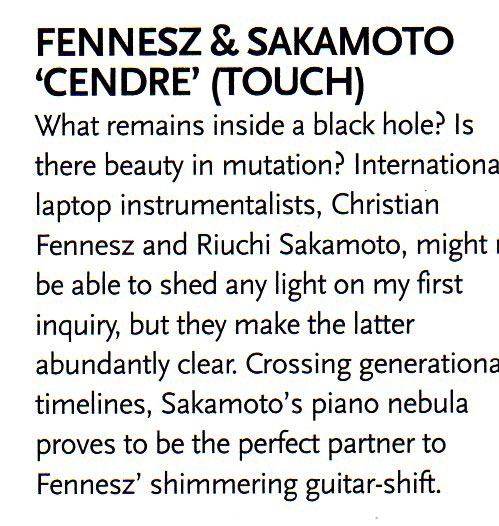 Musiklandet (Sweden):
Ett möte i natten
Den ene sätter färger på känslor och den andre på strukturer. Att beskriva Fennesz och Sakamotos samarbete på "Cendre" är som att beskriva meningen med livet, eller att dansa till arkeologi. En omöjlighet, samtidigt som det är en uppgift som skapar idel fascination för materialet.
Jag har svårt att se någon av dessa två personer misslyckas med vad de tar sig för. Ge mig en laptop, en gitarr och en Wienboende vid namn Christian Fennesz och jag ska vara för evigt nöjd. Fennesz har i populärkretsar blivit mest hyllad med "Endless summer" från 2001 (släpptes på nytt i år) där han målade upp summer of love-påminnande affekter med sina sköra toner. Min personliga favorit är dock 2004 års "Venice". En skiva som sakta skiftar i skepnader, men väldigt tydligt sätter fingret på hur dagens ambient bör låta. Brian Eno visade vägen på 70-talet och Fennesz tog med "Venice" över stafettpinnen. Bara spåret "Transit" med David Sylvian på sång är rent av hjärtskärande.
Ryuichi Sakamoto har inte heller han legat på latsidan när det gäller bländande projekt. Han var bland annat en av personerna som på 70-talet startade upp bandet Yellow Magic Orchestra. En akt som skapat en djup inspirationskälla för danskulturen och då framför allt i technomusiken. Han har på senare tid jobbat med diverse film- och populärmusik. Sakamoto är en sammanflätare av olika musikstilar, en man som vägrar att stå still.
Tillsammans har Fennesz och Sakamoto mellan 2004-2006 skickat halvfärdiga spår till varandra. Sakamoto har tagit del av Fennesz inspelningar i New York samtidigt som Fennesz i Wien har byggt på Sakamotos Satie-inspirerade pianostycken med knastriga ljudlandskap och svävande gitarrtoner. Slutresultatet hittar man i "Cendre".
Sakamotos pianospel på Cendre bygger givetvis mycket på hans två stora influenser Debussy och Satie. Det är mollbestänkt och vemodigt. Men en bit in på "Trace" kan man märka spår av Schönbergs atonala strukturer. Med dessa ljudande i öronen samtidigt som Fennesz arbetar in hypnotiska och elektroniska ljudvågor är det som att få vara med om den atonala upptäckten hundra år efter sin tid och detta med framtidens ljudbild. "Trace" är en tidsmaskin utan dess like och det är i den som allting faller på plats. "Kuni", "Mono" och "Kokoro" tar oss vidare i sakta mak, ibland är det näst intill stillastående. Det finns ingen direkt tematisk utveckling att ta till sig. Musiken känns bara här och nu.
Klockan är någonstans mellan två och tre på natten och jag ligger och förundras hur hela min kropp flyter med i Sakamotos enkla klanger. Det hela låter som om slumpen har fått vara den avgörande faktorn på "Cendre", även om så inte lär vara fallet.
Tänk er ett samspelt band som Sonic Youth som valt att förmedla tystnad före oljud eller en ung och nyfiken Eno på 2000-talet. I dessa två aningen klumpiga jämförelser tror jag att man någonstans kan hitta Fennesz och Sakamotos samarbete. Letar du efter direkta melodier och fullt-ös-medvetslös-filosofier är det här knappast något att lägga på minnet. "Cendre" är till för nattmänniskan som är ute efter musik att dela stillheten, tystnaden och nuet med. [Daniel Magnusson]
popmatters.com (USA):
Texture and melody. Visceral noise or careful chord progression. Ambient music can survive, even excel, on the merits of either. Stars of the Lid's incremental slide towards glacial string sections over the last three albums places them soundly in the latter camp. In their latest, And Their Refinement of the Decline, texturing exists almost purely as a function, a side-effect, of the melodies, in the emotive shading that emerges when a single chord eases by for the 20th successive repetition. The most recent Lithops album, last year's Mound Magnet, took the opposite route, working directly with raw sounds, both processed and designed, to lay out dense, complex compositions that generally required no melodic content to convey themselves in full. Given that both those albums, though (perhaps through) taking near-opposite approaches, were seminal works of ambient drone, each in its own right, the combined application of melody and texture together seems almost an extravagance, overkill.
Of course, that's usually not the case. Most music tends to balance its sounds between the two in some way, and plenty of ambiance is perfectly capable of applying both in concert without overpowering the senses (see: Chessie, Overnight). Especially clear-cut examples emerged in the last few years when the minimal glitched noise of Alva Noto (pure texture) and cool piano flutter of Japanese film score veteran and composer Ryuichi Sakamoto (pure melody) collided on albums Insen and Vrioon. Alone, Alva Noto's microscopic static compositions, something like the thrum of pure electricity granted sound, can be stark and aloof. Sakamoto's unaccompanied piano melodies, on the other hand, are imbued with emotive color and immediacy, but little textural depth. Together, each breathes directly into the compositional spaces left open by the other, always revealing, never submerging.
It seems natural, then, that since 2004 Sakamoto has also been collaborating with Austrian experimental guitarist Christian Fennesz. As displayed on the recently reissued Endless Summer, Fennesz is also essentially a purveyor of fine textures, digesting his guitar into a near unrecognizable swirl and stutter of sound. Unlike Alva Noto, however, he uses these textures as a compliment and catalyst to instances of melodic beauty, either suddenly breaking through a slurp of white noise to reveal themselves, or else lurking as an undercurrent of clarity throughout. As such, Cendre forgoes the sublime austerity and restraint of Insen, opting instead for a fuller, richer sound, shadings of chords and occasionally intelligible guitar fragments easing in between the piano notes and buoying them up at some points, smears of feedback crawling beneath at others.
While Cendre may seem considerably more lavish in arrangement than its predecessors, those predecessors lay at a marked extreme of the spectrum; the new collaboration is still primarily an exercise in tension. Opener "Oto" is pensive as cool piano notes coil around deteriorating chords like decayed textiles, and by "Aware" the album has established its course. Fennesz here assumes a swirling stereo murmur of digital noise, bits occasionally lancing out into the foreground to snap at Sakamoto's piano as it eases by, first as an ominous bass undercurrent, later as a treble progression that could be either hope in the face of melancholy, or melancholy hiding behind hope. The entire album maintains this pattern admirably over 11 tracks, its emotions ever complex, ambiguous, open to interpretation. Sakamoto's extensive film work pays off: he excels at writing melodies that highlight scenes without telling the viewer how he should feel about them, and Fennesz's soundscapes only deepen the feeling, enhancing the moods the way certain spices can bring out the subtler flavors lurking in a stew.
Cendre has its brighter moments ("Haru" and "Amorph" could almost be described as "tranquil") and its bleaker ("Trace" and "Kokoro" tread more dissonant ground, pale and slightly disconcerting), but on the whole remains consistent, true to form. It's a narrow vision (one wonders what a slightly faster piece from the duo could accomplish, or one that dared to shift in a more dramatic manner) but one which serves very effectively to fuse, like the efforts of the two composers in each song—texture and melody working sarcastically together—into a single, unbroken experience.
Total Music Review (UK):
A collaboration between Christian Fennesz and Ryuichi Sakamoto, the former using a laptop computer to morph his guitar into ever more dissonant shapes the latter using his to capture his piano with pristine clarity Cendre is an occasionally startling, but more often organically minimalist meeting of electronic and analogue which, like much of the ambient end of the electronic market, demands repeat listens before it gives up its true depth and beauty. If you're the sort of person who wishes Brian Eno had put a guitar solo on Music For Airports then avoid, if however you like your music to work on more than one level, check this out.
Rockdeluxe (Spain):

Uncut (UK):

Q (UK):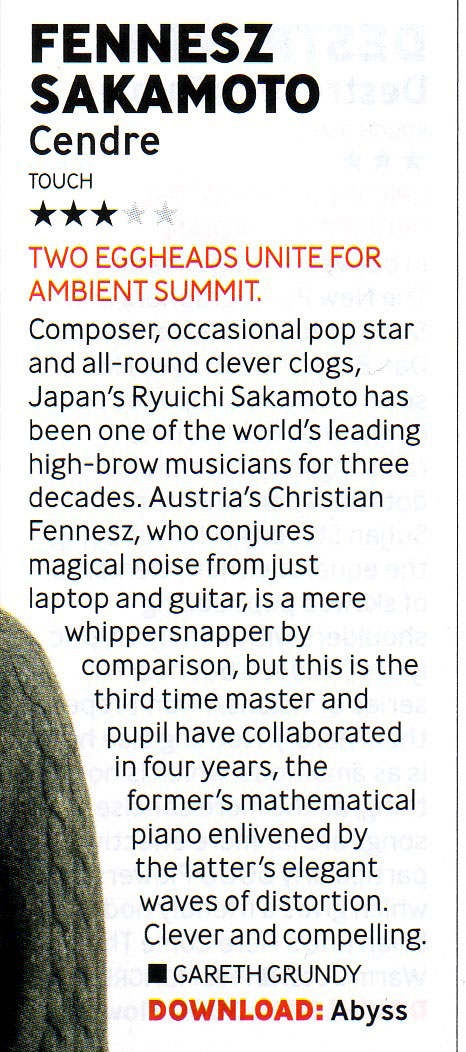 Buzz (UK):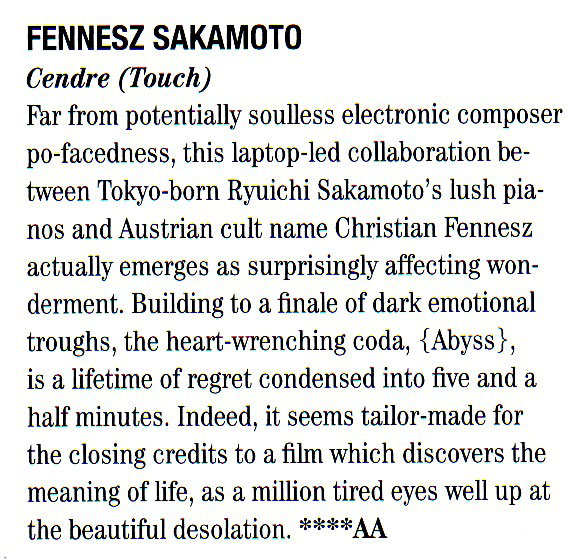 Skug (Austria):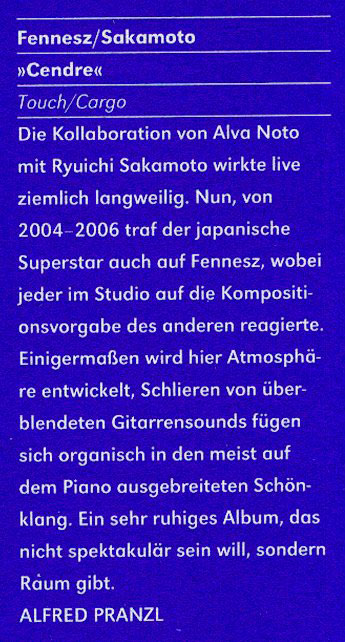 Intro (Germany):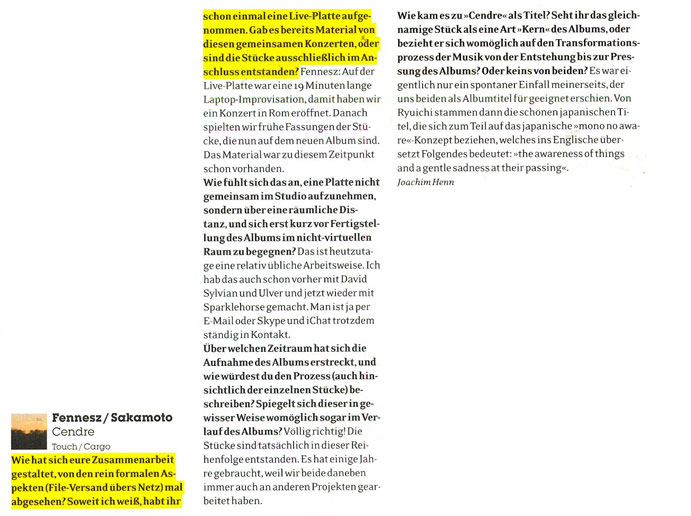 Notes (Germany):

Magic (France):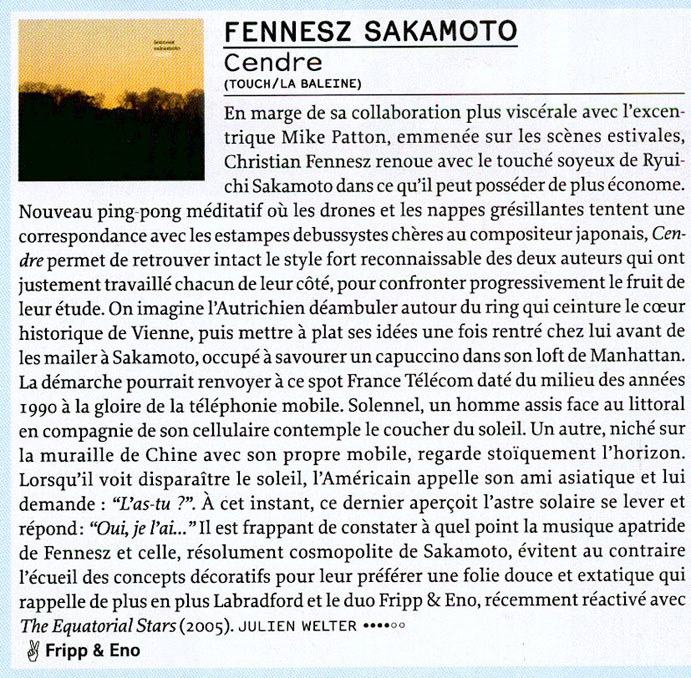 Groove (Germany):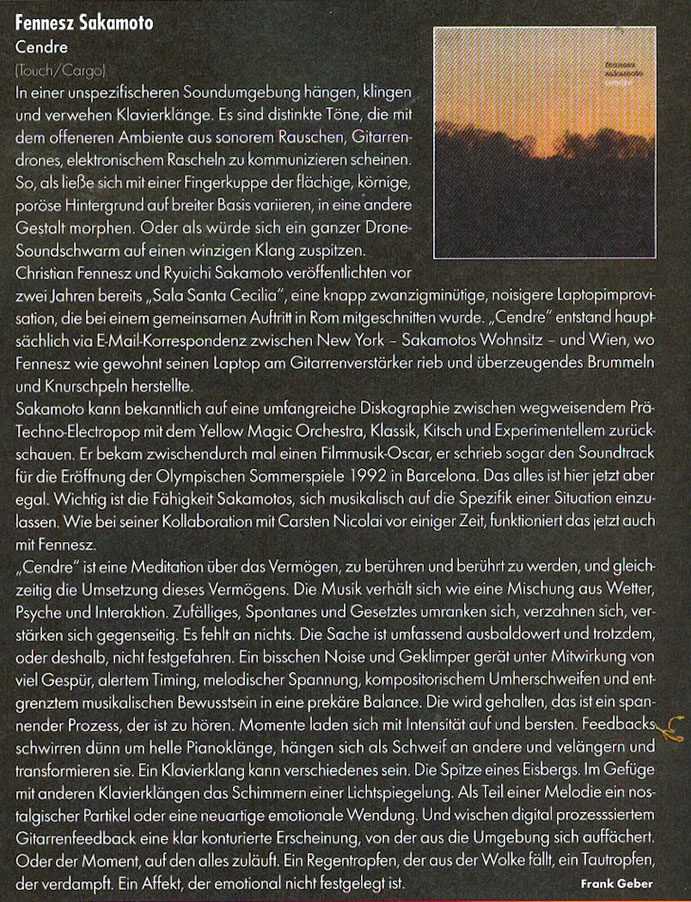 rifraf (Belgium):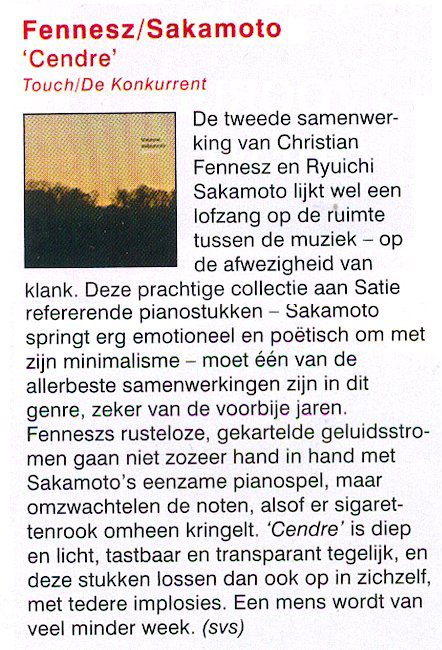 Jazzeit (Germany):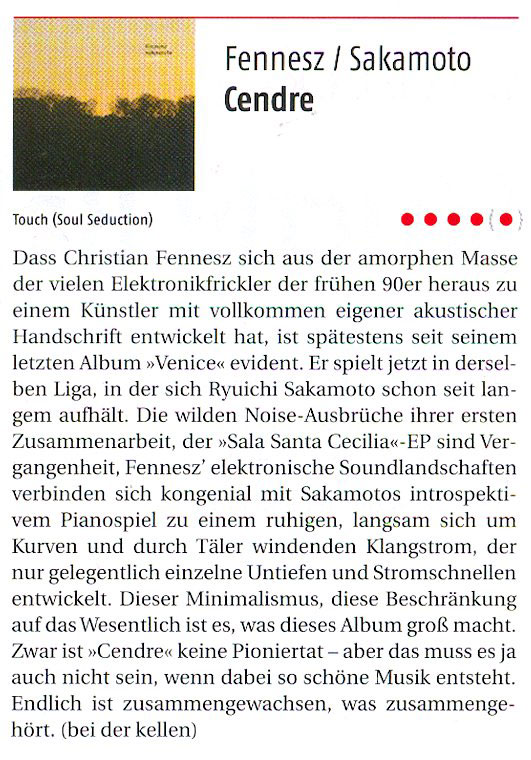 Rockdelux (Spain):

Culturas (Spain):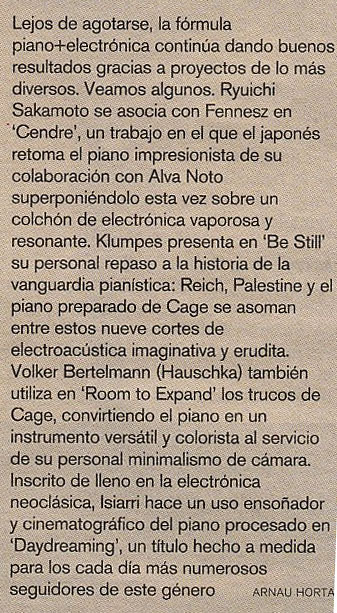 Unknown Public (UK):
Like two figures meeting in the shadows, cendre seems to exemplify that natural encounter: Christian Fennesz with his electronic computer and guitar driven atmospheric sounds and Ryuichi Sakamoto's dreamy Debussy-Satie, Zen-like piano textures. And what better than releasing it on Touch, the label home to the digital sound and visual network. The album bears warmth and light in tracks like "haru" and "oto", but it does descend to deeper and darker tones finishing with the track "abyss. Nevertheless it maintains an intense calm and simplicity. As I sit and write, an aeroplane flies overhead – its low drone seems to blend in too well with the swirls and hypnotic chords of "haru" which plays in the background.
BestxMiles (Australia):
The Guardian (UK):
Pianist and electropop survivor Ryuichi Sakamoto is a tireless collaborator who has forged partnerships with personalities as different (in style and aesthetics) as Jacques Morelenbaum, David Sylvian and sound artist Carsten Nicolai. This elegant album pairs him with Austrian soundsmith Christian Fennesz on laptop and guitar. The soundscape they map is strange and desolate, marked by a shimmering haze of digital reverberation, delay and static. Too unsettling to be "ambient", it's occasionally reminiscent of the experimental music that emerged from Scratch Orchestra pioneers such as John White and Gavin Bryars, and the sound design of movies such as Eraserhead.
Cendre sounds completely contemporary, however, thanks to the narrowly focused inventiveness of Fennesz's electronics. Tiny noises and clicks hover around Sakamoto's quiet, assured piano chords. The pieces work less well when Sakamoto is tempted to "quote" too explicitly (as he does with Satie on Kuni), but the best moments, such as Glow and Oto, are thoughtful, stimulating and strangely relaxing. [John L Walters]
Undertoner (Denmark):
Hvad er musik? Det har et hav af intelligente komponister og musikere tænkt over i mange år – mest frisættende i det tyvende århundrede. Behøver vi en melodi for at kalde det musik? Et akkordgrundlag? En struktur, vi kan følge med i? I hvert fald siden Mahler har den klassiske musik arbejdet bevidst i spændingsfeltet imellem ren klang(farve) og melodi/harmonik.
Men på trods af så forskellige komponister som John Cage, Pierre Schaeffer, Stockhausen og Steve Reich og deres arbejde fra 1930'erne og frem, skulle vi alligevel frem til den af elektroniske musiks eksplosion i slutningen af 80'erneogstarten af '90'erne, før end monotoni, cyklisk struktur, reallyde og støj nåede ud til et bredere publikum – og blev accepteret som musik. Også selv om både The Beatles, Kraftwerk og Brian Eno eksperimenterede og udvidede paletten i den såkaldt rytmiske musik. Eksperimenterne blev opfattet som eksperimenter og ikke som dét, de reelt var: nye, frigørende måder at lave musik på.
Men alt det er heldigvis historie. Vi er i et nyt årtusinde, alt kan lade sig gøre, den abstrakte musik har langt om længe bidt sig fast i en bredere del af befolkningen – og folks ører er ikke de samme. Og det er de formentlig heller ikke efter at have beskæftiget sig med den første reelle cd fra Fennesz/Sakamoto. I 2004 udkom en 19 minutter lang ep, der indeholdt livemateriale fra en koncert i Rom – siden den gang har de to komponister udvekslet filer via nettet, mødtes i studier og skubbet til hinandens idéer. Cendre er resultatet, og lad det bare være slået fast: Musikken er mere klang end melodi. Men sikke klange.
Hver for sig har Fennesz og Sakamoto bevist deres evne til at holde lytterens ører fast – Fennesz senest med Venice fra 2004, som den foreliggende cd godt kan sammenlignes med, og Sakamoto for flere prisvindende soundtracks og sit arbejde i Yellow Magic Orchestra.
Begge musikere har brugt en laptop under arbejdet med Cendre. Fennesz leverer derudover guitarfeedback og abstrakte klange, mens Sakamoto nulrer eftertænksomt omkring på et flygel. Hans små improvisationer minder både om Debussy, Satie og Morton Feldman.
Vi er med andre ord i grænselandet imellem electronica og nyere kompositionsmusik. Selv om numrene nærmest flyder planløst af sted, opdager man ved flere intense lytninger små holdepunkter, små ansatser til struktur. En pianovignet, der vender tilbage – et støjunderlag, der loopes. Fælles for alle numrene gælder det dog, at man aldrig ved, hvad der vil ske. Det blipper, det skronker, der bliver tændt og slukket for elektriske apparater – lydkilderne er mange og oplevelserne ligeså.
Støjen, skramleriet, svusjet og de sære lyde ligger generelt en anelse længere ned i mixet end Sakamotos pianoerier, og det gør, at ørerne skal spidses til, hvis man skal have det fulde udbytte af musikken. Hvilket kun kan anbefales – altså at få det fulde udbytte af musikken. Når den danske sommer nu er, som den er, er der ingen grund til ikke at sætte sig et lunt sted, tage et par gode høretelefoner på og lytte efter.
Og så kan man altid sende en venlig tanke til Mahler og co., hvis mod og visioner er grunden til, at denne slags musik kan laves i dag. [Jan Overgaard Mogensen]
Signal to Noise (USA):
The second instalment in the on-going duo from Christian Fennesz and Ryuichi Sakamoto furthers the purging of laptops amid floating piano melodies. A measured release, in which piano takes central aural focus, Cendre is one of the growing number of long distance creative interactions that are fuelled equally by increasingly versatile communication technologies and file sharing opportunities and the joys of modern flight. This sort of gestation is fraught with potential pitfalls and shortcomings, but the two-year spread over which the record was conceived seems to have allowed adequate space for call and response between the two composers.
The roles are more refined on this edition – Sakamoto's playing is spaced and dutifully reflective, chords and notes ring out allowing the swells of electronics to swallow whatever tonal modulations might remain. Fennesz sets the overall textural agenda, his processes and sizzled electronics creating much of the sonic detail in these works.
Pieces like 'Haru' demonstrate Sakamoto's continued ability to create visual images through sound – 'spring' clearly articulated through his open playing and generous melody. 'Glow' though is perhaps one of the more musical interactions between the two players, with Fennesz setting the harmonic agenda a move that results in some divergent responses from Sakamoto. Richly spatial and a touch discordant this unresolved and disparate piece points to progressively more engaging compositions to come. [Lawrence English]
Sound-Vision (Portugal):
Intensamente associada a uma noção de manipulação em estúdio (apesar da enorme quantidade de obras centradas no piano e outros instrumentos "convencionais"), a música ambiental tem conhecido diversos momentos de reinvenção ligados à entrada em cena de tecnologias ou de novas formas sonoras que as novas máquinas permitam criar. Pianista de formação clássica e obra versátil Ryuichi Sakamoto tem dedicado parte da sua atenção nos últimos anos ao desafio da busca dos sons que podem morar entre as notas que cria ao piano. Insen, colaboração com o minimalista "radical" Alva Noto, dava evidentes sinais de uma direcção assumida nessa busca, procurando a "razão" algures entre a identidade essencialmente textural característica de Noto e o melodismo incontornável na escrita de Sakamoto. Cendre, segunda colaboração com o guitarrista austríaco Christian Fennesz (com quem Sakamoto editara o EP Sala Saint Cecila, em 2005), aprofunda esta exploração. De certa maneira, o disco é herdeiro de uma genética central à estética ambient, definida pelos álbuns Ambient 2: Plateaux Of Mirror (1980) e The Pearl (1984) de Harold Budd e Brian Eno, o primeiro sugerindo melodias ao piano, o segundo desenhando espaços e texturas ao seu redor. Ryuichi Sakamoto sugere linhas de melodia, mais abstractas que narrativas. A seu lado, Fennesz ensaia instantes de formas cénicas. O encontro é compensador para o ouvinte, se bem que ainda revele uma certa tensão no encontro de linguagens que pedem novos desenvolvimentos no futuro.
xlr8r (USA):
MCD (France):
Rockerilla (Italy):
Rumore (Italy):
Gonzo Circus (Netherlands):
RAR (USA):
All About Jazz (Italy):
Cendre, stampato per la label inglese Touch a breve distanza dal fortunato Sala Santa Cecilia, documenta un secondo lavoro in duo del chitarrista Christian Fennesz e del pianista Ryuichi Sakamoto. Registrato a fasi alterne, tra il 2004 e il 2006, a New York da Sakamoto e a Vienna da Fennesz [l'uno le parti di chitarra su supporto elettronico e poi l'altro, sopra, quelle al piano, e così anche l'inverso], è stato mixato dai due insieme a New York.
Frutto deliberato di una intensa corrispondenza e di scambi, Cendre riflette in ogni sua parte lo spirito di questo processo ciclico. Le undici tracce sono, infatti, estremamente piane, lineari, amalgamate. In esse, parti destrutturate (più che improvvisate) si mescolano e sovrappongono a parti dove è lasciato largo spazio all'elettronica, a libertà strumentali e anche ad una certa inquadratura compositiva.
La sostanza è un'elettronica soft, di ottima qualità, anche se un po' ingabbiata in intimismi da corrispondenza. [Francesca Odilia Bellino]
Trust (Germany):
Machina (Poland):
fluctuat (France):
Ce qu'il y a de bien avec un projet comme ce Cendre célébrant une nouvelle fois la rencontre de Ryuichi Sakamoto et Christian Fennesz, c'est que l'on peut s'attendre à tout. Un album conceptuel et totalement ennuyeux, ou un chef-d'œuvre indépassable en passe de devenir aussi culte que Hotel Paral.lel ou Endless Summer de l'un, ou le Discord de l'autre (où le Japonais était déjà accompagné de DJ Spooky). D'un côté leur premier essai commun, le EP Sala Santa Cecilia aussi majestueux soit-il, ne nous avait pas laissé un souvenir impérissable, de l'autre ce Cendre lumineux et apaisé se présente d'office comme la collaboration que l'on attendait entre ces deux génies de la musique contemporaine (au sens large). Bonne pioche donc !
Si l'on peut généralement faire confiance à Fennesz pour nous ravir, on remarque également combien les goûts de Sakamoto s'affinent et perdent de leur clinquant avec l'âge. Ses multiples collaborations incarnées depuis plus de 10 ans par la production de fabuleux albums en compagnie de DJ Spooky, Amon Tobin, David Sylvian, Christian Fennesz, culminant avec Insen, album difficile mais passionnant réalisé avec Alva Noto dont on parle beaucoup, ont-ils eu une telle influence sur le compositeur japonais ? Il faut le croire et c'est plutôt une bonne nouvelle. Le fait est que ce Cendre ne mérite que des superlatifs. De "Oto" qui ouvre l'album, à "Abyss" qui le clôt (avec mention spéciale au psychédélique "Kokoro" où les distorsions hendrixiennes sous tranxene de l'Autrichien se nappent lentement d'un glacis de piano givré), tout n'est que calme, luxe et volupté. On a peine à croire que pareil album a réellement pu être réalisé par correspondance à des kilomètre de distance, tant les deux musiciens s'accordent parfaitement. Fennesz et Sakamoto se passent mutuellement la main, s'accompagnent ou jouent les contrepoints selon l'inspiration. Quand le guitariste dilue sa poussière de guitare aux effets sablés et moirés, les notes du Japonais quant à elles, semblent apparaître, ça et là, comme des trous de lumière à travers les nuages. C'est cliché de le dire, mais avec un tel album, on se prend à rêver à un Eric Satie de retour parmi les vivants. Le petit homme jouissant enfin de la reconnaissance de ses pairs et des plaisirs de cette terre dans de périlleux exercices de somnambulisme sonore, ou encore d'un Arold Budd débarrassé de ses oripeaux ambient new age, et rien, vraiment, ne vient gâcher notre bonheur, si ce n'est l'inévitable retour à la réalité en fin d'album bien sûr.
Cendre s'avère donc un parfait exercice de combustion artistique. Un moment intense pendant lequel deux musiciens s'embrasent et incinèrent littéralement leurs ego au seul profit de la musique. Il s'avère aussi l'album idéal pour en finir avec cet été maussade au goût de cendres justement (on pense à nos voisins Grecs). "Incontournable", comme on dit.
Global Rythm (USA):

Mondale Sonoro (Spain):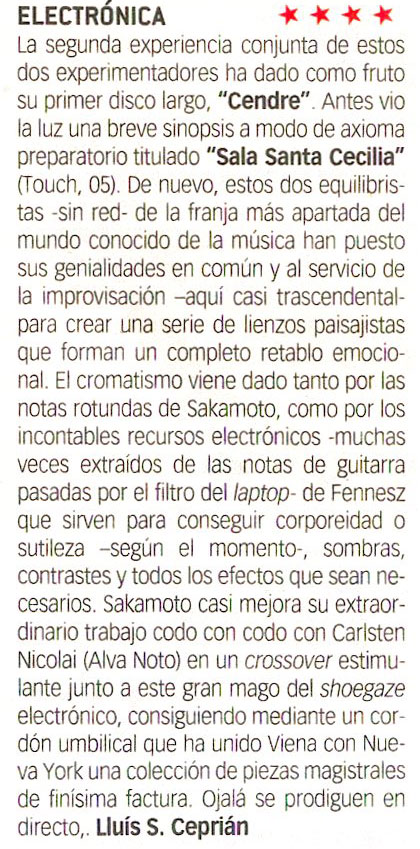 BestxMiles (Australia):

Periodico (Spain):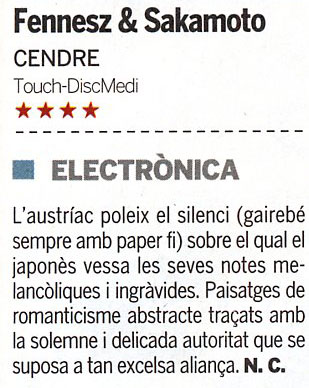 Signal To Noise (USA):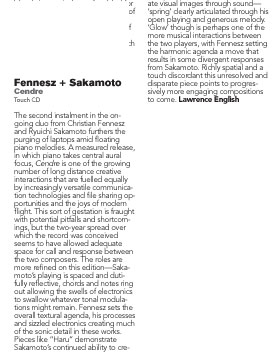 Wreck This Mess (France):
Christian Fennesz et Ryuichi Sakamoto ont en commun une passion pour les laptops ! Et bien sûr une "utilisation", une approche particulière des instruments acoustiques. La guitare pour le premier, le piano pour le second. Enregistré entre 2004 et 2006, ce disque témoigne du dialogue entre ces deux musiciens talentueux issus de mouvements musicaux différents. Ils se sont échangé des éléments pour les retravailler, les compléter comme un puzzle. Puis ils se sont retrouvés en studio, à New York, pour finaliser leurs enregistrements. Le résultat de cette collaboration nous est offert sous forme d'une suite de pièces où le piano domine. Les notes ainsi égrenées ne sont pas sans rappeler les fameuses Gymnopédies de Satie avec toutefois un arrière-plan de textures ambient, de micro-décharges électrostatiques, de brisures mélodiques, de frottements, etc. Mais l'atmosphère générale reste ténue, étrange. LD
Black (Germany):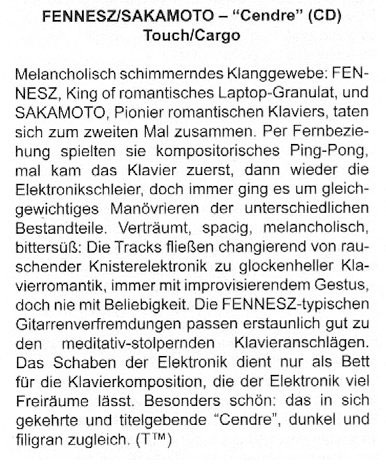 Headphone Commute (USA):
Here's a 2007 release that I've been meaning to cover in detail for a while. Touch Music was launched in 1982, initially releasing cassette magazines. Twenty five years later, Touch is at its peak, perfecting their output with carefully selected works by Christian Fennesz, Ryuuichi Sakamoto, Oren Ambarchi, Biosphere, Ryoji Ikeda, Philip Jeck, Chris Watson and Mika Vainio, amongst others.
Since the 90s, Fennesz and Sakamoto have performed live, with Sala Santa Cecilia being their first collaborative EP (Touch, 2005), recorded live at Auditorium della Parco Musica for the Romaeuropa Festival. Two years later, the duo got together to compose their first full length LP, Cendre. In between these two releases, Fennesz recorded an album with Keith Rowe, Toshimaru Nakamura and Oren Ambarchi, under a collective moniker 4g, titled Cloud (Erstwhile, 2005). Meanwhile, prolific Sakamoto (recording since 1978) released a remix album, Bricolages (Warner Music Japan, 2006) with a collection of reworked tracks by an amazing roster of artists like Alva Noto, Taylor Deupree, Snd, Richard Devine, Slicker and even Craig Armstrong. Needless to say that I was pretty excited to hear what the couple come up with, with such an amazing web of connections and an array of experiences. And Cendre doesn't disappoint.
Sakamoto is back at the piano, this time bathed in a warm lush of ambient bliss, as flooded by Fennesz. The reverberations of drone-like pads almost swallow the notes whole, occasionally letting them cut through the descending fog, and shoot up like a sparkling reflection of a dying star. Editors at Boomkat have said it best : "The fact that you're […] reading this review assumes you're of a certain musical disposition, and if you are in any way interested in the more beautiful things in life, the sensitive yet experimental end of modern music – pay close attention as this album is just about as good as it gets." A modern classical marvel. The latest from Fennesz is Transition EP (Touch, 2008), while Sakamoto released a collaboration with Christopher Willits, titled Ocean Fire (12k, 2008).
Hawai (Chile):
Tan solo 72 minutos son los que suman las que hasta la fecha son las únicas dos colaboraciones, plasmadas en disco, entre Christian Fennesz y Ryuichi Sakamoto.
Enfrentados de manera distinta, tanto en su proceso de gestación, composición e interpretación, obviamente que los resultados tenían que ser diferentes. Y por cierto que lo son. En "Sala Santa Cecilia" el proceso fue más simple, y consistió en lo siguiente: dos personas, el austríaco y el japonés, mas un tercer invitado, el laptop. La música surge de la interacción entre esto tres elementos, casi se diría que de forma improvisada, caótica a ratos, pero nunca desordenada. Grabado por Claudia Engelhart, en el Auditorio Parco della Musica, dentro del festival Romaeuropa, en Roma, Italia, el 28 de noviembre de 2004 (siete meses antes de su publicación), lejos de ser una mera reunión de dos creadores de mundos aparentemente alejados, es una sola capa –también en disco: un track de 19 minutos–, con matices y sonidos añadidos, a veces sutiles, a veces más bruscos (minuto cinco a seis: grabaciones de guitarra, presumiblemente de Fennesz, en la línea repetitiva de Spaceman 3), cercanas a las grabaciones más experimentales del europeo, como sus colaboraciones con Keith Rowe. Sakamoto, por su lado, toma el control cuando el ruido es el protagonista, sumando ráfagas de ambient al conjunto –tal vez fue todo de un modo distinto, y dichos roles no los ejercieron quienes yo otorgue–. Como sea, "Sala Santa Cecilia" sirvió como aperitivo, mas que destacable, a su primer larga duración, y si se escucha con atención, existen pasajes en los cuales ya se anticipa lo que será su próxima colaboración.
"Cendre", publicado cerca de dos años después que el anterior, tuvo un proceso distinto. En esta ocasión, la grabación no tuvo lugar en un solo momento y lugar, sino que se desarrolló pausadamente, desde el 2004 al 2006, entre las ciudades de Nueva York (Sakamoto) y Viena (Fennesz). Este le enviaba pistas al nipón, sea una pieza electrónica o de guitarra, sobre las que Sakamoto creaba a su vez una pieza de piano. Sin embargo, a veces el proceso era el inverso, comenzando en Austria y terminando en Estados Unidos. Además, discutían sobre los temas durante sus varios encuentros en giras, o comunicándose vía electrónica, juntándose para la mezcla final en febrero de 2006. Entre el paisajismo puro, y la más sutil y ensordecedora belleza, tienen lugar once temas, partiendo por "Oto" (sonido), breve overtura donde tradición y modernidad de unen, y siguiendo con "Aware", que traduce a sonido precisamente lo que significa. De ahí en adelante, se suceden hermosas piezas, donde cada uno aporta lo suyo, Sakamoto con el piano y Fennesz con la guitarra eléctrica, tratados por ambos con sus laptops. El mas viejo de los dos, delicado como siempre, se refleja como nadie en tan noble instrumento, y dice como casi ningún otro es capaz de hacer (a la saga le va el neoyorquino Kenneth Kirschner), tantas cosas en notas tocadas con una precisión notable, tanto cualitativa como cuantitativamente. A destacar dentro de todas "Kuni" (campo), "Cendre" y "Abyss". Por su parte el mas joven del dúo no es solamente el compañero de turno, y quien justifica que este artefacto sonoro aparezca en la marca londinense Touch, sino que muy por el contrario se acopla de manera que no estorbe ni entorpezca la labor del otro –de un modo similar a como lo hizo Carsten Nicolai (Alva Noto) en sus discos para raster-noton–. Sin él, el disco tendría otro carácter muy diferente. No quiero decir en ningún caso que pase inadvertido. Es perfectamente distinguible su presencia, y su manera de enfrentar las composiciones. El ejemplo más notorio es "Glow", el que encajaría fácilmente en una posterior reedición de "Venice" (Touch, 2004).
El fin, el amanecer, la luz. Al igual que la fotografía que aparece en la portada, obra de Jon Wozencroft , responsable además del diseño de este, el EP que le antecede, y la casi totalidad del catálogo de Touch, de entre los arboles, ramas y hojas digitales emerge la claridad. Desde la oscuridad, de la que algo hay, surge la luz, y junto con ella, el calor.