CD – jewel case + booklet – 3 tracks – 37:05
Artwork & Photography by Jon Wozencroft
Mastered by Denis Blackham
Track listing:
1. Novaya Zemlya 1
2. Novaya Zemlya 2
3. Novaya Zemlya 3
The artwork, by Jon Wozencroft, includes an essay by Thierry Charollais, "Thomas Köner's Novaya Zemlya: towards a metaphysical geography"… "Of course we find the unique Koneresque glowing drones that we know from his previous works. But we will also be touched by an unrevealed, barely perceptible sense of melody and harmony that Köner gradually developed since Kaamos (1998) and Nuuk (2004)."
Novaya Zemlya (Russian: Но́вая Земля́; IPA: [ˈnovəjə zʲɪmˈlʲæ], lit. New Land), also known in Dutch as Nova Zembla and in Norwegian as Gåselandet (lit. the Goose Land), is an archipelago in the Arctic Ocean in the north of Russia and the extreme northeast of Europe, the easternmost point of Europe, lying at Cape Flissingsky on the northern island.
About Thomas Köner:
Thomas Köner (b. 1965) is a pioneering multimedia artist whose main interest lies in combining visual and auditory experiences. Over his long, much celebrated career, he has worked between installation works, sound art, minimal soundscapes, and as one half of Porter Ricks. He attended music college in Dortmund and studied electronic music at the CEM-Studio in Arnhem. Until 1994 he worked in the film industry as editor and sound engineer. Thomas has extended his concept of time and sound colour to images, resulting in video installations, photography and net art.
His point of departure was composition of sound in which aspects of a performance and visual language were gradually integrated. At first in the collaboration with film artist Jürgen Reble and the live performance Alchemie (1992). Following this, he started to compose film soundtracks and music to accompany historic silent films for the Louvre Museum and the Musée d'Orsay, Paris, who called him a major innovator in the contemporary music scene, as well as noted his collaborative practice which has led to his working with musicians, filmmakers and visual artists on installations and sound performances, and to his creation of six video works produced in two cycles, starting in 2003.
His extensive discography, including his four classic albums ("Drone/Isolationist Ambient") released on Barooni between 1990 and 1995, Nunatak Gongamur, Teimo, Permafrost and Aubrite, can be found here: www.koener.de/cd.htm

Reviews:

You can read a feature on Thomas Köner in Mouvement (France) here

Touching Extremes (Italy):
Thomas Köner: unspecified instruments
When you wake up in a cold morning and the anticipated end of the world has not happened, but it's still utter sadness wherever one looks at.
When the picture of a life spent dealing with worthless issues and unrequested responsibilities keeps smothering the flame of hope for a turnaround towards absolute lonesomeness in an inaccessible area.
When looking at the futile cheeriness of old classmates showing their adult desperation on a Facebook page makes you feel even more powerless than you were during the high school years.
When no words exist to convey the distress springing from the failure of all ways of authentic communication. Including the closest persons.
When you realize that many people keep believing in so-called explanations, clutching at the straws of a promised enlightenment. Another illusion in an endless chain.
When the real goal has been individuated and reached but in front of its door there's no way to find the key. All that remains is just staring, and sighing at the thought of what could have been.
When the eyes are finally shut and the echo of a remote sloping drone becomes a presence so aching that the whole body would like to start shivering in soundless crying.
When something of harmful origin is turned into music of the highest order, capable of generating flashes of intense awareness.
When the cracks in the ice of isolation reveal rays of light that might revive an ailing heart.
A long-expected new masterwork by Köner.
Popmatters (USA):
The barren, Godforsaken Northern Siberian archipelago of Novaya Zemlya is a wasteland of radioactive slurry. The islands were emptied of their inhabitants during the Cold War and used for some of the largest nuclear tests ever carried out. German ambient artist Thomas Köner has captured the bleakness and menace of Arctic and harsh domains before, on stunning albums such as Teimo and Permafrost, but Novaya Zemlya is his best and most environmentally reflective work yet.
Industrial trembles, muted rumblings and crumbling ice-shelves of noise communicate Novaya Zemlya's perilous, poisonous terrain. Remote drones, chilling silences and crackles of radio signals bring the hazard and isolation to the fore. The trilogy of tracks is a breathtaking array of subterranean creaks and pulses, and Köner's washed-out frequencies and gelid electronics are as sublime as they are forbidding. An apt reflection of the ruinous impact of human beings on our environment, Novaya Zemlya is desolate, but not inhospitable. A tenuous thread of melody lies within, as fragile as nature's own battle to survive. [Craig Hayes]
Dusted (USA):
All our communication, external and internal, travels along intangible "roads" or "systems" that are made up of an odd collection of parts. These parts may be something external, like the internet, or internal, like a memory or an image. Some are ancient and some are modern, but they all carry messages back and forth between us and the world. Sound particularly evokes vivid associations aside from and including the musician's intent. Often we aren't conscious of the system and its role and therefore each system part can form both a liberation and a restriction. We find ourselves in a time when even gathering daily information — newspapers, message boards, emails — has become an ordeal, as we scramble for tastes of every pie our abundant access has made available. In the grab for cultural experience, the time spent with functions, institutions and settings in the infrastructure of culture has afforded us the appearance of a freedom whose credibility is seriously overdrawn. It takes a twist of perspective to breathe fresh life into any system and its parts.
It is in this domain that Thomas Köner performs his rather magical form of art. The throbbing heart at the pulse of Köner's cathartic sound is an alternate encounter with the world through the mediation of a kind of auditory viewfinder, programmed in different ways by the above-mentioned systems. In true minimalist style, this involves removals and absences, and a challenge to our experience of the ultimate system, Time.
Novaya Zemlya literally means "new land" and is the name of a cluster of remote islands in the Arctic Ocean in the north of Russia. From the outset, one is metaphysically thrown into the landscape as early sounds reflect an image of melting ice tumbling into a heated ocean. Initially the sounds are an exhortation on the dangers of global warming. Soon the silent spaces evoke feeling as well as landscape. It is easy to make a match between the depleted cold, polluted morass of the most remote place on earth and its corresponding vibration in our soul. Through the ghost of a melody, the mood slides from barren wasteland to dystopian anxiety. Later in the piece, Köner revisits the theme of time with haunting radio dialogue suggesting an older military presence on the islands. This sound still carries an ominous message despite its subterranean ambiguity.
This listening experience is more than distorted field recordings of a potential catastrophe. Köner gives us an opportunity to notice our bustling fluster of a life and reminds us that our many and varied systems of interaction with the world have material impact. We are brought to a remote part of the planet in an involved systematic intimacy. We are that remote part of the planet, it is inside us, we build and create it each day in the circulatory adherence to the circuitry revolving around our immediate interests. These systems are feeding back and we would do well to take heed. [Lisa Thatcher]
Aquarius (USA):
Novaya Zemlya is a grand statement. But then again, Thomas Koner doesn't operate in any scale other than monumental. All of his albums (barring the somewhat lackluster La Barca from 2003) speak through the gasping drones of a bleak existentialism. For Koner, the human condition is mirrored in the environment around us, especially those rugged, barren locales at the poles, with his isolationist smears of grey sounds alluding to water, ice, permafrost, wind, radiation, and vast empty spaces above the Arctic Circle. The environmental site for this album is a suitably inhospitable Russian archipelago jutting far out into the Arctic Ocean toward the North Pole. During the arms race of the Cold War, the Soviet Union used Novaya Zemlya as a nuclear test site, dropping the Tsar Bomba in 1961 on the landmass, which was permanently scarred by the largest atomic detonation in the history of the world. The thin layer of nuclear fallout which has buried itself in the frozen tundra of Novaya Zemlya commingles with radioactive isotopes from poorly managed storage facilities, sunken reactors, and scuttled submarines.
Koner describes this landscape through its hazardous potential, which is so much worse than the current situation. With global warming, the methane gas spewed from a melted permafrost will lift all of that radioactive material into the atmosphere and send that along the prevailing winds across western Russian over Scandinavia and into continental Europe. Perhaps, a greater catastrophe than Chernobyl. In speaking to that potential, Koner manifests pockets of near silence throughout the album with his signature tectonic rumblings and stealth-bomber frequencies gliding beyond the event horizon into the realm of the audible. Darkened crumblings of earthen material pocks the beginning of the first in a trilogy of tracks, sounding almost like slabs of ice thunderously collapsing into the sea. Drones swell and collapse into pools of resonant emptiness, broken on the second track by a disembodied shortwave radio transmission of garbled voices. The album returns to those cold, contemplative sounds until the end of the album draws near, when Koner introduces a few elegant, melodic plucks from what might be a harp. For all of the foreboding that looms throughout, the end is almost hopeful that humanity might just sort out this global warming puzzle. But then again, we might not; and then, we're fucked.
An easy contender for 2012's album of the year.
Brainwashed (USA):
Köner's solo work has always been characterized as having a definite cold, frigid quality to it, both sonically and through the imagery he has employed. This new work is no different, titled after a Russian archipelago in the Arctic Ocean where nuclear testing occurred. His his approach to the sound is as desolate, but fascinating as ever.
The first of the three pieces that comprise Novaya Zemlya is perhaps the most sparse. There is an overall distant, isolated sound, with the occasional thunderous sound cutting through, heavily skewed to the bassier end of the spectrum. Eventually droning bass sounds appear, with other thumps far off sounding like a stray beat from a Porter Ricks record. In the final moments, an obscured, but noticeable sub-melodic drone appears, adding the tiniest bit of warmth to the otherwise windswept tundra.
The closing piece follows a similar template, pairing looped field recordings with icy drones. This pair certainly puts a strain on a sub-woofer but still manages to be pleasant to the ear. Distant heartbeat like pulses and shards of delicate sound eventually surface, but on the whole there is more of an abstract, sound collage structure rather than one laden with rhythm or melody.
The middle segment is where the template is reshaped the most. A subsonic rumble that almost resembles a drum beat can be heard in the distance, but amongst the resonating bass drones there is a sense of melodic progression that encompasses most of the nearly 13 minute duration of the track. While it maintains the cold ambience of the album, it does not feel as bleak or as isolated in comparison, and a brief voice sample humanizes the otherwise remote darkness.
Novaya Zemlya is a fitting, and worthy addition to Köner's chilling, minimalist discography. Although he has not been overly prolific in the past decade or so, each catalog entry has been a strong statement of intent, and this is no different. While he works in sounds and moods that other artists trade in, it is his distinct sound, be it the clever use of reverb or the emphasis on low frequency sounds, that gives his work a distinct feel all its own, and this is no exception. Rarely could a piece of music inspired by a frozen nuclear testing ground come across as so inviting and compelling. [Creaig Dunton]
The Quietus (UK):
Like the remote Russian archipelago from which it takes its name, from a safe distance Thomas Köner's Novaya Zemlya is beautiful and barren, its frozen wastes and jagged terrain seemingly populated by little other than snow, whipping wind and the rhythmic breaking of waves. Focus intently enough, though – like much of Köner's other work, this is a teasingly quiet album, demanding high volume and a distraction free environment – and faint stirrings of life begin to emerge, the sonic traces of an ecosystem largely imperceptible to the naked eye. They're dwarfed, though, by the main presence on this exquisitely detailed and contemplative record: the scars left by a particularly turbulent last century's worth of human activity in the region, which saw a sequence of Soviet underground and airborne nuclear weapons tests scatter the area with fallout, culminating in the detonation of the largest nuclear device ever detonated, the 50 megaton Tsar Bomba. That explosion's colossal reverberations pockmark the opening track, and the toxic residue of the event is hinted at across the album's length, with a snatch of military radio dialogue at one point screaming out of nowhere in a caustic rip of static.
Where Köner really excels here is in his imbuing of an ostensibly detached sound palette – consisting of field recordings, electronic interference and soft drones heard as if over great distance – with great emotional resonance, without resorting to tired cliche or obvious melodic manipulation. In this case, given the violence wreaked upon it, it's enough for him to simply describe the landscape and its inhabitants in the meticulous manner of a geographer or surveyor. There's nothing paranormal or psychogeographical about the sensations Novaya Zemlya stirs up: simply by placing the listener in the landscape it offers a searing critique of our species' casual disregard for the wellbeing of ourselves and our planet, and a reminder that when the damage is already this extensive, melodrama and hyperbole pale in comparison to harsh reality. [RG]
Boomkat (UK):
Thoms Köner makes a very welcome return with the bone-chilling soundscapes of 'Novaya Zemlya' – his eleventh album and first for Touch. The master sound sculptor takes the eponymous arctic archipelago situated in the sea north of Russia as his inspiration, deploying discreet field recordings to plot a sort of sonic geography of this desolate and mountainous region used by the Russian military. He connotes a feeling of near-unimaginable vastness through breathtaking manipulation of elemental sub-sonic frequencies and isolated tones whose quietude and magnitude at once enforce the feeling of being lost in an unforgiving wilderness with only the sound of your own heartbeat and the wind for company. However, in contrast to his earliest material – reissued recently on Type – we can detect that sliver of harmonic and melodic hope which has sustained his work since 1997's 'Kaamos' thru his stunning 2005 CD + DVD 'Nuuk'. It's barely perceptible, but possibly like the hallucinations of a stranded explorer, the winds and tectonic grumbles seem to harmonise, even crystallising a rare and unexpected moment of serene melodic beauty heard from below the ice, deep into the album's third movement. It hardly requires mentioning, but lovers of the most detached, seductively sensitive sonics will be in their element here. Highly recommended.
ambientblog.net (Netherlands):
It starts with a deep trembling sound. It's not thunder, but it does not exactly sound mechanical or man-made either. It may come from somewhere deep inside the earth…a strange kind of sound to break the vast silence.
With sounds like these, it's not difficult to imagine you are witnessing the birth of New Land – which is in fact the translation of "Novaya Zemlya " (or Nova Zembla in dutch, known for the famous Willem Barentsz expedition in 1594).
The name also refers to the archipelago in the north of Russia, extensively used for nuclear testing during the Cold War – which creates an entirely different context for the sounds on this album.
Compared to his 2009 release "La Barca", Thomas Köner returns to the form of his earlier albums like Nunatak, Teimo and Nuuk: slowly evolving, immersive soundscapes, able to make the listener lose all sense of time. In fact it's a surprise to find that "Novaya Zemlya " clocks in just about over 35 minutes, while it feels it could have easily lasted for over an hour or even longer.
To quote Thierry Charollais (from the liner notes): "Listening to his music, we escape the habitual notion of time and space, facing a sense of eternity or infinity that is both stunning and frightening." …
"I remember exactly my feelings when I gradually discovered this music, its breathing that seemed so vast, almost infinite and glacial, while at the same time strangely heartwarming and calming my mind."
Starting with the enigmatic thunderous sounds, the album slowly evolves and gradually incorporates other elements – some field recordings, an occasional vocal fragment even.
But whatever the results of this (human) intrusion may be, this land will never lose its fundamental quiet, it's unchangeable emptiness.
With "Novaya Zemlya ", Thomas Köner has added another stunning masterpiece of Audio Art to his already impressive collection.
Experimedia (USA):
Thomas Koner has reaffirmed his stature in the experimental music world during the past two years, mostly due to the string of reissues from his early solo career and the 1996 debut album from the duo Porter Ricks. These recent editions came via Type, but for his first new album since 2009's "La Barca" Koner finds an even more appropriate home: Touch Music, the purveyor of all things oblique and subtle in forward-thinking sound. "Novaya Zemlya" is the most minimal album in ages for the label as Koner focuses the album's three extended tracks on a variety of low-level hums and obscured field recordings that are crushed into fine bits of dust. The album's quiet, barren soundscapes hint at vast worlds as seen through a keyhole, providing mystery and intrigue rather than explicit detail and description. Traces of barely identifiable sounds occasionally waft through the atmospheres – cracks of thunder appear on the first track while the last holds distant piano notes – but Koner's focus lies in abstract restraint, just as it always has. [Ryan Potts]
The Wire (UK):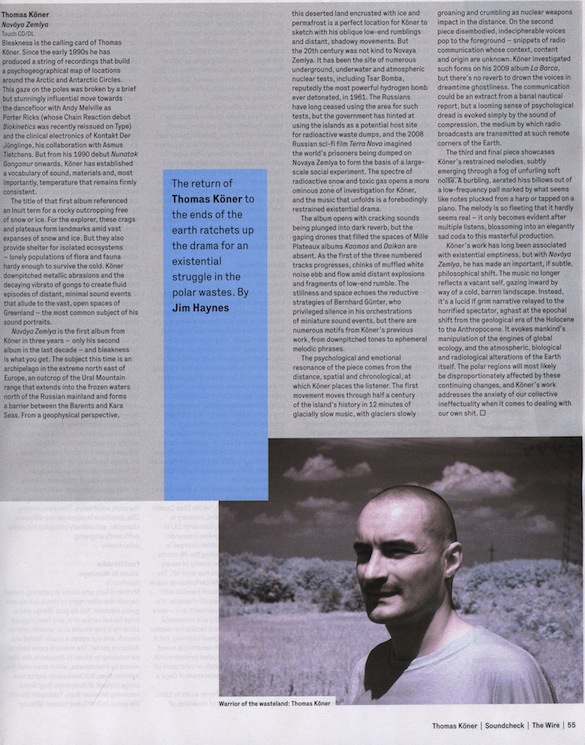 Black (Germany):
Jahr 3 nach "La Barca", Thomas Köner auf Touch. Thomas Köner gehört zu den wenigen, die es geschafft haben, Genreklassiker zu erschaffen; die (zum Teil vor kurzem von Type-Records wiederveröffentlichten) Alben seiner Diskografie (besonders Solo, aber auch zusammen mit Asmus Tietchens als "Kontakt der Jünglinge", weniger die andere Baustellen bedienenden Alben und EPs zusammen mit Andy Mellwig als "Porter Ricks") werden zu Recht als Meilensteine einer bestimmten Art von Ambient gehandelt, bei der der tatsächliche Ton oder Akkord, die Harmonie, in der Umsetzung als Komposition zu einem grauschwarzen Granulat vermahlen wird, so dass die Musik fast objekthaften Charakter gewinnt.
Nicht Klänge bestimmen das Geschehen, sondern Texturen im Raum, fast nicht ortbare Gewebe aus Klang, fernab konventioneller musikalischer Zwänge. Die Tatsache, dass das verwendete Soundspektrum überwiegend in schattierten Endlostiefen stattfindet, die kaum ein Zweiter in dieser Form so händelt, ist dabei natürlich von zentraler Bedeutung, genau wie auch das Weglassen aller nicht unbedingt notwendigen kompositorischen Wendungen. Am Ende steht eine Klangskulptur, die aufgrund ihrer Massivität in den Tiefen geradezu körperlich wirkt (und wird), durch das Wegrücken aller fassbaren Töne in den Hintergrund aber gleichzeitig völlig unnahbar erscheint. Wie ein unzugänglicher Monolith, der sich aus unerklärlichen Gründen veranlasst sieht, sich durch den Raum zu schieben.
Derartiges in der eigenen Vergangenheit kann dann nicht nur eine Freude sein. Wie bei jeder Form sehr fokussierter, sehr eigener Musik, besonders wenn sie (zumindest vordergründig) so minimal angelegt ist wie die von Thomas Köner, stellt sich mit jeder Veröffentlichung mehr die Herausforderung, wie es denn weitergehen kann. Der Vorgänger "La Barca" beantwortete dies in der Form als die Veröffentlichung, die bisher am vordergründig stärksten Fieldrecordings integrierte. Und zwar in Form von Stimmen, was der Unnahbarkeit der Musik einen greifbaren Kontrast entgegensetzte, nur um dies durch die (für mich) nicht zu identifizierende Sprache der aufgenommenen Protagonisten auch gleich wieder ad absurdum zu führen.
"Novaya Zemlya" geht wieder einen anderen Weg: zunächst einmal liegt eine immense Ruhe in den drei Stücken, die sich dadurch völlig außerhalb jeder Zeitwahrnehmung stellen. Und dann sind dort endlose Schichten von Ereignissen, die meisten ganz, wirklich ganz weit hinten nahe der Hörschwelle und nur in wenigen Momenten hervortretend: der Auftakt von "Novaya Zemlya 1", der kurz hereinbrechende Funkverkehr (?) von "Novaya Zemlya 2" und das in diesem Zusammenhang ebenso perfekte wie nur angedeutete Pianothema in "Novaya Zemlya 3" als End-Titel. Und dann sind da Bassdrones, die gleichzeitig im eigenen Hall zerfallen und trotzdem durch alle Mauern dringen; so perfide tief, dass sie mehr fühl- als hörbar sind. Wie ein sich ankündigendes Erdbeben, wie das Verschieben der Schollen. Perfektes Album, fast kurz (weniger als 40 Minuten), dabei aber gleichzeitig unglaublich geschlossen und trotzdem eine spannende Erzählung ohne Wiederholungen.
Der einzige Wermutstropfen: die Anlage entscheidet hier mit, wie viel der Veröffentlichung überhaupt zu hören ist; viel mehr, als bei anderen Alben, auch aus dem gleichen (Sub-) Genre… Wer also keinen Zugang findet: vielleicht ist es "nur" (d)ein Problem in der Abspielkette…
[Thomas Köner trans:
Year 3 after "La Barca" Köner on Touch. Köner is one of the few who have succeeded to create classics within the genre, and the (recent re-releases by Type Records) albums of his discography (especially his solo works, but also with Asmus Tietchens as "Kontakt der Jünglinge"; less his other construction sites like the albums and EPs with Andy Mellwig as "Porter Ricks") are listed correctly as milestones of a particular kind of ambient, where the actual tone or chord, or harmony, becomes pulverised in the transition into a composition of gray-black granulate so that the music is reaching almost physical characteristics.
This music is not characterised by sounds, but by textures in space, untracable sound-woven fabrics, far away from conventional musical coercion. The fact that the total sound spectrum is composed of shaded infinite endless depths – nobody else uses the material in this way – is of course of crucial importance, as well as the omission of all non-essential compositional expressions. The end result is a sound sculpture that is palpable, because of its physical mass, and also totally unapproachable, by moving all recognisable sound events into the background. Like a monolith, incaccessible, but moving through space for unfathomable reasons.
To have achievements like this in your own past can not be just a joy. As with any form of very focused, very personal music, especially when they (at least at first glance) seem designed as minimal as that of Thomas Köner, with each release the question comes up: how to go on from here. The predecessor release "La Barca" answered this by integrating field recordings. In the form of voices, this created a tangible contrast against the remoteness of the music, a contrast that was immediately brought ad absurdum for me because of the obscurity of the languages.
"Novaya Zemlya" takes a different route: first of all an immense calmness radiates in the three pieces: a situation is created that lies outside of the perception of time. And then, there are infinite layers of sonic events, far away at the horizon of the threshold of hearing. Only a few moments clearly materialise: the opening of "Novaya Zemlya 1", the short element of radio traffic of "Novaya Zemlya 2" and the perfect little piano theme in part 3. And then: bassdrones of a dissolving decay that yet can penetrate walls, so insidiuosly low that they are more a feeling than something audible. Like a premonition of an earthquake, like movements of the massif. Perfect album, almost short (less than 40 minutes), yet still incredibly dense and round in its narration without any repetition.
The only downside: your home sound system determines how much of the music can be heard at all, here much more than with other albums, even from the same (sub) genre … So if you can not find access: it is probably "only" a problem of the playback device …] [N]
VITAL (Netherlands):
The Russian version of what we Dutch named Nova Zembla and which sees Köner returning north again. In his very early releases, 'Nunatak Gongamur', 'Permafrost' and 'Teimo' he showed a love for the arctic world, with a musical genre he more or less fathered: Isolationism. Isolated from the world around you, this was music that was made by a single person, for a single person. Köner did lots more, sound installations, video and being one half of that great minimalist techno outfit Porter Ricks, but its this drone music, these isolationist sounds we best know him for, and its something that he returns here. Three pieces, all of more or less the same length, but what could also have been one piece. A piece of quietness, rather than ambient or drones, I should think. Its perhaps that kind of sound which you hear if you overlooking that vast plain of snow up there, and the occasional crackle of ice. That sound is the one that Köner captures in his work best. In the first part not a lot seems to be happening, with just an occasional bang. The second part seems to be the busiest, and we even hear a radio sound, whereas the chilly air is captured in the third piece. An album with some great sonic depth – half the time you may not be aware that there is something going on, but if you listen carefully, turn up the volume you know its there. Excellent stuff, as always, and perhaps therein lies a bit of the problem I may have with this: it sounds very much like some of the older Köner music and nothing essentially new seems to be happening. But, then who cares about that? [FdW]
Ondarok (Italy):
Una volta assuntomi l'onere/onore di scrivere riguardo questa nuova fatica del veterano Thomas Köner, il "ripasso" approfondito del suo cammino artistico mi aveva rassicurato sulla possibilità di poterne scrivere in maniera quantomeno decente. Lo sperimentatore e artista visivo, infatti, ha alle spalle nove album in cui si è dilettato nelle più astratte esplorazioni del lato gelido e intangibile dell'ambient-drone, fino a giungere all'implemento massivo di field recordings nei lavori più recenti, fra cui l'ultimo "La Barca" – forse l'episodio più vicino al filone austriaco dei vari Ambarchi, Parlane, Watson. Di tutto ciò, in questo nuovo lavoro, Köner pare farsene poco o niente. E così anche il sottoscritto, dopo aver ascoltato l'album per un'abbondante dozzina di volte, si rende conto di essersi cacciato in un pasticcio non da poco. E che uscirne ne sarà difficile.
Già, perché in "Novaya Zemlya" c'è davvero poco di cui scrivere, quantomeno nella maniera in cui normalmente si scrive di musica. E questo non di certo perché ci sia poca sostanza, o perché la carne al fuoco sia risicata; tutt'al più è la superficie di questo lavoro ad apparirci proprio così: vuota. L'ascolto in quanto tale, volto a captare suoni, melodie, rumori, in un caso come questo porta a poco o niente: è necessario un salto di concezione per carpire i nodi cruciali del disco, per afferrarli e poterli padroneggiare; e non è certo detto che questo "salto" produca risultati traducibili in parole, così come io stesso non sono affatto sicuro di essere riuscito a farlo.
Come fare, dunque, a parlare di un disco che ci appare silenzioso e quasi inudibile? Un disco che, anche se inserito in un impianto stereo con home theater annesso al massimo del volume, risulterà comunque meno forte del suono del proprio respiro? Potremmo provarci iniziando con una sequela di aggettivi, casuali o meno: astratto, intangibile, silenzioso, cosmico, sublunare, ecc. Ma, oltre ad aver ripetuto almeno tre di essi già nelle prime righe, questo servirebbe a poco: non è un disco di aggettivi, questo "Novaya Zemlya". E men che meno è un disco emotivo: le definizioni di "algido", "freddo", "asettico" rischierebbero di provenire troppo dall'esperienza sensitiva per potersi adattare a delineare un prodotto simile. Ancor meno utile sarebbe una cronistoria del silenzio applicato alla musica, di "4'33"" di John Cage e quel che vi fu prima e dopo: siamo infatti di fronte ad un lavoro privo pure di coordinate temporali.
Così, dopo sforzi enormi, l'unico metodo che resta plausibile per provare a confabulare sull'argomento pare essere applicarsi con la stessa modalità con cui l'autore si è dedicato alla sua composizione, ovvero procedere per astrazione. Il che può significare tutto come niente. Il mio tentativo sarà quello che, fra i due, venga mantenuto un equilibrio il più possibile parziale: ciò che avviene nei tre lunghi brani che compongono il disco.
Il battito del cuore è il segno vitale presente in ogni mammifero sin dal momento della sua nascita: quando questi è ancora privo d'istinto o di ragione (in base alla razza), già c'è una forza che agisce nel suo ciclo biologico. È un po' quel che accade nei primi sei minuti della parte "1": un battito rarefatto, alterato nel suo seguire uno schema fisso, il cuore pulsante di un embrione musicale. Perché di tale si tratta, a tutti gli effetti, e di musica (inutile negarlo) non v'è traccia: c'è la sua intima essenza, quel suo tratto indissolubile presente ancor prima dei concetti stessi situati alla sua base. E sarebbe sbagliato lasciarsi pervadere dall'illusione di avere di fronte tracce musicali anche dopo l'ingresso fluente e discreto di un drone quasi impossibile da sentire: potrà trattarsi piuttosto di un abbozzo di forma vitale, un primo ritmo corporeo che prende forma in totale autonomia, senza controllo. Abbozzo che prosegue, crescendo, lungo la seconda e la terza parte, prendendo coscienza e contatto con la natura circostante, che non è però il mondo in cui vivrà, quanto semmai ancora l'utero, la calda culla in cui tutto segue un ritmo prestabilito, dove il pensiero e la ragione non esistono, così come la vita stessa nella concezione di un essere venuto al mondo.
Si potrebbe chiamarle field recordings, e la definizione sarebbe azzeccatissima: non sono poi distanti da quelle di Jana Winderen o del Fennesz di "Plus Forty Seven Degrees", ma è il sistema di cui fanno parte, l'ipotetico ciclo vitale in astrazione nel quale sono inserite, a renderle "qualcosa di più". Col procedere dei minuti, gli spigoli si fanno più intensi, le dissonanze più cacofoniche: l'embrione sta mutando, presto sarà troppo evoluto per potersi preservare in quel mondo organizzato nel quale è solo parte di un sistema, in cui la vita è, da un certo punto di vista, "vuota". Ma il seguito della storia, "Novaya Zemlya" non ce lo svela. Ci hanno già pensato millenni di musica a delineare ogni singola, possibile variante futura dell'individuo di cui idealmente Köner prova ad interpretare l'unica fase di vita che, verosimilmente, mai questi potrà narrare né ricordare.
Giunti, dopo una disamina quasi assurdista, al fatidico momento del giudizio, si presenta nuovamente lo stesso problema: com'è possibile – proseguendo nella similitudine – dal punto di vista di un individuo già venuto al mondo, giudicare un tentativo di descrizione di quella fase della quale non permane neanche il più confuso ricordo? La tentazione di tirarsi indietro si fa vorace, ma alla fine, anche qui l'unica soluzione plausibile è la ri-applicazione del metodo di cui sopra. E dunque, l'eliminazione di qualsiasi influenza esterna, si tratti di confronti, paragoni, proclamazioni, esaltazioni, stroncature.
Ciò che si può fare è invece basare il proprio giudizio su quel che l'album ha suscitato: poco in superficie, molto nel profondo. Quasi nulla a livello musicale (in fondo, quante volte tutto questo l'avevamo "già sentito"?), tantissimo a livello concettuale. Tanta forma, poca materia. Correndo in ogni caso il rischio di aver completamente sbagliato interpretazione: basti pensare al fatto che la traduzione del titolo, dal russo all'italiano, suona come "Nuovo Mondo". Qualcosa che, a giudicare dall'interpretazione di ciascuno, può c'entrare tutto o niente con il "mondo" di cui si parlava sopra.
Mi assumo dunque la responsabilità di aver scritto una recensione inutile ed intrisa di scivoloni ed incongruenze, ben poco indicativa riguardo l'album e ricca piuttosto di passaggi che possono risultare insani e privi di senso. Ma, se tanto mi da tanto, chiunque possa – anche a ragion veduta – considerarla tale, probabilmente (se non sicuramente) avrà la stessa considerazione – perché no, altrettanto a ragion veduta – del disco in questione.
The Liminal (UK):
The term "psychogeography" is often used, and possibly misused, by music journalists these days, including myself. It is a very tempting and useful shorthand when discussing the likes of Burial, Demdike Stare and Richard Skelton, but not always appropriate, at least if you understand "psychogeography" in the same terms as the Lettrist movement, who coined it, did. Luckily for us scribes (especially those, like me, who want to seem smarter than they are), language evolves, and if there is an album most fitting to be described in terms of psychogeography, it is this fascinating new opus by German ambient great Thomas Köner.
Which is ironic, in a way, because the prefix in psychogeography, by definition, suggests people. The presence of minds that populate space. Yet Köner has chosen to create a piece of music – and, despite consisting of three tracks, Novaya Zemlya feels very much like a single piece – that reflects one of the most extreme, unpopulated and far-flung places on earth, an archipelago in Northern Siberia whose indigenous population were relocated by the Soviet authorities so that it could be used for some of the most powerful nuclear tests in human history. If that wasn't foreboding enough, it is also the easternmost place in Europe, and situated very close to the Arctic wastes. This subtext of Cold War, diaspora and isolation was always going to be perfect inspiration for Thomas Köner, a man whose work has long been renowned for it austerity and desolation, and who had already established his fascination with, and ability to map out a musical semaphore for, the bleak wastelands close to the North Pole on his seminal early-nineties trio of albums Nunatuk Gongamur, Teimo and Permafrost.
Novaya Zemlya differs from the aforementioned trio through the specificity of the location he seeks to evoke, although obviously few people who hear it will have ever visited the titular archipelago. But the charged historical and geographical contexts of the place, those of one buffeted by time and the elements, imbue the album with a greater resonance even than Permafrost, and with a more emphasised sense of what Thierry Charollais refers to in his liner notes as "metaphysical geography" than '97's Nuuk. Only minimal information aboutNovaya Zemlya is needed to feel absorbed, and, in the right conditions, even overwhelmed by this album.
One of Köner's greatest strengths is his use of silence. Novaya Zemlya is a quiet album, with some sounds verging on the imperceptible, but that doesn't affect the potency. Instead, sounds are perceived at a clear distance, from the crackle of a radio to remote industrial groans that instantly bring to mind those nuclear tests. This ability to so expertly control the spatiality of his music is a talent I've seen in few "ambient" artists apart from Köner, and one that forces concentration (this is not the kind of ambient music you can put in the background), and from this coerced engagement the psychogeography builds, one of pure austerity and bleakness, as dark as any more openly tenebrous noise or drone album. This music is tangible, for all the prolonged silences and elusive field recording snippets, and therefore unsettlingly immediate. Landscapes surge into consciousness on the back of deep, reverberating drones and cavernous low-end pulsations: ice and glaciers drift on the Bering strait, machines can be heard releasing their toxic radium under the islands' rocks, and sheets of constrained white noise evoke the howling winds that whip and slam against this far-off no-man's land. The imagery is potent, even if it is essentially devoid of romanticism: there is a hint of Touch labelmate Chris Watson to Thomas Köner's grim musical portrayal of this forbidding outcrop of humanity and geology.
Such bleakness could quickly become overbearing and hostile were it not for Köner's equally innate sense of melody. Indistinct exoskeletons of tunes emerge from the silences or screes like delicate wafts of air, inchoate burbles and trickles that nuance the emotional potency of the album, lifting it from pure bleakness to something more ambiguous. Novaya Zemlya is not merely a cold and impersonal geographical study, but rather a consideration of the natural and human impacts on a random, but intriguing, parcel of land. Each time the haze breaks and a melodic line pierces the subsequent aural space, Novaya Zemlya is imbued with something approaching pathos, or at least a wistfulness and thoughtfulness to counterbalance the oppressive claustrophobia that dominates a lot of the rest of the album, especially the first track. In fact, if any image dominates the curious psychogeography of Novaya Zemlya, it's unsurprisingly the rain-lashed and blurry cover photo: this land (and its people, for there are still people on Novaya Zemlya) is bleak but not ruined, desolate but not destroyed. This watery, indistinct vista brings to mind the great post-nuclear film Stalker by Andrei Tarkovsky, with its isolated protagonists drifting through a harsh and unforgiving landscape in search of existential fulfilment: the Novaya Zemlya of Thomas Köner is a distant, blighted world, one punished by time, space and history, but, crucially, one still inhabited by the presence of humanity and desire.
Titel (Germany):
Trostlose Klanglandschaft
Man kann Jon Wozencroft eigentlich nur beneiden. Nicht nur, weil sich seit 1982 auf dem von ihm gegründeten Label Touch die Crème de la Crème der europäischen Musikszene die Klinke in die Hand gibt. Sondern auch, weil der Grafikdesigner es sich nicht nehmen lässt, die Cover seiner Veröffentlichungen noch selbst zu gestalten – was offensichtlich einige Weltreisen zum Nebeneffekt hat. Neben den etwas abstrakteren Arbeiten zu Hildur Guðnadóttir und Oren Ambarchi verschlägt es Wozencroft auch gerne mal an die entlegenen Ecken dieser Welt auf der Suche nach dem perfekten Foto. Das Cover von Thomas Köners Novaya Zemlya strahlt jedoch nicht die einlullende Wohlfühligkeit aus wie noch das der letzte Kollaboration von fennesz + sakamoto auf Touch.
Durch ein regenbesprenkeltes Zug- oder Autofenster lässt sich nur eine schemenhafte, graue Landschaft erkennen. Ein Bild, en passant aufgenommen, eigentlich wirkt es viel zu hektisch für die massiven, statischen Drones Köners. Der 1965 geborene, intermedial arbeitende Künstler schraubt sich wieder kurz vor der Grenze des kaum noch Wahrnehmbaren durch die Klangwelt. Die mächtigen Bässe rollen durch eine trostlose Klanglandschaft. Das verschwommene Wozencroft-Cover, es passt bei genauerem Hinhören doch bestens zu Novaya Zemlya. Wie man zuerst die Augen zukneifen und etwas näher an das Bild herangehen muss, um einen Eindruck zu bekommen, so schält sich auch erst langsam die Landschaft des »neuen Lands«, wie der Name der titelgebenden russischen Doppelinsel übersetzt werden kann, aus den rabenschwarzen Klängen.
Die drei Tracks fordern ein wenig Konzentration und die Bereitschaft dazu, die Augen zu schließen und in Bildern zu assoziieren. Wenn das gegeben ist, soll Thierry Charollais auch mit seinem Kurzessay zum Album Recht behalten: »Die Musik Thomas Köners zu hören bedeutet, dass es ein »Vorher« und ein »Nachher« gibt. Wohlbehalten kommt man nicht davon.« Es gibt kein Entrinnen, hat man erst die Klanglandschaft des Polarkreises betreten, die Köner mit unvergleichlicher Intensität auf seinem neuen Album eingefangen hat. [Kristoffer Cornil]
Dissolve (France):
Arpenteur infatigable des horizons polaires qui irriguent l'ensemble de son oeuvre, Thomas Köner n'en délaisse pas moins, pour son premier album depuis trois ans, les illusions romantiques d'étendues d'un blanc immaculées au profit des glaces souillées, meurtries. Novaya Zemlya ne nous donne pas à découvrir le pôle des grands aventuriers du dix neuvième siècle, mais celui de la Guerre Froide. En choisissant de s'intéresser au destin de Nova Zemlya, l'île qui constitue le point le plus au nord de l'Europe, Köner prend à bras le corps une histoire chargée, faite de déplacement forcé de populations, d'essais nucléaires à répétion, incluant l'explosion de la plus grosse bombe atomique jamais construite, la Tsar Bomba, cent mégatonnes que les soviétiques firent sauter sur Novaya Zemlya en 1961. En tout, au cours du vingtième siècle, cette petite île vit partir en fumée plus de cent fois le total d'explosifs utilisés pendant la seconde guerre mondiale, et son paysage en a été profondément remodelé, des avalanches et des séismes faisant suite aux explosions. Avec un tel arrière-plan, il n'est guère étonnant que Novaya Zemlya soit l'album le plus désolé et sombre de Thomas Köner à ce jour. Des vents cendreux y soufflent sans fin sur des terres mornes et arides, des explosions étouffées résonnent au loin, des parasites de radios mortes et des voix isolées émergent du vide, survolent des pulsations de geiger affolés, c'est un univers post-apocalyptique et pourtant réaliste que dessine ici Köner en trois longs titres où les détails se dissimulent au détour d'une texture d'un gris sale. Car sur Novaya Zemlya, l'apocalypse a bien eu lieu, mais elle n'était que banalement humaine, et l'album, superbement réalisé, laisse un arrière-goût âcre dans la bouche, car c'est sans lyrisme, avec une précision chirurgicale que Thomas Köner pointe le doigt sur l'un des pires désastres écologique qu'aient connu les terres arctiques.
Black Audio (blog):
As with all releases from the mighty Touch label, you have to give yourself some free time to sit back and truly appreciate what's on offer. I have struggled to find anything lacking quality in their back catalogue that I have encountered so far.
Thematically this is geographically based around the archipelago in the Arctic Ocean, the opening sounds of this album giving a feeling of being submerged in the freezing depths, as the rudder of a ship edges past the ice. As you come up for air there is an impression that atmosphere itself is utilised as natural drones; a heavy spatial awareness follows.
'Novaya Zemlya' follows this up with the impression that you are now a passenger on the journey this ship takes, sat in the depths of the engine room below. As an experience, this is somewhat eerie if truth be told, reminding me heavily of the debut album by Sleep Research Facility, 'Nostromo', which concentrated on the listener sat along for the ride in the bowels of this famous space vessel, as it made its course through the stars; this album of course lacks the threat of any malevolent alien life forms, but is no less oppressive along the way.
Without a doubt this is yet another quality release from this label that should appeal to a multitude of listeners out there and a name that dark ambient enthusiasts should seek out at all cost.
8.5/10
Playground (Spain):
Cada vez más está más reacio a publicar música ("Novaya Zemlya", su decimoprimer disco, es el tercero en los últimos diez años, reediciones aparte), pero cuando lo hace, Thomas Köner sigue insistiendo en transformar en material audible los paisajes congelados y yermos que le han fascinado desde que era niño, y que han servido de inspiración a su obra desde que publicó "Nunatak", allá por 1990. Novaya Zemlya es el nombre de un archipiélago situado en lo más profundo del Mar del Norte. Un alargado pináculo de montañas que emergen vertiginosas desde el corazón mismo del mar, para enfrentarse a un clima arisco y extremo (el lado norte de las montañas está comido por el glaciar; en el sur los vientos rugen con violencia), y en el que todo rastro de vida se reduce a una vegetación áspera y a las aún más ásperas instalaciones militares que dominan este "no man's land", como acertadamente se describe el lugar en las (estupendas) notas interiores que acompañan al compacto.
A este paisaje responde Köner con uno de sus discos más contenidos, si no el que más. Un disco diametralmente opuesto al último que había publicado, "La Barca" (2009), una docena de temas cortos y variados en los que sucedían muchas cosas, y que construían las topografías sonoras de los lugares a los que hacían referencia (representados a través de unas misteriosas coordenadas geográficas) mediante el uso extensivo de grabaciones de campo: samples modificados y enredados en esos drones que el productor alemán construye con extrema elegancia. Frente a tanta abundancia, "Novaya Zemlya" supone un prodigio de economía de medios y de introspección: tres piezas de poco más de diez minutos que van depositando material sonoro sobre un fondo cercano al silencio, de manera muy sutil y cuidadosa. La primera de las piezas, de hecho, no anda muy alejada de la estética que suele manejar Francisco López: una superficie tersa, en la que el manto de sonido que sirve de fondo está al borde mismo de lo inaudible, y que sólo se quiebra de manera puntual: golpes espaciados que semejan el eco de fragmentos de glaciar cayendo al mar, el crujido del hielo al romperse y ocasionales oleadas de drones. La cosa se anima en la segunda parte, que vibra al compás del viento y del burbujeo del agua; una naturaleza contaminada por la extraña presencia del hombre, que aparece en forma de inconexos mensajes de radio capturados al azar o a través del ruido apagado de algún motor. Y llega a su clímax en la última pieza, en la que se entrelazan drones y sonidos orgánicos de manera tan plácida como majestuosa, dejando incluso que florezcan algunos esquejes melódicos.
Todo esto sucede en 36 minutos escasos, una duración que puede parecer poca cosa en un mundo como el del ambient, acostumbrado a obras que se quieren infinitas, que siempre parecen intentar desbordar los límites físicos del disco compacto (no digamos ya los del vinilo). Pero no hay que dejarse engañar: basta insertar "Novaya Zemlya" en el reproductor, subir el volumen hasta que cualquier ruido alrededor desaparezca (o, mejor aún, calzarse unos buenos cascos) y sentarse en algún sitio cómodo, al amparo de la oscuridad. Basta eso para quedar suspendido en algún lugar en el que la noción del tiempo y el espacio desaparecen por completo. Y, ¿no es precisamente esa capacidad para hacer trascender lo terrenal, esa habilidad para transportar al oyente a un universo paralelo, lo que distingue a los buenos discos de ambient (a los grandes autores del género, en fin) de entre la montaña de títulos mediocres que se publican al cabo del año? Pues eso. [Vidal Romero]
Sonic Seducer (Germany):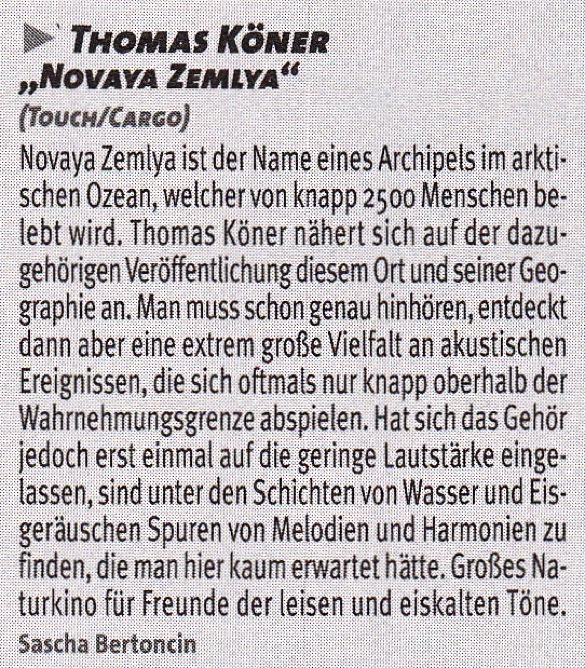 Groove (Germany):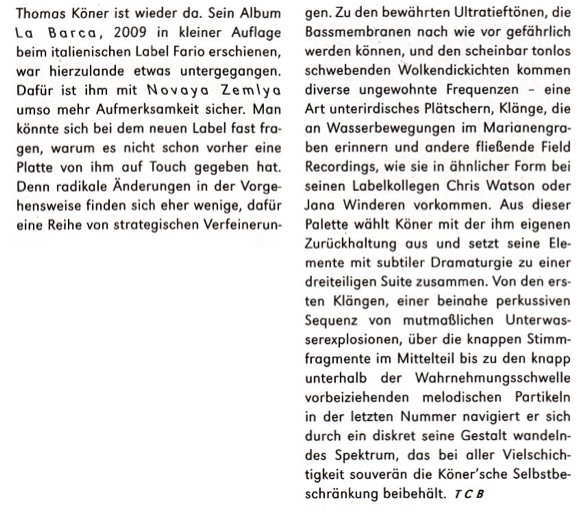 Debug (Germany):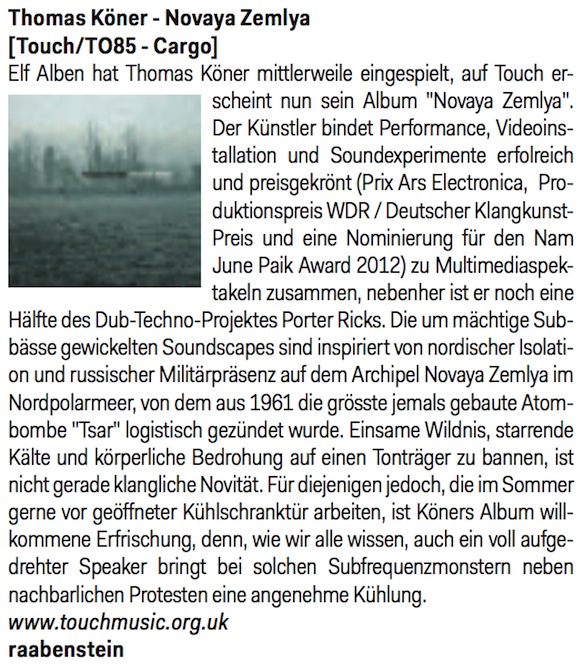 kindamuzik (Netherlands):
Thomas Köner is naast muzikant ook fotograaf en multimedia-artiest, en in deze laatste hoedanigheid kaapte hij in het recente verleden al verschillende prijzen weg, bijvoorbeeld in 2005 op het International Filmfestival in Rotterdam, waar Nuuk bekroond werd als beste korte film.
Köners muzikale productie kan dan ook niet strikt als geluidsvorm bekeken worden, en dat geldt zeker voor het recente Novaya Zemlya, dat voornamelijk uit gelijke delen ambient en veldopnames is opgebouwd. Thierry Charollais geeft in de liner notes de ondertitel Towards a methaphysical geography mee, en deze aanvulling is terecht.
Köner is een adept van de Arctische regio en put inspiratie uit de ijskoude poollandschappen. Zijn nieuwste werkstuk is gebaseerd op Nova Zembla, letterlijk het 'Nieuwe Land', een archipel in het extreme oosten van Europa, dat in de zeventiende eeuw onder de aandacht kwam door een expeditie van Willem Barentsz en Jacob van Heemskerck.
Köner knutselt op Novaya Zemlya drie composities ineen die elk tussen de elf en de dertien minuten in beslag nemen. Op basis van minimaal verweven veldopnames ontstaan organische klanktapijten waarin harmonie en minimale melodie versmolten worden en tot een vorm van transcendentie leiden. Op deze manier verkent Köner de geografische elementen van Nova Zembla én nieuwe muzikale gebieden, en maakt het album de ondertitel waar. [Hans van der Linden]
Dissolve (France):
Se plonger dans la musique de Thomas Köner, c'est entreprendre un voyage. C'est certes souvent le cas, et c'est autant le signe des oeuvres réussies, mais Köner, plus que d'autres, a systématisé le procédé, et chacun de ses albums est une nouvelle exploration des terres polaires, des ambiances arctiques dont il est devenu le maitre absolu depuis la parution de Nunatak Gongamur en 1990. Aujourd'hui photographe, plasticien, vidéaste, accompagnateur de films muets pour le musée du Louvres, Thomas Köner n'en est cependant pas moins toujours attaché à un Pôle Nord de plus en plus menacé, comme le prouve son dernier album à ce jour, le sombre et austère Novaya Zemlya. L'occasion idéale pour aller respirer en sa compagnie l'air raréfié, et contaminé des terres les plus au Nord de l'Europe.
Né en 1965, Thomas Köner a reçu très jeune une éducation musicale complète, enchainant piano, violon et saxophone, passant du classique au jazz, dans ses orientations les plus free. Élève au conservatoire, il concentre ses recherches sur le gong, un instrument autant choisi pour ses tessitures sonores que par une simple coïncidence. Alors représentant pour un fabricant de percussion, il a l'occasion de manipuler, puis d'échantillonner une quarantaine de gongs, se constituant ainsi un matériau sonore auquel il reviendra régulièrement. Frappé, frotté, enregistré à l'aide de micro-contacts dans ses infinies variétés de sons, le gong devient, dès Nunatak Gongamur (rebaptisé simplement Nunatak lors de sa réédition) craquements de banquise, souffles de vent, échos lointains. Les couleurs sont posées d'emblée, grises, blanches et parfois orangées comme les rayons solaires diffractés par la surface, ainsi qu'un intérêt plus que conceptuel pour les paysages polaires, qui ne quittera plus l'oeuvre de Köner qui déclare à ce propos : « J'ai voyagé à de nombreuses reprises dans les régions arctiques au cours des vingt cinq dernières années, et il impossible de ne pas appréhender ce paysage comme quelque chose de métaphysique. Tu y voyages aussi bien psychiquement que physiquement. Dans les deux cas, on y est confronté à ce qui ne nous est pas familier, et forcé d'y réagir. La perception de l'espace change, et dans l'obscurité perpétuelle de la nuit polaire, l'idée du temps est transformée en une sorte de pirouette mentale au ralenti. L'absence de bruit de fond accentue ta capacité d'écoute, mais il n' y a finalement rien à écouter ». Plus que de simples évocations sonores, il est donc question d'espace, dans l'oeuvre de Thomas Köner, un espace qui semble s'ouvrir sans fin dans chaque titre : « Avec ma musique, j'essaye effectivement de construire un espace qui soit aussi vaste et ouvert que possible, et qui ne s'effondre pas sur lui même malgré l'absence de piliers de soutien ou d'un cadre visible. Il y a un sentiment de vide, de lignes qui ont été tracées, mais pas terminées : ma musique crée une invitation à habiter cet espace et, d'une façon naturelle, l'auditeur le remplit lui-même, à travers des reflets de souvenirs qui apparaissent comme des étincelles expulsées sur une trajectoire aléatoire à partir des archives personnelles de l'expérience d'une vie ». Très rapidement, Thomas Köner ajoute l'image à son registre, réalisant dès 1992 la musique du film Alchemie, du cinéaste expérimental Jürgen Reble, une collaboration qui donnera lieu à de nombreuses performances et quelques autres travaux communs, avant de commencer à illustrer dès 1994 pour les Musée du Louvre et d'Orsay et d'autres institutions internationales plus d'une vingtaine de films muets, une activité qui se poursuit encore aujourd'hui puisque Thomas Köner travaille actuellement sur l'accompagnement d'un film de 1923, Das Alte Gesetz qu'il présentera à New York et Boston cet automne.
S'il dit travailler sur l'espace, Thomas Köner entretient également un rapport particulier au temps, et il est finalement l'un des rares, dans le champ des musiques ambiantes, à opter le plus souvent pour la forme courte, alors même que les vastes étendues qu'il peint s'accommoderaient sans doute sans mal de durées plus longues. Raffinant, compressant, Köner parvient ainsi à l'épure, à la recherche de l'efficacité maximum. « J'étudie le temps, et la façon dont on l'expérimente. Un moment magnifique ne peut durer en apparence que quelques secondes, alors qu'un autre, plus ennuyeux, nous semblera durer vingt minutes. Et pourtant, le même temps se sera écoulé.
Dans mes productions, je travaille sur cette transition, ou ce point de jonction (pour utiliser un terme « spatial »), pour créer une expérience qui puisse à la fois exister aux deux extrêmes, du trop rapide et du trop lent, ou dériver de l'un à l'autre. Mon travail utilise comme pulsations les fondements de la perception de chaque auditeur : le passage du jour à la nuit, l'inspiration et l'expiration, le battement de coeur, pour créer un temps musical qui soit différent pour chaque auditeur ». Focalisation sur un temps, ou sur un espace, la musique de Thomas Köner utilise également comme source énormément d'enregistrements de terrain, purs comme sur l'excellent « Une Topographie Sonore : Col de Vence » sur Zyklop, réalisé à partir de sources fournies par Yannick Dauby, ou de façon plus souterraine, diffuse, comme sur Novaya Zemlya, comme un surcroit de réel dans une oeuvre très référencée : « Réaliser des enregistrements de terrain revient à s'incliner devant le moment présent. C'est tout à la fois une célébration et une expérience qui te rend humble. En tant que document, il peut ne pas signifier grand chose, cependant. Un son enregistré dans une situation A et rejoué, que ce soit par des moyens sophistiqués ou non, dans une situation B est quelque chose de complètement différent. Pour citer un extrait d'A la recherche du temps présent, de Marcel Proust, je dirais :
"Et ma pensée n'était-elle pas aussi comme une autre crèche au fond de laquelle je sentais que je restais enfoncé, même pour regarder ce qui se passait au dehors? Quand je voyais un objet extérieur, la conscience que je le voyais restait entre moi et lui, le bordait d'un mince liseré spirituel qui m'empêchait de jamais toucher directement sa matière; elle se volatilisait en quelque sorte avant que je prisse contact avec elle, comme un corps incandescent qu'on approche d'un objet mouillé ne touche pas son humidité parce qu'il se fait toujours précéder d'une zone d'évaporation."
J'ai la possibilité d'aller enregistrer des sons à l'autre bout du monde, et pour celui qui capture ces sons, c'est un geste qui a du sens, comme un pèlerinage en quelque sorte. Mais l'enregistrement en tant que tel, comme tout autre son enregistré, d'ailleurs, demeure sans intérêt tant qu'il n'est pas rejoué et écouté par quelqu'un d'autre. A ce moment précis, le son devient un élément du monde de l'auditeur. Ce monde, constitué du flot continuellement changeant de pensées, de souvenirs et de sensations physiques est à chaque fois une complète terra incognita, un autre Nouveau Monde, qui ne pourra jamais être cartographié. C'est la raison pour laquelle je crois que la musique narrative ne peut pas fonctionner ».
Nouveau monde, nouvelle terre, et un moyen de revenir à Novaya Zemlya, un album réalisé, contrairement à la plupart des autres oeuvres de Thomas Köner, à distance, puisque les hauts niveaux de radiation accumulés sur l'île ainsi que son statut de base militaire y rendent la présence humaine indésirable. « Novaya Zemlya signifie en effet « nouvelle terre », et c'est l'une des quelques régions arctiques que je n'ai pas encore visité, et dans ce cas précis, je ne le ferais jamais. Cette terre nouvelle n'est pas le véritable Monde Nouveau dont je te parlais. Novaya Zemlya symbolise cette friction comme une icône brisée : c'est devenu une zone militaire contaminée et l'un des endroits les moins accessibles de la planète. J'ai eu la chance d'obtenir par hasard des field recordings réalisés sur Novaya Zemlya, que j'ai utilisé pour la composition de mon album. » Il en résulte des textures grisées, salies, finalement bien loin des étendues luminescentes évoquées par Nuuk ou Zyklop (mais plus proches des couleurs utilisées par l'artiste dans son travail photographique), où l'on ne retrouve pas l'esprit d'aventure romantique qui pouvait animer les précédentes explorations polaires de Thomas Köner. Pourtant, dans ces espaces sourds, confinés, aux résonances menaçantes, on retrouve intact ce qui a toujours sous-tendu, en définitive, les déclarations d'amour de l'artiste au pôle, loin des climats convenus des suiveurs de la musique « polaire » :
« Ce que j'ai finalement appris au cours de ces vingt cinq ans de voyages arctiques est que tout paysage est métaphysique : l'arctique augmente ta sensibilité et affute ta perception. L'arctique est un outil, et ce que j'y recherche, finalement, ce n'est pas un vernis déprimant de neiges éternelles et de brumes, c'est une quête d'un Monde Nouveau, une terre de mesures infinies, un vide dans lequel l'espace peut être appréhendé dans ses multiples dimensions, à la fois externes et internes. Personnellement, Je ne produis pas de la musique pour éveiller l'imagination, car l'imagination est déjà éveillée, constamment, en chaque individu ». Dont acte, et ce sera donc à chacun d'entre nous d'habiter Novaya Zemlya de nos propres schémas mentaux, que l'on choisisse d'y intégrer l'arrière-plan écologique et historique de l'île ou qu'on le voie comme une surface vierge sur lequel Thomas Köner a imprimé sa propre marque, dans un ensemble parfois proche du dark-ambient (sans les tics) ou de la musique concrète, un univers finalement assez proche de Kontakt der Jünglinge, son projet improvisé avec le vétéran Asmus Tietchens qui, après quatre albums figurant autant de niveaux de descentes dans les tréfonds s'était interrompu en 2003, et qui, alors qu'on ne l'attendait plus, sera réactivé cette année avec un nouvel album en novembre. Les profondeurs polaires n'ont décidément pas fini de nous révéler leurs richesses. [Jean-François Micard]
GMD (France):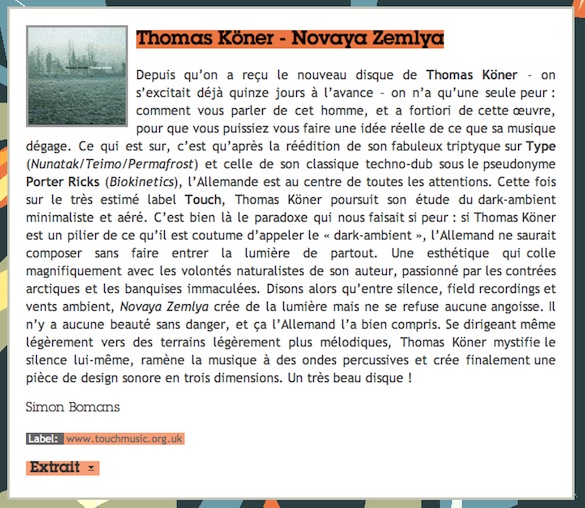 Basatap (Turkey):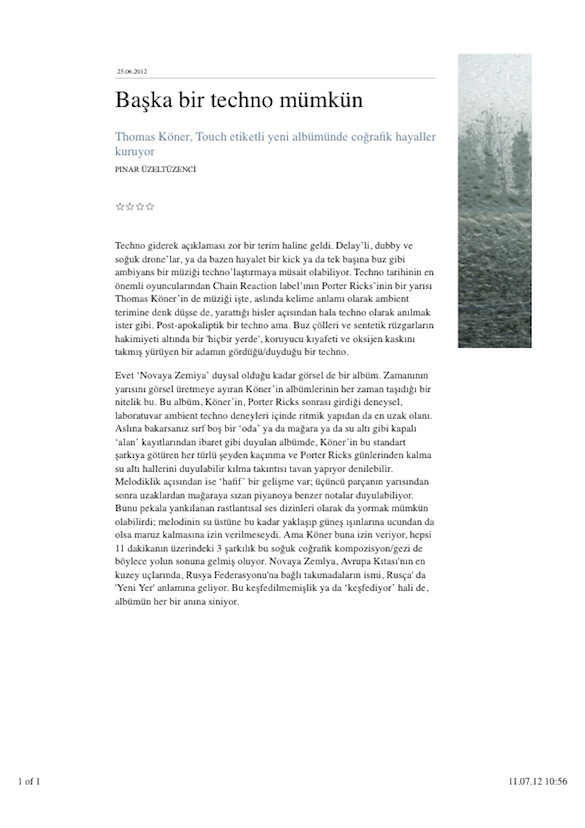 The New Noise (Italy):
La Type Records ne ristampa i primi, fondamentali, album dei Novanta, più addirittura il progetto dub techno Porter Ricks. Ci sono etichette, come l'italiana Glacial Movements, che basano parte della loro estetica sul suo lavoro. Esiste poi una compilation del 1994 (Ambient 4: Isolationism) dove lui compare assieme ad altri che oggi come ieri rappresentano il lato più ostico dell'ambient e della musica sperimentale. E non abbiamo ancora parlato della sua attività video-artista (poco tempo fa ha partecipato, tra l'altro, al Netmage di Bologna). Thomas Köner questa volta esce per Touch, con un disco che prende il titolo da un arcipelago artico appartenente alla Russia, dove, durante la Guerra Fredda, furono svolti esperimenti con la bomba atomica. Questo tipo di paesaggio, a temperatura zero e senza vita, è quello dove corre la sua immaginazione. Il corrispondente sonoro è qualcosa che sta tra silenzio e basse frequenze quasi fuori dalla nostra capacità uditiva e – rispetto al passato – solo a tratti profonde e imponenti come volume, persino solo a tratti "drone": in quest'atmosfera ultra-rarefatta e buia si percepiscono anzitutto colpi lontanissimi (richiamo a quelle esplosioni?), poi – centellinati – impalpabili ed essenziali interventi di synth (?), che nel vuoto generale creato da Köner finiscono per essere/sembrare delle commoventi "epifanie" musicali. Accanto si trovano una manciata di field recordings a suggerire meglio la controparte visiva scelta, messaggi radio incomprensibili e per brevi attimi quello che sembra il suono di un respiro dentro una maschera o un casco, così – con in testa la storia di prima – si finisce in un film di fantascienza con il protagonista che esplora territori contaminati.
Chi si avventura in dischi come Novaya Zemlya, tendenzialmente non lo fa per caso: è un ascoltatore molto paziente e particolare, interessato a produzioni caratterizzate dal medesimo oltranzismo sonoro (vengono in mente Francisco Lopez, ma anche Mick Harris col progetto Lull). Thomas Köner, per parte sua, ha inventato un genere e lo porta avanti dosando le uscite e scartando di poco dal suo modo d'intendere la musica. L'album, dunque, si rivolge agli appassionati, che di certo seguono anche l'etichetta di Jon Wozencroft, mentre è meno plausibile che voglia/possa definire nuovi generi come quelli di vent'anni fa.
Musikexpress (Germany):

Dalston Sounds (UK):
Novaya Zemlya represents a refinement of over 20 years of practice. Thomas Köner has learnt to process indeterminable source sounds until they attain an almost tactile texture, then layer and cross-pollinate them until they achieve a caliginous density that is virtually inhabitable. The resulting music, pitched at low volume but immersive thanks to deft modulation of extreme low-end frequencies, creates for the listener a liminal, atemporal headspace.
After three albums (Nunatak Gongamur, Teimo, and Permafrost) of minimalist, arctic-inspired ambience made between 1990 and 1993, Köner contributed a key track, "Kanon (Part 1)" to the landmark thematic compilation album, Isolationism (Virgin, 1994) which expanded his aesthetic into a movement. He later collaborated with producer Andy Mellwig of Berlin's Dubplates & Mastering studios as one half of Porter Ricks, applying a similar textural reductionism to the implacable 4/4 time of Basic Channel-style dub techno.
But since recording the conceptual piece Unerforschtes Gebiet ('uncharted territory') in 2001, Köner has delved further into his psychogeographical obsessions, developing his practice well beyond the purely musical and into the reals of sound art. Novaya Zemlya, represents a distillation of his aesthetic in pure musical form.
The album, bears a subtitle: "Towards a metaphysical geography", and takes its name from that of an archipelago in northern Russia, 10,000 square miles of which is given over to nuclear testing. It was the site in 1961 of the detonation of Tsar Bomba, the most powerful nuclear weapon ever detonated, and it's impossible, knowing that, not to correlate the soundscape of Novaya Zemlya, the album, with the history of the land. But Köner is perhaps more psychologically drawn to the archipelago (he has said in interviews that he has never been there) by its mountainous landscape of tundra and glaciers, its severe climate, and its remote location at the extreme northeast of Europe.
The album presents a single piece of music, "Novaya Zemlya" in three movements, a tenebrific wasteland of low-end rumble and reverb that has as much in common with label mate Chris Watson's time-lapse field recording of a melting icelandic glacier, "Vatnajökull" (from Weather Report), than with Köner's earlier audio mapping of the polar regions.
"Novaya Zemlya 1″ begins with a plosive detonation. Thereafter it's a wind-scoured and glitch-pocked tundra of further muffled detonations and atmospheric static. Unsettling electronics ripple through the mix, before expanding warmly across the audio spectrum. It's necessary to listen at some volume in order to catch the detail in the grain of each sound. The effect is vascular, like listening through thawing pipes.
"Novaya Zemlya 2″ is further dubbed-out, with submarinal echoes of the detonations heard on part 1 billowing in a cavernous, sedimental vacuum punctuated by human voices. These clipped radio communications sound procedural but remain tantalisingly, disconcertingly obscure; something to latch onto nonetheless.
I suspect that Köner captured many of the background sounds by recording gongs underwater, as he did to such remarkable effect on the ground-breaking Teimo, and the overall aesthetic is similar to that of Nuuk (1997), but here the recombination of source sounds is much more nuanced.
This throbbing low-end penumbra blossoms on "Novaya Zemlya 3″, until haunting echoes of notes perhaps originally sounded on a piano rise from its depths, blossoming into an aureola of soft, diffuse melody. It's a gorgeous payoff and a masterly resolution, which dissipates the album's former nebulous pall in an unexpected luminescence.
Hifly (Denmark):
With a considerable discography stretching back to 1990 Thomas Köner is most definitely no newcomer in the music world. Possibly best know to the Techno community for his collaborative efforts with Andy Mellwig as Porter Ricks on Chain Reaction it might very well have taken away the focus slightly from the past and/or other, more recent musical deeds of Köner. As Kontakt Der Jünglinge with experimental veteran Asmus Tietchens, Köner made another remarkable impact, which materialized into four albums back in the early 2000's. Needless to say that it's always worth the time and effort to check new material from Köner and 'Novaya Zemlya' (a title, which refers to the 'Nova Zembla' archipelago in the Arctic Ocean in the north ofRussia and the extreme northeast of Europe) neither fails nor disappoints in that regard.
The music presents itself as a muttering mass of extremely icey and immense feeling of total desolation. Fierce, howling storms and titanic, roaring sea waves seems to have found their way into Köner's machinery and reproduced in a strangely muffled interpretation. Although kept deliberately quiet, Köner's music is nothing short of majestic and monumental, excelling in the well-known dramaturgy of suspense and release.
The first part begins with a number of distant rumblings, similar to that of a remotely located underwater earthquake and gradually microscopic soundparticles of water-like nature seamlessly blends in.
Part 2 takes over where the first part left but seems to reveal an even harsher format as chunks of ancient segments are forced ashore in an equally unfriendly environment. The third and last part of the conceptual trilogy if you will, is the most calm and meditative section on the album which also concludes the bombastic and saturated vision from Köner.
To analyze the qualities and working method of "Novaya Zemlya ' is in fact completely extraneous as it all comes down to complete, undistracted mental submission for you to enjoy this masterpiece the fullest.
Dark Entries (Belgium):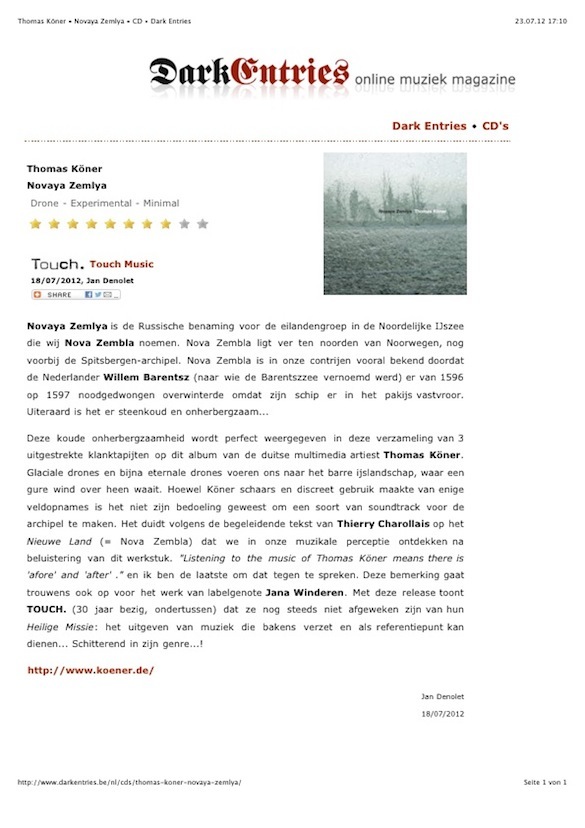 Nonpop (Germany):
Novaya Zemlya (russisch für "Neues Land") ist ein Archipel im arktischen Ozean, im Norden Russlands. Gleichzeitig ist dieser abgelegene Ort der östlichste Punkt Europas sowie Militärbasis, in dessen Nähe – einem Testgebiet – 1961 eine der größten Detonationen eines atomaren Sprengkopfes überhaupt stattfand. Ein ideales visuelles Setting also für eine Ambient-Platte, die THOMAS KÖNER, der sich schon seit den 90er Jahren im Ambient-Bereich tummelt, mit "Novaya Zemlya" vorlegt. Die auf drei Stücke und ca. 37 Minuten verteilten Soundscapes – eigentlich ein großes Ganzes – lassen also typischerweise frostige und wuchtig-unwirkliche Klänge vermuten.
Interessant ist allerdings der konsequente Minimalismus dieses Albums – also Wucht in eher hintergründiger Art und Weise. Keine Rhythmen, keine Melodiebögen oder ausladenden Flächen, sondern organisches Knacken und Knistern, drückende Subbässe oder auch mal kurz aufscheinende Flächen, die aber nicht aufdringlich wirken, sondern nur kurz den Kopf aus den eisigen Soundlandschaften herausstrecken. Für dieses klanglich in keiner Weise zu beanstandende Album – alles andere wäre auch kaum zu akzeptieren – braucht es somit schlicht Ruhe und Konzentration, um in der Dynamik zwischen lauten und sehr vielen leisen Passagen überhaupt alles aufnehmen zu können. Zudem entzieht sich das Album damit quasi allen neuen Hörgewohnheiten, da ein Hören mittels mp3-Playern oder mit mittelmäßigen Computerlautsprechern überhaupt keinen Sinn ergeben dürfte.
Alles in allem also Atmosphäre pur, was der allgemeinen Durchsetzungsfähigkeit beim Hörer allerdings wohl zuwider laufen dürfte. [Tony F.]
Other Music (USA):
Thomas Koner is fixated on desolation — every album he's made since his 1990 debut Nunatak Gongamur is testament to that. His sonic meditations, often inspired by a particular place or region, mesh field recordings with evanescent melodies and guttural drone, producing results at once beautiful and terrifying. Koner's latest for UK ambient/drone giant Touch, an album in three parts, is named for and inspired by the Novaya Zemlya archipelago in the Arctic Ocean. A forsaken sliver of land, Novaya Zemlya has been for years a nuclear test site; it's where, in 1961, the USSR detonated Tsar Bomba, the largest nuclear bomb in history. Koner's compositions on Novaya Zemlya communicate that destruction and, more notably, its ghostly aftermath — the expansive emptiness in the wake of annihilation.
The record begins with a crack of thunder, the rumblings of a distant storm. Imperceptibly low frequencies, more felt than heard, fill the track with a sense of imminent doom. Koner balances the low-end with a winding, haunted series of notes, like ice clinking from deep vibration. At around six minutes, the album's first hint of consonance and chord structure rises, as if from a distant horizon — a shimmering chorus, faint and mirage-like. It's soon overtaken by the violence of ice caps creaking and splitting apart. On the second track, bass fluctuations crescendo into a sprawling ambience; then, from deep within the haze, barely intelligible human voices crop out, radio transmissions as if from explorers lost in the storm. It's the album's eeriest moment; suddenly, in the presence of the human, the listener realizes how otherwise bleak and foreboding Koner's interpretation of the archipelago is, how otherworldly.
What makes Novaya Zemlya such an effective depiction of remote geography, and, ultimately, a masterpiece, is Koner's use of space. Nowhere does his music feel busy or rushed; instead, patient, careful sounds and a healthy dose of silence come together to give the impression of expansiveness and natural grandeur. Field recordings are deftly layered to create an orchestral feel — glacial groaning and wind, for instance, "harmonize." It's a sensation unique to Koner's work. Ultimately, these aren't musical compositions as much as they are sonic models of an alien, ruined place; listening, one can readily imagine the real-life Novaya Zemlya. It must be enormous, unforgiving, and very, very cold. Highly recommended. [JK]
Self-Titled (USA):
In what could be easily misconstrued as a companion piece to Lustmord and Biosphere's live Trinity collab, Thomas Köner's latest collection of guttural grooves and creaky low end lashings is named after an archipelago in the Arctic Ocean that the Soviet Union destroyed during the Cold War. (Trinity was named after a nuclear test site in New Mexico.) As is often the case with Köner's work, everything feels barren and frostbitten, as if the end isn't nigh after all. In worlds this widescreen, it already happened.
Hawai (Chile):
Hacia una geografía metafísica. Ese es el título de un ensayo escrito por Thierry Charollais que acompaña la edición de un nuevo trabajo del alemán Thomas Köner. Köner es un músico nacido en 1965 interesado en diversas formas de arte, y en lo que respecta a lo sonoro, ya lleva más de veinte años produciendo trabajos inclinados a una electrónica fría y fuertemente cargada. Su primer disco "Nunatak Gongamur" (Barooni) data de 1990, el primero de una serie de trabajos publicados de manera regular a lo largo de todos estos años. Sin embargo, quizás por lo que más se le ha conocido es por haber formado parte, junto a Andy Mellwig, del dúo Porter Ricks, figura clave en la formación del ambient con desvíos al dub, junto a sus padres, von Oswald y Ernestus. Precisamente en su escudería entregaron una pieza esencial del género, "Biokinetics" (Chain Reaction, 1996), aunque se debe decir que su interés por esos ambientes venía de un tiempo atrás, misma época en que Mauricio creaban escuela. Luego de "Nunatak • Teimo • Permafrost" (Type, 2010), reedición de sus primeras obras por parte del sello de John Twells, regresa con su primer disco para Touch.
Una de las formas de conocer o intentar predecir como suena un álbum es recurriendo a su material pasado. Otra es más simple aún, mirando su portada. Y haciendo eso, en este caso, uno se da con una perfecta descripción en imagen de los sonidos contenidos en "Novaya Zemlya", una muestra más del excelente trabajo de Jon Wozencroft como director artístico de Touch. Vemos una especie de bosque helado con una imagen que parece superpuesta que muestra la lluvia sobre el lente, todo en tonos verdes y grises. Reproducción en fotografía de un disco congelado, más autista incluso que otras obras suyas. "Novaya Zemlya" de un archipiélago en el océano Ártico en el norte de Rusia, en el extremo noreste de Europa, el punto más oriental de Europa, situada en el Cabo Flissingsky en la isla norte, traducido literalmente del ruso como nueva tierra. El archipiélago se encuentra prácticamente deshabitado, con una de sus islas a tan solo 450 kilometros del Círculo Polar Ártico. Inviernos largos, temperaturas polares, lluvia permanente. Además, en 1954 la Unión Soviética creó el Sitio de pruebas nucleares de Nueva Zembla, realizando pruebas nucleares hasta 1990. Hasta, esto que parece una mera descripción geográfica, también lo es respecto de la música. Todo lo que se ha dicho de sus islas, climas y experimentos es perfectamente aplicable a los sonidos que manan de sus largas piezas. Extensos sonidos de ambientes glaciares, que parecen una suerte de soplidos en el fin del mundo, al menos donde la vida humana es casi imposible que exista, por temperatura, por razones nucleares además. Ecos de dub pero a cero grado Fahrenheit, ambient más frío que el lado opuesto de la luna. En sus tres track se puede sentir el vaho de nuestra exhalación al respirar cada uno de sus sonidos, partiendo por "Novaya Zemlya 1", que se inicia como con una explosión submarina, pasando por "Novaya Zemlya 2" con una suerte de comunicación por radio, hasta "Novaya Zemlya 3". En los tres casos el espectro por donde circula el ruido es muy bajo, y hace falta poner mucha atención para percibir sus cambios. Elimina cualquier estridencia,y cuando ella se presenta lo hace enterrada bajo el sedimento.
Hacia una geografía metafísica, hacia la nueva tierra. "Novaya Zemlya" nos lo pone difícil, pues sus múltiples variaciones ocurren por debajo del oído humano, escondidos en la frialdad de unos paisajes próximos a la nada, a la vida en su expresión más simple. El último trabajo de Köner reduce la electrónica a pequeños destellos por bajo el mar ártico, encontrando la profundidad de los mares del norte en su superficie. "En su música, Köner desea construir un espacio sonoro tan abierto como sea posible sin colapsar. Este espacio es una invitación para nuestra sensibilidad; la música parece meditar entre el oyente y los lejanos, probablemente fríos y desérticos paisajes… Escuchando "Novaya Zemlya" es como descubrir y explorar territorios inexplorados; al moverse por el escenario más íntimo y tu propio cuerpo", Thierry Charollais sobre este disco, el ruido aminorado por la fuerza inclemente del hielo.
The Sound Projector (UK):
It's of great contemporary significance that Thomas Köner has named this album "Novaya Zemlya", after the archipelago of two islands off the coast of sub-polar European Russia north of the Ural Mountains (of which the islands are an extension) which delineate the border between Europe and Asia. The name means "new land" in Russian. During World War II, the archipelago served as a seaplane base for the German navy and in the decades following after, the islands were used for nuclear testing until 1990 when Greenpeace protests helped to shut down the program. Even so, the Rosatom Nuclear Energy State Corporation continues to conduct underwater nuclear testing in the area around Novaya Zemlya. It's in the context of the archipelago's history and its current strategic position, now that the melting of Arctic sea ice as a result of anthropogenic climate change means it's possible for ships to sail north of Russia and Canada for most of the year without becoming ice-bound and for nations surrounding the Arctic Sea to prospect and drill for oil and natural gas, that Köner has released "Novaya Zemlya": it's an epic if very bleak and desolate statement of cold ambient minimalism, ominous field recordings suggestive of crackling ice and glaciers calving icebergs, and neutral po-faced promise that may be a two-edged sword of boundless mineral riches and dangerous radiation and methane buried under the permafrost that may threaten the entire world and with it the survival of humanity.
Maximum volume is needed to fully appreciate the sounds and wintry atmosphere of this recording. The room has to be very hushed as well and all lights off are advised so that your mind is fully concentrating on the details of this recording. Not a great deal happens to be honest. Track 2 is the most interesting piece here as it seems to be taking place underground and has the feel of a team of scientists descending a deep hidden cave, perhaps to find a famous underground freshwater lake … and encountering instead the horror of all horrors: the Thing That Should Not Be. (But if you want to know who or what I'm referring to, be my guest: just don't say I didn't warn you and I'll let you know right away I'm not paying your psychiatrist's bills if you get the heebie jeebies.) Music that appears can be very graceful and beautiful if doomy and sinister and may be well worth the price of going mad.
Track 3 is quite dense and forbidding in its sounds and haze of background ambient noise grit. Things that Go Bump In The Night, especially if you've lost your way in a labyrinth of tunnels in the mysterious underground ice-cave and have to camp in amongst suspicious-looking stalagmites that might have been planted by outer-space visitors a million years ago and are beginning to ooze icky white stuff, start their bump-n-grind routine and a resonant piano / harp melody slowly comes into long focus.
As a soundtrack to an imaginary film set in the high Arctic, "Novaya Zemlya" fits the bill well; it would even have done well as a soundtrack to parts of Ridley Scott's recent sci-fi mish-mash "Prometheus". As an environmental message calling attention to the archipelago's potential to release an apocalyptic hazard in the form of radiation or methane gas that could afflict or even wipe out populations in Europe and parts of Asia and North America, it's, well … it's nowhere near as doomy, juggernaut-like, dangerous and frightening as it should be.
Nordische Musik (Germany):
Wer die Arbeiten von Thomas Köner, seine Installationen, Soundscapes oder bislang rund 15 CD-Alben (solo oder mit dem Dub-Techno-Duo Porter Ricks) kennt, der weiß um Köners Jahrzehnte lange Beschäftigung mit den Klängen der Arktis. Bereits die Titel fast all seiner Tracks und CDs, wie »Permafrost«, »Nuuk« oder »Kaamos« (finnisch für Polarnacht) waren eindeutig. Fürs neue Album reiste er in Europas östlichste Ecke, überhaupt eine der entlegendsten und klimatisch extremsten Gegenden der Welt, auf Nowaja Semlja (»Neues Land«), die 900 Kilometer lange Doppelinsel, die die Barentssee begrenzt und so weit nördlich ins Polarmeer reicht wie Spitzbergen. Bekannt ist sie allenfalls dafür, dass dort Russland die größten Atombomben der Menschheitsgeschichte testete und Willem Barents drei Mal hinreiste – und schließlich dort erfror.
Die Beharrlichkeit, mit der Köner daran arbeitet, arktische Landschaften mit ihrer Isolation, Kälte, Weite und Stille nahezubringen, beeindruckt. Nun darf man sich seine Stücke freilich nicht als dokumentarisch motivierte Atmosphären vorstellen oder als Collagen aus Field Recordings wie bei Jana Winderen. Wo es ihm in Installationen darum geht, visuelle und akustische Erfahrungen zu kombinieren, evoziert »NOVAYA ZEMLYA« durch reduzierteste Mittel der Klanggestaltung Stimmungen und Bilder, wie akustische Filme. Kaum merklich schimmern Andeutungen von Melodien durch die leise atmenden, endlos weiten und eisig-schönen Welten Thomas Köners, die Lautstärke bewegt sich teils entlang der Wahrnehmungsgrenze. Insofern spielt Zeit eine entscheidende Rolle; die sollte man sich unbedingt nehmen. Meditativ – und funktioniert als Musik intellektuell ebenso wie emotional. [ijb]
Uncut (USA):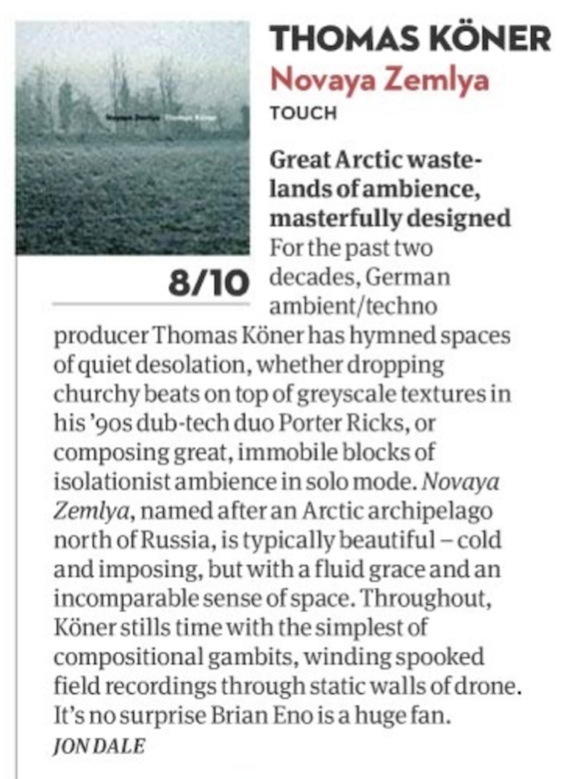 Jahrgangsgerausche (Germany):
Ein Krümel in einem Hügel, den man so gut wie gar nicht wahrnimmt, weil er ja so flach ist. Es will gelernt sein, da, wo fast nichts ist, noch etwas wegzunehmen, ohne das filigrane Gleichgewicht implodieren zu lassen in eine Ansammlung von Nichts mit weniger Aussagekraft.
Tiefgestimmte Samples wehen wie einsame Tumbleweeds durch die leere Landschaft. Sie rollen über die Eisfläche. Diese dient als Kontaktobjekt. Land und das Meer darunter werden zum größtmöglichen Resonanzkörper. Riesige Hallfahnen docken sich an die Samples an und verbinden diese in ihrer Langsamkeit zu Flächen über den Eisflächen; Schicht um Schicht. Doch bevor sich höhere Drücke absetzen könnten, ebben die entfernten Gebilde wieder ab. Sie verwehen ins Nichts, ohne dass man ihrer habhaft geworden wäre. Am Ende pumpen sich die Hallräume zu einer solchen Größe auf, dass deren Hüllkurven durch die Horizontlinie harsch abgeschnitten werden. Und dann immer geradeaus? Das fragt dann ohnehin keiner mehr.
Thomas Köner schafft mit "Novaya Zemlya" eine tieffrequente Klanglandschaft karger Ambiencen. Das russische Archipel im arktischen Norden wird zum Symbol äußerster Kulturferne, zum Träger von Ineffizienz und Bedeutungslosigkeit. Noch nicht einmal Entdecker und andere selbsternannte Pioniere haben heutzutage etwas auf jener Inselgruppe verloren. Nur die Bodenschatzjäger greifen weiter an, und wirken anachronistischer denn je.
Der Nordpol ist kein Ziel mehr und die Grundstimmung ist durch und durch kalt und artifiziell. Erst recht die Samples geben sich keine Mühe nach Handarbeit zu klingen. Sie wirken polterig, schnarrend und roh. Es entsteht eine durch und durch unheimliche, ja unmenschliche Szenerie, deren technische Rohheit in gewisser Weise auch einen dokumentarischen Charakter heraufbeschwört. Ein Album, das mehr durch sein Konzept und seine Symbolträchtigkeit überzeugt als über unmittelbare Musikalität.
"Novaya Zemlya" ist im Juni 2012 bei Touch erschienen.
Hawai (Chile):
Hacia una geografía metafísica. Ese es el título de un ensayo escrito por Thierry Charollais que acompaña la edición de un nuevo trabajo del alemán Thomas Köner. Köner es un músico nacido en 1965 interesado en diversas formas de arte, y en lo que respecta a lo sonoro, ya lleva más de veinte años produciendo trabajos inclinados a una electrónica fría y fuertemente cargada. Su primer disco "Nunatak Gongamur" (Barooni) data de 1990, el primero de una serie de trabajos publicados de manera regular a lo largo de todos estos años. Sin embargo, quizás por lo que más se le ha conocido es por haber formado parte, junto a Andy Mellwig, del dúo Porter Ricks, figura clave en la formación del ambient con desvíos al dub, junto a sus padres, von Oswald y Ernestus. Precisamente en su escudería entregaron una pieza esencial del género, "Biokinetics" (Chain Reaction, 1996), aunque se debe decir que su interés por esos ambientes venía de un tiempo atrás, misma época en que Mauricio creaban escuela. Luego de "Nunatak • Teimo • Permafrost" (Type, 2010), reedición de sus primeras obras por parte del sello de John Twells, regresa con su primer disco para Touch.
Una de las formas de conocer o intentar predecir como suena un álbum es recurriendo a su material pasado. Otra es más simple aún, mirando su portada. Y haciendo eso, en este caso, uno se da con una perfecta descripción en imagen de los sonidos contenidos en "Novaya Zemlya", una muestra más del excelente trabajo de Jon Wozencroft como director artístico de Touch. Vemos una especie de bosque helado con una imagen que parece superpuesta que muestra la lluvia sobre el lente, todo en tonos verdes y grises. Reproducción en fotografía de un disco congelado, más autista incluso que otras obras suyas. "Novaya Zemlya" de un archipiélago en el océano Ártico en el norte de Rusia, en el extremo noreste de Europa, el punto más oriental de Europa, situada en el Cabo Flissingsky en la isla norte, traducido literalmente del ruso como nueva tierra. El archipiélago se encuentra prácticamente deshabitado, con una de sus islas a tan solo 450 kilometros del Círculo Polar Ártico. Inviernos largos, temperaturas polares, lluvia permanente. Además, en 1954 la Unión Soviética creó el Sitio de pruebas nucleares de Nueva Zembla, realizando pruebas nucleares hasta 1990. Hasta, esto que parece una mera descripción geográfica, también lo es respecto de la música. Todo lo que se ha dicho de sus islas, climas y experimentos es perfectamente aplicable a los sonidos que manan de sus largas piezas. Extensos sonidos de ambientes glaciares, que parecen una suerte de soplidos en el fin del mundo, al menos donde la vida humana es casi imposible que exista, por temperatura, por razones nucleares además. Ecos de dub pero a cero grado Fahrenheit, ambient más frío que el lado opuesto de la luna. En sus tres track se puede sentir el vaho de nuestra exhalación al respirar cada uno de sus sonidos, partiendo por "Novaya Zemlya 1", que se inicia como con una explosión submarina, pasando por "Novaya Zemlya 2" con una suerte de comunicación por radio, hasta "Novaya Zemlya 3". En los tres casos el espectro por donde circula el ruido es muy bajo, y hace falta poner mucha atención para percibir sus cambios. Elimina cualquier estridencia,y cuando ella se presenta lo hace enterrada bajo el sedimento.
Hacia una geografía metafísica, hacia la nueva tierra. "Novaya Zemlya" nos lo pone difícil, pues sus múltiples variaciones ocurren por debajo del oído humano, escondidos en la frialdad de unos paisajes próximos a la nada, a la vida en su expresión más simple. El último trabajo de Köner reduce la electrónica a pequeños destellos por bajo el mar ártico, encontrando la profundidad de los mares del norte en su superficie. "En su música, Köner desea construir un espacio sonoro tan abierto como sea posible sin colapsar. Este espacio es una invitación para nuestra sensibilidad; la música parece meditar entre el oyente y los lejanos, probablemente fríos y desérticos paisajes… Escuchando "Novaya Zemlya" es como descubrir y explorar territorios inexplorados; al moverse por el escenario más íntimo y tu propio cuerpo", Thierry Charollais sobre este disco, el ruido aminorado por la fuerza inclemente del hielo.
Les Chroniques (France):
8/10
Thomas Köner est un pionnier du multimédia trop rarement cité. L'allemand n'est pas loin des cinquante piges et compte onze albums à son actif, avec celui présenté aujourd'hui. Ingénieur du son de formation, il a rapidement trouvé surfait le simple travail autour des aspects mélodiques, pour se concentrer sur la couleur et le grain du son. Son approche sonique assez radicale lui a valu la reconnaissance de ses illustres pairs depuis belle lurette. Il a énormément travaillé pour le cinéma et s'est illustré avec ses installations sonores bien poussées, en lien avec des évènements très contemporains. Il a parcouru les couloirs du Musée d'Orsay, du Louvre et du Centre Georges Pompidou. Pour ce qui est de sa discographie, disons qu'il a connu les grandes heures de Mille Plateaux, même si ses oeuvres les plus mythiques (et presque introuvables) sont ses quatre premières, parue sur le mythique et néerlandais label Barooni entre 1990 et 1995. Si le préambule ici déroulé ne vous a pas encore convaincu de tout le sérieux du bonhomme, précisons seulement maintenant qu'il est la moitié de Porter Ricks, duo techno tout simplement génial et légendaire. Après un flirt avorté avec Glacial Movements, Novaya Zemlya est sorti le mois dernier sur le label Touch, référence expérimentale si il en est.
Bon c'est quoi ça Novaya Zemlya, hormi le point le plus oriental d'Europe, une île entre la Russie et la Norvège qui compte un peu plus de 2000 habitants, et le terrain de chasse idéal pour ceux dont le kiff ultime est de courir nu derrière des rennes et des ours polaires ? L'île, composée de deux parties distinctes de par leur relief et leur climat un peu différent, est habitée par deux spécificités pour le moins surprenantes. Tout d'abord parce que c'est le lieu où le mirage polaire atmosphérique fut pour la première fois observé. Ce qui veut dire en "un tout petit peu plus clair", que l'atmosphère y agit comme un guide d'ondes, et qu'une partie de la lumière émise par le soleil se propage selon une trajectoire inhabituelle et peut être observée sur le côté où la Terre est plongée dans l'obscurité. C'est fascinant n'est-ce pas ? Merci donc à Wikipédia.
Mais la Novaya Zemlya fut aussi un haut lieu des expérimentations militaires russes pendant la guerre froide. C'est aussi là que s'est produite l'explosion de l'AN602 en 1961, bombe à hydrogène et plus dévastatrice arme nucléaire jamais testée. Il doit y avoir un léger petit goût de plutonium dans les cours d'eaux. Cette petite leçon d'histoire vous aura peut-être ennuyée, mais elle pourrait à elle seule faire office de chronique, tant l'album dont il est question est habité par l'histoire, le climat, le relief et les mésaventures de l'île.
Ce qu'il y a de plus troublant, c'est que malgré son probable refus musical (tout est relatif) le son jusqu'auboutiste de Thomas Köner n'est pas dépourvu d'un certain reliquat mélodique. Quelle est la part de field recordings ? Thomas Köner s'est-il rendu sur place ? Mystère, et c'est sans doute mieux comme ça. Car l'auditeur est lui transporté, vers ce nouvel archipel où la perception semble modifiée. L'allemand décrit lui même son oeuvre comme un passeport vers la géographie métaphysique. Ne cherchez pas de drums, il n'y en a pas. On peut néanmoins soupçonner qu'il se soit concentré sur la partie la plus glaciaire de l'île, tant on semble entendre, sur la première pièce de la trilogie, la scission des blocs de glace et la déshydratation opérée par les vents sur les fragments qui demeurent. Tellement que la deuxième partie est presque entièrement conçu de ce souffle chaud propice à la désertification, et de ces graves abyssales qui semblent venir d'en dessous et prêtes à dégommer du subwoofer. Faudrait quand même pas oublier que les nappes phréatiques contiennent un peu de plutonium, même si la paix et un côté chill relatif emplissent les atmosphères de fonte et de renaissance qui suivent les climats blafards et inquisiteurs de la troisième partie.
C'est toujours difficile de décrire du son contemplatif et subjectif de ce niveau, sans sombrer dans le lyrisme au jus de minou façon Marc Levy que certains de nos concurrents et amis adorent tant. D'autant plus quand l'introduction faite dans le livret associé par Thierry Charollais, est apte à filer des complexes à n'importe quel chroniqueur en herbe. Cette musique épidermique se doit d'être ressentie plutôt que décrite, à un volume à s'en assommer, avec un matériel de très haut niveau. C'est dommage parce que ce détail (conséquent) rendrait presque l'oeuvre élitiste. Pas en son coeur, mais plus parce que le commun des mortels n'a pas toujours accès à un matos digne de ce nom pour s'immerger dans sa passion. Le casque est encore plus recommandé, si celui qui le porte a la bonne idée de couvrir la moindre source de lumière qui l'entoure. Une oeuvre radicale réservée à un public averti, mais plus que recommandée. Ne cherchez pas de titre dans le player, ça n'a ici aucun sens et vous seriez capables de vous dégoûter à vie du mp3. Peut-être en faudrait-il un dans ce cas.
Foxydigitalis (USA):
For Novaya Zemlya Thomas Köner returns to the icy climes in which he made his most revered work. Nunatak Gongamur, Teimo and Permafrost stand as three of the most important dark ambient records of all time, recorded by Köner using deceptively simple methods (electronically manipulated gong sounds, mainly) but echoing through the eras still. The artist has visited these areas since -most notably for the epic Daikan – but in 2010 he strayed altogether and released La Barca, a more expansive album of field recordings whose song titles referred to various coordinates around the world from Sweden to Azerbaijan.
Novaya Zemlya is, perhaps predictably, an archipelago off the coast of northern Russia. The album is as cold as you'd imagine, taking many of the sounds Köner has made his name with – the deepest drones, the deadliest creaks – and producing three new tracks, each of which clocks in at around twelve minutes in length. But the music is not quite as menacing as it was on his earliest records; it unravels slowly and slightly tentatively, like a deep sea diver's life line, and the initial shock of being submerged passes as 'Novaya Zemlya 1′ progresses and the bubbles float swiftly to the surface. Your ears are flooded with sound and there are no spaces in which to breath, making 'Novaya Zemlya 1′ the most typical piece of music on the record, but there are welcome additions to 'Novaya Zemlya 2′ and 'Novaya Zemlya 3′ that serve to separate them from the rest of the Köner canon. First, the subtle bass pulse that underscores the second track and the spookily human knocks that seem to emerge from it as the sound of breathing apparatus glug and crackle, and then the uncharacteristic inclusion of voices (albeit submerged, mangled ones) – something the artist resolutely did without during his telling of the Scott tragedy on Nunatak, hereto his most 'narrative' work. Here they serve to plant the music firmly on a human scale and provide a sign of life that might briefly settle your nerves. Wherever you are, you're not alone… but then it all dies out again.
'Novaya Zemlya 3′ has an openness that suggests a form of freedom and brings in another new element, namely piano. Almost imperceptible to begin with, accompanying a far heavier beat that almost drowns it, it emerges towards the close with a sound of running water. This plateaux is disarmingly pretty in the way it drifts (any seasoned dark ambient listener might know better than to trust it), and it hints at an escape of sorts. Whether it's one in which you'll see your wife and children again is debatable – the otherworldly crackle and boom that takes over as the album draws to a close suggests otherwise. [Steve Dewhurst]
All Music (USA):
Thomas Köner's continuing exploration of sonic frost and the ends of the earth found another strong expression in Novaya Zemlya, a 2012 effort that, in keeping with previous releases, was named after a polar location, an island to the north of the Russian mainland. Novaya Zemlya's first track begins with the sound of irregular echoing cracks and explosive sonics swathed in heavy echo, sounding somewhere between a shattering glacier echoing in the distance and the very beginning of Vangelis' film score for Blade Runner, minus the gentle lost melody. In contrast, there is nothing here but moody gloom, the logical extension of Köner's continuing fascination with the landscapes of desolate ice and frost. As the song moves toward its conclusion, the feeling shifts to distant shimmers of drone, as if shifting from one aspect of the landscape to another, but it's no less forbidding and sublimely entrancing. The more regular rhythms on the second track don't provide much more in the way of comfort, the beats feeling more like distant heartbeats or massive steps of doom, like something overwhelming is lurking just over the horizon. Here the equivalent drone shimmer is something calmer, almost sweet at points, though it could almost be an enforced serenity in turn, where the only logical thing to do is to find some kind of beauty in total extremity. The final track extends and concludes this feeling, with the slow, rolling sigh of a wash of sound acting like a wave moving onto a shoreline with the quietest but most unsettling of motions, ebbing and flowing before concluding on the first truly bright, almost hopeful note throughout the album, as if something was finally passed through or at least endured. It's a soft piano (or at least piano-sounding) part moving up through the reverb note by note, and it's a lovely way to bring Köner's work here to a strong conclusion. [Ned Raggett]
Le Temps (Switzerland):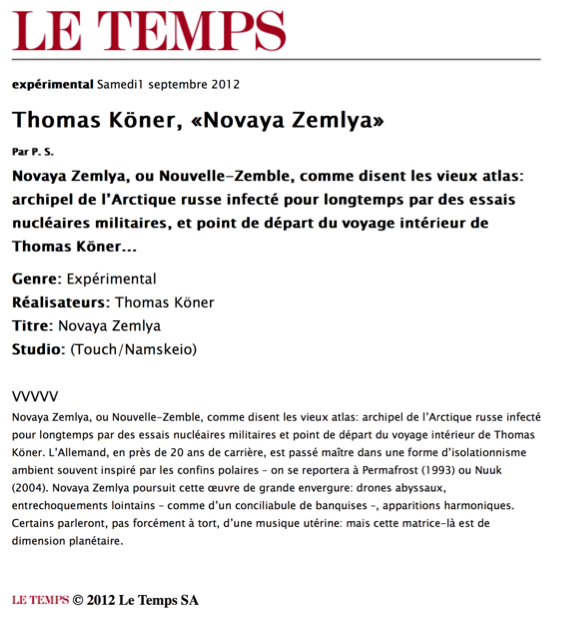 Beat (Germany):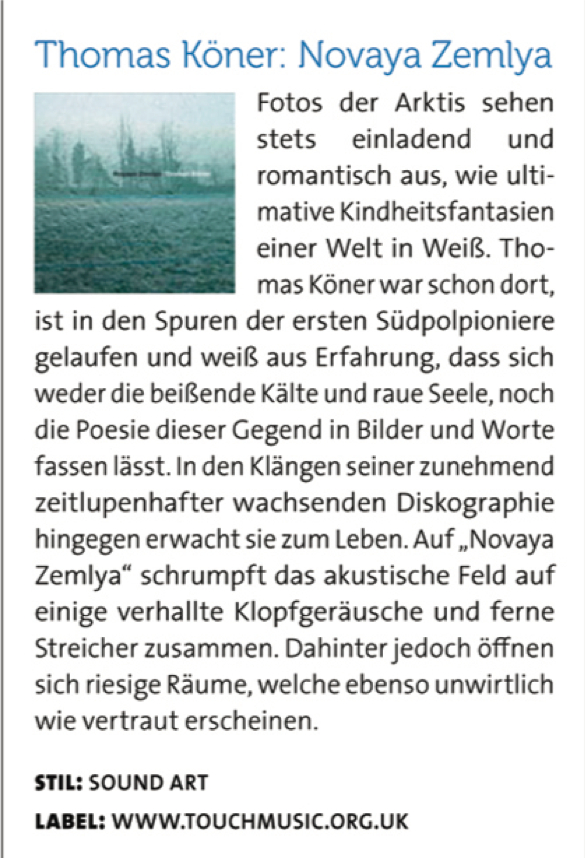 Blow Up (Italy):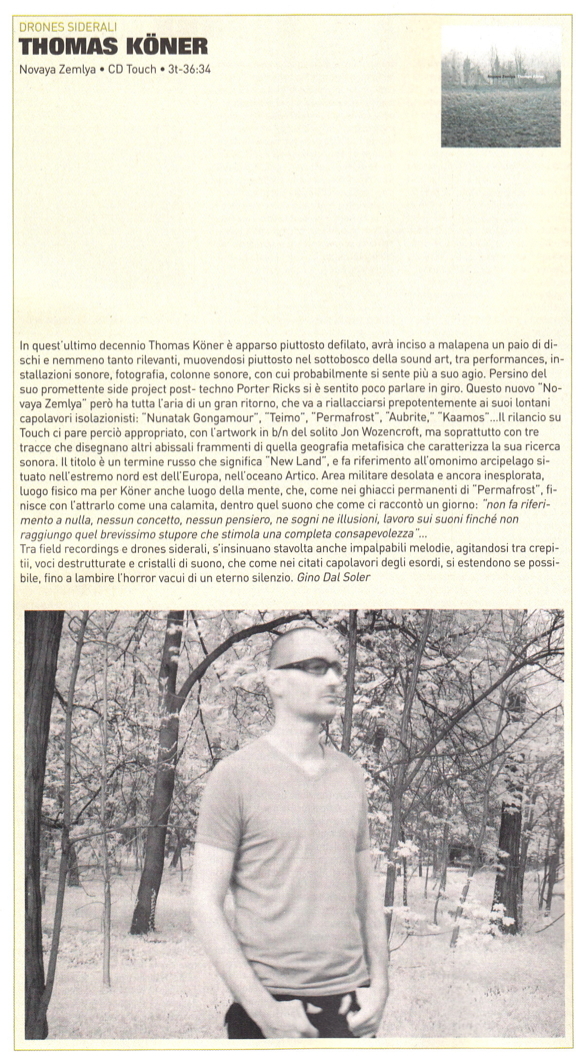 Rock-a-Rolla (UK):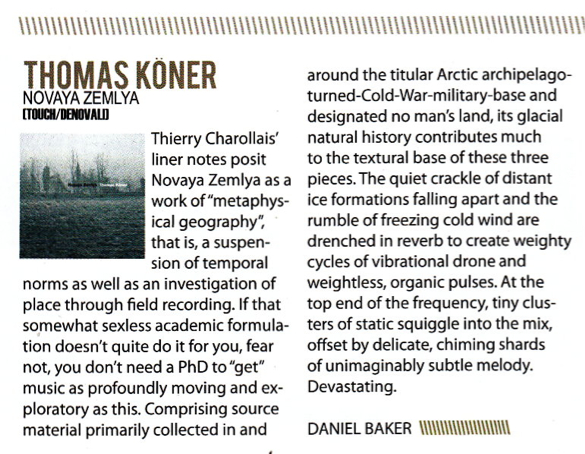 Freistil (Germany):

Gonzo Circus (Belgium):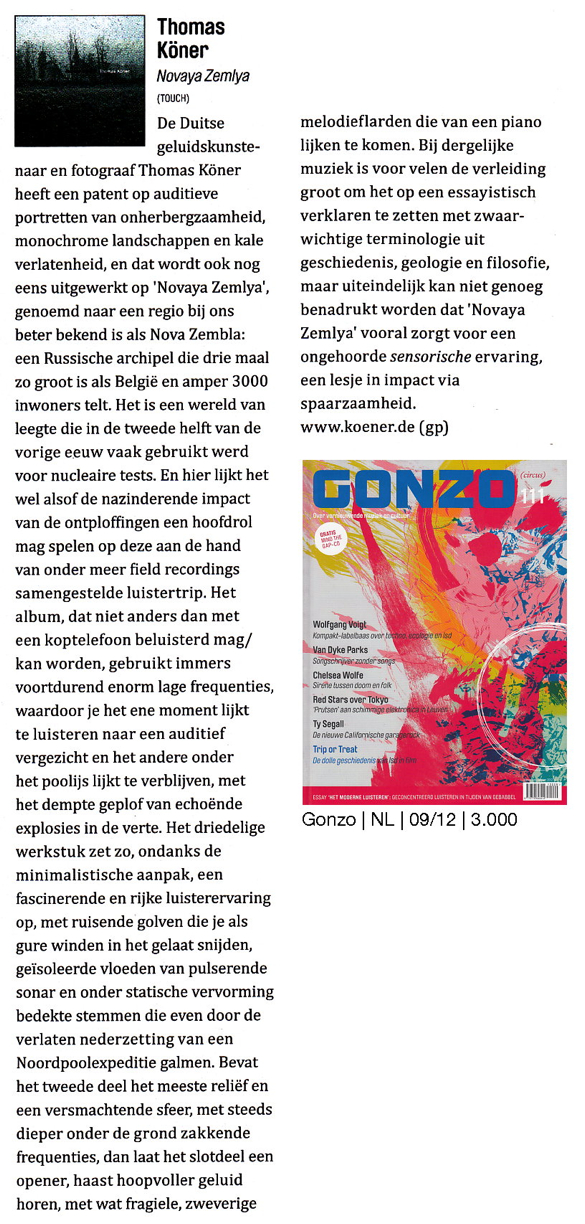 Rockerilla (Italy):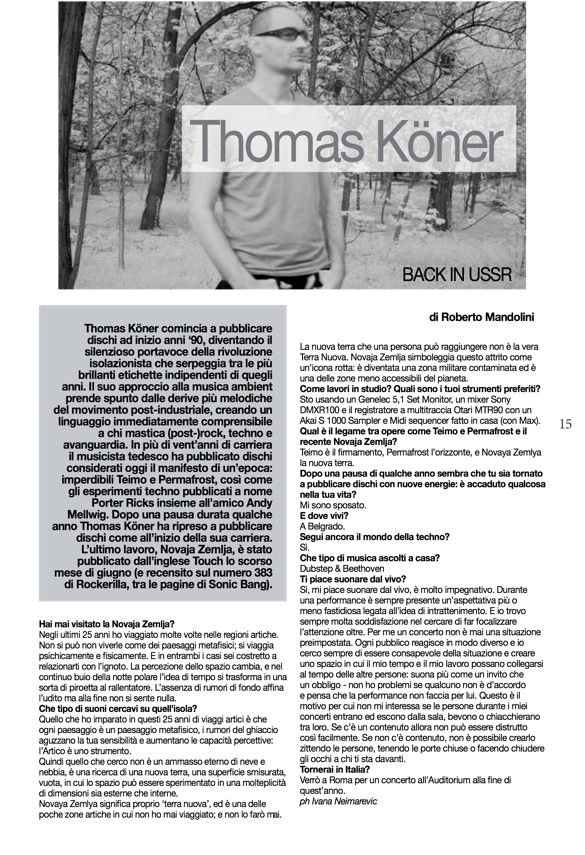 Headphone Commute (USA):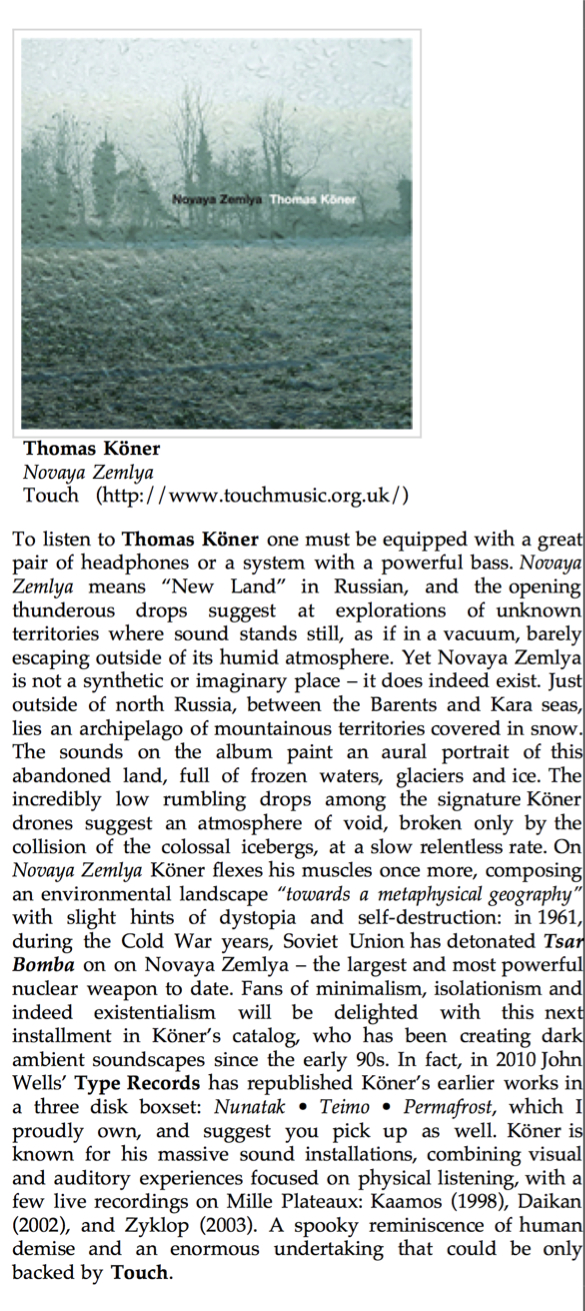 Revue et Corrige (France):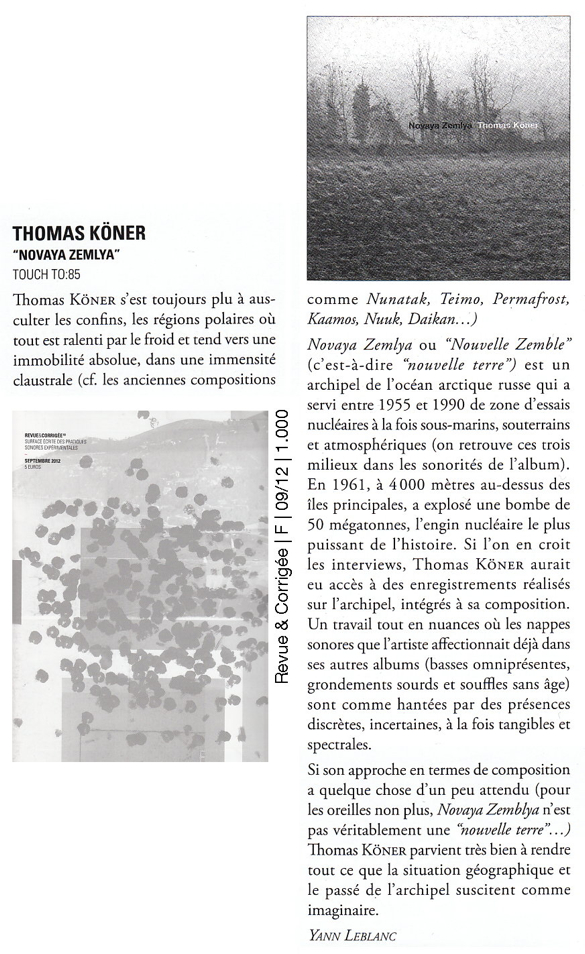 Whisperin' & Hollerin' (UK):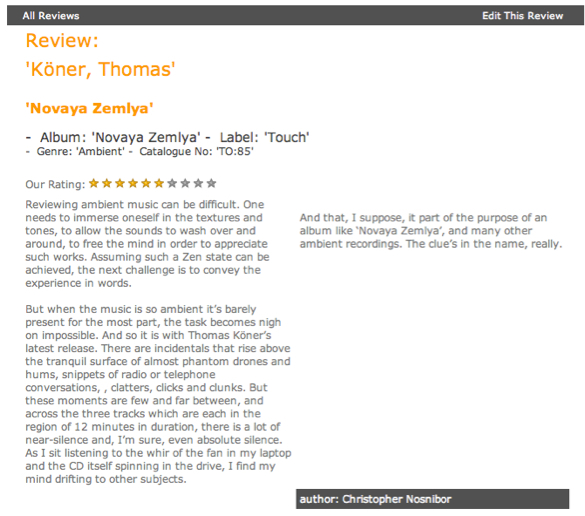 Electronique (Italy):
Una nuova terra, questa la traduzione letterale di Novaya Zemlya, dal russo. Thomas Köner mancava all'album e mancava soprattutto alla musica, un barone nero tra i più irraggiungibili, un esponente così dannato e prezioso da rappresentare rarità.
Abbandonate le magie techno ormai stampate nella memoria di ogni techno seeker facenti capo al progetto Porter Ricks diviso con Andy Mellwig, Köner ha spinto la sua ricerca verso l'estremo, tornando a concentrarsi sul suono ambient che da sempre faceva parte del suo dna per divenirne uno degli ambasciatori più corteggiati e riveriti.
Il suo album arriva a circa un anno di distanza da quell'eterno capolavoro che è El Tren Fantasma di Chris Watson, per la Touch sicuramente il degno prosecutore temporale, un disco atteso, attesissimo.
Novaya Zemlya è composto da tre lunghi brani che seguono semplicemente una numerazione crescente ed è un disco che ha bisogno di un impianto con grandi bassi nitidi ed un volume imponente, caratteristiche che vi permetteranno di affondare corpo, mente, sogni e speranze dentro le incantevoli e magnetiche frequenze che il disco rilascia.
Ci troviamo nell'estremo nord della Russia, e nel punto più ad oriente dell'Europa, un arcipelago a ridosso di Saverny Island, base logistica dove fu coordinata l'esplosione della più potente bomba nucleare mai fatta detonare, era il 30 ottobre 1961.
Nel suo lavoro, Köner riesce ad imprimere tanto la forza di un evento di proporzioni indescrivibili quanto la visione di un territorio talmente arido ed inaccessibile da poter essere più semplicemente immaginato.
Prendete la musica per quello che è realmente, un eterno tappeto fatto di frequenze delicate che si susseguono si accavallano creando una solida e profondissima base sulla quale con maestria unica l'artista riesce a collocare frammenti di suono, riverberi, field recordings ed altri "oggetti d'arredo" che ricreano in maniera del tutto suggestiva un punto di partenza dal quale salpare per visitare questi ostili territori privi di vita. Occorre dedicarsi completamente, lasciarsi assorbire da questi potenti flussi che nelle basse frequenze trovano i punti di maggior attrazione, non è un disco immediato, non come El Tren Fantasma per intenderci, ma è un disco che ascolto dopo ascolto ti attrae fino a renderti schiavo. [Ivo D'Antoni]
GOMAG (Spain):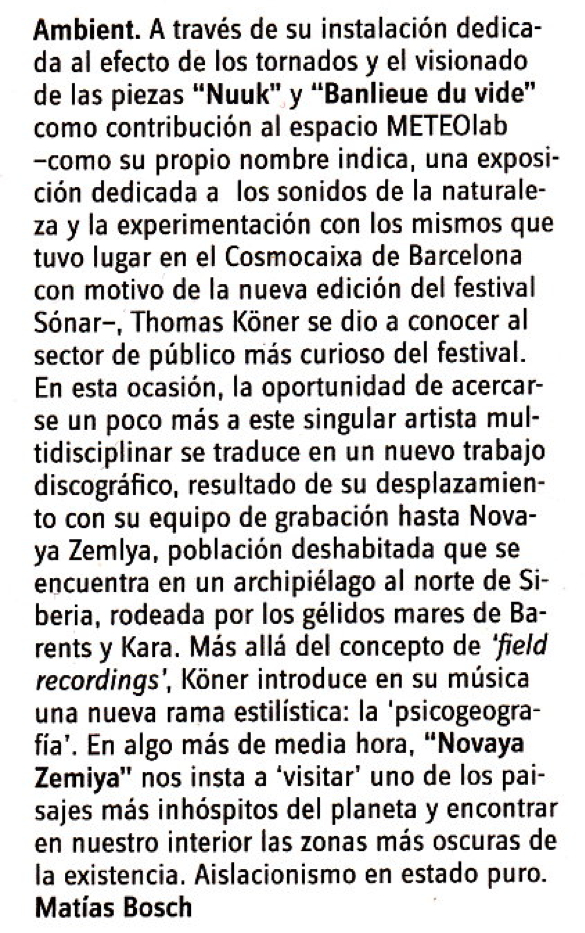 STNT (France):
Thomas KONER n'est pas un inconnu. Il est ni plus ni moins que la moitié de PORTER RICKS (avec Andy Mellwig), duo électronique qui officia dans la deuxième moitié des années 90 sous des atmosphères inquiètes, tendues, expérimentales ayant été produit par des labels aussi prestigieux que Mille Plateaux ou Force Inc… Né en 1965, et habitué aux lauriers, le bonhomme s'est très vite inventé un espace à lui. D'abord intégré à l'univers du cinéma, il s'enferme en studio pour en tirer le meilleur à son goût : preneur de son, ingénieur comme on dit, il évite le rythme avec précision, il participe à la création d'univers / musiques de films pour et dans des lieux aussi prestigieux que le musée du Louvre… Il s'associe à des créateur d'image, VJ, etc… Bref, il colorise le son… Autant que faire se peu… Car à l'écoute de ce disque, et vu la noirceur du propos, la couleur n'est pas ce qui vient d'évidence à l'esprit… L'orage gronde au loin quand les premiers sillons s'éloignent du bord de ce double LP. C'est du 45 tours par minute et ça pèse lourd dans tes petits petons (180 grammes par LP tiré à 150… un luxe… ). Ce projet a trouvé son essence dans ces paysages perdus et desertiques de "Novaya Zemlya", un archipel lointain perdu dans le nord de la Russie qui servit en son temps de territoire de jeu à l'armée. On imagine volontiers la teneur en becquerel par là bas… Adepte du "field recording" à la CHRIS WATSON, Thomas KONER enregistre à pied et malaxe en sus le son. C'est de l'ordre du voyage expérimental. Du field recording mais trituré. C'est du drone qui attaque en profondeur, pas ou super peu de mélodies, juste des sons percussifs, à la mélodie naturelle je veux dire (face 3 de ce double LP, à trois faces gravées…). Le disque s'écoute super fort, ou au casque, ou sur un système son de super grand luxe et au final ca donne un machin noir, tendu mais aussi un climat de solitude que j'ai franchement rarement entendu, une solitude communicative C'est une musique de nature perdue où tu ères seul, entouré d'animaux bizarres et apeurés par des essais chimiques trop longuement supportés…
Trebuchet (web):
Thomas Köner is an audiovisual artist whose name is indelibly associated with the chilling sub-genre sometimes known as Arctic ambient. The ingredients of Arctic ambient (also practiced by his Norwegian counterpart Biosphere) are fairly transparent: real or simulated winds, ghostly drones and sonic fog. Despite its simplicity it's still possible to innovate and (so far) I've yet to hear it done in a simplistic way.
That said, as heating prices escalate and winters become colder it may be that this genre finds itself indirectly affected by environmental change: in a hot summer a blast of icy sonic air can be refreshing but it may not be so attractive in an under-heated Northern European city. In a hot summer a blast of icy sonic air can be refreshing
Köner's previous works have been inspired by the frozen coasts of Greenland or even by snow-bound Finnish car parks, but this time he takes listeners to the desolate archipelago known as Novaya Zemlya. One incongruous element is Jon Wozencroft's cover photograph, which is as impeccable as Touch images always are, but seemingly depicts an English field in the rain rather than an Arctic scene. Perhaps this was an attempt to escape the usual snow and ice scenes that generally adorn Köner releases.
In the past Köner has produced 59 minute tracks, but none of the three tracks here are more than 13 minutes, making for a tantalisingly brief listen. The sound and music are backed up by a scholarly essay on Köner's "metaphysical geography". No-one familiar with the artist or the genre is going to be very surprised by the music here but they will probably be impressed at the subtle variations while new listeners may be drawn in to the icy soundscapes – sparser and more dramatic than a typical Arctic dronescape
There's a very dramatic opening that's not especially loud but very tangible, perhaps a lump of ice breaking off somewhere in the distance. For the first six minutes or so we get something sparser and more dramatic than a typical Arctic dronescape. Although these are not field recordings, the sounds lead you to speculate as to what you're hearing, or what Köner wants you to think you're hearing. It might be a a shoal of fish under the ice, some Arctic atmospheric effect or something else entirely. When more musical chords eventually flow in it's easy to imagine it soundtracking an Arctic dawn seen from above. Whatever "it" actually is or isn't, Köner manages to conjure a sense of infinite depth and height.
Part two has a much more muffled, dubby start – the sonic equivalent of listening to distant impacts in a whiteout. Shapes slowly loom in the freezing fog and more musical elements including Köner's distinctive gong-like sounds gradually assert themselves. At some point muffled dialogue emerges from somewhere low in the mix, perhaps the voices of pilots or seamen in transit across the Arctic seascapes.
Part three has a colder electronic sound. Once again, there is a feeling that "it" is "taking place" at very high altitude. The sonic air is filled with ice crystals. Fragile structures slowly assume musical shape and melancholic harp-like sounds flicker in the mist before being replaced by more ominous sounds. This is a premature but poetic ending to the album, which leaves behind an unresolved mix of dread and longing and the simultaneous feeling of having missed some vital detail and of it having passed too quickly. [Alexei Monroe]
Signal to Noise (USA):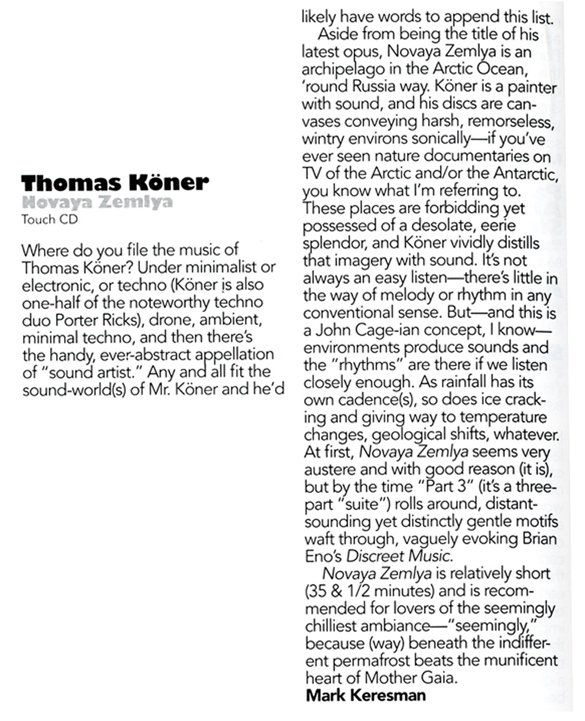 Rockdeluxe (Italy):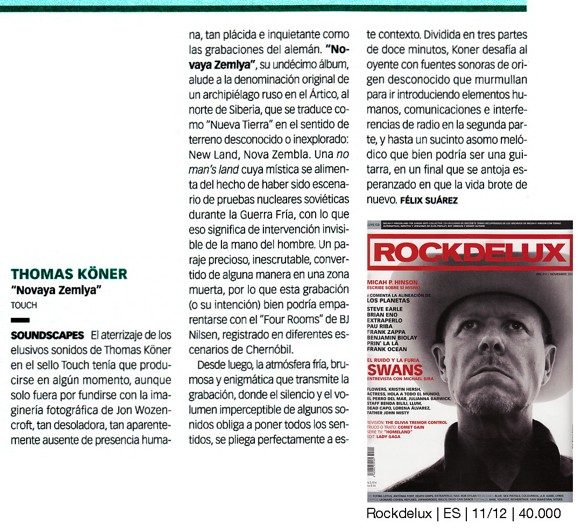 Neural (Italy):

musique machine (UK):
Thomas Koner is one of the oldest and most distinctive voices in ambient music. His debut "Nunatak Gongamur" came out around the same time as Lustmord's "Heresy", and along with that album marked the beginning of an era of explorations into the colder and less sympathetic possibilities of the soundscape genre. Koner's work lacks the forced satanic cheesiness Lustmord often embraced, instead serving as a description of those untouched parts of nature furthest from human society, particularly the arctic. "Novaya Zemlya" is the latest in Koner's ever thematic string of albums, one of the sparsest and quietest of the bunch.
At first, I felt underwhelmed, thinking the music 'hollow' and too stereotypical of Koner, only a vague sketch of a soundspace, too far below the threshold of hearing. Without a silent listening environment and a proper soundsystem, the distant thunderclaps and echoes of tiny avalanches (the loudest sounds on the recording and still rounded, muffling and deep like banks of snow), are hardly audible amidst what sounds like dead silence. It is useful to recall that Koner is only imitating the quietude of real places, unforgiving and largely inanimate frozen lands.
As always with Koner, there is some very deep bass, and the production in general is incredibly dynamic and high in fidelity, using the entire frequency spectrum. This perfectionist ear is one of the ways Koner has retained his distinctiveness over the years. Another is his decision to omit synthesizers and excessive artificial reverberation. Field recordings are Koner's primary tool: nature's patient, gestural rhythms are the most multi-faceted abstract language of all.
The longer one spends listening to this immaculately detailed piece of work, the more one is drawn into the quietest sounds, the tiny nuances. At the same time, one is never quite sure if some of the background sounds come from their own home environment or Koner's music: the sounds are so cleanly recorded that they could be coming from one's own living room.
The album is divided into 3 parts, each 11-13 minutes long. Each has slightly different distributions of frequencies and spacial panning, but maintain the same hushed emptiness. The latter 2 parts contain some bassy quasi-tonal drifts and contact sounds, which could be pitched down samples of percussion, something which is new to Koner. A flicker of human emotion nearly gleams through, yet leaves the hibernative arctic landscape for the most part undisturbed.
Conclusively, "Novaya Zemlya" is a worthy Thomas Koner album, a masterful construction that makes most ambient music sound sappy, one dimensional and overdone. If at first it doesn't make an impression on you, listen again when in a quiet place and a patient state of mind, and it will open up to you. Listening to Koner's sounds here nearly recreates the truly spiritual experience of standing on a snowy mountaintop.
STNT (France):
Thomas KONER n'est pas un inconnu. Il est ni plus ni moins que la moitié de PORTER RICKS (avec Andy Mellwig), duo électronique qui officia dans la deuxième moitié des années 90 sous des atmosphères inquiètes, tendues, expérimentales ayant été produit par des labels aussi prestigieux que Mille Plateaux ou Force Inc… Né en 1965, et habitué aux lauriers, le bonhomme s'est très vite inventé un espace à lui. D'abord intégré à l'univers du cinéma, il s'enferme en studio pour en tirer le meilleur à son goût : preneur de son, ingénieur comme on dit, il évite le rythme avec précision, il participe à la création d'univers / musiques de films pour et dans des lieux aussi prestigieux que le musée du Louvre… Il s'associe à des créateur d'image, VJ, etc… Bref, il colorise le son… Autant que faire se peu… Car à l'écoute de ce disque, et vu la noirceur du propos, la couleur n'est pas ce qui vient d'évidence à l'esprit… L'orage gronde au loin quand les premiers sillons s'éloignent du bord de ce double LP. C'est du 45 tours par minute et ça pèse lourd dans tes petits petons (180 grammes par LP tiré à 150… un luxe… ). Ce projet a trouvé son essence dans ces paysages perdus et desertiques de "Novaya Zemlya", un archipel lointain perdu dans le nord de la Russie qui servit en son temps de territoire de jeu à l'armée. On imagine volontiers la teneur en becquerel par là bas… Adepte du "field recording" à la CHRIS WATSON, Thomas KONER enregistre à pied et malaxe en sus le son. C'est de l'ordre du voyage expérimental. Du field recording mais trituré. C'est du drone qui attaque en profondeur, pas ou super peu de mélodies, juste des sons percussifs, à la mélodie naturelle je veux dire (face 3 de ce double LP, à trois faces gravées…). Le disque s'écoute super fort, ou au casque, ou sur un système son de super grand luxe et au final ca donne un machin noir, tendu mais aussi un climat de solitude que j'ai franchement rarement entendu, une solitude communicative C'est une musique de nature perdue où tu ères seul, entouré d'animaux bizarres et apeurés par des essais chimiques trop longuement supportés…