CD – Jewel case – 7 tracks
Free MP3 download of the tracks included when buying at TouchShop
Artwork & photography: Jon Wozencroft
Track list:
1. Alloy Ceremony 11.02
2. Live at the Chrome Cathedral 07.06
3. Midas in Reverse 05.32
4. Irkutsk 03.54
5. Praseodymium 08.32
6. Promethium 05.31
7. In Sheltering Sanctus of Minerals 09.05
Mika Vainio – Electric Guitar, Processing, Metallic Percussion.
Joachim Nordwall – Electronics, Electric Bass Guitar, Metal Objects, Hammond Organ, Vibraphone.
Recorded in Berlin at Studio Schwedenstrasse one day in June 2010. Recording Engineer: Marco Paschke. Mixed and Mastered by Daniel Karlsson in Stockholm at Elektronmusikstudion.
Mika Vainio was a member of the legendary minimal electronic duo Pan Sonic. Emerging from the Finnish industrial and rave music scene in the early 90's, they became one of the most important electronic music acts. Vainio's solo works goes from abstract drone to minimal and experimental techno, under his own name or as Ø for labels like Touch, Raster Noton, Sähkö and Editions Mego. He has worked with Alan Vega, Keiji Haino and many others. His music is always extremely physical and present. Mika Vainio lives and works in Berlin.
Joachim Nordwall runs the iDEAL Recordings label since 1998, releasing intense electronic music of various kinds and organizing club nights and festivals around the globe. He started making electronic music as a teenager in the late 80's in the psychedelic drone duo Alvars Orkester (Ash International), drifted off to sweaty avant garde punk rock with Kid Commando in the late 90s and formed the ritual rock and electronic drone group The Skull Defekts in 2005. He is also recording solo works under his own name and works with Mats Gustafsson, The Gagmen (with Aaron Dilloway and Nate Young), Mark Wastell and The Sons of God. Nordwall is based in Stockholm.
"Monstrance" is their first album together and is released June 2013 and consist of drone works and pulsating electronic minimalism but also guitar, acoustic elements, organs and metal percussion. It was recorded in Einstürzende Neubauten's Berlin studio during an intense session in early summer of 2010. "Monstrance" is a place where Vainio's and Nordwall's backgrounds as musicians and composers meet, and something new and extremely powerful is born. Something deep, raw and direct…
Buy Mika Vainio & Joachim Nordwall "Monstrance" [CD + MP3 download] in the TouchShop

Reviews:

The Sound Projector (UK):
On Monstrance (TOUCH TO:88), we hear the inspired team-up of Mika Vainio (from Pan Sonic) with Joachim Nordwall (from Skull Defekts). I say inspired because it's arguable that both of these death-dealing noise beasts have exhibited a life-long interest in realising highly effective sonic results while using a bare minimum of methodologies – not that I really have any clear idea what these methods may be. Broadly, I associate Pan Sonic and Panasonic before them with a sort of desperate and shrill howlage created out of an electronic saucepan set to simmer, and sustained for long and intolerable periods in a blatant attempt to destroy the listener. Skull Defekts have also wished to crush the audience, but they do it by means of loud amplification and adding illegal amounts of digital reverb to their hideous electric filth, which may either have been salvaged from the garbage tubs of INA-GRM and EMS, or simply generated out of feedback. Given their shared penchant for death and destruction, you'd think they would have collaborated sooner, although it seems their diaries are so full that they only managed to meet for a single day in Berlin in 2010, when these seven tracks were recorded. I think it's especially interesting that they're partially going for a "rock" sound on this album – Vainio with the electric guitar, Nordwall with the electric bass. One might be tempted to look for a Sunn O))) resemblance, but Mika and Joachim don't "riff" like arm-swinging robed monks, not even in slow motion, and instead create a fascinating combination of thick bass throbbings cut with icy steel-like details wrenched from a trebly garage guitar. Of course there's also a fair amount of feedback droning, perhaps created from the Hammond Organ or general application of electronics and processing to amplified feedback, but once again this mighty dronery is executed with a precision and deathly cold that none of these sludge-influenced avant-metal bands can seem to manage.
We also have the presence of "metal objects" and "metallic percussion" 1 played by the duo, a metallurgic theme which is picked up by most of the track titles 2 – for example 'Alloy Ceremony', 'Live at the Chrome Cathedral', 'Promethium', 'In Sheltering Sanctus of Minerals' – titles which suggest our friends are playing the "sonic alchemy" card, and that they see their work as fundamentally transformative. I have remarked recently on the use of this tiresome "alchemy" cliché, but I'll make allowances when faced with this professionally executed and massive large-scale music, whose attractive surfaces generally ease the pain and discomfort of being smothered alive in a gas chamber while being flattened by a block of lead the size of a house. I'll concede that some of the tracks do buck this "death by heavy weight" trend; 'Midas In Reverse' is a zero-temperature spacey episode with frozen daggers sailing through the air in a very minimal setting; one suspects Mika took control for this part of the session. 'Irkutsk' is a metal-hammering classic offset with a mean and moody bass guitar, which is deliciously disjointed even if it lacks the clarity of purpose with which Z'EV might have approached the job. And 'Promethium' is so understated it feels like the poor cousin of the other elephantine tracks, with its tentative scrape, slide and rattle effects which don't amount to much more than skilled doodling. No matter, since more than half of the album delivers the goods – powerful, airless metal drone with expertly burnished surfaces and creating an unforgettable effect on the body and mind. From 01 July 2013.
Brainwashed (USA):
The name of the game is "metal" for this collaboration between Vainio (Pan Sonic) and Nordwall (Skull Defekts, Sons of God), both in the genre and literal sense. Fragments of Sunn O)))'s deconstructed riffs, plate reverbs and Einsturzende Neubauten's earliest days all show up here, in a wonderfully cohesive, oppressively dark recording that is surprisingly organic, given all its metal trappings.
The long "Alloy Ceremony" is where the genre of metal is at its most overt. Dark bass guitar rumbles and resonating noises insinuate what eventually comes forth: an overt guitar part, with nearly Tony Iommi riffs. Rather than Sunn's monolithic repetitive style, it instead more varied and dynamic. The notes are spaced out over the robotic bassline, and eventually transition to a more improvised, grinding style that recalls the best of Big Black.
Beyond this, the guitar is more understated, reappearing as tortured outbursts on "Live at the Chrome Cathedral," amidst roaring electronic and nasal noise surges, leading to a monolithic wall of noise. There is a bit of fragmented six string playing on "Promethium" as well, as scrapes and plucks, coupled with the more sparse and open mix it sounds more free improvisation than metallic in nature.
Metal as an instrument is more noticeable on "Midas in Reverse," which processes scrapes and grinding noises into a collage-heavy mix riddled with ghostly noises that appear all around. On "Irkutsk" it is far more obvious, in the forms of banging and clattering noises over a basic bass guitar rhythm, reminiscent of Neubauten's earliest, most dissonant work. Which makes quite a bit of sense given this album was recorded in the legendary band's own Berlin studios.
On "Praseodymium," things are a bit lighter, even with the distended passages of feedback and hollow, metallic noises. What almost resembles a xylophone can be heard, and the greater emphasis on the midrange sonic spectrum gives it a more distinct warmth than most of the other compositions here. Similarly, "In Sheltering Sanctus of Minerals" closes the album in a drastically different mood than "Alloy Ceremony" opened it. Perched atop a low end, resonating organ, the piece is far more about sustained tone and almost hints at melody at times. Bits of feedback slowly rise to the surface, but never become too much, ending Monstrance on a more pensive, contemplative note.
Not a light recording by any means, Monstrance is an intense, rumbling piece of jagged metal that, even in its lighter moments is unsettling and uncomfortable. But despite its iron trappings and serrated surges of noise, it is indisputably organic, a sensibility that is rarely associated with Vainio's output. It comes across as natural though, and results in this bleak, moody recording that excels in its darkness.
Boomkat (UK):
Finland's finest teams up with the boss of Sweden's iDEAL label for an intense, steely collaborative session. Vainio has a new solo album imminent on Blast First, while Nordwall's Psychic Propaganda set for Dom Fernow's Hospital Productions is barely a month old, but 'Monstrance' stands comparison with both; and surprisingly, given it's on Touch, it has a nihilistic rock 'n roll swagger that picks up where MV's 2011 eMego set Life…It Eats You Up left off: particularly 11-minute opener 'Alloy Ceremony', a macho guitar wig-out first and foremost, reminding of Fushitsusha, Corrupted or even The Stooges at their most volcanic. It seems that Nordwall brings the best out of Vainio, encouraging him to drop the Pan Sonic percussion tics and strike a little further out into the unknown. All the track titles allude to metal (in the material sense), which gives you a firm sense of the hard, grey tonal palette the duo are working with, but they generate an impressive diversity of music out of this ascetic approach: moving from the trebly P.E. scrape of 'Midas In Reverse' and groaning-girder industrial of 'Irkutsk' to the moving daybreak dronescape of 'Praesodymium', and reaching a stunning denouement with the kosmische-organ-led, Earth-flavoured 'In The Sheltering Sanctus of Minerals'.
Monsieur Délire (France):
Plus électrique qu'électronique, cette première collaboration entre Mika Vainio (Pan Sonic, Ø) et Joachim Nordwall (iDEAL Recordings). Plus "drone" aussi, avec ici et là une basse électrique ou un pédalier d'orgue, une guitare électrique aussi. Cela dit, certaines pièces abandonnent complètement cette pesanteur pour se concentrer sur des sonorités délicates, objets amplifiés au point de générer un larsen savamment contrôlé. Pas une écoute facile, moins même que Diluvial (ci-dessus), mais une belle recherche sonore et un "pacing" lent mais soutenu.
More electric than electronic, this first collaboration between Mika Vainio (Pan Soni, Ø) and Joachim Nordwall (iDEAL Recordings). More drone-like too, with an electric bass or organ pedals rumbling here and there, an electric guitar too. That said, some tracks loose that heaviness entirely to focus on delicate sonorities, like objects amplified to the point of slightly feedbacking. This is not an easy listen, even less so than Diluvial (see above), but there's fine sound research herein, and the pacing is slow but well maintained.
Hunger Culture (Spain):
Hablar de Mika Vainio y Joachim Nordwall es hacerlo de 2 genios de la música electrónica más experimental de este siglo y su colaboración puede ser vista como un símbolo de las buenas relaciones existentes entre Suecia y Finlandia después de un pasado lleno de desigualdades.
El primero fue miembro del legendario grupo de electrónica minimalista Pan Sonic y co-fundador del label Sähkö, desde donde experimentó con los sentidos a través de su música, tocando estilos como el abstract drone o el minimal techno, editando en sellos como Raster Noton o Editions Mego y trabajando junto a artistas de la talla de Alan Vega o Keiji Haino.
Por su parte, Nordwall comenzó creando música en clave psicodelic drone allá por los 80 y posteriormente formaría el grupo de punk rock The Skull Defekts, mientras empezaba a dirigir el sello iDEAL Recordings desde el cual ha lanzado la carrera de muchos nuevos talentos de la música experimental.
Hace unos 3 años, ambos artistas se reunieron en el estudio berlinés Einstürzende Neubauten para iniciar unas sesiones musicales de las cuales surgiría este disco que aparecerá publicado el 2 de Septiembre a través del sello Touch.
En "Monstrance" además de utilizar las habituales herramientas de procesamiento musical y sintetizadores, se han apoyado en las virtudes instrumentistas de ambos y así Vainio ha explotado sus habilidades en la guitarra eléctrica y percusión, mientras Nordwall tocaba el bajo, el órgano Hammond, el vibráfono y diversos"objetos de metal.
El resultado es una creación musical de 7 piezas catalogadas como documentos electrónicos de inspiración experimental, donde todos los títulos de los temas aluden al metal (en sentido material), lo que proporciona una gran fuerza tonal y harmónica que es trasladada a la partitura en forma de firmes golpes.
Documentary Evidence (UK):
Summer 2013 has seen two releases by the more prolific half of Finnish duo Pan Sonic, Mika Vainio. The first was his Kilo solo set for Blast First Petite, quickly followed up by this collaboration with Joachim Nordwall for Touch. Both musicians are renowned for their intense understanding of noise and an ability to toy with the harsher end of the sonic spectrum – Vainio in his solo work, as Ø, and back in the genre-defining Pan Sonic days; Nordwall in his work with fire music go-to saxophonist Mats Gustafsson, The Gagmen or his Death Dub collaboration with Touch stalwart and fellow Swede BJ Nilsen. As if their noise credentials weren't compelling enough, Monstrance was recorded in Einstürzende Neubauten's Studio Schwedenstrasse, and one can only guess at how those environs influenced proceedings; the seven tracks here were the product of a single day of recording back in June 2010.
Vainio is credited with guitar, processing and metallic percussion; Nordwall with electronics, bass, Hammond, vibes and the appealingly vague 'metal objects' (a tribute to Neubauten perhaps?). Metal Objects would not have been an inappropriate title for this suite given the pre-eminence of Vainio's guitar playing, given that his choruses of droning, buzzing feedback drones and power chords bring with them the weight and echo of five decades of heavy metal riffery. The effect is to create a sonic swamp of epically dark proportions, Nordwall's sound sources underpinning those guitars with poisonous clouds of threatening, grainy ambience and impenetrable texture. 'Midas In Reverse' eschews the prominence of guitars in favour of resounding scrapes and a low rumble of primal growls, suggesting alternatives soundtracks to Eraserhead or Hellraiser with just as much creeping dread as the original scores to those; 'Praseodymium' finds Nordwall offering up gentle, meditative vibraphone melodies, a genteel counterpoint to the webs of electronics and distortion elsewhere on the piece, making for the perfect sonic accompaniment to a Jon Wozencroft photograph of a barren, deserted landscape.
'Irkutsk', the shortest piece here, is possibly the highlight, abandoning the slow development heard on the other tracks in favour of a quickened passage taking in regimented bass shapes and a swirling drone that seems to fizz, crackle and oscillate in a manner that recalls bluesman Muddy Waters when he referred to playing the electric guitar as being the sound of pure electricity. Final track 'In Sheltering Sanctus Of Minerals' captures the interplay between Vainio's guitar – stuttering, jangling, faltering and then settling into a controlled drone – and Nordwall's held tones on the Hammond, a brief hissing sound in the background not unlike the pistons and air compressors that litter many Neubauten recording and providing a tentative rhythm of the most oblique fashion.
Strangely, in spite of the impenetrable drones deployed across the rest of the album, it's the concluding few bars of 'In Sheltering Sanctus Of Minerals', with its sparse, plucked guitar notes suddenly bereft of distortion and no other processing except rich reverb, that provides the most unsettling impact of all here.
Ondarock (Italy):
Joachim Nordwall la chiama propaganda psichica. Il fondatore della iDEAL ha appena pubblicato il suo manifesto su una cassetta di difficile reperibilità, ma per quanti non fossero in grado di procurarsela, basterà ascoltare "Monstrance", la sua collaborazione con il finlandese Mika Vainio (meglio conosciuto per essere la metà dei tumultuosi Pan Sonic), registrata nel 2010 a Berlino.
Il disco è quanto di più fisico ed epidermico pubblicato da Vainio da molti anni a questa parte.
Già la lunga traccia che apre la scaletta, "Alloy Ceremony", mette in bell'evidenza il feedback di una chitarra elettrica su un basso che sembra rubato a un vecchio disco dei Pink Floyd. Ancora più lisergica la traccia che segue, "Live At The Chrome Cathedral", sette minuti in cui Vainio e Nordwall costruiscono un poderoso muro di suono intrecciando feedback ed effetti digitali.
Le caratteristiche strutture aleatorie care al musicista finlandese prendono la forma di una passeggiata lunare su "Midas In Reverse" e di una drammatica corsa tra boschi sintetici su "Irkutsk". Che i due musicisti abbiano trovato una forte sinergia lo dimostra il lirismo inaspettato di "Praseodymium", una lenta danza che fonde la malinconia dei suoni metallici dell'industrial, con l'urgenza delle chitarre elettriche del rock e con il calore dei suoni delle migliori produzioni elettroniche.
Rifraf (Belgium):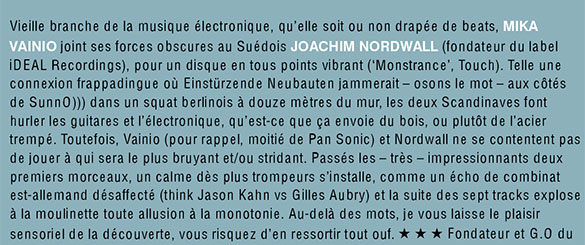 Frequencies (Italy):
Perdersi nella giungla sotto un monsone ricercando la pace dello spirito.
L'anima di Mika Vainio è una delle più tormentate del panorama elettronico, quindi non stupisce che per esorcizzare i suoi demoni abbia sentito il bisogno di sfogarsi su un nuovo album nonostante quello uscito uno pochi mesi prima (l'ottimo Kilo).
Il tempio in cui l'artista finlandese trova riparo è la Touch records, una cattedrale per i suoni sperimentali (drones, field recordings, contemporanea), dove incontra un altro pellegrino.
Si tratta di Joachim Nordwall, musicista di stanza a Stoccolma e boss della Ideal Recordings, con il quale l'ex Pan Sonic inizia a registrare alcune sessions nel primo 2010 presso lo studio dei mitici Einsturzende Neubauten a Berlino (che ironicamente si trova a Schwedenstrasse).
Monstrance raccoglie sette tracce nate da vibrazioni elettriche (chitarre) e metalliche (percussioni, oggetti, vibrafono, organi), che attraverso il processamento elettronico si sviluppano in densi mantra da rituale di purificazione.
Anche in questo caso non si tratta di un lavoro che brilla per originalità, ma il fascino evocativo è davvero notevole ed il punto del discorso è la conferma che Vainio è tornato a fare sul serio. [Federico Spadavecchia]
The New Noise (Italy):
Di Mika Vainio abbiamo parlato e riparlato. Joachim Nordwall, in sintesi è uno degli Skull Defekts e la one-man-army della iDEAL. Vaino e Nordwall hanno molto in comune: lontani dai riflettori, basso profilo, preferenza per suoni nudi e per l'imperfezione, una marea di ascolti simili (anche se il secondo rockeggia un po' di più) che permette loro di spostarsi lungo una linea che unisce techno o dub a industrial, ambient e noise. Questo su Touch è il risultato di sette ore sette di registrazione, e basta. Luogo di ritrovo: gli studi berlinesi degli Einstürzende Neubauten. Da quello che si è capito, sono entrati, hanno lasciato cadere a terra i loro strumenti e si sono buttati su quelli dei cugini grandi, quello che chiunque di noi avrebbe fatto, e col sorrisone. Monstrance, come titolo, vale sia nel suo significato originario, perché qui il materiale è crudo, sia nel suo significato religioso, perché questa è una specie di Messa elettrica. Apici del disco: "Alloy Ceremony", dove basso e chitarra divengono un orrore pulsante (qualcosa che molti devoti all'ambient-guitar di questi anni vorrebbero essersi già inventati), "Live At The Crome Cathedral", dove quella stessa chitarra (presumo) è l'ultima cosa viva in mezzo a una specie di vento radioattivo, "Praseodymium" e l'enormità degli spazi che apre.
C'è poco da fare. Tra Touch, Vainio, Nordwall e un paio di buone tracce, questo disco si venderà da solo. Vedremo la sua longevità nel tempo, ma la qualità in un paio di casi è evidente.
Rockerilla (Italy):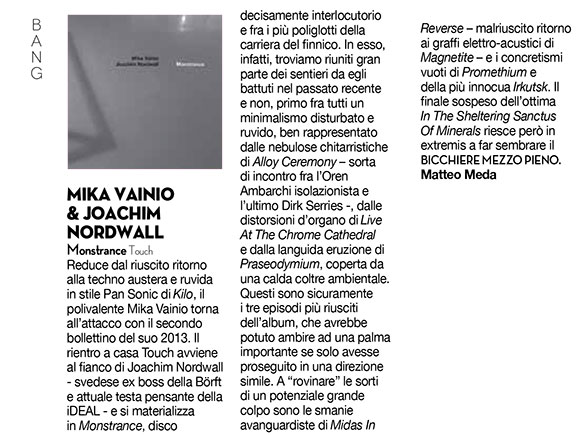 Black (Germany):
Mika Vainio von PAN SONIC ist in den letzten Jahren verstärkt solistisch unterwegs und neben seinen aktuellen Solo-Album "Kilo" auf Blast First Petite gibt es parallel auf Touch eine Kollaboration mit seinem skandinavischen Kollegen Joachim Nordwall. Jener war in den 80er Jahren einer der Köpfe des schwedischen Bröft Records, wo unter anderen die erste Kassette von BRIGHTER DEATH NOW erschienen ist. Später gründete er Ideal Recordings und firmierte unter dem Banner ALVARS ORKESTER, KID COMMANDO und THE SKULL DEFEKTS. Zusammen mit Mika Vainio traf er sich im Juni 2010 an einem Tag im legendären Proberaum der EINSTÜRZENDE NEUBAUTEN auf der Schwedenstrasse (sollte das ein Zufall sein?) in Berlin und das Ergebnis dieser Jam-Session liegt jetzt mit der CD "Monstrance" vor. Neben der bekannt-brummigen Vintage-Electronic aus alten PAN SONIC-Tagen kommt dabei verstärkt die Feedback-Drone-Gitarre von Mika Vainio zum Zuge, welche ja in der Vergangenheit schon das verstörende "Life (…It Eats You Up"-Album auf Edition Mego von ihm dominierte. Des weiteren wird vermehrt auf Metall geschlagen, was logischerweise gleich die Brücke zu den Proberaumbesitzern schlägt und der Einsatz einer Hammondorgel Orgel verstört mehr, als das ihr typischer Klang eigentlich wärmt. Außerdem entsteht beim hören eine seltsame luftleere Atmosphäre, so, als würde an diesem Tag förmlich der Sauerstoff aus dem Raum gesogen. Im Grunde ist das Ganze Death Industrial in Reinkultur, was kalt, verstörend, brutal und einfach nur fantastisch ist! Das trostlos-monochrome Artwork von Touch-Chef-Desinger Jon Wozencraft tut dazu sein übriges. [Marco Fiebag]
Exclaim (Canada):
Not exactly known for metal, Touch Records presents this effort by former Pan Sonic member Vainio and iDEAL Recordings founder Nordwall, which is, admittedly, not exactly metal, despite its geologic sounds and track names. The best pieces, such as "Alloy Ceremony" or "Irkutsk," have a drone or pulse that acts as a chamber housing for the ricochet of electronics and metallic objects. Recorded back in 2010, at Einstürzende Neubauten's Berlin studio, certain pieces appear to have absorbed that group's approach to subtle menace so thoroughly you expect wiry Blixa Bargeld vocals to leap out at any second. Vainio's guitar is silvery, slashing through the film of tone, vibraphone and Hammond organ Nordwall projects. In the more placid moments, like on "Praseodymium," the guitar and electronics become more cooperative, recalling Christian Fennesz's earlier idylls. If irrigation and excavation needed musical expression, Monstrance would suffice. [Eric Hill]
Blow Up (Italy):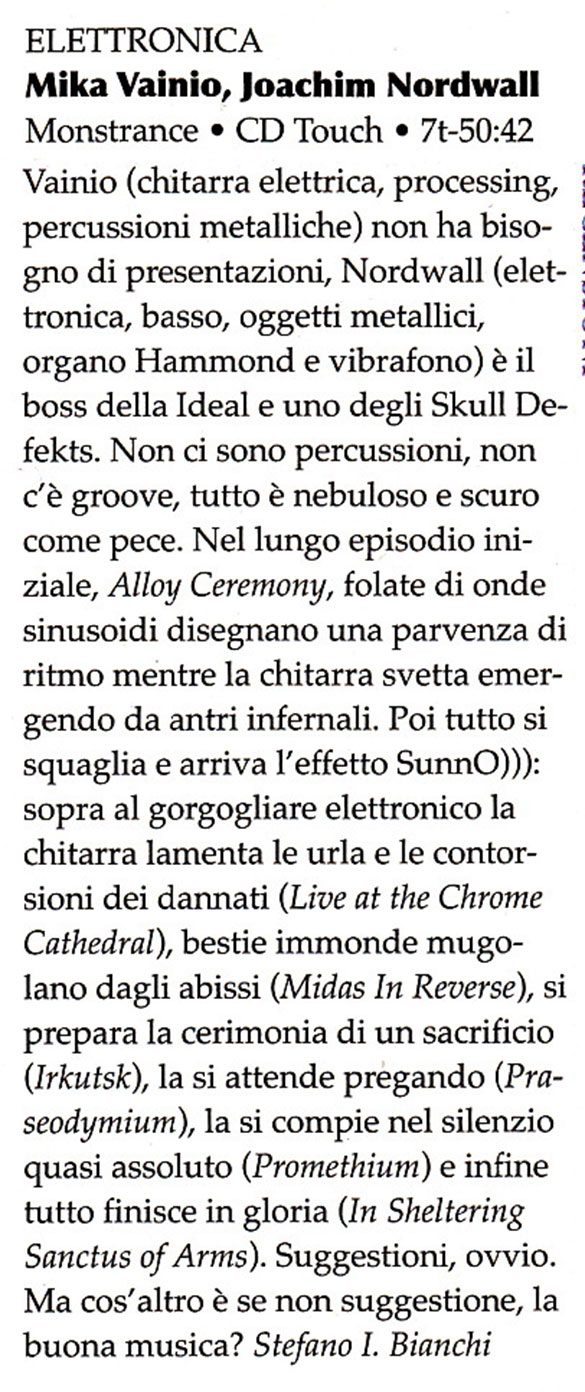 Obskure (France):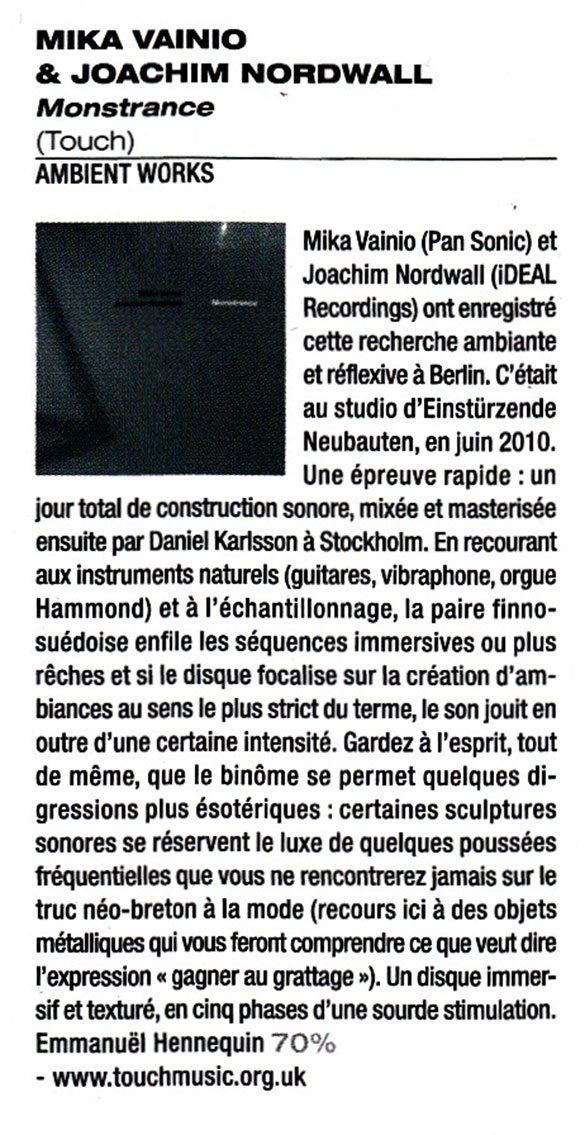 The Wire (UK):

RNE (Spain):
La intensidad del programa va en aumento porque viene ahora otra conjunción estelar, un BigBan del mundo experimental, la unión de dos genios de la música electrónica más experimental de este siglo: Mika Vainio y Joachim Nordwall. Después de un pasado lleno de desigualdades, esta unió se ve como un símbolo de las buenas relaciones existentes entre Suecia y Finlandia. Como todos sabéis Mika Vainio fue miembro del legendario grupo de electrónica minimalista Pan Sonic y co-fundador del label Sähkö, desde donde experimentó con los sentidos a través de su música, tocando estilos como el abstract drone o el minimal techno, editando en sellos como Raster Noton o Editions Mego y trabajando junto a artistas de la talla de Alan Vega o Keiji Haino. Joachim Nordwall comenzó creando música en clave psicodelic drone allá por los años 80 y posteriormente formaría el grupo de punk rock The Skull Defekts, mientras empezaba a dirigir el sello iDEAL Recordings desde donde ha lanzado la carrera de muchos nuevos talentos de la música experimental.
Hace unos 3 años, ambos artistas se reunieron en el estudio berlinés Einstürzende Neubauten para iniciar unas sesiones musicales de las que ha surgido este disco que acaba de ver la luz el 2 de septiembre. En "Monstrance" además de utilizar las habituales herramientas de procesamiento musical y sintetizadores, los dos genios se han apoyado en las virtudes instrumentistas de cada uno: Vainio ha explotado sus habilidades en la guitarra eléctrica y percusión y Nordwall toca el bajo, el órgano Hammond, el vibráfono y diversos"objetos de metal. 7 piezas catalogadas como documentos electrónicos de inspiración experimental, donde todos los títulos de los temas aluden al metal en sentido material.
Sound of Music (Sweden):
Joachim Nordwall åkte till Berlin för att utbilda sig till alkemist. Nja, kanske inte, men på den gemensamma skivan med Mika Vainio – som spelats in i Einstürzende Neubautens studio – kryllar det av metalliska referenser. Förutom själva tanken om vad man kan hitta i en lokal där Blixa Bergeld och N.U. Unruh bygger ljudskulpturer har titlarna namn som "Alloy Ceremony", "Live at the Chrome Cathedral", "Midas in Reverse", "Praseodymium", "Promethium" och "In the Sheltering Sanctus of Minerals". Endast ett spår kvar, "Irkutsk", som tycks stanna till vid staden vid Bajkalsjön, under ett stopp på den transibiriska järnvägen. Det låter som mikrofoner klämts fast nära tågets inre innan det långsamt svävar vidare in i kylan. Monstrance är däremot ett begrepp hämtat från katolicismen.
Det periodiska systemet har måhända varit inspirationskälla, i det aktuella samarbetet tänker jag annars att Nordwall står för droneinslagen och att Vainio laborerar med gitarreffekter och diverse småljud som klingar och skär i den sedvanligt djupa Touchproduktionen. Det finns även musikaliska inslag av metall, ekon av Sunn O))) och annan dronemetal är tydliga på skivans två första låtar. Men även på avslutande "Sheltering Sanctus of Minerals" som har en ljusare grundton och utmynnar i ett i det närmaste religiöst sökande efter mening, men alkemi var ju i högre grad mystiscism än vetenskap.
En bra skiva – men jag blir aldrig riktigt knockad. Båda herrarna rör sig i bekant miljö, det saknas riktigt nya grepp. Nåja. Vainio och Nordwall tar mig in i en lockande ljudvärld, vägen till Irkutsk verkar inte vara långt borta, de långa linjerna kontrasteras effektivt med skrapande ljud från metallföremålen, och musiken binds samman snyggt, med lugnet i början och slutet av skivan, en cirkelrörelse, en gest, som tycks säga välkommen och stig in. [PM Jönsson]
Rock-A-Rolla (UK):

Le Son du Grisli (France):
Vieille branche de la musique électronique, qu'elle soit ou non drapée de beats, Mika Vainio joint ses forces obscures au Suédois Joachim Nordwall (le fondateur du label iDEAL Recordings), pour un disque en tous points vibrant. Telle une connexion frappadingue où Einstürzende Neubauten jammerait – osons le mot – aux côtés de SunnO))) dans un squat berlinois à douze mètres du mur, les deux Scandinaves font hurler les guitares et l'électronique, qu'est-ce que ça envoie du bois, ou plutôt de l'acier trempé.
Toutefois, Vainio (pour rappel, moitié de Pan Sonic) et Nordwall ne se contentent pas de jouer à qui sera le plus bruyant et/ou strident. Passés les – très – impressionnants deux premiers morceaux, un calme dès plus trompeurs s'installe, comme un écho de combinat est-allemand désaffecté (think Jason Kahn vs Gilles Aubry) et la suite des sept tracks explose à la moulinette toute allusion à la monotonie. Au-delà des mots, je vous laisse le plaisir sensoriel de la découverte, vous risquez d'en ressortir tout ouf. [Fabrice Vanoverberg]
Ox (Germany):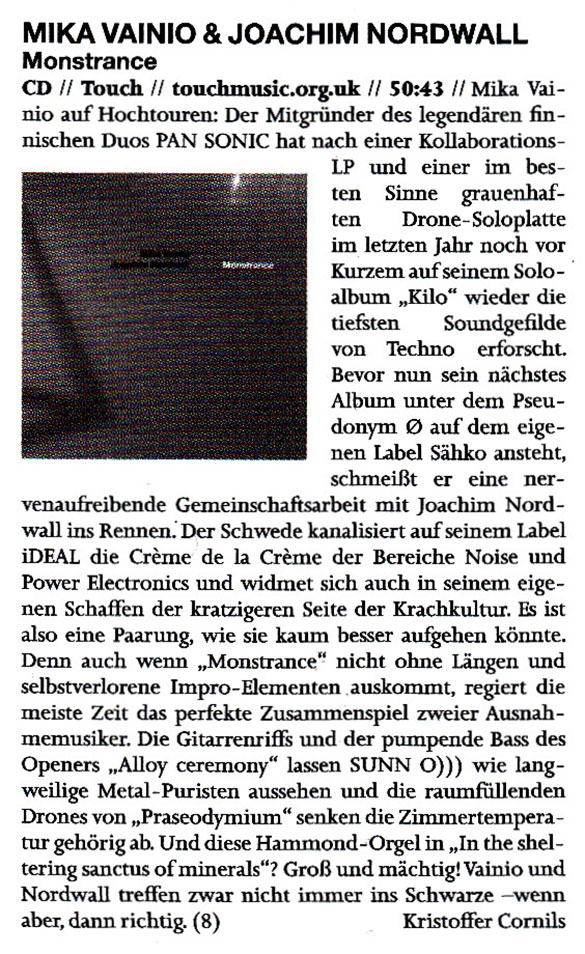 Black (Germany):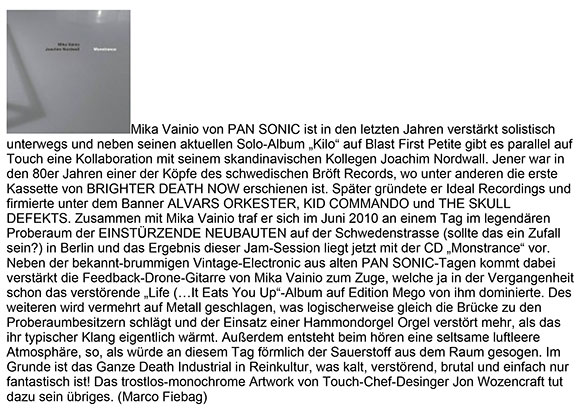 Chain D.L.K. (USA):
Some fine-tuned hits on vibraphone and other metallic objects on the initial "Alloy Ceremony" precede the electromechanical heartbeat and the chafing wails on corrosive guitars of this brainchild by a guessed partnership between Finnish industrial prodigy Mika Vainio and Swedish noise artist (as well as iDEAL label owner) Joachim Nordwall, whose artistic partnership could be imagined as a proper alloy due to the theme of the release. The focus on metals from the sonic and compositional viewpoint rises to an epic, or I'd rather say sacred and religious, height as the title together with the general atmosphere of the record seems to suggest: monstrances are those elaborated and finely chiselled vessels that priests use to display relics or for the so-called transubstantiation and this sacramental analogy sounds clear if you carefully listen the detailed sonic sculptures by these Norse blacksmiths. This devotional ascension, which culminates on the final "In The Sheltering Sanctus Of Minerals", where Nordwall's Hammond organ ignites a sort of quasi-melodic catalepsy with no obtrusive noisy interferences or pleatings, unfolds by means of a series of drones, minimal electronic poaching, oxidised guitars, rasping acoustic sounds and metallic percussions, which chorally oscillates between the squeaky cacophonies of "midas In Reverse", the withering hammer blows of "Irkutsk" and the earsplitting magmatic casting of "Live At The Chrome Cathedral", whereas the tracks dedicated to two lanthanoids sounds like the real whimsies: in spite of the appearance of abrasive guitar blowing, the first one, "Praseodymium", could be thought as a sinuous sinter, while the bizarre sequence of plucks and crapes on "Promethium" lends a weird and somewhat theatrical guise to metals.
kindamuzik (Netherlands):
Zet Mika Vaino (niet alleen onder zijn eigen naam actief, maar bijvoorbeeld ook in Pan Sonic) en iDEAL-labeloprichter Joachim Nordwall bij elkaar in de studio van Einstürzende Neubauten en laat niet alleen een stel elektrische gitaren en elektronische apparaten rondslingeren, maar vooral ook een lading schroot en ander metaal en na verloop van een dag opnemen komt het tweetal breed glimlachend naar buiten met Monstrance: een staalsymfonie in optima forma.
Metaal staat voorop in titels en klank; in de grijstinten van de hoesfoto en in het ruisende grauw van de textuur die de composities tekent in rauwe schetsmatigheid. Metaal prijkt bovenaan in de powerchords van Vainio en Nordwall's staalplaatpercussie. De twee gebruiken de studio als smidse; smelten om, hameren, buigen, gieten, scherpen. Monstrance is het resultaat van noeste arbeid in verhitte temperaturen; van flukse keuzes maken en inspiratie, door hoofden en handen die steeds gestuurd worden door kundige ambachtelijkheid.
Monstrance werkt met drones van epische proporties en gewicht. Gedachten gaan uit naar een wandeling door een veld waar een groot werk van Richard Serra staat. Ertussen lopend voel je de verpletterende macht van de stalen platen; je hoeft maar omhoog te kijken om het licht van de lucht te zien en voelen: of drukt die, hoe etherisch ook, even zo goed neer? Zo neigt deze plaat tussen verduisterende monumentale massaliteit waardoor de grond elk moment onder je voeten weggeduwd lijkt te kunnen worden en een zekere hemelse verlossing.
Vainio en Nordwall schilderen als in Gerhard Richters Grau Bilder laag op laag zonder zelfs zwart of wit. De twee kruipen onplezant beklemmend onder de huid en openen vergezichten op een kaal en kapot landschap als een immens verlaten en in onbruik geraakt industrieterrein waar zij ronddolen als enige levende wezens. Het licht is niet aan of uit, maar flikkert, voortdurend en ongemakkelijk. [Sven Schlijper]
Essmaa (France):
Les bourrasques et les nuages de poussières de deux premiers morceaux.
Tornades sonores au centre des quelles gémissent les guitares,
affairées dans l'ascension de l'édifice.
Puis c'est le calme.
Celui, que l'on trouve en refermant la porte lourde.
Celui, qui insidieusement accompagne les pas dans la nef.
Les flammes chancelantes. La luisance cireuse.
L'infinie solitude s'abat sur les statues de marbre.
Sur le promeneur.
Le calme capricieux attrape.
Cette couleur envahit l'espace, la tête.
Prendre une porte dérobée
Dehors, il y a une promesse de soleil
des bras pour recueillir
Rockdelux (Italy):