CD – Jewel case – 7 tracks
Artwork & photography: Jon Wozencroft
Sequenced and mastered by Russell Haswell
Track list:
1. The Void
2. The Expanse
3. Dry Land
4. Lights
5. Creatures of Sea and Air
6. Beasts of the Earth
7. Rest/Reflection
Local preoccupations with rising sea levels fuel Diluvial – a work that dwells on the dynamics of flood geology and global warming; creation stories and climate change. Diluvial is an evolving soundscape and environment by Bruce Gilbert and Beaconsfield ArtWorks (David Crawforth & Naomi Siderfin). This work was initiated on the Suffolk coast for Faster Than Sound, Aldeburgh 2011 and then developed for a show at Beaconsfield, London later that year.
Taking rising sea levels as its theme, Diluvial imagines the world before, during and after the next great flood, referring to an ancient, ex nihilo interpretation of global warming. Field recordings from beaches in Suffolk and London, conceptual scoring, visual installation and sonic performance fuelled Diluvial's evolving soundscape, alluding to the mythical seven days of Creation. Diluvial was a compositional collaboration in three iterations between Bruce Gilbert and BAW (David Crawforth and Naomi Siderfin).
Synthesised sound generated by Gilbert and Crawforth in response to Siderfin's score and iPhone field research, was assembled over seven weeks into an electroacoustic composition: The Void, The Expanse, Dry Land, Lights, Creatures of Sea and Air, Beasts of the Earth, Rest/Reflection.
Bruce Gilbert is a founding member of the influential art-punk band Wire and a pioneer of experimental noise. He studied art and found a niche in the late 1960's avant-garde music scene and continues to work as an iconic figure. He makes visual and sonic works in a range of media.
David Crawforth and Naomi Siderfin – Beaconsfield Art Works – have been collaborating on experimental solo projects since they co-founded Beaconsfield in 1994. Their art interventions have exhibited internationally and whether installation or performance, almost always involve sound.
The development and exhibition of Soundtrap V: Diluvial was generously supported by PRS Foundation, Arts Council England, Big Shed and Hydrosphere.
Buy Bruce Gilbert & BAW "Diluvial" [CD] in the TouchShop

www.beaconsfield.ltd.uk/soundtrap

Reviews:

Neural (Italy):
Bruce Gilbert's name is not new to those lovers of the punk-rock sounds that emanated from the English suburbs at the end of the 70s. It is impossible to forget Wire, one of the most surly and quasi-intellectual bands of that scene. Gilbert, guitarist and main protagonist, was a student at the Watford Art Academy where the band took its first steps. Now, after a considerable period of time, the former punk is re-engaged in the form of an experimental composer. In this work for Touch he is joined by Beaconsfield ArtWorks (David Crawforth and Naomi Siderfin), a combo he worked with in 2012, focusing on themes such as geological dynamics, climate change and global warming. This Diluvial is an elegant metaphor of a sound landscape in continuous evolution, an image of the world before, during and after the next great flood. Field recordings captured in Suffolk and London deliver an inner universe of dystopian threads. The only space that really speaks about ourselves is the inner world: "the object of fruitful explorations", as Ballard said. The "new waver" of the contemporary also submitted that "the only planet really alien is the Earth", the scene of our existence, where all human vicissitudes take place. To care about the state of health of our planet, even only ideally, means to care about ourselves and to imagine new possible lands and futures. Environmental concerns, however, apparently do not overcome the conceptual need for "new landing places", the authoritative right to maintain a sadly beautiful and contaminated nature.
and

Brainwashed (USA):
Gilbert has not been a prolific solo artist even after departing from Wire, but whenever he has released new material, it has been of the utmost quality, and this record is no different. A concept album on global warming and floods in collaboration with Beaconsfield Art Works (David Crawforth and Naomi Siderfin) is no different. Mixing treated field recordings and electronic instrumentation, Diluvial is another high water mark in his impressive discography.
On pieces such as "The Void," the field recordings are either processed beyond recognition or are entirely absent, as the focus is on melodic drones that have a distinctly mournful mood them. Bits of static and interference come through but on the whole it is a subtle composition of understated melody and beauty. "Lights" has a similarly electronic approach, mixing dark low frequency tones with ring modulated noises and crackling static. Even when the more dissonant elements take over in the second half, it always shows admirable restraint. In Esse this most certainly is not.
The natural recordings do appear clearly on "The Expanse," in the form of hollow, metallic rainfall that follows aquatic sounding oscillator passages. The closing half of the 12 minute composition is especially gentle, capturing just the most subtle sounds of water that are almost inaudible. The exact opposite atmosphere is drawn on "Dry Land," in which what could be arid desert winds are paired with subtle clicks and vibrations, and perfectly matching the imagery of the title.
"Beasts of the Earth" also goes for the literal interpretation of its name, with both recorded nature and synth derived insects swarming, as is the use of actual and virtual bird calls on "Creatures of Sea and Air." Like "The Void," "Rest/Reflection" also drops the field recordings to focus on depressive, echoing electronics that perfectly channel darkness and disaster without succumbing to cliché tactics.
The aforementioned "Rest/Reflection" ends Diluvial on a perfect note, as that final composition has the ideal balance of tension and pensiveness. Gilbert, Crawforth and Siderfin manage to capture a significant number of themes, both historic and modern, throughout this album. Creation myths and social advocacy aside, the music contained here stands on its own and serves as a reminder just how brilliant Bruce Gilbert is as an artist, and that his genius has shown no signs of reduction as time passes. [Creaig Dunton]
pinkflag.com (The official Wire forum):
I purchased it from Touch as I like physical product, but also enjoyed being able to immediately download it. Remarkably different from what I was expecting. Not so harsh with considerable environmental field recordings thrown into the mix. While no rhythms are present, it is musical and sounds like what it is supposed to be: an allusion to the seven days of creation… a concept album. On my second listen and am finding it be perhaps Gilbert's most intelligent release ever. Remarkable, full, long (9-13 minute) soundscapes and nothing like any of his previous works. It is a collaboration and I gather the field recording aspects of it are attributable to BAW (Beaconsfield ArtWorks) while Gilbert scored it. In that regard, it reminds me of his soundtrack work for Downriver, only better. In fact this is so good, it is probably his best work to date. I really like the logic of it… each immense track evolves into the next (although there are distinct track separations). Quoting from the liner notes: "Taking rising sea levels as its them, Diluvial imagines the world before, during and after the next great flood, referring to an ancient, ex nihilo interpretation of global warming." [specotron]
Headphone Commute (UK):
With the basic material including field recordings from beaches in Suffolk and London (recorded by Naomi Siderfin, half of Beaconsfield ArtWorks), Diluvial originates from "local preoccupation with rising sea levels – a work that dwells on the dynamics of flood geology and global warming; creation stories and climate change". The basic material may consist of field recording of natural sounds, but the synthesized sounds generated by Bruce Gilbert (founding member of art-punk band Wire and a pioneer of experimental noise) and David Crawforth (the other half of BAW) in response to those recording take it to a completely different electroacoustic level. The result is a 74-minute soundscape, divided into seven tracks "alluding to the mythical seven days of creation", guided by the track titles "The Void", "The Expanse", "Dry Land", "Lights", "Creatures of Sea and Air", "Beast of the Earth" and "Rest-Reflection" – the latter being the only one featuring traces of rhythm. Diluvial was originally created as a Soundtrap V performance for in 2011, but we can consider ourself very lucky that the specialised Touch label has decided to release this album separately. Field recordings and the fear of a devastating flood due to sea levels rising faster than expected have never been recorded and interpreted more hauntingly than this! For more from Gilbert, check out his 2009 release, Oblivio Agitatum, on Editions Mego, as well as In Esse (Mute, 1997) and Ab Ovo (Mute, 1996).
Monsieur Délire (France):
Collaboration sur le thème de la hausse du niveau des océans, entre Bruce Gilbert (Wire, Dome) et le duo Beaconsfield ArtWorks (David Crawforth et Naomi Siderfin). 73 minutes de paysages sonores sombres, parfois menaçants. Courbe d'écoute bien maîtrisée, belle profondeur, musique totalement immersive (sans jeu de mots). Il est rare que Gilbert s'avance aussi loin dans l'électronique expérimentale ambiante, et c'est réussi.
A collaboration on the theme of rising sea levels, between Bruce Gilbert (Wire, Dome) and the duo Beaconsfield ArtWorks (David Crawforth and Naomi Siderfin). 73 minutes of dark, occasionally menacing soundscapes. Well-mastered listening curve, nice depth, totally immersive music (and it is NOT a play on words). Gilbert has rarely gone this far into experimental ambient electronic music, and it is a successful foray.
Debug (Germany):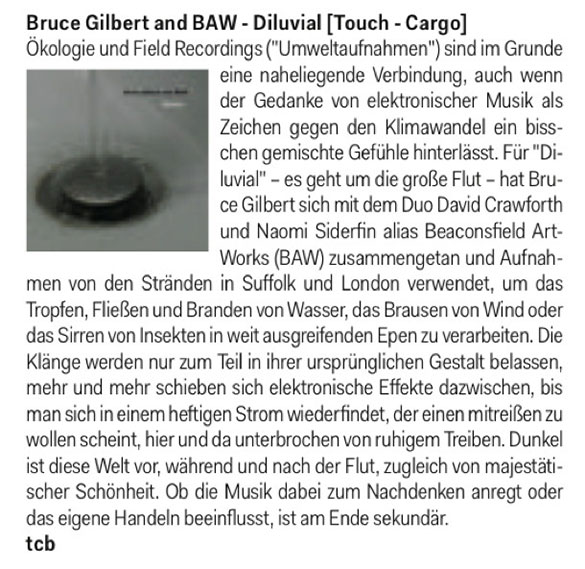 Documentary Evidence (UK):
After a summer routinely described by the red tops as a scorcher, it's easy to overlook global warming as a problem; judging by the peeling sound of ice cream vans, young tattooed guys with their shirts off and shots of Brighton beach with more or less every pebble occupied by sun-worshipping daytrippers, the concept of unprecedented changes in the global ecosystem couldn't be further out of focus. Yet it's precisely because of that environmental change that the UK and other parts of the world have started to experience freakish, non-characteristic weather changes of late, why polar regions are melting at unprecedented rates and why talk of consequent rising water levels are not to be ignored.
Such considerations should be front and centre of your thoughts as you listen to Diluvial, Bruce Gilbert's collaboration with Beaconsfield ArtWorks duo David Crawforth and Naomi Siderfin. Diluvial depicts life before, during and after what climate change experts regard as the inevitable great flood, with themes spread across seven discrete tracks. The tracks were recorded over seven weeks using field recordings taken from beaches in Suffolk and London, and the recurring focus on the number seven is down to Genesis and the Creation story. Further reading: JG Ballard The Drowned World and the more portentous sections of the Bible.
Originally realised for Faster Than Sound in 2011, Diluvial moved to the Beaconsfield gallery (co-founded by Crawforth and Siderfin) in London last year. The piece saw Gilbert and Crawford creating synthetic sounds and textures in response to a score and iPhone field recordings provided by Siderfin. Somewhat inevitably, given its focus, the piece expands from near-tranquility and a serene mill pond calm, but by 'Dry Land' the storms have broken and a controlled, devastating chaos has consumed proceedings, only for calm to then once again descend on the world – but a world fundamentally changed from where it started. Drones, scratchy static, hissing noises like electronically-processed tree frogs. insistent pulses designed to sound like water droplets and thunderous noise are deployed to evoke the subject matter, sounding both natural and completely manmade simultaneously; in that electronic soundworld we see the enduring conflict between mankind's relentless industrial progress and nature's pre-eminence, the former leading to the ascendancy and ultimate triumph of the latter. The concluding track, 'Rest/Reflection' has the trace echo of a discernible rhythm, sounding like a more organic take on Wire's 'Small Electric Piece'.
To use a word like immersive when describing Diluvial would seem horribly glib, but, given its concerns about water flooding the world, it feels quite appropriate in the circumstances. As a purely ambient work it has similar dark, industrial style angles to some of the work by The Hafler Trio but it brings with it a latent sense of terror and impending, unstoppable destruction. In much the same way as the confluence of sound, creative camera work and a careful appreciation of the mechanics of fear made the shower scene in Psycho capable of making people switch to baths instead, if you're remotely scared about water levels or environmental disaster then Diluvial is likely to induce a major anxiety attack; if you're not scared of those things, take a good listen to this, think about what it's vividly depicting and learn how to be afraid.
Loop (Spain):
This is a collaboration between former member of the art-punk band Wire and Beaconsfield ArtWorks formed by David Crawforth and Naomi Siderfin. This work started in 2011 in the Suffolk coast for Faster Than Sound from Aldeburgh, United Kingdom, and then was performed in Beaconsfield, London, later that year.
This album is based on global warming and its effects on rising sea levels and possible flooding that could happen worldwide.
'Diluvial' refers to what happens before, during and after the great flood and its seven pieces: 'The Void', 'The Expanse', 'Dry Land', 'Lights', 'Creatures of Sea and Air', 'Beasts of the Earth', 'Rest/Reflection', allude to the seven days of Creation.
For this work were made field recordings obtained in the beaches in Suffolk and London, visual installation and sonic performance that deploys different soundscapes. The synthesized sounds are made by Gilbert and Crawforth alongwith Naomi Siderdin scores and field recordings recorded with an iPhone. All this came together to make it an electroacoustic composition.
Soundscapes are a vital component in this album that interprets the creation of the world and there is in them an aura of mystery and deepness to get to that point where it was nothing ('The Void'); through penetrating drones. From nothing to everything ('The Expanse'), the vital element appears to support life, water. A few drops that are processed expand through the infinite space. Wind and other synthetics noises show a bleak and cold landscape ('Dry Land') where there is very little life. Compressed sounds are alternated with those that expand and slide on the environment ('Lights') and with a similar texture, 'Creatures of Sea and Air' unfold a steady drone and some underground tunes. On 'Beasts of the Earth' is appreciated in some point birds and insects recordings that are processed and has a dark atmosphere in the background. The last track of the album 'Rest/Reflection' continues the tension of this record between ambient and abstract sounds. [Guillermo Escudero]
Le Son du Grisli (France):
Ce sont sept pièces – et pas six, ni neuf ou treize, la faute à Russell Haswell, qui a tout découpé (sequenced) alors que Diluvial aurait pu faire une seule plage qu'on n'aurait pas vu la différence – dont Bruce Gilbert (c'est la rentrée, et Gilbert est encore prof principal ?) et BAW (pour le Beaconsfield Artworks de David Crawforth et Naomi Siderfin) nous gratifient.
Gratifient, j'ai bien dit ! Loin derrière, le passé pop-ambient-indus de Gilbert (en solo, je parle) ; loin devant, les visions de BAW. Alors voilà que se lève un rideau de fumée, l'ambient rampe sur quatre coudes, les bruissements opèrent comme jamais (comme toujours ?). Le plus de la chose réside dans les graves, dans les silences, dans les éléments inattendus (harmonica, grands vents, criquets inframodernes…). Pas assez orgueilleuse, la collaboration se dit "diluvienne". Elle se nourrit d'eau (forcément), mais aussi de profondeur et de peuples grouillant qu'elle accueille. Pas assez orgeilleux, le titre de cette collaboration ne dit pas ce dont il est capable : vous envoyer (valser) l'arche de n'importe quel Noé à trois millions de coudées. Pour les simples d'esprit (tout heureux qu'ils sont) : c'est beau, très beau.
VITAL (Netherlands):
In my formative years, low on cash, I had to make choices as to what to buy and what not. I kept reading about Wire, but never bought their records when they came out. I am not sure why, other than the short on cash routine. However I got into the solo records of Gilbert & Lewis, one half of Wire, as Dome, Cupol and such like. Maybe I was into the experimental music more then into the more rock/post punk thing of Wire. Throughout the years I kept my ears wide open for any solo work of Bruce Gilbert, although I readily admit I wasn't blown away by his more noisy output. He's no longer a member of Wire, and only very sparsely releases new music, but here he teams up with a duo called Beaconsfield ArtWorks, short BAW, which is David Crawforth and Naomi Siderfin. Their album has global warming/the rising of sea levels as it's central theme, and all of the sound is generated from field recordings made at beaches in Suffolk and London, 'conceptual scoring, visual installation and sonic performance', into seven tracks – think the seven days of the creation, or perhaps Stockie's opera of seven days. Siderfin made the score and 'iphone field research', while Gilbert and Crawforth responded with 'synthesised sound'. While I am not sure about the recording process as such – either the work of improvisation or meticulously composing; it could be either way – I must say that every time I play this release, and it has been a few times in the past week – this grows and grows on me. Delicate and subtle electronic drone music, which is carefully constructed, and which somehow fits the theme of rising sea levels quite well. The music has a similar back and forth character of sea waves, not quick, not loud, but calm and introspective, but yet it seems to be on a rise all along. The electronic music imitates, or seems to do so, sounds from nature – sea, insects, wind – and it works in a great way. Every time I play this I discover new elements. Great stuff. I didn't exp ect something different from Bruce Gilbert. [Frans de Waard]
Exclaim (Canada):
Although Bruce Gilbert is primarily known for his guitar work with his former band, Wire, the English native has been heavily involved in the visual and performance arts scene since the early '70s. Bruce's latest project, Diluvial, is a high concept (sometimes indistinct) collaboration with sound artists David Crawford and Naomi Siderfin, of Beaconsfield ArtWorks (BAW). Reinterpreting Siderfin's score and field recordings, Gilbert and Crawford crafted seven electroacoustic soundscapes constructed upon themes concerning climate change and creation stories. As a single element in an installation, Diluvial holds up well, spreading wafting silence and sprawling minimal movements across much of the hour-plus LP, as Gilbert and Crawford follow similar ebb-and-flow methods to flesh out each track. However, it's Gilbert and Crawford's singular focus and immaterial acceptance of Siderfin's stock footage that make Diluvial a captivating and intriguing piece of art. [Eric Hill]
Sound of Music (Sweden):
Diluvial är mer än en titel. Det är även en programförklaring. För här handlar det uteslutande om vilken effekt den globala uppvärmningen har på vår jord, framförallt när det handlar om vad den gör med havet och vattnet. Att isarna smälter och att havsytan höjs varje år verkar vi människor ha accepterat. Den här skivan tonsätter den stoiskt lugna, lätt uppgivna stämning som många intagit. Det är ingen protestskiva som uppmanar till aktion – ut på havet och kapa fartyg! Nej, inget sånt. Snarare melankoliska stycken av gråblå elektronik som blandas med ljudinspelningar från havet (stränder i Suffolk) och storstaden (London).
I enlighet med skapelseberättelsen fick det bli sju musikstycken motsvarande veckans sju dagar. Efter att fältinspelningarna var gjorda ägnade Bruce Gilbert och David Crawforth sju veckor åt att spela in den elektroniska stommen.
Detta kunde som sagt vara en skiva med större dramatiska gester – det är vårt hav och våra liv! – det kombineras också med kristendomens skapelseberättelse – kan det bli mer storslaget? – men den saknar nästan helt stämningslägen i den stilen.
Försiktigt klingar den elektroniska väven ut ur maskinerna. Den sveper stillsamt, smått hotfullt ut ur högtalarna. Vatten porlar, man anar en våg skvalpa i bakgrunden. Det är en nödvändig och fascinerande kommentar till ett stort världsproblem. Utan att för den skull bli för självmedveten och uppblåst. [Mats Almegård]
Other Music (USA):
Many still know English musician Bruce Gilbert for the band he helped found, Wire, and for good reason: It's not easy shedding the seminal role he played in one of rock's all-time great groups, even if he left the art-punk outfit nine years ago. (Wire is still active and still releasing terrific music.) But Gilbert has been a busy electronic/avant-garde composer since the 1970s, releasing many great albums for Mute, Editions Mego and Table of the Elements. Now he's teamed up with the duo BAW (Beaconsfield Art Works) for a compelling new record for the Touch label, Diluvial, easily one of the year's best electronic releases. It's a concept album of sorts, a soundscape connecting the urgency of modern climate change with biblical themes of creation and the Great Flood. The music, as one could imagine, is intense and forbidding, with Gilbert's punishing synthesizer mixed with BAW's field recordings and additional laptop work. The seven pieces are musical counterparts to the Old Testament's seven days of creation, and the results are dazzling, alternately eerie, hypnotic and lovely. The first track, "The Void" opens quietly and builds to a crescendo of jagged rhythms and lush synths; "The Expanse" is 12 minutes of minimalist drips and drops; "Lights" has a crackly warmth that brings to mind the best work of Mountains; while "Beasts of the Earth" powerfully evokes images of swarming locusts and destruction. We've heard electronic music inspired by the sea and nature before, but nothing like what Gilbert & Co. have created here, a polemical soundtrack to the end times that makes ecological disaster and biblical plagues beautiful and haunting. I'll be playing Diluvial when the next hurricane hits. [JBr]
Obskure (France):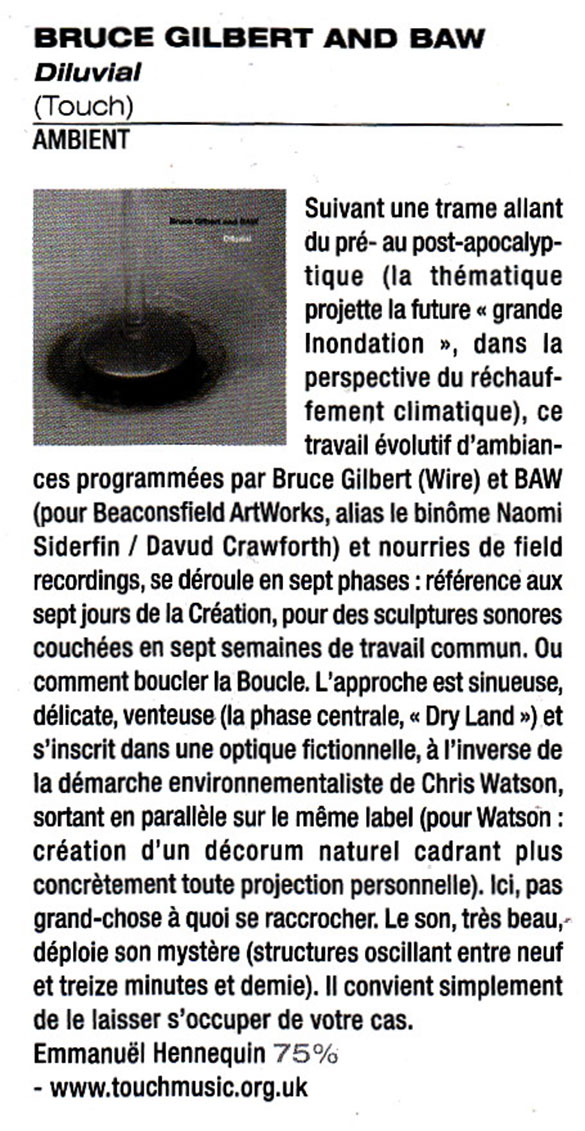 The Wire (UK):

Sonic Seducer (Germany):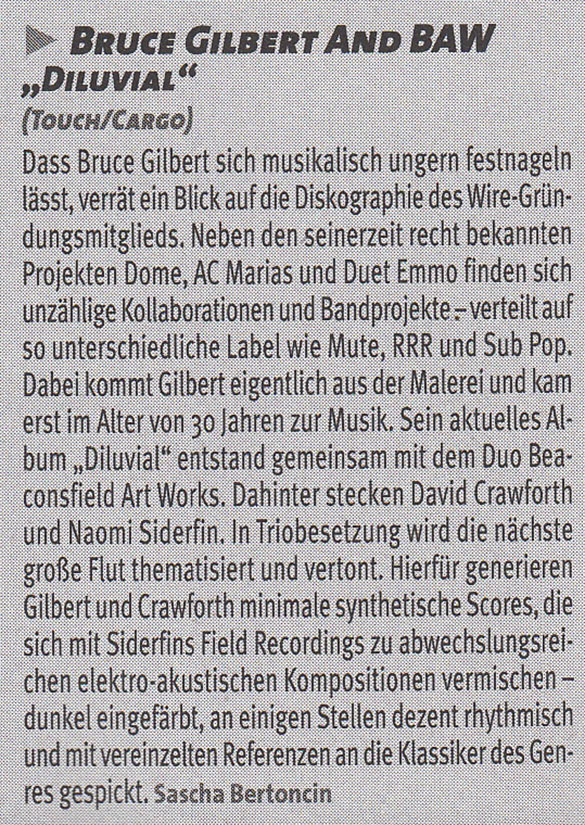 RTE (Spain):
Os presentamos ahora un trabajo muy logrado de música electro-acústica, grabaciones de campo y sonido sintetizado de Bruce Gilbert en colaboración con BAW (el dúo de David Crawforth y Naomi Siderfin). "Diluvial" conecta una preocupación ecológica de hoy día como es el aumento del nivel del mar como consecuencia del calentamiento global, con el antiguo y mitológico Antiguo Testamento que proponía la creación en 7 días y la gran inundación. El álbum fue creado a partir de grabaciones de campo realizadas en las playas de Suffolk y Londres e instalaciones visuales y performances.
Musik an Sich (Germany):
Bruce Gilbert hat seine musikalische Karriere Ende der Siebziger im Punk begonnen, er war Gründungsmitglied der Kultband Wire.
Mit diesen hat sein heutiges Schaffen im elektronischen und Ambientbereich nur wenig zu schaffen, jedoch begab er sich bereits ab Anfang der Achtzieger mit den verschiedensten Künstlern aus dem musikalischen wie auch anderen künstlerischen Breichen auf die Suche nach neuen Klangbildern im Bereich der Elektronik und der Klangart.
BAW sind David Crawforth und Naomi Siderfin, das Duo betätigt sich seit Mitte der Neunziger Jahre im Bereich des "Fieldrecording" und der Elektronik.
Diese Kombination legt nun Ihre erste gemeinsame Zusammenarbeit, das Album Diluvial vor.
"The Void" leitet das Album mit einem dunklen, sonoren Ton ein über den sich dann langsam und mitunter kaum hörbar Klangwelten entwickeln. Es gelingt diesem Stück obwohl es im Kern nur aus einem Ton besteht, trotzdem eine sanfte Eingängigkeit zu entwickeln und somit den Hörer einzufangen. "The Expance" arbeitet zunächst mit scheinbar unsortiertem elektronischen Geräuschen bevor sih hierüber eine dunkle elektronische Soundlandschaft bildet. Unter diesem auf und abschwellenden elektronischen Dronegeräusch verwandeln sich die Geräusche in zunächst wirre Klänge bevor ein Gewitter diese Sounds abbricht und anschließend nur Wassertropfen überbleibt.
Der Klang dieses Tropfens wird anschließend elektronisch variiert und es entsteht so eine unwirkliche Soundlandschaft. Die Soundeffekte ebenso wie die Raumklangeffekte dieses Parts sind unglaublich schön und können zu einer tiefen Entspannung beim Hörer führen.
"Dry Land" beginnt mit unheilvollem elektronischen Knacken, welches in Sturmgeräuschen mündet. Diese beenden auch den Track, unterstützt von elektronischen Klängen und Halleffekten. Der Übergang zu "Lights" ist ein dunkles, sonores elektronisches Dronegeräusch – wenig passend zum Titel aber sehr beeindruckend. Es mischen sich nach und nach elektronische Sounds und Fieldrecordings dazwischen, deren Zusammenspiel eine seltsam Anmutende Melodie entwickeln.
Auch die restlichen vier Stücke arbeiten nach ähnlichen Mustern und bauen erstaunliche Stimmungen auf. Diese Art der Musik zu beschreiben ist sowieso recht schwierig, denn viele Hörer werden es gar nicht als solche empfinden.
Diluvial ist jedoch ein recht leicht zugängliches Album, denn den Künstlern ist es gut gelungen, die großen Soundlandschaften zusammen mit den Fieldrecordings verschmelzen zu lassen und Spannungsbögen und sogar Melodien in Ihre Tracks einzuarbeiten. Das Album bleibt nicht wie viele ähnlich gelagerte Alben im (eigenen) Geräusch stecken.
Diluvial" ist wunderbares Kopfkino zum Lesen und Entspannen. Und die Klanglandschaften überraschen mit Ihren Stereo und Raumeffekten immer wieder aufs neue, somit wird das Werk insbesondere unter dem Kopfhörer ein echter Klang-Hochgenus. [Wolfgang Kabsch]
Whisperin' & Hollerin' (UK):
A single, almost subliminal drone hovers for an eternity, interrupted only by vague crackles of digital distortion, forms 'The Void'. This alone is almost sufficient to induce a fugue-like state. Slowly, you become attuned to the details, the textures, the resonances and irregularities in the sounds.
'The Expanse' lives up to its title, 12 minutes of sound of indeterminate – but possibly liquid – origin, circling around and pushing almost imperceptibly into the listener's psyche. Subliminally penetrating and curiously powerful.
Chain D.L.K. (USA):
Many electronic musicians plugged their arts in thinking caps about cosmogonical hypotheses, fortunetelling of mankind or the edging forward of impending wipeouts and this tendency has been experiencing an exponential growth curve which seems to follow the curve trend of decreasing natural resources, boom-and-bust cycles and similar drifts after cultural miliar stones such as Philip Glass score for Koyaanisqatsi and so on. This new ring of that chain comes from former Wire guitar player Bruce Gilbert and Beaconsfield Art Works, the collaborative brainchild by David Crawforth and Naomi Siderfin, whose sonic reflections about climate changes, global warming, flood geology and parthenogenesis of the universe happens at the right moment just after the scorching heat of summertime, the beginning of autumn and the upcoming of first cloudbursts.
Seven long immersive tracks, an understandable reference to the biblical manufacture by a divine Stakhanovite, have been composed over seven weeks from some field recordings on the Suffolk coast on the occasion of Faster Than Sound, Albeburgh, in 2011, and some upgrades for a show at Beaconsfield, London, by the implementation of spellbinding synthesized sounds by Gilbert and Crawforth into Siderfin's score and iPhone field research, which starts from the primordial soup of the initial "The Void" and ends with the final "Rest/Reflection" by sweeping across halway marks such as the protozoic swarming and the birth of oceans evoked by "The Expanse", whose water drops in the second half of the track features a remarkable work on spacey sonorities, the entrancing sandstorm which spans the listening time of "Dry Land", the subtle photonic bodies which gradually radiates on "Lights" by throwing light on the upcoming spheric scale model and their apogean beings on the following tracks "Creatures of Sea and Air" and "Beasts of the Earth". This monumental sonic cosmogony, the fifth release of Beaconsfield's sonic series Soundtrap, cannot be but tiled "Diluvial" and got supported by PRS Foundation, Arts Council England, Big Shed and Hydrosphere.
Blow Up (Italy):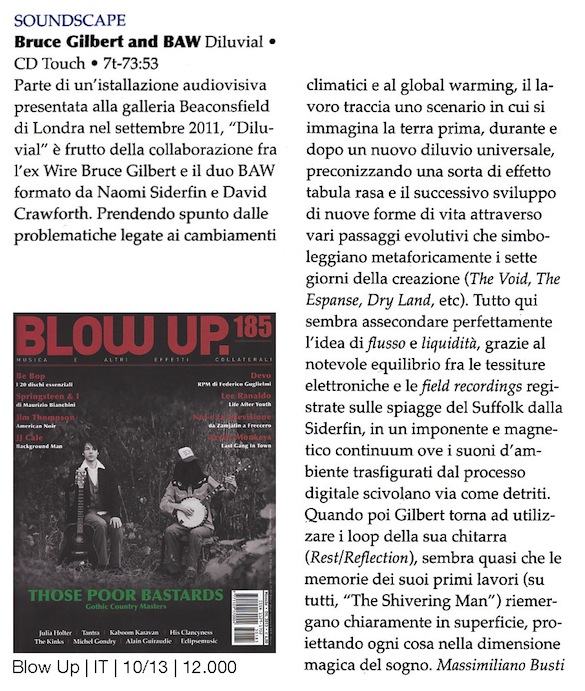 Rockerilla (Italy):

Ox (Germany):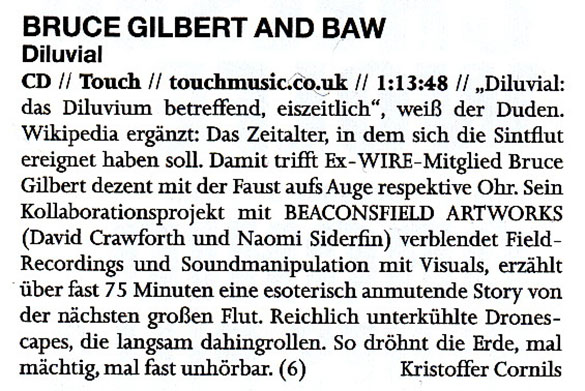 Essmaa (France):
Il y a, en faisant un effort, en plissant les yeux, une cahute à l'ouest du soleil. Là-bas, à l'horizon. Je ne la voie pas. Ma conviction parle pour moi. Froid et de pluie noire. Le vent flagelle le visage. La pluie pique comme une armée d'aiguilles. L'eau goutte sur la glace. La glace rampe sur le sol. Le sol est limaille. Les herbes se font javelots, lames. Alors, on referme la porte. On calfeutre l'entrée, les fenêtres. Et l'on écoute la complainte du néon vacillant sur son vague à l'âme. Qu'en cela va t'il finir ? Quand reprendre le chemin, pour remonter sur le promontoire. Voir au delà de cette masse grise, à l'ouest du soleil. Alors, sur "Rest/Reflection" (dernier morceau), on devine l'accalmie. Par la fenêtre, la lumière impose un nouveau cycle sans nuances. Il est temps, de refermer la porte et de partir dans un soupir de soulagement. Dans une nouvelle respiration.
Hawai (South America):
El vacío y el sonido del mar. Las corrientes oceánicas se desplazan entre el suelo en declive, inundando cualquier relieve vertical. Ese es el poder del agua, invadir cualquier espacio, por infranqueable que este sea, por aislado que este pretenda ser. Tres cuartas partes de nuestro hogar que tomamos prestado es habitado por flujos acuáticos. Sin embargo, cada vez más la proporción es mayor, y las mareas poco a poco nos llevan a hundirnos en el suelo bajo el nivel del mar. Ese es el leitmotiv de la nueva creación de tres artistas ingleses. BAW son David Crawforth y Naomi Siderfin, Beaconsfield ArtWorks, dos personas que han estado colaborando desde que en 1994 fundaron Beaconsfield, proyecto artístico dedicado a la creación de instalaciones, exhibiciones y presentaciones, casi siempre involucrando sonido en ellas. La historia de Bruce Clifford Gilbert es mucho más amplia, primero como parte de la escena avant-garde hacia fines de la década de los sesenta, y luego formando Wire, la banda de art-punk británica. Sin embargo, su presencia no se limita solo a ello: varios proyectos como Duet Emmo, Dome, Cupol, IBM, y más de una decena de obras en solitario conforman en cuerpo artístico de Gilbert, siempre desde la vereda más arriesgada del sonido.
"Preocupaciones locales con los crecientes niveles del mar inspiran 'Diluvial', un trabajo que reside en las dinámicas de la geología de las corrientes marinas y el calentamiento global, historias de la creación y el cambio climático". Este trabajo conjunto ha atravesado por tres etapas que culminan recién ahora: primero una presentación/instalación en la costa de Suffolk en mayo de 2011, como parte de 'Faster Than Sound' (Aldeburgh), luego una exhibición en septiembre/octubre de ese mismo año en Beaconsfield, Londres y, finalmente, una edición física en CD publicado en septiembre de este año a través de Touch. Tres ciclos por los cuales estos sonidos han circulado, un torrente de agua moviéndose entre crecientes de materia líquida. "Field recordings de las playas de Suffolk y Londres, una partitura conceptual, instalación visual y presentación sónica inspiraron el envolvente paisaje sonoro de 'Diluvial'… Sonidos sintetizados generados por Gilbert y Crawforth en respuesta a la partitura de Siderfin y una búsqueda de campo por iPhone fue ensamblada a lo largo de siete semanas en una composición electroacústica". La materia prima resultante de este proceso fue posteriormente secuenciada y masterizada por Russell Haswell, desembocando en "Diluvial", un torrente de ruido y electrónica compacta y abrasiva. Siete largas piezas alusivas al mito de los siete días de la Creación, que construyen un relato unitario, por donde circulan extensas notas inmóviles, notas que a veces no son tal. El sonido es expuesto en su estado más puro y prístino, con una claridad abismante. Electrónica transparente y melodías lineales, notas horizontales que se ven infectadas por partículas de audio como manchas oscuras sobre un fondo azul. Un movimiento extenso sobre un plano amplio se propaga inmutable, diseminando el estruendo fuerte y aquietado de las mareas anchas. Es el inicio de los tiempos, el vacío antes de todo, "The Void". Un espacio completado con la calma y, con ella, pequeños estruendos que actúan como un virus contaminando sus flujos. Aquel virus sigue infiltrándose en las redes de "The Expanse", más un documento manipulado sobre las crecidas sigilosas. La onda expansiva viene más propiamente con "Dry Land", o cómo el agua se apodera del territorio que se encuentra sobre su superficie. Una envolvente pieza de ruido ambiental imparcial, olas enormes de audio que se suceden una tras otra, impulsando la materia sólida hacia fuera de su terreno. Espacios desiertos cubiertos de una masa fría, sonidos congelados que parecen ser sacados de las profundidades abisales donde no ingresa ni siquiera la luz. Hielo incandescente de resonancias dilatadas. Los estados de calma retornan con "Lights", trece minutos de noise intrincado: una compleja red de notas en discordancia sustituyen a la paz inicial, enredándose en la belleza del desconcierto multiplicado por su efecto desorientador. Momentos para sentirse perdido en su entramado electroacústico. Desde fuera simula ser un monótono paisaje, desde dentro es una maravillosa panorámica de sonidos sintéticos y ruido artificial. Son directrices largas, pero en movilidad permanente, notas amplias que se cruzan, notas hechas de plástico y aleaciones que se desintegran a una velocidad eterna, formando un impredecible futuro. "Creatures Of Sea And Air" y "Beasts Of The Earth" contiene pequeñas criaturas que invaden las superficies llanas. El plástico es encendido en llamas, y su crepitar es el sonido que hace eco en estas piezas de electrónica concreta y áspera. La rugosidad permanece en la pieza final, "Rest/Reflection", pero a medida que avanza se va transformando en una atmósfera densa y menos inquieta. Notas ambientales y loops de lenta desfragmentación, un ritmo agotado que apenas logra percibirse. Es el descanso último de una obra asombrosa, que esconde más lugares de los que aparenta, millones de puntos que emergen en sus líneas alargadas.
El vacío. Descanso/reflexión. "Diluvial" es un enorme documental sobre como las aguas avanzan sobre el suelo que se posa sobre ellas. Y lo presenta a través de enormes piezas de sonidos sintéticos, extensos trazos dispuestos de forma amplia y pequeños accidentes que en su movimiento errático hacen crepitar las capas de notas artificiales. Bruce Gilbert, David Crawforth y Naomi Siderfin construyen un hermoso tejido de electrónica acústica y ruido concreto.
The New Noise (Italy):
Il gigante Bruce Gilbert su Touch alle prese coi problemi climatici, specie l'innalzamento del livello dei mari. Collabora con lui il duo BAW (David Crawforth e Naomi Siderfin), che gli fornisce, rielaborandoli assieme a lui, i field recordings "naturali" dai quali partire per questo disco. Diluvial, sin dal titolo biblico, non è un documentario audio, piuttosto un lavoro con la sua buona dose di artificio, dai drone e dalle pulsazioni profonde alle linee di synth e all'assoluta necessità di godere in cuffia di certi giochi sulle nostre facoltà uditive, che trasformano pioggia e vento da noiosi episodi quotidiani a tragedia. Ed è proprio vero, anche se un po' cheap, quello che hanno scritto in molti: il nome di Gilbert (siamo onesti), la sua classe e la consapevolezza estetica dell'etichetta di Jon Wozencroft ci aiutano a farci forza per entrare dentro l'ennesimo lavoro frutto di determinate tecniche (qui le registrazioni iniziali sono state fatte con un iPhone…). L'abilità di quest'uomo come regista è spaventosa: riesce a dare l'idea del movimento, dell'apertura verso paesaggi vastissimi o dell'immersione in acque profonde, e sa trasfigurare ciò che è naturale in qualcosa di più astratto e spirituale. Il suono delle "creature del cielo e della terra" (la quinta traccia) può diventare altro da sé, onirico e spettrale, ma seguire anche il percorso inverso per scuoterci ancora e farci tornare alla realtà. Basta proprio lasciarsi tirare dentro un attimo.
Gonzo Circus (Belgium):

Rock-A-Rolla (UK):

Revue et Corrrigé (France):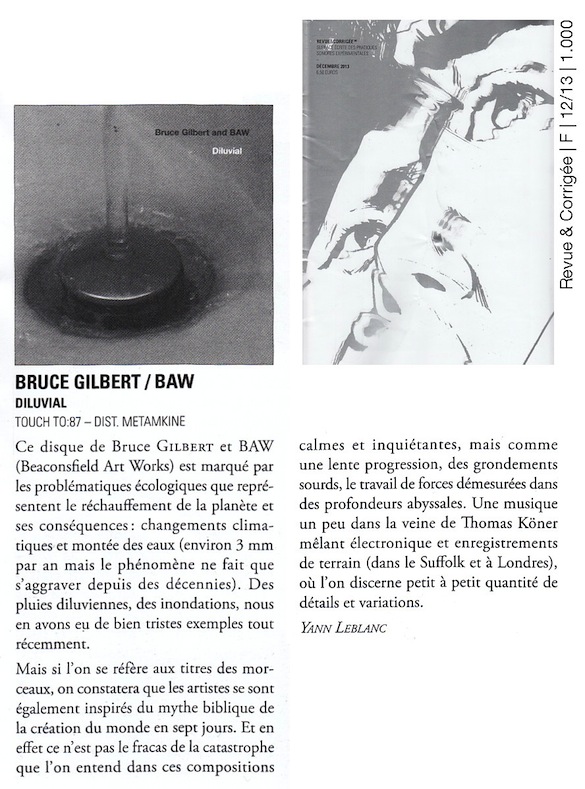 Pop Matters (USA):
Diluvial might be Bruce Gilbert's most ambitious work since leaving Wire. Recorded in conjunction with BAW (Beaconsfield ArtWorks, London), this is an album that easily dwarfs Gilbert's last two releases. It's expansive in pretty much every sense of the word. It's lengthy—of the seven tracks, the shortest one is over eight minutes in length. It finds Gilbert playing with his usual stash of clicks and buzzes. But then "The Expanse" manipulates the sound of a water droplet far beyond anything most of us would recognize. On "Dry Land", the sound of a storm is so powerful it could spill over into another one of your senses (something tells me that land didn't stay too dry that day). Once in a while, a little bit of "music" will creep into the mix as it does on "Creatures of Sea and Air" and the closer "Rest/Reflection". Tones enter, shimmer, and provide moral support for the uninitiated.
But like 2009's Oblivio Agitatum, Diluvial hits full impact through your headphones. The tracks blend into one another, so just make sure you have a 74-minute block of free time in your future. Then let the thing flood over you. [John Garratt]
Musique Machine (UK):
Here's a good, old-fashioned jewel case cd (it's been a while), from the Touch label. It features the work of Bruce Gilbert and BAW (A. David Crawforth and Naomi Siderfin); whilst BAW are new to me, Gilbert is, of course, the Bruce from Wire – the seminal 1970s punk band. Here, the three collaborate on an album of subtle, low-key electronics; mixed in with field recordings and more rhythmic passages. There's seven tracks, ranging from around nine minutes to over thirteen, and they run into each other; so it's a lengthy listen.
The album begins with strong, ambient drones, which swell in waves. Around the edge of the speakers, more detailed, kinetic sounds creep and flutter; these sounds are processed and stretched, making them very distinct from the snaking lines beneath them. This is a reasonable dichotomy for much of the trio's modus operandi: lengthy, droning/'static' material, combined with more knotty, processed details. The second piece, 'The Expanse', is constructed mainly using the latter – microsounds (possibly processed bird noises), scraping and scratching, and echoing raindrops; though it does mark out a long, bare, rhythmic section with this panning pitter-patter – which is itself preceded by a field recording of rain. The third track, 'Dry Land', is dominated by a very nice recording of trees; shaking in a blustery, barren wind – it's surprisingly powerful. These 'droning' sounds are interrupted, intermittently, by an equally nice, hollow-sounding, synth rattle; revolving around the speakers. 'Lights', the next piece, conjures up a name that actually slots alongside the trio very well: Omit. The creeping, resonant drones and echoing rhythms recall the bleak work of the New Zealand legend, and that's possibly a very simple shorthand for Diluvial: a warmer, more polished Omit. From here, the album 'takes off' – though not with any great fireworks, or fanfares. The last three tracks seem to evoke fantastical, science-fiction landscapes and environments; they seem more fleshed out than the previous works, for some reason. They feature lots of synth and processed sounds, twittering loops, dark, rumbling drones, muffled thuds and strange, near-vocal lines. At times it is like an electronic realisation of a vibrant forest. The final track, though, has a less organic feel to it; almost evoking similar atmospheres to the Alien films – that 'run-down', industrial, sci-fi tone.
I must admit that at first, I was very non-plussed by Diluvial, but each further listen drew me in closer. It is slow and unrushed, but that becomes a virtue once it's weaved it's spell. This paced unfolding is even more impressive, when you consider that it's the work of a trio. If I was to nitpick, I'd whinge about the over-use of stereo panning, and too much echoing that sounds the same; but these are, essentially, nitpicks. The sense of narrative actually reminds me of Parmegiani's La Création Du Monde, and if the album had been pitched to me as Parmegiani meets Omit, I would have been very excited to hear it. It doesn't really reach those potential heights, but it is a very good release.