CD in Special wallet + postcard – 1 track – 72:37
[postcard image by Andrew Hooker]
Artwork by Jon Wozencroft
This version of Gavin Bryars's seminal piece, The Sinking of the Titanic, was recorded at the 49th International Festival of Contemporary Music at The Venice Biennale on 1st October 2005 at the Teatro Maliban.
Gavin Bryars – Double Bass
Philip Jeck – Turntables
Alter Ego – Strings, Brass, Wind, Percussion, Keyboard, Tape Recorder and sound design
Track list:
1 Track – The Sinking of the Titanic (1969-) – 72:37

Reviews:

Dusted (USA):
Bryars has been reworking this piece since 1969, slowly incorporating different approaches to sound into his meditation on death and memory. It's interesting to consider the centrality of loss to Bryars' conceptual worldview, and not just as a general category: two of his most arresting pieces, this one and "After the Requiem," deal with transportation disasters that end in water graves. Though Bryars had a personal connection to the Lockerbie crash that inspired the latter piece, one gets the sense that he's reckoning with some larger forces.
The instrumentation for the piece has varied over the years, incorporating string quartets and now (on this extraordinary version) turntablist Philip Jeck and the ensemble Alter Ego (strings, brass, winds, percussion, keyboards, tapes, sound design). On some level instrumentation is absolutely central, as something about the vibrato of the strings Bryars highlights in his music (here focused on his own limpid playing, honed for years in free improv circles, notably in Joseph Holbrooke, and often at the center of his composing) suggests a watery quality. But on the other hand, instrumentation matters less to the success of the piece than the resonance of environment (both performative – this one is the 2005 Festival of Contemporary Music in Venice – and conceptual) and the degree to which the piece successfully interpolates the multiple sources that are its inspiration.
Bryars has often built his more interesting pieces from fragments – simple chords that billow in different colors, haunting melodic kernels, or fragments of text and speech, as in "Jesus' Blood Never Failed Me Yet" or the incredible way in which the Episcopal hymn "Autumn" surfaces in this piece, through turntable crackle, a sonic buoy that emerges here and there just as in the memory of survivors. Bryars is as interested in the reverberation of memory as he is in sonic reverberation, and he chases down these big ideas throughout the 72 minutes of The Sinking of the Titanic, even as he ensures that the music remains heart-achingly intimate and direct.
It unfolds slowly, opening with turntable crackle as the music's bottom end coalesces, like a deep, black layer of mud (and Bryars has always been able to generate a uniquely spectral sound from his contrabass). Then, a clarinet, a wave of electronics lapping against the time-locked vinyl noise. One sixth of the way through the journey, a lonely bell tolls, and allows for the first passage (as turntable crackle fades) of the gorgeous hymn, played with languid melancholy by the strings and clarinet of Alter Ego. At the 20-minute mark we hear the recording of a patrician British female recalling the layout of the deck, the alarms issued by officers, and so forth, as mildly bovine sounds and bowed metal slowly overtake her like the deep – until she comes back singing "Nearer My God to Thee." It's an extraordinarily powerful moment in a powerful piece, one of the rare ones that simply stop you in your tracks each time it's played.
Around the mid-point of the piece, things unsettle and fragments of crowd noises – both cheers and jeers – interrupt the flow of the hymn, almost as if the passengers and players awoke once more to what was happening. But then another recollection, muffled but insistent, begins just as the hymn resumes, with the piece now emphatically suggesting water noise. The latter sections feature some dense arpeggios from the strings that actually sound strikingly similar to "After the Requiem." Gentle chirps and whirring from Jeck return as the melody gets slower, drops of water filling the cavernous space that has by now become your own. All the elements of the piece return, swirling, confining, and a bell returns, along with it the certainty that it tolls quite differently now. Finally everything fades out and we're left with only a grainy recording of a music box melody, lulling us sweetly until the piece ends with a sudden, nasty click. It's an intense piece, more so each time I listen to it. And after living with this one for several months, I'm inclined to say that it's the best performance I've heard of Bryars' best piece. [Jason Bivins]
The Silent Ballet (net):
Score: 9/10
Gavin Bryars' The Sinking of the Titanic, in terms of 20th century compositional models, is a conceptual masterpiece, unrivalled in its vision since its origination in 1969. It has been translated, re-appropriated, and adapted into new musical contexts on a number of occasions, each providing vastly differing interpretations of Gavin Bryars' beautiful, monumental concept. Since its first performance in 1972, the very fabric of the piece has been stretched in an inconceivable number of directions, yet, the genius of Bryars' concept has remained at the heart of each interpretation.
Bryars' basis for The Sinking of the Titanic surrounds his speculation and research on the Titanic's string quartet, purportedly continuing to play even as the ship began sinking into the Arctic waters. According to one account that Bryars has utilized in his justification of the concept, it would appear that the quartet continued to play even as they were enveloped by the water. Thus, the genesis of Bryars' The Sinking of the Titanic is an all-encompassing sonic representation of the watery demise of this "unsinkable" cruise liner in April of 1912, from its drawn out arrangement of the final piece of the Titanic string quartet, the Episcopal hymn "Autumn," to its massive volume of models for the aquatic sounds that surround it.
Part of the attraction of every new recording of The Sinking of the Titanic is the artists' inability to mimic, even vaguely, any other performance of the piece. Every musical element can be manipulated by performers, making each individual performance of the work a wholly unique musical event. Previously, Bryars had incorporated boys' and girls' choirs, an array of percussion, and audio samples of survivor accounts from the period. In this recording, turntablist Philip Jeck co-ordinates a number of sample-based materials that replace these elements, while Bryars performs on his home instrument of double bass and Alter Ego perform string quartet sections.
This latest recording, released on reputable experimental label Touch, encompasses the sheer scale of the event, demonstrating a positively glacial sonic progression through all its 72 minutes, each timbral model flowing like currents in, around, and apart from each other. From the very beginning of the recording, it sets itself out from other performances of the piece with the multilayering of vinyl crackle instigated from the turntables of Jeck forming the first tones in the piece, bringing upon the slow descent of its surrounding elements. A slight suggestion of Bryars' double bass, non-descript, long, reverberated tones, and the sound of a bell colliding off other sound give way gracefully to each other and slowly advance the material of the piece.
The resultant effect of Jeck's approach to sampling and manipulation is cavernous — no note or sound ever conceivably ends, just continues to morph through never-ending tones. At no point is there any sense of competition for space, even through the vast volume of samples that Jeck incorporates and layers over each other. The timelessness of the series of moments that Bryars attempts to convey in The Sinking of the Titanic comes across no greater than in this interpretation; I found myself lost, surrounded, enveloped in the colossal arrangement, hooking to only the visual, acoustic elements of the piece.
The addition of Jeck as the primary sound designer in this performance brings a particularly delightful new perspective on Bryars' piece. Jeck's mastery in incorporating all elements with a tasteful sense of democracy and a meticulous approach to the changing balance of every element in the piece makes this performance one of acute sensual engagement, the nostalgia and beauty of the piece is conveyed with a sensitive intimacy. Perhaps the most beautiful of his injections into the piece is his use of totally unrelated harmonic material underneath strings, mirroring, and offsetting obliviously, yet so confidently slipping inside the sonic arrangement.
However, it is the surfacing and re-immersion of the conceptual string quartet that brings the most evocative element to this new recording. From Jeck's vast layerings, Alter Ego's strings rise at semibreves, performed with an astonishing sensitivity, even through the effects that are applied to their tones. Sinking in and out of the percussive samples, these decidedly consonant harmonies approach the surface of the sound mix in vast, drawn out tones, as if billowing themselves, toward an icy empyrean, reverberating in a majestic slow motion. Two violins, a viola, and a cello converse with the ocean floor, pulsing through and into the space.
It is this timeless element that will always be the focus and integrity of every performance of Bryars' The Sinking of the Titanic. This recording is a monumental achievement, its sound environments almost too beautiful to describe. For a new generation of experimental enthusiasts, this is essential listening. [Marcus Whale]
Milk Factory (UK):
Crackle inhabits the first four minutes of this new version of Gavin Bryars's The Sinking of the Titanic. It's an ominous sound. Heard on old blues records it's the sound of time passed. And cultural distance. Here it also suggests, perhaps rather inevitably, the cracking of ice.
Strings ebb and swell in mournful, elegiac fashion and are occasionally pierced by reverberating percussion that could be the dripping of water into pools. An elderly, well-spoken woman recalls going up on deck at the twenty minute mark. Her confident chatter and sudden eruption into song make for a simultaneously familiar and completely otherworldly experience.
The clank and clangor that rise and fall through this music suggests the industry that produced the great ocean liner as well as the great engines and massive bulk of the vessel.
The music that forms the thread of Bryars's composition is an ongoing treatment of Autumn, the Episcopal hymn which junior wireless operator Harold Bride reported hearing played by a string sextet on the deck as the Titanic sank between 2.15 and 2.20am on April 15th 1912. It continues, gentle and stately, washed by static, at times quieter, at times louder, through to the end of the piece's 72 minutes.
Cyclic defrost (USA):
Playing the episcopal hymn "Autumn" moments before the famously unsinkable luxury liner did precisely that on the afternoon of April fifteenth, a small group of string players made a gift of their lives, a self-sacrifice to which Gavin Bryars responded magnanimously, creating a classic semi-aletaoric work, The Sinking Of The Titanic, in 1969. Bryars' work builds out as an ongoing treatment of "Autumn", as sublime string swells slide slowly into melodic unison, escalating in volume and density, while percussion shapes a rough pulse.
On this occasion, Bryars, who handles double bass, is accompanied by Italian ensemble Alter Ego and turntablist Philip Jeck. Understandably, then, the work has a certain electronic feel, particularly the opening four minutes, which largely swim in static. It's a move that strongly brings out the nature of this work and the event that it captures as being symbolic of the failure of modern technology and the paradox of modernity. More emphasis is also given to the field recordings, which have never before been presented with such clarity; their inclusion now providing a fine example of reality obscuring the difference between life and art.
Still, the albums progression remains wonderfully elegant, slow, natural even. At measured points throughout the work, each part proudly proclaims independence while being enigmatically lodged into the whole. Both Alter Ego and Jeck display their own talents, but they divert them equally as much to the service of others and to the piece in general, altering their personal aesthetic in a perpetual concentration on the details. The original work is thereby truthfully erected, only awash in special tone colors and feral microtonal inflections that accentuate it beautifully. The album comes in a wallet-like package with a postcard from Andrew Hooker, and it surely stands as another exorbitant gift from the players on hand. [Max Schaefer]
Tiny Mix Tapes (USA):
Fittingly recorded three years ago in the sinking city of Venice, Gavin Bryars' newly released realization of his most well-known, 39-year-old composition, The Sinking of the Titanic, is a horrifyingly beautiful, trance-inducing phenomenon of conceptual genius. While former versions have certainly done the piece justice, the addition of the Alter Ego ensemble and turntabilist Philip Jeck heighten the piece's focus on its main obsession: the metaphorical failure of modern technology to trump nature.
Fixated on the myth that the sinking Titanic's chamber group played on until the very last possible moment, Bryars has Alter Ego weaving lines of the heart- wrenching Episcopalian hymn "Autumn" underneath an oscillating veil of electronic noise from Jeck. Conceptually, this makes sense, as Bryars reminds us that "the band was not only playing ultimately in water, but also with the ship standing almost perpendicular in the water for these last five minutes… we know that the band was playing outside the gymnasium doors, and these formerly vertical open doors would have become the horizontal floor that served as their last bandstand (in the ship's vertical configuration)."
The exploration of water's effect on sound and reverberation is also impeccably framed by the interspersed tape loops of morse code, crickets, and crowd noise. Never too representational or esoteric, this version of the piece is the most fluid to date. This fluidity speaks clearly about the ingenuity of the piece, which, despite its challenging sounds, is full of intrinsic emotional snapshots. The comforting orchestral repetition of the band's symbolic sacrifice is tasteful, speaking for itself in the way that the most successful pieces of minimalist music do. Like Bryars' other composition, Jesus Blood Never Failed Me Yet, this new version of an old classic makes words seem futile. [Plastique Song]
almostcool (USA):
Originally written in 1969, The Sinking Of The Titanic is an open, semi-aleatoric piece of music by Gavin Bryars that's been developed over the years into pieces of varying lengths (anywhere from fifteen minutes to over an hour), both as a sound installation and actual concert performance. It's already been put out in recorded form twice already (once as a live recording, and once as a studio piece), but now finds new life yet again on this limited edition release from Touch.
In terms of personnel assembled alone, this version of Sinking The Titanic starts with a solid foundation. Known for their performances of Philip Glass work (among others), Alter Ego is a music ensemble out of Italy that specializes in contemporary performances, while ambient/experimental musician Philip Jeck mans the turntables and Bryars himself provides upright bass. Going for the endurance record (at least on recorded versions), these performers stretch the piece out to over seventy minutes as they expand on ideas introduced in other performances while adding their own flavors as well.
The biggest difference here are probably the additions by Jeck, who creeps in and out of the mix while nearly always making his presence felt. At times, he coats the recording in a thin haze of his magic decaying dust, while in others he drifts away and lets the sad orchestration of Alter Ego and Bryars creep through. In fact, the entire long opening section sounds like backing music for a dive to the bottom of the ocean wreckage as Jeck adds crackling loops while deep string drones sweep behind it. Eventually, the cloudy water clears, and the sad melody of "Autumn" (a hymn that the onboard string quartet of the Titanic played as it went down) swirls in.
As the piece progresses, recordings of survivors talking about their memories of that night crop up, along with lost bits of music from the era and other sounds. In one completely unexpected move, Alter Ego teases out a beautiful, and slightly uplifting moment about an hour into the recording that takes the performance in a different direction if only for a moment. Even more than the other recorded versions, this new version seems to convey a real true sense of disintegration of both physical objects and memories themselves. Live instrumentation rises up out of murky depths and then fragments and falls apart while spoken passages appear out of a half-remembered haze and then get clouded again or simply overtaken.
Recorded live at the 49th International Festival of Contemporary Music at The Venice Biennale in 2005, The Sinking Of The Titanic (1969-) contains certain elements of both the recorded in an empty water-tower live version (which is now out-of-print) released on Crepuscule Records in 1990 and the Point Records version released in 1995. Although you can't hear any crowd noise, the soft reverb of the live setting and some of the other imperfections (such as the soft spittle noises on the reeds of the woodwinds) work nicely within the context of the piece. An average person probably doesn't need three different versions of this recording in their collection, but if you're a fan of ambient music or even modern classical and you don't yet have it, this may very well be the best version to get.
rating: 8.75
Uncut (UK):

Flux (UK):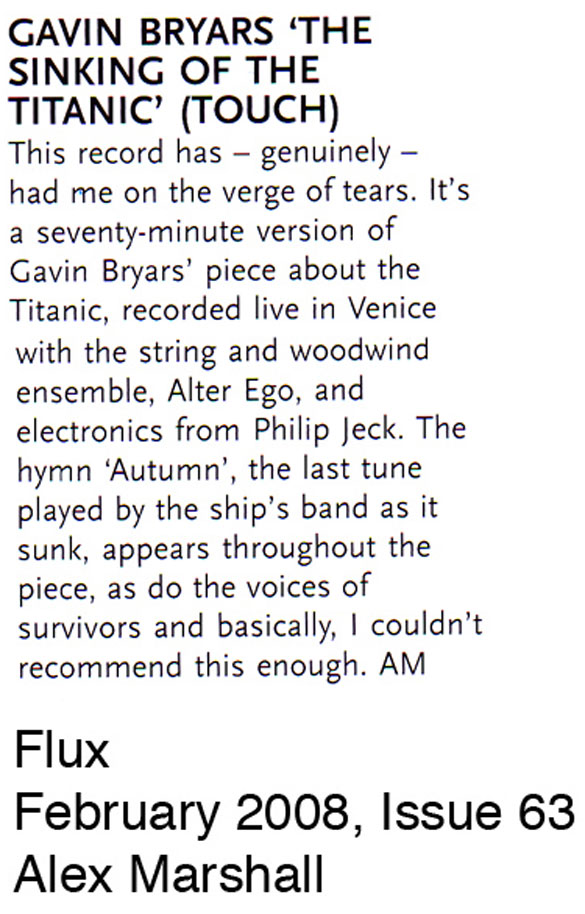 Boomkat (UK):
Gavin Bryars' 'The Sinking of the Titanic' is, and I say this with confidence, one of the finest pieces of music you could ever wish to own. Written in 1969 it has journeyed through the lands of modern classical, experimental and electronic music netting dedicated followers on its way, and each and every time I hear it I become more convinced of its genius. Bryars wrote the piece to mirror the last moments of the doomed voyage, when the Titanic sunk and famously the band played on. According to survivors the music being played was a rendition of 'Autumn', an Episcopal hymn which forms the basis of Bryars' composition. The notes and phrases from the hymn are worked in and out of the piece, sinking through the waters, effected by time, nostalgia and the cavernous reverberations of the ship itself with each scrape and hiss worked into Bryars' incredible vision. For this special performance of the piece we see Bryars (on double bass) alongside Italian ensemble Alter Ego (not to be confused with the German electronic duo of the same name) and experimental turntablist Philip Jeck, and the result is arguably its most stunning rendition to date. The most noticeable addition is Jeck, whose expertise and unique style seems to fit like the final piece of the puzzle as his crackles and motifs melt into the architecture of the recording as if they had always been there. This additional layer of nostalgia brought forth by these found sounds adds a significant sense of history, forcing the mind back into hazy film footage and decomposed photos, a perfect match for the subject matter. Also of note are Alter Ego, who surprised me with their stunning renditions of Philip Glass recently, and work comparable magic here on Bryars' composition, with their ensemble bringing in the sounds of bottles, tape recorders, laptops and percussion on top of more traditional instruments. The sounds are merged together effortlessly to form a fog of harmony and memory, perfectly melting the themes which Bryars intended his piece to convey in the first place. Really words can't do justice to 'The Sinking of the Titanic', like William Basinski's 'The Disintegration Loops' there is a timelessness, a patience and an ineffable beauty to this music that almost impossible to describe. Unique, flawless and totally essential music.
The Wire (UK):
A full page review by Mark Fisher can be read here (.pdf file)
VITAL (Netherlands):
In Netherlands there is these days a lot of talk about 'canon', things you should definitely know from science, history, film or literature. It made me think about a canon for contemporary, post World War Two music. I think you should have certainly lend an ear to 'Gesang Der Junglinge', 'Symphonie Pour Un Homme Seul', '433' (well, know what that is about) and on this small and very incomplete list, I should certainly add 'The Sinking Of The Titanic' by Gavin Bryars. The unfortunate biggest boat in the world, running in an iceberg in 1912, while the orchestra down stairs kept on playing. Bryars took that 'orchestra playing' as the starting point for an ensemble piece by taking the piece that was played, as told by survivors, the slow 'Autumn' and Bryars takes it apart, or rather, in free sixties style, let the players decide what to play and also there is voice material on tape, to have the idea of the ship sending S.O.S. signals. This piece has an open length and has been, as far as I know, been released twice. First on LP in Eno's Obscure Records series in the seventies and in the nineties on CD by Crepuscule, if I not mistaken. Here is a version recorded last year with Bryars on double bass, Philip Jeck on turntables and an Italian ensemble called Alter Ego. It's a bit wrong to compare all three versions I think. For the occasion I dug out both and the first one comes rather quickly to the point, with 'Autumn' coming in quite fast and so did the voices. The first CD version is more spun out and has a dramatic built up, and nice choir like sounds. The new version here starts out and ends with a long 'solo' by Jeck, and otherwise seems to follow the original setting. Half way through there is a chirping insect like sound, of which I have no idea who produces this (Jeck perhaps?), but in all the cases that I heard this I couldn't help laughing. The Titanic crushed into a iceberg in april 1912, surely not really a place for insects. Maybe a wrong record chosen? It however makes also clear that this is a live recording and mistakes happen – not a failure of gigantic proportions but just something that causes a minor ripple on the waves. I am not sure if one should 'have' this, unless it's your first experience of the work (then it's a must have), since it doesn't seem to be adding that much to the two previous versions, but for those who want to spot the differences it's surely a welcome work. It definitely something you should hear once in your life. (FdW)
MOJO (UK):
Venerable British composer's hymnal opus gets a delicate twenty-first century upgrade.
Composed in 1969 and first recorded for Brian Eno's Obscure label, The Sinking Of The Titanic was inspired by reports from one Harold Bride, Titanic's surviving wireless operator, who recalled the ship's string ensemble continuing to play the Episcopal hymn Autumn even as the 'unsinkable' vessel slipped beneath the Atlantic waves. Originally scored for orchestra and tapes, Gavin Bryars' exquisite threnody has been performed in innumerable subsequent configurations but rarely with such atmospheric potency as on this lavishly packaged Touch release. Recorded live at Venice's Teatro Maliban in 2005, it finds Philip Jeck's turntable electronics invoking crackling ice, baleful metal, even, perhaps, the very dust of memory, while Italian ensemble Alter Ego's incarnate strings, woodwind and glass bottle percussion eddy from the depths. The technological improvisations interleave with Bryars' subtle, fragmentary variations on Autumn which remain the piece's impossibly emotive centre. [David Sheppard]
Titel (Germany):
Echolot
Bryars lässt die Musik untergehen, mit allen akustischen Feinheiten, und erforscht, wie das Element Wasser, das Töne wunderbar tragen kann, diesen Tönen die Möglichkeit der ewigen Wiederkehr gibt.
Gavin Bryars gehört seit Jahrzehnten zu den großen Komponisten der zeitgenössischen Musik – und er ist besessen von der größten Schiffshavarie des 20. Jahrhunderts. "The Sinking Of The Titanic" war das erste Werk Bryars', das über enge Zirkel hinaus bekannt wurde. Es stammt aus dem Jahr 1969 und baut in verschiedenen Schichten auf dem Untergang des Luxusliners auf. Bryars geht dabei aus von der durch Überlebende überlieferten Geschichte der Band, die noch während des Untergangs des Schiffs weiterspielte (selbst als die Titanic schon senkrecht im Wasser stand – da stellten sich die Musiker, wie man heute weiß, auf die Eingangstüren zur Sporthalle), eine Geschichte, die so unglaublich und anrührend ist, dass man schon ein kalter Klotz sein muss, um diese Menschen nicht als wahre Helden zu empfinden – wie vielen anderen mögen sie wohl den Tod angenehmer gemacht, Hoffnung gegeben oder gar das Leben gerettet haben? In den letzten fünf Minuten des Untergangs – so erzählte es jedenfalls der überlebende Funker Harold Bride bei der Ankunft in New York – spielten sie "Autumn", und diese Hymne ist das Herzstück von "The Sinking Of The Titanic". Bryars lässt es anklingen, verstummen, nimmt das Echo wieder auf, wiederholt, dämpft… Zusammenfassend kann man sagen: er lässt den Song untergehen, mit allen akustischen Feinheiten, und erforscht, wie das Element Wasser, das Töne wunderbar tragen kann, diesen Tönen die Möglichkeit der ewigen Wiederkehr gibt.
Der freien Improvisation, wie sie im modernen Jazz Verwendung findet, galt schon immer Bryars' besondere Aufmerksamkeit. In "The Sinking Of The Titanic" steht es den Musikern frei, wie sie die einzelnen Soundangebote, die alle mit der Schiffskatastrophe in Verbindung gebracht werden können, verarbeiten. Daher gab es auch mehrere Versionen, zwischen 15 Minuten und einer Stunde lang. Diese neueste Live-Aufnahme des Stückes dauert eine gute Stunde und wurde im Oktober 2005 in Italien aufgenommen, passenderweise in Venedig, der Stadt des Wassers und der Heimatstadt des Weltumseglers Marco Polo. Einen besseren Rahmen hätte man für die Aufführung nicht finden können. Gavin Bryars spielt den Kontrabass, unterstützt wird er von Experimentalmusiker Philip Jeck an den Turntables und der fünfköpfigen italienischen Formation Alter Ego, die alle anderen Instrumente spielt. Jeck unterlegt den Sound mit einer feinen Staubschicht, die – wie die Geschichte der Titanic selbst – als Metapher für verschiedenste Empfindungen, für Erinnerung, Entfernung und Angst dienen kann. [Tina Manske]
030 (Germany):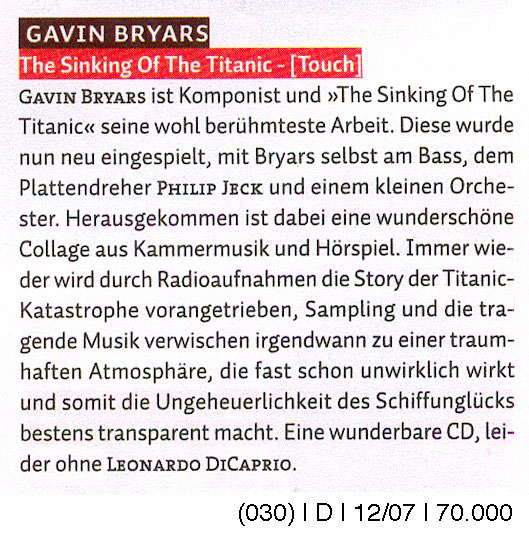 Blow Up (Italy):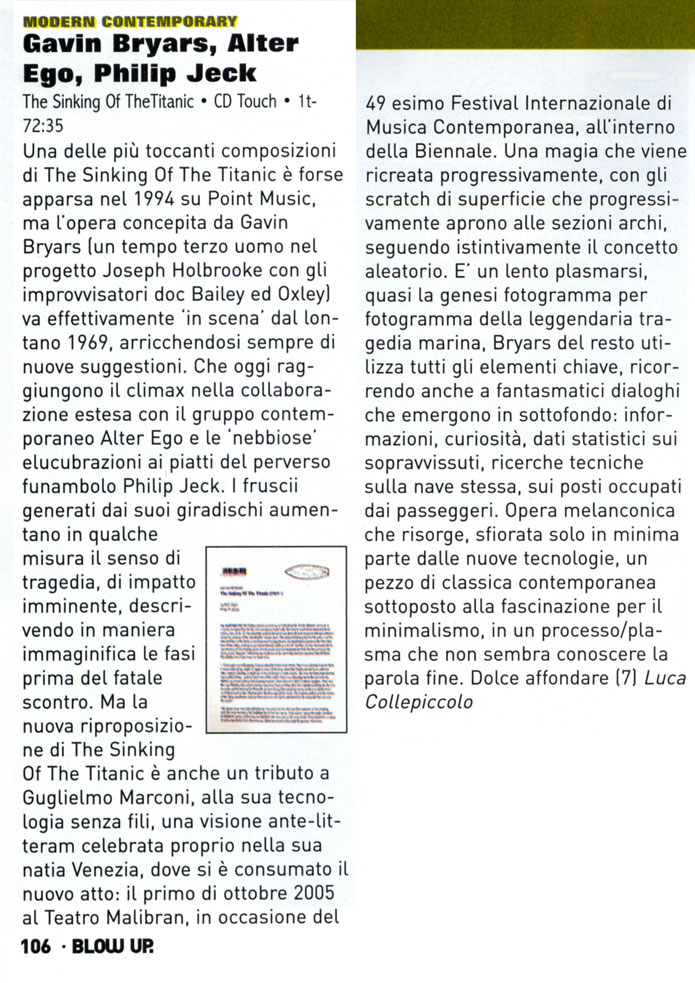 AVUI (France):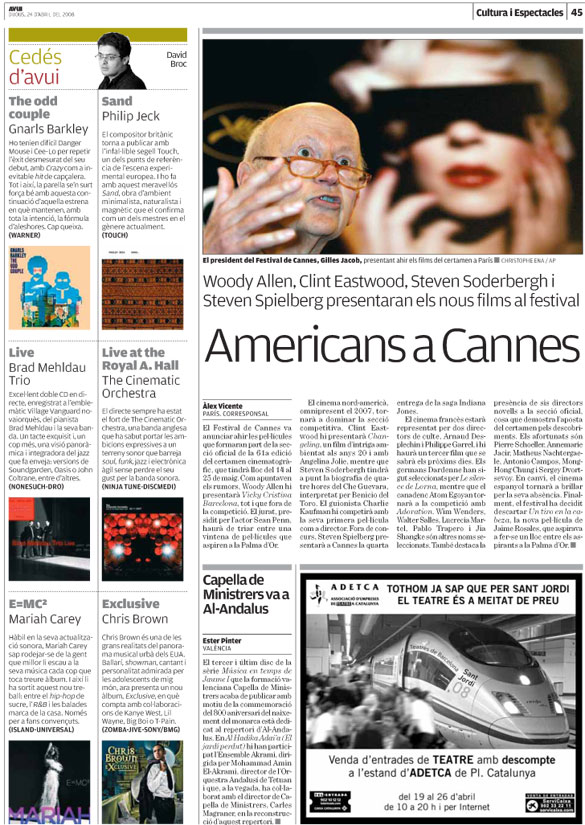 France Musique (France):
The Sinking of the Titanic est une ¦uvre majeure de la musique post-minimaliste répétitive du XXème siècle. Composée en 1969 par le contrebassiste et britannique Gavin Bryars elle est une évocation des derniers instants du luxueux (et présumé insubmersible) Titanic et plus particulièrement à la mémoire des des membres du quatuor à cordes de l'équipage qui choisirent, comme le raconte l'histoire, de continuer à jouer alors qu'ils sombraient avec des tonnes de ferraille dans les eaux noirs de l'océan atlantique au cours de cette nuit tragique du 14 avril 1912. Gavin Bryars avait à l'origine conçu cette ¦uvre en lui attribuant une longueur variable qui pouvait aller de 15 à 60 minutes, une pièce dont la lenteur et la répétitivité soulignaient respectivement la gravité et le caractère inéluctable de ces instants funestes. Cette nouvelle interprétation réunit autour de Gavin Bryars à la contrebasse, l'ensemble italien Alter Ego et le platiniste Philip Jeck. Et c'est surtout l'intervention de ce dernier qui apporte une nouvelle dimension à ce classique mainte fois interprété. Philip Jeck dissémine en effet sur l'ensemble une fine couche de craquements électroniques, une sorte de poussière sonore qui accentue l'atmosphère fantomatique de cette ¦uvre et pousse plus loin encore l'irrésistible sentiment de nostalgie et d'élégance que l'on éprouve à son écoute.Ce Sinking of the Titanic a été enregistré le premier octobre 2005 lors de la 49ème édition du festival international de musique contemporaine de Venise. L'alalbum est édité par le label Touch et sera disponible au choix dans une formule de téléchargement au format mp3 sur le site du label mais également sous une forme plus classique en 1 CD très joliment packagé. [Eric Serva]
Go-Mag (Spain):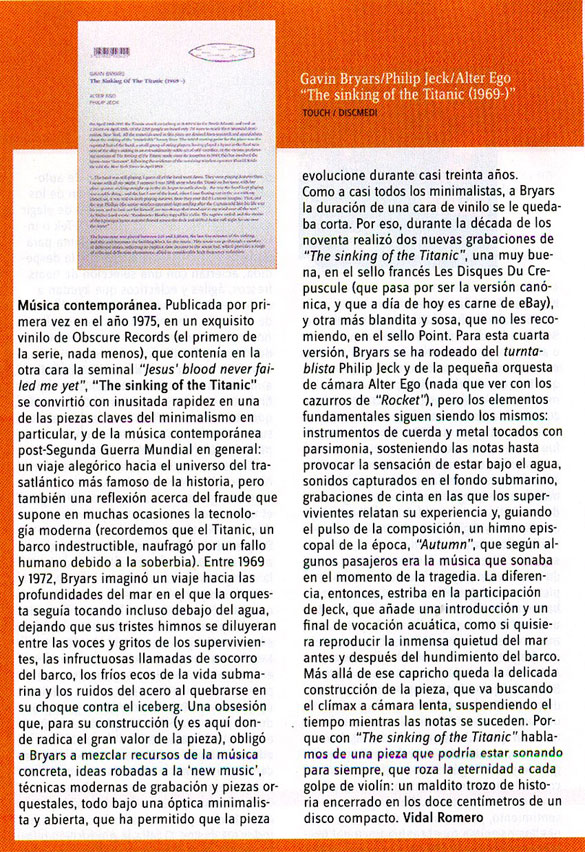 MCD (France):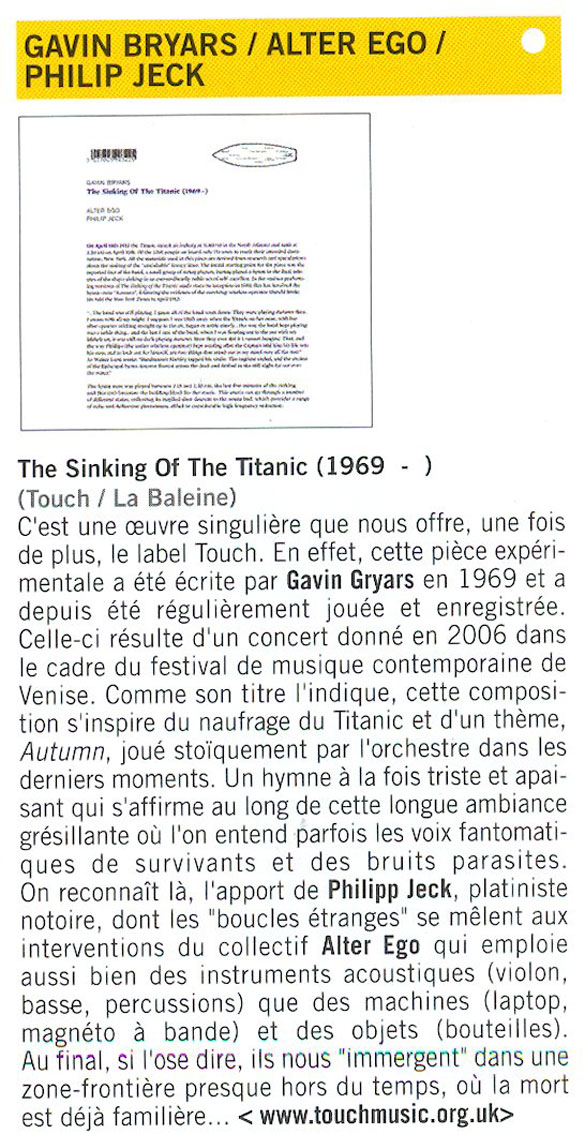 D-Side (France):

Gonzo Circus (Belgium):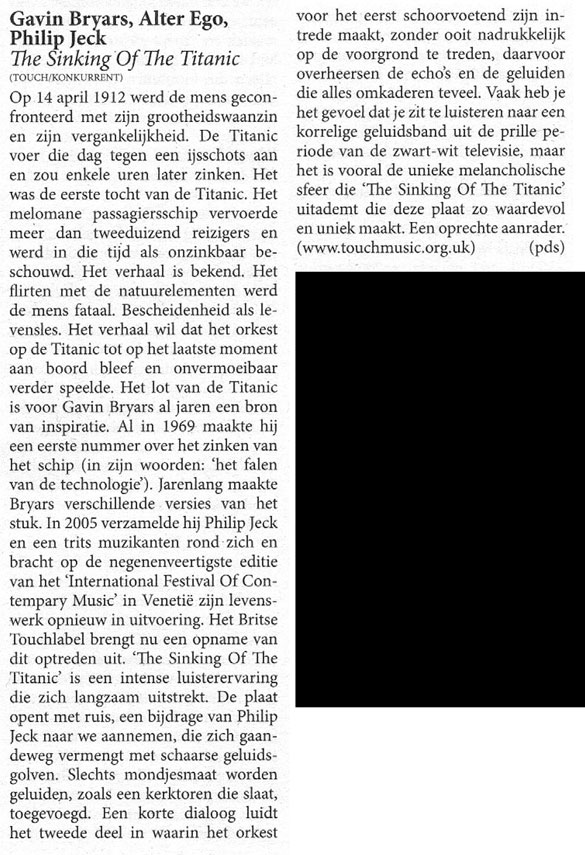 Wreck This Mess (France):
C'est une œuvre singulière que nous offre, une fois de plus, le label Touch. En effet, cette pièce expérimentale a été écrite par Gavin Bryars en 1969 et a depuis été régulièrement jouée et enregistrée. Celle-ci résulte d'un concert donné en 2006 dans le cadre du festival de musique contemporaine de Venise. Comme son titre l'indique, cette composition s'inspire du naufrage du Titanic et d'un thème, Autumn, joué stoïquement par l'orchestre dans les derniers moments. Un hymne à la fois triste et apaisant qui s'affirme au long de cette longue ambiance grésillante où l'on entend parfois les voix fantomatiques de survivants et des bruits parasites. On reconnaît là, l'apport de Philipp Jeck, platiniste notoire, dont les "boucles étranges" se mêlent aux interventions du collectif Alter Ego qui emploie aussi bien des instruments acoustiques (violon, basse, percussions) que des machines (laptop, magnéto à bande) et des objets (bouteilles). Au final, si l'ose dire, ils nous "immergent" dans une zone-frontière presque hors du temps, où la mort est déjà familière… [LD]
Spex (Germany):
Gavin Bryars hat im Untergang der Titanic einen modernen Mythos erkannt – nicht aber den gängigen vom Größenwahn, der dem Menschen zum Verhängnis wird, sondern einen, der vielleicht viel stärker noch erschüttert: Die fantastische Vorstellung von einer Band, deren Musik beständig fortklingt, sogar nachden der nasse Tod die einzelnen Musiker ereilt hat, ist beispielsweise ein zentrales Motiv der vorliegenden Neuauflage von »The Sinking Of The Titanic« (Touch Music / Cargo), die gemeinsam mit Philip Jeck und dem italienischen Ensemble Alter Ego erarbeitet wurde. Von vorne bis hinten weiß diese Aufnahme in subtil gegliederten, meist leisen Episoden zu bewegen, entwickelt einen erstmals wirklich auffälligen Charakter aber erst dann, wenn im letzten Drittel plötzlich ein auf- und abebbendes Getöse zu hören ist – von dem lässt sich schwerlich sagen, ob es sich nun um Schreie der Furcht oder um einen aufbrausenden Applaus handelt. Der Niedergang erhält dadurch nicht etwa eine sentimental oder anderweitig verklärte Komponente, die die trocken Gebliebenen einer Katastrophe wie dieser doch so gerne andichten. Stattdessen geht das alles ganz wunderbar durch Mark und Bein und weckt im Zuhörer manche Regungen, die sehr wohl etwas mit dem Gehalt der Motive, nicht zwingend aber mit einem sinkenden Schiff zu schaffen haben. Kurz: die Sequenz brennt sich ein – fast wie eine Anweisung, wie man dem gesamten Stück in den folgenden Durchgängen sinnvollerweise begegnen könnte.
Bezahlt macht sich im vor allen Dingen das Engagement von Philip Jeck, dessen verschleiernde Turntable-Kunst der Musik genau das richtige Maß an Undurchsichtigkeit verleiht, um dem Zuhörer ein inspiriertes Schwelgen durch die eigenen Assoziationen zu gestatten: Bilder, Stimmungen und Erinnerungen wachzurufen ist schließlich die markanteste Stärke von »The Sinking Of The Titanic«, so dass das Dargebotene nicht immer selbst das Dramatische evozieren muss, um letztendlich einen großen, tief schürfenden Effekt zu erzielen. Im Gegenteil: Bryars und Anhang nutzen mehr als einmal die ungeheuerliche Kraft der Stille, bleiben der Andeutung streng verhaftet und gewinnen doch gerade dadurch wieder ganz ungemein an Ausdrucksstärke. Hervorzuheben ist an dieser Stelle zudem der erfreuliche Verzicht auf Stilmittel, die allzu sehr »das Düstere« betonen könnten. Die Vieldeutigkeit der Aufnahme bleibt dadurch jederzeit gewahrt, und das – obwohl ganz selbstverständlich vollzogen – ist eine wahre Wohltat. »The Sinking Of The Titanic« wird dadurch zu einer menschenflüchtigen Fantasie, zu einem außerordentlich konsequenten Stück zeitgenössischer Klangkunst. [Kai Ginkel]
Mouvement (France):
La disparition du Titanic
Nouvelle version de The Sinking of the Titanic, chef-d'oeuvre de Gavin Bryars
Gavin BRYARS / Philippe JECK
Près de quarante ans après sa composition, The Sinking of the Titanic, le « tube » du musicien britannique Gavin Bryars, fait aujourd'hui l'objet d'une relecture opérée avec le « platiniste » Philip Jeck, et publiée sur le label Touch : une approche « déconstructionniste » qui soumet cette ¦uvre phare de la « modernité » musicale à un subtil processus de disparition.
1969 fut une année-phare pour Gavin Bryars : avec à son actif un maigre catalogue entamé au terme de plusieurs années de travail dédiées à l'improvisation libre (cf. le trio Joseph Holbrooke qu'il forma avec Derek Bailey et Tony Oxley), le compositeur anglais né en 1943 signe alors une ¦uvre qui reste à ce jour – et à très juste titre – l'une de ses plus fameuses : The Sinking of the Titanic. De toute évidence, cette ¦uvre en work-in-progress frappe en premier lieu en ce qu'elle s'inscrit dans deux paradigmes forts du courant anglo-saxon appelé experimental music : d'une part une certaine propension à l'ouverture dans l'écriture même (effectif musical indéterminé, seulement « suggéré », durée totale libre), d'autre part une esthétique de la récupération héritée du ready-made duchampien, influence très explicitement revendiquée par le compositeur. En guise d'objet trouvé apparaît ici une citation de l'hymne baptisé Autumn, thème qui passe pour être la dernière musique que l'orchestre du Titanic a jouée au moment du naufrage.
Indépendamment de la pertinence historique de ce choix – plusieurs rescapés ont pu identifier comme dernière musique le chant Nearer my god to thee, particulièrement de circonstance, d'autres témoins quant à eux ont assuré que les musiciens avaient cessé de jouer depuis bien longtemps – ce qui fascine Bryars dans cette célèbre anecdote tient dans l'image d'une musique littéralement engloutie, dont on ne peut, dans une certaine mesure, s'empêcher de croire à la persistance infinie à même l'élément aquatique. Dans toutes ses versions, The Sinking of the Titanic figure un tel mouvement d'ensevelissement graduel : l'hymne, joué par un ensemble de cordes graves, se trouve peu à peu mis en canon avec lui-même, sous une forme ralentie et assourdie qui ne manque pas d'évoquer la lente et irrémédiable submersion du vaisseau réputé insubmersible. De la même façon que sa s¦ur cadette Jesus Blood Never Failed me Yet, composée deux ans plus tard, The Sinking of the Titanic marque ainsi très nettement la singularité de Bryars dans le champ de l'experimental music : un certain cocktail inédit de pop art et de pathos hollywoodien, dont la teneur émotionnelle parvient assurément à triompher des esprits les plus durs à cuire.
En 1975, Brian Eno fait paraître comme première référence de son prometteur label Obscure Records un LP regroupant ces deux compositions dans leurs formes premières. Celles-ci ont depuis lors fait l'objet de plusieurs interprétations plus longues et plus développées, les références restant celles publiées respectivement en 1993 (Jesus BloodŠ) et 1994 (Titanic) par le label de Philip Glass, Point Music. Prolongeant cette lignée, l'excellent label anglais Touch publie aujourd'hui une nouvelle version de The Sinking of the Titanic qui provoque pour le moins une certaine curiosité du simple point de vue du casting : outre le compositeur lui-même (à la contrebasse), on y trouve le turntablist Philip Jeck, grand habitué du label, ainsi que l'ensemble italien Alter Ego. Assez éloignée de la première interprétation, canonique, parue chez Obscure, celle-ci pourrait être qualifiée, prudemment, de « déconstructionniste » au sens où elle semble soucieuse de mettre en avant pour eux-mêmes des éléments qui, dans les versions antérieures, étaient fondus dans le tutti : archives sonores d'interviews avec des rescapés, field recordings divers, boîtes à musiques, scansions de morse jouées sur des percussionsŠ Elle va cependant plus loin en introduisant des éléments proprement insolites : enregistrements de pianos totalement hors tonalité, craquements de vinyles, boucles réalisées à partir de vieux enregistrements, toute une panoplie de sons dont Philip Jeck aura, pour notre plus grand plaisir, habitué nos oreilles depuis quelque temps.
Assurément, la démarche peut passer pour une forme assez crue de collage consistant à greffer un univers sonore très typique (celui de Jeck) sur une composition qui, dans son caractère même d'¦uvre ouverte, n'en demande pas moins. En témoigne l'aspect quelque peu erratique de certains moments – les stridences occasionnelles paraissant relever davantage de l'accidentel que du maîtrisé – qui tranchent résolument avec le soin qui caractérisait la version de 1994.
Mais il n'est pas certain que la collaboration entre Jeck et Bryars se fasse au détriment du sens de l'¦uvre même. Celui que l'on tient pour le principal sauveur des rescapés du Titanic pour avoir inventé la télégraphie sans fil, l'Italien Guglielmo Marconi, a également, vers la fin de sa vie, développé une théorie selon laquelle les ondes sonores, une fois générées, ne meurent jamais mais deviennent de moins en moins perceptibles à l'oreille humaine. Il se peut dès lors que l'enfouissement infini de l'hymne Autumn et les bibelots phonographiques de Jeck aient fondamentalement la même chose à dire : que ce qui relève du lointain (spatial, temporel) puisse encore nous apparaître dans le mouvement même de sa disparition – que celle-ci relève d'une détérioration matérielle du support (Jeck) ou bien d'une simple dissipation (Bryars). Un processus qui semble vouloir s'étendre, comme par un effet de mise en abyme, sur l'¦uvre elle-même, devenue un classique de la musique d'avant-garde. Ainsi, la très étonnante et presque interminable introduction de cette version, qui semble vouloir différer indéfiniment l'entrée de l'hymne, ainsi que sa conclusion qui « auratise » le son des boîtes à musique par le filtre d'un enregistreur lo-fi – effet de pathos assez simple, mais qui trouve ici sa pleine efficacité – travaillent l'oeuvre de Bryars dans ses espaces marginaux comme pour en faire l'objet même du procès de disparition. [Pierre Yves MACE]
Arte (Germany):
Der Untergang der Titanic wurde sowohl von Schriftstellern als auch Filmemachern ausgiebigst bearbeitet. Gavin Bryars setzt sich dagegen auf eine ungewöhnliche Weise mit der größten Schiffskatastrophe der Geschichte auseinander.
Als 1912 der als unsinkbar geltende Luxusdampfer Titanic untergeht, wird auf einen Schlag der technologische Fortschrittsglauben einer ganzen Generation zerstört. Die vormalige Technikbegeisterung schlägt nun größtenteils in das Gegenteil um, in Skepsis und Angst. Von den über 2200 Menschen die an Bord der Titanic waren, erreichten nur knapp 700 lebend ihren Bestimmungsort New York.
Die tragischen Umstände, die zu dem Unglück führten und die damit verbundenen menschlichen Einzelschicksale, lassen die Schiffskatastrophe nicht in Vergessenheit geraten. Der Experimentalmusiker Gavin Bryars versteht den Untergang der Titanic als eine Metapher für das übertriebene Vertrauen der Menschheit in Technik und dem Paradox der Moderne, dass eine Krönung der Technologie durch menschliches Versagen sowie einen Eisberg zerstört wird. Für seine musikalische Bearbeitung hat der Komponist und Musiker als exemplarischen Moment die Zeitspanne des knapp dreistündigen Untergangs ausgewählt. Während die Passagiere versuchten, einen der wenigen Plätze in den Rettungsboten zu ergattern, musizierte auf Deck ein Streicherensemble. Ungeachtet der sich abzeichnenden Katastrophe intonierten die Musiker das Stück "Autumn", um eine Panik unter den Passagieren zu vermeiden.
Der selbstaufopfernde Akt der Musiker versinnbildlicht sowohl die Hilflosigkeit gegenüber der Unabwendbarkeit der Katastrophe, als auch den verzweifelten Versuch, eine Form von Normalität zu wahren. Um so eindrücklicher prägte sich bei den Überlebenden die Melodie ein, die sie noch weit über das Meer in den Rettungsbooten hören konnten, bis zum Auseinanderbersten der Titanic. Diese verstörende Ambivalenz der Musik spiegelt sich in Gavin Bryars' Komposition "The Sinking Of The Titanic" wider, die er seit 1969 in verschiedenen Versionen aufgeführt hat.
Die nun erschienene, gleichnamige CD gehört sicherlich zu den interessantesten Aufnahmen. Auf der 49. Internationalen Musikbiennale für Zeitgenössische Musik in Venedig spielte Bryars mit Unterstützung des DJs Philip Jeck und dem italienischen Ensemble für Neue Musik, Alter Ego, eine besonders eindringliche Version ein. Als Einstieg dient das rhythmische Knarzen einer zerkratzten Schallplatte, das vereinzelt von gesprochenen Texten mit O-Tönen Überlebender sowie der "Autumn"-Melodie durchdrungen wird. Bryars gelingt es über die Dauer von über einer Stunde, eine einzigartig unheilvolle Soundatmosphäre zu kreieren, in der die Musik Tod, Hoffnung und Erlösung zugleich symbolisiert.
[Matthias Schneider]
plan b (UK):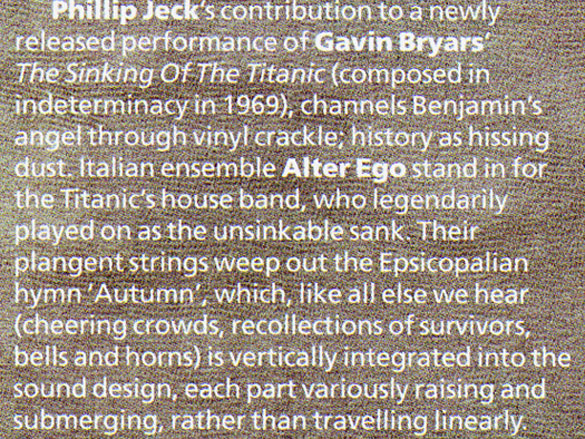 A2 (net):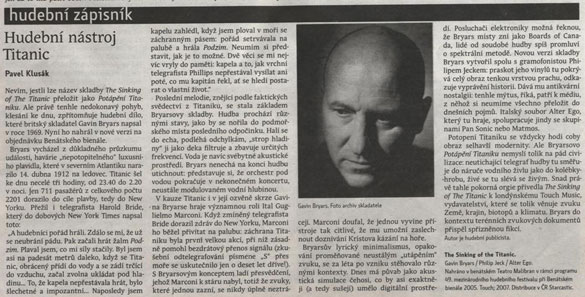 Westzeit (Germany):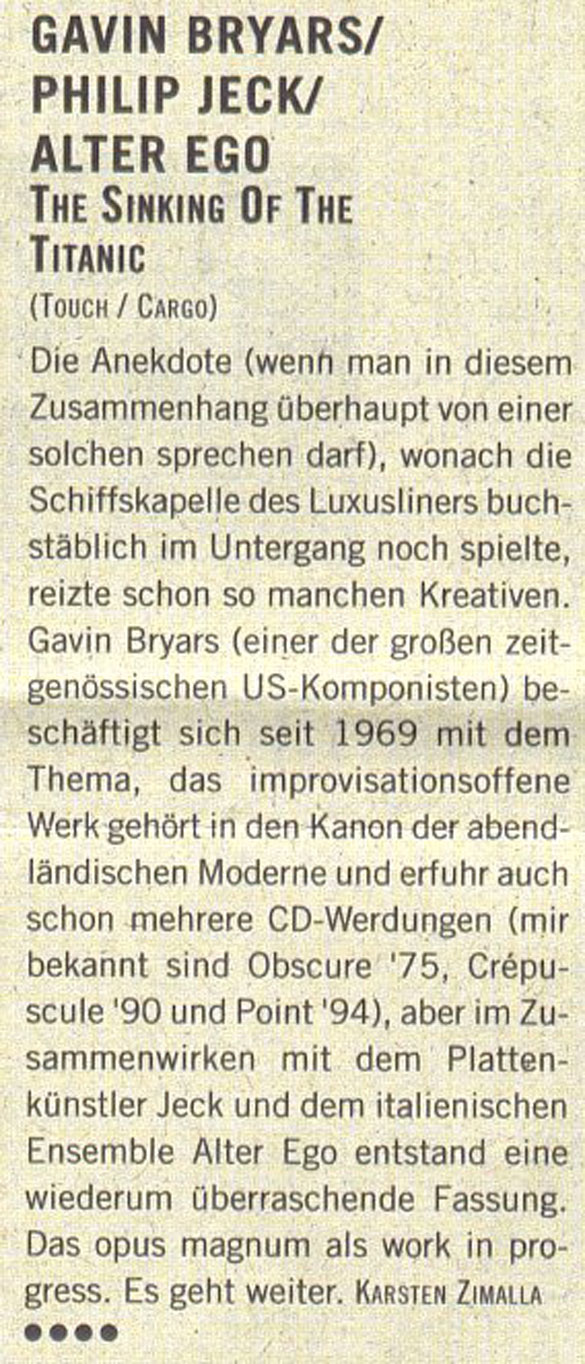 Mojo (UK):

Debug (Germany):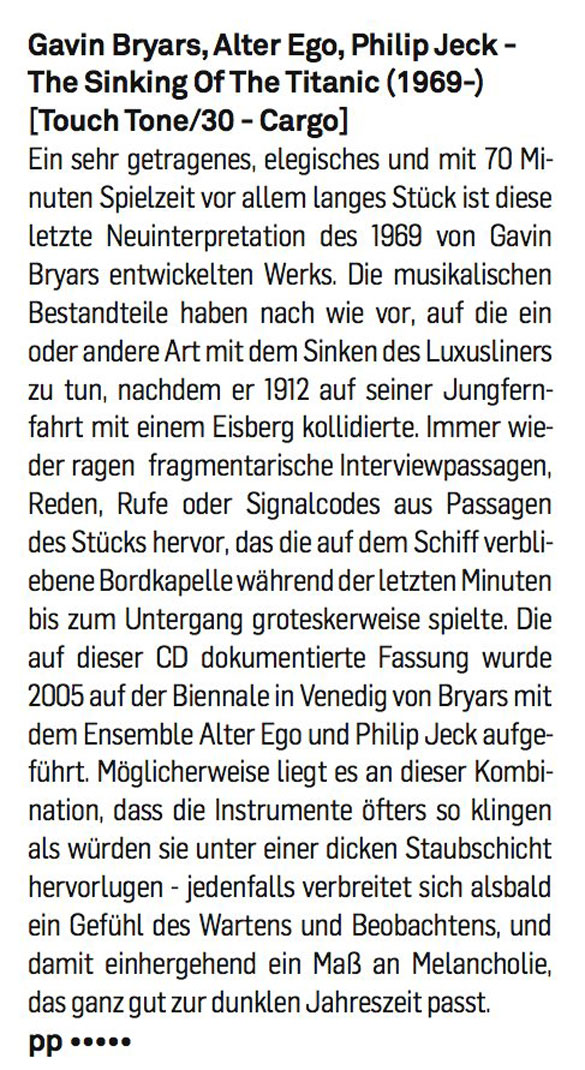 Bad Alchemy (Germany):
Trax (France):

The Irish Times (Ireland):
Recorded live at the 2005 Venice Biennale, the newly released third version of Gavin Bryars's seminal 1969 piece is also its finest.
First recorded for Brian Eno's Obscure label in 1975 (along with Bryars's other break-out piece, (Jesus' Blood Never Failed Me Yet) [sic], Titanic brought the English jazz musician/ composer to the forefront of contemporary music with its blend of musical and sonic debris (electronic sounds, survivor interviews, hymn fragments), simple melodic lines and murmuring rhythms.
Unlike its more formal 1994 orchestral version, the 2005 version is leaner, longer and more dynamic. Featuring Bryars on double bass, Philip Jeck on turntables and music ensemble Alter Ego on strings, brass, wind and percussion, it achieves, in its aleatoric combination of new musical and sonic elements (digital noize, football match recording, crickets) an astonishing emotional urgency. [Jocelyn Clarke]
SignalToNoise (Net):

Record Collector (UK):
Textura (USA):
Gavin Bryars and Philip Jeck might at first seem like strange bedfellows but their respective talents dovetail perfectly in The Sinking of the Titanic. In fact, Jeck's decayed turntables—the sole sound heard for several minutes at the start of this latest version, a live performance recorded on October 1st, 2005 at the 49th International Festival of Contemporary Music at The Venice Biennale at the Teatro Maliban—complement Bryars' opus so naturally the only question is why no one thought to combine them earlier. Certainly the conception and execution of the new interpretation is audacious. While suggestive of the hazy scrim of memory, Jeck's vinyl crackle is also an analogue for the oceanic tomb where the ship rested for so many years; the work's onset appears to re-awaken the ship's ghosts as isolated bits of the music—string fragments of the by-now familiar hymn, the tolling bell—slowly appear within the crackle, like bits of wreckage rising to the water's surface. The composer himself plays double bass while Italian septet Alter Ego (not the identically-named German electronic duo that records for Klang Elektronik) contributes strings, brass, woodwinds, percussion (bell tones, wood blocks, tinkles, marimba), tape recorders, and sound design to the process (the latest version is also enhanced by two extensive tape recordings of survivors' recollections that are woven into the work's fabric). Composed in 1969, the work inhabits an unusual zone: it's experimental, yes, and electronic too in certain respects, but also classical, given the work's spiritual center: the elegiac Episcopal hymn "Autumn" that was performed by a string chamber group while the ship sank after striking an iceberg during its 1912 voyage, and which first appears fourteen minutes into this seventy-three-minute version and whose haunting themes re-surface throughout.
Like Bryars' kindred 1971 work Jesus' Blood Never Failed Me Yet, The Sinking of the Titanic is elastic by design, a malleable work designed to accommodate different presentations. The work has been issued four times: the first in vinyl format on Eno's Obscure label in 1975 (the piece's short duration influenced by the playing time of the vinyl side), an hour-long 1990 version issued on Crépuscule that was recorded in a water tower at Bourges, a 1994 version released on Philip Glass's Point imprint which incorporates and expands upon the Bourges material, and now this even longer treatment. The contributions of Bryars' guests help make the Touch release the most expansive treatment to date; the Point version, by comparison, hews to its submersive downward trajectory in more straightforward and linear fashion. Still, the new version is arguably the most perfect realization of the project concept so far, as its variegated sounds capture the hallucinatory collage of sounds that would have filled the air during the ship's sinking (though it is a bit strange to hear crickets chirping at the half-hour mark, given that insect sounds would hardly be the most noticeable sound one would hear as a ship disappears beneath the waves). The work's handling of time is appropriate too; time isn't so much suspended as elongated which again is in keeping with one's phenomenological experience at moments of heightened intensity: seconds and minutes appear to race past yet, paradoxically, also seem to slow down, as if everything happening is doing so in slow motion. By allowing its graceful melodies to unfurl so unhurriedly, Bryars stretches out the hymn to all eternity.
The Sunday Times (UK):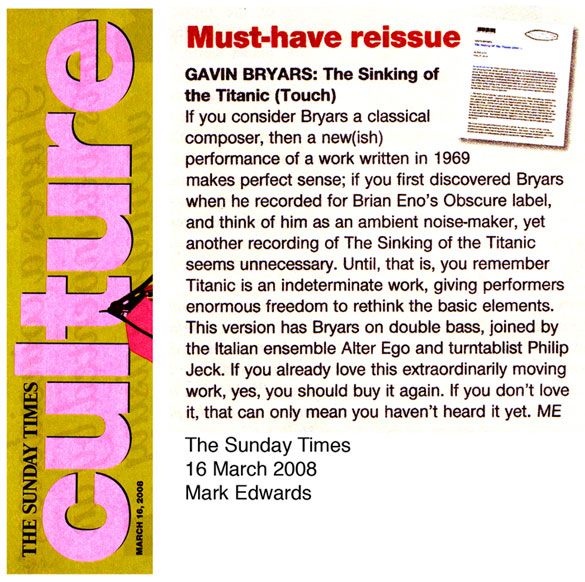 Laif (Turkey):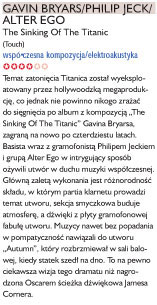 musique machine (UK):
Gavin Bryar's The Sinking of the Titanic is a work which was begun in 1969, and is continually evolving. The very concept of the piece explores the idea of sound as a never ending phenomenon. Marconi, the inventor of the the wireless, is tied to the Titanic disaster because the vessel contained one of the first wireless transmitters used for the purpose of alerting surrounding vessels. Marconi theorised that sound, though it dissipates to levels beyond human hearing, reverberates forever. His ideal invention is thought to be a device which could pick up sound waves generated from centuries past.
What also ties the Sinking of the Titanic to sound phenomena is the fact that the band on the Titanic somehow managed to continue playing as the ship went down. The vessel was in a vertical position as it sank. Also important to this piece is the fact that sound is transferred with greater efficiency through water, and the piece communicates the idea that the playing of the band would continue to reverberate below water, differently from above the water, for an extended period of time and at audible levels.
Now this is quite an involved bit of theory and, at the present moment, a great amount of supposition as well. After all of the explanation as to the reasoning of the piece has dissipated, the question which remains is, what about the music? This piece differs from previous recordings of the piece in that it is much less musical, and more theatrical. Sounds of the clangor on the boat and the upbeat music the band was playing previous to the Hymn they played upon sinking are presented amongst the sound of the sea. The sounds of the passengers come across as sepia-toned ghost voices.
What really makes this recording distinctive, though, is the inclusion of Philip Jeck, an artist who some might refer to as a turntablist. A deceiving term, as Jeck's style is quite unique. His music collages ancient records, and it's fair to say he seems just as concerned with the crackles, pops and imperfections of the vinyl, as the music etched upon them. His music sounds like explorations into some ghost world via these vintage slabs of vinyl. So if there is a perfect collaborator for Gavin Bryars in relation to this piece, Philip Jeck may indeed be that person. His contributions add not only a ghostly quality, which is perfectly in line with the concept, but, as with his own recordings, he manages to "age" the piece. Jeck's ability is to make music sound like the aural equivalent to a grainy black and white film, and since the Titanic went down in 1912, his sounds are entirely appropriate.
The music of the Titanic's band is performed by the Italian ensemble Alter Ego, who perform the music, as with previous versions, as faithfully as possible to the actual music played as the ship went down. The music is, perhaps fortunately, not necessarily the focal point here, because it's quite dry. But Alter Ego approach it with an edgy melancholy, as if they tried to put themselves into character as much as possible. The music works together with every other piece of the puzzle to make this piece a wholly fascinating look into a piece of history. Mr. Bryars's obsession has payed off, as this is undoubtedly the most compelling reading of this work to date.
Gazeta (Poland):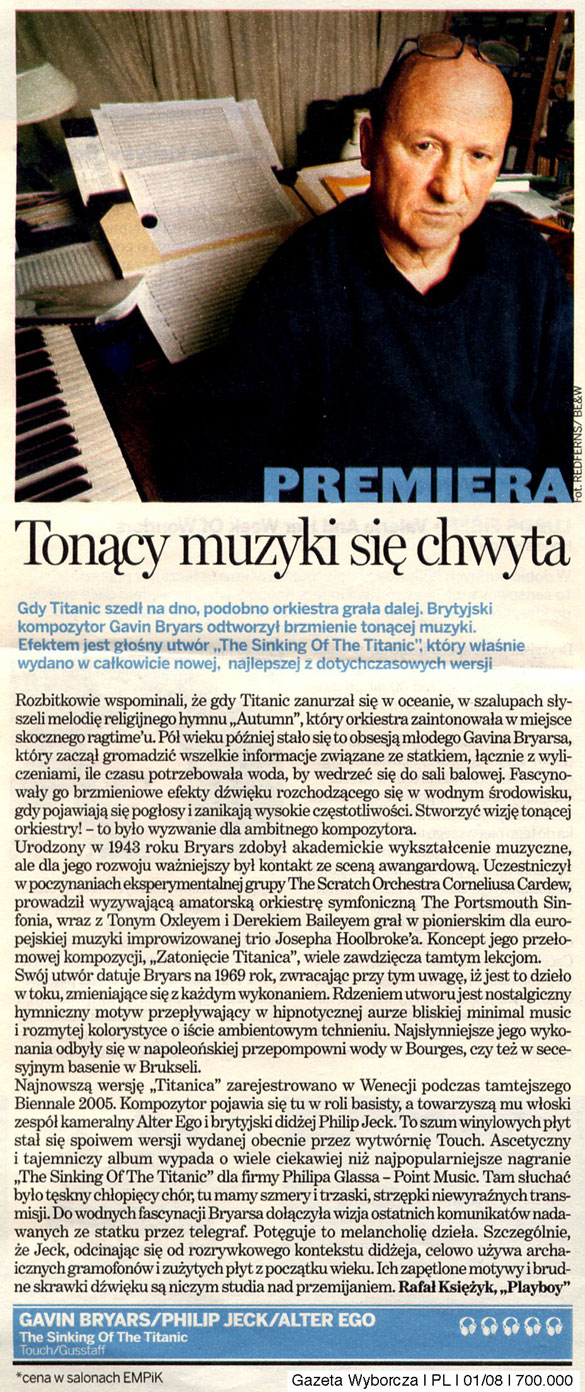 Sound of Music (Sweden):
Mystiken ligger fortfarande tät kring fartygsolyckan Titanic som inträffade den 14 april 1912. Trots storslagna filmatiseringar, dokumentärer och böcker verkar tragedin aldrig upphöra att fascinera. Gavin Bryars komponerade "The Sinking of the Titanic" 1969 som ett semi-aleatoriskt verk, vilket betyder att vissa delar lämnas åt slumpen. Följaktligen har verket kunnat fungera både som konsertmaterial och exempelvis ljudinstallationer.
Den aktuella versionen är en liveinspelning från International Festival of Contemporary Music at The Venice Biennale 2005, där Gavin Bryars har tagit hjälp av den klassiska ensemblen Alter Ego, samt Philip Jeck som annars ger ut musik på labeln Touch. Skivomslaget pryds på både bak- och framsida av en text som behandlar sådant som inspirerat Bryars och varför Titanicincidenten fortfarande är ett ämne som berör. Ni som har sett James Camerons filmatisering minns säkert den lilla ensemblen som tappert spelar psalmen "Autumn" ända tills skeppet går under. Denna händelse inträffade i verkligheten och har berättats av en radiotelegrafist som överlevde. Bryars har även han inspirerats av telegrafens uppfinnare Marconi, som mot slutet av sitt liv var övertygad om att ljud som en gång genererats aldrig dör, utan bara gradvis försvagas så att vi inte längre kan uppfatta dem. Därmed existerar ljuden som fysiska minnen.
Minnen är det som Philip Jeck tar fasta på när han inleder verket med ett lager av knaster, som om han med en radiomottagare försökte ratta in den sedan länge försvunna musik som uppfördes under Titanics sista minuter. Jecks hypnotiska inledning – som han skapar genom att manipulera skivspelare – är helt fantastisk och jag känner hur jag kommer i rätt stämning när Alter Ego efter en stund börjar spela den vemodiga melodin som hela verket är uppbyggt kring. Det måste vara melodins religiösa karaktär som gör att jag inte tröttnar ens efter 40 minuter. Dessutom händer det hela tiden nya saker i form av ljud och oljud, som med stor precision placeras på rätt plats. Vad som imponerar mest på mig är dock att musiken är inne och trampar på en mängd musikaliska områden utan att tappa fokus.
Jag tror inte det här är det sista vi har sett av "The Sinking of the Titanic" och förhoppningsvis kan det sporra andra att göra sin egen tolkning. Det enda jag saknar från originalet är de vackra körerna, men man kan ju inte få allt. [Olov Melin]
Jazzwise (UK):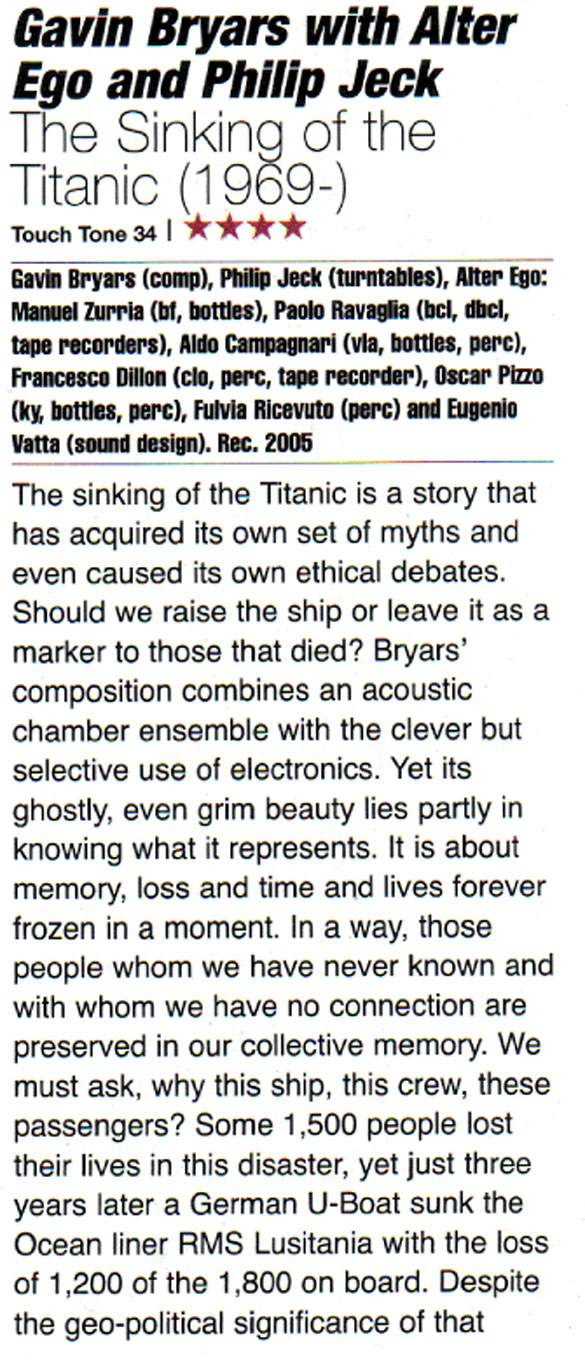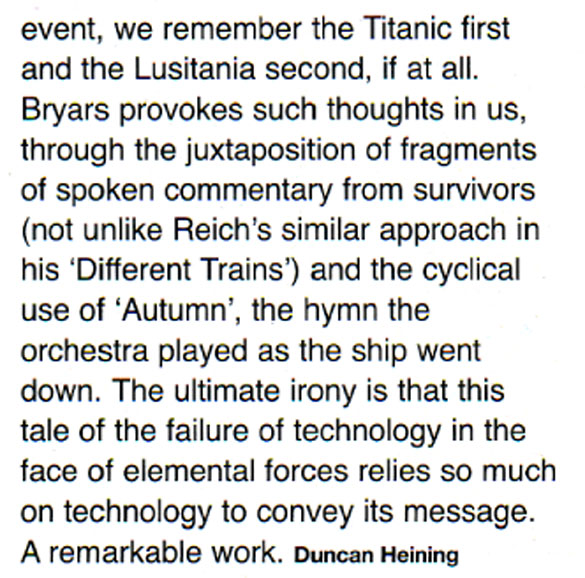 Jazzosphere (France):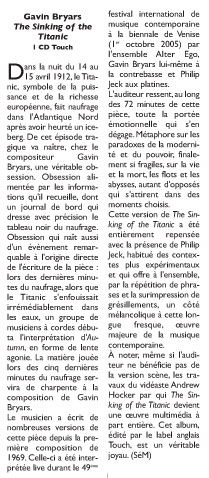 Krinein (France):
L'écoute d'un album du label Touch se révèle souvent plein de surprises et de subtilités dont se délecte l'auditeur exigent. C'est encore (et d'autant plus) le cas aujourd'hui avec The Sinking Of The Titanic, ¦uvre du compositeur britannique Gavin Bryars, composée en 1969 et qui évolue depuis au gré des collaborations.
Comme son nom l'indique celle-ci est un hommage à "L'Insubmersible", puisque c'est ainsi qu'on surnommait le Titanic avant son unique voyage, un 14 avril 1912Š luxueux paquebot dont la légende veut que le quatuor à cordes de l'équipage continua à jouer jusqu'à ce que le navire sombre les précipitant vers la mort. C'est leur souvenir que Bryars ici perpétue en construisant son ¦uvre autour du thème Autumn, alors joué par ces musiciens.
La version proposée est celle donnée au Théâtre Maliban, le 1er octobre 2005 à la 49ème édition du Festival International de Musique Contemporaine lors de la Biennale de Venise en compagnie de l'ensemble italien Alter Ego (déjà croisé en compagnie de Pan Sonic ou de Matmos) et de l'expérimentateur sonore Philip Jeck dont le travail permet à The Sinking Of The Titanic de prendre une nouvelle dimension.
Cette ¦uvre qui à l'origine a une durée variable d'un quart d'heure à une heure s'étire ici à plus de soixante-douze minutes accentuant, par sa lenteur et sa répétitivité, encore un peu plus la solennellité du moment. Jeck dissémine au gré des minutes craquements et habillages sonores atmosphériques qui accentue l'aspect hanté (et habité) de la composition de Bryars.
Une ¦uvre subtile et élégante, présentée dans un packaging soigné, pour un plaisir des plus complets. [wqw]
Vanguardia (Spain):

Skug (Germany):

The Sound Projector (UK):