7″ vinyl only
These three tracks are based on 8 different guitar recordings made at Amann Studios, Vienna, between 2005-07. The acoustic guitar was recorded with an AK c12 microphone. Other sounds were made using a Fender Stratocaster and a Vox ac15 amp.
Track list:
Side A: On a desolate shore 5:14
Side B: A shadow passes by 3:21

Reviews:

Aquarius (USA):
The master returns. To teach the young ones a thing or two about the guitar. And about turning that guitar into something wholly other. It's been a while since we've heard from Christian Fennesz, but thankfully, very little has changed, he can still take a guitar and a laptop and create a dense world of dreamlike shimmer, with a deftness that puts most other soundmakers to shame. So here's a brief two song taste of what Fennesz has been up to lately. And if this single is any indication, the upcoming full length is going to be the drone-y dreamy disc of the year!
But for now, we'll take these two, and just play them over and over. The A side finds the guitar completely transformed into muted smears, the overall sound a shifting sea of corrosive crumbling distortion, but rendered in breathless whispers and washed out hues. The metallic thrum is spread out into soft shimmers, a murk that would almost sound industrial if it wasn't so pretty.
The flipside is more guitar oriented, a steel string acoustic, the melodies branching out in simple softly strummed strands, a skeletal framework for swirls of soft hiss and chunks of fragmented melody drifting by like leaves on a forest stream. The sound is like some simple folk music, broadcast via a staticky short wave radio, but beneath the guitar, and the dreamy hiss, are lush, stately swells melodic and cinematic, that infuse the track with a dark, but sweetly sorrowful elegiac quality. Gorgeous.
Warp Records (UK):
Gorgeous single from Fennesz and the first release in a long time from him. Beautifully engineered on 7″ inch vinyl with a lock groove by Jason at Transition which might reveal a dual meaning to the name of this release.
The music on this seven is gorgeous, 'On a desolate shore' is all chiming guitar, delicate fx and space and 'A shadow passes by' is a deep guitar drone, which finishes in a lock groove.
Boomkat (UK):
For the first time since the original issue of his sublime 'Plays' EP, Christian Fennesz returns to the 7″ format. You may recognise one of the sides on this release from the digital exclusive from the end of last year – it's an ocean current of superior, shimmering digital drones and frankly, it sounds awesome on vinyl. Since we've already spent our two cents on that track, let's get stuck into the other side: the guitar is far more pronounced here, nestled within an electrically charged breeze of fizzing sonic particles and debris. It's a recipe that's been copied extensively ever since 'Endless Summer' became big news, but what keeps Fennesz head and shoulders above the copyists is his complex, nuanced production, particularly when it comes to capturing his guitar. There really isn't any other electronic artist who seems capable of properly recording the instrument and harnessing the full richness of its timbres. This seven-inch exudes all that warmth and depth of personality, and is every bit the equal of the Chris Watson release that kicked off Touch's singles club… Utterly lovely.
San Francisco Bay Guardian Music Blog (USA):
After a long musical sojourn with former Yellow Magic Orchestra electronics magus Ryuichi Sakamoto on 2007's Cendre (Touch), an extensive live collaboration with Mike Patton and a nomination for Best World Album by the Ethic Multicultural Media Awards (EMMA), Christian Fennesz returns to the sonorous shores of his past with a new 7-inch entitled "On a Desolate Shore a Shadow Passes By."
Released as a part of Touch's vinyl-only Sevens series – which includes singles by Philip Jeck, Cabaret Voltaire's Chris Watson, and Biosphere – "On a Desolate Shore" finds the Austrian laptop composer working within his métier as the digital scion of Brian Wilson, Kevin Shields, and Jim O'Rourke. Using his patented Mac patches to splay, splice, and caress a Stratocaster, Fennesz produces layer upon layer of compressed guitar feedback and processed glitches that spread out like a beach blanket on the windy sands of the Mediterranean. When a few chords suddenly appear from the whirring microtonal din, the noise musician-turned sculptor conveys with a Proustian flourish something truly magical: the distant memories of aquamarine sunsets and tawny sand dunes seem to emanate from the speakers.
Fennesz's greatest strength has always been in his keen ability to formulate soundscapes that capture equally the coldest blasts of alien feedback and the most summery mosaic of acoustic guitar strums, chimes, and keyboard drones. Or rather, his compositions are at their most transfixing when they seem to play in music's littoral zones, where the shallow grounds of textural play might suddenly give way to vast oceanic harmonics. In fact, the cover of the new release – a closeup of a sand path leading to the water's edge – is once again supplied by photographer Jon Wozencroft and most likely comes from the same rustic-meets-glossy series that provided the cover for 2004's Venice (Touch). And it does appear after a three-year divagation, Fennesz has returned there for inspiration. While "On a Desolate Shore" might be difficult listening for some, its affecting blend of digital minimalism and seaside dreams reaffirms why Fennesz is the most extraordinary ambient composer since Brian Eno. [Erik Morse]
FACT (UK):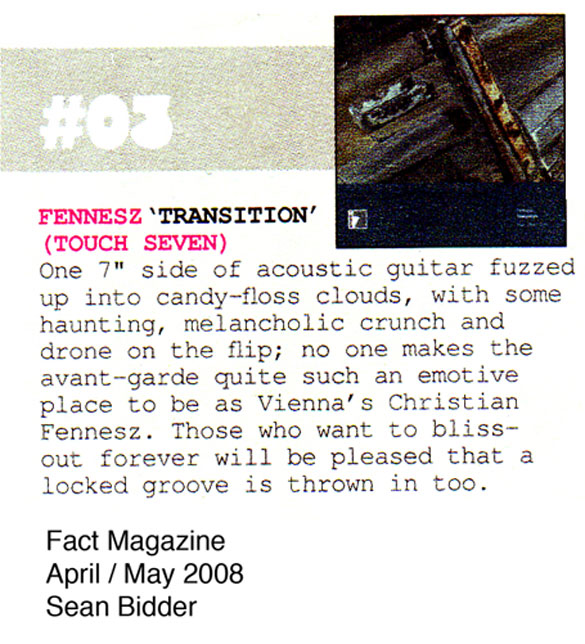 plan b (UK):

DJ (UK):
Released as a 7" only, this latest Fennesz outing draped in echo and shimmering layered fx ends all but too soon. Another masterstroke from one of the originators of pastoral music.
Buzz (UK):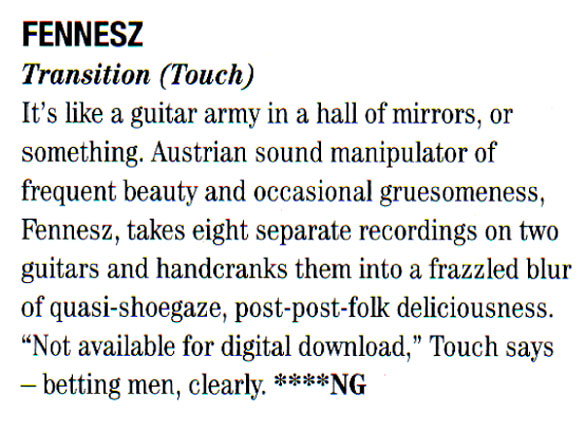 Dusted (USA):
There's little mist
aking C. Fennesz against any other glitch-ambient artists, even with a relatively untrained ear – his ability to find beauty in the interruptions, and the manner in which he shapes these sounds, are done with a fine point and a sturdy hand, and are able to stand up to repeated use, and occasional abuse. "On a Desolate Shore" drifts peacefully into the ether of a locked groove, while "A Shadow Passes by" showcases his skill on acoustic guitar, pensively carving out a melody.
soundproector.com (Russia):
Label Touch procedes releasing of 7-inch vynil records with short but very expressive EP of the most extraordinary modern musicians. Recently this collection was joined by the new work of Christian Fennesz – Transition. In this album this musician doesn't change his concepts and approach to music – experiments with guitar sound with breathtaking variations and various chains of effects made by this musician keep being urgent and interesting.
Transition's sounding is very similar to the album Venice released in 2004. Absolutely amorphous sound of track "On A Desolate Shore" spills around like some warm shroud, it immerses us into the dense fog and prostration. Low-frequency rumble, glitch rustlings and scratches, thin inhomogeneous squeak are crumpled into one big and beautiful sound clew. "A Shadow Passes By" procedes this theme with bright running over strings of an abstract, thoughtful guitar dissected by delay effect. It is as if rainy cloud with enormous masses of moisture went away letting the sun rays come through it. Somewhere far away it's still raining but now it's not so important…