CDEP
Design & photography by Jon Wozencroft
Track listing:
1. Liminal 3:07
2. July 5:06
3. Shift 6:47
4. Seven Stars* 3:01
Recorded in Studio B, Amannstudios, Vienna.
Acoustic and electric guitars, bass, synths, computers.
*Seven Stars features Steven Hess on drums, recorded at Amannstudios by Christoph Amann
Fennesz's first solo release since Black Sea [Touch # TO:76, 2008] – CD version. It will also be available as a digital download. Using acoustic and electric guitars, bass, synths, computers, Fennesz continues to engage and entrance us in equal measure.
Fennesz writes: "Seven Stars was recorded in Vienna in January 2011. I recorded and mixed the album within 3 weeks. Liminal and July were existing pieces which i have reworked. (I wrote an early version of Liminal in a hotel room in Bali in 2010). There is also a version of Liminal that I have been playing live for some time. My friend Steven Hess, with whom I have worked before, happened to be in Vienna at the time of the sessions, so I invited him to join me in the studio. Christoph Amann recorded the drums using a selection of his great microphones including his amazing new Josephson.
I wanted to make a record that has a certain lightness about it and at the same time explore new territory using drums on one track. This might be something I will continue with in the future."
Fennesz's third collaboration with Ryuichi Sakamoto, Flumina, is due out in November on Touch.

Reviews:

Headphone Commute (USA):
It's time for me to catch up to my favorite releases from Touch. And what better way to kick it off then with a short four-track EP from Christian Fennesz one of the top experimental composers known for using his guitar as the source instrument in laptop aided electronic music. Anyone familiar with his work will instantly recognize the delicate attention to detail, even when the sound is submerged in slight distortion, some reverb and a little bit of flanger. Seven Stars is Fennesz's first solo release since Black Sea (Touch, 2008). The tracks incorporate the usual electric guitars, bass, and synths to paint thick layers of drony textures, and for the first time in his discography a drum kit, played by Steven Hess (Member of Locrian). "I wanted to make a record that has a certain lightness about it and at the same time explore new territory using drums on one track," says this Vienna based sound artist. Besides his solo work, there's also his celebrated collaboration with Ryuichi Sakamoto – their latest, appearing on Touch as a double disk, titled Flumina. Both, this EP and the Fennesz + Sakamoto release have appeared on Headphone Commute's Best of 2011, so it's about time that they got properly mentioned on here. There's also a neat little USB flash drive release by Fennesz and Jon Wozencroft, titled Liquid Music which you can pick up from touchshop.org. Fennesz never disappoints!
Heathen Harvest (USA):
The last time we heard from Fennesz was over two years ago when he had just released "Black Sea" through UK-based label Touch Music. This ambient / modern classical masterpiece was one of the last real 'gems' that the Heathen Harvest webzine saw in its first incarnation. 6 tracks of desolate, purling beauty. Fennesz has gone on to release a number of collaborations with projects from Sparklehorse to Burkhard Stangl, Lucia Pulido, and Martin Siewert, but as far as I can tell, this is his first solo effort since that time. It is also interesting to note that the track "July" seems to be a reworking of the piece "June", an etched 12″ that was released on the American experimental label Table of the Elements. "Liminal" is also a reworking of an unreleased track that was created in a hotel room in Bali in 2010, but the original has been played live for some time.
Seven Stars opens with Liminal, a track that perfectly defines Christian Fennesz' style over the past decade, with dreamy guitar and electronic backdrop drones that lull over the listener like waves crashing gently into the Northeastern American shoreline. In its three short minutes, the track comes alive, breathing of cool evenings watching the sunset fade into the horizon, colors warmly changing from blues to oranges to pinks to black. Likewise, the re-worked rendition of "June" in July follows quickly behind the comforts of visually retaining that Summer beauty into a veil of dusk, a darkened mystery of metallic scraping and artificial chirping. The mood of foreboding night-time figures is met head-on by the scene set before, of insects emerging for the evening feast, of the creaking of piers over the deceptive and now unseen lull of the unforgiving sea. What we're left with when the feast subsides is the simple stripped down heartbeat of night, carrying us over into the realm of sleep. As the track implies, "Shift" takes from one world to the next, from the realism of a simple subset beauty and the following dark collapse, to the surrealism that shapes those memories into a decisively more personal and evolving experience. With the beach pop guitar style that Fennesz is known for, this last track combines minimal percussion and a jazzy progression to give us the lift we need to escape the confines of mortality and gravity to venture to The Pleiades (Seven Sisters). Seven Stars ends with a beautiful journey to end an evening once again brilliantly created through the pensive musicianship of Christian Fennesz. Sometimes illusory, sometimes astral — it seems like this musician flirts with perfection with every recording he creates.
The wonders of this record lead you to wonder, where has Fennesz been since "Black Sea"? Outside of his collaborative endeavors, Fennesz has been busy these past three years since it's release. He has played live with the Yellow Magic Orchestra, created a live and commissioned composition for The Morning Line sonic pavilion in Vienna, taken part in a benefit concert for Japan via the Japanese contemporary composer Ryuichi Sakamoto, remixed "The Visitor" by Miracle, and composed to music for the film "AUN – The Beginning and the End of All Things". Needless to say, Fennesz is every bit of a true artist are he is a studio musician. There is an incredible amount of ways to experience his work, so if you find yourself loving his music as much as many others do, really, get out and experience his other works through film and performance. Your next chance may happen on accident, as the track "Surf" from "Field Recordings 1995-2002″ has been used for a trailer for the movie "The Grey", directed by Joe Carnahan, due out in 2012.
Rating: 5/5
Pitchfork (USA):
It's weird to think of a Christian Fennesz record as "comfort food," but that's what living with an experimental artist's work will do. In the late 1990s and early 2000s, the Austrian avant-guitarist and corrupted software whiz trafficked in the harsh and unpredictable "glitch" sound of his benefactors at the Mego label. But as he began to play openly with the surf's-up sound of 60s pop on 2001's Endless Summer, listeners not usually into grating improvised noise began to find a way into Fennesz's world. He became one of the 21st century's more improbable crossover figures, and one of its most inventive advocates for bringing the guitar into a brave new laptop world.
Fennesz's music hasn't shied away from darker places since, but his love of twisted beauty allows people a chance to become familiar with, even soothed by, a sound that seems decidedly not-for-everyone on the surface. A four-track EP, Seven Stars is Fennesz in an almost purely placid mode, not too dissimilar to what he was exploring a decade ago. The least comfortable moments here, like "July", aren't all that different from the dark ambient the Aphex Twin was exploring circa SAW II. Even the metallic buzz that rises like the sound of insects on a summer night stays on just the right side of being shrill. Tracks like "July" and the cinematic "Shift" are about as uncomfortable as music can get while remaining immersive rather than alienating.
The last few years have seen a glut of day-at-the-beach acts using digital tools to capture a sense of summertime fun. Aside from the fact that he arguably got there first with Endless Summer, Fennesz's music is never quite so glib or obvious, attempting to capture the vibe of bands like the Beach Boys without the aid of quotes, hooks, harmonies, or even the stable ground of pop song structure. On "Liminal" and the title track, he evokes the heartsick string arrangements of the Pet Sounds era with unnatural swells of computerized sound that nonetheless have a real low-key emotional punch. And while his guitar is both bright and sad, a pure 60s balladeer tone, his playing still follows an improviser's inscrutable logic. Seven Stars is a welcome if not surprising dose of what Fennesz has been doing well for a decade now, playing on the thin edge between familiar pleasures and the truly out-there. [Jess Harvell]
Boomkat (UK):
Fennesz's first formal solo release since 2008's Black Sea LP is as impeccably wrought and moving as you'd expect from the Austrian master, comprised of four pieces that are short in duration but cosmic in scope. He really is at the top of his game at the moment, making some of the most naturalistic, melodically generous but texturally complex music of his career to date: 'Liminal' projects his aching, echo-drenched guitar phrasing across a smoky screen of stirring strings; 'July' is a visceral yet carefully modulated drone piece, with desert-blues inflections rising slowly and elegantly out of forbidding scorched earth ambience. 'Shift' heads into deep space, its stargazing organ tones layered with such grace and authority as to put all those young kosmische chancers to shame, but the best is saved for the closing and title track: there's a return to the plangent, reverbed guitar chords and liturgical strings of 'Liminal', but this time brushed drums and bass are deployed to give all that yearning some extra movement and direction. Most artists would struggle across an album to achieve the depth, range and all-round grandeur that Fennesz compresses into this superlative 10″.
Norman Records (UK):
Always lovely to get some vinyl from Touch and this I believe is their first 10″ record, perfectly suited to contain these four tracks from the esteemed Christian Fennesz. Here he's operating with acoustic and electric guitars, bass, synths and of course computers. Opener 'Liminal' is a wonderfully dreamy and evocative number with lovely guitar, trademark layers of static and fuzz. Its very easy going and ultimately tranquil if a little melancholy. 'July' shifts into darker terrain with otherworldly low end rumbling juxtaposed with high pitched tones and then in the middle lies a slowly mutating and transforming slab of sound design which mirrors Jon Wozencroft's light peeking through darkness images that adorn the sleeve. This is Fennesz at his most dark and mysterious and its really is very intriguing. Things ease up in intensity as the track gradually dissolves and fades away. 'Shift' is the longest running number of the four and really does hit the spot with celestial, shimmering organ sounds that take thing astral. A fantastic sonic journey, deep into the cosmos and brilliantly executed. Finally Steven Hess makes an appearance on drums for Seven Stars which moves swiftly in a different direction with reverbed guitar strings and gently brushed drums. Steven's understated drums meet perfectly with the extremely tender and emotional moods created by Christian's expert deployment of sounds. Great to have him back with this, his first solo release since the Black Sea album. Gorgeous music that's highly recommended.
nonsiamodiqui (Italy):
Un orizzonte scuro e misteriosissimo, materico: forse è così che Fennesz immagina il cosmo, e per questo ha cercato di descrivenerne il respiro profondo ed infinitamente calmo. E languido.
Seven Stars è la prima uscita dai tempi di Black Sea (2008), e la definitiva conferma che, per quanto composito, il suono di Christian Fennesz sia tutt'altro che inaccessibile.
Via i loop abrasivi, dentro grandi innesti sintetici, spazio per la prima volta in assoluto alle percussioni (sulla title track), e il risultato è un gran tuffo in un limbo ambient.
La sensazione è di procedere a bracciate ampie, consapevoli, addirittura senza bisogno di respirare o accelerare il battito, dritti verso una fonte di luce stellare e di pace. Attratti, coccolati, affascinati da questo limbo mezzo cielo e mezzo mare, ondivago ed incerto.
Fennesz ce l'ha fatta di nuovo, a manipolare le nostre anime e le nostre destinazioni. [Paolo]
Other Music (USA):
It's been 10 years since Fennesz's Endless Summer transcended the often sterile, glitchy confines of laptop music. It was an album that essentially humanized the genre with the Vienna-based guitarist/experimentalist coaxing yearning, sun-dazed melodies through his processed guitar and fields of Powerbook static. While his subsequent work hasn't been as game changing — an impossible feat especially given the breadth of collaborations and live releases between the occasional solo albums — it's not hard to imagine that had either 2004's Venice or 2008's Black Sea appeared in the time and place of Endless Summer, we'd be hailing one of those as a watershed. Seven Stars, his new four-song EP, continues on that excellent track, and, in 18-minutes, offers a perfect, varied summation of his past work and possible hints of his future.
Though played through a hazy, crackling wall of effects, the acoustic and electric guitars of opener "Liminal" are fairly uncloaked for Fennesz; his hesitant, sustained plucks and strums conjure the same bittersweet nostalgia felt while staring at an old, faded photograph. Next, "July" travels into a darker, cinematic trajectory, where metallic scrapes and drones whirr and buzz like alien insects, finally subsiding to make way for the calm, cool waves of Fennesz's processed guitar. During "Shift," a mesmerizing wall of string and synth harmonics shimmer through a cosmic cloud for six minutes before slowly dissipating into the ether to make way for the EP closer, "Seven Stars." Here, we find Fennesz operating in an almost conventional song mode as the inclusion of Steve Hess' soft, brushed drums gently guide the tranquil synth pads and chimes of acoustic guitar. Not too dissimilar from the Cocteau Twins' elegant celestial gaze (minus the drum machine, swirl and, of course, Elizabeth Fraser's heavenly operatics), the title track inhabits a far more intimate plane, playing out like a lucid dream. Fennesz has suggested that he may revisit this territory again, and in his hands, it's no doubt a direction that would be as singular as his varied past explorations of sound and melody — it's hard not to be intrigued by what may be around the corner. [GH]
Ondarock (Italy):
Christian Fennesz negli ultimi anni ha dosato accuratamente le sue release. Prima nel novembre 2008 "Black Sea", quindi la magnifica collaborazione con Buck e Daniell e lo split con Antony. Ci si aspettava forse un nuovo Lp, e invece l'austriaco ha deciso di rilasciare un 10" per la storica Touch.
In realtà, vista la durata – ci si aggira sui venticinque minuti – potremmo parlare proprio di un mini-album, la cui bellezza consacra ulteriormente la fama del musicista di Vienna.
La stella dell'austriaco brilla qui prepotente ancora una volta, elevandolo ormai di fatto a maestro indiscusso di quella generazione di autori degli ultimi vent'anni che scavallano i confini invisibili tra ambient, elettronica e drone. Fennesz in questo senso ne è peculiarissima declinazione, grazie alla naturalità del suono che riesce a cavar fuori dalla sua chitarra elettrica. E di volta in volta – il glitch e i fields nella prima parte della sua carriera, le chitarre droniche poi – aggiunge elementi nuovi, in questo caso la batteria.
La title track, "Seven Stars", fonde il suo personalissimo gusto per la ricerca elettronica, qui fluttuante e subacquea, con una batteria leggerissima, che porta alla memoria sia certi tepori folktronici che sonorità della benemerita (e defunta) Resonant. E se "July" è il silenzio rumoroso dopo la deflagrazione, "Liminal" rappresenta il sunto dell'attuale Fennesz: chitarra spastica in vista, grumosi viavai di materia nebulosa in dispersione e fascinazioni di universi lontani.
"Shift" e la reprise "Reshift" giocano una carta sempre tenuta nascosta dal musicista: il dark. Le fascinazioni ombrose di certo dark-ambient molto tenebroso, funebre e austero nella sua epicità – alla maniera dei Troum – svelano qui paesaggi sospesi e scurissimi.
A conti fatti, Fennesz riesce ancora una volta a rendere peculiare una materia scandagliata in tutti i suoi aspetti, aggiungendoci quel quid che rende così speciale questo "Seven Stars": il cuore. [Alberto Asquini]
Playground (Spain):
On "Seven Stars", Fennesz breaks from the dark and solitary sound of his previous albums and shyly moves towards the melodic light – whilst once again searching for the devastating spirit of his acclaimed "Endless Summer" album…
Though the past three years haven't been completely silent, "Seven Stars"- a lean four-track EP – is the first musical endeavour we've received from Fennesz as a solo artist since the sombre "Black Sea" (2008). Happily, it's return on which all musical arguments are brightly logical and coherent; it's the perfect embodiment of his expressive and sonic evolution over the past few years. After the opaque and dark predecessor, you can sense the will to oxygenate his sound on this comeback. If he keeps on the path of this EP, we anticipate the new album could hold the ideal fusion of the cutting and wintery ambient of "Venice" and "Black Sea" and the pop-inspired melodic pirouettes of "Endless Summer".
The jewel on the crown is "Liminal", the best possible definition of the Fennesz sound 2011. The manipulation of the guitar, on top form here, led by a definitive picking that sticks in your head – supported by the atmospherics of digitally treated string arrangements – make for an unbeatable sound. On "July" and "Shift", Fennesz sharpens his nails and reveals his most raging and noisy self. However, the title track and closing song "Reshift", covered by a majestic drone of epic proportions, show the friendliest and most accessible side of his sound. He's not reinventing the wheel – and some might miss the more experimental and cerebral aspect of the Austrian – but the man is absolutely unbeatable in his field. [Julio Pardo]
Forced Exposure (USA):
The Austrian avant-guitarist offers four tracks of beautiful guitarscapes tricked out through his signature glitched-n-blurred processing. Hardly cold for a slab of digitalia, the opening track "Liminal" is one of Fennesz' more structured numbers, built from a simple chord progression on his acoustic guitar, that then stomps on a Mogwai-ish distortion box for at least one burst of incendiary soft-loud-soft dynamics. All of the sounds prickle, squish, and splutter amidst a swarming sea of digitized pixels that reassemble themselves as echoes and ghosts of Fennesz' original guitar playing. "July" darkens the hue quite a bit with a warbling bass that looks back to the post-rock explorations of Rothko or Labradford. "Shift" is one of Fennesz' finer drone-centric moments that builds a hallowed melody out of a cavernous wash of sun bleached tones, and the title track is a collaborative effort with Steven Hess on drums, resulting in a slowcore tune fleshed with all of Fennesz's digital ephemera.
FYI, there is a compact disc scheduled for release in September 2011, for those not so keen on the vinyl format. Oh yeah, this has been cut at 45rpm, so you know that we'll be playing this at 33 as well!
VITAL (Netherlands):
Its been indeed a while since we last heard solo music by Christian Fennesz, the absolute genius when it comes to laptop music. His previous release was 'Black Sea' (see Vital Weekly 653) and the new one is a four track 10″, recorded earlier this year. Fennesz says he wanted to record something with more lightness and one track he uses drums, played by Steven Hess. Fennesz himself plays acoustic and electric guitars, synth, bass and computers. Fennesz explores the route he choose for 'Black Sea' further. Moving away from the strict laptop music, by incorporating more clearly guitars and bass, which in 'Liminal' goes towards popmusic – although not really of course – and in 'July' makes a dense piece of improvised sounds. 'July' is the most ambient piece, dark but with shimmering lights. 'Seven Stars' is the piece with Steven Hess and has nice acoustic guitars, laidback percussion and fine granular synthesis. Almost a piece of lounge music. Excellent, all four. A pity, only four. Can't wait for the next longplayer. [FdW]
kindamuzik (Netherlands):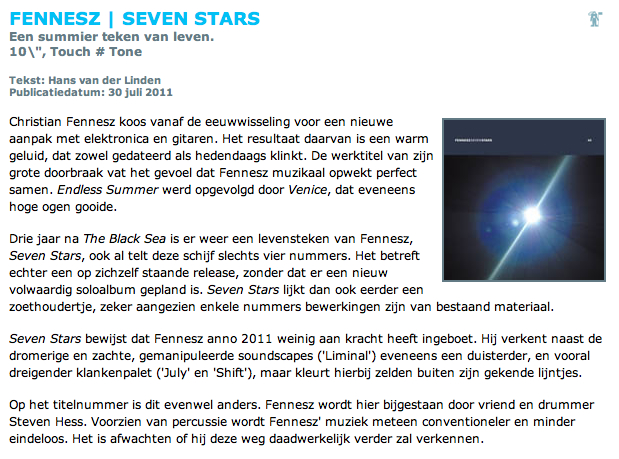 Bubblegum Cage lll (blog):
Blimey! A new Fennesz solo record, already!! Are you sure? Yes, it's true: In the two-and-a-half years since the release of Black Sea, the great man has managed to produce as many as four (4) new songs. You have to wonder: given the hell-for-leather work rate our boy Christian is clearly maintaining, has quality control gone out the window? Short answer: No! Long answer: Noooooooooooooooooooooooo!!!!!!!!!!!!!!!
Mind you, there aren't any great surprises here. Or at least, there aren't any great leaps into the unknown. In a sense, it is rather surprising that Fennesz has released something so immediately reminiscent of his great masterpiece Endless Summer. But while the melodic elements of Seven Stars are strikingly like those of Endless Summer, the overall sound is much more in line with his last couple of albums – moody and atmospheric, rather than noisy and colourful. Even the appearance of Steven Hess (of On and not – as this here blog has previously claimed – Labradford) adding a steady drum beat to the title track isn't that startling. The results actually recall another previous Fennesz release – the Fennesz/Brandlmayr/Dafeldecker trio album 'Till the Old World's Blown Up & a New One is Created. Which is, of course, a very good thing indeed. For evidence, watch the (official?) video below, then go buy the 10″ at the Touch shop. [NO! it is NOT the official video! – ed.]
The Quietus (UK):
The arrival of a new solo record by Christian Fennesz is always a joy; they're few and far between (he's only released two albums since 2001's seminal Endless Summer) and his live shows tend to act as teasers, involving drawn out and frequently gorgeous new material. That his latest, Seven Stars, is only a four track EP is cause for a tiny glimmer of sadness. It's worth hoping it's a prelude to something of greater length and depth, especially considering that what is present here certainly whets the appetite for more.
Sonically, Seven Stars finds Fennesz in fairly familiar territory, though its overall mood is far warmer and more welcoming than his last full-length, 2008's Black Sea. That album matched its title and the stark seascape that adorned its front cover – it was mostly a flat and chilly expanse, its grainy surface broken occasionally by fits of choppy turbulence and the odd glimmer of heavily delayed guitar. It was his best solo effort since Endless Summer – while 2004's Venice was involving in a mellow, dusty way, it lacked its predecessor's very visceral sense of mapping largely uncharted territory, passing guitar through so many effects units that any distinct timbre began to dissolve entirely. Black Sea was something different again, less a collection of shorter tracks than a single, longform piece, complete with thirty seconds' silence dividing the first half from the second (a nice little hark back to the days of flipping a vinyl record halfway through, perhaps).
Seven Stars, interestingly, is closest to Venice than any of his other records, in that it avoids dramatic dynamics in favour of gradual evolution. That's both a blessing and a curse. Part of the thrill of Fennesz's best records is that they don't sound quite like anyone else. Though it's been hugely influential over the last decade, no-one's yet come close to replicating Endless Summer's blissful meld of pop and glitchy experimentalism. But many have tried, and that's perhaps one of the main problems with listening to Seven Stars; while no-one can do Fennesz quite like Fennesz can, that his sound has often been attempted means it now lacks something of the alien quality that gave Endless Summer and Black Sea such an edge.
But then it's also ridiculous to hang the former album especially as an albatross around Fennesz's neck for his entire solo career (I'm not going to go into his collaborative material here, of which there is a great deal, much of which is fantastic and worthy of immediate investigation). The material on Seven Stars still stands head and shoulders above most of the competition in his particular guitar-and-laptop niche, and is haunted by memories of some of his recent live shows, where similar sounding material stretched outward into glistening choral drones (akin to the EP's sepulchral third track 'Shift'). It's especially impressive in terms of its sonic depth. Opener 'Liminal' sounds ostensibly simple in terms of composition – little other than a three-minute drift of lightly strummed guitar and digital hiss – but close listening reveals a wealth of detail, ripples streaming out from behind his guitar catching hold of the surrounding ambient sound and causing slight turbulence below the surface. [Rory Gibb]
NONPOP (Germany):
Bei den zahllosen Kollaborationen und Projekten, die der Österreicher CHRISTIAN FENNESZ pflegt, sind die Abstände zwischen seinen Solo-Veröffentlichungen naturgemäß etwas größer. Neben Arbeiten mit JIM O'ROURKE, DAVID SYLVIAN oder RYUICHI SAKAMOTO erhielt er im März dieses Jahres gar den Auftrag, GUSTAV MAHLER für ein österreichisches Festival zu Ehren des Komponisten zu remixen. "Seven Stars", eine Vinyl-EP mit vier Tracks, ist deshalb seit dem glanzvollen Album "Black Sea" (2008, NONPOP-Besprechung) das erste Material, welches ausschließlich unter dem Nachnamen des Gitarristen firmiert.
Zwei der Stücke – "Liminal" und "July" – hatte er schon länger im Gepäck und überarbeitete sie für "Seven Stars", die beiden anderen kamen neu dazu, genau ausreichend also für das 10inch-Lieblingsformat von FENNESZ. Wie immer baut der Musiker ein kunstvolles Universum rund um akustische und elektrische Gitarren auf, ohne dass diese ständig zu hören oder besser: zu identifizieren wären. Zwei Umstände sind dabei bemerkenswert: Zum ersten Mal verwendet CHRISTIAN FENNESZ ein Schlagzeug, gespielt von CHRISTOPH AMANN im Titeltrack "Seven Stars". Und zum anderen klingen die vier Tracks ganz unterschiedlich, pendeln zwischen melodischem Ambient-Pop und metallenem Dröhnen.
"Liminal" (01) basiert auf einzelnen, verspielten und als solchen noch erkennbaren Gitarrentönen, die wie so häufig bei FENNESZ zu einer wunderbaren, melancholischen Melodie zusammenwachsen. Weit und einsam, immer leicht improvisiert scheinend, der Künstler mit sich alleine im Probenraum. Verpackt ist der Song in ein rauschendes, permanent wie übersteuert wirkendes, aber dennoch wohliges Soundbett; ein Stück Ambient-Pop.
"July" (02) dagegen ist mehr geräuschig als melodisch. Dröhnende Soundlayer starten in die Sonne, ein kosmisches Sommerstöhnen und -räkeln. Wie es der Titel verspricht, ist flirrende Hitze zu hören, die beinahe schon unangenehm auf der Haut brennt, keine Kühlung in Sicht. Die Luft schmeckt metallen, und so klingt auch "July". Ab der Mitte weht ein beruhigendes Lüftchen, die Gitarre ist aber immer noch weniger anheimelnd als in "Liminal".
"Shift" (03) ist purer Ambient. Langsame, glitzernde Synthie-Drones liegen in der Luft, bewegen sich majestätisch auf und ab, klingen beinahe wie eine in Zeitlupe angeschlagene Orgel. Auch hier geht alles in Richtung Weltall, Universum, vielleicht eine Sommernacht.
Das Titelstück schließlich, "Seven Stars" (04), schlägt den Bogen zum ersten Track. Gitarrenakkorde, warm und weich, dieses Mal überraschend unterstützt vom schon erwähnten Schlagzeug, welches ein entspanntes, jazziges Flair erzeugt. Wäre die Gitarre ein Bass, würden wir von Ähnlichkeit mit BOHREN sprechen. Ein verträumter und sehr angenehmer (Sommer)Nachmittag auf dem Balkon über der Stadt. Das Thema 'Sommer' könnte hier übrigens ein verbindendes sein, alle Tracks fühlen sich an, als ob sie ihren Ursprung in der aktuellen Jahreszeit hätten.
Nach großartigen Soloalben wie "Endless Summer" und zuletzt "Black Sea" hat sich bei mir die Erkenntnis durchgesetzt, dass ich FENNESZ am liebsten solo höre, was auf "Seven Stars" wieder einmal bestätigt wird. Vier Stücke zwischen Dark, Ambient und moderner Elektroakustik, vor allem das behagliche "Liminal" und der verträumte Titelsong mit Schlagzeug lassen innehalten und lauschen. Wie immer nach solch kurzen Zwischenspielen wächst die Hoffnung auf ein ganzes Album!
PS: "Seven Stars" ist bei TOUCH auch als Download erhältlich. Wer die 10inch dort als Vinyl bestellt, erhält zusätzlich einen FENNESZ-Remix von "Shift", dem dritten Track der EP, als File gratis dazu. Im September soll die EP auch auf CD erscheinen.
PSS: Liebe Labels, wenn Ihr wollt, dass die Musik Eurer Künstler entsprechend gewürdigt wird, dann ringt Euch doch – gerade bei Sonderformaten wie 10inch – ENDLICH dazu durch, verbindlich einen Hinweis auf die Abspielgeschwindigkeit mitzuliefern! Gerade bei Doom, Drone oder Ambient ergibt es sich manchmal nicht auf Anhieb, ob diese Musik mit 33 oder 45 rpm laufen soll. [Michael We]
Textura (USA):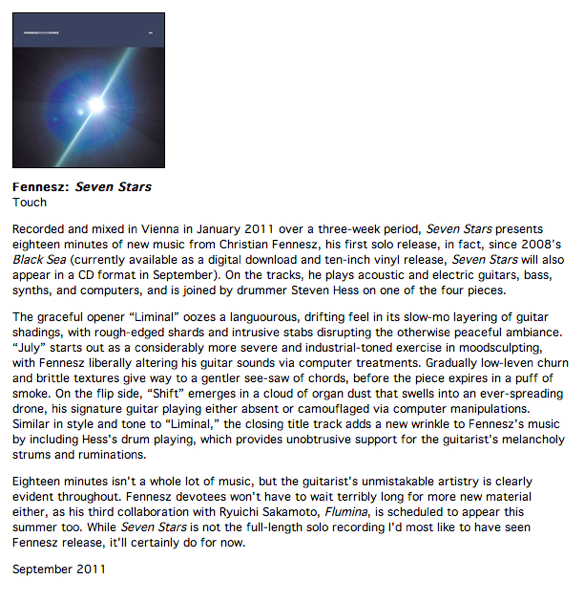 de:bug (Germany):

and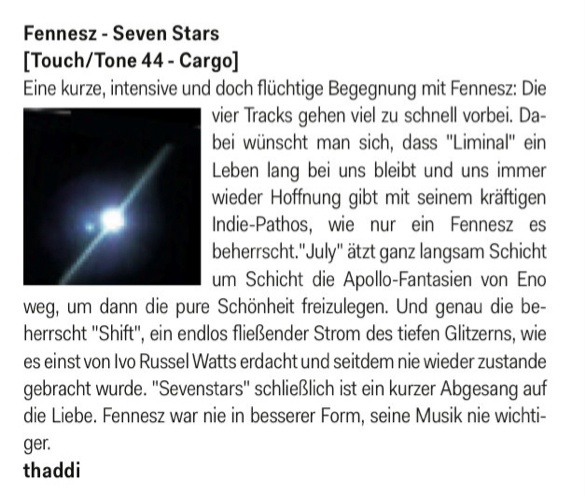 Dusted (USA):
First, a tip of the hat to Touch's design chops, which rival Apple's for sheer seductivity. This 10" record — the label's first venture into the big little single format — comes with a typically gorgeous cover, and the pressing is fab. But I fear that Touch is taking this step into a new format subdivision in order to confer a specialness that the music doesn't support.
Seven Stars is the first Christian Fennesz solo release in nearly three years, and it does little to mess with his solo sonic signature. The first track "Liminal" has been a live staple for a while. It's a big, surging mass that sounds at once electronic (he might tote a guitar on stage these days, but it's the computer that he can't leave home without) and naturalistic (is that the ocean surf, Christian, or is your amp sighing?). Smaller movements of barely perceptible melody course through its monolithic body. It's gorgeous, quintessential Fennesz, so if you want more of what you love and you're wondering if this record will supply it, you've got your affirmative answer.
"July" is a slow stroll for pixilated acoustic guitar and drums. It may seem like a departure, since Fennesz has never used a drum kit before, but its air of sweet melancholy, filtered through old-school modem crackle, is so heavy and familiar that it obliterates any momentary novelty. Never mind the drums, the tune could be an Endless Summer outtake.
Flip the record over and you get two more masterfully crafted, utterly familiar reconfirmations of Fennesz's claim upon his brand. "Shift" takes a strum that could be the build-up to a power ballad's chorus through several layers of futzed-radio interference, while the title track seems to soundtrack the search for another guitar lick in a dark virtual room. Spoiler alert — you'll find it down-pitched and just the other side of that synthetic heat haze.
One might argue that it's unfair to expect Fennesz, who after all has been making solo albums for 14 years and is just 16 months shy of his 50th birthday, to radically reinvent himself at this point. What he does, he does so well on this record that I would unreservedly recommend it to anyone who likes his sound. But I can't help but remember how surprising his music up through Endless Summer was, and wish for a bit of that. [Bill Meyer]
SA (Spain):
Sonic Seducer (Germany):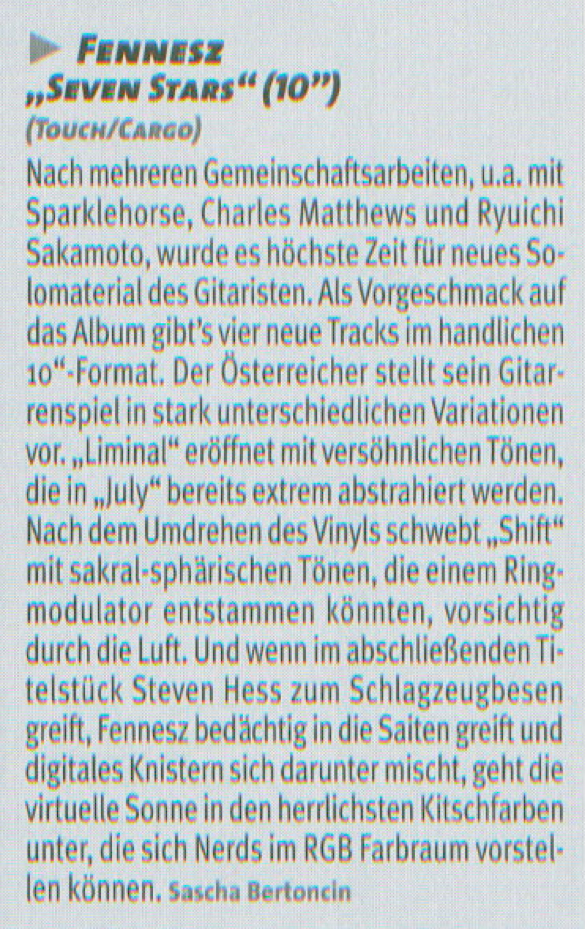 Sound of Music (Sweden):
Österrikaren Christian Fennesz står fast i sin gitarrbaserade electronica på den nya tiotummaren Seven Stars. Fyra låtar där han söker en tydlig lätthet men samtidigt tillför trummor på en av dem som ett nytt element. Två av dem är "vanliga" Fenneszlåtar, en är mer experimentell och den fjärde – titellåten – förstår jag mig inte riktigt på.
Till skillnad från den förra skivan Black Sea, arbetade Feenesz snabbt med Seven Stars, under tre veckor i januari 2011 spelades den in och mixades i Amannstudion i Wien. Även om de fyra låtarna trots allt har flera gemensamma nämnare finns skillnader. I treminutaren "Liminal" återfinns det karaktäristiska soundet av Fennesz gitarr. I den täta men ändå lätta ljudbilden glittrar klangerna som kretsar kring den enkla ackordsföljden. Raderade anslag gör dock "Shift" till en skönt svävande historia. Parallella stråk av gitarrer och syntar bearbetas i dator och blir en ljus och finstämd våg av klanger. Jag tänker på bolagsbrodern Phill Niblocks konserter där han samtidigt projicerat filmer på människor i Asien. Bra!
"July" skiljer sig med sin experimentlusta. Det finns fortfarande en ljudlig väv som håller samman låten, men insticken är fler och bryter av mer än spelar med. Det skapar motstånd, samtidigt som den också är mörkare än de andra.
Titellåten förstår jag mig däremot inte på. Att Steven Hess för in trummor i musiken är det inget fel på i sig, men själva låten är riktigt tråkig. Ingen mystik och ingen spänning, istället en form av feelgoodmusik med rena gitarrer och märkligt bloppande keyboardljud från en svunnen tid. I dessa retrotider kanske det funkar för många, för mig håller det dock inte.
Men som sagt. Det är bara en av tre. De andra håller god Fennesz-klass. [Magnus Nygren]
GoMag (Spain):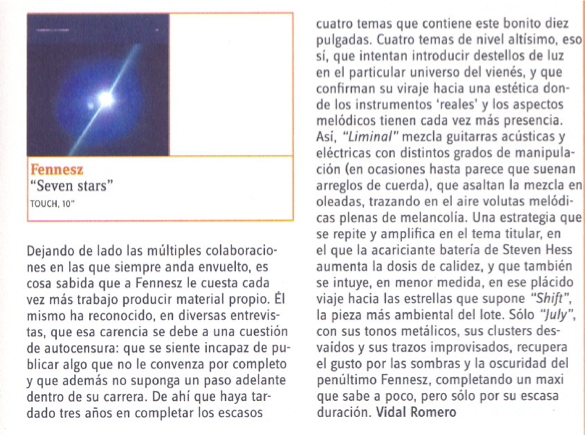 Blow Up (Italy):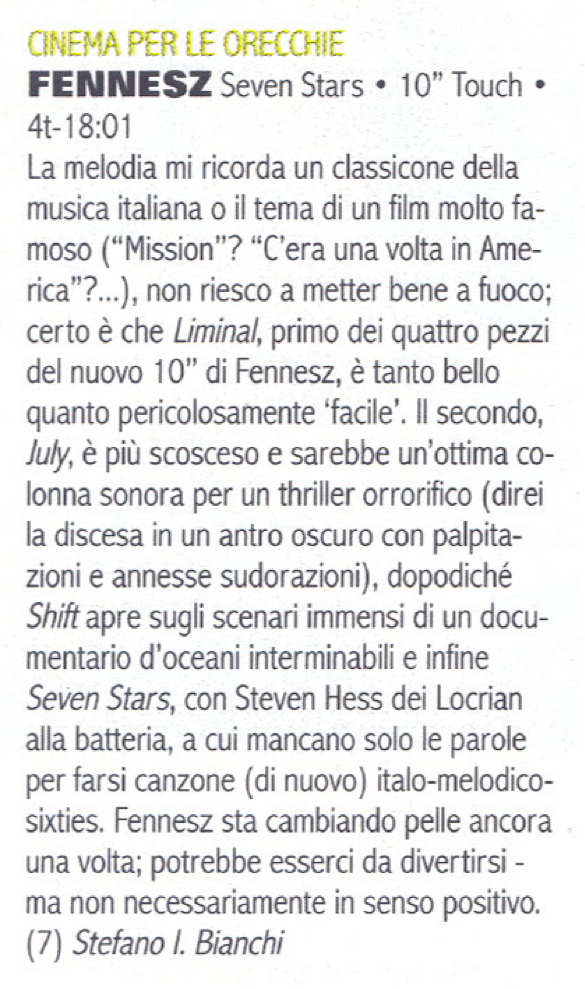 Ox (Germany):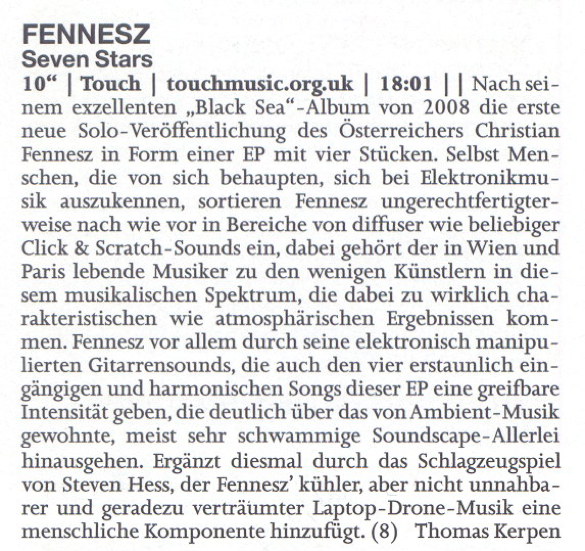 Forced Exposure (USA):
It's been 10 years since Fennesz's Endless Summer transcended the often sterile, glitchy confines of laptop music. It was an album that essentially humanized the genre with the Vienna-based guitarist/experimentalist coaxing yearning, sun-dazed melodies through his processed guitar and fields of Powerbook static. While his subsequent work hasn't been as game changing — an impossible feat especially given the breadth of collaborations and live releases between the occasional solo albums — it's not hard to imagine that had either 2004's Venice or 2008's Black Sea appeared in the time and place of Endless Summer, we'd be hailing one of those as a watershed. Seven Stars, his new four-song EP, continues on that excellent track, and, in 18-minutes, offers a perfect, varied summation of his past work and possible hints of his future.
Though played through a hazy, crackling wall of effects, the acoustic and electric guitars of opener "Liminal" are fairly uncloaked for Fennesz; his hesitant, sustained plucks and strums conjure the same bittersweet nostalgia felt while staring at an old, faded photograph. Next, "July" travels into a darker, cinematic trajectory, where metallic scrapes and drones whirr and buzz like alien insects, finally subsiding to make way for the calm, cool waves of Fennesz's processed guitar. During "Shift," a mesmerizing wall of string and synth harmonics shimmer through a cosmic cloud for six minutes before slowly dissipating into the ether to make way for the EP closer, "Seven Stars." Here, we find Fennesz operating in an almost conventional song mode as the inclusion of Steve Hess' soft, brushed drums gently guide the tranquil synth pads and chimes of acoustic guitar. Not too dissimilar from the Cocteau Twins' elegant celestial gaze (minus the drum machine, swirl and, of course, Elizabeth Fraser's heavenly operatics), the title track inhabits a far more intimate plane, playing out like a lucid dream. Fennesz has suggested that he may revisit this territory again, and in his hands, it's no doubt a direction that would be as singular as his varied past explorations of sound and melody — it's hard not to be intrigued by what may be around the corner. [GH]
Sound Fix (USA):
…Fennesz's Seven Stars is a more traditional EP-length release—only 18 minutes of music. That leaves us craving for more from the remarkable Viennese guitarist, but let's be thankful for what we have: great new music from one of electronic music's real giants. The news is that Seven Stars features drums, the first time (we think) Fennesz has gone down this road, and it's a welcome development. But it's only on the title track, giving the piece an almost jazz-like flavor amid the swirling guitars and synths. The other tracks have a warm and crackling sound more in line with Fennesz's previous work: "Liminal" has the strongest melody; "July" features a more eerie, ominous sound while "Shift" is just gorgeous, as beautiful a piece of electronic music as you'll hear all year. Fennesz says he might use drums more on his upcoming full-length. We sure hope so.
Rockarolla (UK):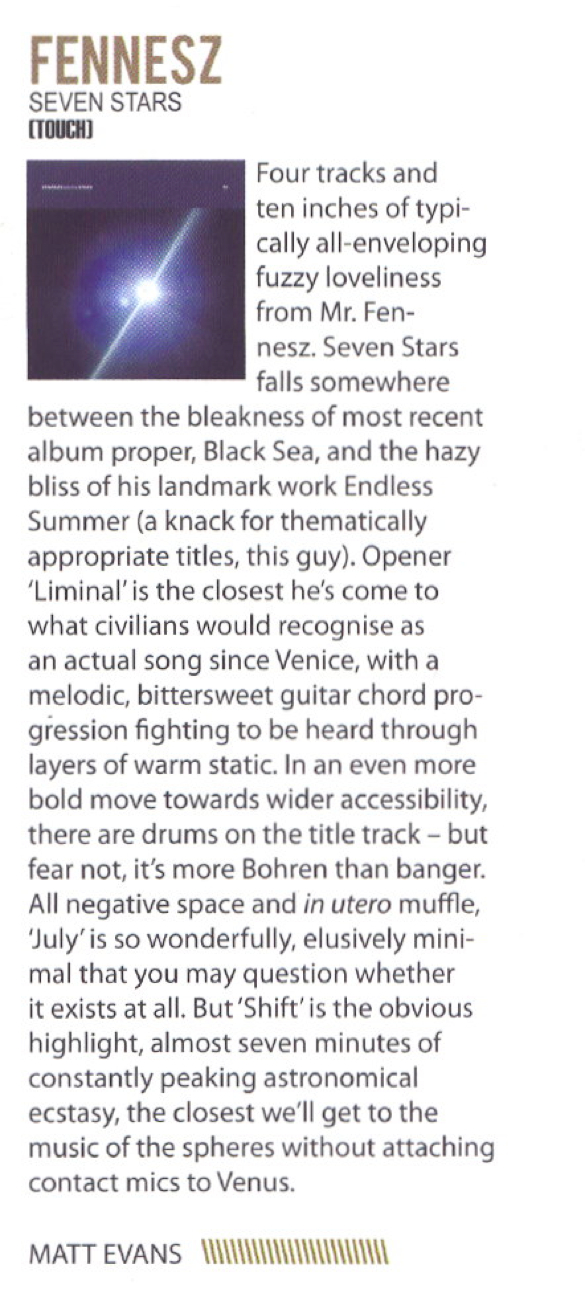 Dark Entries (Belgium):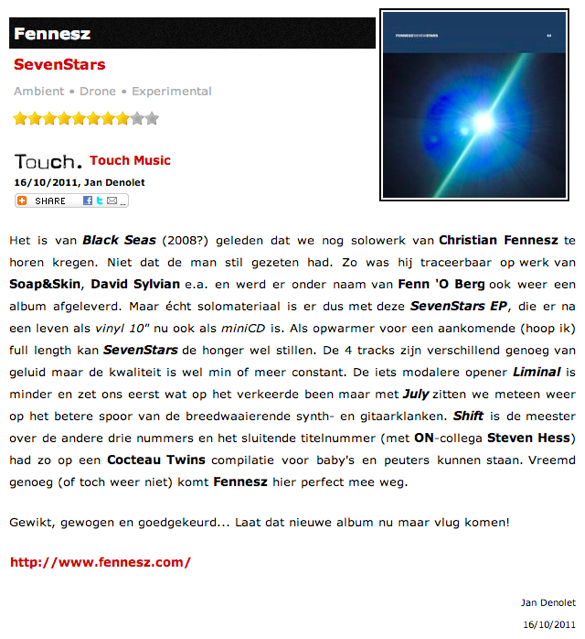 Treble (USA):
Ambient music typically concerns itself with the atmospheric, the weightless and often the intangible, but since releasing his 2001 masterpiece Endless Summer, Christian Fennesz has pursued more terrestrial, or more specifically, aqueous themes. From that album's bittersweet coastlines to the canals of Venice, and the dark and mysterious depths of Black Sea, a water theme has informed his artistic direction, even if the connection is often more abstract. The way he evokes the imagery of nostalgic summers, for instance, is not through explicit means, but through tones and loops that touch those strange and enigmatic triggers. Yet new EP Seven Stars, by title alone, offers a clear indication of a change in direction. Fennesz, across this 18-minute release, is stepping out of the water, onto land and leaping into the cosmos.
Specifically citing the aim of creating something that expresses lightness, Fennesz has taken his electronic soundscapes into new territory that's cinematic one moment and nebulous the next, covering compellingly diverse space on a surprisingly short release. The opening track, "Liminal," is one of the most direct and accessible compositions one is likely to find on a Fennesz release. Its mixture of acoustic guitars and melancholy synths is gorgeous, even melodic, sounding more like a film score than anything Fennesz has recorded in recent years. Yet "July" is far less immediate, an atmospheric piece whose distortions and sonic waves give the listener the illusion of floating in space. "Shift" continues this idea, but to a more awe-inspiring degree, the kind of spacious yet heavy-hitting scoring that's seemingly designed for planetariums. But the closing title track returns to a more direct, melodic idea, closing out the EP with a brief but lovely piece that ends the journey into space with a soft landing on terra firma.
While Seven Stars isn't nearly as emotionally gripping as Endless Summer, nor as darkly compelling as Black Sea, it nonetheless provides another interesting aspect of Fennesz's ever-evolving vision. As always, it's quite lovely, and as a bridge between his lengthier material, it's another splendid, if brief, addition to his stunning body of work.
RifRaf (France):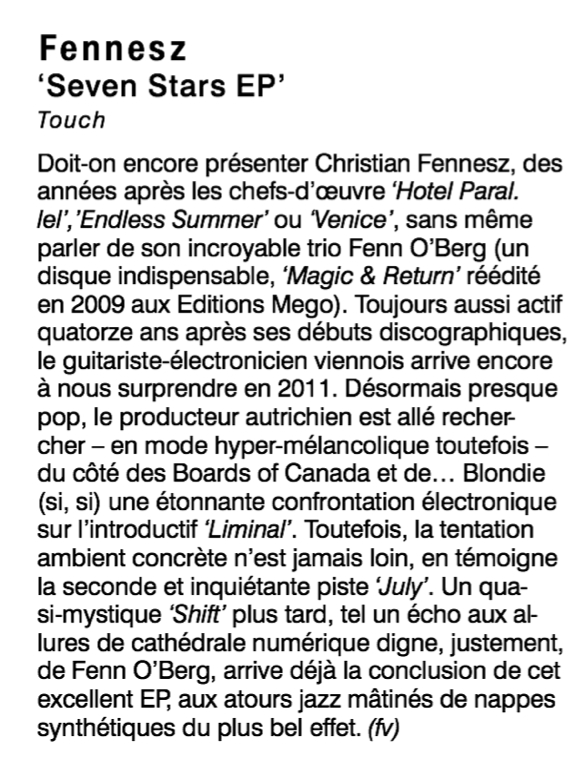 Gonzo Circus (Belgium):

foxydigitalis (USA):
With Seven Stars, the inimitable Mr. Fennesz extends a literally stellar ten-inch extended player to us mere humans. The man's undisputed prowess on the guitar is on full display, as he coaxes out the most simultaneously enormous and delicate sounds. Opener "Liminal" is a majestic piece, evoking a huge interstellar expanse with some slithering, watery string work. Those might not seem like the most apt adjectives when describing a such a cosmic piece, but it's all brought together by Fennesz' cinematic tune and some wonderful processing. The songs on Seven Stars feel so massive that the stellar theme is quite appropriate. "July" takes us farther out into the solar system, amongst the gas giants. Largely abstract initially, a solemn and stately guitar theme emerges from the cloudy nebulae near the end, then it fades and we depart into deeper space. Side B begins in a very celestial manner with distant shimmering tones imparting a grand character to "Shift". The sounds swell enormously and it seems as if this piece is mostly synth work. Mysterious and saturnine, "Shift" is a long, ambient interlude before we come across the peaceful realm of the next track. "Seven Stars", featuring Steven Hess on drums, possesses a nearly jazzy nature, again due to Fennesz' masterful chord progressions, and a languid pace. Minor creaks, hisses and random guitar noises are transformed into the background of a remote area. I believe it's one of the first (if not the first) time Fennesz has used drums on one of his own tracks, and it shows great promise for the future definition of his sound. Seven Stars is a fantastic work on a smaller scale, as Fennesz utilizes his way around a gorgeous chord structure and the production possess an uncommon depth. [Kirk Van Husen]
Liability (France):
Hawai (Chile):
Mientras las notas del piano recorrían el espacio perturbado por una electrónica sucia a la vez que hermosa, se había formado un abismo entre el cierre de esa caja llena de cenizas y esta caja llena de luz. Hace cuatro años nos quedamos asombrados por la unión entre el japonés Ryuichi Sakamoto y el austríaco Christian Fennesz. En el caso del primero, ya había dado muestras de lo bien que se acoplaban sus creaciones junto a las ambientaciones de carácter más sintético, en particular sus colaboraciones con el alemán Carsten Nicolai. El poder subyugador de "Insen" (raster-noton, 2005) se niega a desaparecer. En el caso del segundo, los rastros de su música, entre el canción experimental y el ruido pop, tampoco parecen borrarse aún con los años, sin perder sorpresa ni fascinación: el legado de "Endless Summer" (Mego, 2001), a pesar de ser un disco muy propio de un momento particular sigue vigente, uno que acercaba tanto a quien tiene acostumbrado los oídos a sonidos más difíciles como al que necesita una melodía que seguir. Pero con lo que acá tenemos no vamos a descubrir recién ahora de lo que ambos pueden lograr y las pruebas irrefutables de ello son "Sala Santa Cecilia" (Touch, 2005) y "Cendre" (Touch, 2007) [055], el primero una actuación en vivo en Italia, el segundo una obra profunda, intensa y delicada, la luz del sol emergiendo sobre un bosque de sonidos.
Hoy, diciembre de 2011, al fin el encuentro que ahora nos parece lejano se acerca a nosotros. "Flumina", un trabajo largo y minucioso, que en sus dos discos, como para compensar la distancia, nos cae sobre los oídos para purificar cualquier suciedad, justo a tiempo, cuando el curso de un año y sus desaciertos os viene a la memoria. El proceso de aquel trabajo era de una interacción mayor, envío de pistas por correo, creación en ambas direcciones, encuentros furtivos. El proceso actual es una tanto diferente, mucho más simple que el anterior. 'Las 24 piezas de 'Flumina' se basan en composiciones/improvisaciones para piano que Ryuichi Sakamoto había grabado mientras estaba de gira por Japón. En esa gira Ryuichi tocó una pieza de piano en una clave distinta al comienzo de cada espectáculo, siempre con un proyecto 'Fennesz Sakamoto' en mente. Después de 24 espectáculos tenía 24 pistas en 24 claves diferentes, que abarcan los 24 claves tonales del sistema tonal occidental. Sakamoto envió las pistas a Christian Fennesz y él trabajó en ellas usando electrónica, guitarras y sintetizadores. Se reunieron en Nueva York y luego mezclaron el álbum junto con Fernando Aponte en los estudios KAB'. Una metodología que se ve sencilla, que parece serlo y que se exhibe de la misma manera, pero que en el momento en que cada uno se enfrenta con su tarea saca a relucir un algo especial, quizás talento, quizás inspiración, algo que nace de manera casi mágica. Quien pudiera entrar en la mente de Sakamoto en el instante preciso en que se enfrenta solo ante una multitud. Pareciese que en ese segundo todo se apaga, el ruido queda fuera, y solo es él y su piano. Segundos de calma infinita que se propagan una eternidad, un desvío de la realidad trágica hacia lugares llenos de gracia. Esas piezas en tonalidades diferentes pasa a manos de Fennesz, alguien no menos dotado. Lo suyo son las texturas, trabajar la canción desde elementos ajenos a ella, tejiendo redes de sonidos orgánicos y otros no tanto, puliendo el entramado que propone el japonés por la sumando moléculas de crujidos molestos tratados de forma que más bien acarician, nunca de manera fácil, sino recorriendo el camino inverso. Dos horas de música para el descanso del mundo en que cada componente esta ubicado en el sitio correcto, en el lugar adecuado, y en el que no sobra nada, ningún gesto. La minuciosidad de la que hablaba no se encuentra en un hacer demasiado estudiado, sino en una forma que se vuelve casi costumbre, como un artesano lo es con su obra, solo que acá el resultado es siempre inesperado. Que ello se repita en el tiempo no le resta en lo absoluto su valor. "Flumina", veinticuatro ríos de aguas purificadoras.
El disco de la pareja estrella de Touch se suma a otro trabajo de tan solo meses de vida. "Summvs" (raster-noton, 2011) [148] es el orto gran trabajo de Sakamoto haciendo de este un año perfecto para el maestro venido desde Japón. Y como el espigado austríaco no podía quedarse atrás, a mediados de este 2011 que ya se nos escapa publica nuevas canciones en la (casi) soledad. Grabado en Viena en enero de 2011, con un proceso, incluyendo mezclas, bastante breve, tan solo tres semanas. Originalmente se editó en un 10" –en septiembre llegaría en CD–, el mini álbum llamado "Seven Stars" es otro de esos que crecen y crecen hasta alcanzar el cielo, llegando a explotar como una estrella en el espacio, partiéndose en millones de partículas. Tal y como sucede con "Endless Summer", o como sucedía en "plus forty seven degrees 56′'37" minus sixteen degrees 51'08"" (Touch, 1999), o en "Transition" (Touch, 2008), Fennesz convierte el ruido en canción. Partiendo de desechos más allá de la exósfera construye una melodía a través de la superposición de capas más capas. Guitarras acústicas y eléctricas, bajo, sintetizador y computador son las herramientas con las que reconstruye el espectro más formal de la música. Cuatro temas: la cara A la ocupan "Liminal" y "July", "piezas existentes que he vuelto a trabajar". La segunda es pura materia oscura suspendida en el aire turbio, la primera todo lo contrario, belleza cristalina en fricción con magma volcánico, choque constante de fuerzas tratando de vencer cuando los vencidos somos nosotros. La cara B, "Shift", la más ambiental de todas, aunque contaminada un tanto en su centro; "Seven Stars" cuenta con la batería de Steven Hess (Haptic, Dropp Ensemble, On) –"pasó por Viena en el momento de las sesiones, así que lo invité a unirse a mí en el estudio"¬– quien le otorga una impronta más jazz, sumado a loops acuáticos, quiebres sorpresivos, mareas asfixiantes, destellos para no dejar de soñar. Pese a ser una obra breve no es menor en ningún sentido más que el temporal. Un acompañante al mismo nivel que "Flumina", que se ve coronado por un artwork, a cargo de Jon Wozencroft, de esos a los que a uno de le dan ganas de observar por horas –en el caso del disco con el japonés es igual de extraordinario: una fotografía de las olas de un océano aún con vida en colores azul grisáceo–, arriba el título y el número de catálogo en colores blanco y gris sobre un fondo azul de prusia, abajo una imagen sobre un fondo oscuro de una luz incandescente que se propaga inagotablemente sobre un círculo otra vez de colores azulados. La veo y no me canso de hacerlo. Por otro lado, es un complemento impecable para lo que en ella se contiene: se ve y se siente como la el aliento agónico y final de una estrella en su ocaso.
Terz (Germany):

Etherreal (France):
Fennesz, un cas d'école. Après des débuts aux expérimentations bruitistes, l'autrichien signe Endless Summer, album culte sorti en 2001, rempli de tubes grésillants, duquel il ne peut se défaire. De temps à autre on tente un nouveau concert, dont on sort généralement déçu. Non pas que cela soit mauvais, mais on regrette toujours le manque de renouvellement, la facilité dans la constance. Qu'en est-il sur disque ?
Seven Stars reste une expérience assez limitée dans la mesure où il ne s'agit que d'un 4 titres, disponible en CD et vinyle 10″. La bonne nouvelle c'est la richesse du disque avec quatre morceaux qui se révèlent assez différents les uns des autres.
On commence par les "sans surprise", dont l'ouverture qui permet de retrouver Fennesz là où on l'avait laissé : belles nappes et mélodies de guitare parsemées de grésillements, Liminal est tout à fait dans la lignée de Endless Summer. Sans surprise non plus, ou peut-être devrait-on dire mauvaise surprise, le même genre de mélodie, mi-guitare, mi-électronique, cette fois sans artefacts numériques, créant une sorte d'ambient romantico-lounge que l'on croirait ponctuée de piaillements d'oiseaux. Bref, un peu fleur bleue.
On se consacrera donc surtout aux deux autres pièces qui sont aussi les plus longues. Dans les deux cas, l'Autrichien travaille sur l'abstraction. Une version plus complexe dans un premier temps avec July, une base grésillante, parsemée de bruitages inquiétants, une approche cinématographique, un univers sombres aux accords métalliques.
Shift est quant à elle la meilleure surprise. Moins aventureuse que July, elle voit ici Fennesz jouer dans le registre d'une ambient assez traditionnelle. Finit les textures arides, ce sont ici des nappes de laptop limpides qui viennent par vague, lentes montées qui vous submergent, apaisantes.
On reconnait la patte de Fennesz, un disque court mais qui recèle quelques beaux moments. Doux et agréable. [Fabrice Allard]