Release date: 12th April 2019
CD – 3 tracks – 54:20
All tracks written by Zachary Paul (violin & electronics)
Photography & design by Jon Wozencroft
Mastered by Simon Scott @ SPS Mastering
Track listing:
1. Premonition (3:30PM Lake Perris) [31:50]
i Rays ii Clouds
2. Slow Ascent (9:30PM Downtown) [12:06]
3. A Person with Feelings (Original score) [10:24]
You can listen to an extract here and order on bandcamp here
Premonition was recorded live at Desert Daze, Oct 12th 2018. With thanks to Cris Cichocki.
Slow Ascent was recorded by Mike Harding at Touch presents… Live at Human Resources, Feb 23rd 2018. Remastered by Simon Scott.
A Person with Feelings; a short film by Tanner Smith.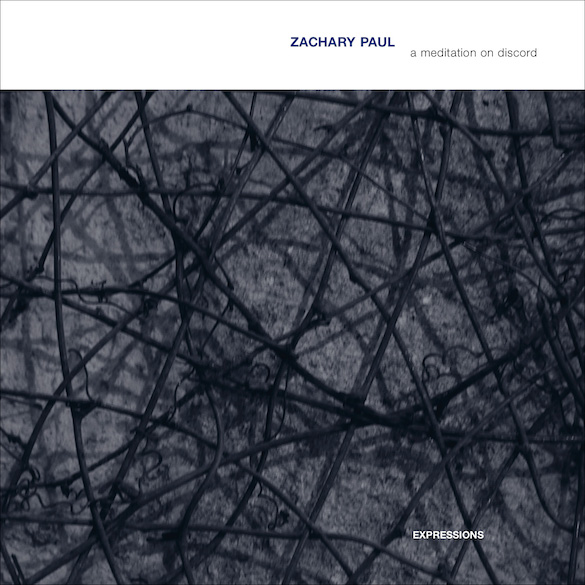 Zachary Paul (b. 1995) is a Los Angeles-based violinist and composer interested in perception, the transportive nature of long durations, and trance states… read more
Reviews:
Bandcamp 'New & Notable':
Emotion and intuition guide this experimental violinist as he creates beautiful textural sound-worlds from his instrument and pedals.
The Quietus (UK):
"For Touch, Zachary Paul proves one human being alone on stage with a violin can still conjure up a whole world" by Robert Barry:
In 1968, Bruce Nauman tuned his violin to D-E-A-D. Fifty years later, and somewhat less portentously, Zachary Paul, appearing on stage at last year's Desert Daze Festival in California, tuned his to G-D-G-D. The results are hardly less minimal and hypnotic but certainly more sensitively played.
The Californian composer-improviser's first solo album under his own name, for Touch, starts by erecting a dense fog of swirling harmonics, building up long loops of heady drones in uncertain, shifting layers. It's just one man on a stage, a single violin and some electronics, but it conjures up a whole world in short order.
Fans of Tony Conrad's Early Minimalism project and the Theatre of Eternal Music will recognise Paul's penchant for long tones and the swell of tightly packed resonant frequencies. This is music to swim in and to feel oneself swum through by. That first track, 'Premonition', improvised live at Desert Daze, lasts a cool half hour and probably contains less information , in the strict Claude Shannon sense of the term, than most three minute pop songs. That's hardly the point, of course. 'Premonition' could last three minutes or it could last three days or three weeks. It is not the journey but the landscape.
Something in the timbre of the second track 'Slow Ascent' feels almost old time-y to these ears. Speed it up a few hundred percent and it could almost be bluegrass. As it is, it would sit comfortably flitting amongst dappled light in one of the dreamier sequences in Andrew Dominik's (2007) film, The Assassination of Jesse James by the Coward Robert Ford. Final track, 'A Person with Feelings' actually is a film soundtrack, though not to anything so mainstream as a Brad Pitt movie. Paul himself describes it as a "modern trance" film and it's here that the electronics take precedence over the violin, resulting in something a little gloopy for my taste. He's generally a lot more inclined towards time-based effects like reverb and delay than his east coast forebears from the 50s and 60s, tending to smooth off his own rough edges and mellow his own twists and turns. This may disappoint the minimalist purists, but it certainly makes for a sweeter listening experience.
A Closer Listen (USA):
For his debut, Zachary Paul joins a relatively long history of radical dronesters and minimalists that aim not for you to experience music differently but to alter your very perception of reality. The first two tracks are tied to a place and time ("3:30 PM Lake Perris", for the first, and "9:30 PM Downtown", for the second) while the third one consists of a soundtrack to a short film about an actor's inner life: sound is a bridge extending outwards from our skin and into the world. It is, of course, not a bridge made of concrete and steel, but one that has an emotional foundation, the kind of bricks and stones that lead more than a few to see sound and hear color, a mutability that shifts with every passing second.
Both "Premonition" and "Slow Ascent" are improvised, and each depicts an emotional soundscape of a story told in vast violin harmonies. The earlier reflects a warm and bright afternoon at the back of which loomed a deafening storm, Paul's playing an entrancing daydream able to map every moment, from the quietude of sunrays to the dissonance of the clouds that would distort them. As the storm approaches, "Premonition" grows in intensity, its tones sweeping upward, a translation in which nothing is lost – the sky rumbles, announcing the fiery paths of lightning that will roar from the ground to strike above. The meditation lays down the bridge, a communion with nature in which the mind extends into the body as it also grasps everything around it in every sweep of the violin's bow. The rain materializes in acute, indistinguishable drones upon which fast, short, indefinite sounds ring, eventually giving way to an uncertain mass both distant and immediate. Discord flows throughout the world, but instead of ending it, discord illuminates it.
As "Slow Ascent" begins, that extension into the world snaps back towards another kind of meditation, one that traces a path within. Performed as an "inverted guided group meditation" (which I suppose means that instead of one leading the many, the many lead the one in the journey), the drones are much warmer and longer, expressing no translation of fragmented exterior phenomena but one of unity, of a peaceful inner state that is constantly in movement, constantly harmonizing every contradiction, every instinct, every rational process. The performer himself becomes a communicating vessel, allowing the objective nature of sound frequencies become the primary site of an expression beyond words and chants; the communion here is between an audience and an instrument of their own shaping. Discord seems like an event, but it instead becomes the process without which there would be no harmony at the end.
The last track, "A Person With Feelings", points the way towards another kind of meditation: as we identify with or reject a character on-screen, we step further outside or inside ourselves, and our inner lives grow paradoxical. The drones here are less oriented by the idea of a soundscape and instead attempt to clearly push emotions and images away/into the listener, ending with a dissonant screech that will leave no one unscathed. Discord here is an event, one so punishing it will either attract or repel, leaving nothing in between.
Paul's debut is a powerful piece of drone, worthy of those who have seen music as a field of experience. It will hopefully change and challenge your perception, but only if you listen to it at full volume, allowing you to see it completely. (David Murrieta Flores)
Chain D.L.K. (USA):
Three solo works by Zachary Paul, performing violin with electronics, are gathered here for a fairly intensive and immersive bit of solitary performance in which lengthy violin notes and sparse moments of more impulsive playing are layered up, reverberated and droned until the single instrument source has transformed into a full environment you can bathe in.
First piece "Premonition" is an exemplary half-hour exercise in slow build and transformation, as the tension and texture grows and grows, almost imperceptibly slowly, resulting in an impressive self-contained journey where a relatively narrow range of sounds can hold your interest for far longer than ought to be possible.
Second piece "Slow Ascent" is almost inappropriately named then, as it's got a similar sonic outlay to the first piece, but dynamically it's more of a plateau, not featureless but devoid of any major changes.
Third piece "A Person With Feelings" was created as the score for a short abstract film that hasn't been released yet, and reflects an emotional journey that perhaps may make more sense with its associated picture; on its own, it feels more like a compressed version of the opening piece, but reaching a destination that's more tense and discordant in the end.
Since Ed Alleyne-Johnson's experiments with electric violin processing in the early 90's (before he side-stepped into weak crowd-pleasing cover versions), the idea of drawing grittier tones and electronic source elements out of a violin has seemed powerful to me, and these pieces explore the idea well. They may be steeped in anxiety but the result is a rewarding listen, and the fact it doesn't overstay its welcome is an impressive feat. [Stuart Bruce]
Brainwashed (USA):
I almost slept on this unexpectedly incendiary delight, as it deceptively seemed like just another solid drone album based on my initial and brief exposure to it.  Then I noticed that Anna von Hausswolff had described it as "This is just…. wow."  Given that she does not seem at all like the sort to be floored easily, I revisited A Meditation of Discord for a proper listen.  I found myself sharing her sentiment by the end of the opening "Premonition," as Paul and his violin unleash a slow-burning and breathtaking one-man apocalypse in real time.  To some degree, it is undeniably Paul's masterful live loop manipulation that makes that piece such a beguiling and impressive feat, but even if he had a full band and a limitless studio budget at his disposal, its fiery crescendo could not be any more harrowing and visceral.  While he regrettably tones down his more volcanic impulses for the album's second half, the squirming and psychotically dissonant final moments of the closer beautifully reignite the album's transcendently disturbing brilliance.
There are three different pieces on this album, recorded at three different times and in three different places.   Two of the three pieces were improvised live performances and one is a film score, which I suppose makes Paul's Touch debut more of a collection of orphaned pieces than a proper album.  The unifying theme seems to be that all of these pieces diverge significantly from the aesthetic terrain of Paul's Poppy Nogood project (which also explains why he chose to use his own name for this release).  That said, it would be more accurate to view A Meditation on Discord solely as a document of Paul's incandescent and darkly rapturous performance at the 2018 Desert Days festival with a couple of solid bonus tracks thrown in to flesh it out a bit.
Armed with just an open-tuned violin (G-D-G-D) and a small battery of effects pedals, Paul slowly and seamlessly constructed a complexly layered and endlessly transforming 30-minute tour de force in "Premonition."  Naturally, the piece's hellishly explosive crescendo inspires the most awe, yet the greater achievement lies in how elegantly and fluidly Paul is able to make the slow journey from the lushly undulating drones of the opening to its ultimate destination (which resembles a deafening and bloodthirsty plague of demonic locusts).  Every single one of the movements in "Premonition" could easily have been expanded into an excellent piece of its own, as even the gentlest, simplest drone passages are enlivened with unusually buzzing textures, vibrant harmonies, and an enveloping warmth.  It only gets better from there, as that shimmering landscape blossoms into a vivid fantasia of fluttering, shivering strings and swelling chords.  It is a sublimely gorgeous piece until it isn't: almost imperceptibly, Paul starts curdling everything until it becomes an infernal, and gnarled grotesquerie of itself.  By the end, the piece has seamlessly become a complexly layered masterpiece of pure screeching, squirming, and sickly cacophony, and it is absolutely glorious.
I feel truly sorry for the hapless act that had to take the stage after Paul, but a worthy successor eventually materialized in the form of an intense lightning storm that stopped the show later that night.  Amusingly, even Zachary Paul himself has a tough time following the bracing intensity of that performance, as "Premonition" is followed here by the gently languorous drones of "Slow Ascent."  Unlike its predecessor, "Slow Ascent" does not sneakily evolve into anything deeper, as Paul contents himself with lingering in a dreamlike state of suspended animation.  Given the context, however, that makes a lot of sense, as it was improvised as part of a guided meditation event in Los Angeles.  Even at his most pastoral though, Paul finds a way to make his work feel fresh and distinctive, as unexpectedly sharp harmonics squeal and twinkle amidst the heavenly soft-focus languor.  The album's final piece, "A Person With Feelings," is quite a bit different from the others, however, as it was composed for a currently unreleased short film.  Initially, its departures from more conventional film score fare are quite subtle (mostly strange, passing dissonances), but the bottom drops out around the halfway point, and the piece becomes a sci-fi nightmare of throbbing machinery, crackling electronics, and sickly, hallucinatory jabbers and squiggles (all conjured from a violin, no doubt).  That mindfuckery proves to be just the prelude to the main course though, as it gives way to a truly demented crescendo of nightmarishly skittering and gibbering lunacy that would not be out of place on one of Rashad Becker's Notional Species albums.
After hearing Discord, I went back to investigate some of Paul's work as Poppy Nogood and was somewhat surprised to find little hint of the darkness and intensity that was to come.  That project lies at the curious intersection where warmly pastoral drone, subtly experimental neo-classical music a la Sean McCann, and melancholy film score overlap.  Occasionally there is some bite, but the impact is blunted quite a bit by the more composed and produced aesthetic.  It is likable in its own way at times, yet it is nowhere near as memorable as the work captured here. "Premonition" is a fearless, raw, and completely undiluted work where Paul's vision is directly executed with wild-eyed intensity.  It is not entirely raw, as the recording is clean and crowd-noise free, but none of the rough edges have been sanded away by production, and there is no homogenizing, fleshed-out arrangement to diffuse its focus.  It is a simple, direct, and dazzling high-wire act that Paul pulls off with astonishing virtuosity and power.  I am curious to see if Paul ever revisits this vein again or if this release captures the one perfect and glorious night in which he was unquestionably the Niccolò Paginini of loop architecture.  The former would certainly be wonderful, but A Meditation of Discord captures one hell of a memorable performance either way.
Boomkat (UK):
Stunning debut by L.A.-based violinist Zachary Paul, of Touch's mentorship scheme, yielding an elemental, time-bending suite of studies exploring the paradox of stasis/movement, and working in a rich vein of minimalism that reaches back thru Pauline Oliveros, Tony Conrad, and La Monte Young
In three durational parts 'A Meditation On Discord' introduces a promising and timeless new musical voice, showcasing an expressive range and style porous to nature and the elements. The opening, 30 minute live recording 'Premonition' starts anxiously jagged but beautifully warms up as he channels the sun beating down on the Desert Daze festival stage, opening out into the kind of curdled tunings that make our heads fizz, and which we imagine must have sounded incredible in open space. Another live piece 'Slow Ascent' follows, glacially coning from wide, lo lying into a peak of looped voice and strings, before the album's single studio recording 'A Person With Feelings' plays to his full range, segueing from luxuriant to atonal with discernibly electronic designs cut to purpose as the soundtrack to a short film by Tamer Smith. Trust we'll hear more from this bright star in future.
FBIRadio,Sydney (Australia):
Contemporary violinist Zachary Paul appeared on Simon Scott's recent album for Touch, and now releases his solo album (after a number on other labels as Poppy Nogood (Terry Riley tribute!)). There are two works for violin & electronics performed live, but this is a soundtrack to an experimental film. I love how the violin slowly emerges from the synthesized sounds – it's impressive stuff.
Toneshift (USA):
Los Angeles-based violinist Zachary Paul is a modern addition to the line of minimalist composers such as Tony Conrad and Pauline Oliveros, whose work encapsulates the transcendent nature of sustained tones. His new album on the Touch label contains two live recordings and one original film score. The pair of live pieces here capture the artist's expressive range perfectly, showcasing how just a single instrument put through a chain of effects can create something otherworldly and sublime. The first of the live sets is entitled "Premonition" and was recorded at the Desert Daze festival in the middle of a warm afternoon. Paul's improvised, exploratory approach to his violin coaxes an ever-so dramatic drone, upon layers of which more tones are added and subtracted into a slow-shimmering heat haze of music. Resonant frequencies paint a picture of how that afternoon must have been like, sending the audience, and now the home listener, into a hypnotic reverie.
"Slow Ascent", the second live recording, was captured at a Touch event in LA. The sound this time is less resonant than the preceding piece, warmer and lower in tone. Slow ebbing loops reverberate before other more discordant tones appear. So far, this is the first real evidence of discordance to my ears, as per the album title's suggestion. But perhaps Paul's gift is his weaving of these microscopic discordances so delicately into his improvisations. The long durations of his sustained drones are mind-altering, playing tricks on the listener's sense of time and perception. On both of the live pieces, Paul seems to be instinctively reacting to his immediate surroundings, creating improvised sounds in response to the moment. There's an emotional honesty here that is integral to his playing.
The final track is a composed piece, made for a short film. "A Person with Feelings" differs from the live recordings immediately as there is a sense of calm, like deep breathing before meditation. Smooth edges and vapour trail-long bows create a lush soundscape with only the slightest of discordant tones in the mix. This is until the mid-way mark, at which point everything collapses and breaks apart into jagged shards, and the effects processing really barges to the fore. Apparently the film that the music was composed for is an abstract piece that follows an actor's internal journey, in which case I feel sorry for the character as this part of the track signals some serious psychosis!
This album clearly shows Zachary Paul as an important new member of the Touch roster. He's an improviser whose sensitivity to both his chosen instrument and his immediate surroundings combine to deliver music that is transportive and transcendent. [Darren McClure]
textura (Canada):
A Meditation on Discord isn't the first recording Zachary Paul's released—the LA-based violinist has issued three albums under the Poppy Nogood alias and appeared on releases by Simon Scott, Sean McCann, and others—though it is his first on Touch. It's also powerful, the incredible opening piece in particular, and very much a solo recording, its three single-movement settings birthed by Paul alone using violin and electronics. His bio identifies interests in long durations, trance states, and the tension between stasis and movement, all of which are borne out by the fifty-five-minute release (a 500-CD edition). That bio also draws a connecting line from Paul's explorations to those of Tony Conrad, Pauline Oliveros, and La Monte Young, and again the connection's very much supported by the material.
The opening two pieces are live, fully improvised recordings performed on his 1878 violin and augmented by pedals (Earthquaker Afterneath, Diamond Memory Lane Jr, Boss RC-30) and looped vocals. It's the thirty-two-minute Premonition, recorded on Oct 12th, 2018 on the first day of the Desert Daze music festival, that is clearly the recording's central work. Having tuned his violin in open G (G-D-G-D), Paul began, his improvisation reflecting the vibrations of the sun as he absorbed the scene around him. By his own reckoning, the moment he locked into these higher frequencies, "the instrument took control and painted the evening." Though two parts are identified ("Rays" and "Clouds"), Premonition unfolds without pause as an immense, sprawling colossus. With layers multiplied into a towering mass, a mesmerizing swarm is generated whereby bowed strings of dramatically contrasting pitches swirl, shudder, and wail. The impact of the material when listened to at peak volume is stunning, as well as a little bit disorienting—the kind of staggering creation that can leave a performer wondering if such a moment can ever be duplicated. There are moments here where the mass ascends with such ferocity, it feels like your head's about to be torn off, and those who witnessed the performance at the festival must have been in a state of total stupefaction by the time it reached its cataclysmic conclusion. Imagine layering Bernard Herrmann's soundtrack to The Birds a hundred times over and you'll have some hint as to its colossal sound.
The other pieces can't help but be overshadowed by the opener, but they're still very much worth hearing. Recorded eight months earlier at Human Resources in LA for an event celebrating the release of Yann Novak's second album, Slow Ascent (9:30PM Downtown) found Paul playing before his biggest audience to date. Though he was by his own admission nervous (the anxiety manifesting itself as physical tremors in his arm that are heard in the jagged bow stroke at the start of the piece), he turned that to his advantage by feeding off the audience's energy, and the comfort level he gradually achieved is discernible in the patience and control administered during the twelve-minute performance. Even softer (at least initially) is the final piece, A Person with Feelings, which isn't a live performance but instead a score Paul created for a short abstract film by Tanner Smith to be released in 2019. Pitched at a hush, the material wends its melancholy way for five minutes, Paul again showing himself to be an expert at sustaining flow and weaving texture, until a turn into quasi-industrial noise explorations is undertaken for its nightmarish second half. Largely meditative by design, these closing pieces are less intense than Premonition, though not objectionably so. It's unquestionably the magnificent latter work, however, that is the recording's major achievement. [Ron Schepper]
ambient blog (net):
Zachary Paul is a Los Angeles-based violinist and composer "interested in perception, the transportive nature of long durations, and trance states. His work explores the contrasts between stasis and movement and questions the possibility of depicting both synchronously."
This is important background information when listening to Zachary Paul's debut album for Touch because it describes exactly what he does. A Meditation on Discord presents two live recordings, 32-minute Premonition and 12 minute Slow Ascent, both fully improvised on his violin, an assortment of pedals and looped vocals.
The third track, A Person With Feelings, is a score for a short abstract film that is yet to be released.
Apart from Stasis and Movement there is another duality in this music: it is tense and relaxing at the same time. 'Tense' especially in the high frequencies at the conclusion of Premonition. And more relaxing in Slow Ascent, which was an 'inverted guided group meditation' at the event celebrating the release of Yann Novak's second album on Touch. Compared to these two live performance recordings, A Person With Feelings is a lot more subdued, reflecting 'the arc of the film and showcasing the textural range of my instrument'.
Rockerilla (Italy):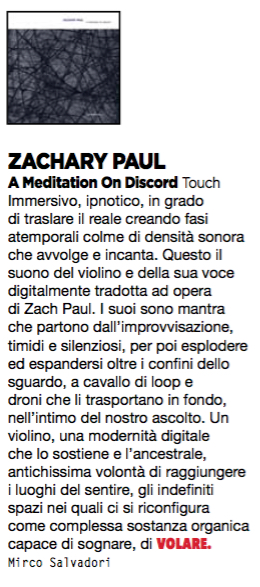 Sonic Seducer (Germany):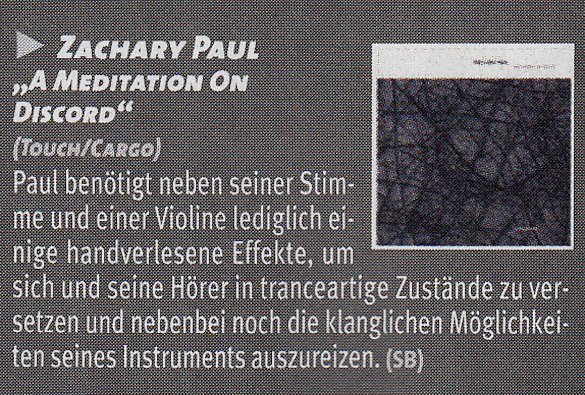 Against the Silence (Greece):
Η τοποθέτηση μιας μισάωρης σύνθεσης στην αρχή ενός ντεμπούτου σίγουρα είναι μια τολμηρή κίνηση, αλλά ο βιολιστής Zachary Paul τα καταφέρνει περίφημα στο να δώσει από την αρχή ένα στίγμα, χωρίς να χαντακώσει την όλη δουλειά του. Είναι σαν να τον οδηγεί ένα αόρατο χέρι με την βοήθεια του οποίου η δύναμη συναντά την τρυφερότητα της, ο χρόνος την σχετικότητα του και η μελωδία την αποδόμηση της σε κάτι άλλο, θα λέγαμε, ουράνιο! Όντως, υπάρχει μια αίσθηση παραφωνίας ολούθε, όπως δηλώνει και ο τίτλος του άλμπουμ, μόνο που αυτή ηχεί περίφημα, όχι λόγω της βιρτουοζιτέ του, αλλά ως απαύγασμα της καλλιτεχνικής σφραγίδας του. Έχοντας μάλιστα, ως κλείσιμο ένα μαγευτικό άσμα, όπως το "A Person With Feelings", μπορούμε να μιλάμε για υψηλή τέχνη ακόμη κι αν είναι ο δημιουργός της στην αρχή μιας πολλά υποσχόμενης πορείας. [Μπάμπης Κολτράνης]
Nitestylez (Germany):
Released only recently via the 1982-founded Touch label is Zachary Paul's latest album "A Meditation On Discord" which provides two live recorded compositions and an original score for a short film, stretched out over a combined playtime of approx. 54 minutes. Starting with the albums main piece, the 32 minutes "Premonition (3.30PM Lake Perris) I Rays II Clouds" we see Zachary Paul dive deep into the sonic realm of altered, reprocessed violin play sporting a droning, off-kilter yet still Ambient-related dissonant sharpness evolving into a minor crescendo of little buzzing, squealing spirits towards the end of the composition. The follow up "Slow Ascent (9:30PM Downtown)" brings forth a more melancholic approach towards an Ambient / (Neo)Classical fusion albeit still sticking to the slightly distorted, off-kilter tuning instead whereas the concluding original score "A Person With Feelings" turns out to be a contemplative arrangement of intertwined synths pads with a Cosmic perspective, paying homage to genre greats like Klaus Schulze or Tangerine Dream before giving way to a more experimental, unsettling and seemingly improvised second half of the composition. Defo a specialists release, this.
Etherreal (France):
Violoniste déjà croisé sur Touch pour avoir officié sur un album de Simon Scott, Zachary Paul sort logiquement son premier album solo sur le label anglais. Constitué de trois longs morceaux (trente-et-une minutes pour le premier, entre dix et douze minutes pour les deux autres), A Meditation On Discord permet de retrouver le violon en majesté, tout juste auréolé de quelques apports électroniques. Afin de varier un peu le propos, le musicien californien officie évidemment par samples et strates superposées, mais module également l'accordage de son instrument.
C'est ainsi que, sur Premonition (3:30pm Lake Perris) I Rays II Clouds, il a baissé d'un ton les deux dernières cordes de son violon, de telle sorte que seules deux notes (sol et ré), à une octave d'écart, soient disponibles. Par suite, quand il appose ses doigts sur le manche de son instrument, il en résulte une forme de redondance qui apporte chaleur et profondeur aux mélodies, comme si plusieurs participants jouaient en même temps la même note. Plus loin, dans le même morceau, l'empilement des couches de violon favorise une double prise en charge : d'un tapis sonore plus uniforme et continu, d'une part, et de notes plus aigües, dévolues à une destinée plus mélodique, d'autre part. En bonne partie improvisée, cette demi-heure conduit l'auditeur à divaguer, au gré des flux et reflux des interventions même si, passées les vingt premières minutes, on se trouve presque face à une sorte de musique expérimentale, entre couinement et sifflement.
À cette aune, les deux morceaux suivants se font plus traditionnels, accueillant une nappe électronique en arrière-plan et un concours du violon partagé entre appuis longs et petits frémissements. Seule la seconde moitié d'A Person With Feelings (Original Score) se fait un peu différente, introduisant des triturations et percées perturbatrices, soit des composantes peu attendues pour une musique de film, fût-il court et abstrait. [François Bousquet]
Blow Up (Italy):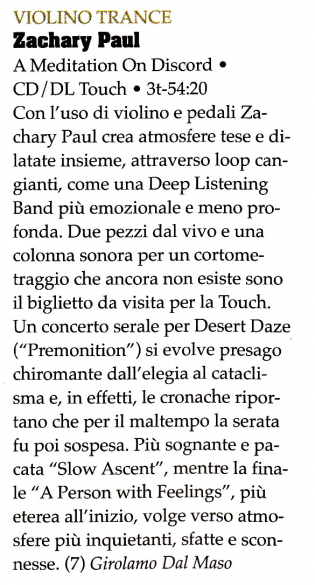 Gonzo Circus (Belgium):