Release date: 26th July 2019
CD + DL – 1 track – 32:45
+ bonus track, Bird's Eye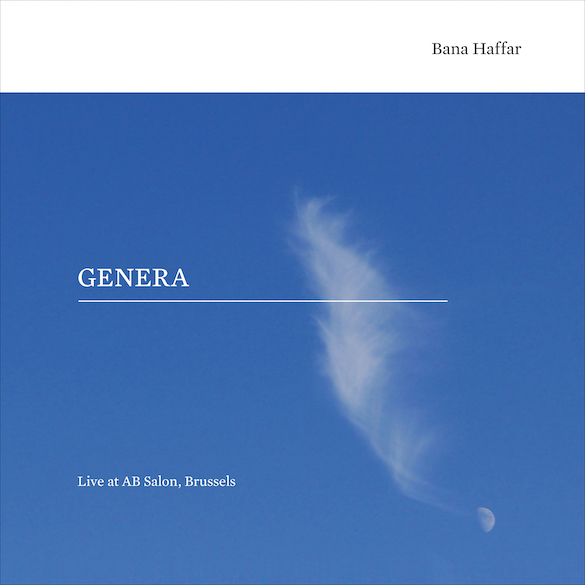 Genera – Live at AB Salon, Brussels by Bana Haffar
Recorded by Mike Harding, 3rd May 2019 at AB Salon, Brussels
Mastered by Simon Scott @ SPS Mastering
Artwork & photography by Jon Wozencroft
Instruments used:-
Eurorack modular: Make Noise René 2, Make Noise Tempi, Make Noise WoggleBug, Make Noise Morphagene, Make Noise QMMG, Make Noise tELHARMONIC, Make Noise Maths, Serge Resonant EQ, Mutable Instruments Shades, Mutable Instrument Clouds
Non-modular: Field recordings made using a Zoom H6 and LOM mikroUsi microphones, GE 35383 Micro Cassette Recorder
Track listing:
1. 'Genera'
A lifelong expatriate, Bana Haffar was born in Saudi Arabia in 1987 and spent much of her childhood in the GCC. Through her switch from 10 years of electric bass, preceded by classical violin, to modular synthesisers in 2014, Bana is attempting to dismantle years of institutional conditioning in traditional systems of music theory and performance. She is interested in exploring sonic disintegration and coalescence into new forms and synthesised experiences. Bana lives in Asheville, North Carolina.
Reviews:
You can read an interview in Perfect Circuit with Bana here
The Sound Projector (UK):
Very taken with 'Genera, Live at AB Salon Brussels' (TOUCH TONE 71) by Bana Haffar's new CD on Touch and one which bears all the hallmarks that have made this label unique and distinctive, including on this occasion the not-overlong duration (32:43 mins of music, and not a wasted moment). I mean Touch have been a home to enigmatic and beautiful music that transcended its electronic mode of construction, as Bana Haffar does here with elegance and intuition, feeling her way around the contours of this work and sustaining interest right until the end.
Haffar is Arabian born and now living in America, and may have found her way towards electronic music from a more traditional classical training base, including learning the violin and playing the electric bass for ten years. She indicates that her present way of working is an attempt to 'unlearn' all of this, which she now regards as a sort of institutionalisation, the same way that intellectuals and free thinkers rebel against the confines of a traditional education. Everyone who picks up these synth instruments and related tools declares they are now going to start 'exploring' and announce their interest in 'new forms,' but Bana Haffar actually makes good on these promises. She lists a range of modular devices that sit in her rack, doing so with the kind of precision you normally get from a salesman in the showroom, as well as noting her use of cassette recorders, field recordings, and microphones; and then proceeds to instantly move beyond this array of equipment to produce beautiful and fascinating music. Her ideas never seem to dry up and she never settles for a commonplace sound.
If you want a few signposts, you might say she combines the best of imaginative Mego-glitch of the 1990's with Terry Riley's arpeggiated sublimeness, juxtaposing these elements with her audio snapshots that inject grit, realism, and surprising angles on the world around us. As noted earlier, it feels to me like she does all of this on 90% pure instinct, shaping up the instant composition in both hands as it unfolds and proceeds. Unequivocal recommendation for this excellent release…now I want to hear her 12-incher 'Alif' on the Vent label, and 'Matiere' on Make Noise Records. From 15th June 2019. [Ed Pinsent]
Chain D.L.K. (USA):
Genera is a live performance in five pieces (labelled 'zones'), 32 minutes in total. Haffar uses a large array of modular synthesisers and is compositionally very free with them. Melodies are present but spontaneous, non-repetitive and unpredictable. Into the mix are thrown field recordings of environmental atmospheres, and snippets of traditional music performances – some possibly related to Haffar's Saudi Arabian heritage, others more rooted in her modern North Carolina life. The result is a collage of disparate elements, presented expressively and emotively.
The first zone draws heavily on flute-like sounds that are twisted and shifted hypnotically, while in the second zone the synths form an organ-like drone for a flatter and more mesmeric landscape. This then brightens up into brighter and breezier synth arpeggios in the third zone. Unexpectedly and quite suddenly, zone four is a hollow cavern, low rumbles, trickling water noises, distant echoes, while the final zone, of stuttering chords and mellow Tangerine Dream-esque arpeggiators, both creeps up and fades away gradually, with a final devolution into crisp walking atmospherics and wind-like noises to close. Throughout, digital clicks and textures decorate the top end, providing a linking consistency.
It's a short but sweet performance that would have been fascinating to catch live back in May. Fresh-sounding, despite familiar ingredients, it's a premium package that represents modern electronic music well, and which could also serve as a strong entry point for people new to the genres being touched on here. The only awkward thing about it is the reference to the division into 'zones', 'zone' being one of those words that, once over-used, starts sounding quite silly somehow.
Loop (CH):
Bana Haffar of Saudi origin is based in North Carolina, who with modular synthesisers and sequencers deconstructs the sounds giving them a new shape.
This album consists of a single piece that was a concert of Haffar in Brussels, recorded live by Mike Harding, boss of the Touch label and mastered by Simon Scott.
In this track of about 32 minutes long Haffar compresses the sounds turning them into noises with nods to the musique concrète. In some passages the sounds mutate into a liquid state, characteristic of Haffar's processing with last generation devices and softwares. Bana Haffar's music has recognisable passages related to ambient, in others they are extremely complex and abstract. [Guillermo Escudero]
Boomkat (UK):
Impressive recording of Bana Haffar breaking down her classical music conditioning through modular hardware and field recording strategies. Employing a big rack of modules as well as location recordings made on digital and analogue devices, we hear Haffar start with tape filtered traces of traditional Arabic music, but the show ends up somewhere quite different.
Over the proceeding 30 minutes the sample struggles through a maze of hardware channels and FX, decaying and changing state into icy marble drops and glowing chords that seem to move ever further upwards, away from the source material, creating crystalline canopies that shatter into deliquescent rivulets only to emerge as Autechrian scree and shrapnel in the final part.
'A lifelong expatriate, Bana Haffar was born in Saudi Arabia in 1987 and spent much of her childhood in the GCC. Through her switch from 10 years of electric bass, preceded by classical violin, to modular synthesisers in 2014, Bana is attempting to dismantle years of institutional conditioning in traditional systems of music theory and performance. She is interested in exploring sonic disintegration and coalescence into new forms and synthesised experiences. Bana lives in Asheville, North Carolina.'
Groove (Germany):
Dass die Idee der Erzählstimme sehr gut gegen den Wortsinn verstanden werden kann, zeigt ebenso deutlich die epische Analogsynthesizererzählung Genera; Live at AB Salon, Brussels (Touch) der US-Amerikanischen Newcomerin Bana Haffar. Sie hat vor vier Jahren ihre klassische Musikausbildung an der Violine zugunsten einer Faszination mit den Eurorack-Modulen von Make Noise und Serge aufgegeben und erzählt seither von Spaziergängen auf und in realen und elektronischen Räumen und Pfaden. Spannende und informative Trips, die vielleicht ähnlich viel über den Zustand der Welt sagen können, wie Fishers explizit gemachte Gedanken.
Nitestylez (Germany):
Put on the album circuit via Touch on July 26th, 2k19 is Bana Haffar's latest album effort Genera (Live At AB Salon, Brussels) which indeed was recorded as a nearly 33 minutes spanning live performance at named location on May 3rd, 2k19. Opening with what seem to be decayed, reprocessed Field Recordings from the Arab world the Saudi Arabian expat soon takes a turn towards a friendly, warm, organic and overall welcoming variation of Ambient with a slightly vintage and melancholia-infused twist.
This twist is especially prevalent in the slowly evolving pads and somehow Pole'esque low frequency harmonies she builds from scratch on her extensive modular Eurorack set up whilst adding layers and layers of floating, lively and playful, later on more dramatic synth sequences on top of this foundation, steering into the realms of beatless IDM music and partly even evoking memories of a long gone genre once called 'Ambient Trance' whilst the final turn takes the live performance into fully experimental territories, catering the needs for unsettling disturbance through employing sharp, echoing sounds of floating water (… or acids?), brooding, yet heavenly strings and loads of electrical buzzes and feedbacks before harking back to classic Ambient structures for a closing here.
Neural (Italy):
Bana Haffar was born in the 1980's in Saudi Arabia. After years of study as a classical violinist she switched to the electric bass and in 2014 to modular electronic synthesisers. Some may see this journey as a planned 'deprogramming' of traditional classical systems. Others find it to be a natural, if adventurous, progression. The five suites of Genera, released by Touch, should be taken as an exploration of imaginative zones. These pieces were captured at a live event in May 2019 by the co-head of the record label, Mark Harding.
Haffar uses many modular synthetisers for her performances and in this show, as usual, gave space to exotisms, oriental harmonies and melodic passages. The composition's structure is very instinctive, not far from her experimentations at NAMM on a new Moog synthesiser. The musician spends the right amount of time on low and deaf frequencies, tries different sequences of chords and modulations and experiments with the functions and the limits of her musical instruments. Genera overall lasts only 32 minutes. The first section includes some field recordings from traditional Arabic music, mixed with other elements such as synthetic audio emergencies, metallic drops and different deconstructions. As in an unstable radio syntony, these melodies come from afar, seemingly from another world. It seems like a variegated totality of elements might yet find the right place: something vanishes, the atmospheres can, all of a sudden, become ethereal and abstract, with ambient passages; at other times, distant and cerebral. Liquid constructions, whirlpools, whispered drones – it's hard to understand if everything comes from the synthesisers or if anything is produced by software, but this doesn't really matter. We preferred to let ourselves go with the music; probably the musician wished this too. [Aurelio Cianciotti]
Blow Up (Italy):

Bad Alchemy (DE):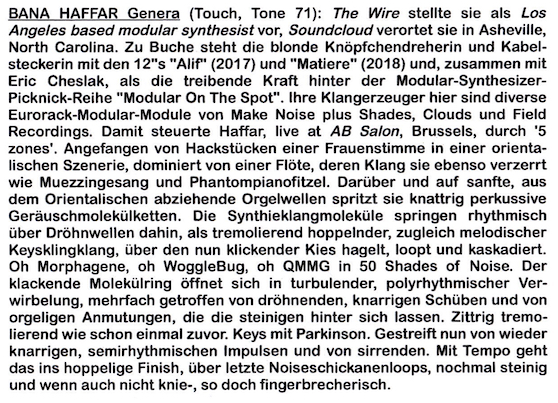 Gonzo Circus (Belgium):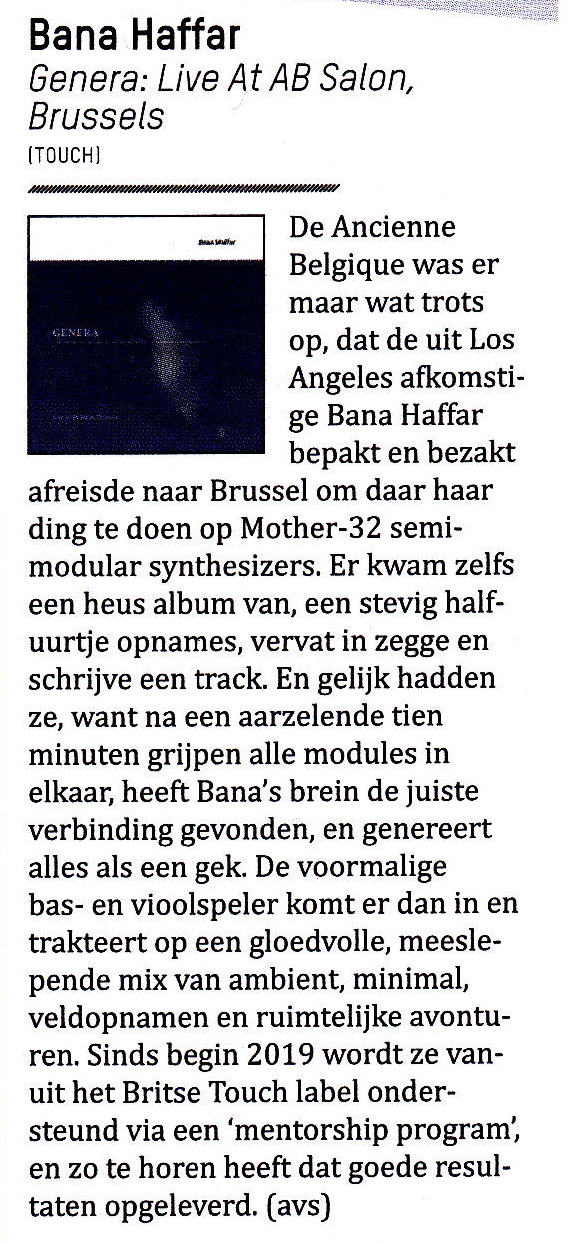 Rockerilla (Italy):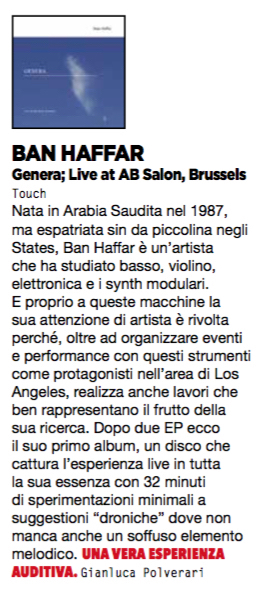 Toperiodiko (Greece):
Από την Σαουδική Αραβία η Bana Haffar άφησε την καταπιεστική πατρίδα της για την Νότια Καρολίνα των ΗΠΑ όπου πλέον ζει και εργάζεται . Σπούδασε ηλεκτρικό μπάσο για να περάσει στο βιολί και από  εκεί, πριν λίγα χρόνια, στους συνθετητές. Στο 'Genera', ζωντανά ηχογραφημένο στις Βρυξέλλες, χρησιμοποιεί μια σειρά από modular συνθεζάιζερς πλαισιωμένους με field recordings, κασετόφωνα ή μικρόφωνα. Η Haffar επιδιώκει την «διάλυση» παραδοσιακών μουσικών μορφών ενώ εξερευνά την επανασύνθεση τους, ούτως ώστε ανατολίτικες μελωδίες να επιπλέουν ως θραύσματα στον ωκεανό των ηλεκτρονικών ήχων.