Release date: 26th July 2019
CD + DL – 1 track – 32:45
+ bonus track, Bird's Eye
Recorded by Mike Harding, 3rd May 2019 at AB Salon, Brussels
Mastered by Simon Scott @ SPS Mastering
Artwork & photography by Jon Wozencroft
Instruments used
Eurorack modular: Make Noise René 2, Make Noise Tempi, Make Noise WoggleBug, Make Noise Morphagene, Make Noise QMMG, Make Noise tELHARMONIC, Make Noise Maths, Serge Resonant EQ, Mutable Instruments Shades, Mutable Instrument Clouds
Non-modular: Field recordings made using a Zoom H6 and LOM mikroUsi microphones, GE 35383 Micro Cassette Recorder
Track listing:
1. Genera
A lifelong expatriate, Bana Haffar was born in Saudi Arabia in 1987 and spent much of her childhood in the GCC. Through her switch from 10 years of electric bass, preceded by classical violin, to modular synthesizers in 2014, Bana is attempting to dismantle years of institutional conditioning in traditional systems of music theory and performance. She is interested in exploring sonic disintegration and coalescence into new forms and synthesized experiences. Bana lives in Asheville, North Carolina.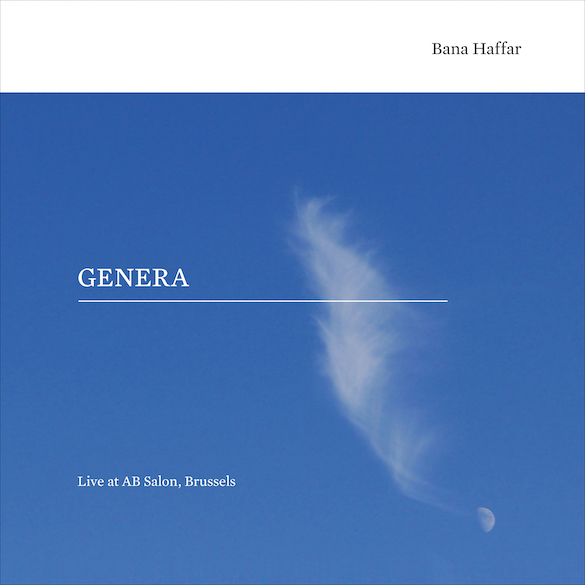 Reviews:
You can read an interview in Perfect Circuit with Bana here
Chain D.L.K. (USA):
"Genera" is a live performance in five pieces (labelled 'zones'), 32 minutes in total. Haffar uses a large array of modular synthesizers and is compositionally very free with them- melodies are present but spontaneous, non-repetitive, and unpredictable. Into the mix are thrown field recordings of environmental atmospheres, and snippets of traditional music performances- some possibly related to Haffar's Saudi Arabian heritage, others more rooted in her modern North Carolina life. The result is a collage of disparate elements, presented expressively and emotively.
The first zone draws heavily on flute-like sounds that are twisted and shifted hypnotically, while in the second zone the synths form an organ-like drone for a flatter and more mesmeric landscape. This then brightens up into brighter and breezier synth arpeggios in the third zone. Unexpectedly and quite suddenly, zone four is a hollow cavern- low rumbles, trickling water noises, distant echoes- while the final zone, of stuttering chords and mellow Tangerine Dream-esque arpeggiators, both creeps up and fades away gradually, with a final devolution into crisp walking atmospherics and wind-like noises to close. Throughout, digital clicks and textures decorate the top end, providing a linking consistency.
It's a short but sweet performance that would have been fascinating to catch live back in May. Fresh-sounding, despite familiar ingredients, it's a premium package that represents modern electronic music well, and which could also serve as a strong entry point for people new to the genres being touched on here. The only awkward thing about it is the reference to the division into 'zones', 'zone' being one of those words that, once over-used, starts sounding quite silly somehow.
Loop (CH):
Bana Haffar of Saudi origin is based in North Carolina, who with modular synthesizers and sequencers deconstructs the sounds giving them a new shape.
This album consists of a single piece that was a concert of Haffar in Brussels, recorded live by Mike Harding, boss of the Touch label and mastered by Simon Scott.
In this track of about 32 minutes long Haffar compresses the sounds turning them into noises with nods to the musique concrète. In some passages the sounds mutate into a liquid state, characteristic of Haffar's processing with last generation devices and softwares.
Bana Haffar's music has recognizable passages related to ambient, in others they are extremely complex and abstract. [Guillermo Escudero]