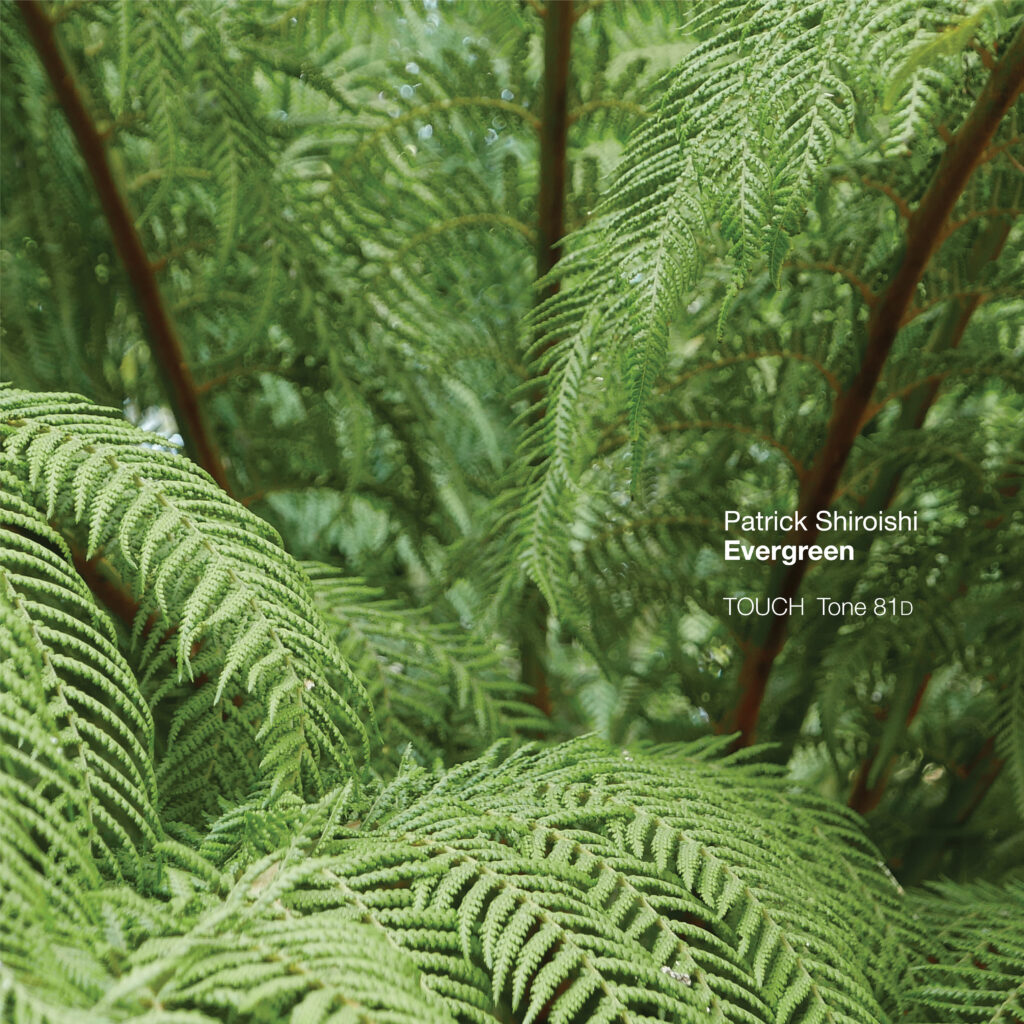 DL – 4 tracks – 41:56
Release date: 1st November 2022
Track listing:
1. a place where sunflowers grow 11:10
2. there is no moment in which they are not with me 9:32
3. a trickle led to a quiet pool where still, black water reflected the night sky 9:06
4. here comes a candle to light you to bed 12:18
All tracks composed, performed and recorded at Orange Door in September 2022. Field recordings taken at Evergreen Cemetery, Los Angeles in 2021.
Patrick Shiroishi – synths, clarinet, field recordings, voice & tenor saxophone
Photography & design by Jon Wozencroft
Mastered by Simon Scott @ SPS Mastering
Story told by Yukio Kawaratani
Patrick writes: "I can't recall the first time I was introduced to Touch but it might have been around 2017, right before a duo recording with Zachary Paul in the spring of the following year. I do, however, remember the winter when i dove into their catalogue and discovered artist upon artist of tremendous weight and vision who created worlds in their recordings… it was inspiring and something that I have kept with me through the years.
Since that time five years ago, correspondence with Touch became little by little, more and more frequent. In early September 2022, Mike contacted me about putting something together for the label with a deadline of a few weeks. I first thought of a collaboration with Bana Haffar, someone for whom I have huge respect on many different levels and was lucky enough to travel with and play some shows for the label's 40th anniversary celebration in the Bay Area earlier this year… unfortunately the timing didn't work out. I pondered about other potential partners, ultimately deciding on the idea of presenting a solo work.
Familiarising myself with the Touch back catalogue, I wanted to create a work that was unique in its own world. Someone reading this may or may not know that I have been diving into my family history and processing that through music. Last year, I took a couple of trips to Evergreen Cemetery in Los Angeles, where several generations of Shiroishis are buried and a place often visited when growing up. Sitting there with my Zoom recorder on, at what seemed like the peak of the violence towards Asian Americans, i felt at peace being close to them.
The foundations of this album are from those recordings. The first half is built upon one I made during daytime and the second half from a recording in the evening. The music took on many forms and was worked on daily in the mornings, which is something that was very different from my usual practice. As the album was getting close to being finished, I sent it over to Mike and Jon and with their guidance helped to shape the music towards its final form.
Hoping that you listen to this music in one sitting and think about your ancestors as you do – we all come from somewhere, and there is not a moment when they are not with you."
Patrick Shiroishi is a Japanese-American multi-instrumentalist & composer based in Los Angeles. He is perhaps best known for his extensive and intense work with the saxophone. Over the last decade he has established himself as one of the premier improvising musicians in Los Angeles, recording and playing solo and in numerous collaborative projects. Shiroishi may well be considered a foundational player in the city's vast musical expanse. [Steve Lowenthal]
Reviews:
AMN Reviews:  Patrick Shiroishi – Evergreen (2022; Touch); Colin Stetson – Chimæra I (2022; Room40)
Layers upon layers.
Previously hidden details emerging everywhere you choose to focus your attention.
Sound objects materialising against the negative space they were spawned from, establishing shape, form. Single acoustic tones making dramatic entrances and displaying their pure spectral content like Peacocks on parade.
Continually shifting and rearranging combinations of acoustic colours connecting and disconnecting.
Fluctuating waves of dynamics building, engulfing, fading.
Deep melancholic sadness giving way to jubilantly uplifting earth spirits.
All these fragmented micro-thoughts can easily apply to the excellent new albums from Patrick Shiroishi and Colin Stetson.  Take the above as disjointed, stream-of-consciousness impressions that I feel are common to both recordings.
On Evergreen, Patrick Shiroishi delivers an emotionally charged sonic movie based on recent trips to the Evergreen Cemetery in Los Angeles where family members are buried.  There are four long tracks on the album with the genesis of the first two built around field recordings in the morning, and the second two, in the evening.
The field recordings…natural sounds, thunder, a gentle summer rainstorm is also augmented by some soft radio transmissions and a narrative voice reminiscing about earlier generations of Japanese immigrants during WWII.  The terrible, no-win situation was either becoming stateless by being drafted into the U.S. Army and pledging allegiance to America while they are still Japanese citizens or, put into something very close to concentration camps if they chose not to.
These quiet sounds provide a memory trigger, a foundational base to build a rich sound world teeming with detail on top of them.  A beautifully rendered ecosphere of drones and melodies come alive as various synths and reed instruments collect en masse to fully flesh out these memories.  Evergreen is shot through with raw honesty as these structures…maybe even shrines of remembrance are built.
As the multi-faceted drones grow larger, louder…they gather force like a snowball in an avalanche.  Tension, intensity, and volume build as the sound space fills up, as the very nature of the combined sound structure morphs and changes in real-time.  Sometimes uplifting and joyful as the positive memories are grasped and held on to, other times more plaintive and longing for thoughts and recollections on the verge of fading.
On the alluring second piece, 'there is no moment in which they are not with me', the breathy sound of a single tenor saxophone separates itself with an assertiveness of a Grand Marshal leading the Macy's Thanksgiving Day Parade.  It enters the sound space from a backdrop of quiet sustained textures and, from the very first notes…its majesty is revealed in absolute pureness.  A second sax eventually enters in similar fashion embellishing and dancing around the first with busier movement.  The emotional effect that is revealed is exquisitely magnified because of these contrasting spaces and, may be the highlight of this wonderful album (although that would short shrift the many other moments that reach these heights). A similar uplift occurs on the final piece, 'here comes a candle to light you to bed'.  This time, a clarinet takes the lead with a simple and very rustic melody…a melody that evokes simpler, happier times perhaps.  Again, the reeds are vividly highlighted against a quieter sonic background for maximum contrast.  This whole aural photograph eventually fades into a gentle evening storm providing a finality that is perfectly satisfying.The emotional realms visited on Colin Stetson's Chimæra I are much less earthbound, instead choosing to reach out into deep voids.  But, like Shiroishi's Evergreen, Stetson's efforts are no less evocative and compelling…especially for the attentive listener.
Chimæra I has two 20+ minute detailed and very elaborate saxophone drones along with two 8+ minute 'reductions' of the longer pieces.  To be honest, I'm not sure what these reductions are but I think they may be stitched together edits of the longer pieces.  I will say that they work very well as stand-alone tracks if you are inclined (or pressed for time) to experience the album in shorter doses.
As stated on the album notes regarding what mental path Chimæra I suggests, i.e., 'imagined caverns', 'hidden hollows' and 'surging magma flows'…I had a different cinéma pour l'oreille (although I do find it very interesting to hear the composers own personal thoughts on such things).  My own personal ear flick did not have a basis in geologic structure or terra firma groundings, instead opting for a cold, dark, airless, and lifeless non-being, a canvas marching toward times end.  A nothingness that echoes…but from what?
But listen again.  Those loops and layers of long sustained bass sax tones, occasionally interrupted to form a series of short, swirling bursts…they remind me of giant buzz saws.  The extended bass sax layers themselves…I can't help but think of the rumble of a giant generator.  A power source rejuvenating from the wreckage and remnants it was created to level.  A humongous battery driving a massive tank-like mech that ponderously crawls over the surface of a landscape, disintegrating everything in its path with an outer skin of jagged, spinning circular blades.  A berserker with no purpose other than subsuming everything in its path… but why?
But listen again.  A walk down and through a tunnel…a long one.  One that becomes harder and harder to breath the deeper you go.  Nothing but smooth, stone-gray walls…leading to what?  (I'll pause here and admit that maybe Colin's geologic references above do have legs to them.)
But listen again…
Ok, point made.  Chimæra I strongly beckons and compels the willing deep listener to come back, again and again.  Different cinematics, different experience.  Sometimes physical, sometimes mental, sometimes both…but always gripping and mesmerising.
I decided to do both of these albums in a single write-up, initially because of the common saxophone theme.  As it turns out, there is a much more relevant theme than just a shared instrument.  Patrick Shiroishi's Evergreen and Colin Stetson's Chimæra I have a more important superpower in common, the ability to transport.  They accomplish this in two very different and distinct styles, but the endgame is the same.  Touching on different emotions, different thought centres… both artists are vividly molding their own distinct narratives, creating a sense of place in their own very personal way. These sounds allow us to interact with a world of ultimately, our own making, but one we would never have found without the artists as guides.
It's this sense of potential that is so appealing about these recordings.  Shiroishi and Stetson are not only acting as world builders but, they are also offering the listener a golden ticket… a ringside seat to share and interact right alongside them. Ultimately, the freedom and power of experience.  Both come very highly recommended. [Michael Eisenberg]
culturedarm (USA):
Track of the week – As Touch celebrates forty years of fierce resistance to the status and trappings of 'record label', the prolific yet never profligate multi-instrumentalist Patrick Shiroishi marks his debut for the renowned audiovisual company with an unusual approach to the genre of field recording. From a couple of trips to Evergreen Cemetery in Los Angeles where several generations of his family are buried, Shiroishi emanates from within the dotted landscape rather than skirting its borders or imposing melodies atop or alongside of an enveloping hum, the stately and plangent sounds of his woodwinds and the quivering and summoning of synths peeking between the rustle of leaves and background oratory for a stirring treatise on stillness and presence. [Christopher Laws]
The Wire [UK]:
…The most moving of the three releases is Evergreen, composed, performed and recorded in September but touched deeply by field recordings Shiroishi took at Evergreen Cemetery, Los Angeles, in 2021. The Evergreen Cemetery is where several generations of Shiroishi's family are buried, and he conducted these recordings while thinking about the history of violence towards the Japanese American community, a history that shows no sign of abating and touches these essentially hopeful pieces with a vital patina of mournfulness and resistance. The four tracks here are beautifully measured between the green and the grey, the trees and the stones, strung out moments of reverie and reflection that come together in a deeply plangent emotional wallop that reminds me of the most moving moments of Nate Schieble's Fairfax. Evergreen is unmissable but all three of these records confirm Shiroishi as a name to keep on your radar. [Neil Kulkarni]
popmatters (USA):
In 2020, Patrick Shiroishi released Descension, a raw, unflinching musical interpretation of his grandparents' experiences in the stateside concentration camps of Japanese-American citizens during World War II. In 2021, he released Hidemi,a searing, cathartic work inspired by his grandfather's post-war period following his release from the camp. Now, with Evergreen, Shiroishi continues to mine family experiences for inspiration. But this time, the experience is more meditative than primal.
Released on the UK label Touch, Evergreen is the result of Shiroishi's 2021 visits to Evergreen Cemetery in Los Angeles, where several generations of his family are buried, and Shiroishi often visited as a child. Bringing with him a portable audio recorder, Shiroishi created aural chronicles of his experience while ruminating on his family's dark history at the hands of their violent, intolerant adopted homeland. He combines those field recordings with synthesizers, clarinet, saxophone, and vocals.
Evergreen is neatly divided and categorized, as the album's first half contains recordings from daytime visits, and the second half is made up of nighttime trips. It's more than a bit reminiscent of Across Water, Shiroishi's sumptuous ambient collaboration with Jessica Ackerley earlier this year. Combining muted musical soundscapes with field recordings has – by design or accident – become Shiroishi's stock in trade in 2022, and the inspiration he's garnered from Evergreen Cemetery has paid off spectacularly.
Evergreen begins with 'a place where sunflowers grow', as the thunder and rainfall sounds are gentle but insistent, and a light musical drone is accompanied by the distant chatter of what may be a police radio band. Shiroishi's synthesisers mesh beautifully with the field recordings as if they're part of the cemetery's environment. The notes are foreboding but meditative, looming but seemingly never threatening. Near the song's halfway mark, the music is much higher in the mix and is combined with ethereal vocalising.
True to its title, 'there is no moment in which they are not with me' seems to evoke the direct purpose of Shiroishi's latest project: reflection and tribute. The instrumentation is richer and warmer, with low tones mixing with stuttering high-end notes rising above. The grand, enveloping sensation of the music is reminiscent of Brian Eno's seminal Music for Airports. Eventually, Shiroishi's saxophone weaves in and out, introducing an element that fits the overall mood perfectly.
Moving over to the 'night' half of the album, 'a trickle of water led to a quiet pool, where still, black water reflected the night sky' once again combines the natural sounds of water with lush, ambient chords. The music has a more ghostly feel but is as moving as the song that preceded it. Even at the halfway mark when the synths become slightly more shrill and distorted as if Shiroishi is reflecting on specific family memories and stories that hit hard and are unpleasant to relive.
What sounds like a clarinet – and eventually, multitracked clarinets – introduces 'here comes a candle to light you to bed', and it's a gentle, almost lullaby-like sensation, with the natural sounds of water replaced by the subtler sounds of crickets. An audio sample of what sounds like someone talking about their immigrant experience is paired with noisy clattering, then thunder, and eventually rain. It may be too on the nose to equate the falling water with some sort of absolution or cleansing, but the effect is gentle, disarming, and oddly calming. As crashing thunder and measured breathing sounds close out Evergreen, one can picture Shiroishi sitting alone at Evergreen Cemetery, the rain washing over him as he contemplates his family's rich but oppressive history.
To that end, Evergreen – when framed in its intended context – may almost seem too intrusive, as if the listener is privy to an experience that is too personal to the artist. That is one of Shiroishi's many gifts, which he has given us on previous albums and certainly provides us here: engaging in catharsis and revelation and letting us sit beside him with wide wonder. [Chris Ingalls]
Foxydigitalis – The Capsule Garden (USA):
One of the most unstoppable forces in music shows a new side. Evergreen has its roots in Shiroishi's visits to Evergreen Cemetary in Los Angeles, where many of his family members are buried. Field recordings made on those trips are foundational to Evergreen, where they're imbued by synths, clarinet, and voice. Shiroishi channels his woodwinds-based work's inquisitive, emotive spirit into new sonic shapes and ideas. The same deft touch is present, though. Passages hold together with gossamer arpeggios and glassine reflections, his voice lingering in the shadows like a permanent ghost. This music feels ageless, as though it's always existed somewhere in the ether, waiting for Shiroishi to bridge a connection and pull it into this world. Evergreen is a powerful, moving document that sits with the best of his expansive catalog. Highest recommendation. [Brad Rose]
Salt and Peanuts (Sweden):
Evergreen is a cemetery in Los Angeles, where several generations of local sax player, multi-instrumentalist and sound artist Patrick Shiroishi's relatives are buried, and a place he often visited when growing up. The album Evergreen is based on field recordings Shiroishi made at the cemetery in 2021 and is a kind of very personal meditation on Shiroishi family history, processed through music with an urgent call against racial discrimination. Shiroishi added to these field recordings music that he composed, played on synths, clarinet and the tenor sax and used his voice at Orange Door Studios in September 2022.
Shiroishi, who investigated his family history already in Hidemi (American Dreams, 2021),  created layered, highly suggestive and openly emotional and somehow melancholic ambient drones, briefly referencing the psychedelic, synth-laden space-rock of the seventies. He plays the tenor sax in the most gentle, caressing-comforting manner possible on 'there is no moment in which they are not with me', and does the same with the clarinet on the last, most emotional piece, 'here comes a candle to light you to bed', where one of his relatives speaks about the of the oppression of Asian-Americans during the World War II. Shiroishi humbly asks the listener to reflect on his or her ancestors, as 'we all come from somewhere, and there is not a moment when they are not with you'. [Eyal Hareuveni]
Nowamuzyka (Poland):
Zmarli są w pobliżu.
Z reguły piszę o związkach jazzu z elektroniką, gdzie ten pierwszy występuje w stopniu znacznym albo tej drugiej praktycznie nie ma. Album Evergreen przynosi sytuację odwrotną. Oto uznany jazzman Patrick Shiroishi postanowił odstawić (nie całkowicie) swój saksofon na półkę, żeby nagrać album oparty głównie o muzykę elektroniczną, a konkretnie ambient. I to nie jakiś tam przypadkowy, co mu wyszedł, gdy siedział znudzony w studio, ale taki mocarny i głęboki do tego stopnia, że porusza w słuchaczu każdy nerw.
Warto zwrócić uwagę, że artysta nagrywa bardzo dużo różnych płyt w różnych konfiguracjach, co uniemożliwia jakiekolwiek zaszufladkowanie. Pamiętny album "Hidemi" wskazuje, że muzyk często dotyka spraw przeszłości. Nie inaczej jest na "Evergreen", której tytuł odnosi się do cmentarza w Los Angeles, na którym pochowani są jego przodkowie. Płyta zawiera cztery utwory mieszające nagrania terenowe z muzyką. Istotne jest, że dwa pierwsze posiadają nagrania terenowe zgromadzone rano, a dwa ostatnie wieczorem.
Ciche dźwięki, których pełno na płycie, uruchamiają całą paletę emocji. Wielopłaszczyznowe drony stają się głośniejsze, ale bez przesady. Liczy się przede wszystkim zbudowanie napięcia, intensywność przeżycia i próba uchwycenia ulotnego szczęścia albo podkreślenia żałobnej myśli. "A place where sunflowers grow" jest pełny niewyraźnych momentów. A to słychać radiowóz, a to trzaski radiowe, a to zawieje silniej wiatr. Zjawiająca się muzyka z eterycznym wokalem jest zarówno zaskakująca, jak i zniewalająca.
'There is no moment in which they are not with me' przynosi najwźnioślejszy moment płyty. Migoczące ozdobniki dodają refleksyjności do rozlewającej się melodii. Całość zamyka dość nieśmiały, jak na tego artystę, saksofon, co jest zrozumiałe, gdyż mocniejszy akcent zakłóciłby nastrój. Wodny szmer otwierający 'A trickle led to a quiet pool, where still black water reflected the night sky' szybko ustępuje miejsca ambientowej pustce. No, ale nie jesteśmy tu sam na sam z muzyką, albowiem w tle wyraźnie słychać dźwięki nocnej przyrody, które zamiast być "odcedzone" w studio stają się integralną częścią utworu. Upiorna końcówka miała nam przypomnieć, że zmarli są w pobliżu.
Stąd również żałobny ton 'Here comes a candle to light you to bed' tej niby-kołysanki o taj wielkiej sile rażenia, że gotów byłbym zażądać, aby mi w ostatnich chwilach towarzyszył. Wzruszenie, które odczuwam w trakcie słuchania, jest dławiące. W dalszym opisie musiałbym już pisać tylko wielkimi słowami, czego czynić nie chcę. Dodam jedynie, że moment pojawienia się burzy jest bardzo potrzebny żeby wrócić do jakiejkolwiek normalności czy poczucia rzeczywistości. Evergreen jest niezwykle osobistym przeżyciem i płytą obok której chcę siedzieć z podziwem. [Jarek Szczęsny]
NPR (USA):
Patrick Shiroishi made 18 records in 2022, all compelling; his finale, Evergreen, is the most exquisite. Using field recordings from the Los Angeles cemetery where his ancestors are buried, the saxophonist builds lush meditative spaces for considering the power that past holds over present. [Grayson Haver Currin]
Instagram post:
Patrick Shiroishi explores a full day in passing in LA's Evergreen Cemetery, painting a rich and vivid picture through field recordings and layers of synths and woodwinds to occupy the silence as if they were spectres conversing from just beyond. Evergreen is entrancing and is a surprisingly lush piece of ambient jazz. The 'day' half is nurturing and sublime; the 'night' is eerie and mystical. Voices emerge, but they are comforting and inviting. Evergreen is magical realism while never skewing towards the pretentious. It's really quite therapeutic. [Justin Christopher Poulin]
NPR (USA):
Interview with Patrick Shiroishi
His debut for transformative electronic label Touch, Evergreen, suspends field recordings from the cemetery where six Shiroishis are buried in a ruminative haze, saxophone glinting through the drone like sunshine through a storm. [Grayson Haver Currin]
Reviews:
Nieuwe Noten (NL):
Patrick Shiroishi vermengt op de opener van Evergreen, 'a place where sunflowers grow' allereerst diverse veldopnames, stemopnames en noise tot een spannend en bijzonder overtuigend geheel. Verderop voegt hij hier diverse patronen, gespeeld met een keyboard aan toe. 'there is no moment in which they are not with me' klinkt nog harmonieuzer en getuigt van een bijna grenzeloze subtiliteit, vliedende klanken, een vage melodie en een stevige onderstroom. Bijzonder stemmig klinkt ook 'a trickle led to a quiet pool, where still black water reflected the night sky', meer duister van toon, donkere klanknevels vlieden voorbij, terwijl aan het einde de spanning verder oploopt. De afsluiter 'here comes a candle to light you to bed' heeft iets van een slaapliedje, gespeeld op een orgeltje. Bijzonder is ook de sprekende stem die zo rond de derde minuut ineens opduikt. Het maakt allemaal een wat melancholieke en als verderop de hectiek toeneemt ook een wat mistroostige indruk.
Beide albums zijn te beluisteren via Bandcamp en daar ook te koop. [Ben]