7″ vinyl only – not available for digital download
Limited edition of 1000
Artwork & Photography by Jon Wozencroft | Cut by Jason @ Transition
The voices and rhythms of the Humboldt current around the Galapagos Islands recorded April 2006 using a pair of Dolphin Ear Pro Hydrophones onto a NAGRA ARES-Pll digital audio recorder.
Chris Watson, originally from Sheffield but now resident in Newcastle, England, is the world's leading wildlife sound recordist. After co-founding Cabaret Voltaire with Richard Kirk and Stephen Mallinder, he left in 1981 to work for Tyne Tees Television and he also joined The Hafler Trio. He then left to become the sound archivist for the Royal Society for Protection of Birds. He is now working full time as a freelance sound recordist.
This is the first release in a new series of Touch 7″ vinyl only releases, 'Touch Sevens'
Track list:
1. 3m
2. 10m
Locked grooves on both sides…

Reviews:

Warp Records (UK):
Amazing sound recordist and ex-Cabaret Voltaire member Chris Watson who's other job is working for the BBC Natural History Unit recording sound for Television and Radio does this very limited 7 inch record with extra lock-grooves for Touch. The two dense and beautiful recordings on this 7 inch are underwater recordings of the Humboldt current around the Galapagos Islands, recorded using a pair of Dolphin Ear Pro Hydrophones onto a NAGRA ARES-PII digital audio recorder. One is recorded at 3 metres the other at 10 metres. Needless to say as with all of Watson's recorded work it's spellbinding stuff and a real pleasure to listen to.
Dusted (USA):
That's Chris Watson, formerly of Cabaret Voltaire and the Hafler Trio, who's been doing field recordings with a remarkable ear for subtlety as of the past decade. Here we find two samples of the sounds of the Humboldt current, which surrounds the Galapagos islands, from three meters and ten meters deep, respectively. "3m" is busy, active sloshing of water, powered by a steady attack courtesy of the current's pull. But "10m" is much darker, and actually sort of terrifying, the voice of the current imbued with a bassier, more claustrophobic presence that may as well be the sound of the weight of water. A remarkable piece of short, affecting natural sound, mercurially presented. Pro-printed cardstock sleeve with spine writing.
Lexus Car Magazine (UK):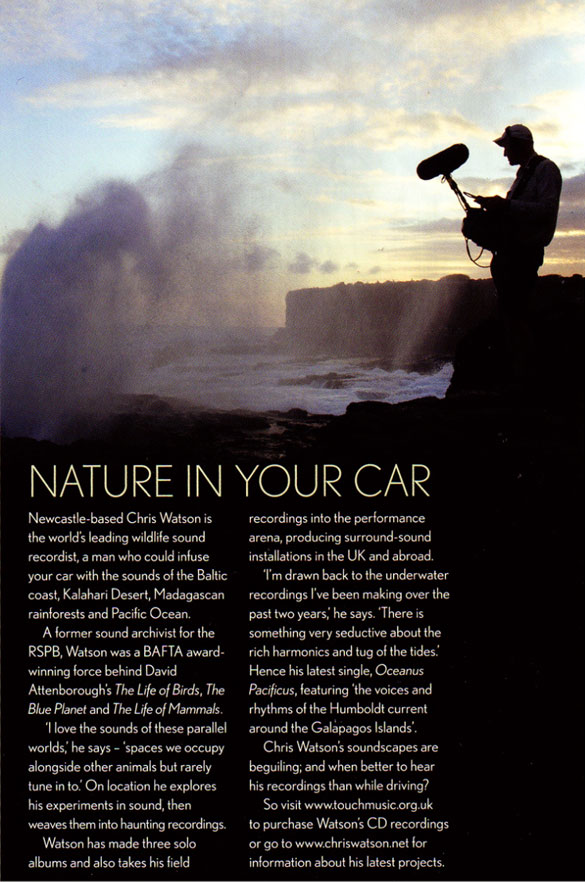 failme (UK):

The Wire (UK):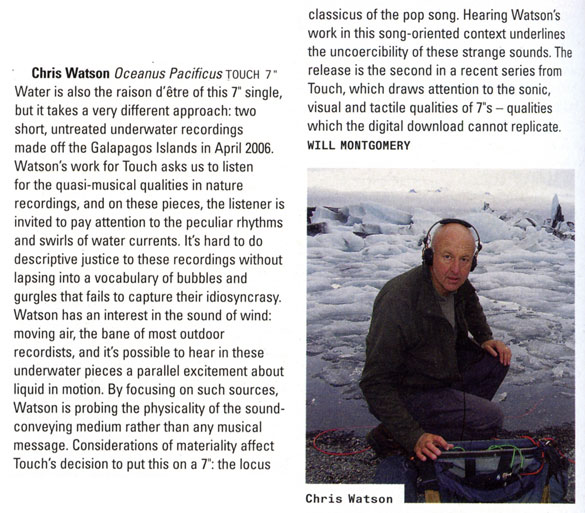 The Milk Factory (UK):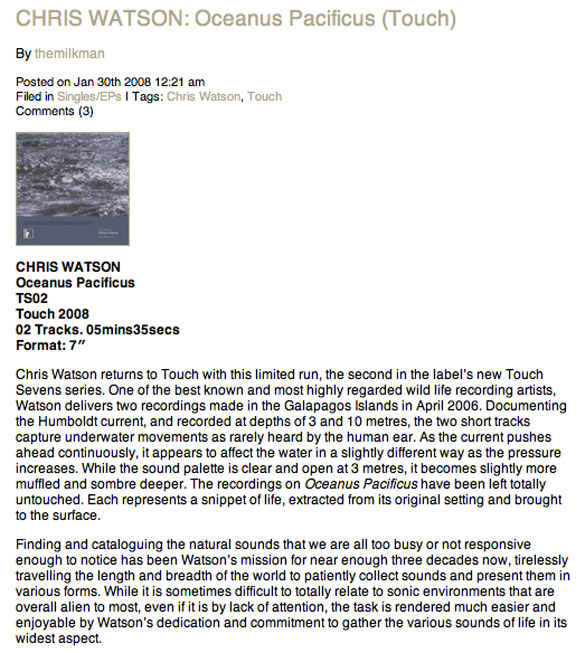 DJ (UK):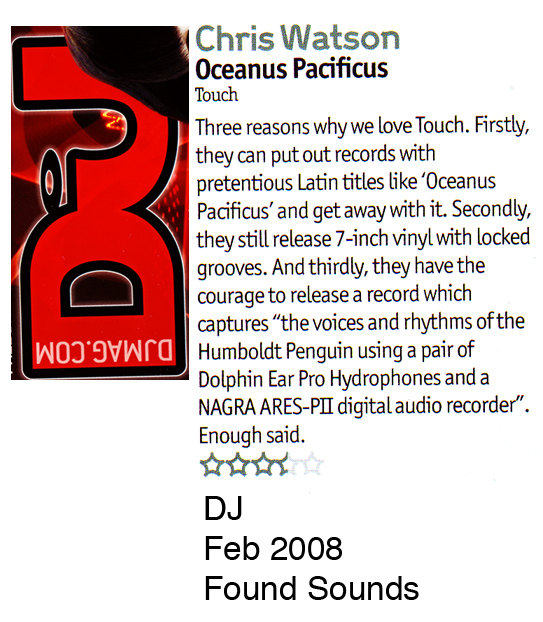 Record Collector (UK):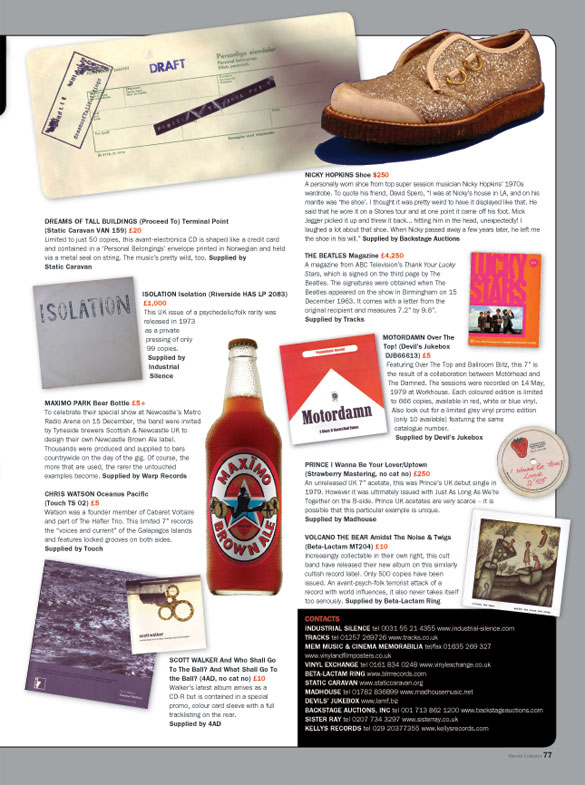 Progress Report (UK):
From Cabaret Voltaire to working with David Attenborough, what an adventurous life Chris has led. Like a sonic microscope on legs, it's his meticulous and detailed attention to the smallest of sounds that allow us to explore the world further.
In August 2008 Chris presented an exhibition of sounds that he recorded of the Humboldt current (huh?) around the Galapagos Islands. The smart so and so recorded the sounds 3 metres under the surface of the water. These 4-track recordings formed an installation where the natural rhythms built and swayed, with their harmonics. A drone of sorts but one that's more….. fluid. (ho! ho!)
As an off-shoot to the exhibition the Touch label released this 7″ in an edition of 1000 as part of their 'Touch Seven' series (nice logo by the way.) The others being by People Like Us+Ergo Phizmiz, Jim O'Rourke (groan!), Mika Vainio, Oren Ambarchi, Fennesz (also with Philip Jeck and Charles Matthews) and AER. They're all very well pressed despite initial worries about them being the usual flimsy vinyl. Also both tracks are locked grooves. Nice touch. Or Nice 'Touch'.
Chris' single has the '3 metre' track on one side, and a far darker, and far more broody '10 metre' track on the other. Here be demons.
As ever, Jon Wozencroft provides the fabulous sea-blue tinted photography and layout for it. He maintains that beguiling simplicity of image that he's known for; one that reveals far more with time.
If you're interested in field recordings, there's an excellent Yahoo newsgroup called Phonography which is both active and informative. Whether you're a first timer or an old hand, they're very welcoming. What is most enjoyable about all this is that it trains you to listen to the ordinary every day things. Walking down the street, hearing the alarm of the lorry reversing, the (fucking) mobile phones going off, the claws of dogs on the pavement as they scamper by, the tree in the breeze, and 100 other things all at once. Sometimes it becomes overwhelming and you need silence or a simple uncluttered sound. Perhaps this is what Chris does, he goes far away to a place where there is an uncluttered sound and brings it back so we may here it in our sealed off rooms? It's limited to 1000 copies. [HM]