7″ vinyl only
cut by Jason @ Transition
artwork and photography by Jon Wozencroft
Track list:
Side A: Highway of Diamonds 5:55
Side B: Bleeding Shadow 6:38
Electric guitars, organ, samples, bells, percussion and motorised cymbal recorded at BJB Studios, Sydney with additional overdubs made at home 2005-2007. Gratitude to Fairport Convention and Boris D Hegenbart.
Oren Ambarchi is a composer and multi-instrumentalist with longstanding interests in transcending conventional instrumental approaches. His work focuses mainly on the exploration of the guitar, "re-routing the instrument into a zone of alien abstraction where it's no longer easily identifiable as itself. Instead, it's a laboratory for extended sonic investigation". (The Wire, UK).
7″ vinyl was the quintessential format for popular music. Today, it is an undervalued and mostly promotional medium, used as a fetishistic signpost to a time of musical authenticity and a "healthy" popular culture. It might seem like another retrograde step to launch a vinyl series just as the download format threatens to dominate, and indeed there is an element of "the rear view mirror"… the generation of Touch artists who grew up with vinyl [and cassette] still feeling a strong emotional attachment to it. This series is more than that… an overtly critical, non-digital statement is supported by treatments of audio work which cannot be applied to digital formats – the sonic texture, the use of a locked groove, the A & the B and the additional dimension of the visual counterpoint. As for the aspect of audience participation, we choose not to specify the RPM on the label, encouraging the listener to experiment with playback options and personal preferences. An attempt to make music that works at both speeds. The front cover might actually be the back cover…

Reviews:

Boomkat (UK):
The 5th instalment in the Touch 7″ series is for our money the most incredible of the bunch – with the always brilliant Oren Ambarchi delivering two exclusive new tracks recorded in Sydney between 2005 and 2007. Opening piece "Highway Of Diamonds" develops around a fluttering organ loop and immersive static, a radiant, sonically cushioned arrangement that leaves you unprepared for the stark organ transmission that breaks loose halfway through and takes the piece to a much more sonically daring environment. It's beautifully conceived and expertly realised at the hands of Ambarchi, interweaving textures and barely perceptible undulations in the most confident and original manner, once again stamping out a brilliantly unique niche for Ambarchi somewhere between the dense drones of sometime bandmates Sunn O))) and the more ethereal, processed beauty of his label contemporaries BJ Nilsen and Fennesz. Flipside track "Bleeding Of Shadow" is just breathtaking – features almost 7 minutes of electric guitar, samples, bells, percussion and a motorised cymbal in the most exquisite fashion, making use of some ghostly Fairport Convention recordings and creating the kind of re-working last heard on the mighty "Plays" single from Chrisitan Fennesz almost 10 years ago. With the record framed by another oddly moving image by Jon Wozencroft – it's a compelling proposition, and an utterly essential purchase.
Aquarius (USA):
Brand new 7″ of delicate beauty and haunting songsmithery from Mr. Oren Ambarchi, who hasn't had much time lately for his own music making, as he seems to be a constant part of the Southern Lord / SUNNO))) axis, being a part of at least three groups we know of. But we've pretty much loved every one of Ambarchi's releases and this new single is no different.
Using electric guitars, organ, bells, samples, percussion and motorized cymbal (!), Ambarchi has created two dramatically different pieces. The A side is a woozy, washed out underwater sounding loopscape, peppered with record crackle (unless that's coming from the record player, either way, it sounds great!), like a slightly jauntier, less melancholy Oval, major key melody, all softly sunshine-y, a dreamily hypnotic stretch of soft swirl that could go on forever.
The B side is much darker, long streaks of shimmery low end beneath haunting slowed down vocals, mournful and mysterious, the vocals and the guitar drift and shift, all wound up in and around each other, throughout, bits of electronic glitchery, smears of muted buzz, snippets of conversation and dialogue, but all that stuff seems to be woven into an undulating backdrop for Ambarchi's ghostlike disembodied blues. As always, packaged in super striking thick matte sleeve with gorgeous photos and layout from Touch head honcho Jon Wozencroft.
The Wire (UK):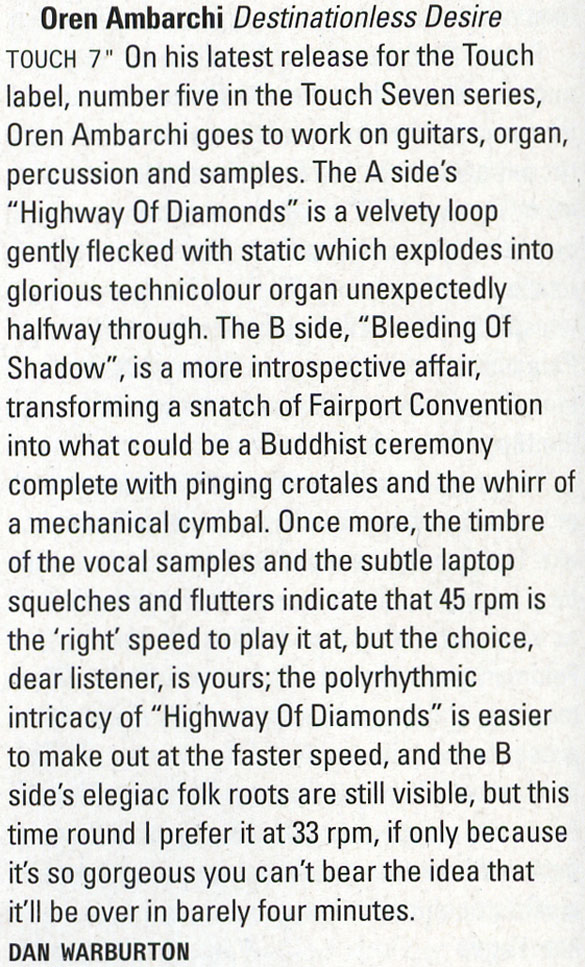 earlabs.org (Netherlands):
RATED: 9/10
A new series of releases on the already amazing label imprint of Touch is the Touch Seven Series. Musicians on the roster of Touch are asked to make music for a 7″ release. On the fifth edition Oren Ambarchi has the honor to show us his lovely music. Destinationless Desire has become a surprising piece in an already amazing discography. Oren Ambarchi adds new elements to his music which work out really well.
At the end of 2007 the British Label Touch started a new series of 7″ releases as much as a protest to the ease of digital downloading as a statement of art of the analogue. After really lovely 7″ releases by Fennesz, Chris Watson and the split of Fennesz and Philip Jeck reworking the organ works by Charles Matthews it's now turn for another one of those renowned musicians of the touch label: Oren Ambarchi.
The past few years Oren Ambarchi has been quite productive with releasing an album a year and mostly also one or two EP's, either solo or in collaboration with others. And this year is going to look exactly the same. Besides a full length album with Ze'v there is also the 7″ Destinationless Desire.
This 7″ is a tricky one, because since I own this I have been playing it various times at both 33 rpm and 45 rpm. The touch website says people should choose the speed what they find to be the best. I guess most people will choose for 45 rpm (as I do) but playing it at 33 gives the same duration of the tracks as is mentioned on the 7″ label. So what it should be might stay a mystery.
The mystery does not only stay with this playback speed, also the sleeve leaves enough questions. The front cover, as I see it (the one use here) shows a very descent classical dining room. But as descent as it looks, as creepy it is to me. Where are the plates, where is the silverware? The scenery brings to mind the movie The Shinning by Stanley Kubrick, or maybe a David Lynch setting. Yes, it is creepy to me.
On the music side it's less mysterious, though Oren Ambarchi really knows to surprise us here with the music on here. Where on the last few releases the pieces by Ambarchi were long (almost nothing below 15 minutes of length) here of course we find two short tracks.
Side A is called Highway of Diamonds and starts out with rhythmic glitches that could be samples of an old scratched vinyl record. Through this a slowly changing reworked guitar loop is running and swelling up. The sound leaves me really warm, but halfway everything changes. All of a sudden a harmonic organ drone is started which shows slight dissonance. The unsettling feeling I got from the artwork comes back to me. It's gorgeous but haunting. Somewhere there is a summer feeling to this, but at the same time it sounds slightly cold. A great track. Side B is called Bleeding Shadow and here probably the biggest surprise comes up: vocals!
Never before I had heard so clear vocals in the music of Oren Ambarchi, if they even ever where there. On the sleeve he pays gratitude to Fairport Convention. This might be the band the vocals come from, though of course nothing is sure ever in this part of the music scene. These vocals are combined with stripped down guitar sounds that are so familiar to the music of Oren Ambarchi, bells, percussion and loads of weird sounds. In comparison with other music, like grapes of the estate or the whole stacte series this track is much more organic which is result of these vocals. Nonetheless it's an amazing tune and it might be an element he should try working with some more. It adds to the already great diversity in the music by Oren Ambarchi.
Very well done.
Again Touch shows that they still have a keen eye on music. With this fourth instalment (fifth according to the sleeve, but the fourth hasn't been released yet) in this new 7″ series they prove to have found another amazing idea for releases. And I hope, like with the previous three releases that the future ones will be as good and pleasant to listen to as this one. Destinationless Desire shows the diversity of a great musician and is a recommended release in a lovely format. [Sietse van Erve]
Record Collector (UK):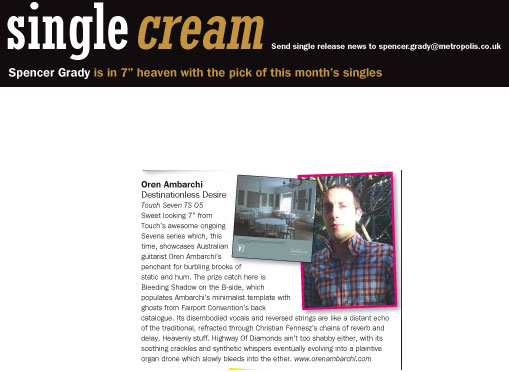 Dusted (USA):
Two new pieces by one of the few artists who seems intent on expanding the notions of ambient music to new heights, with "Highway of Diamonds" rising quickly from the bass-heavy depths of more recent works like In the Pendulum's Embrace to a bright, present high-pitched tone, while "Bleeding Shadow" puts some of his folkier, more traditional aspects on display. Both cuts feature that milky, omniscient manner of which his drones connect to the listener and showcase an artist who understands how to control his surroundings, and in kind our own.
The Blogglebum Cage (UK):
From Destinationless Desire, Ambarchi's contribution to the admirable Touch Sevens series. "Bleeding Shadow" samples a fair chunk of Fairport Convention's "Quite Joys of Brotherhood" (I think) and weaves all manner of electro-acoustic abstraction around it. The folks at Touch have a policy of not putting any playing speeds on their 7″s, in the hope that listeners will experiment interactively with the RPM settings on their record decks. While I'm not all that into the whole concept (preferring to respect an artist's opinion on how a record is supposed to sound) it does work rather well in this case. The Fairport sample sounds distinctly "right" at 45 and "wrong" at 33 but there are these little snatches of dialogue dotted throughout the track, of which the exact opposite is true.