7″ vinyl only
Cut by Jason at Transition
Artwork and photography by Jon Wozencroft
Track listing:
Side A: Willow
Side B: Morning
Written and recorded in Auckland, New Zealand, 2008–2009

Reviews:

tinymixtapes (USA):
This one's a game-changer. Seeing that my mom's a kiwi, Rosy Parlane would be getting extra cred from me in the first place, recording in Auckland as the ex-Thela/Parmentier participant does, but he doesn't need any charity. "Willow" overflows with color and just the right amount of crackle, cycling into itself and bubbling but never boiling. It's a slow process considering the short run-time of the format, and I was surprised at how much Parlane got done in a small window of time. That's Side A. "Morning," the flip, is a straight-drift of a drone, and as 7-inch incarnations of the genre go, it's pretty goddamn compelling. It's like an angel opening her eyes first-thing in the early A.M., the light of eternity peeking into her cloud cottage. No, I'm not on anything, though it wouldn't hurt to be, as this is druggy shit. Obviously if I were given the choice of letting one track live and snuffing the other out, I'd embrace "Willow" as my own (and raise him right; no biscuits after 11:30, young man!), but there's a mighty balance being struck here. You just got Touch'd.
Record Collector (UK):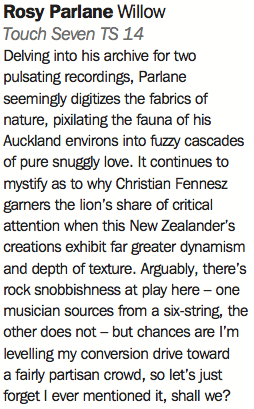 Brainwashed (USA):
Although dormant for a number of years, Paul Douglas has leapt back into activity on this brief, but effective 7″ single. With heavy use of electronics and processing, these two pieces are shaped into fully fleshed out and complicated works that bear the mark of an expert.
"Willow" is heavy on the electronics right from the onset, building from looping, heavy electronics that edge just ever so slightly into the realm of dissonance. Even with that, the slight dissonance gives an engaging grime to the otherwise gentle flow of sound, mixing in textural sensations and just a bit of crunch. The overall performance is bathed in a nice, warm glow of static that does not obscure as much as strengthen the sound.
On the other side, "Morning," Douglas keeps mostly away from the noisier elements and instead works amongst a world of light, ambient sounds. Slowly gliding, string-like passages drift about, propelled along by a low-end swell that never gets out of control, but instead propels the piece to delicately float away into silence as it concludes.
Douglas' work here might not be redefining a genre or breaking any new ground in its over all sound or approach, but it is an example of electronic abstraction done extremely well, presented in a tight, yet fully realized package that keeps things compelling throughout.
The Wire (UK):
Rosy Parlane first caught the attention s part of Thela, but has always been a master of the long form drone. His work here manages to connect a lot of dots in a short space – layers of instruments and field recordings build fairly quickly, but without ever feeling interruptive. Which makes for a good, intense listen. [Byron Coley]