CD + full album download – 11 tracks – 47:06
Release date: 7th September 2018
Ecce Homo explores the lighter and darker shades of the human psyche, behaviour and existence, and humanity's ability to create beauty and destruction. What lies in the essence of such complexity has become a core idea for the album, while Gorgun seeks to figure out if there is a true meaning to being human, and human being.
Starting with "Neroli" as a human fascination with nature and finalising with "To Cross Great Rivers"; the album reflects the contemplations of a spectator being exposed to the human civilization, and witnessing human activity, including his/her own.
Trying to acquire a glimpse of the various layers of human flesh and bones, the sound of the album aims to present a diversity of the sonic spectrum, with tracks varying between ambient and noisy landscapes.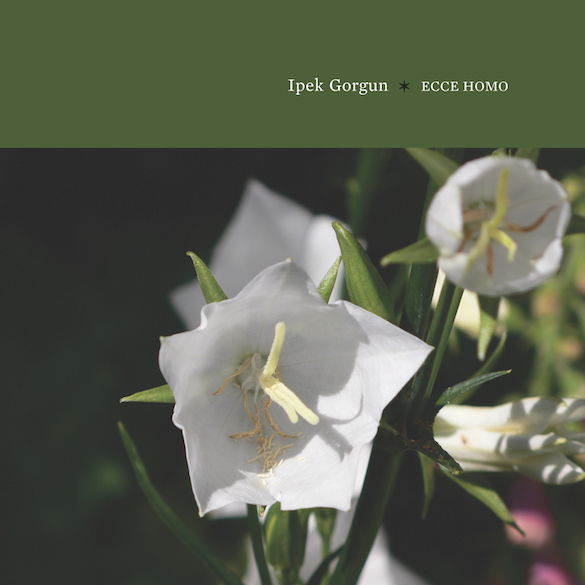 Track Titles:
1. Neroli – you can listen to this track here
2. Afterburner
3. Tserin Dopchut
4. Le Sacre l
5. Le Sacre ll
6. Bohemian Grove
7. Seneca
8. Knightscope K5
9. Reverance
10. Mileva
11. To Cross Great Rivers
All tracks recorded and mixed by Ipek Gorgun, Istanbul 2016 – 2018
Mastered by Denis Blackham @ Skye
Photography & design by Jon Wozencroft
Pitchfork: "The Turkish sound artist balances technical precision, emotional potency, and trenchant cultural critique on an album whose individual sounds are as compelling as their widescreen narratives."
Beach Sloth: "A truly unusual and downright beautiful intersection of the experimental and emotional, Ipek Gorgun's "Ecce Homo" is a true triumph."
Artist Biography
Ipek Gorgun is an electronic music composer currently enrolled in the doctoral program of Sonic Arts at Istanbul Technical University's Center for Advanced Studies in Music. After graduating from Bilkent University with a degree in Political Science, she completed her Master's studies in Philosophy at Galatasaray University.
As one of the participants of the Red Bull Music Academy in 2014, she performed in Tokyo as an opening artist for Ryoji Ikeda's "Test Pattern No: 6" and joined Otomo Yoshidide for a collective improvisation project.
​As a bass player and vocalist for projects and bands such as Bedroomdrunk and Vector Hugo between 2001-2013, she also performed in an opening gig for Jennifer Finch from L7 and Simon Scott from Slowdive, as well as performing live with David Brown from Brazzaville. She has released two EPs with Bedroomdrunk, entitled "This is What Happened (2003)" and "Raw (2007)".
​Besides group projects and solo performances, she also composed the soundtrack for the documentary 'Yok Anasinin Soyadi (Mrs. His Name) directed by Hande Cayir in 2012, portraying Turkish women's struggle for keeping their original surnames after marriage.
​Her debut album Aphelion was self-released in February, 2016 and is reissued by Touch in December, under the TOUCHLINE catalogue. In 2017 she released a collaborative album from Halocline Trance, with Canadian producer Ceramic TL (aka Egyptrixx) entitled "Perfect Lung", and a mini-album with the Italian electroacoustic duo, Alberi.
Aside from many performances following these albums, she also performed in Sonar Istanbul (2017), BBC Radio 3's "Open Ear" at LSO St. Luke's (2018) and opened for the Royal Philharmonic Orchestra in Oggimusica Acousmonium with an electronic rework of Igor Stravinsky's "The Firebird" (2018).
Ipek Gorgun also practices performance, street and abstract photography. She won the IPA honorable mention award in 2013-14 with her work entitled "Bubblegun Daydreamer" and in 2013, she worked as the advertisement photographer for Contemporary Istanbul Art fair.