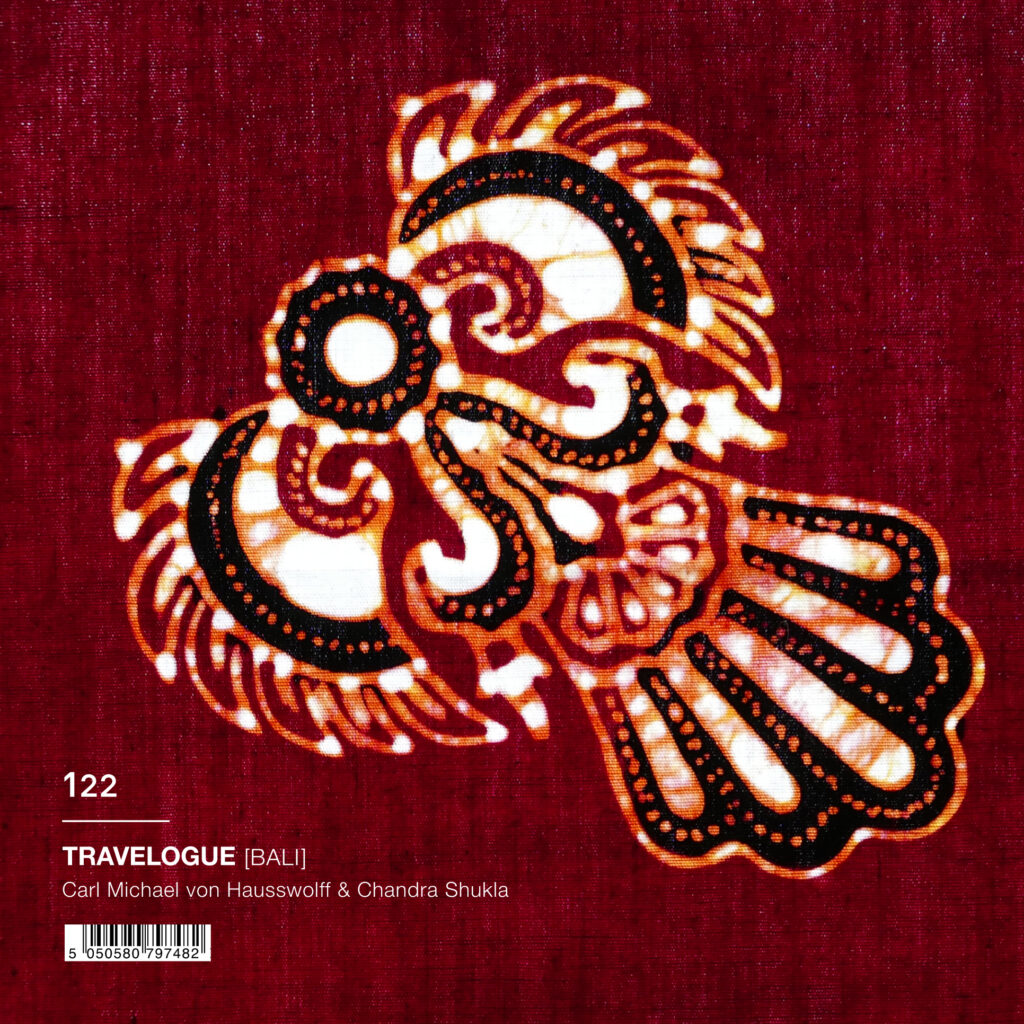 CD – 5 tracks – 48:37
Release date: Friday 24th February 2023
Track listing:
1. Kecak! (Sanghyang)
2. Rahajeng Semeng
3. Sekala Niskala
4. Gong Ageng
5. Ramayana Melukat
Now available to order on Bandcamp
Mastered by Denis Blackham
Photography by Jon Wozencroft + Travelogue
Design: Jon Wozencroft
Recorded 6-16 February 2020 in Uluwatu, Ubud, Badung, Mount Batur and other locations in Bali, Indonesia.
Composed and mixed at the Castle in Stockholm, Sweden and at Dissimulata in Asheville, NC USA, 2022.
Travelogue [Bali] is the second in an ongoing series of collected international audio diaries (Travelogue [Nepal] was released by Touch in 2020). The premise is quite simple: the two meet at a mutually agreed upon destination along with the facilitation of something to record audio of these experiences on. The intent is to capture and augment these sonic documentaries of their travels which then are sculpted into soundtracks. This is done by sourcing the culture, environment, persons or events that make their voices available.
In February 2020, CM von Hausswolff and Chandra Shukla met in Bali, Indonesia, over the course of 9 days. Recordings were made at Pandawa Beach, Green Bowl Beach, Melasti Beach Ungasan, Uluwatu Temple, Pasar Senggol Gianyar, Pengosekan Kaja Ubud, Badung Market, Kintamani and Mt. Batur, Puri Saren Agung Ubud, Mandala Suci Wenara Wana (Sacred Monkey Forest Sanctuary) Ubud, Pura Tirta Empul Tampaksiring, Pandan Beach and Kelingking Beach Nusa Penida.
Special thanks to Dewa Alit and Salukat Gamelan, Dewa Sakura, Elisa Faires, Ivan Seng, Shannon Batten, Kecak Uluwatu, Made Surya and Dewa Aji Mangku. Also thanks to Ulrich Hillebrand and Gregor Krause.