UPDATE – Sohrab has been refused entry into the UK.
New line-ups for London dates:
BJNilsen and John Chantler added to Touch presents… line up at Café Oto on Friday 8th November 2013, and BJNilsen will also perform at Pelican on Saturday 9th November 2013. NB: Sohrab will still be performing at the Berlin date.
In November Touch presents a short series of concerts in London and Berlin, featuring performances by Sohrab, Achim Mohné and Jiyeon Kim – a triple bill of exploratory music with three artists each defining their own sonic territory. German artist Achim Mohné works across different media formats, blurring the edges between them and exploring unexpected uses of modern and outmoded technology. Sohrab is a Tehran born musician whose ambient works are both a product of his environment and a reaction against it. Korean sound artist Jiyeon Kim's experiments in resonance have led to an unconventional approach to field recording.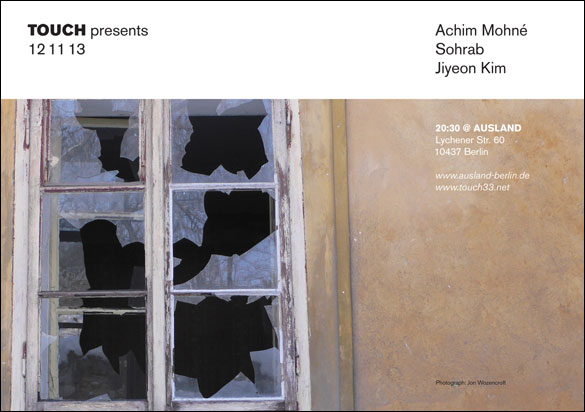 8th November 2013 | Touch presents… at Café Oto, London
Achim Mohné, BJNilsen, John Chantler Sohrab & Jiyeon Kim
Café Oto, 8pm
www.cafeoto.co.uk
Buy tickets
9th November 2013 | Touch presents… Hidden Narratives of Empty Spaces at The Peckham Pelican, London
BJNilsen, Sohrab Jiyeon Kim & Mike Harding
The Peckham Pelican, 7pm
www.thepeckhampelican.co.uk
Buy tickets
12th November 2013 | Touch presents… at Ausland, Berlin
Achim Mohné, Sohrab & Jiyeon Kim
Ausland, 8.30pm
www.ausland-berlin.de