Book + CD – 100pp linen cover with foil blocking
Release date: 1st November 2019
Book contents:
69 photos and a portrait of Mika Vainio by Joséphine Michel, and an introductory essay by Jeremy Millar
CD Track listing:
1. Mika Vainio – Live at Contra Pop, Ramsgate 56:38
Lyric Intangibility and the Objects of Science: On The Heat Equation, Museum & Society, 2019: You can read a feature by Sophie Thomas here
Reviews:
Artnoir (Germany):
artnoir.ch/josephine-michel-mika-vainio-the-heat-equation/
Transistora (Spain):
transistora.com.es/josephine-michel-mika-vainio-the-heat-equation-book-cd/
Ondarock (Italy):
www.ondarock.it/recensioni/2019-mikavainio-theheatequation.htm
Documentary Evidence (UK):
429harrowroad.wordpress.com/2019/10/30/josephine-michel-mika-vainio-the-heat-equation
Impatto Sonoro (Italy):
Blow Up (Italy):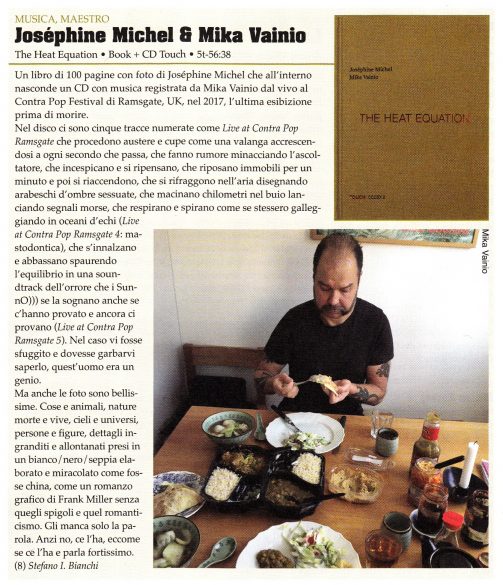 Dark Entries (Belgium):
Het mag al eens iets speciaals zijn, zoals de uitgave van The Heat Equation, een samenwerking tussen muzikant Mika Vaino en fotografe Joséphine Michel, die hier voor onze neus ligt te blinken. Vergezeld van een warme aanbeveling ("een diepgaand meesterwerk") door niemand minder dan componist Carl Michael von Hauswolff, wiens bekendste productie tot op heden zijn dochter Anna is.
The Heat Equation is dus een 100 pagina's tellend boek met nieuw fotomateriaal van deze in Brussel wonende fotografe vergezeld van een live opname met daarop Mika Vainio's laatste optreden in het Verenigd Koninkrijk, waar hij het nieuwe materiaal bracht dat in 2017 op een solo-album bij Touch zou verschijnen.
Wanneer zijn naam niet meteen een belletje doet rinkelen, brengen we even in herinnering dat deze Fin in 1993 een van de oprichters van Pan Sonic was.
Eerder werkte hij al samen met Michel aan een soortgelijk project (Halfway To White (2015, eveneens uit bij Touch) en een tweede productie stond op de planning. Maart 2017 trok Michel richting Oslo om Vainio de eerste voorbeelden van de foto's te laten zien die ze reeds had genomen voor dit doeleinde. Tijdens deze ontmoeting schoot Michel een teder portret van Vainio, dat uiteindelijk als ingevoegde postkaart te vinden is bij The Heat Equation.
Kort voor Vainio's vroegtijdige dood in april 2017 nam het project een onverwachte wending. De opnames voor het nieuwe album voor Touch waren bijna voltooid, maar zijn sequencer ging kapot en het project moest opnieuw worden gestart. De samenwerking veranderde in een complementaire verkenning tussen Michels zowel quasi-wetenschappelijke als lyrische foto's, een perceptie van een wereld op het punt van ontdekking -of het nu fysica, geneeskunde of ruimtevaart betreft- en de erfenis van Vainio's muzikale visie, met zijn enorme imaginaire uitstraling van materie, en zijn spanning tussen gloeiende hitte en ijzige precisie.
De foto's en de muziek werken samen doorheen verschillende klimaten, waar de micro- en macrokosmos, het levende en het levenloze, het tellurische en het kosmische naast elkaar bestaan, en soms versmelten.
In augustus 2016 voerde Vainio een verbluffende set uit op het Contra Pop festival op het strand van Ramsgate, die vanaf het mengpaneel opgenomen werd. De organisatoren wisten te melden dat het bestand beschadigd was en het voorgestelde contrapunt voor het werk van Michel werd als verloren beschouwd.
Wonderbaarlijk ontdekte Contra Pop 18 maanden later een back-up opname. Mede dankzij de puike remastering door Russell Haswell klinkt deze nieuwe muziek kwalitatief even sterk als we van hem gewoon waren bij leven en welzijn.
Een mooi eerbetoon, zowel letterlijk als figuurlijk. [Dimi Brands]
Le Son du Grisli (France):