Release date: 11th October 2019
Vinyl for fetishists to follow in the new year… CD format (mastered by Denis Blackham) is how the artist wants it to sound
CD – 5 tracks – 64 minutes
Track listing:
1. Living Space
2. Lo, Fr Ega
3. Collect Yourself/Well Arranged
4. Overt Too
5. Lighter Touch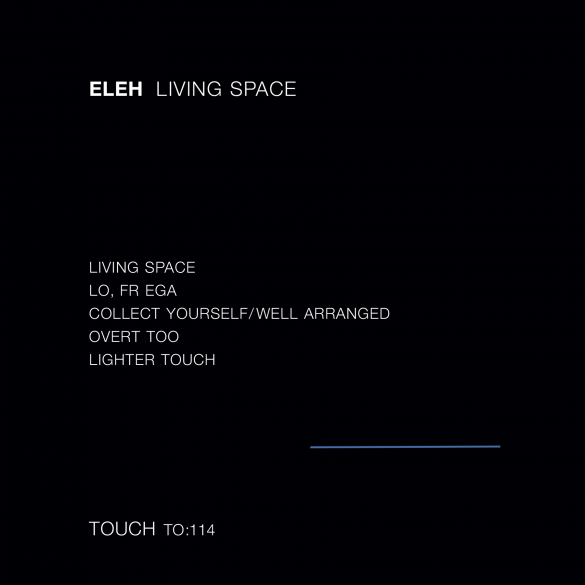 Following 'Slow Fade for Hard Sync' (2009) and Location Momentum (2010), Living Space is Eleh's third physical release for Touch. Seven years in the making, this new release consolidates the artist's parallel narrative between a series of vinyl and CD releases for Important Records – where the emphasis is on a minimalist aesthetic – to a visual counterpoint that hints at the cinematic and painterly qualities of the music.
Sound, as a healing force, is an idea as old as the medium itself.  Inspired by the legacy and above all the spirit of John Coltrane, Living Space features 5 new compositions that seek to express the beauty of slow change, not only through the microtonal shifts in sound that Eleh navigates but moving with the atmospheric and shape–shifting conditions that the music creates as it interacts with the listening space, whether bedroom or concert hall, each one of them unique.
If the ambition of Living Space is to reflect both personal and collective growth cycles, the experience of its audition has the effect of stopping time. Melodic and harmonic progressions are implied and not stated obviously, to enable listeners to apply their own emotions and feelings to the music.
Using modular and analogue synthesisers, piano, organ, bass and symphonic chimes, Living Space stresses the promise of the CD's final track – 'Lighter Touch' – forsaking the forceful hand for an approach that mirrors the slower and softer exposures of plant life and leaf formations, slow moving waters, not flash floods nor forest fires.
In counterpoint to the music, the 60 minute CD is presented with a 6-panel digifile with Jon Wozencroft's water photography extending the meditational pull of these new compositions. The Touch bandcamp page, which will be up later in the month, presents a fuller documentation of this photo–shoot (from Crete, 2018), with a 20pp PDF free for download.
For those for whom Eleh needs no introduction, see if you agree. Anyone who has yet to experience the artist's sonic alchemy, Living Space is the perfect starting point.
Reviews:
Toneshift (USA):
Housed in a gorgeous jewel of square packaging that opens to various aquatic shades, this is the latest from Eleh with his first new output on Touch in nine years, though his work has been represented by other fine labels (Important, Line…) over the course of the intervening years. And for good reason, the sound is indicative of how advanced and central tone itself has become to his work in the past dozen plus years, coursing through this with considerable fluid nuance.
The tonal bent and assorted reverb has a narcotic effect, not unlike going into a dreamstate under the scope of anaesthesia or a strange drug trip. This is subtly massaged into the barrier of unconsciousness on the incredible Collect Yourself/Well Arranged. If one were to try and take apart it's title as a construct, the 'living space' inferred here could be supplanted for that of an inward stare at the human body as a host in and of itself. The pulsations used here easily auscultate to those electric signals of internal organs resembling sci-fi transmissions on the surface.
His oscillations, gentle over these passages, elongate and compress over time, like blood pressure and heartbeat (as well as a futuristic pressure chamber protected by indestructible laser beams). But the record doesn't play on the parenthetical, the melodramatic or on the obvious, instead making you relax and think simultaneously. Living Space is a collection of five tracks that coax dynamic wonderment. It's mystery is its majesty. With each benevolently ascending modulation the listener may be imagining themselves either suspended or rotating ever-so sluggishly into the abyss, into oblivion.
Eleh's work, especially here, is progressive ambient sans any hard borders. This would serve well to watch cloud formations by, drift off into a sublime sleep concert, or simply open to the chimera in your immediate surroundings.
The Wire (UK):

Blow Up (Italy):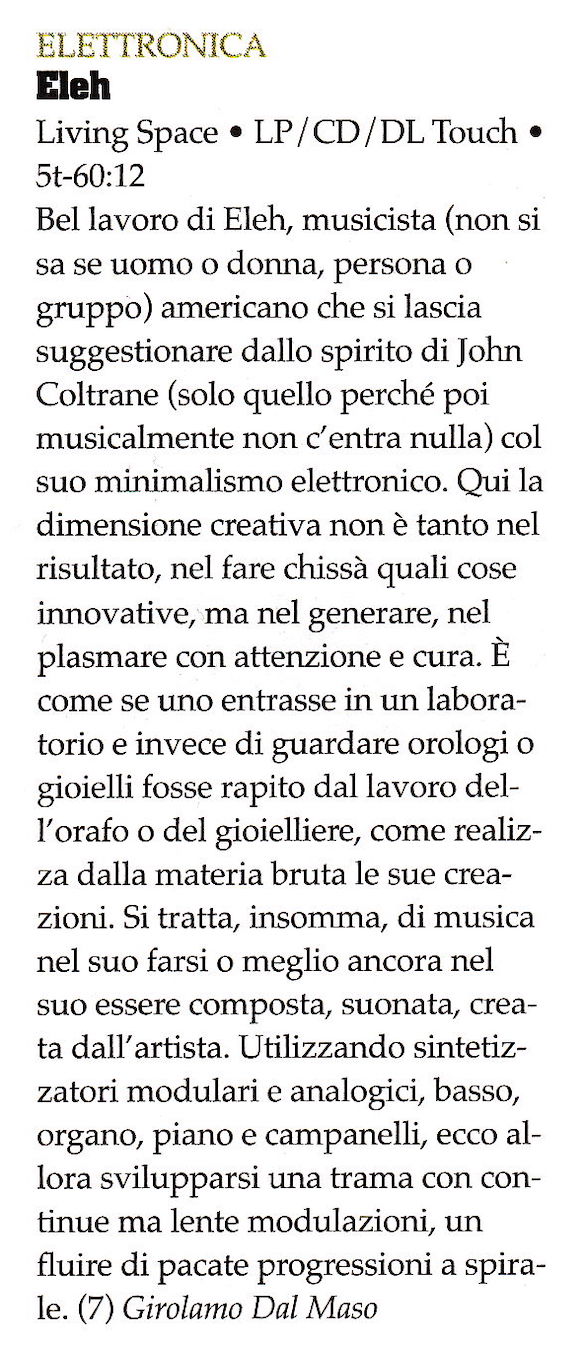 Impatto Sonoro (Italy):
Questo è il terzo album per Touch da parte di Eleh. Ci sono voluti sette lunghi anni per produrre questa uscita che possiede, oltre all'enfasi minimalista, una controparte visiva che si confa al sound altamente impressionista. Sembra difatti impossibile che l'ispirazione per "Living Space" sia proprio John Coltrane. "Living Space" è costituito da cinque composizioni che cercano di esprimere la bellezza della trasformazione lenta, non soltanto gli slittamenti microtonali, ma modificando proprio l'atmosfera, la forma, le condizioni con cui la musica interagisce nello spazio d'ascolto (che sia una camera, o una sala da concerto, ogni situazione è unica).
Come noto, si trova spesso uno iato tra i meccanismi di composizione e quelli di ascolto che normalmente possono essere considerati "sinottici", piuttosto li troviamo sempre come opposizione: se l'ambizione del disco è di riflettere i cicli di crescita personali e collettivi, in fase di ascolto il tempo si ferma, senza ciclicità o dinamica compositiva. Le progressioni armoniche e melodiche sono implicate per poter applicare le emozioni dell'ascoltatore.
Usando modulari e sintetizzatori analogici, pianoforte, organo, basso e campane sinfoniche per seguire le lenti trasformazione e specchiarsi con le condizioni di vita delle piante, e le formazioni della foglia. In sostanza, come per il racconto di Borges, Memoria di Funes, sembra che Eleh abbia voluto seguire questo quasi-movimento costituito da una così alta pletora di dettagli, da sembrare statico. Anzi, per meglio dire e-statico, stando al di fuori di un fenomeno pur rimanendone all'interno.
Alchimia sonora, la definiscono alcuni, ma qui siamo oltre la magia, ed entriamo nella zona della memoria, quella in grado di contrastare la coscienza o di costituirla a tal punto da mettere esperienza e memoria sullo stesso piano, senza distinzioni. [Riccardo Gorone]
Silence & Sound (France):
On ne sait rien de l'artiste ELEH, qui n'a jamais divulgué d'information à son propos. La seule chose qu'il nous offre, est sa musique. Et quelle musique ! Faite d'infra-basses et d'ondes enrobantes, d'électricité statique et d'espace magnétique.
Living Space est une oeuvre immersive. Un objet fascinant qui accapare nos sens pour les attirer vers des profondeurs froides et obscures, chargées de vibrations contraires aux attractions inversées.
Les synthés modulaires vibrent sur des cordes tendues au dessus de précipices sans fond, reflets d'univers aux mouvements internes stabilisés.
Le temps semble s'éteindre pour laisser la place au défilement de gouttes quantiques, prises dans des maillons nucléaires à l'ADN hacké. Un album aux équilibres éphémères. Superbe. [Roland Torres]
Ambientblog (net):
Eleh's discography boasts no less than 32 albums since 2006 – solo works as well as collaborations with artists like Pauline Oliveros, Ellen Fullman, Christina Kubisch, Caterina Barbieri and Richard Chartier. And until now he managed to remain completely anonymous: no one (well almost no one) knows who he is.
Living Space is the third Eleh release for the Touch label. It's a perfect title: the sound of these tracks seems to come from everywhere but the speakers. It moves inside your head and moves around in the room it is played in, thus making the space come alive.
It is released on CD, which is the format 'how the artist wants it to sound', but nevertheless Touch promises a vinyl edition"for fetishists" to follow in the new year. Let's hope 'the artist' is OK with that, because I'm afraid the extreme low frequencies in this music probably won't behave very well on vinyl. This music is, indeed, created for optimal reproduction via digital media.
Apart from one shorter track, all tracks are from 10 to 15 minutes in length. Eleh uses modular and analogue synthesizers, piano, organ, bass, and symphonic chimes to create his compositions.
Music that "seeks to express the beauty of slow change, not only through the microtonal shifts in sound that Eleh navigates but moving with the atmospheric and shape-shifting conditions that the music creates as it interacts with the listening space, whether bedroom or concert hall, each one of them unique."
I would call this 'minimalist drone music', but that 'minimalist' only refers to the musical aspect, not the sound itself. With all those different frequencies bouncing around before they reach you, we might as well call it 'maximalist'. Trying to describe music can be só confusing…
The CD-release comes in a 6-panel digifile with beautiful photography by Jon Wozencraft [sic].
Electronic Sound (UK):