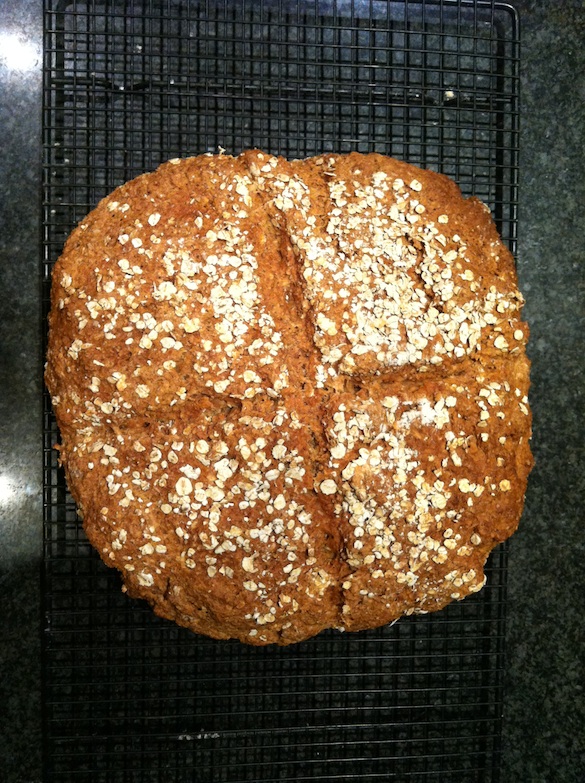 Very healthy and easy to make bread. No proofing needed since the rising is a chemical process not organic one. You can add nuts or seeds as desired.
Ingredients:
20ozs. Strong brown flour (or 10ozs Canadian Strong Brown and 10ozs normal strong brown)
5ozs. white flour
2ozs. porridge oats
2ozs. wheat germ
1 teaspn (rounded) Baking soda.
625mls =1 ¼ pts Buttermilk or diluted 500ml tub of Yogurt works too
1/4 teaspoon Salt
METHOD
Preheat Over to 180°C
Mix flours, wheat germ and porridge oats in a bowl sieve in soda (to make sure no lumps) and salt.
Mix well then add the buttermilk.
Mix but just enough (a minute or two tops) – if you mix too much the bread will be flatbread – purists say you need to use a wooden spoon for this part.
Mixture should be wet but hold together in a ball.
Use non slick bread tins (for a loaf effect) or more traditionally flattened the mixture on a non stick baking tray.
Sprinkle with more oats if desired.
Bake at 180°C for 30 minutes. Reduce heat to 160°C and bake for a further 20 minutes approx. Its done if you put a skewer into the bread and it comes out dry.
Remove from tin and place on a wire rack to cool.
Enjoy