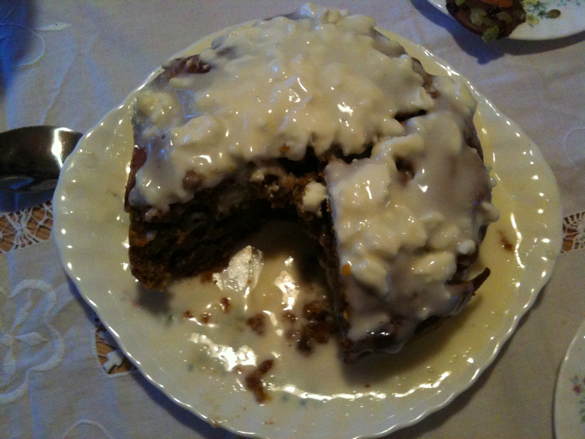 8oz plain flour
8oz light soft brown sugar
NO SALT
1 tspn baking powder
2 teaspoons of ground cinnamon
6 fl. oz sunflower oil
2 eggs lightly hit
NO VANILLA ESSENCE
1lb carrots, cooked and pureed
4 oz chopped walnuts
2 oz dessicated coconut
Mix the dry ingredients (by hand if you wish) → sticky. Beat or hit the carrots in. Fold in the walnuts and coconut. Pour into tin → oven 180ºC for 1 ¼ hours or until cooked – soggy in the middle – and leave to cool.
Frosted runny top:
8oz low fat cream cheese
8oz icing sugar
1 tspn lemon juice
Do not or do (as you wish) put cheese in mixes, add icing sugar and lemon. Pour all over cake even if its hot because it is too boring to wait.
ENJOY with friends