Use wild salmon fillets, ideally from the Pacific (there are frozen Alaskan wild salmon easily available in UK). In Canada I would use fresh Spring, Pink, Coho or Sockeye – it works well with the darker kinds of salmon. Scottish or Atlantic salmon is also fine but this is more usually farmed. Allow one good-sized fillet per person or a couple of smaller ones.
Pour some olive oil (extra virgin organic is best…) into a pan, enough to coat the bottom of the pan at least. Place the salmon fillets, whether fresh or frozen (and cooking direct from frozen is fine), skin side down in the pan. Sprinkle with roughly chopped garlic (as much as you like, I usually add at least four cloves), roughly chopped dry ginger and pour organic tamari or other soya sauce over the fish. Optionally dribble a good size spoon of clear honey over the fish.
Cover the pan and cook on a low flame until the liquid is bubbling vigorously. Turn off the flame, always leaving the pan covered with the lid. Leave to stand for around twenty minutes or longer. Prepare other food in this time and only go back to the salmon when everything else is more or less done. At this point light the flame again and bring to the bubbling state. Turn off the flame and the salmon is ready. It will have poached and steamed during the time it was left, and there will be a rich sauce in the pan too.
I would serve with baby new potatoes, dwarf French beans and salad. This is one of the easiest and most effective ways of cooking salmon fillets or steaks.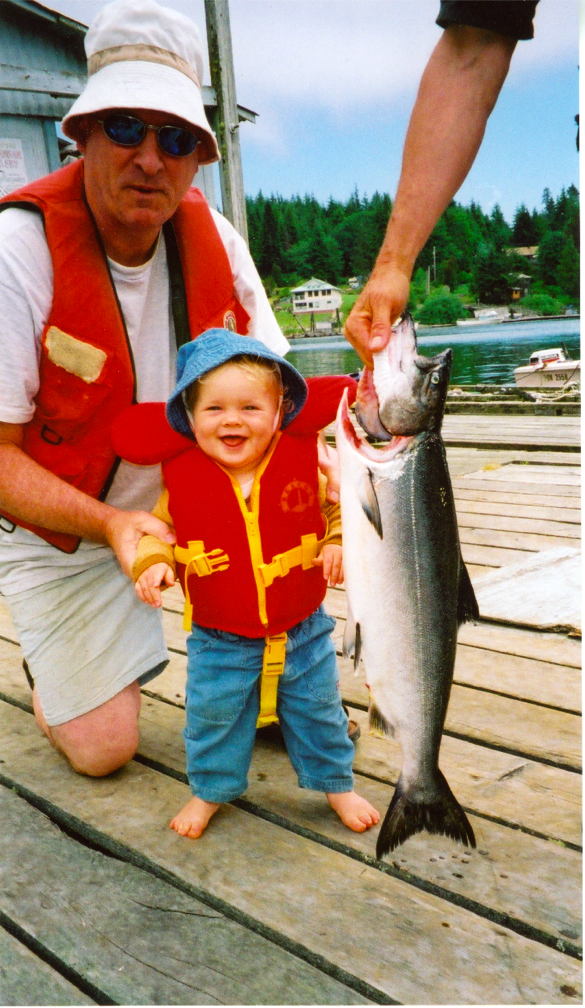 [Bamfield, in a remote part of the Pacific coast of Vancouver Island]